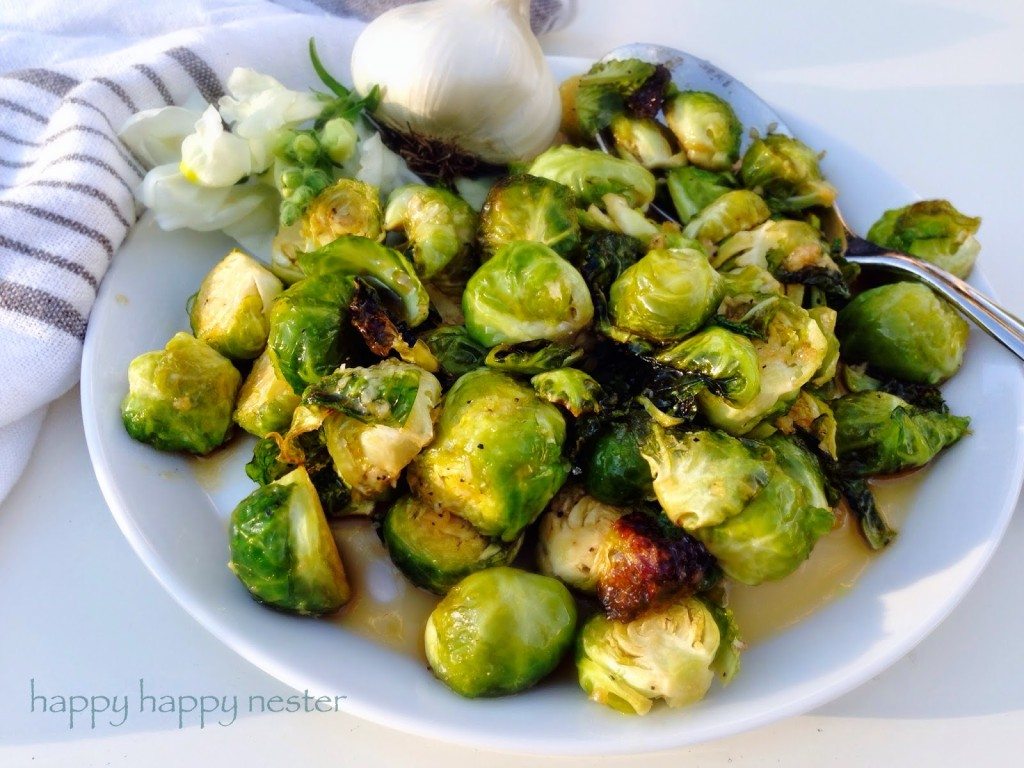 ~a funny fact about the nester~
one halloween, i couldn't go out for trick-or-treating until i ate my dinner veggies.
my older brother who was in charge of taking me out, threw my uneaten veggies into the bushes out front!
we lied to my mom and told her that i had finished them.
as a child i hated vegetables, but this is not the case today!
the brussels sprouts battle: him versus her!
little known fact about brussels sprouts. did you know that brussels sprouts as we now know them were grown possibly as early as the 13th century in what is now belgium. also, according to wikipedia, "brussels sprouts, as with broccoli and other brassicas, contain sulforaphane, a chemical believed to have potent anticancer properties."
our little competition in our family. how many of you have been subjected to a thanksgiving meal in which one of your relatives brings a dish of bitter brussel sprouts? well, i'm one of those people who always brings the sprouts. but, unlike those that you have encountered, i have a great way of roasting them with a very special ingredient that takes away the bitterness. alright, i have converted many of my family members over to enjoying brussel sprouts, which i feel is a bit of a victory. my kiddos love these veggies and will often request them for dinners. but, today's blog post is not only about my recipe but also my husbands! you see, we both enjoy cooking on the weekends and he thinks he is a better cook then me. so, it makes sense that he would come up with his own version which he strongly believes is better than mine! as you can see… we aren't at all competitive! so we decided to go head to head with our different recipes and let our panel conduct a taste test and decide which one is the best. we don't have the resources like america's test kitchen, but we do have our two children, my brother and my mom… they are a very sophisticated bunch! :o) i thought it would be also interesting to have our panel and my instagram followers decide which dish has the best presentation. so let the competition begin!
happy happy nester's
oven roasted brussels sprouts
1 pound of fresh brussels sprouts
1/2 cup good olive oil
1/4 tsp sea salt
3 tablespoons brown sugar
2 tablespoons granulated sugar
3 cloves garlic
2 tablespoon grated parmesan cheese
preheat oven to 350 degrees
clean and trim the outer leaves of brussel sprouts. cut off as much of the stems as you can and then cut in half lengthwise. place in bowl and mix brussels with 1/2 cup olive oil, 1/4 tsp sea salt, 2 tablespoons brown sugar, 1 tablespoon granulated sugar, and 3 cloves minced garlic. pepper to taste. mix well and spread on a cookie sheet. at this point i always taste the sprouts for bitterness and seasonings. add more sugar, salt and pepper if you feel something is lacking. place in a 350 degree preheated oven. bake for 20 minutes. take out sprouts and stir in an extra tablespoon of brown sugar and a tablespoon of granulated sugar. also, add 2 tablespoons of grated parmesan at this time. return to oven and cook an extra 10-15 minutes until they are tender, make sure to watch them closely since they can brown quickly. the sugar should be slightly carmelized and the brussels will be sweet and tender! about 3 servings
double or triple recipe if you are serving a crowd of people.
preparation. my brussels sprouts will be oven roasted. so here, i'm beginning my preparation with the cleaning of garlic. you definitely want to use fresh garlic, that is the best. once i've cleaned off the outer skin, i prefer pressed garlic just because i'm too lazy to chop it. (ok, i know this photo looks staged, but all the ones my hubs took were blurry. you know all that beer can go to one's head too quickly!).
trim the bitter core? here are my brussels sprouts cleaned, cut in half, and ready to go. i do take off the grungy outer leaves and cut off the core a little more than the photo shows. i used to snip all of the core off (my husband will go into that subject) since it is pretty bitter, but because i'm a little impatient in the kitchen, i just leave it on and hope that the sweetness of my recipe will squash any bitterness.
here are my secret ingredients! these are the reason my brussels don't have any bitterness and are rather a carmelized sweet goodness! you've gotta to try this recipe.
brown sugar rocks the sprouts. the brown sugar and granulated sugar top the brussels. these are ready to go in the oven.
take them out halfway thru the baking. this is what they will look like halfway cooked. at this point i stir and taste test them. if they are still bitter add more sugar and also add about a 1 tablespoon of parmesan cheese.
hubby's version
Pretty much any dish can become Guy Food if you just cook it on a grill. This even goes for Brussels sprouts, which, let's be honest, look like tiny little cabbages that couldn't muster up the gumption to grow past the size of a gumball.
Here's my recipe:
1 bottle of home-brewed, dry-hopped India Pale Ale
1 bottle of home-brewed Belgian style ale (heavy on the beet sugar & Abbey yeast)
A nice heap of Brussels sprouts (about enough to fill your cowboy hat)
Some super extra mega-virgin olive oil (you really want to be sure about that virginity)
Kosher salt (when you're looking for a manly salt, you can count on the Rabbis)
Coarsely ground cane sugar (I pound mine into grains with the backside of an ax)
Plenty of garlic
Pour the India Pale Ale into a frosty beer glass. You can't cook manly sprouts without a damn beer in your hand, now can you?
Halve the sprouts with a Bowie knife, katana sword, or whatever blade you've got hidden inside your combat boot — then cut out the pits. They're bitter and pulpy ("like certain husbands I know" says the Nester).
Throw the sprouts in a large bowl (or a hubcap off your truck if you're preparing this camp-side with your hunting buddies in the Alaskan wilderness). Add in a bunch of salt, garlic, and sugar. Dump in some of that blushingly chaste virgin olive oil that you pilfered from a nearby Jesuit convent. Toss it all together while singing "Red River Valley" at the top of your lungs. Then pour a few shots of the Abbey ale into the mix and toss again. (If you've finished off your IPA at this point, you might want to pop open another one. Every real man knows it's a crime to grill without a cold beer in your hand.)
Spread your beer-drenched brussels out onto a stainless steel grilling sheet. The kind with holes in the bottom that allows the fire to sneak through and burn everything you cook. That kind. Wrap the top of your sprouts in tin-foil so the little buggers can't escape (and to trap in the beer-juicy goodness).
Pre-heat the grill to Really Hot. Throw your concatenation onto the grill and get ready to jump back. (I can no longer grow eyebrows due to olive-oil-induced grill fires).
Grill for several minutes covered in foil… then peel off the foil and cook a bit more to brown (or blacken) to taste. The charred bits you see in the photo above are TOTALLY on purpose. They're not all black like that because I sat around drinking beer and pontificating, while the Brussels burned. That would not be manly, but merely negligent.
Sit around drinking beer and pontificating. Your sprouts should be ready to serve any minute now. In fact… OH MY GOD! THEY'RE ON FIRE! TAKE THEM OFF… TAKE THEM OFF!
the moment of truth…
first judge. nester here, as you can see by the photo we conducted a very scientific blindfold taste test! our poor kids were subjected to our crazy shenanigans. my daughter was the first to taste the two versions and she voted heavily for my brussels sprouts. we females stick together.
second judge. i just love this photo of my son! he of course, favored my husband's sprouts. i'm sure there was so type of bribing going on in regards to my husband's votes! my brother was the deciding vote and he went with the safe route and he liked both dishes equally, but i must add that he had seconds of my brussel sprouts, just saying… so we had a tie!
and the winner of the presentation…
the instagramers who follow me, voted on the style of our presentation and i must say that my photo won! so the nester may have come ahead if you factor the appearance, but truthfully if you like both recipes, enjoy!
thanks to my husband and his crazy writing and cooking talents! and of course thanks to my kids. also, i want to thank my intstagram followers for participating in the happy happy nester's crazy antics! i'm sure we'll try and post our little "her vs him" competition monthly! thanks for stopping by and please subscribe by email if you want to keep up with us. by the way, if you have a special way of preparing brussels sprouts, i would love to hear from you. so write a comment or just let me know if you tried our recipes. and again thanks so much for visiting my blog!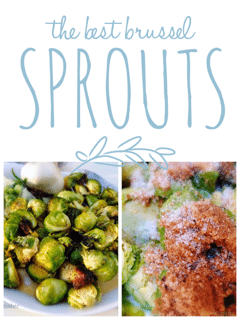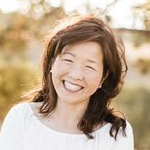 Latest posts by Janine Waite
(see all)