If you like custard, you'll love this unusual apple custard tart. But don't just take my word for it, bake this in your kitchen and I promise you will fall in love with this wonderful dessert
I love apple desserts so much that I have another post of 11 Apple Tarts. Today, I just made one of the recipes and I must say that it is now one of the best apple tarts I have ever had.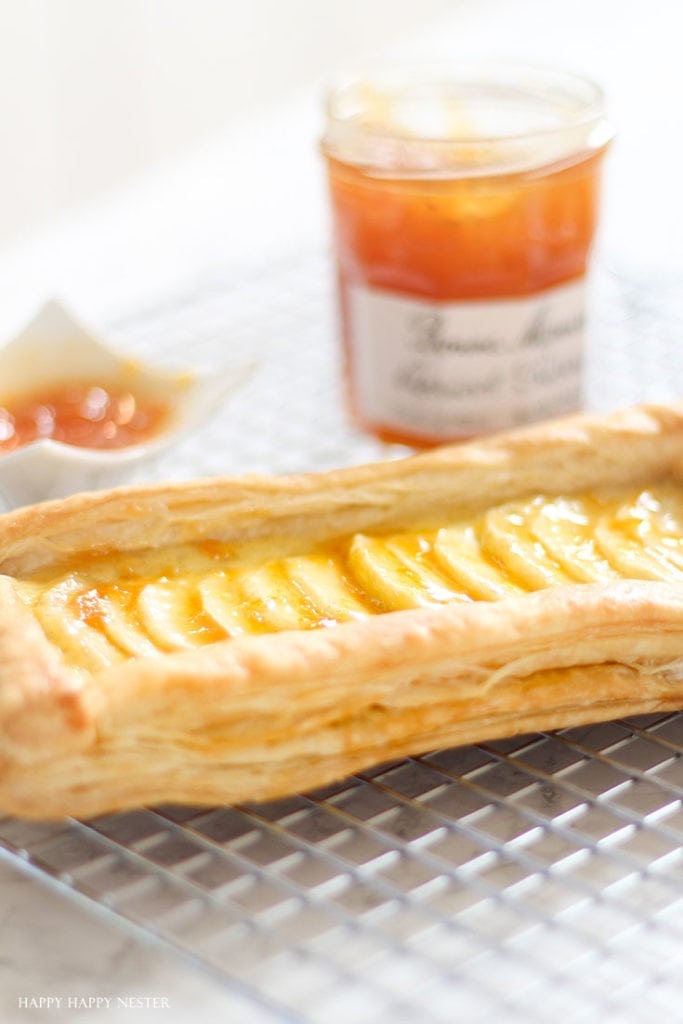 I once ate an apple and found half a worm. It made me realize that it is better to find a whole worm… think about it.
French Inspired Apple Custard Tart
Last summer our family took an amazing trip to France and we dined our way through Paris and Provenance.
On our second day in Paris, we just randomly chose a little cafe that served up organic dishes that were pre-made. I must say that I was a little worried about the flavor of the food, but it turned out to be quite delicious!
We bought an apple custard tart that was was a delightful blend of custard, apples, and crispy flaky croissant crust. And so for the rest of our trip, we kept sampling apple tarts and we were greatly disappointed.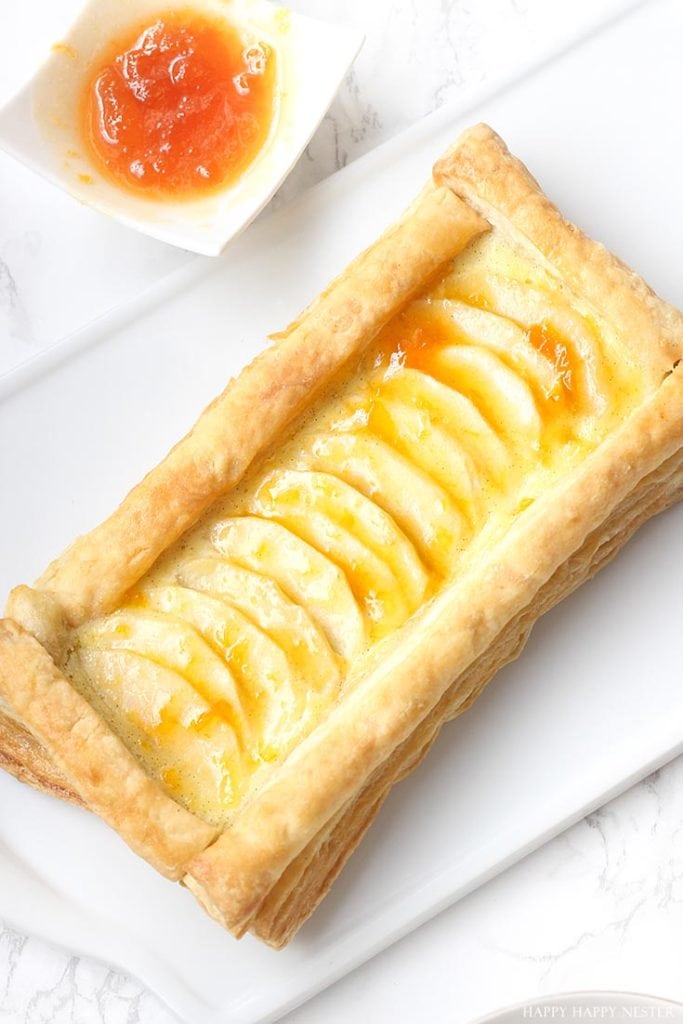 So, of course, I've been wanting to recreate the tart we had in France.
For those who know me, you wouldn't be surprised that I've been a little focused on accomplishing this task. You see, I have a little obsessive personality trait that my family finds either annoying or entertaining.
I'm obsessed with apples since I have a scrumptious Apple Dutch Baby recipe.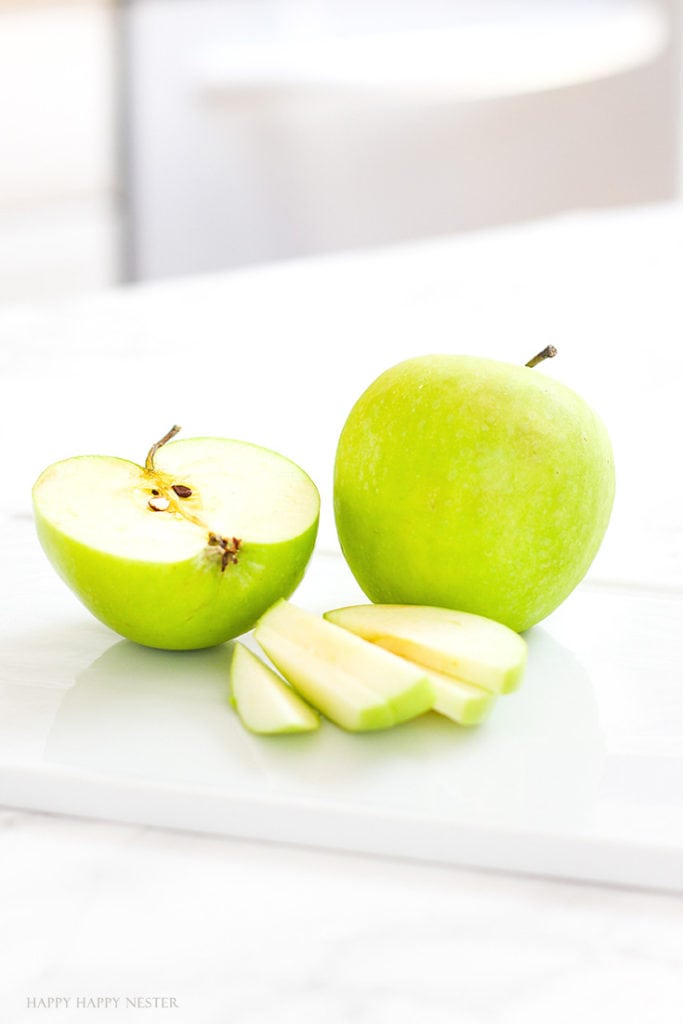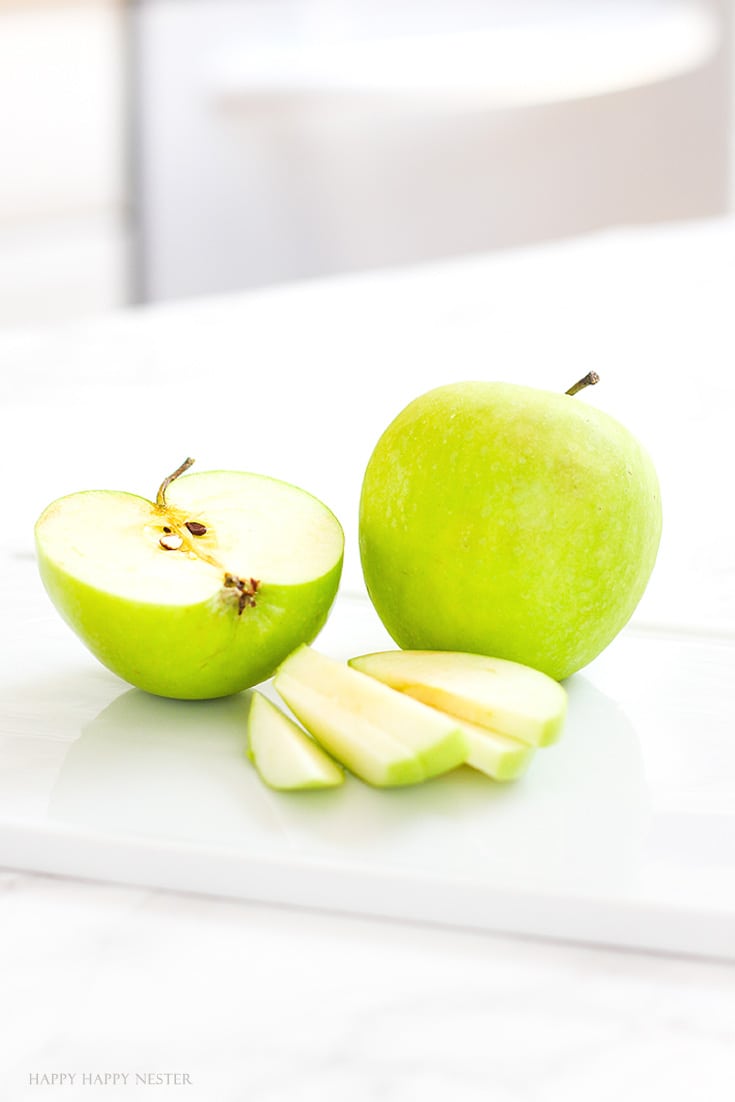 Recently we took a family trip to Montana and I had a lot of time on my hands… so, I tried a few attempts at creating this apple tart. I finally came up with a version that is really close to the original tart!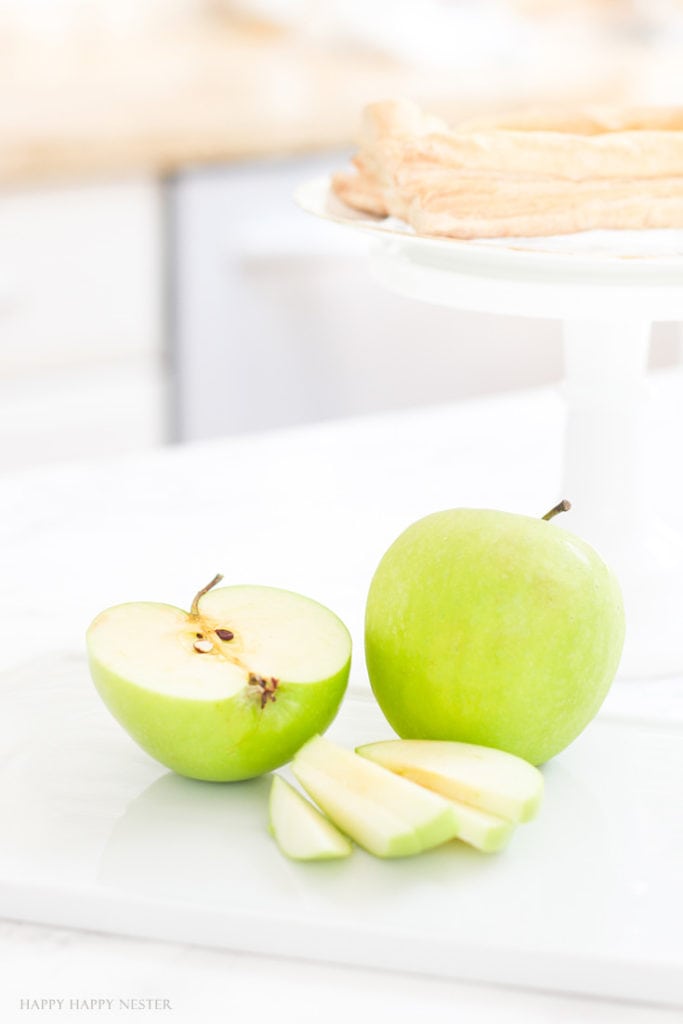 My dessert has a flaky croissant crust and a layer of egg custard followed by cooked apple slices and then finally topped with a rich glaze of apricot jelly and calvados brandy. I hope you enjoy baking and eating it as much as my family does. This dessert doesn't last too long in our house!
It is best served warm and fresh. But, if eaten the next day, heat in the oven to get the crust to its original flaky texture.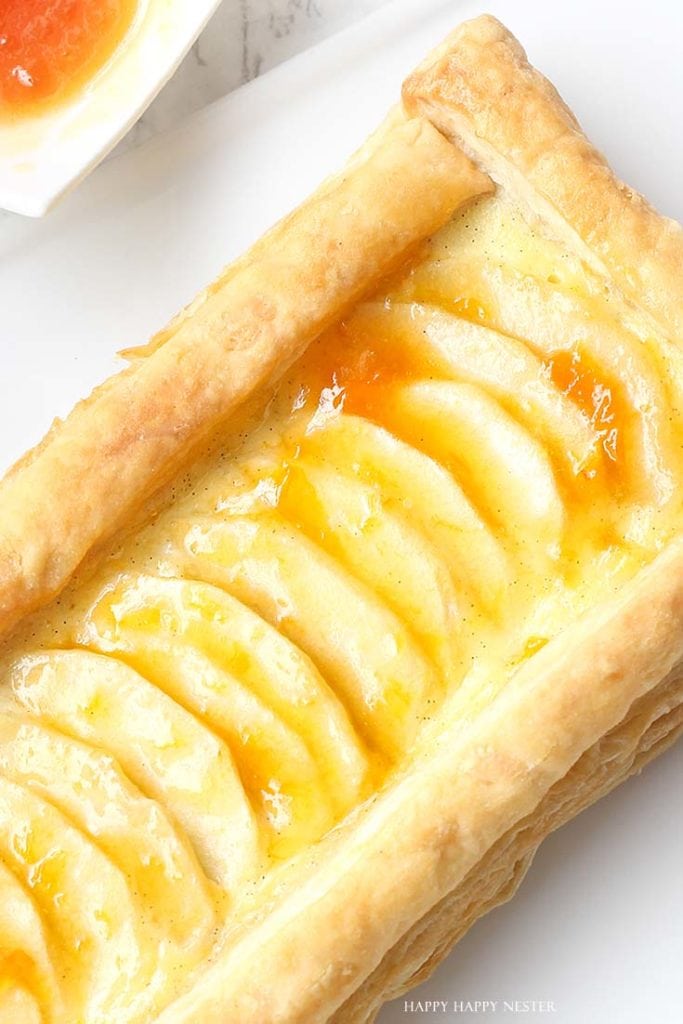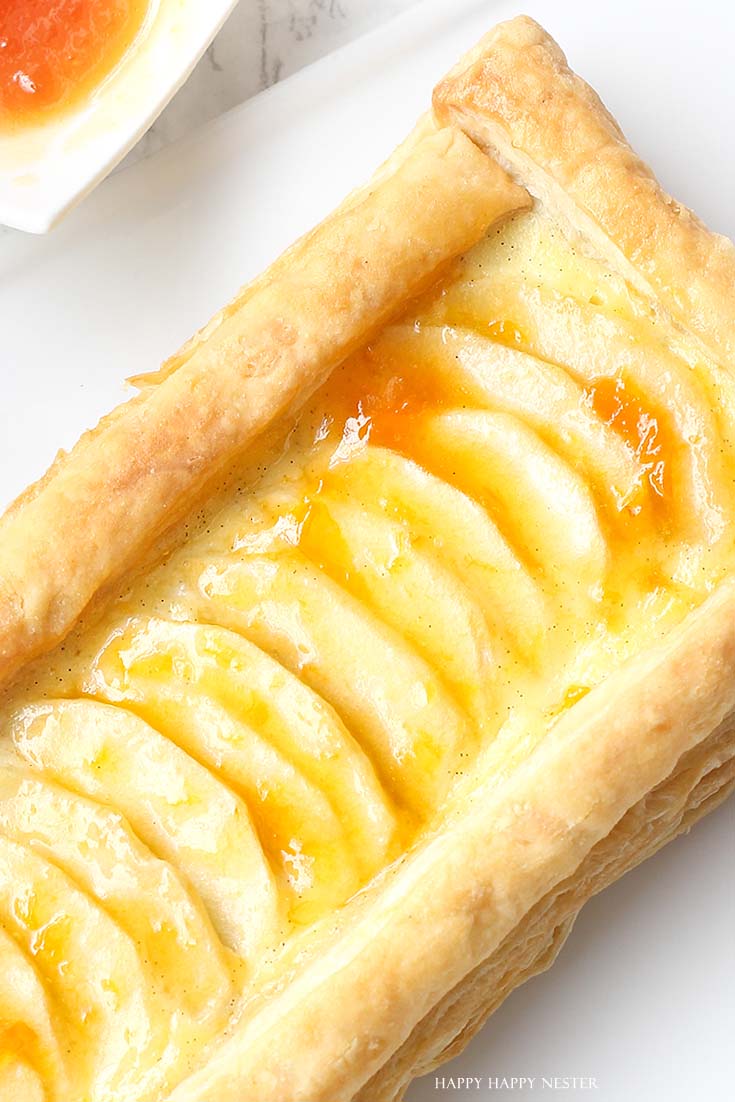 Recipe
Serving size: makes two small tarts or one large tart.
Crust
Ingredients
1 box of Pepperidge Farm pastry puff sheets (1/2 a box)
Preheat oven to 400 degrees Fahrenheit.
Thaw half the box of pastry sheets. Use one sheet and cut in half or if you want one big tart don't slice the dough in half.
Cut about a 2- 1/2 inch wide strip on the long ends of the pastry dough.
Next, cut one 1/2 inch wide strip on the side. These strips of dough will be the sides of your tart. Take both strips and place one on each side of the rectangle of dough. Pinch the edges so there are no gaps between the dough.
Next, take the side strip of dough and place on the short ends and pinch. You should now have a little rectangular tart (see the photos below for an example). Place on a foil-lined cookie sheet. You can place baking beans in the middle of the pastry dough so that it won't rise above the sides. I baked it without the beans and when it comes out of the oven, I just punched down the flaky crust.
Bake until crust is set, about 20 minutes
Cool, and let stand at room temperature.
Custard Filling
Ingredients
2 tablespoons unsalted butter
3 granny smith apples (about 1 ¼ pounds), peeled, cored, sliced medium thickness
1 ¼ cups whipping cream
1 2-inch piece vanilla bean, split lengthwise (if you don't have a vanilla bean, add a teaspoon of vanilla extract)
4 large egg yolks
¼ cup sugar
1 large egg
Preheat oven to 325.
Peel apple, and core and slice them (medium width).
Melt 2 tablespoons butter in medium-size saucepan over medium-low heat.
Add apples and sauté until tender, about 10 minutes. Using a slotted spoon, transfer apples to a plate. Increase heat to medium, and add cream.
Scrape seeds from vanilla bean into the cream; add bean and bring to boil (you can use 1 tsp vanilla extract instead of the bean).
In another saucepan, beat 4 egg yolks and sugar. Now, gradually add the hot cream mixture into the egg and whisk thoroughly after each addition.
Stir over low heat until mixture thickens slightly and coats back of a spoon, about 7 minutes; do not boil. Remove from heat; whisk in 1 whole egg.
Pour custard into crust. Place apples over custard and arrange in a pattern. Beat one egg in a small bowl and set aside.
Bake tart in the oven and halfway through baking, brush the crust with the raw egg mixture. Continue baking until custard is set in center and slightly puffed around edges, about 35 minutes. cool completely.
Glaze
Ingredients
1/2 cup apricot jelly (if you use jam, strain first)
2 tablespoons calvados brandy. (seriously, you can use just brandy)
Mix the jelly and brandy together in a small saucepan and heat.
After cooking for about 2 minutes, let cool a bit and then brush apples with the glaze.
I've found that this dessert is best served warm or on the same day that it is made. If you do eat it the next day, warm in the oven to crisp up the crust.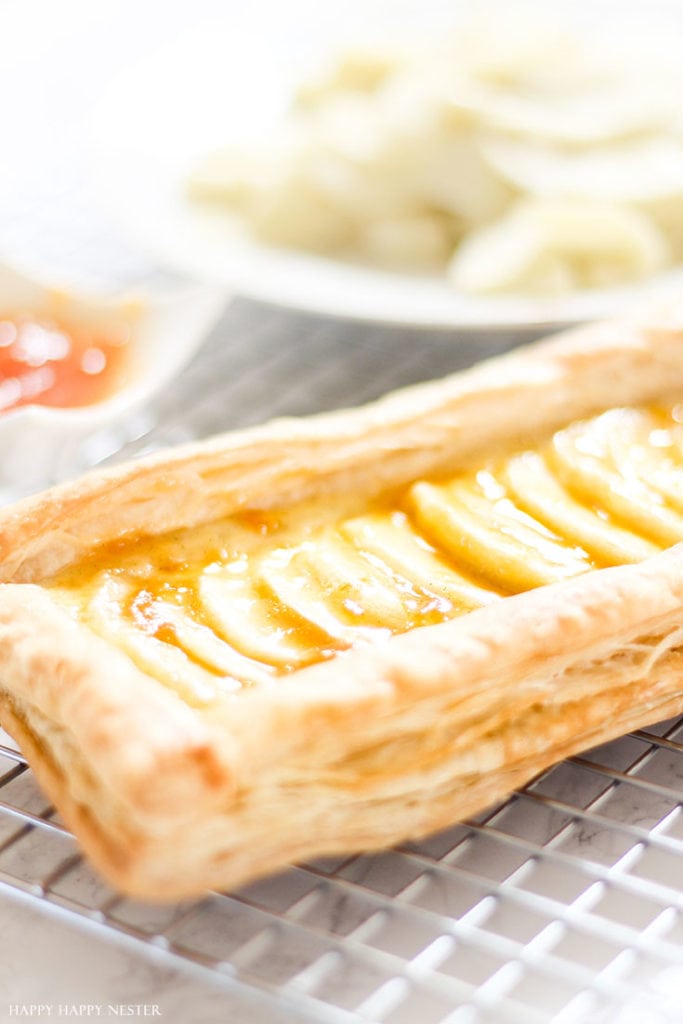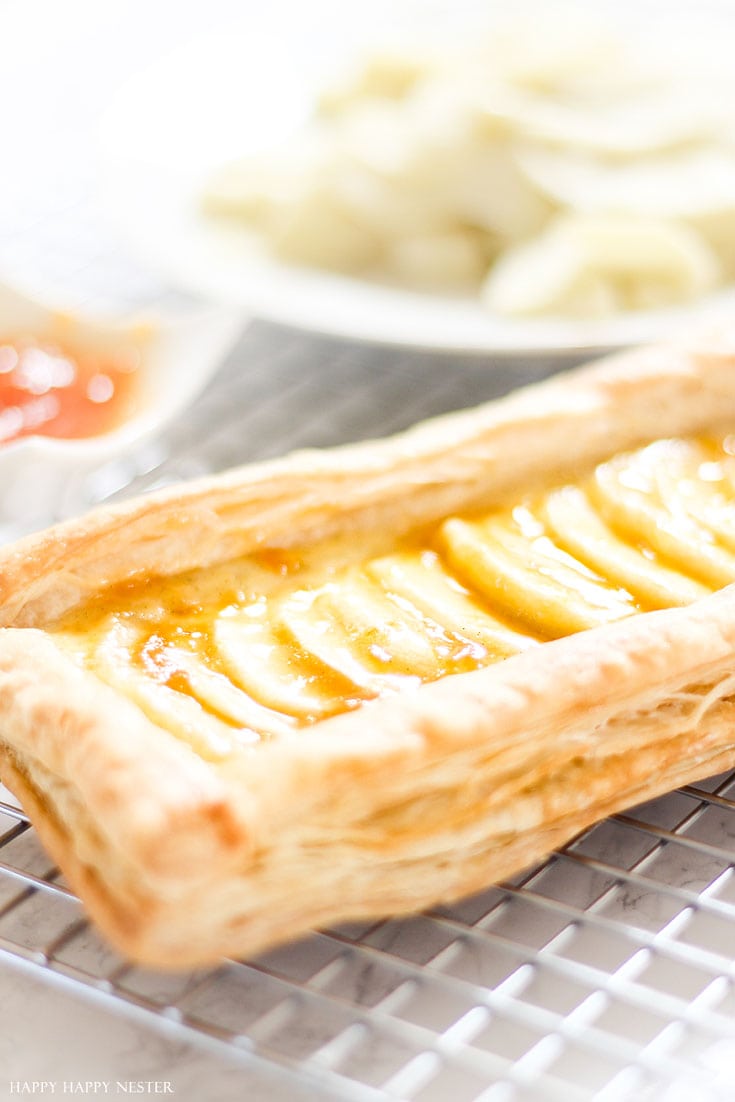 This dessert will be a hit! So your's will look like this one. you'll either make two skinny ones (like the above photo) or one larger one.
If you end up making this recipe, please leave a comment. I would love to hear from you. Make sure to check out my recipe page for more delicious desserts.
Cheers,

Some of My Favorite Kitchen Tools
Click on photos to view the items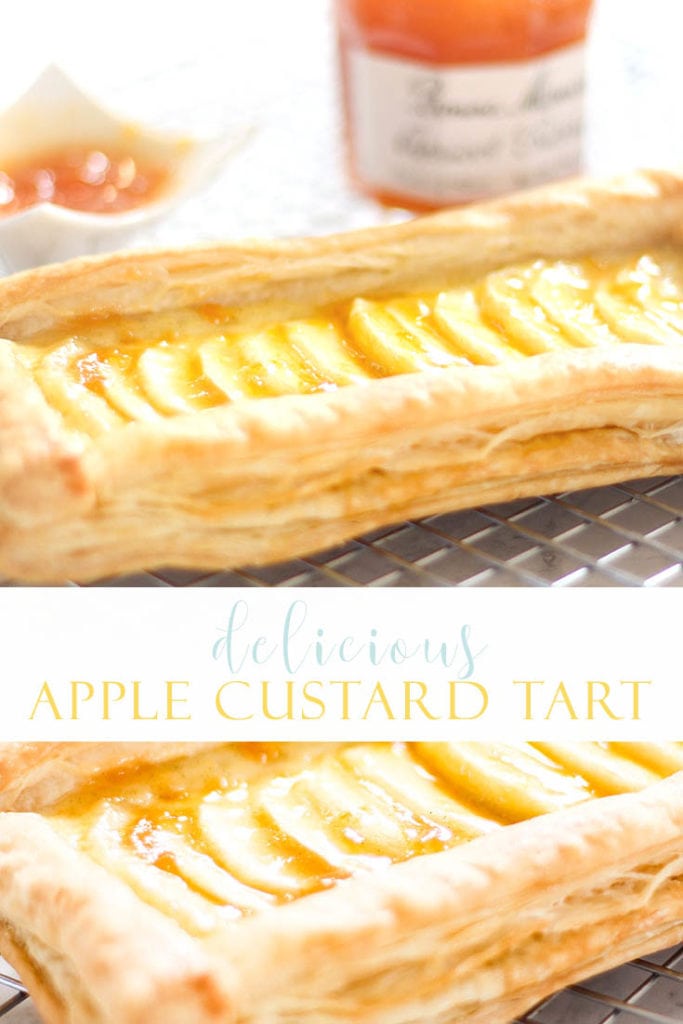 This post is linked to: