If you like custard, you'll love this unusual apple custard tart. But don't just take my word for it. Bake my French Apple Custard Tart in your kitchen, and I promise you will fall in love with this wonderful dessert.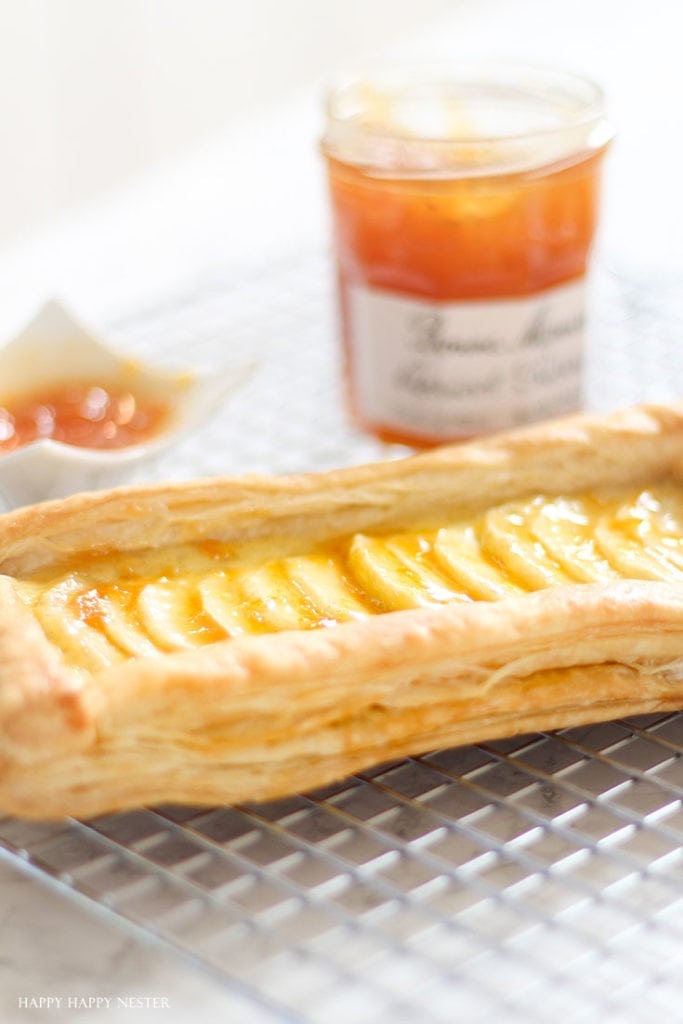 I love apple desserts so much that I have another post of 11 Apple Tarts. Today, I just made one of the recipes, and I must say that it is now one of the best apple tarts I have ever had.
French Apple Custard Tart
A couple of summers ago, our family took an amazing trip to France, and we dined our way through Paris and Provenance.
On our second day in Paris, we randomly chose a little cafe that served up organic dishes that were pre-made. I must say that I was a little worried about the flavor of the food, but it turned out to be quite delicious!
We splurged and bought an apple custard tart that was a delightful blend of custard, apples, and crispy, flaky croissant crust. And so, for the rest of our trip, we kept sampling apple tarts, and we were greatly disappointed.
Who knew that this little lunch shop would have the best dessert we had in all of France!
So, of course, once I was home, I was obsessed, and I recreated the French apple custard tart we had in France.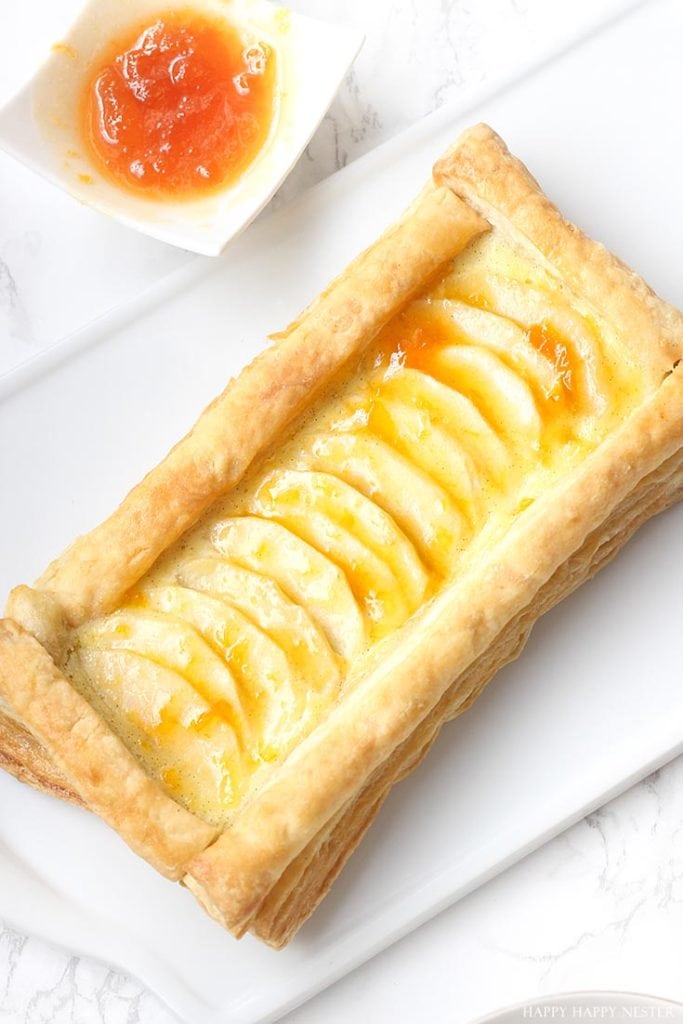 You wouldn't be surprised that I'm a tiny bit obsessed with various things for those who know me. You see, I have this personality trait that my family finds either annoying or entertaining.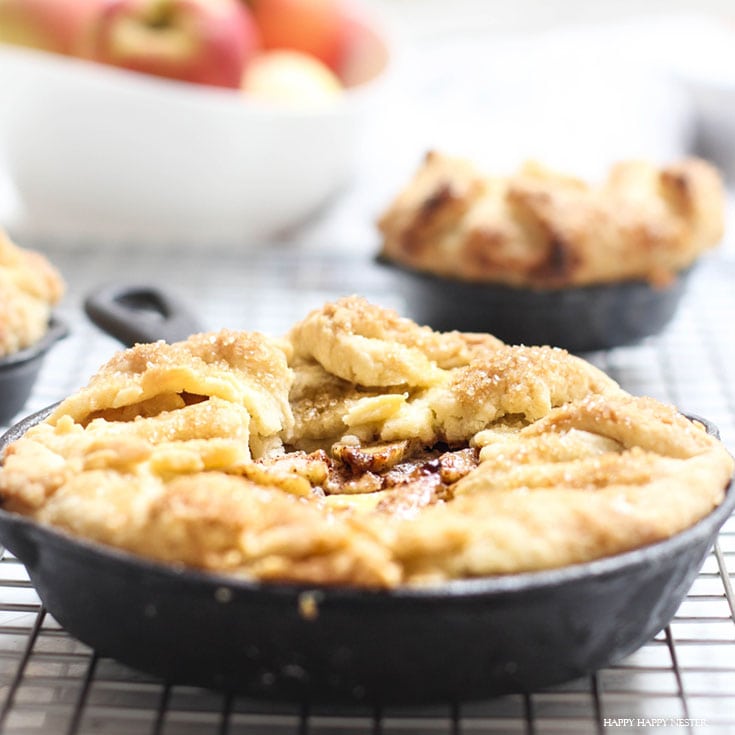 Luckily for my blog readers, I post things that I have a lot of passion for. And so, I'm crazy about apple desserts since I have a scrumptious Mini Apple Tart Custard Recipe.
This new recipe is similar to my French apple custard tarts, but it is made in a cast-iron pan, and the crust is more of a pie crust. You'll definitely want to make this next.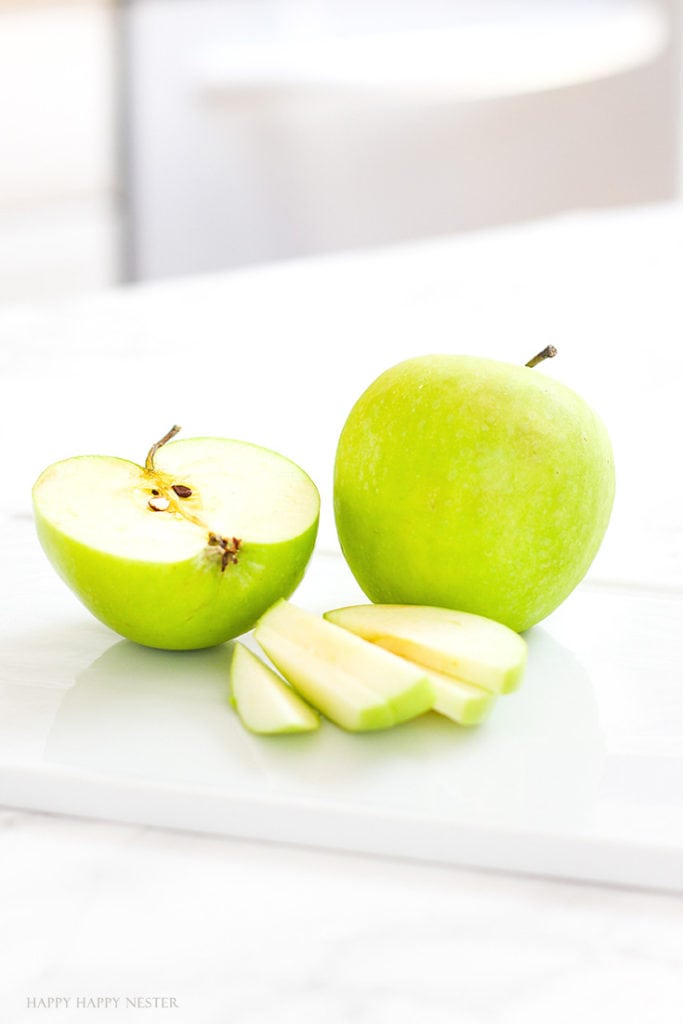 So, back to my French apple custard tart story. A couple of summers ago, we took a family trip to Montana, and I had a lot of time on my hands… so, I tried a few attempts at creating this apple tart. I finally came up with a version that is really close to the original Paris tart!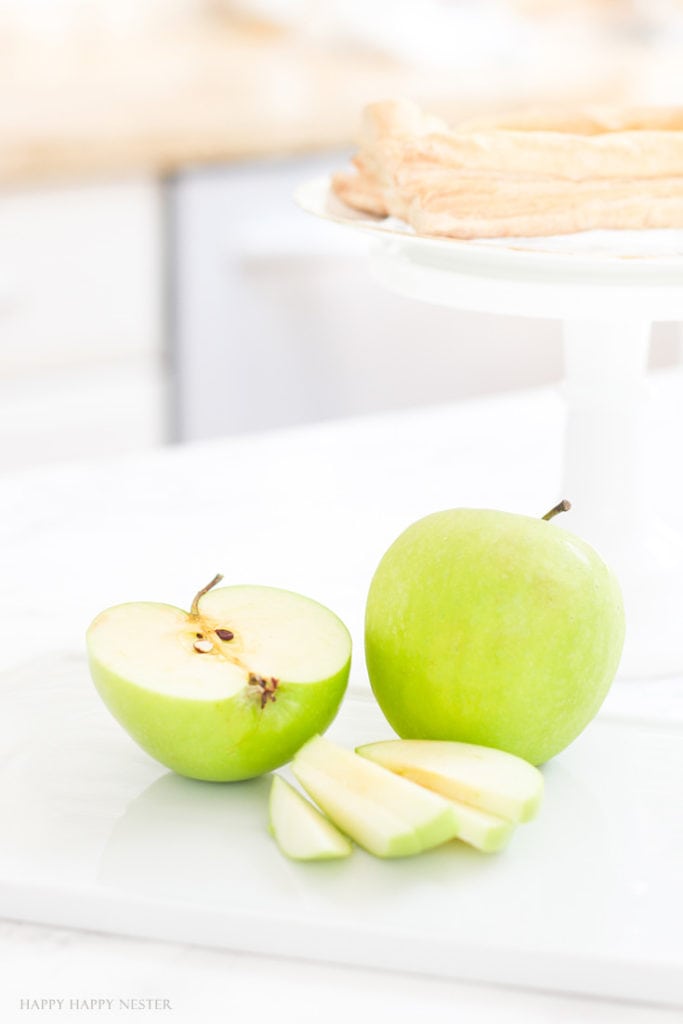 My dessert has a flaky croissant crust and a layer of egg custard followed by cooked apple slices and then finally topped with a rich glaze of apricot jelly and Calvados brandy. I hope you enjoy baking and eating it as much as my family does. This dessert doesn't last too long in our house!
It is best served warm and fresh. But, if eaten the next day, heat in the oven to get the crust to its original flaky texture.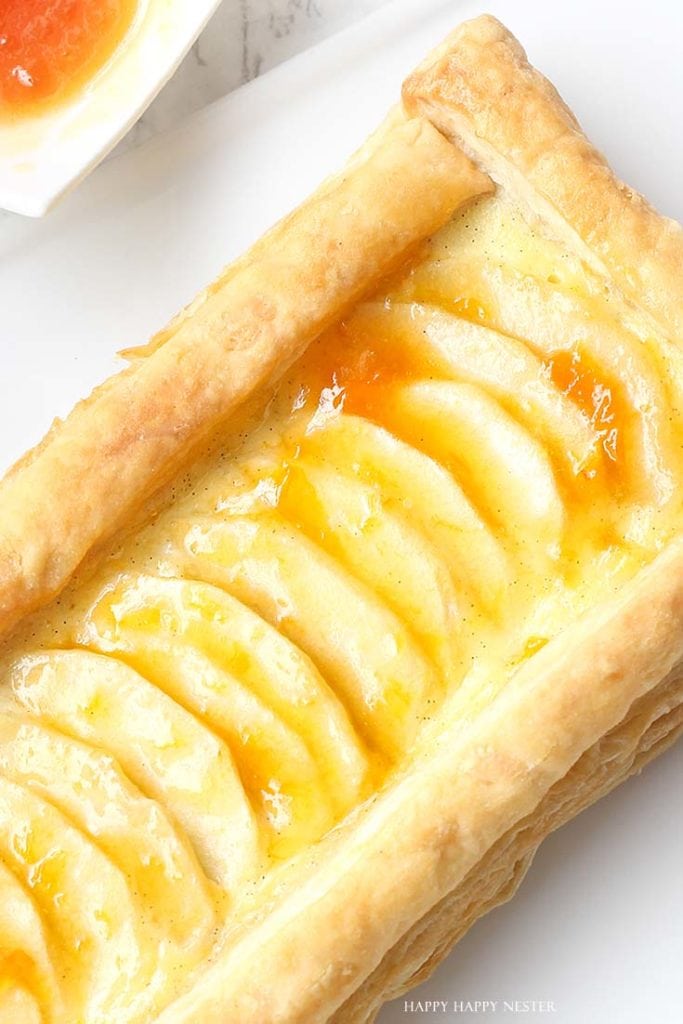 1. How Long Do You Cook an Apple Tart For?
Since this recipe requires you pre-cook the sliced apples, it only cooks for a total of 55 minutes. This includes baking the puff pastry in advance.
2. What's the Difference Between Tart and Pie?
I guess there is a serious debate on this subject. But what I gather a pie is usually made with a bottom, sides, and top crust. On the other hand, a tart has shallow sides, and mostly the top isn't covered. You can read more about it on the Telegraph website.
3. What Temperature Do You Cook a Tart?
My recipe calls for the oven temperature to be 350 degrees.

How to Make a This Delicious Dessert
(A Brief Description)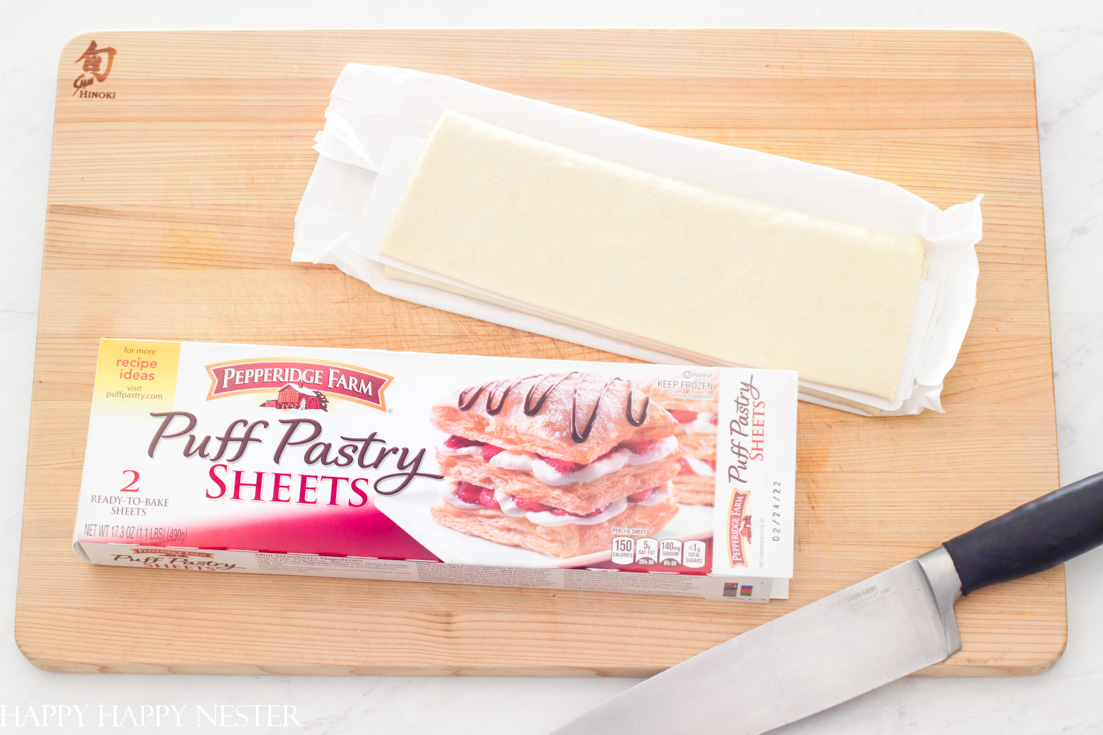 Step 1 – Thaw Two Puff Pastry Sheets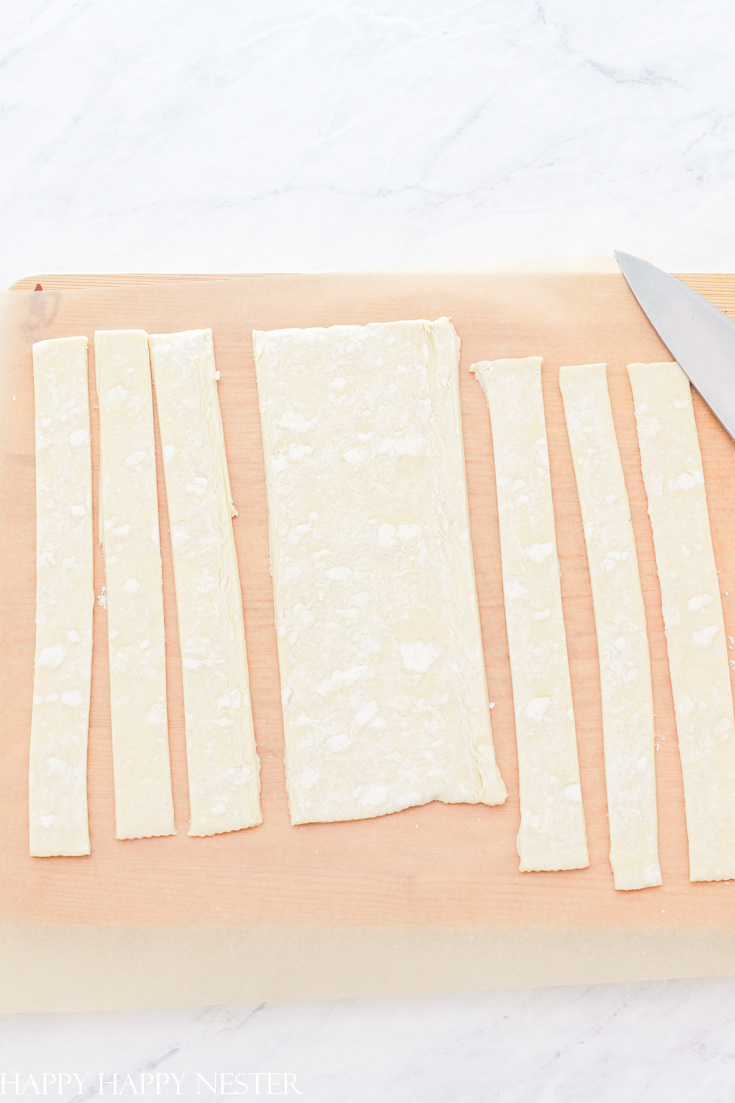 Step 2 – Cut Puff Pastry Strips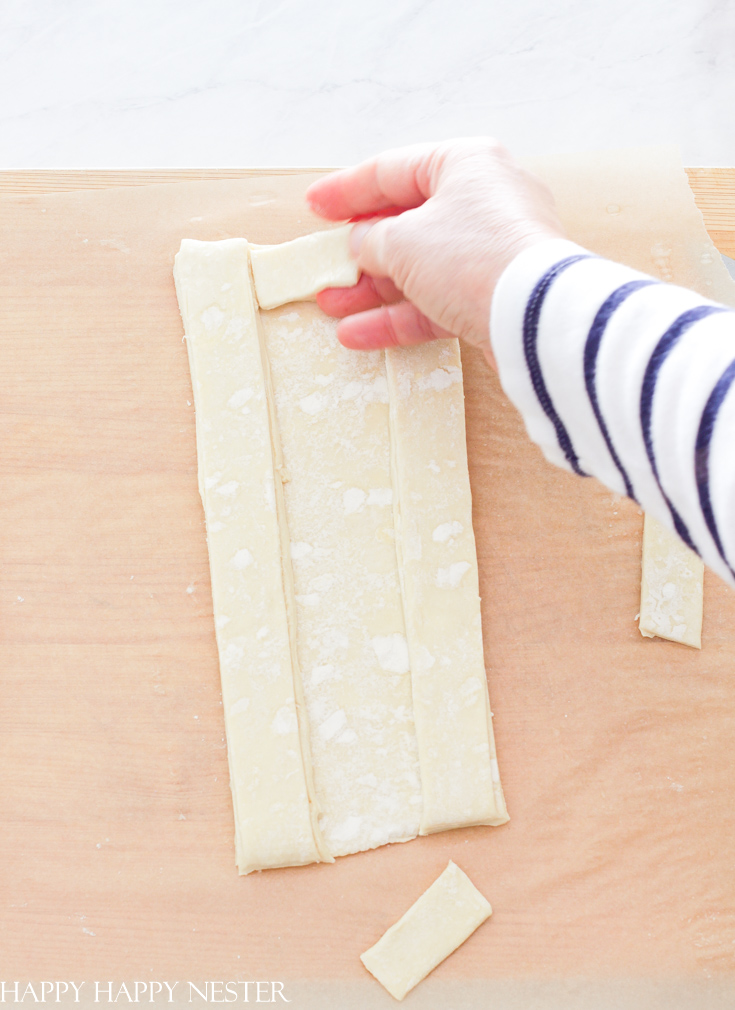 Step 3 – Build Edges of the Tart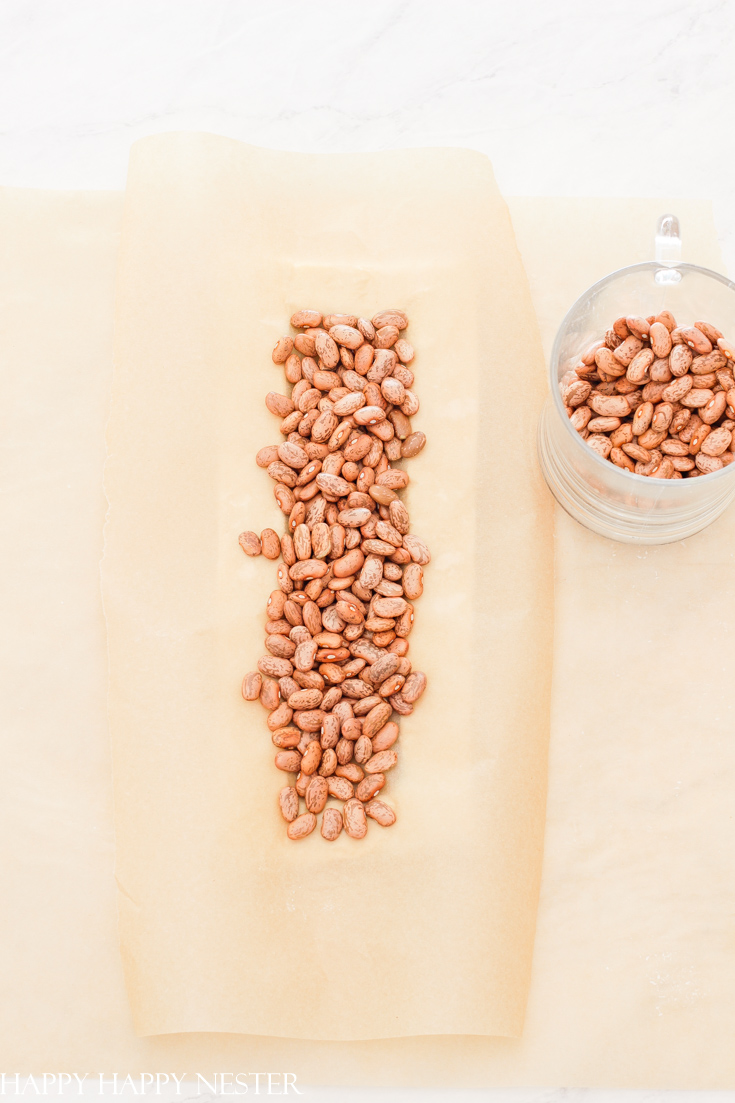 Step 4 – Bake Puffed Pastry with Dried Beans (Blind Baking)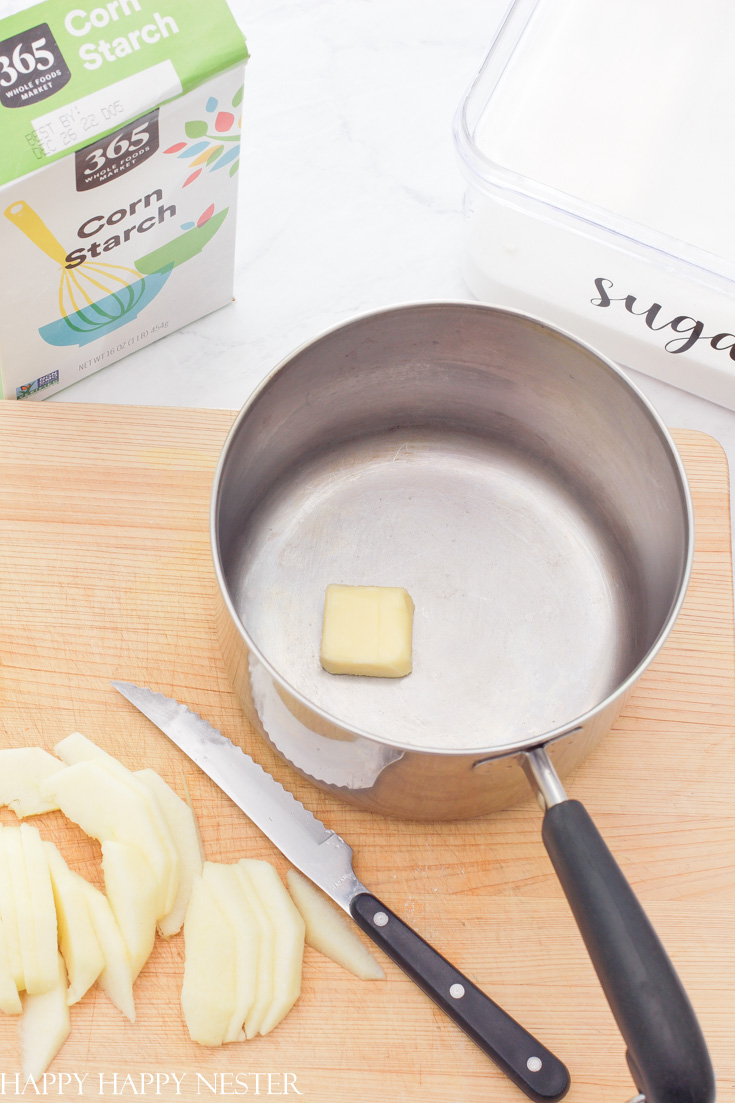 Step 5 – Prepare Apples and Cook Over Stovetop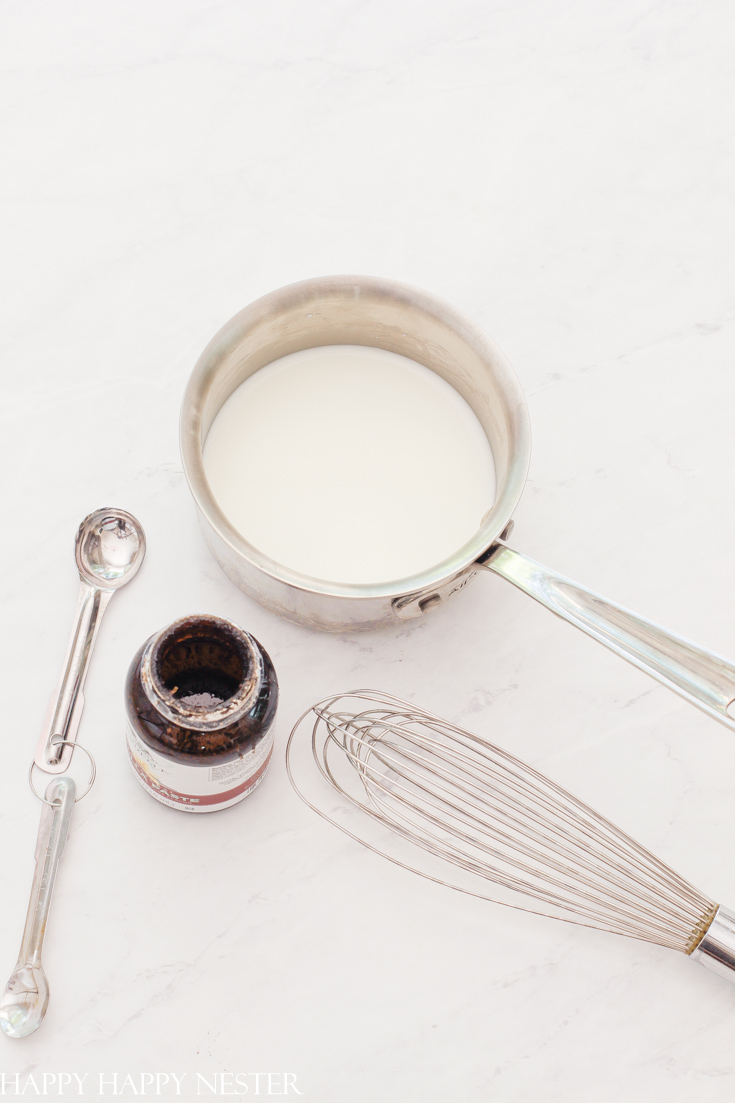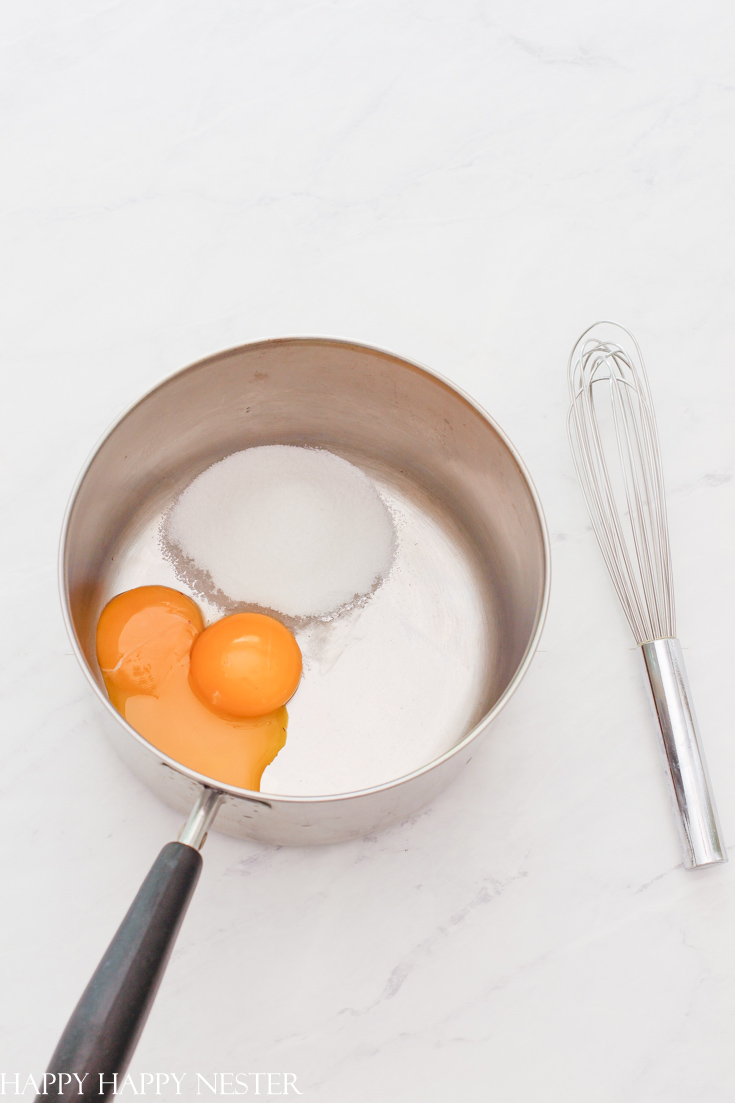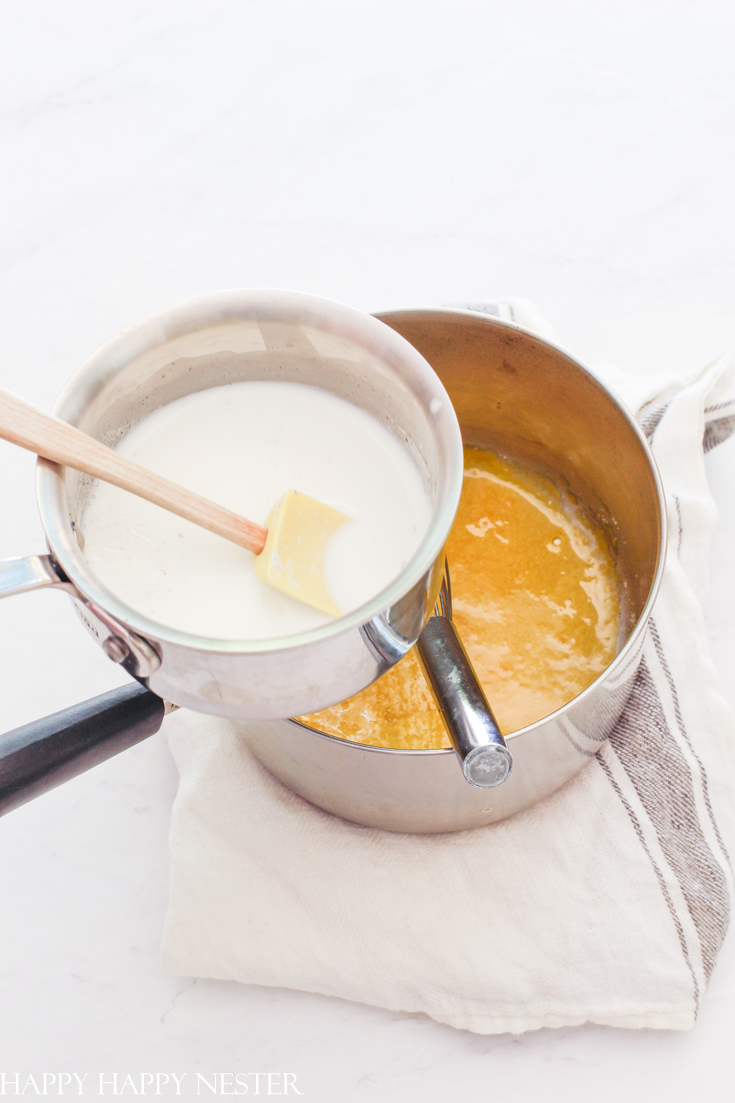 Step 6 – Make Egg Custard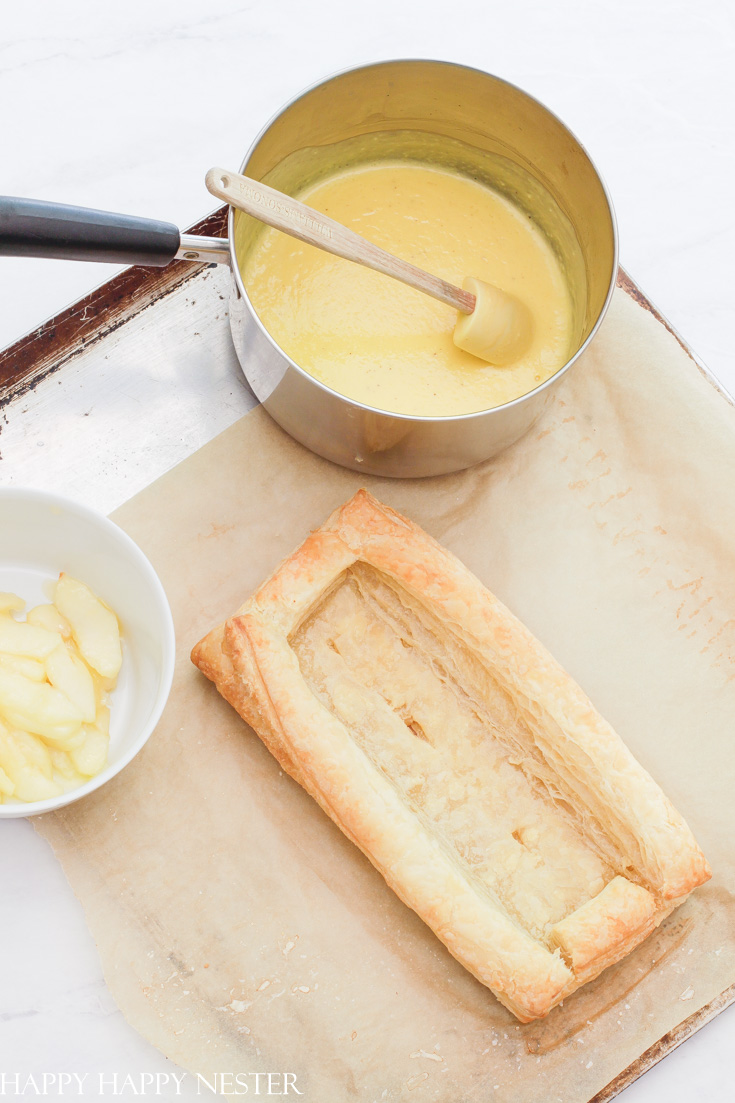 Step 7 – Assemble Apple Tart
French Apple Custard Tart
This French Apple Custard Tart recipe is an easy dessert that uses a puff pastry. Unlike other apple tarts, this one includes a rich custard layer. Granny Smith apples are the best ingredient to use. This tart is like one we had in Paris, and it's like nothing you have ever eaten!
Ingredients
Crust
1

package

frozen puff pastry

I use Pepperidge Farms - this recipe calls for 2 sheets
Custard Filling
1 ¼

cups

cream or whole milk

2

tsp

vanilla bean paste

Can use vanilla extract

4

large

egg yolks

¼

cup

sugar
Apple Filling
2

Granny Smith

peeled and sliced

6

tbsp

granulated sugar

1

tbsp

cornstarch

4

tbsp

butter

2

tsp

cinnamon

optional

½

tsp

nutmeg
Apricot Glaze
½

cup

apricot jelly

or sieved apricot jam

2

tbsp

Rum

can use Calvados liquer
Instructions
Puff Pastry
Remove two puff pastries from the freezer. Don't unfold the pastry at this time.

Allow the pastries to thaw for about 30 minutes.

Once thawed, unfold the pastry if pliable.

You will make two puff pastries forms in the shape of rectangles.

For the crust, you'll want to check out the photos or videos on how to make the crust.

Cut six 1-inch strips along the long side of the puff pastry.

Place puff pastry on parchment paper and a baking sheet.

Place each strip on the edges of the leftover rectangular pastry dough. Brush a thin layer of water in between strips so that they stick together. Add another strip so that your sides are two strips deep. Trim pastry excess pastry dough.

Smooth and seal dough seams with a wet finger.

Cut a sheet of parchment that is big enough to cover the rectangular-shaped puff pastry. Place parchment over the center of the pastry. Fill with baking beads or dried beans like pinto beans.

Repeat these steps to make another pastry.

Bake in the oven (until lightly golden) for 30 minutes.

Take dough out of the oven and remove the dried beans.

The middle of the dough where the beans are covered is probably uncooked at this point. So now we will bake it again.

Place the dough back in the oven and bake for another 3 minutes.

Once the middle is cooked, place on a cooling rack.
Apple Filling
Peel apples and core them.

Melt butter in the saucepan and then add sugar, cornstarch, and apples. If you like cinnamon and nutmeg, you can add them at this time.

Cook apples over low to medium heat.

Once apples are tender, remove them from the stove.
Custard Filling
In a small saucepan, mix vanilla bean paste with milk. Heat on stove until it boils.

In another saucepan, beat 3 egg yolks and sugar.

Next, slowly add the hot cream mixture into the egg and whisk thoroughly after each addition. Since the eggs are raw, adding hot milk will cook the eggs. So, add the hot mixture very slowly at first, so you don't get pieces of cooked egg. If you get cooked eggs, no worries. You can strain the custard with a sieve.

Now stir the egg and milk mixture over low heat until it thickens and coats the back of a spoon, about 7 minutes; do not boil. Remove from heat.

Take off the stove and set it aside.
Assembling Tart
Add half the custard to one of the puff pastries. Next, top custard with cooked apple slices. You can line up the apples if you like.

Repeat with the second puff pastry.

Bake in the oven for 10-15 minutes.
Apricot Glaze
In a small bowl, add strained apricot jam with rum. Mix well.

Brush glaze on top of tart and apples when the pastry comes out of the oven.

Serve with ice cream or whip cream.
Nutrition
Serving:
4
servings
|
Calories:
500
kcal
|
Carbohydrates:
107
g
|
Protein:
14
g
|
Fat:
65
g
|
Saturated Fat:
22
g
|
Trans Fat:
1
g
|
Cholesterol:
222
mg
|
Sodium:
447
mg
|
Potassium:
298
mg
|
Fiber:
5
g
|
Sugar:
46
g
|
Vitamin A:
768
IU
|
Vitamin C:
4
mg
|
Calcium:
137
mg
|
Iron:
4
mg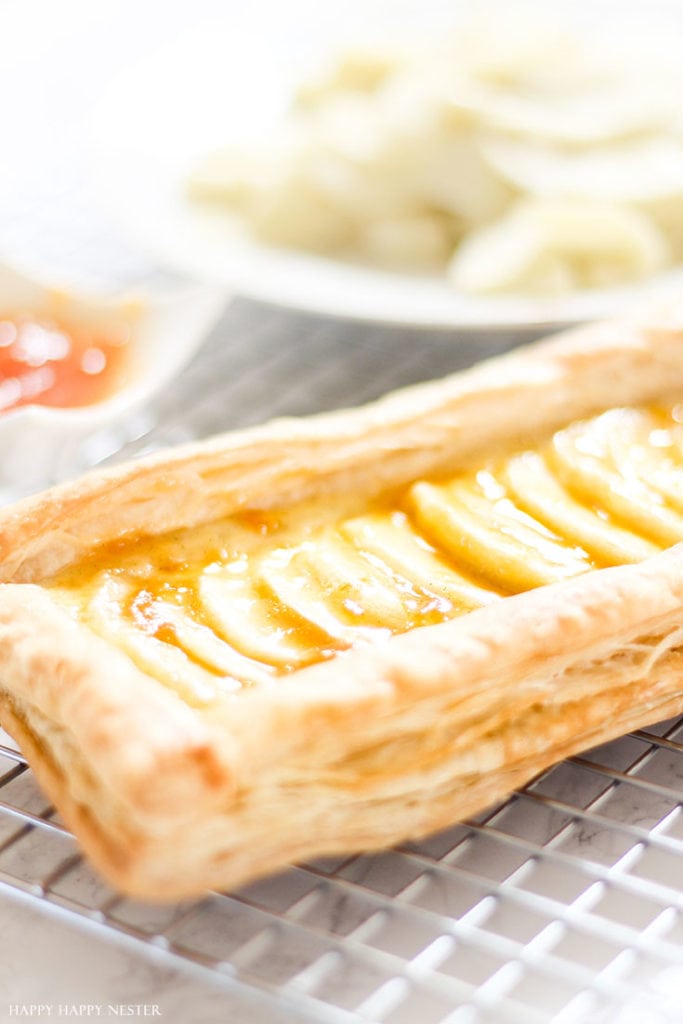 This dessert will be a hit! So your's will look like this one. You'll either make two skinny ones (like the above photo) or one larger one.
If you end up making this recipe, please leave a comment. I would love to hear from you. Make sure to check out my recipe page for more delicious desserts.
Cheers,

Some of My Favorite Kitchen Tools
Click on photos to view the items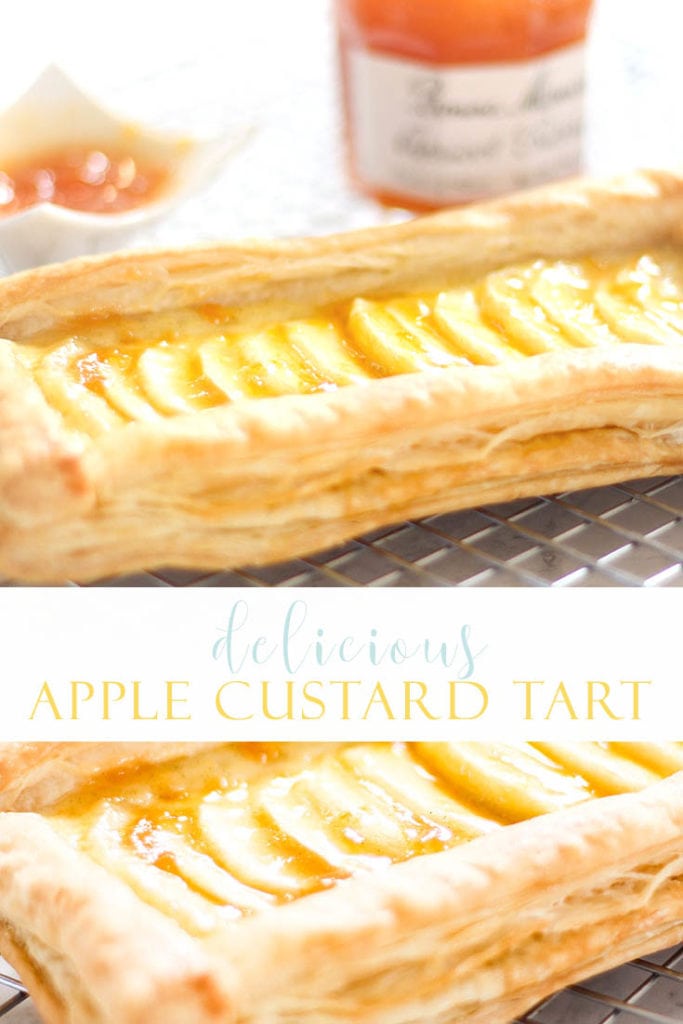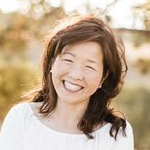 Latest posts by Janine Waite
(see all)