While visiting Paris, France, we ordered a Puff Pastry Fruit Tart with fantastic custard. The custard combined with apples topped with a cinnamon and nutmeg sauce is delicious and is a perfect fall dessert.
This easy recipe has pre-made puff pastry, apple in cinnamon sauce, all topped with an apricot and rum glaze. It's similar to Ina Garten's French Apple Tart.
My friends and I are posting some fun projects for three days this week.
This week includes a Thanksgiving 3-Day Series with my dear friends. Here is the week's line-up:
Monday – Thanksgiving DIY
Tuesday – Thanksgiving Recipe
Wednesday – Thanksgiving Table Reveal
You see my friend's projects in the photos and links below.
---
Also, if you need more recipes for your Thanksgiving dinner, here are some of my family's favorites:
*This post contains affiliate links
Puff Pastry Fruit Tart with Custard
I love this recipe and wanted to try it with a few different variations. So, this time I changed up my old recipe to make it a bit simpler. I left the apple skins on the apple slices, making the pastry on a big baking sheet.
I must warn you that this tart is a bit complicated, and I'll address the tricky spots in this post. So make sure to read the essential tips.
Puff Pastry Fruit Tart
This rustic Puff Pastry Fruit Tart is unlike other tart recipes. It has a custard middle that combines nicely with the baked spiced apples.
Ingredients
Crust
3

puff pastry sheets

room temperature
Custard
2½

cup

heavy cream

4

tsp

vanilla bean paste

can use vanilla extract

8

egg yolks

½

granulated sugar
Apple Filling
4

apples

cored and sliced

¾

cup

granulated sugar

2

tbsp

cornstarch

½

cup

butter

1

tbsp

cinnamon

1

tsp

nutmeg
Apricot Glaze
½

cup

apricot jelly or jam

2

tbsp

rum
Instructions
Puff Pastry
Remove three sheets of puff pastries from the freezer. But make sure not to unfold the dough at this time.

Once thawed, unfold the pastry dough if pliable.

Place the puff pastry in a small 10" x 8" baking sheet. Then line the dough with parchment paper. Place dried pinto beans over the paper. You can also use rice or ceramic pie crust weights.

Bake in the oven for 25 minutes until the crust is slightly golden. Remove from oven and carefully remove the parchment and beans.

At this point, the bottom is uncooked. So return the pan to the oven and bake another 5 – 10 minutes to bake the bottom crust.

Return pan to oven and bake another 5 – 10 minutes to bake the bottom crust.

Once the bottom is cooked, place the baking sheet on a cooling rack.
Apple Filling
Cut and core apples. Then slice apples.

Melt butter in a saucepan and add sugar, cornstarch, and sliced apples.

If you like cinnamon and nutmeg, you can add them at this time.

Cook apples over low to medium heat.

Once apples are tender, remove them from the stove and set them aside.
Custard Filling
In a medium saucepan, mix vanilla bean paste with milk. Heat on the stove (low to medium heat) until it simmers. Reduce heat.

In another saucepan, whisk 3 egg yolks and sugar. Warm the egg mixture over low heat.

Next, slowly add the hot cream mixture into the egg and whisk thoroughly after each addition. After adding a third of the milk, you can mix in the rest pretty quickly.

Since the eggs are raw, adding the hot milk will cook the eggs. So, add the hot mixture very slowly (at first), so you don't get pieces of cooked egg. If you get cooked eggs, no worries. You can strain the custard with a sieve later.

Now constantly whisk the egg and milk mixture over low heat until it thickens. Be patient since this takes about 5 – 7 minutes. Do not boil the custard or the yolk with split from the milk. Remove from heat and set aside.
Assembling Tart
Add custard to the baked puff pastry. Top custard with cooked apple slices.

Bake in the oven for 10 minutes.
Apricot Glaze
While the tart is baking, make the glaze.

In a small bowl, add apricot jam with rum. Mix well. If you like, you can strain the jam.

Brush glaze on top of tart and apple when the pastry comes out of the oven.

Serve warm with ice cream or whip cream.

Store in the refrigerator and reheat before serving.
Nutrition
Serving:
1
serving
|
Calories:
544
kcal
|
Carbohydrates:
52
g
|
Protein:
7
g
|
Fat:
34
g
|
Saturated Fat:
12
g
|
Polyunsaturated Fat:
4
g
|
Monounsaturated Fat:
17
g
|
Trans Fat:
1
g
|
Cholesterol:
151
mg
|
Sodium:
227
mg
|
Potassium:
121
mg
|
Fiber:
3
g
|
Sugar:
20
g
|
Vitamin A:
445
IU
|
Vitamin C:
3
mg
|
Calcium:
35
mg
|
Iron:
2
mg
Important Recipe Notes
Making the custard is a bit touchy, and I thought it might be nice to review some of the tricky steps so that you have a lovely dessert.
Custard
It's all about stirring it constantly with a whisk while cooking in on a stovetop. I made it a lot to make sure I had the instructions correct.
You see, the egg can coagulate, so it's imperative to have the custard at a low temperature and whisk it quite a bit. When you add the warm cream to the yolks, add it slowly at first and mix quickly, so the yolks don't cook. After about a third of the warm milk is stirred in, add the rest of the milk and quickly whisk.
Keep the flame at a low heat and whisk for 5 – 7 minutes until custard thickens. Place a spoon in the custard making sure to cover the back of the spoon. Then take your finger and run it through the custard. If the line you created does not run together, your custard is cooked and done.
Puff Pastry
Also, you'll want to blind bake the puff pastry, and it will have a soggy bottom. To prevent the soggy bottom, bake for 20 minutes, pull out the beans and parchment and bake for another 10 minutes to crisp up the base.
When using frozen puff pastry, place it out to thaw. I found that if I thaw it in the refrigerator the day before, the pastry becomes too sticky to work. Bottom line, thaw your puff pastry dough the day you make your tart.
Apples
Cook apples on the stovetop before adding them to the baked puff pastry. Cooking allows the pastry dough to bake and also eliminates the extra juices from the apples.


---
Check out my friend's Thanksgiving DIY posts!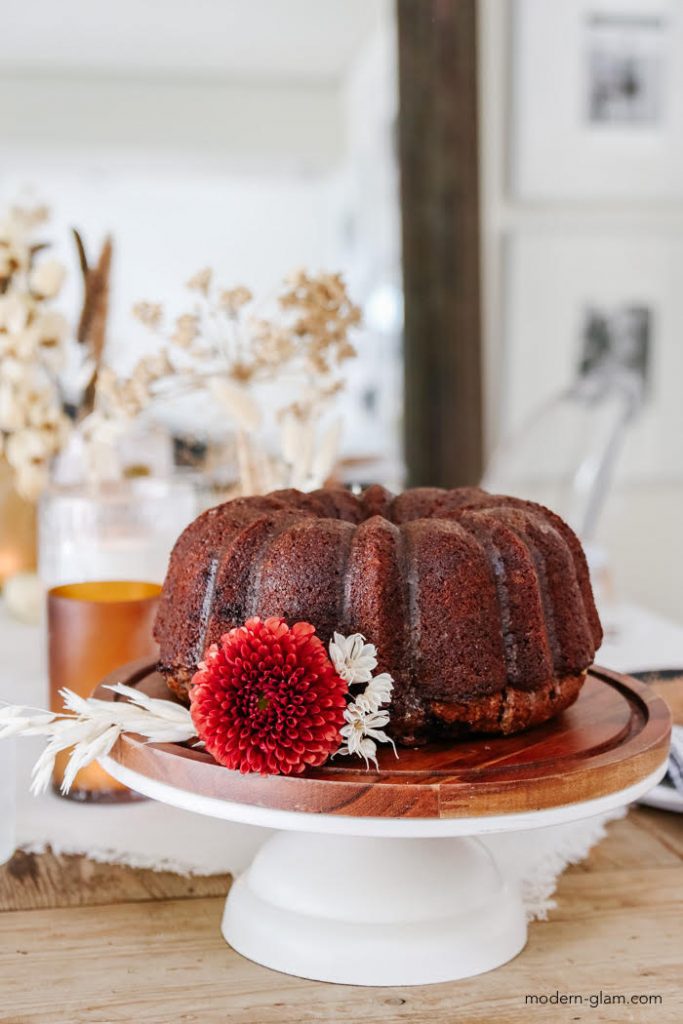 Easy Pumpkin Bundt Cake | Modern Glam
This Pumpkin Bundt Cake is so easy! Made with Trader Joe's pumpkin bread mix, I added a sweet espresso swirl to the cake and a coffee glaze on top for an easy and super yummy Thanksgiving dessert.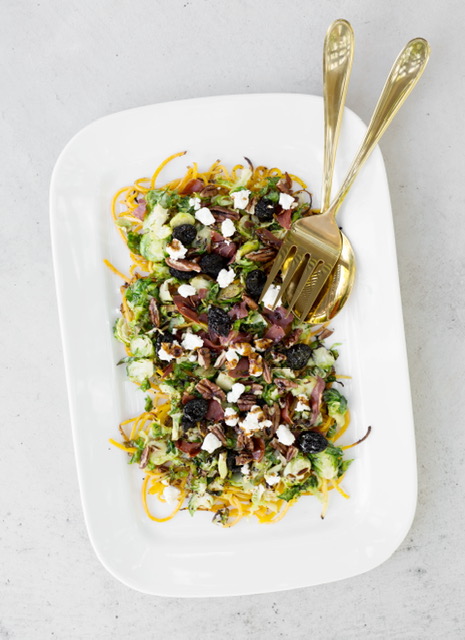 Roasted Brussel Sprout Salad with Maple Balsamic Glaze | To Have + To Host
One of my most requested recipes for fall and winter is this incredible roasted brussel sprout salad which combines the best seasonal veggies like brussel sprouts and butternut squash with other ingredients for a dish that is satisfying enough for a meal, yet equally qualified for an elegant Thanksgiving side dish.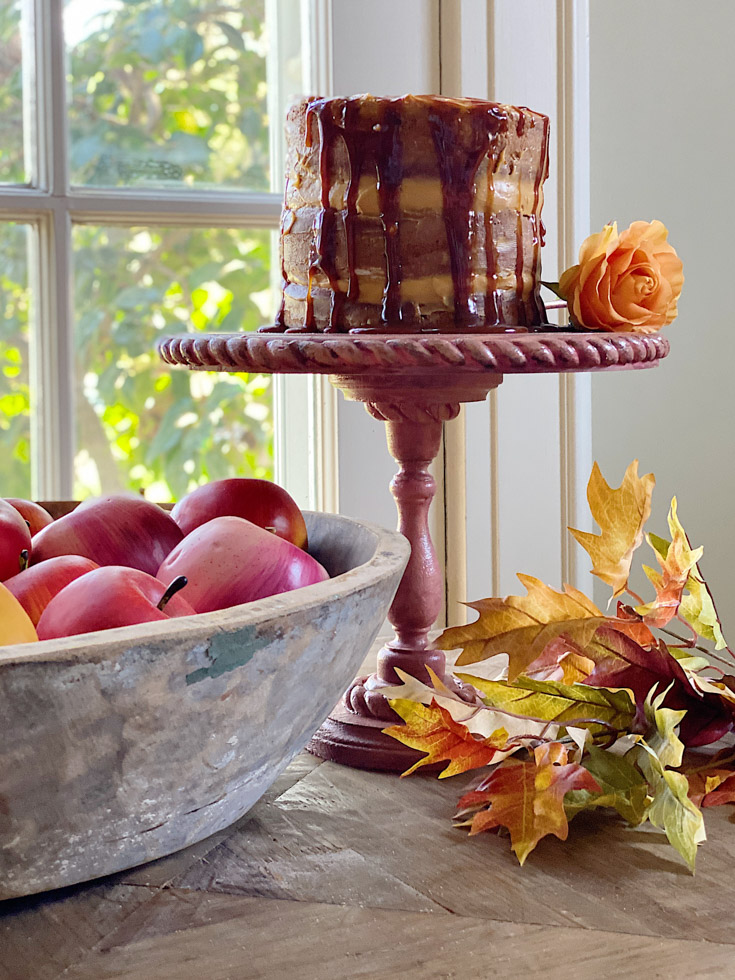 Salted Caramel Apple Thanksgiving Cake | My 100 Year Old Home
I love creating non-traditional recipes for holidays. This Salted Caramel Apple Thanksgiving Cake is absolutely amazing!
---
Thanks for your visit to my puff pastry fruit tart recipe! I hope you have a chance to bake this delicious family favorite recipe.
Have fun planning your Thanksgiving dinner menu!
Happy Baking,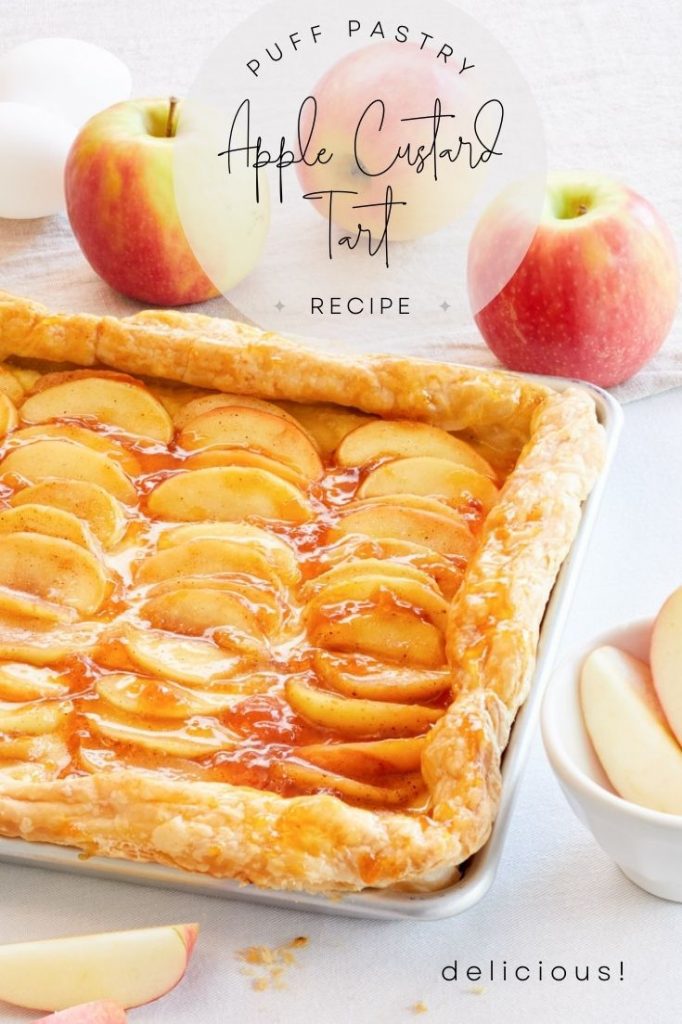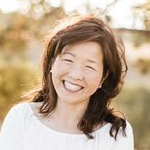 Latest posts by Janine Waite
(see all)