This Yams Baked in Orange Sauce is a refreshing recipe that goes perfectly with most dinners. We love it for Thanksgiving and Christmas dinner parties. It is so cool that it can be made ahead of time which helps when you are hosting a big crowd for dinner. Also, I feel that the taste gets richer with each passing day.
Speaking of yams, have you ever wondered the difference between yams and sweet potatoes? Make sure to check out the answers below since I think that I should have named this recipe, Sweet Potato Yams Baked in Orange Sauce!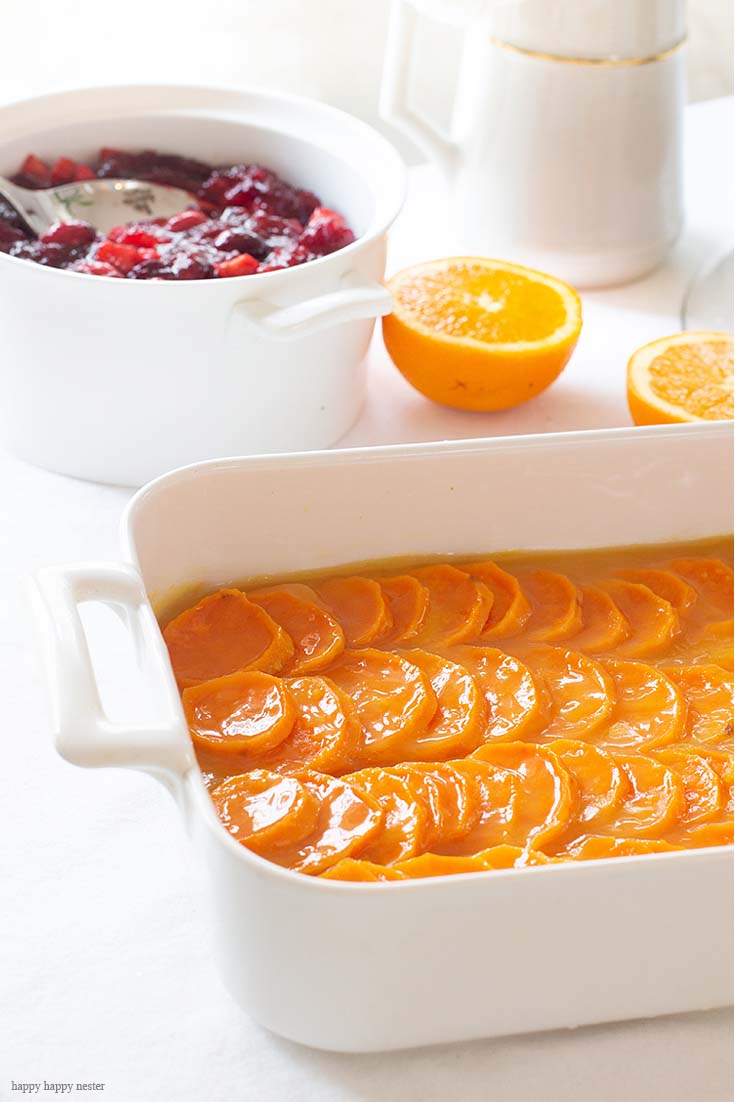 I have childhood memories of dining at my Auntie's home for the holidays, and she served a plain yam. My brothers and I would stare at the yam quizzically and then quickly ask for some brown sugar and butter. I never dreamed of eating and liking my sweet potatoes prepared any other way.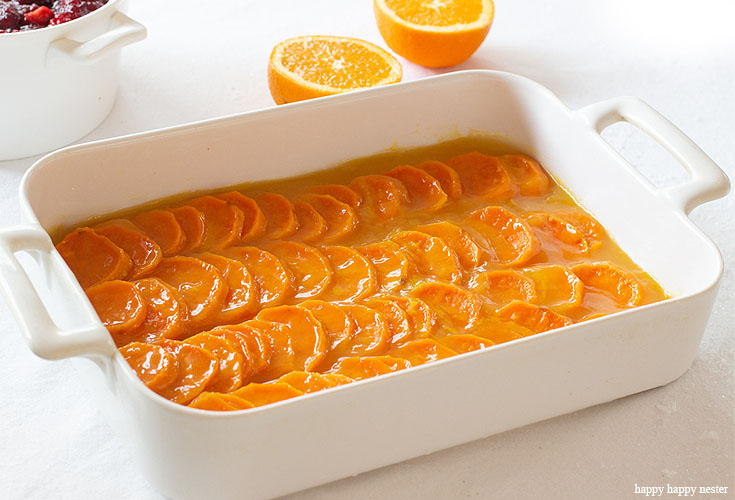 Yams Baked in Orange Sauce
So, you can imagine that when my sister-in-law introduced me to these yams baked in orange sauce recipe how surprised I was at this new way of preparing yams.
Well, I immediately fell in love with them, and I have been making it now for about 15 years ago. In fact, this recipe is my go-to vegetable for the holidays. I especially love it since it can be made a couple of days ahead. And what a bonus that it is one of those dishes that the flavors get better over time.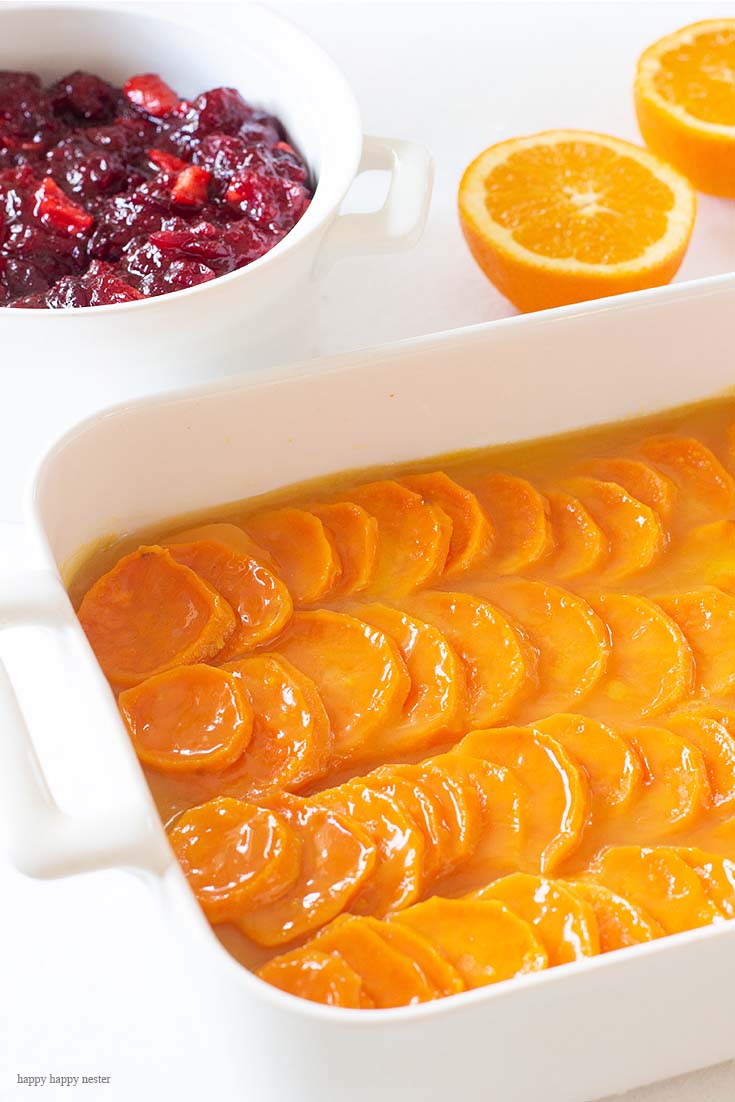 Frequently Asked Questions
What is the Difference Between a Sweet Potato and a Yam?
According to Kelli at the blog, The Kitchn she explains the difference. I'll let you read what she says.
"There are many varieties of sweet potatoes, which come from the morning glory family. Skin color can be white, yellow, red, purple, or brown, while the flesh can be white, yellow, orange, or even orange-red. These vegetables have an elongated shape with tapered ends.
Among the numerous varieties of sweet potatoes grown in the U.S., there are two major types.
Firm, sweet potatoes, which have golden skin and paler flesh.
Soft sweet potatoes, which have copper skin and orange flesh.
The two types of sweet potatoes cook differently. Firm, sweet potatoes remain firm and a little waxy after cooking, while the soft variety becomes creamy and fluffy."
What is a Yam?
The real yam is native to Africa and Asian and is related to the lily plant. They can be the size of a potato or as long as 5 feet. They are blackish or brown, bark-like skin and white, purple, or reddish flesh. The real yam is starchier and drier than the sweet potato. And finally, I guess the real yam can be found in specialty or international grocery stores.
I learn something new every day!
How Long Can Make This Dish in Advance?
I've made this dish about two days in advance of my dinner party. If you make it too far in advance, the yams can get dried up if they aren't completely covered in the orange sauce.
Yams Baked in Orange Sauce
This delicious yam dish is glazed with a sweet orange sauce that makes it irresistible. It has a natural sweetness and freshness that you will enjoy.
Ingredients
4

pounds

yams

1 ¼

cups

sugar

2

tbs

cornstarch

1

tsp

salt

2

cups

orange juice

4

tbs

butter

1 ½

tsp

grated orange peel

1

whole

orange

thinly sliced
Instructions
Peel yams and cut into ½-inch thick slices, discarding thin ends.

Overlapping slices, arrange in a row in two shallow 9" x 13" glass pyrex dish or large baking dish, set aside.

In a small pan, combine sugar, cornstarch, and salt, stir in orange juice until well blended.

Bring to a boil over high heat and cook stirring, until sauce thickens and becomes clear (about 1 minute).

Remove from heat, add butter and orange peel, and stir until butter is melted. Pour over yams.

Bake, covered, for 45 minutes at 400 degrees. Baste tops of yams thoroughly with sauce.

Continue baking, uncovered, basting with sauce several more times, for 15 more minutes or until yams are tender when pierced.

Garnish with orange slices.
Nutrition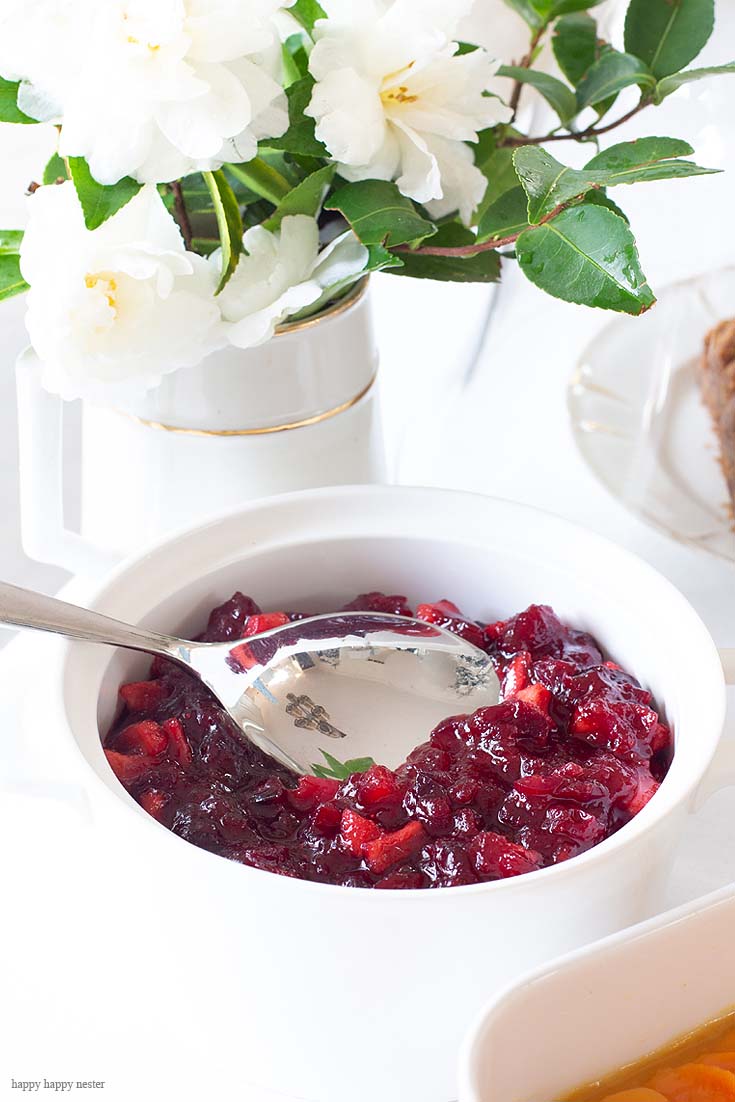 So far, we have had these yams baked in orange sauce for Thanksgiving, and I will make it again for Christmas. We love it, and it is a nice change from adding butter and brown sugar to our baked sweet potato. The sauce is a buttery orange sweet sauce that drenches the sweet potato nicely. I'm always taking a spoon and eating up every last drop of the sauce.
If you like the yams, you probably will like my maple apple cranberry sauce recipe. And by the way, these two side dishes are so yummy together. And maybe for dessert, you can bake my yummy pumpkin bread recipe!
Enjoy cooking in the kitchen.
Cheers,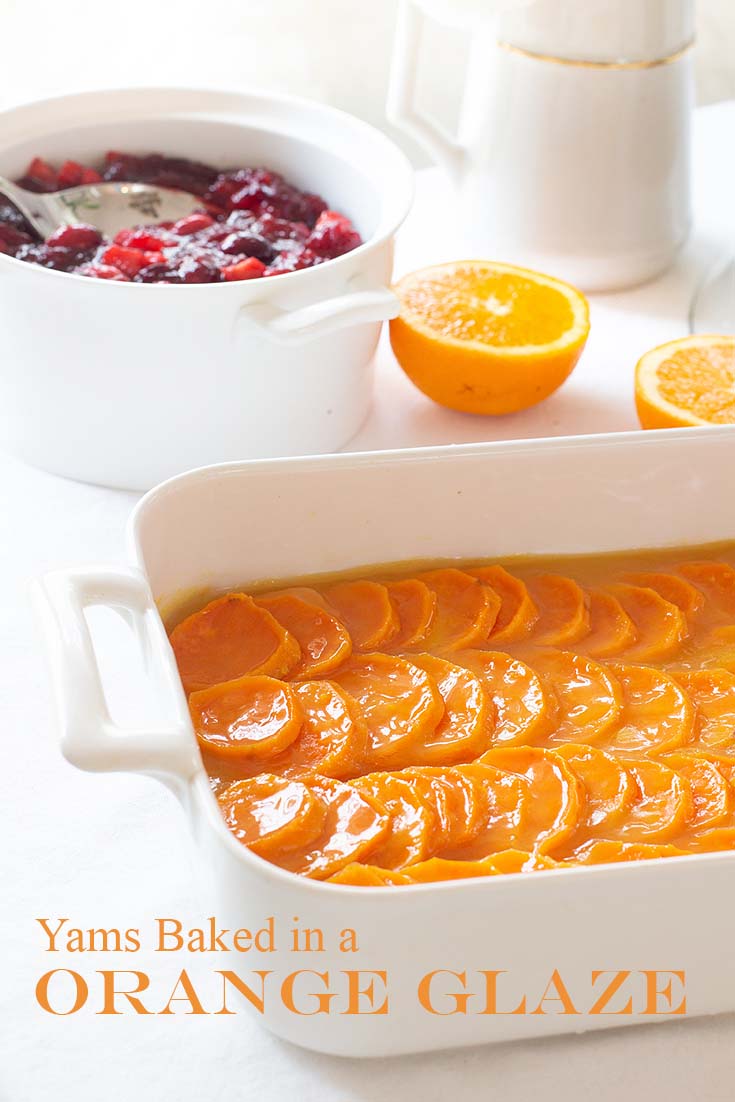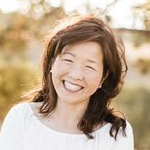 Latest posts by Janine Waite
(see all)