My easy cinnamon maple apple cranberry sauce recipe is so tasty. I am somewhat new to the fresh cranberry sauce that is homemade. When I was a child, my mom always served the canned sauce. You know the kind that makes a suction-like sound when it slowly comes out of the can. We were that quintessential 70's family that bought the canned gelled sauce. So, for years I had no idea that there was a fresh way to make cranberry sauce.
By the way, I assume you are checking this recipe out for a Thanksgiving meal, you might like to try my copycat Starbucks pumpkin bread recipe.
*This post contains affiliate links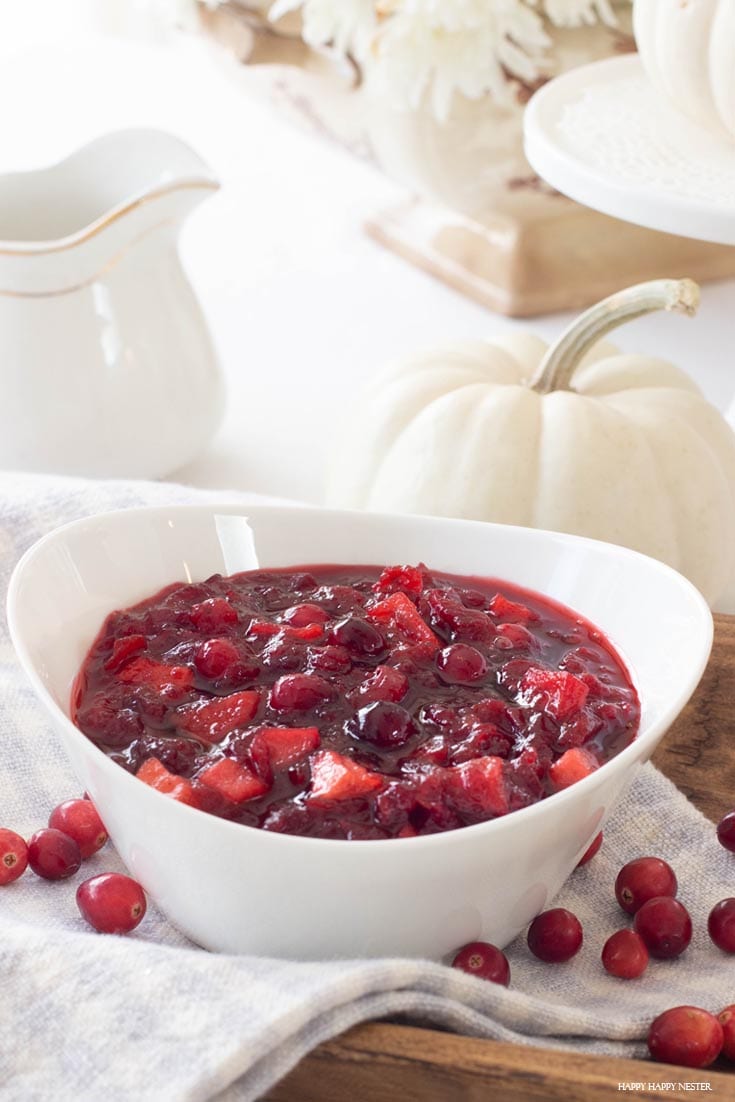 So, nowadays, I make cranberry sauce from scratch and I no longer buy the canned. This maple apple cranberry sauce recipe has maple syrup, a touch of cinnamon and tart yummy Granny Smith apples. It is a perfect blend of spices, sweetness and mellow tartness.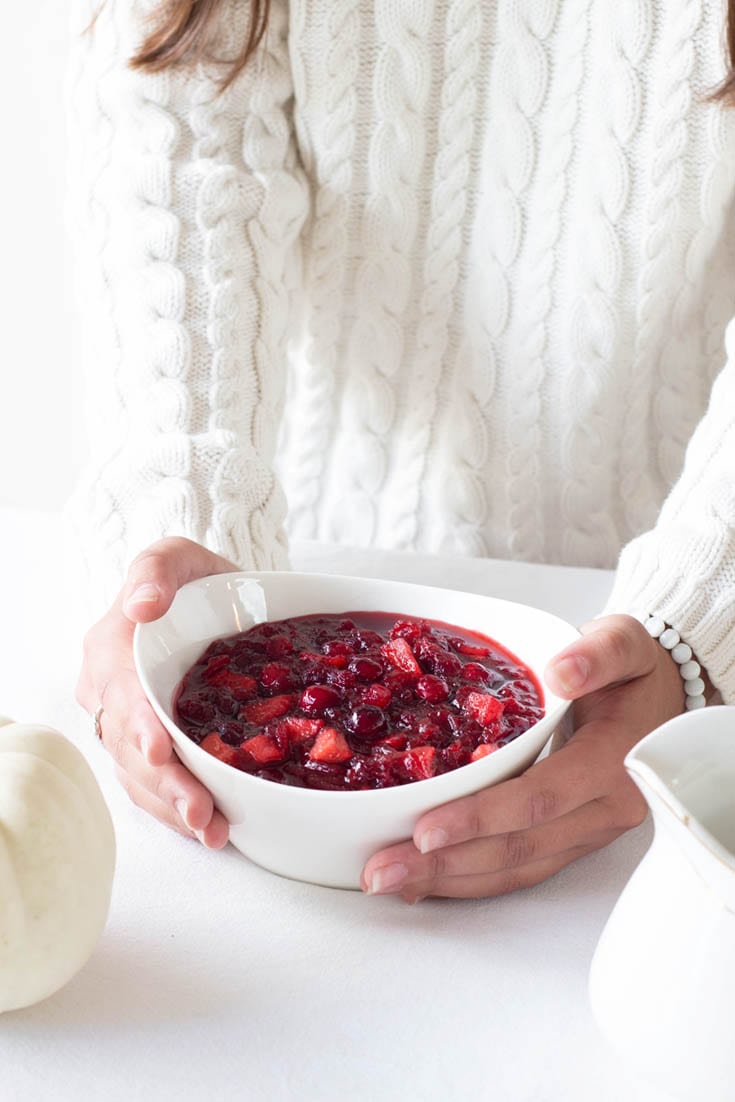 Here are a few questions that you may have about fresh cranberry sauce.
What is Cranberry Sauce?
Fresh cranberry sauce was first offered to Americans in 1912 in Hanson, Massachusetts according to Wikipedia. It is a combination of whole cranberries which are cooked with sugar, orange juice, spices, and possibly apples.
Is Cranberry Sauce Sweet?
So, in America, it has a pretty sweet taste as opposed to England where it leans to the sour/tart side. My recipe combines the apples and many types of sugars which add to the sweet and tart of cranberry sauce. I must admit that I love my cranberry sauce to be a bit on the sweeter side.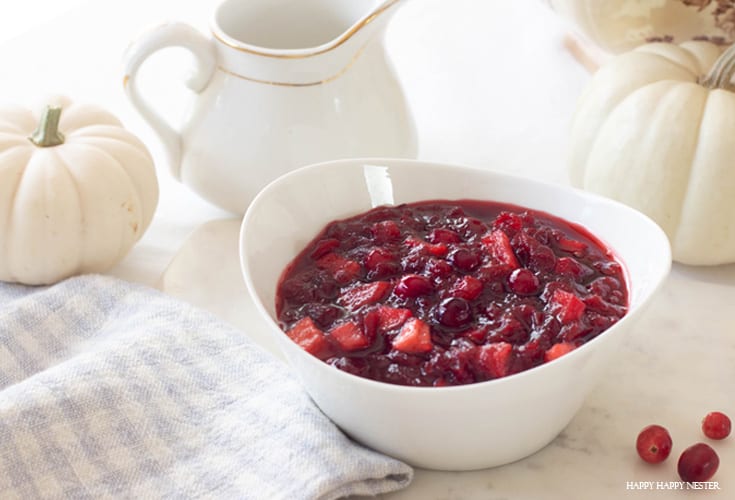 How Long Does Cranberry Sauce Keep in the Fridge?
According to Real Simple it can last in the fridge to 10-14 days. If you start to see the color change or it has mold on it, toss it out. I have never frozen cranberry sauce but if you remove the excess juice and place it in a plastic freezer bag it supposedly should last for up to 2 months.
Can you Make Cranberry Sauce Ahead of Time?
So, since cranberry sauce can last up to 10-14 days you technically can make it a week before your Thanksgiving meal. This is nice since you will have it made ahead of time and less scrambling at the last minute.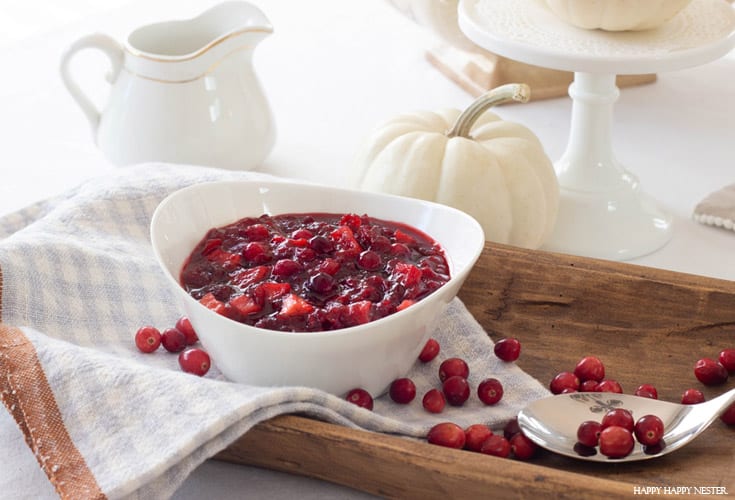 Is Cranberry Sauce Gluten Free and Vegan?
Cranberry sauce typically only contains the cranberries and sugars and so it is gluten-free and vegan.
Do I Need to Thicken Cranberry Sauce?
The amount of sugar is key in making a thick cranberry sauce, so don't skimp on this ingredient. Also, the cranberries and in my recipe the apples have a natural pectin. So, if your recipe comes out runny then you there may be two reasons. One, you may need to add more sugar and secondly, you may need to cook the cranberries longer. If you make my recipe, you shouldn't have to add any thickener.
Maple Apple Cranberry Sauce Recipe
Easy Maple Apple Cranberry Sauce
This fresh cranberry sauce is our family favorite. Add a bit of orange zest if you wish to spice it up.
Ingredients
6

cups

fresh cranberries

2

cup

Granny Smith apples

peeled and diced

1

cup

real maple syrup

1/2

cup

brown sugar

1/2

cup

granulated sugar

1

tsp

cinnamon
Instructions
Rinse and strain the cranberries.

Place all of the ingredients into a saucepan.

Turn heat to medium/high and stir and bring to a boil.

Cook uncovered and reduce heat to simmer. Stir continuously for about 6 to 10 minutes. The cranberries will begin to pop. I crush the cranberries with a spoon.

After 6-10 minutes the sauce should be thick.

Take off the stovetop and cool completely before serving.
Nutrition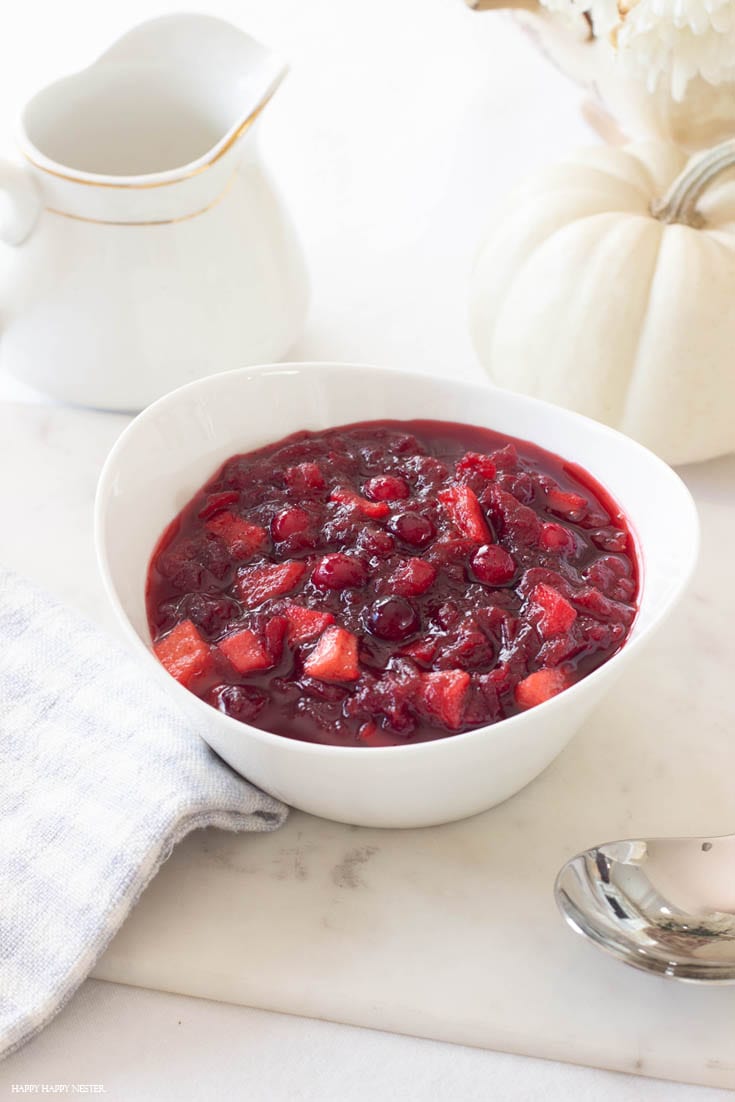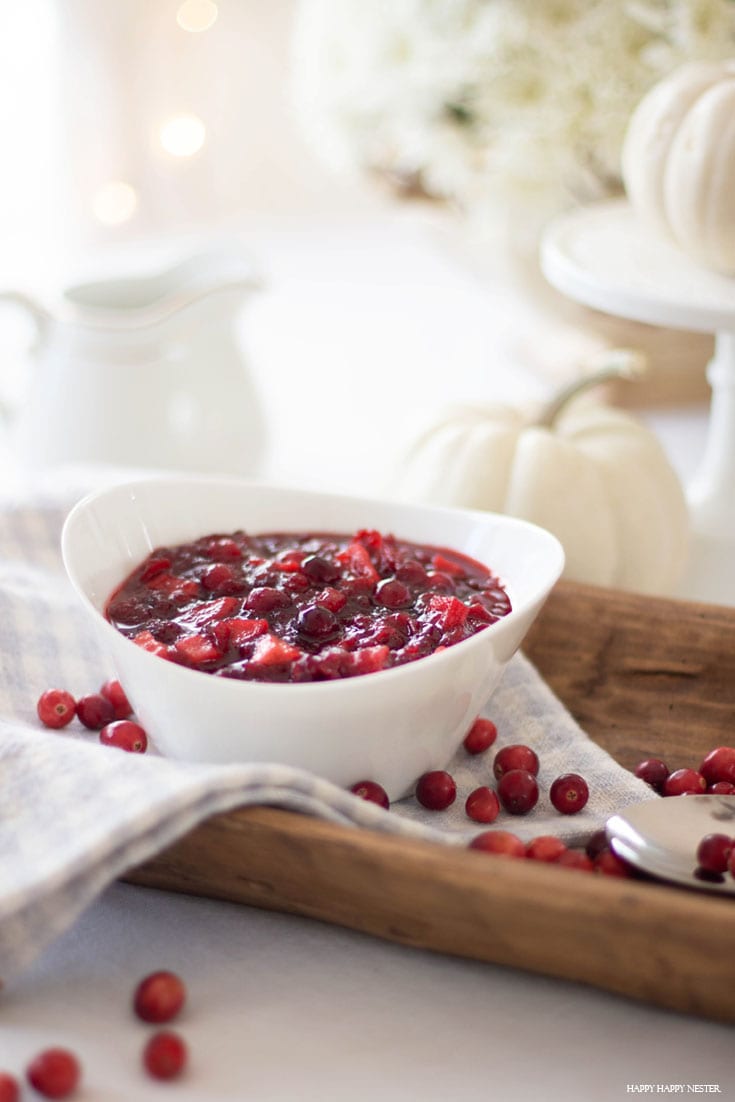 My husband approves my maple apple cranberry sauce recipe and he can't wait to top it on his fresh baked turkey. He will make a turkey sandwich covered with this cranberry sauce with a side of my roasted brussel sprouts recipe.
I hope you like this recipe and I hope you have a chance to sign-up for my newsletter and get my fun posts delivered to your email box.
Cheers,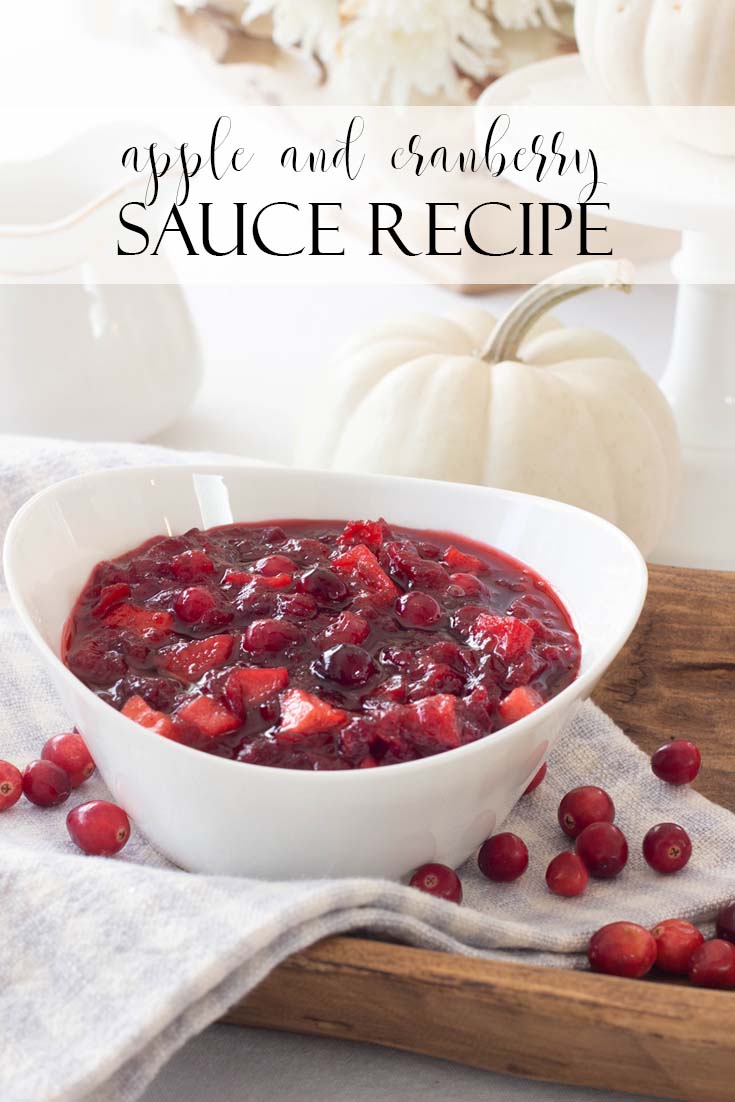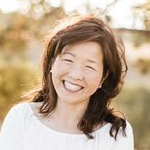 Latest posts by Janine Waite
(see all)