Yummy Pumpkin Bread
This recipe makes a pumpkin bread that is very similar to the one you'll find at a popular coffee shop!
Are you itching to bake now that the weather is cooler?
I just made some loaves and
sugared walnuts
today and our house has the wonderful smell of pumpkin and spices. I'm craving a piece right now, but I think I'll save my slice for tomorrow's breakfast.
But I will make sure to grab a taste before my family eats it all up.
Life with teenagers!
In regards to the food supply in our home, you snooze you lose.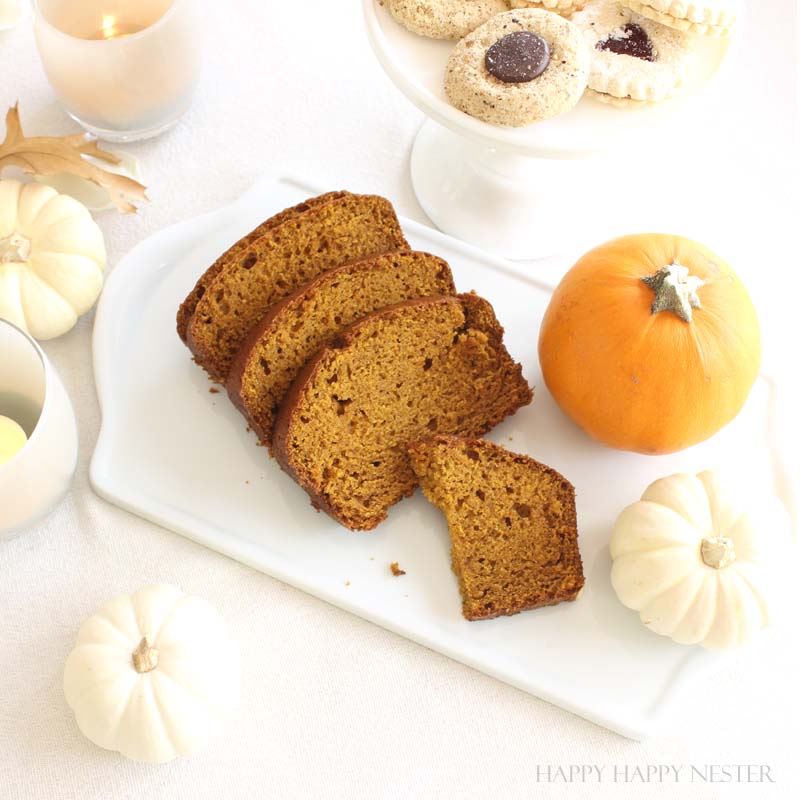 I found this recipe on the internet, but I made some changes with the spices. I wanted a more committed flavor.
My husband always enjoys this bread with a cup of tea!
Pumpkin Bread
1 (15 ounces) can pumpkin puree
4 eggs
1 cup vegetable oil
2/3 cup water
3 cups white sugar
3 1/2 cups all-purpose flour
2 teaspoons baking soda
1 1/2 teaspoons salt
1 1/4 teaspoon ground cinnamon
1 1/4 teaspoons nutmeg
3/4 teaspoons cloves
3/4 teaspoons ginger
Instructions:
Preheat oven to 350 degrees.  Grease and flour three 7×3 inch loaf pans.
In a large bowl, mix together pumpkin puree, eggs, oil, water, and sugar until well blended.  In a separate bowl, whisk together the flour, baking soda, salt, cinnamon, nutmeg, cloves, and ginger.  Stir the dry ingredients into the pumpkin mixture until just blended.  Pour into the prepared pans.
Bake for about 50 minutes in the preheated oven.  Loaves are done when a toothpick inserted in center comes out clean. Depending on what size loaf pan you use, it could take longer to bake. I ended up adding another 16 minutes to my bake time.
(source: allrecipes.com)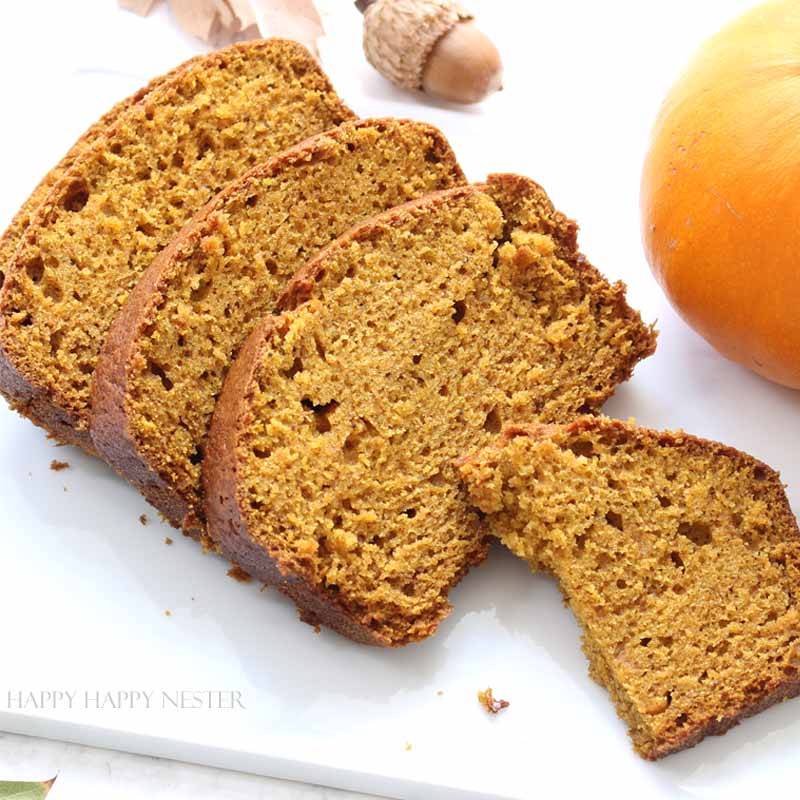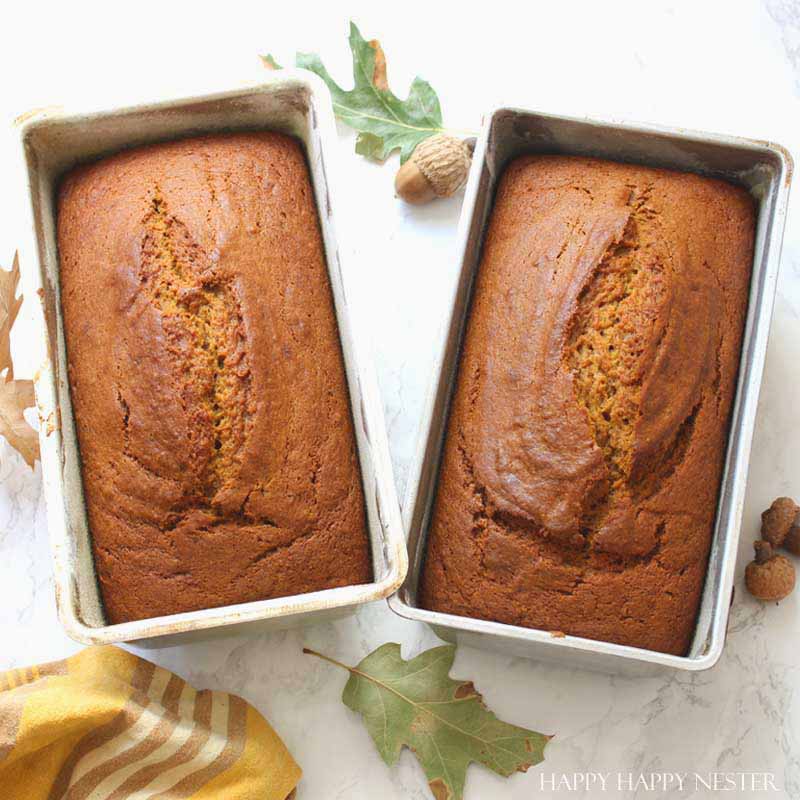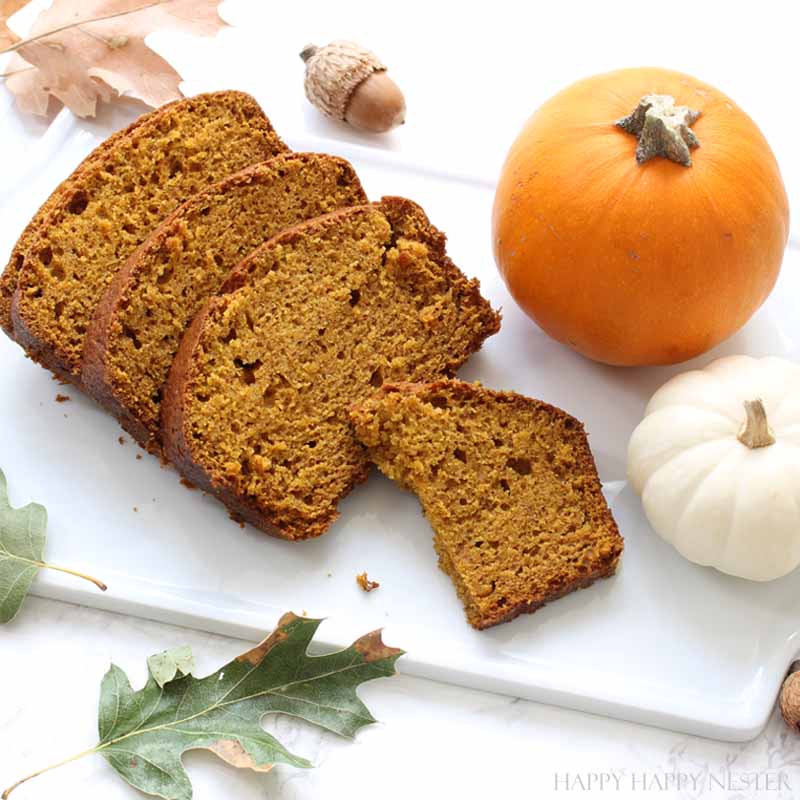 Enjoy your delicious pumpkin bread with a warm cup of tea or coffee. I love that this recipe makes two big loaves. I promise you are going to love this recipe and it will definitely be a family favorite! Another family favorite for the holidays are these fabulous and easy
Almond
Cookies
that I named after my mom, Amy.
 Happy Baking!
Cheers,