These Pumpkin Muffins with My Secret Crumb Topping are like the desserts you'd find in a fancy pastry shop. The crumb topping is something that I have always wanted to recreate.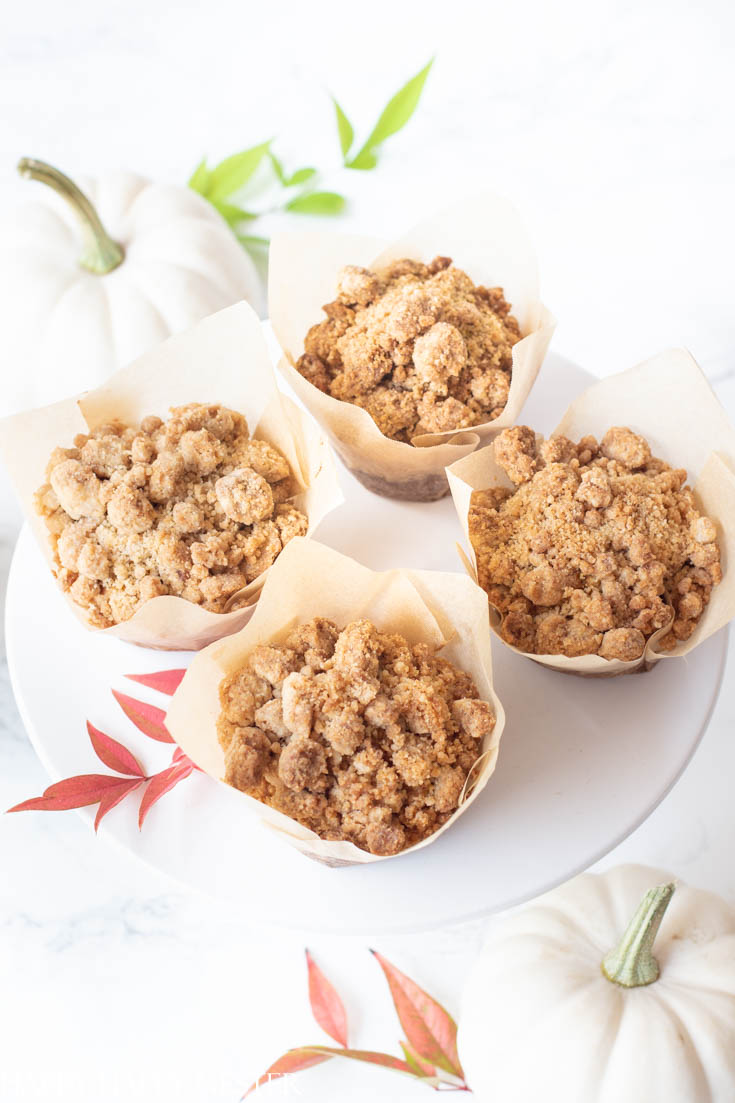 Recently my husband and I had a baking day over the weekend. He helped me with the crumb topping, and I noticed that he evenly spread the small crumbs.
I may have overreacted a bit by my panicked tone when I told him that I didn't want the small crumbles but rather the big chunky yummy topping. You know the kind that tempts you to pick off the top of the muffin when no one is looking.
Yes, I'm sure you are guilty of sneaking a yummy spice-laden crumb off a muffin! Yes, just the other day, I noticed that someone had taken most of the topping off one of the muffins. We never found out who the guilty party was and who ate the top of the muffin.
Oh well, some things will remain a mystery around here at the Waite pad.
This post is a part of a pumpkin recipe blog hop. Here are my friends who are joining me!
17 Sweet Pumpkin Recipes

Pumpkin Banana Bread or Pumpkin Apple Bread? – My 100 Year Old Home
Spiced Pumpkin Cake with Espresso Frosting – Finding Lovely
Creamy Pumpkin Spice Latte – Satori Design For Living
Pumpkin Pie Muffins – Lemon Grove Lane

Pumpkin Muffins with My Secret Crumb Topping– Happy Happy Nester
Easy Pumpkin Roll Recipe – Jennifer Maune
Pumpkin Pecan Cobbler – Sincerely, Marie Designs
Pumpkin Pie Bars – My Sweet Savannah

One Bowl Pumpkin Olive Oil Cake – Modern Glam
Copycat Starbucks Keto Pumpkin Cream Cheese Muffins – The Happy Housie
Dairy Free Pumpkin Ice-Cream – Zevy Joy
Pumpkin Pastry Twists – Paint Me Pink

Low Carb Keto Caramel Pumpkin Cheesecakes – Tatertots & Jello
Pumpkin Madeleines – Most Lovely Things
Baked Pumpkin Cake Donuts – Inspiration For Moms
Easy Mini Pumpkin Pie – Dreaming of Homemaking
Pumpkin Cinnamon Rolls – Twelve on Main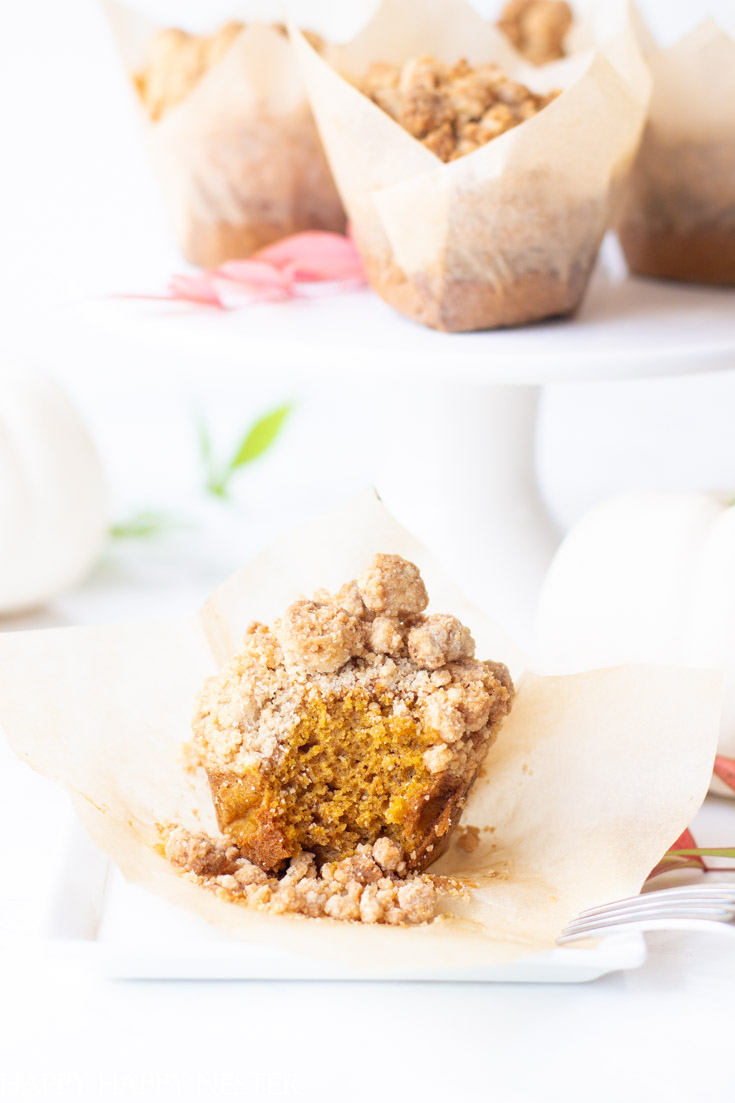 Important Notes About Baking These Pumpkin Muffins
I love to bake, and I also love a challenge. And like I said, I've always wanted to create a muffin with a mile high crumble. Well, I'm exaggerating a little bit about the height of the topping, but you get the idea.
So, finally, I have the best crumble. But, here are a few things that I discovered to get the best muffin top. And I'm not talking about my waistline.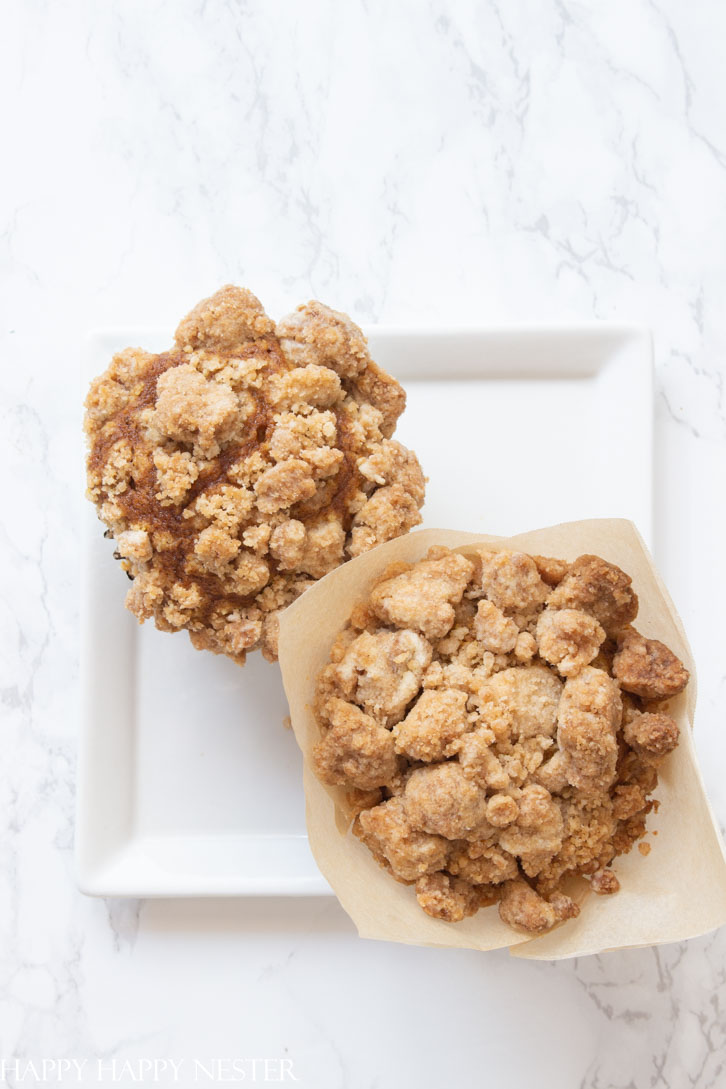 1. My Secret to a Thick Crumb Topping
The surprising thing about baking muffins is that when the dough rises, the crumble spreads. So, take a look at the above photo. The muffin on the top was baked just as is and the muffin on the bottom is the one that I fixed mid baking. Here is my secret to creating the perfect muffin crumble. Mid baking, place more topping on the muffins. This means that you need to fill all the areas that don't have crumbs.
An important note, when you initially cover the muffins, you will have a lot of crumble leftovers. Well, once you top off the muffins mid-bake, you will use all the crumble.
This has to be what pastry chefs do to guarantee that the muffin's top comes out packed with the delicious crumble. Or maybe they start with like an inch deep of crumble? I'll have to try that next.
2. Do These Need Tulip Paper Liners
If you want a dense topping, I would highly recommend baking your muffins in these liners. So, I figured out that the tulip liners are so high that even if your muffin rises, the muffin or the crumble will overflow. Plus, not only do they hold in the muffin, but they are also so pretty and have such a great presentation. Here is a video tutorial on how to make the tulip liners.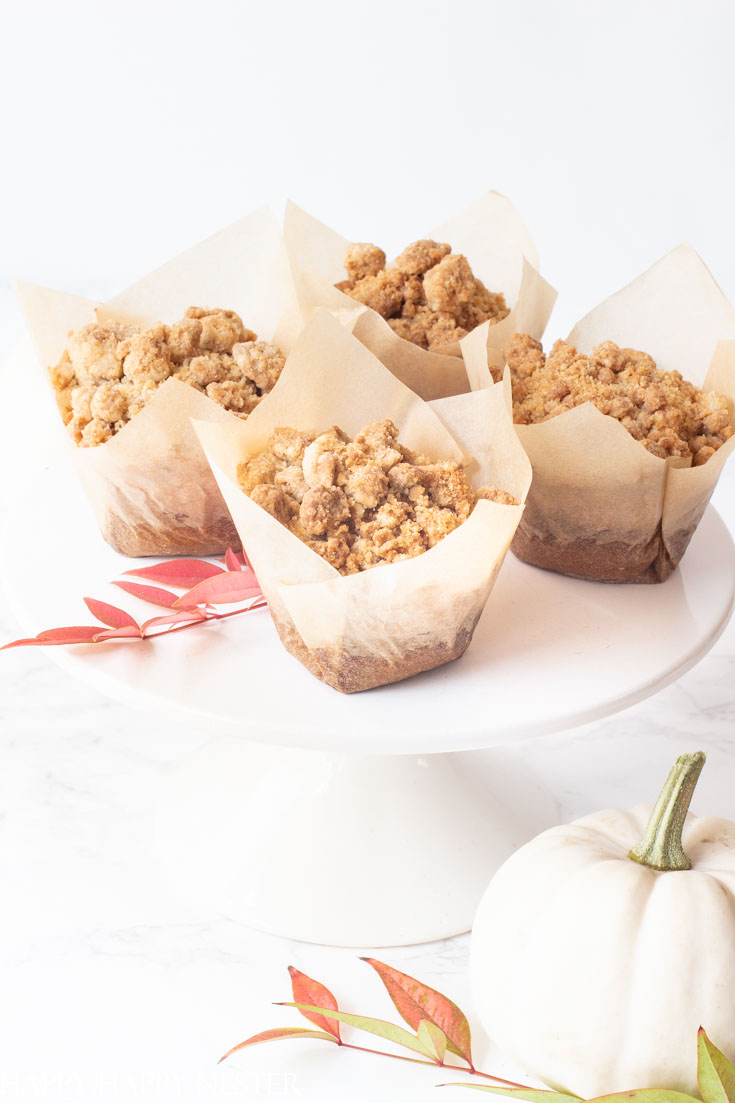 How to Make Pumpkin Crumb Topping
1. Melt the butter in a saucepan.
2. Combine sugars, salt, and cinnamon in a bowl.
3. Mix in melted butter.
4. Fold in and stir flour to the sugar and butter mixture.
5. Spread on parchment paper and set aside until later. There should be a good amount of big chunk of crumbs.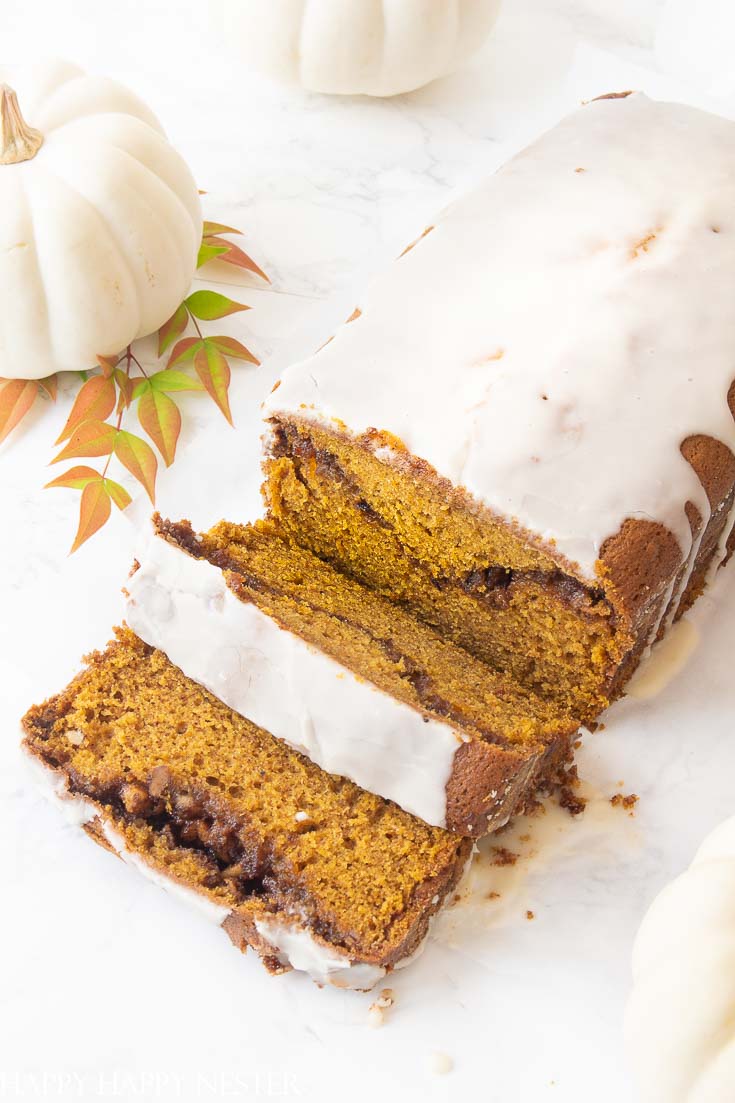 Can I Frost Them?
I did place a lovely icing over my pumpkin bread. Here is the link to the Pumpkin Bread and Icing recipe. It just adds a nice sweetness, so try adding it. Since I haven't tried it on this recipe, I'm not sure if it will create a soggy muffin top. I assume the icing will harden and so the crumble will stay crunchy.
Can I Freeze Them?
Give muffins time to cool and then wrap in plastic wrap or tin foil. The muffins will stay fresh up to three months in the freezer.
Pumpkin Muffins with Crumble Topping
These Pumpkin Muffins with Crumble Topping is the best pumpkin dessert recipe. The crumb is like those found in a fancy pastry shop. Impress your family and friends with this moist pumpkin delight.
Ingredients
Pumpkin Bread
15

ounces

Can Pumpkin Puree

1 (15 ounce) can of pumpkin puree

4

eggs

1

cup

vegetable oil

⅔

cup

water

3

cup

granulated sugar

3½

cup

flour

2

tsp

baking soda

1½

tsp

salt

1¼

tsp

ground cinnamon

1¼

tsp

ground nutmeg

¾

tsp

ground cloves

¾

tsp

ground ginger
Crumb Topping
⅔

cup

granulated sugar

⅔

cup

brown sugar

2

tsp

ground cinnamon

½

tsp

salt

1

cup

butter

melted

3

cup

flour
Instructions
Crumble Topping
Melt butter over stovetop or microwave.

Combine sugars, cinnamon, and salt in a medium bowl. Whisk in melted butter then add flour. Stir until moist.

Pour crumbs onto parchment paper.
Muffins
Make tulip parchment paper liners. Please watch the video on how to make the liners.

In a large bowl, mix pumpkin puree, eggs, oil, water, and sugar until well blended.

In a separate bowl, whisk together the flour, baking soda, salt, cinnamon, nutmeg, cloves, and ginger.

Stir the dry ingredients into the pumpkin mixture until just blended.

Pour equal amounts of the dough in each muffin liner. I filled the liners to ¾ full and the batter almost reached the top of the tin.

Top each muffin with crumble. Note that you will have lots of crumble left. Don't panic since you will use this for a second topping while the muffins are baking.

Bake muffins for 25 minutes. Check muffins at this point. You'll notice that the dough has spread and there are bare spots. Place more crumble on each muffin so that each muffin is full of the topping.

Bake muffins another 25 minutes.

Remove from oven and allow muffins to cool on a baking rack. After 5 minutes remove the muffins with liners onto the rack.
Nutrition
Serving:
26
servings
|
Calories:
396
kcal
|
Carbohydrates:
59
g
|
Protein:
4
g
|
Fat:
17
g
|
Saturated Fat:
12
g
|
Cholesterol:
44
mg
|
Sodium:
351
mg
|
Potassium:
86
mg
|
Fiber:
2
g
|
Sugar:
34
g
|
Vitamin A:
2800
IU
|
Vitamin C:
1
mg
|
Calcium:
22
mg
|
Iron:
2
mg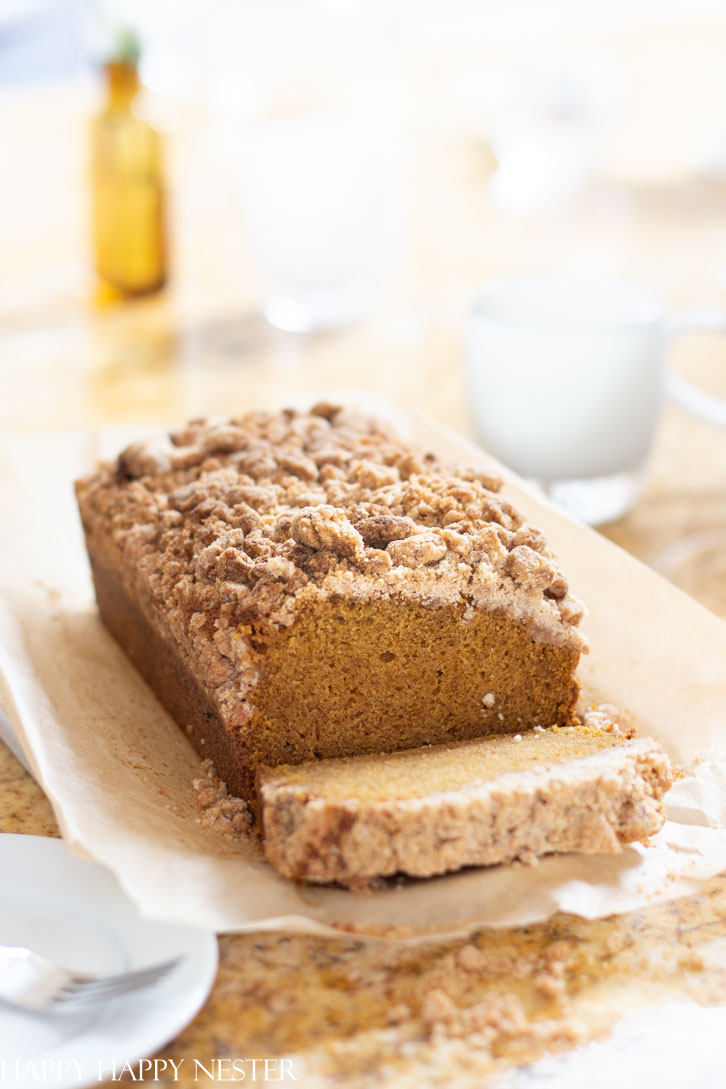 Recipe Options: Make a Loaf and 12 Muffins
We will make this recipe and halve it and bake a pumpkin loaf and some muffins. It is so nice to have a little variety. There is enough crumble for both desserts.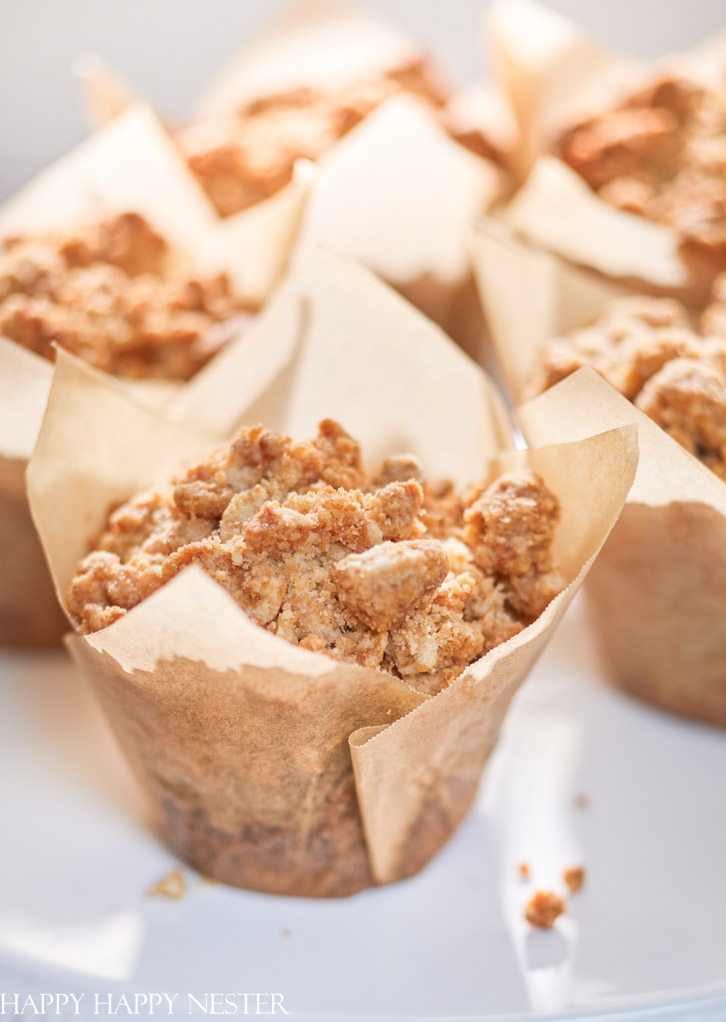 As you can see, I love everything pumpkin. And after many years, I have accumulated quite a few recipes:
And oh yeah, make sure to visit my friend's amazing pumpkin recipes!
Cheers,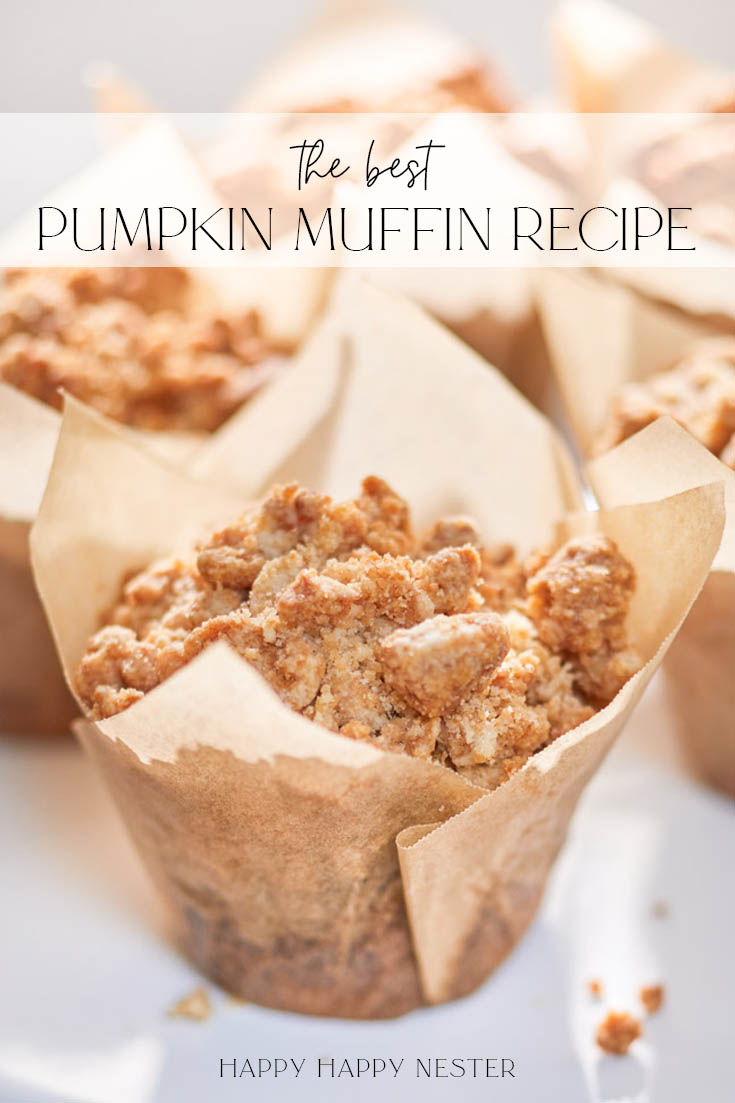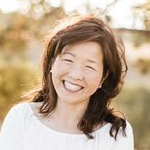 Latest posts by Janine Waite
(see all)