Paper Flowers are the Happy Craft for this week!
If you are new to the blog, welcome. I would like to say that I just finished another project, felted flowers that I'm super in love with as well.
A Note About the Nester
When I was in elementary school, I was obsessed with drawing pictures of flowering cherry trees. Somewhere among my mementos are some of these drawings. And someday when I find them, I will post them for you. As you can see my cherry blossom love affair started when I was young!
As most of you know, we lived in Seattle for many years. I adore the Emerald City as well as the Pacific Northwest. I have fond memories of my neighbor's cherry blossom trees. These flowers were the perfect shade of pink. And on a sunny day, I remember standing under her two trees as the blossoms fluttered and danced with the wind.
Just heavenly.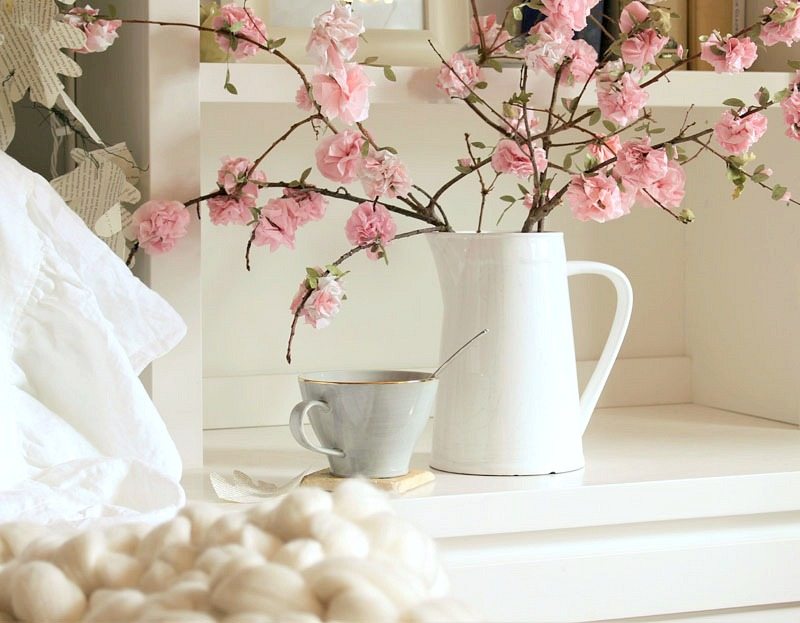 Cherry Blossoms
So, in the spring, I buy the store bought branches that promise to sprout beautiful flowers. I'm not sure what I'm doing wrong, but only disappointment ensues.
No blossoms, nada.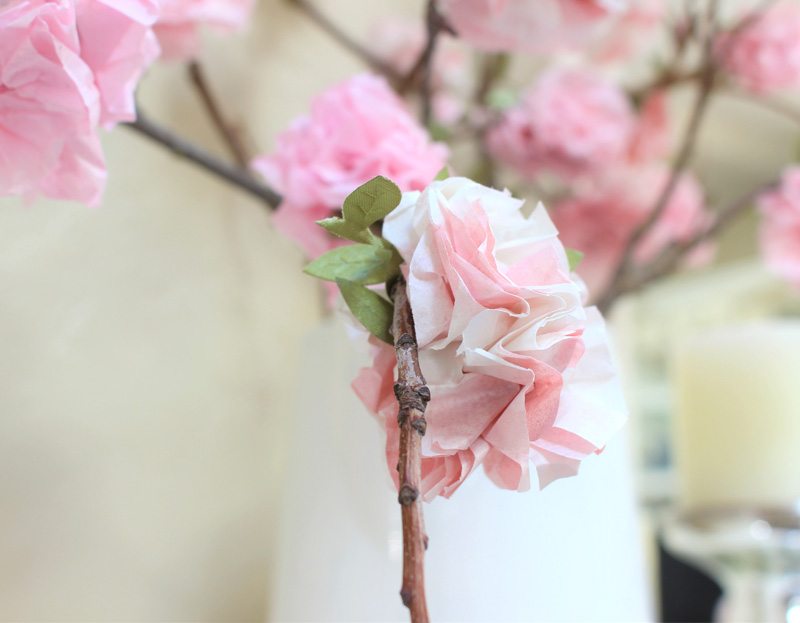 So this year, I decided I would make my own cherry blossoms branches. For this project, I rounded up a couple of branches on my walk.
Well, I'm sure my hiking friends think I'm a bit crazy. Last Autumn I had them hunting for the perfect acorns on our walk. A couple of months ago, we were searching for the perfect oak branches for this project.
Yes, I'm always carrying things on my morning hikes, branches, acorns, and bay leaves!
I'm a little pack rat who is always busy with a craft project. If you love crafts, I have a paper leaf garland made from book paper. You need to check it out, it is gorgeous!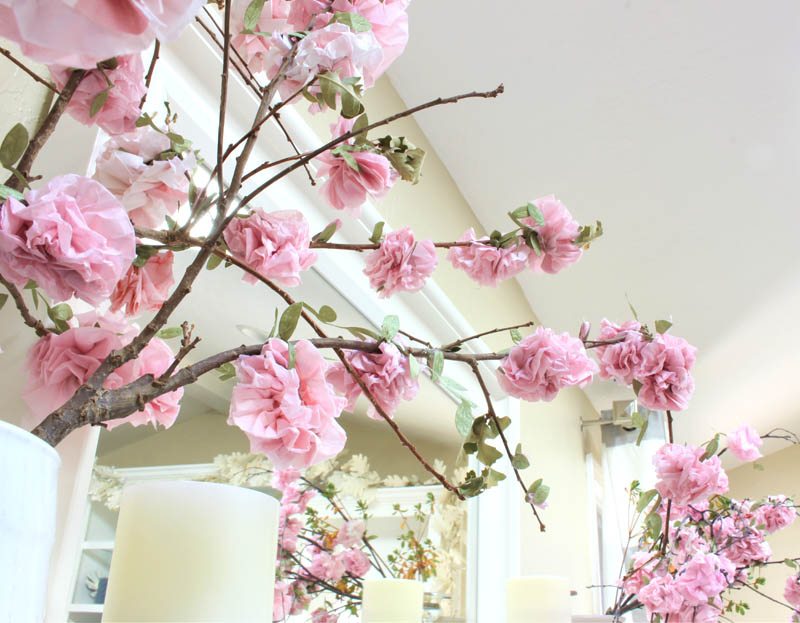 Well, I have been sharing these photos of my home over on all my social media platforms, and these blossoms had everyone asking for the tutorial. I also have a paper pear blossom tutorial. So without further delay here we go.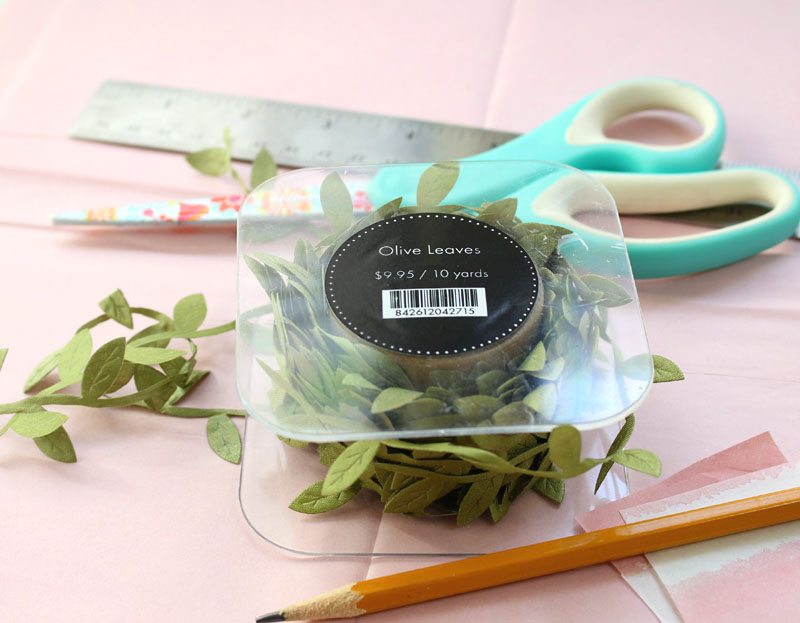 Here is what you'll need:
1 branch
Blush color tissue paper sheets
A roll of green Leaf Ribbon (10 yards) (30 yards)
Glue gun and glue sticks
Scissors
Ruler
Pencil
Instructions for the Paper Flowers
1. Clean leaves off branches.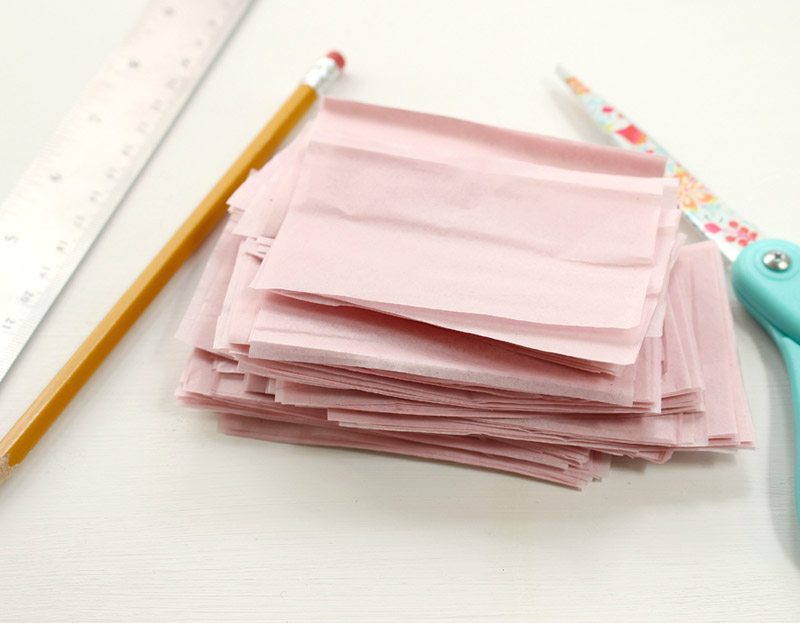 2. Measure and outline tissue paper into 2 1/2″ x 3″ strips. Layer tissue paper and cut out 15 pieces at a time.  Here are some extra instructions for measuring and folding the paper.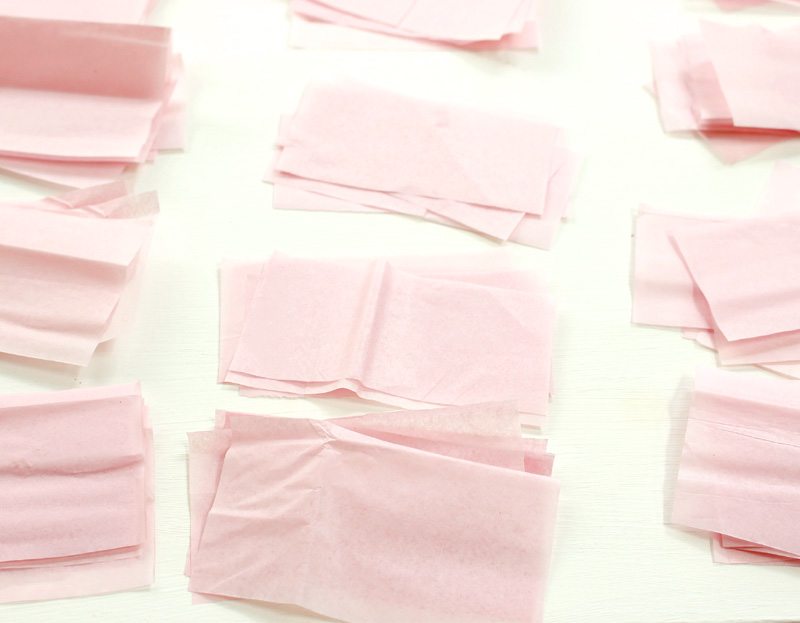 3. Create stacks of 5 pieces of tissue paper per pile.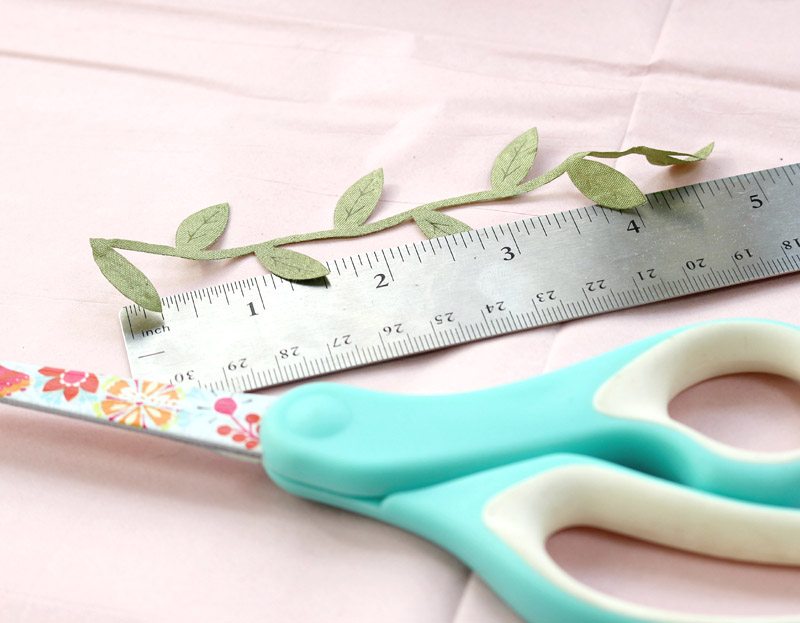 4. Cut leaf ribbon into 5-inch lengths.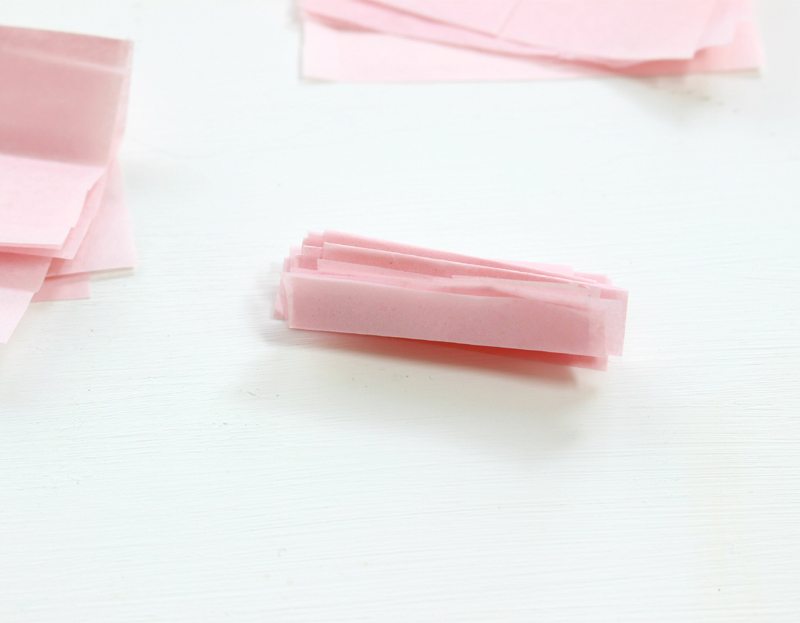 5. Next, with a pile of paper (5 tissues) fold tissue in 1/4 inch increments as shown. It should resemble a fan.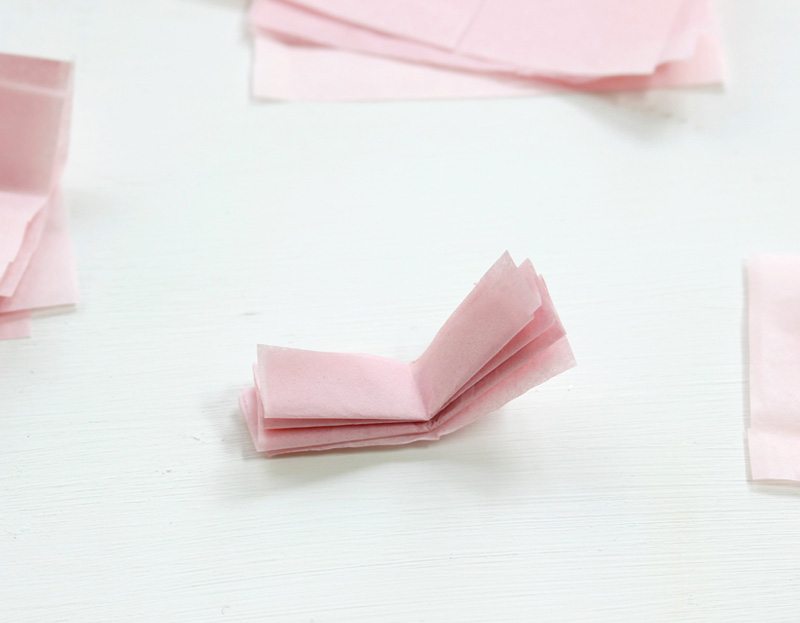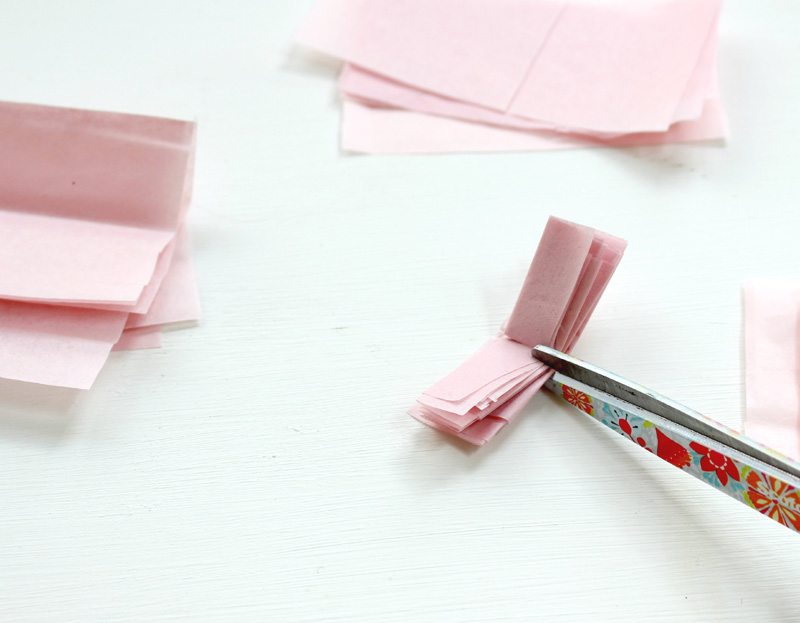 7. Fold the paper in half and cut super small slits on both sides of the paper.  Be careful not to cut the slit through to the other side.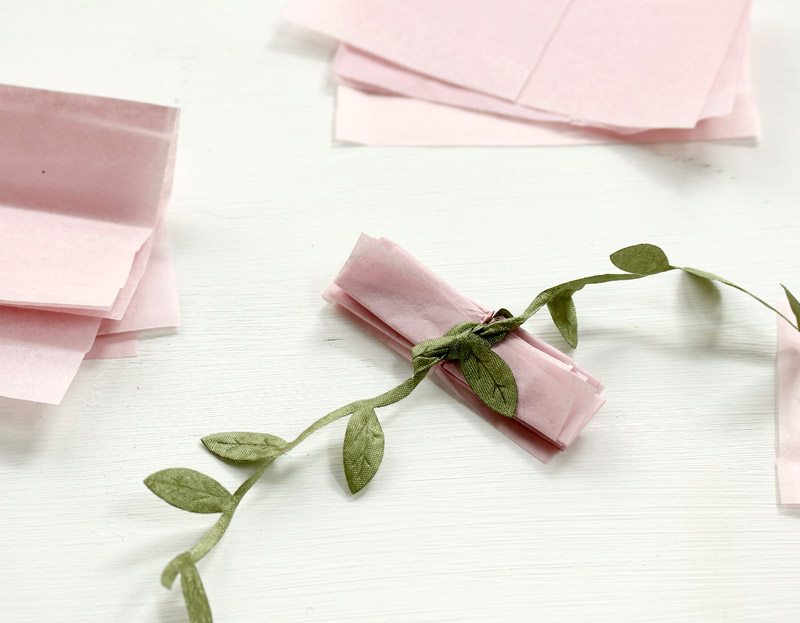 8. Place the ribbon in the slits and make a knot. You want it somewhat tight, but be careful since this ribbon is a bit fragile.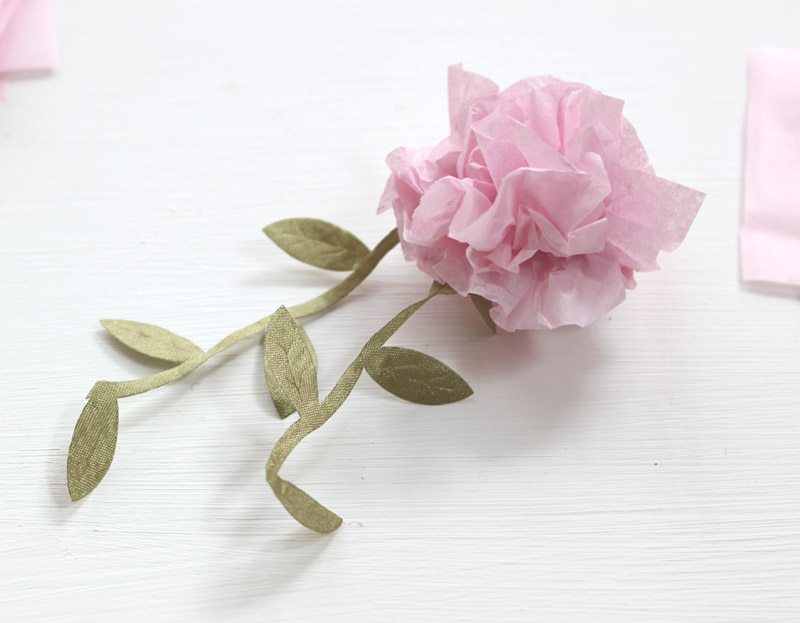 9. Now unfold each layer of tissue paper to create the flower.
10. Attach the paper flowers to the branch with the ribbon.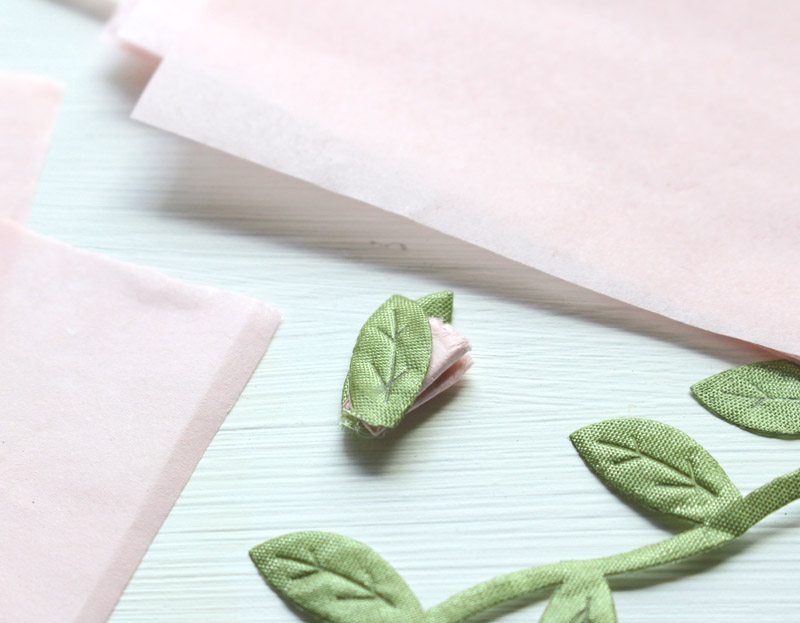 Instructions for the Flower Buds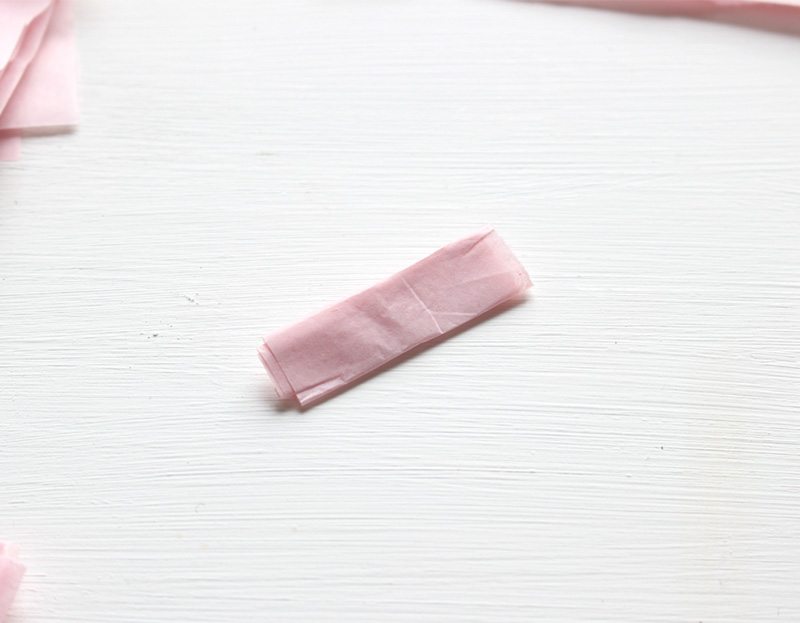 1. Cut small pieces of tissue paper and fold.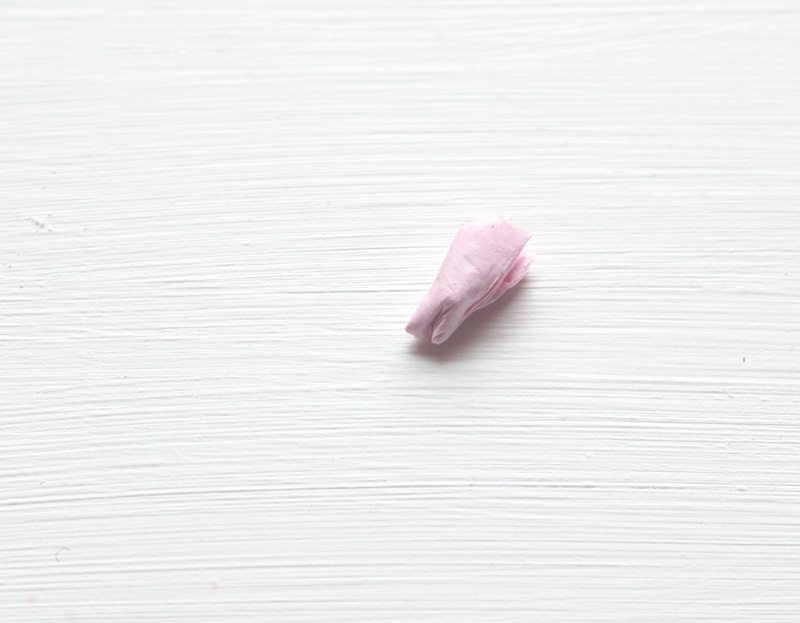 2. Fold in half and pinch the bottom.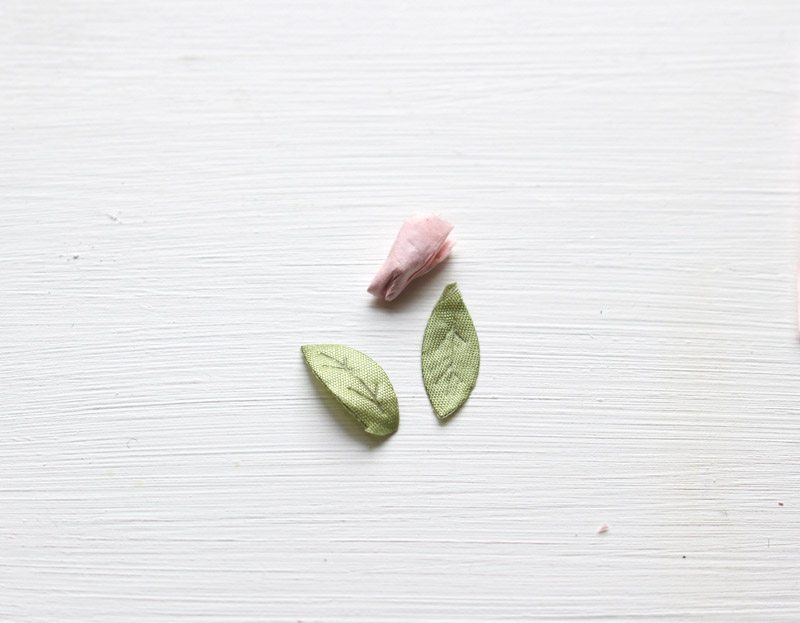 2. Trim two leaves off the ribbon.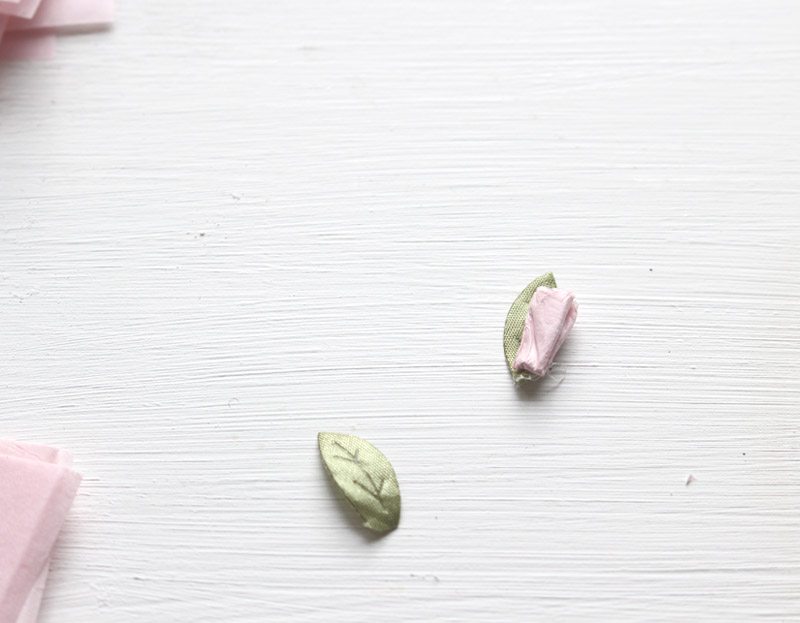 3. Glue the tissue bud to the leaf and then glue another on top.
4. Glue bud to the branch.
That's it, you're done, and now you have some blossoms that will last forever. Create a spot that will show off your masterpiece. If your branch happens to break, no worries remove the blossoms and reattach them to a new branch. Make sure to check out my Magnolia blossom tutorial too.
I'm super-duper happy that my luck is turning around, and my thumb is starting to turn green. Enjoy your new paper flowers that will make you smile!
Cheers,

Other Happy Crafts you might like.