Today's Happy Craft is a Magnolia Flowers paper flower tutorial.
Hello everyone and welcome to my blog that is full of home decor, crafts, and recipes.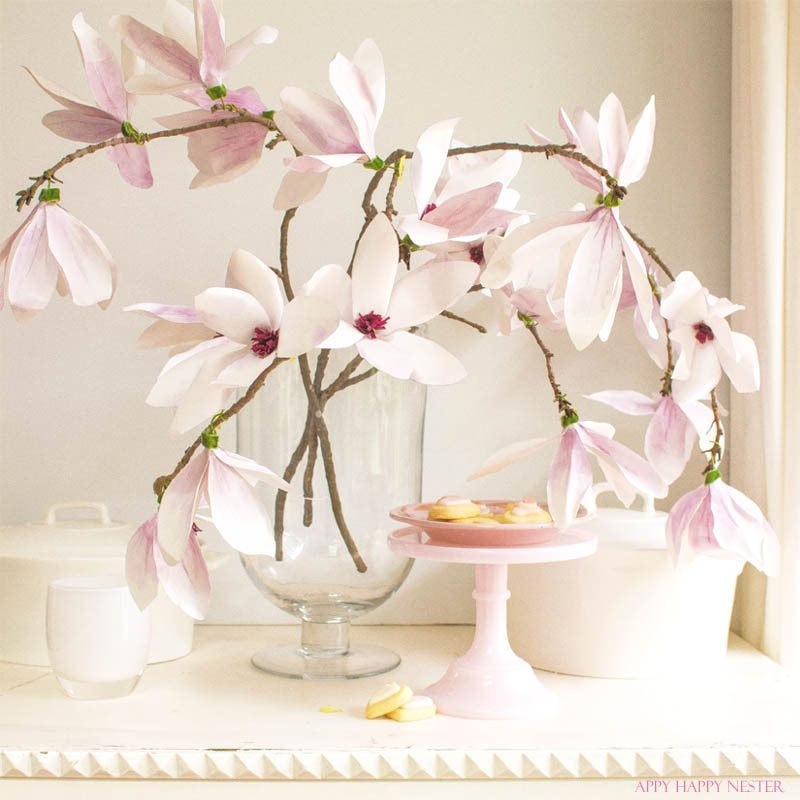 A few of you know that I obsess over paper flowers.
This little love affair of mine began a while back.
Let's see, it all started when my kids were little munchkins. So, if my calculations are correct, my fascination with paper flowers began like thirteen years ago.
A Cute Memory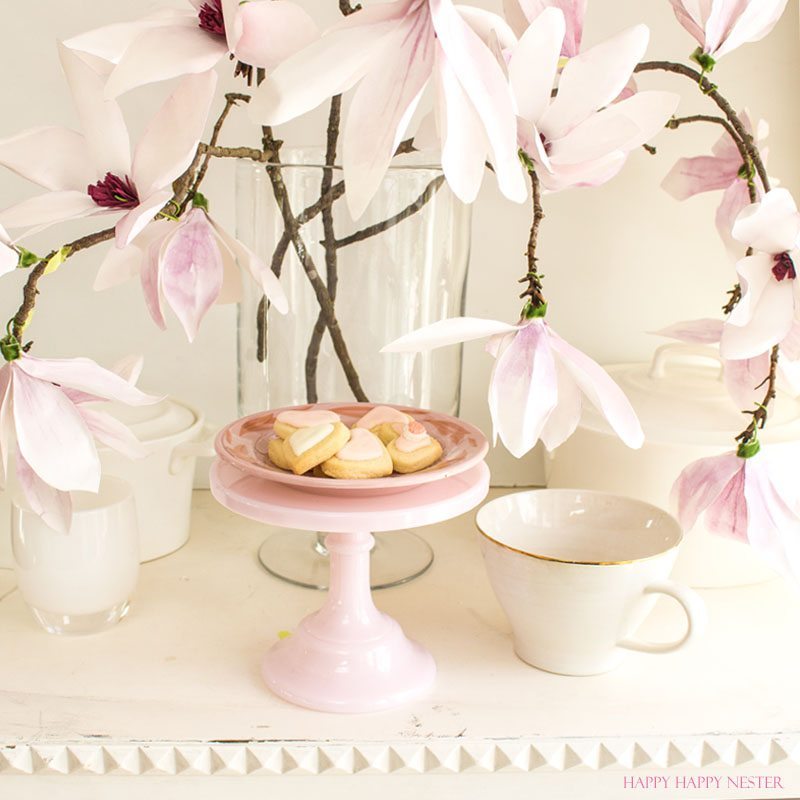 So, you see, I eyed some gorgeous cream paper magnolias at our local Eddie Bauer Home store. These flowers were so beautiful but expensive, and their price tag was beyond my budget.
To my surprise, the store was financially in trouble, and they eventually had a liquidation sale.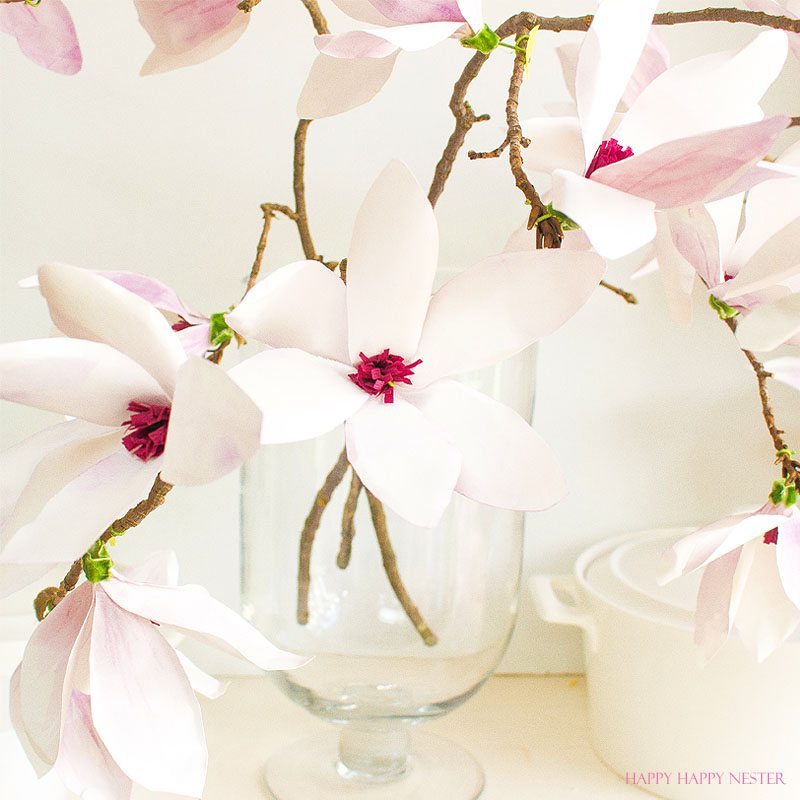 Here was my opportunity, to buy these gorgeous flowers. I hurried down to the store, and I purchased five long stems that I arranged for our dining room table.
Ah, mission accomplished.
You are probably wondering where I'm going with this story?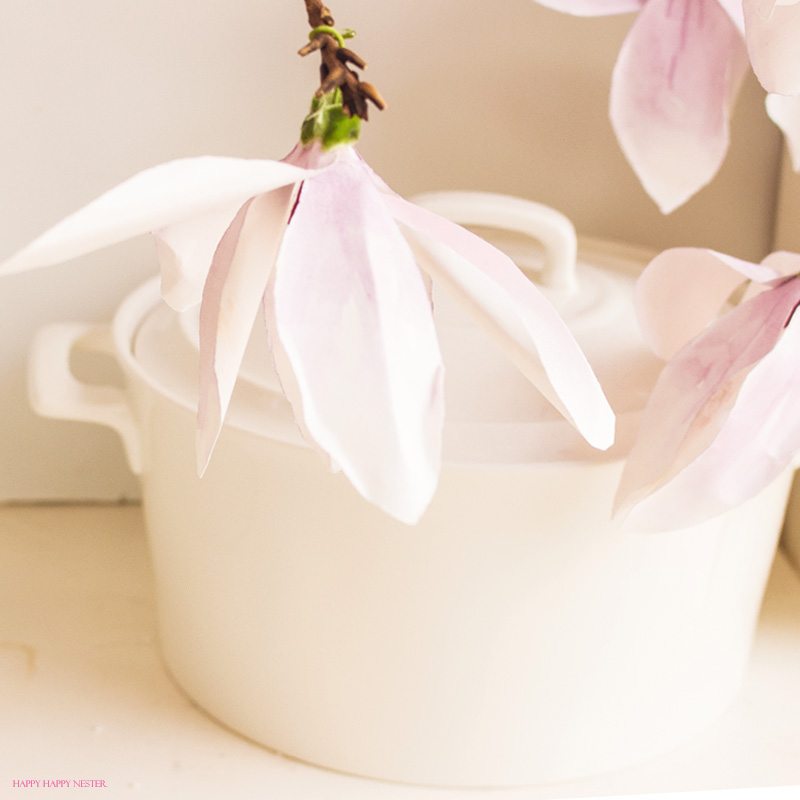 So, enter my larger than life daughter. She has many nicknames and one that tells it all, Broadway Brynn.
Need I say more?
Well, often my daughter would misbehave, and she needed to sit at our table for some quiet time.
Innocent, right?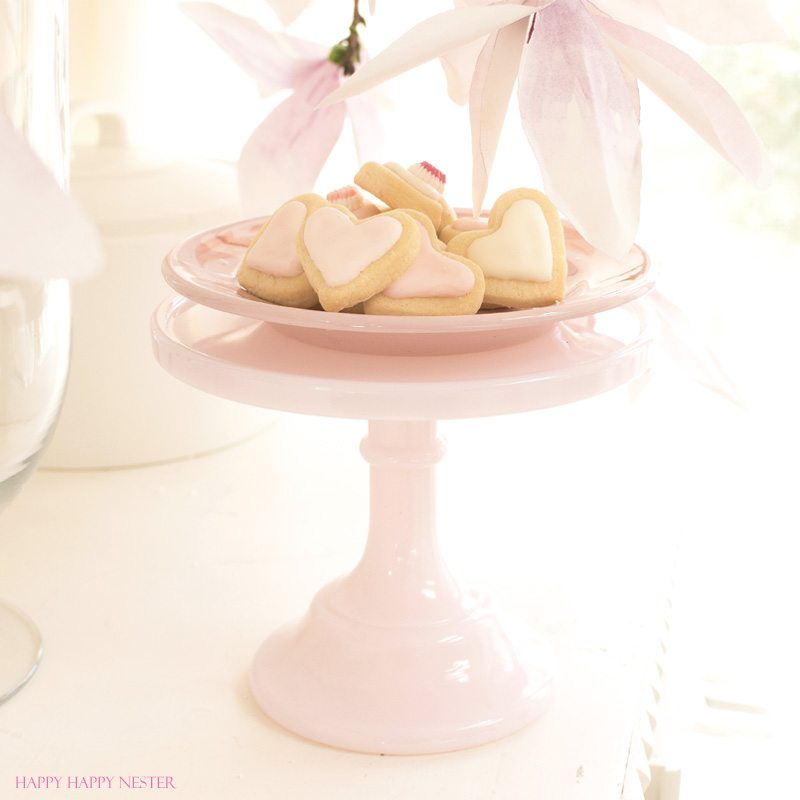 Well, unbeknownst to me, she spent her time secretly tearing my flower petals apart.
I guess she felt it was entertaining?
You can see that she challenged my parenting skills.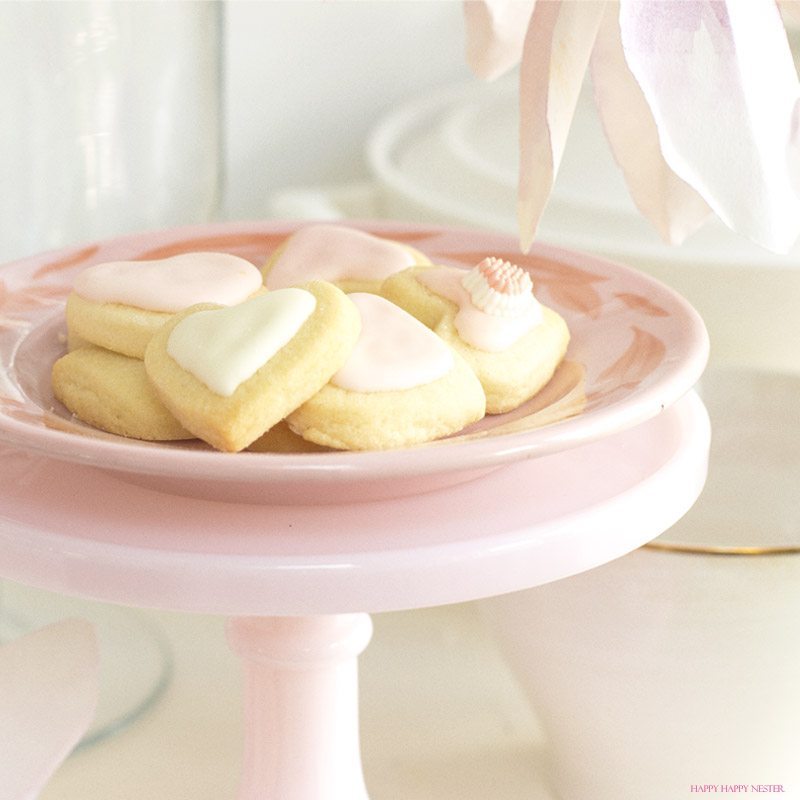 Now, my daughter is sixteen and just a delightful person.
Just the other day, as she sat in the passenger seat of our car, I asked her about my magnolia flowers. She smiled and said she did remember tearing the leaves.
To my surprise, I wasn't angry, but instead, I welcomed the priceless memory.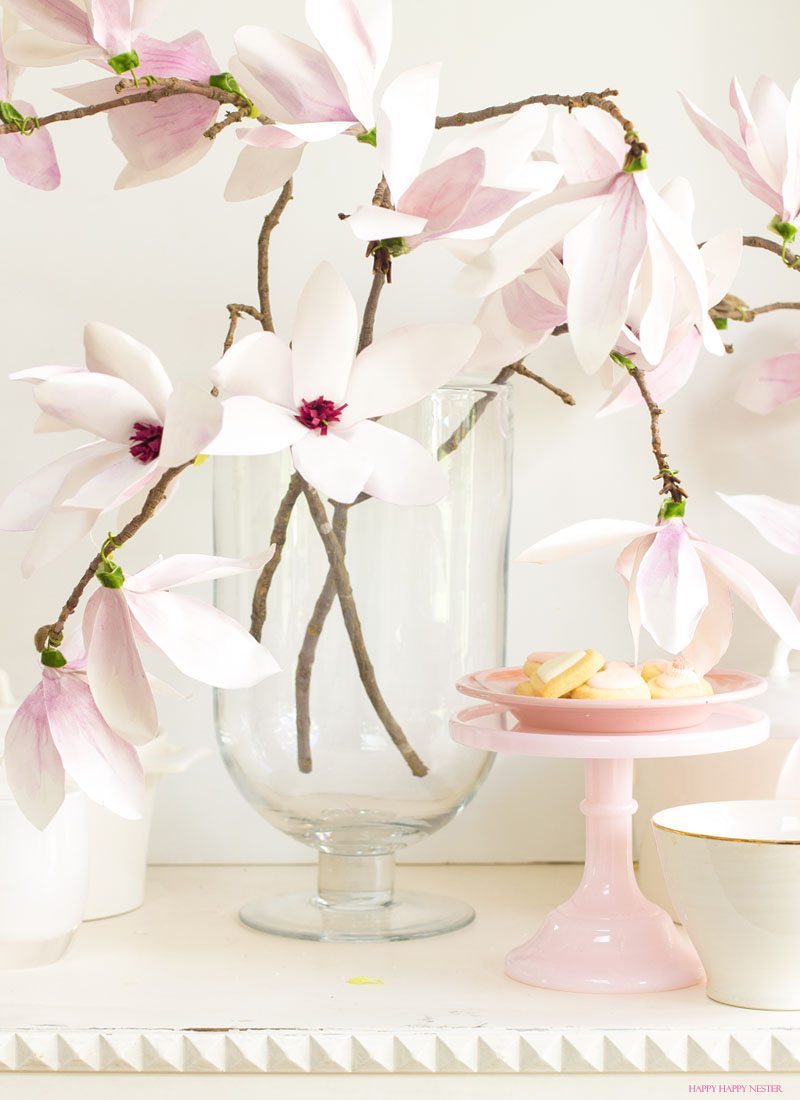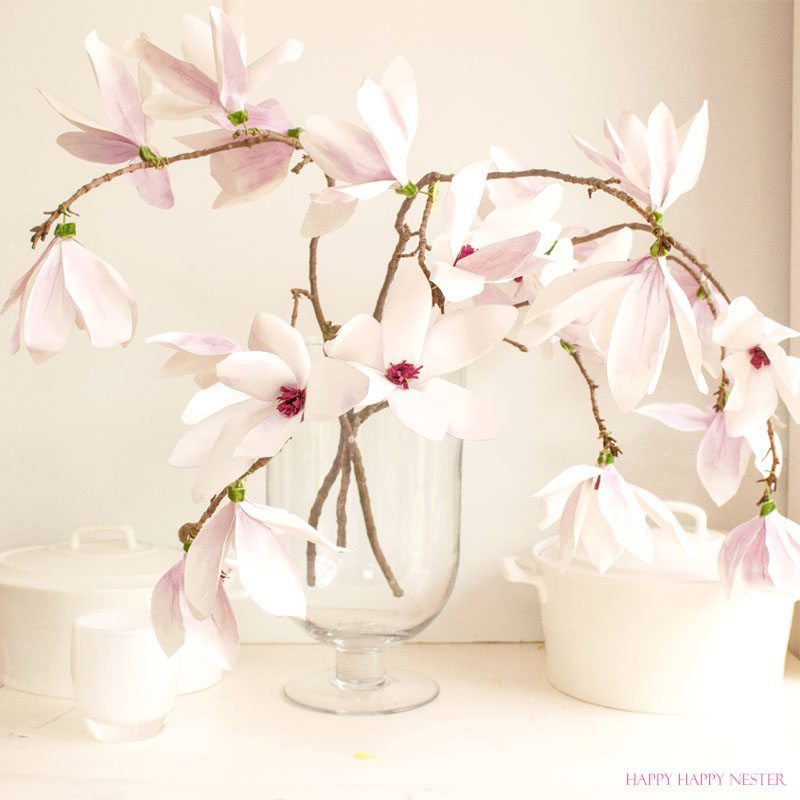 Paper Flower Tutorial: Magnolias
So, I scoured Pinterest and the internet for a paper flower tutorial but couldn't find one that I felt captured this gorgeous flower. I asked a neighbor, Sallie, for a real magnolia blossom from her magnificent tree. She was so kind to let me snip a branch, and when I got it home, I studied the flowers by taking apart the blossoms.
I even traced the petal shape for my petal template.
Yes, I'm a bit obsessive, but I wanted to give you the best paper flower tutorial with realistic results.
Well, let's begin this fun project.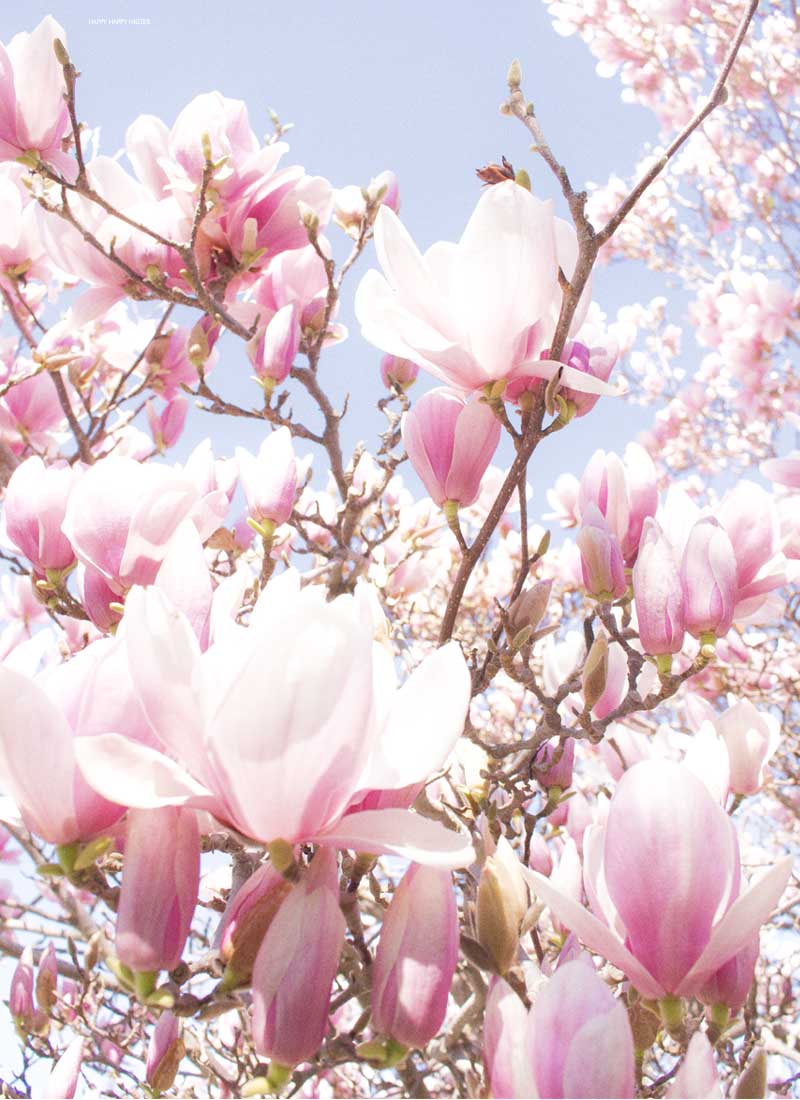 Materials:
Printed sheet of Magnolia petals
Real Branches
Scissors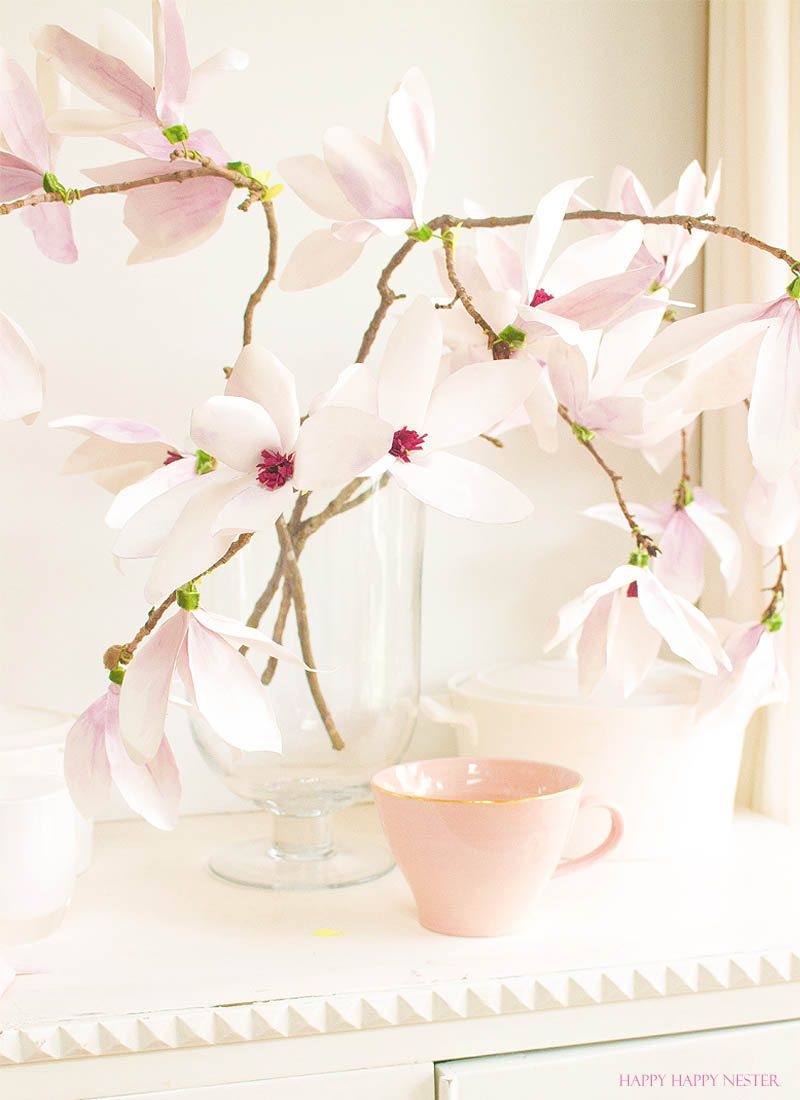 Instructions:
Petals
1. Each blossom has 6 petals, so cut out as many as you need.
2. Print out leaf template.
3. Place template on top of your cardstock paper. If you want to make several flowers, you can cut about 3-5 sheets of paper at a time.
4. Cut out leaves from the template.
5. Place paper towels out on a counter. This will be what you place your wet watercolored leaves on, so set out as much as you need.
Watercoloring the petals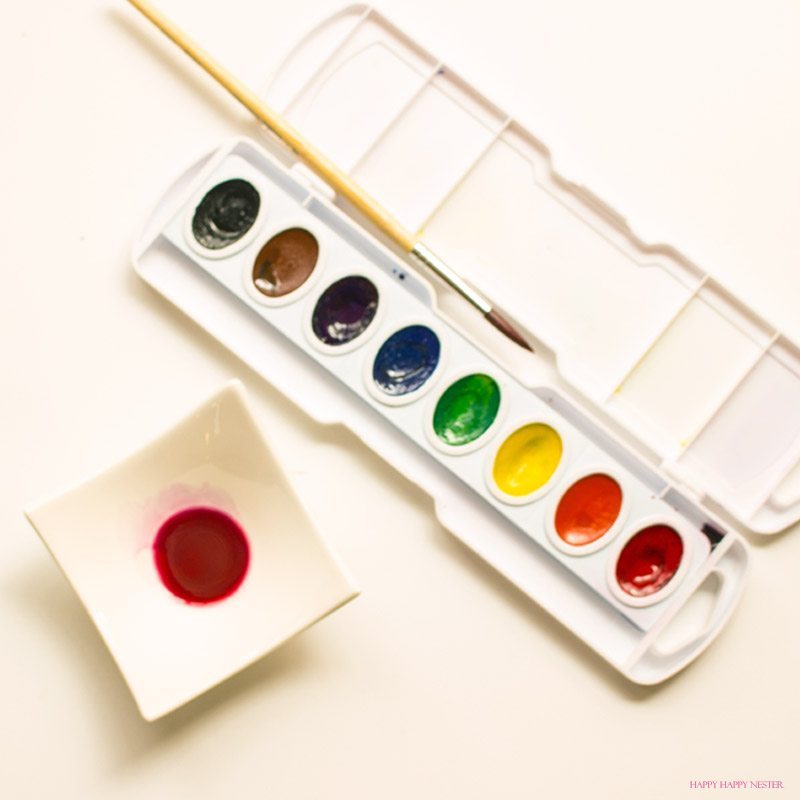 6. You will want a small bowl to mix your watercolors in.
7. To make pink, wet your brush and dab it in your red pigment. Next, place your brush in your small bowl to dispense your paint in the bowl. Add a few drops of water via your paint brush. Keep adding red until you have a nice puddle of color. Add a tiny bit of purple and white. If the color is too red just add more water and white pigment.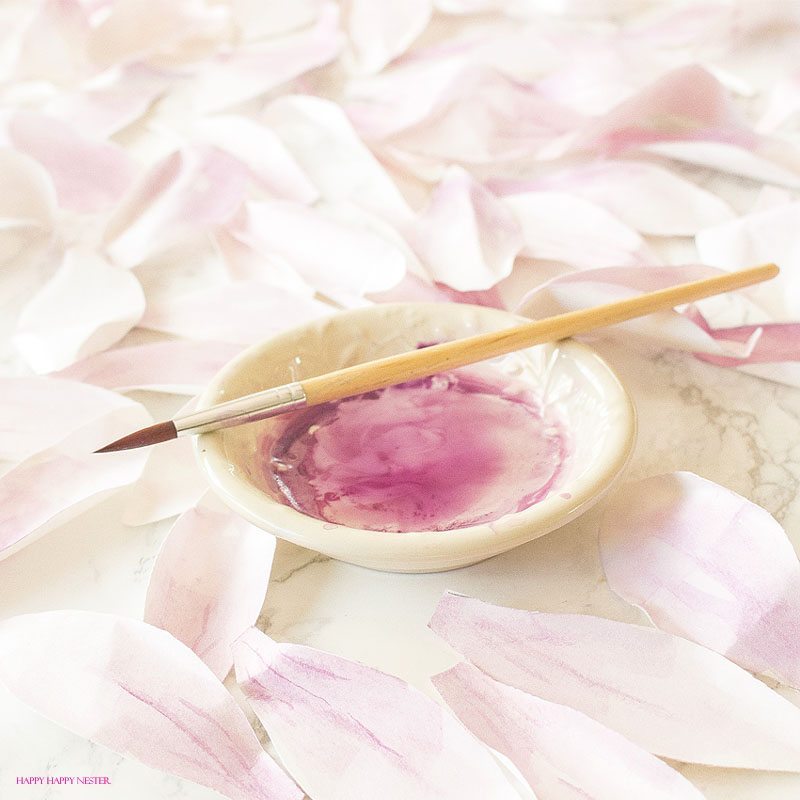 8. Paint your leaves on one side of the paper. You can vary the color since more variations in color make it realistic. The petals are naturally darker on the inside part of the petal rather than the upper edge of the petal.
9. While the petals are wet, sculpt the paper to look like real ones. The magnolias tend to look like an inverted bowl with the small outer edges folding up and in.
10. Once your paint has dried, then you can add a few light pink lines down the middle of your petal.
Building your flowers
11. Now, you have all your petals colored and dried you are ready to attach and make your flower.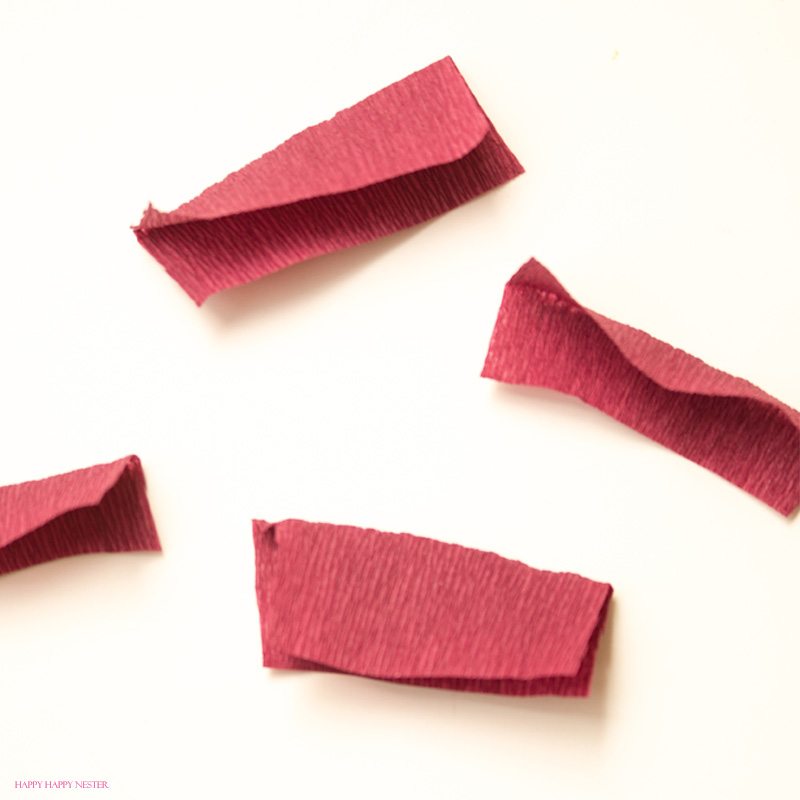 12. Make the inside stamen by using the red crepe paper. Cut 2″ length x 1″ height size piece of paper. Fold in half horizontally.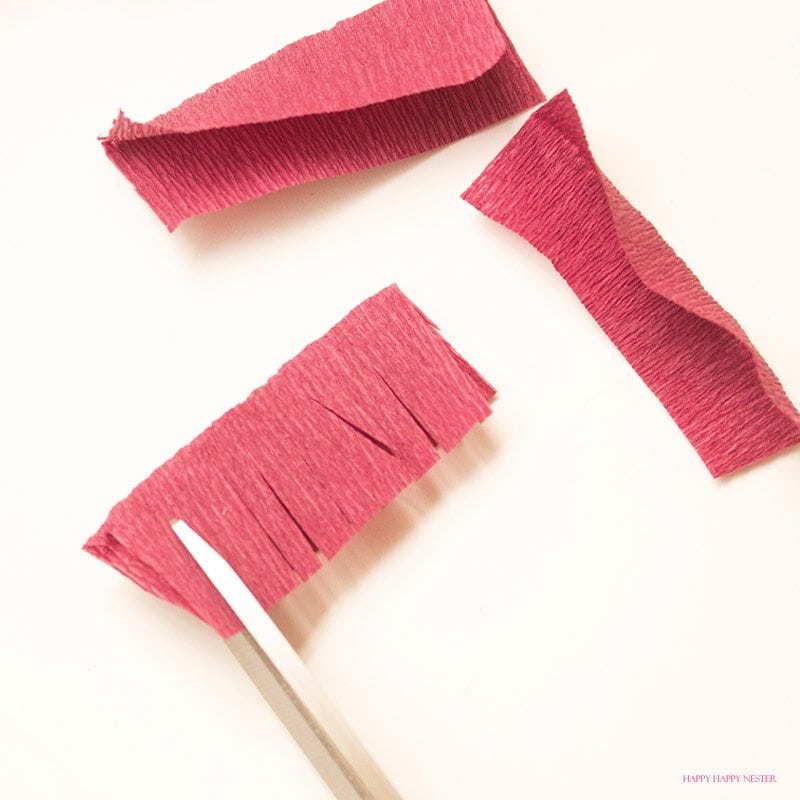 13. Cut small slits in each paper, make sure to cut towards the fold but about 1/4″ shy of the fold.
14. At the top of your floral wire, fold it over about a 3/4″ to create a loop.
15. Now, hot glue the folded edge of your crepe paper.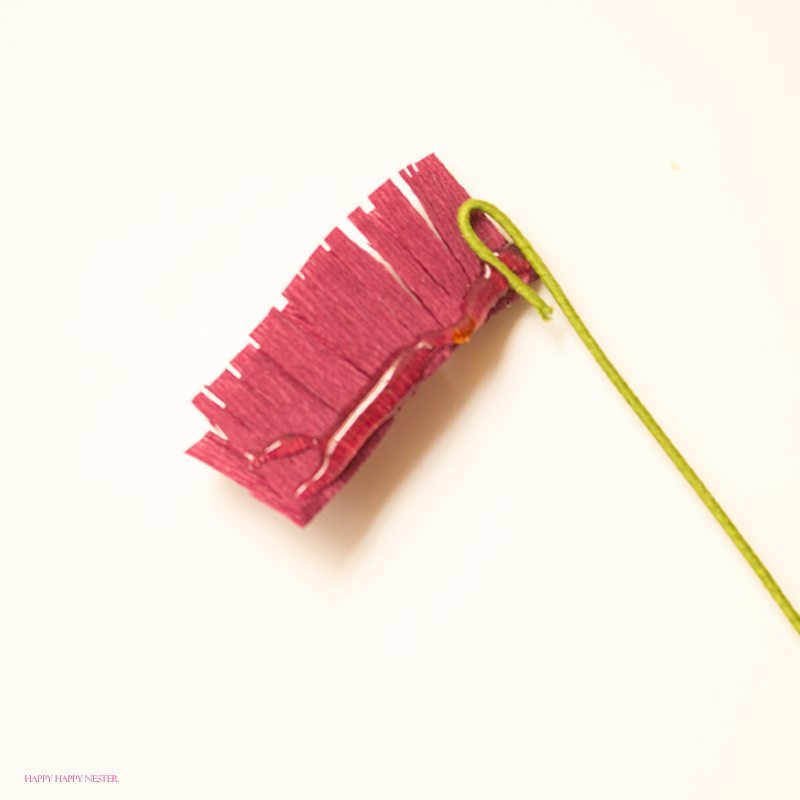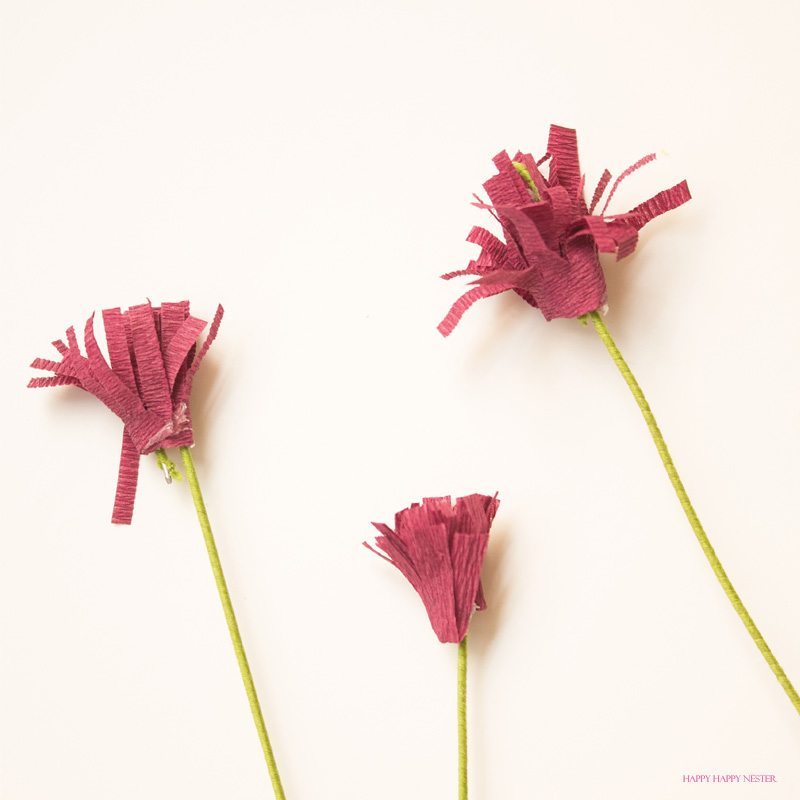 16. So, with the glue side up, begin rolling your stamen around the loop. This will be the base of your flower. Once you have your crepe paper glued in place, fluff your stamen to look natural.
Hang in there you are almost done with this DIY flower project!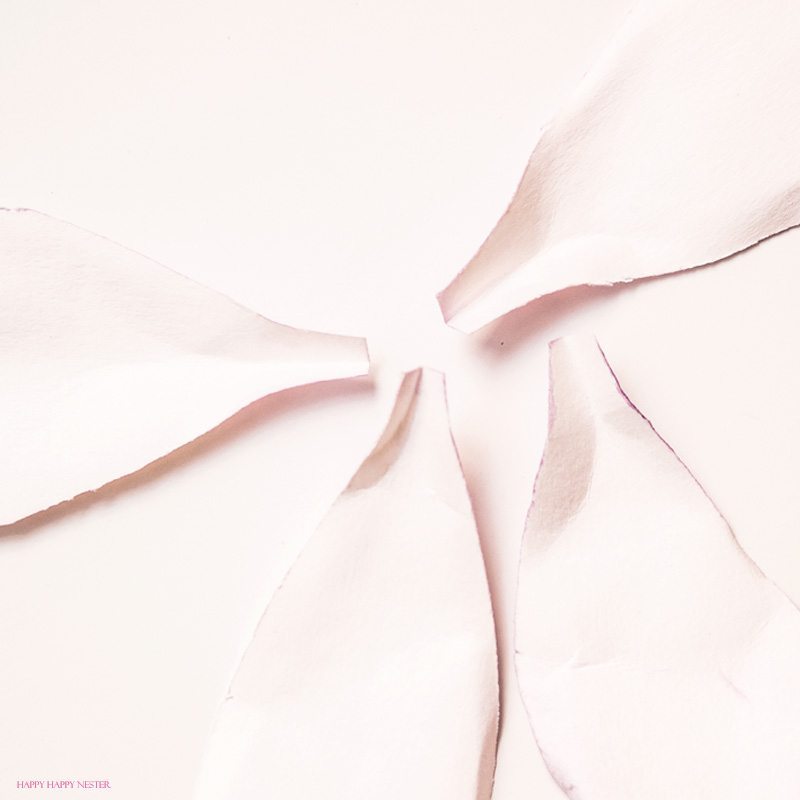 17. At the bottom of the petals (white side of paper) create inward folds so that it will wrap around the base of the flower. Place hot glue in the fold and attach to the stamen.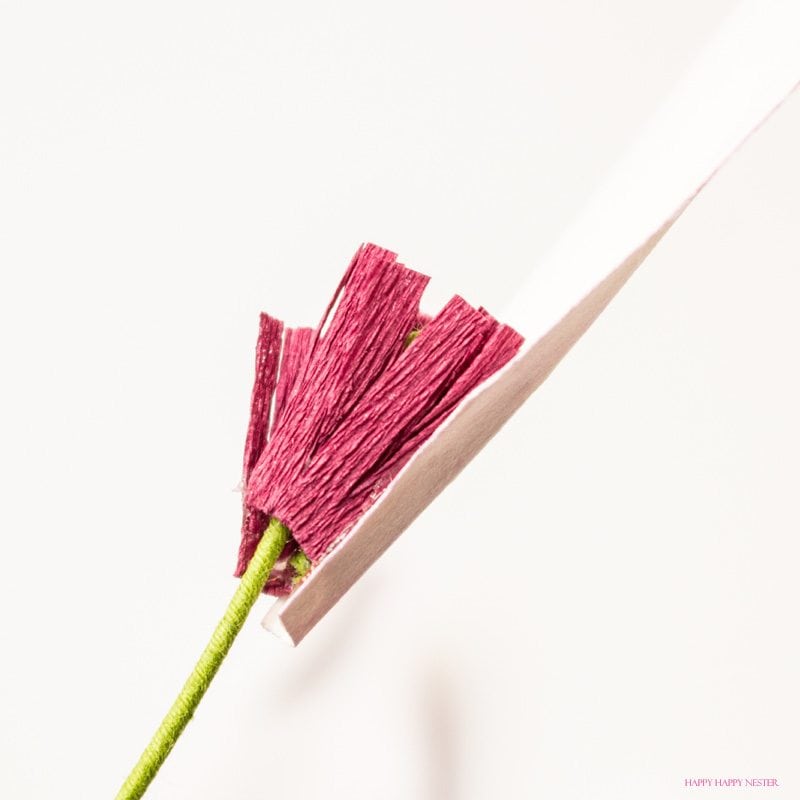 Let's now build our Magnolia Flowers
18. So, next, attach all petals one by one making sure to overlap them, so they look like the actual petals of a magnolia flower.
19. Cut the stem about 2 inches down from the blossom. Use this wire to attach your flower to a branch.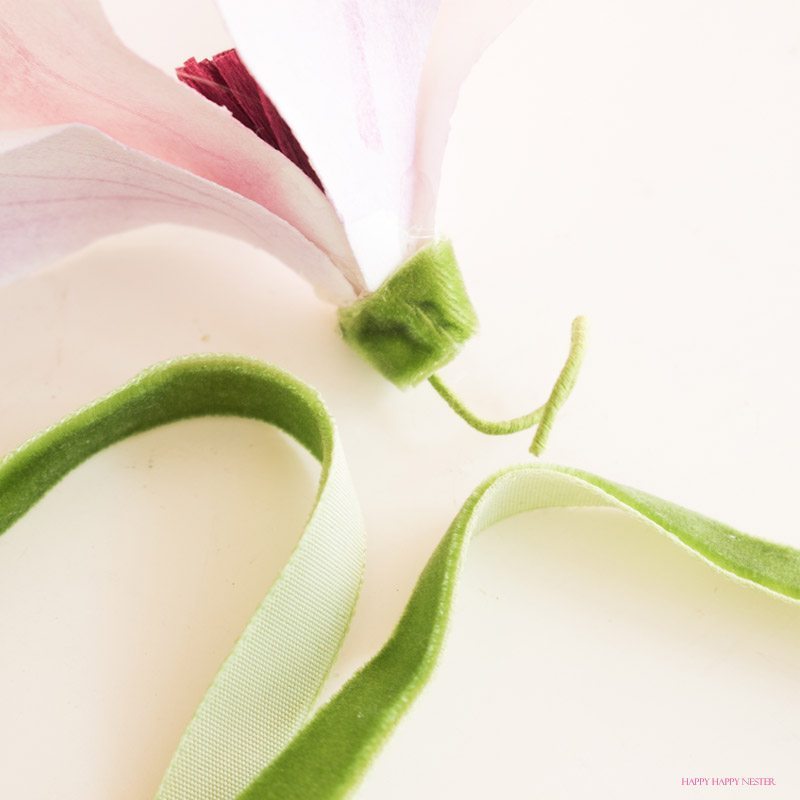 20. Hot glue and attach a piece of velvet ribbon at the base of the flower.
21. Then fasten the wire to your branch, tada you have a beautiful Magnolia paper flower!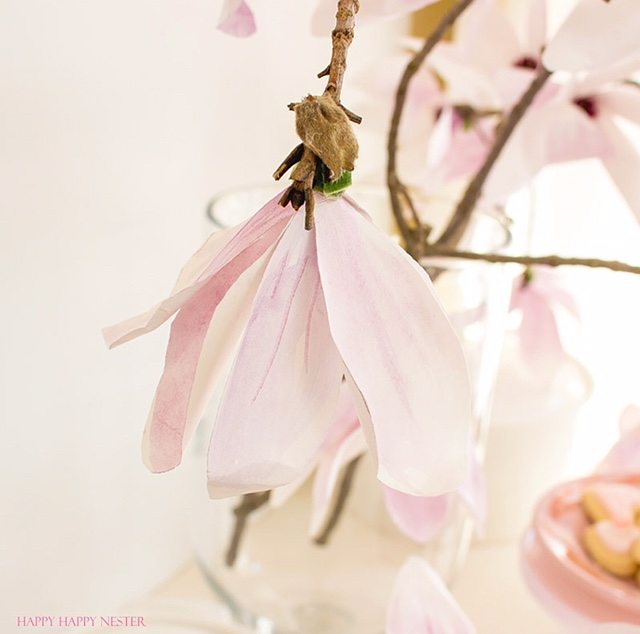 Now that you completed my paper flower tutorial, you now have a few beautiful Magnolia flowers.
So, celebrate spring and enjoy them in a lovely vase that you place on your coffee table. I have many more paper flowers DIY, and you can view my  Cherry Blossom Flower tutorial post as well.
I love crafts!
Enjoy the rest of the bloggers on this tour.
Cheers,

Welcome to Our Monthly Creative Blog Hop
Deborah | Salvage Sister and Mister
Michelle | Our Crafty Mom
Leanna | Of Faeries and Fauna
Katrin | Kreativ K
Sam | Raggedy Bits
Janine | Happy Happy Nester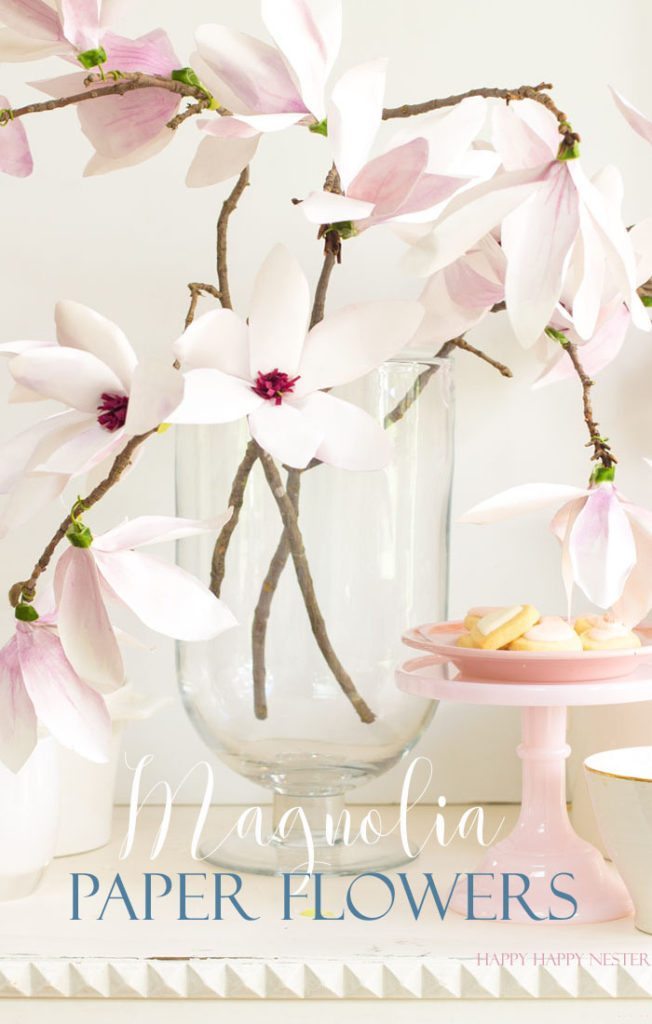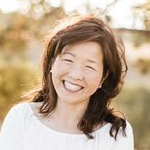 Latest posts by Janine Waite
(see all)