I'm amazed at how many awesome Construction Paper Crafts there are. This easy paper daffodil DIY is simple and inexpensive to make. I say, get your kids and grandkids involved and have them make these flowers so that making this paper spring wreath is a family project.
Construction paper makes such pretty paper flowers. I was amazed at the quality of the white paper made by Crayola! No need to buy the expensive crepe paper for this project. I bought a big packet of yellow and white paper, so now I can make a bouquet of construction paper flowers!
My husband taught Art in his first career adventure. Yes, he taught art from his little cart. He called it Art on a Cart!
His students made the coolest murals with construction paper. Here is the link to one of the kid's projects. I used his idea and taught it to a bunch of elementary girls. I showed them the basics, and they ran with the idea. They were so creative, and the mural was amazing!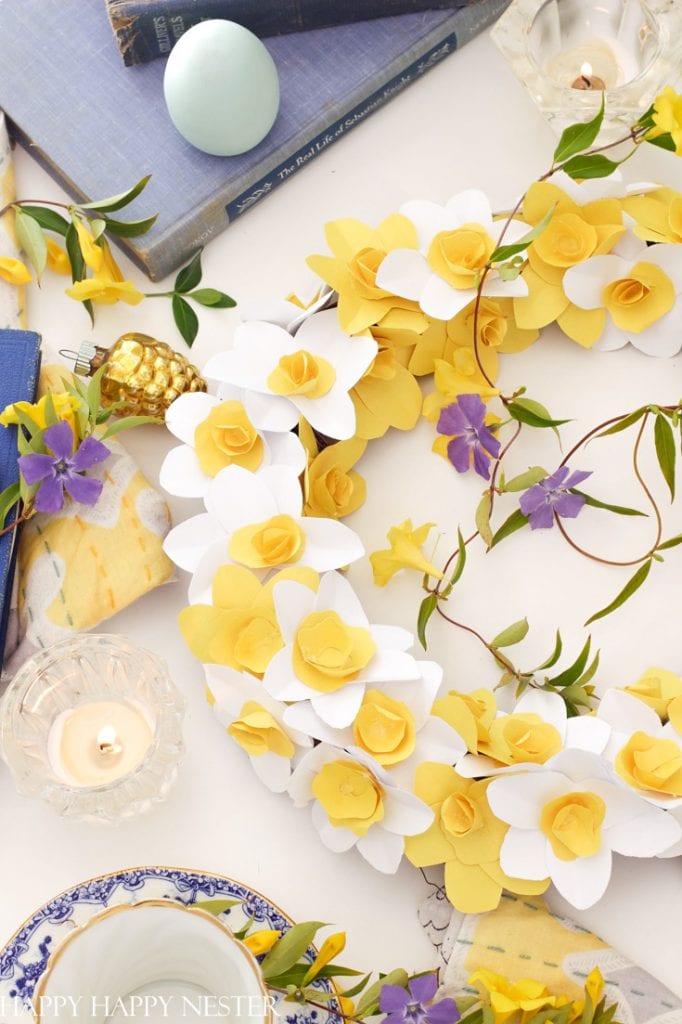 Today, I'm sharing my flower project. Choose to make a single Daffodil or a bunch for this cute spring wreath.
Easy Construction Paper Crafts – Paper Flower DIY
Construction paper makes a simple paper flower. You can fold and bend them a little bit to feel more organic but they will still have strong lines and the colors are strong and graphic. And for this daffodil project, it works out nicely.
Like I mentioned early, my husband taught art to children and he often had construction paper projects. I used one of them for an art camp that I taught and you can view the construction paper mural.
I like that construction paper is so inexpensive and accessible. Not only kids can make things out of them but also adults.
Here are a few FAQs that you may have?
Can you use construction paper to make flowers?
Yes! And the wide range of colors makes it so fun to create flowers. Construction paper comes in 8″x11″ sheets as well as the legal size paper. So have fun creating all kinds of flowers.
Can you make construction paper flowers with Cricut?
Yes, but for this project, I provide a paper daffodil pattern for your convenience. So download the template and print it out and cut your flower petals.
What kind of paper do you use to make paper flowers?
I make a lot of paper flowers and I've made crepe paper flowers, magnolia flowers with cardstock paper, and tissue paper flowers.
Lately, I've been playing around with paper coffee filters and making rose flowers! Each type of paper has different qualities when it comes to making flowers.
How to Make Construction Paper Flowers
*The following post contains affiliate links
To cover a 12-inch grapevine wreath, I made 38 Daffodils. I made both white daffodils with a yellow center and yellow daffodils with a yellow center.
Supplies:
Grapevine Wreath (I used a 12-inch wreath)
White and Yellow Construction Paper
Scissors
Petal pattern
Instructions:
Step 1 – Download and Print Daffodil Petal
To download, sign up for this form. I'll add you to a newsletter list. If you already subscribe, you won't have multiple subscriptions.
Step 2 – Cut Out Petal and Circle Template
Step 3 – Trace Petal and Circle
Trace petal pattern onto construction paper with a pencil.
Step 4 – Layer Paper and Cut
I like to cut out as many petals as I can with my scissors. I cut about 5-6 at a time. Once the stack of papers gets too thick, the edges get a bit ragged.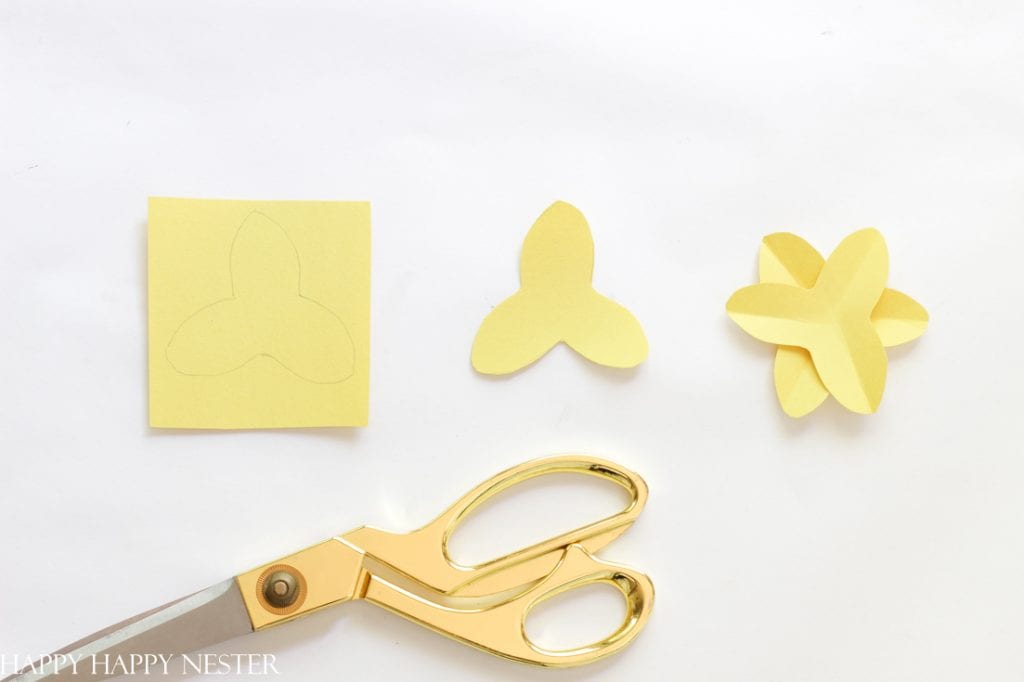 Step 5 – Make Flower Base (cut out 38)
Make two petals as shown in the above photo. Fold the middle of the petals. Next, layer one petal on top of the other and glue it together in the middle of the flower petal.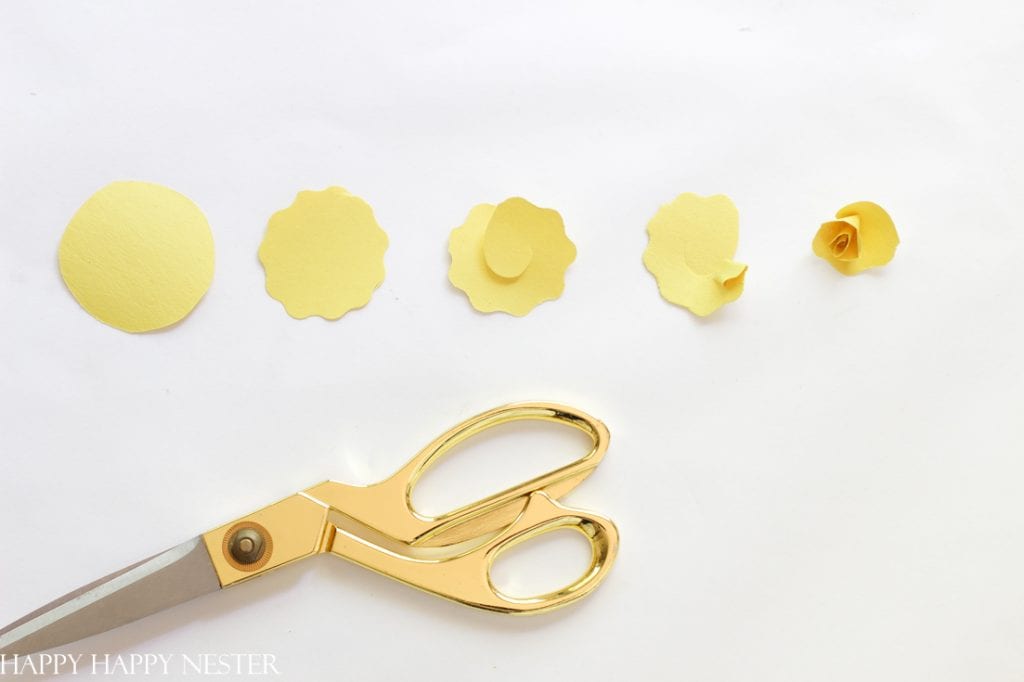 Step 6 – Make Flower Center (make 38)
To make the center, cut out the circle template. Then using your wavy scissors, cut along the edge. Next, cut along the circle as shown. Starting with the outer tail, start rolling and gluing until you get to the center. Glue the rolled-up paper to the base of the circle.
Step 7 – Attach the Center to the Petals
Next, attach the centers to the petal base. Then attach all your flowers to your grapevine wreath with a hot glue gun.
---
As you know I love paper flowers and here are some more projects that you might like this spring!
Well, thanks again for visiting this fun little blog hop. I hope this construction paper crafts project inspires you!
Daffodils are such happy spring flowers and this wreath is such a fun way to welcome in spring!
Cheers,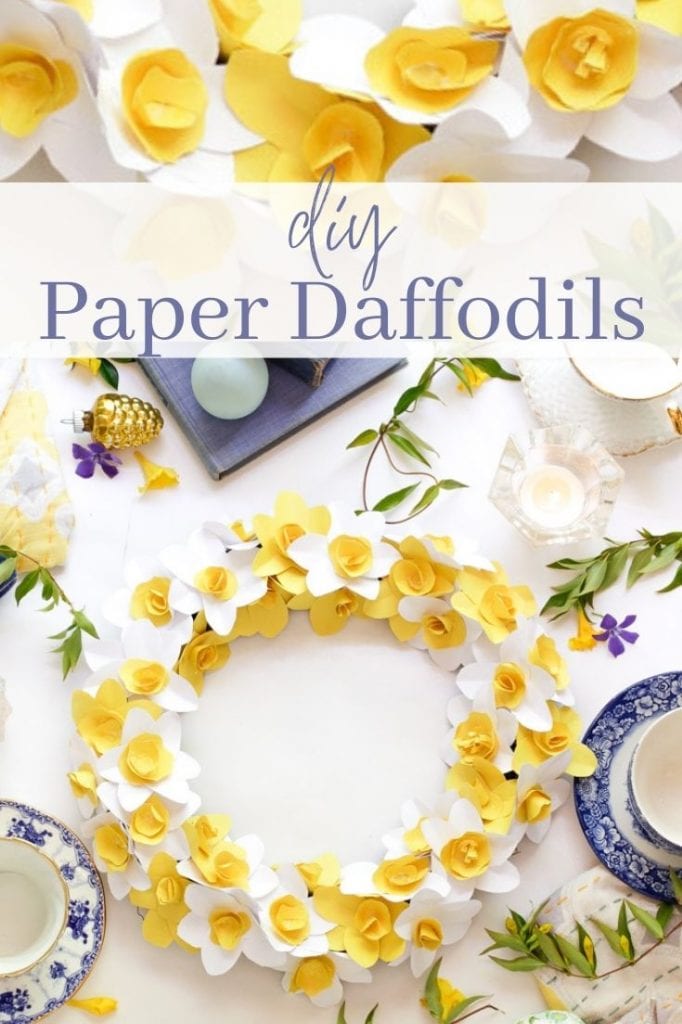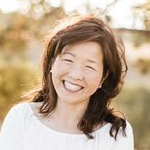 Latest posts by Janine Waite
(see all)