Here's an unusual twist on a Farmhouse Fall Centerpiece. This gorgeous bouquet includes a gorgeous rich color of purple flowers. I'll show how I designed this floral arrangement step-by-step.
I tend to shy away from using the traditional colors for fall. I find it more of a challenge to design centerpieces that have surprising color combinations. Rich fall colors are what dominate my floral arrangement today. The purple cabbage and hydrangeas signal the end of summer and celebrate autumn.
If you are here for the first time, welcome!
This week includes a Thanksgiving 3-Day Series with my dear friends. Here is the week's line-up:
Monday – Thanksgiving DIY
Tuesday – Thanksgiving Recipe
Wednesday – Thanksgiving Table Reveal.
You see my friend's projects in the photos and links below.
In the meantime, if you are looking for Thanksgiving inspiration, then here are a few other posts that may interest you.
---
Ok, let's get this tutorial started!
*This post contains affiliate links
Farmhouse Fall Centerpiece DIY
I did find some unusual flowers at the San Francisco Flower Market. And in this tutorial, I linked to a few that you can find online. I immediately fell in love with the unusual Brunia Berries. The cool thing about these branches and the beautiful hydrangeas is that you can preserve them and use them in their dried state!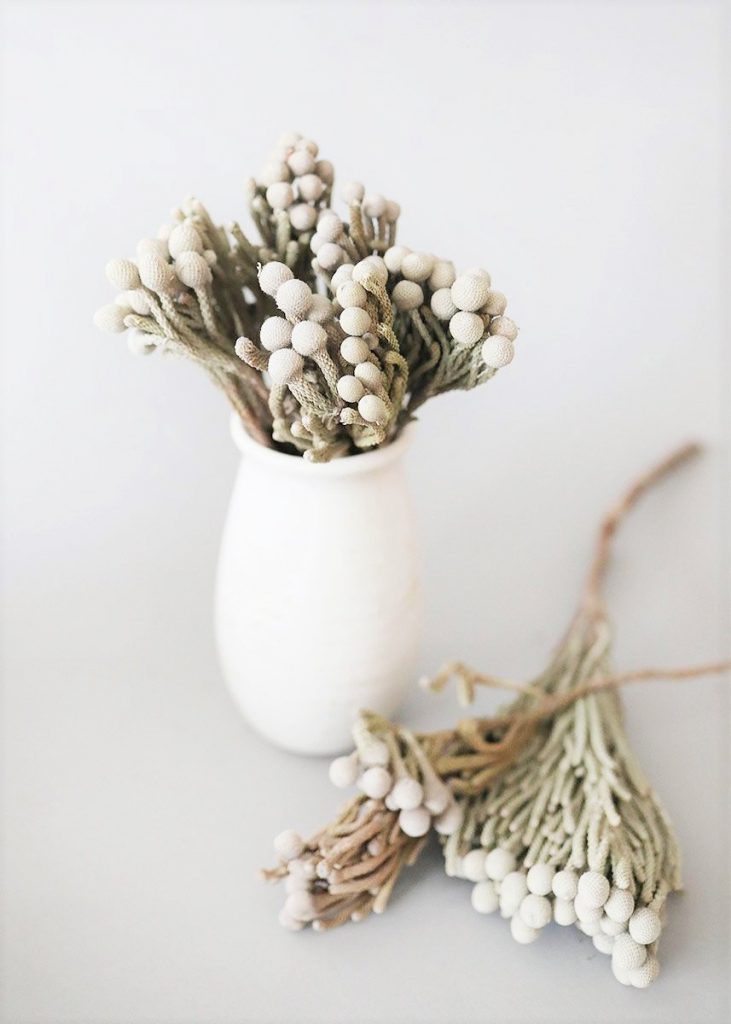 Flowers:
Purple Hydrangeas
Green Hydrangeas
Purple Cabbage
Burgandy Astrantia Flower
Grass-Leaved Scabious
Directions to create a Farmhouse Fall Centerpiece:
Step 1 – Choose Your Container
I always have a boatload of glass and white vases on hand. For this arrangement, I used my white soup tureen. I plopped a metal frog in the tureen to hold the flowers.
Step 2 – Fill Vase with Water and Flower Preserver
Freshwater mixed with a flower preserver is a must. I did a little experiment with flowers and found some fun results. Here is the post if you are interested.
Step 3 – Trim Leaves Off Your Flowers
Trimming off the excess leaves helps the life of your blossoms. The branches' energy no longer goes to the leaves but rather your flower.
Step 4 – Place Your Flowers in the Vase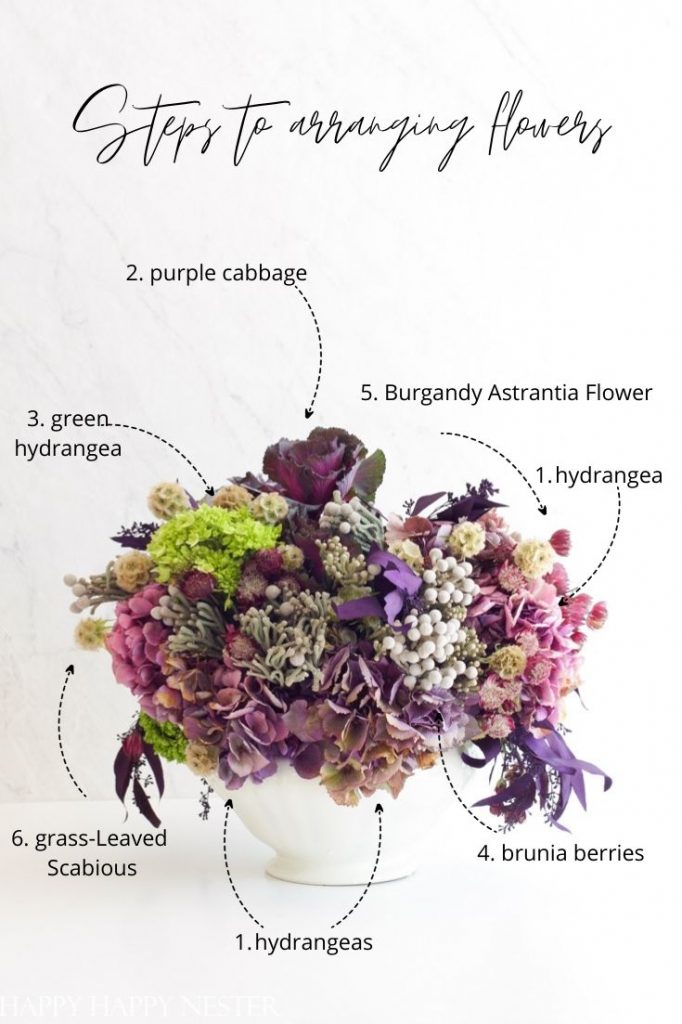 Refer to the above photo. I place my biggest flowers in first. Here's the lineup:
Four purple hydrangeas – three in the front and one in the back
Purple Cabbage – One near the top and one in the back
Green Hydrangeas – Place where you need a pop of light color
Brunia Berries – Place in between hyrdrangeas and purple cabbage
Burgundy Astrantia and Grass Leaved Scabiosa – Dot throughout arrangement.


More Thanksgiving Table Projects!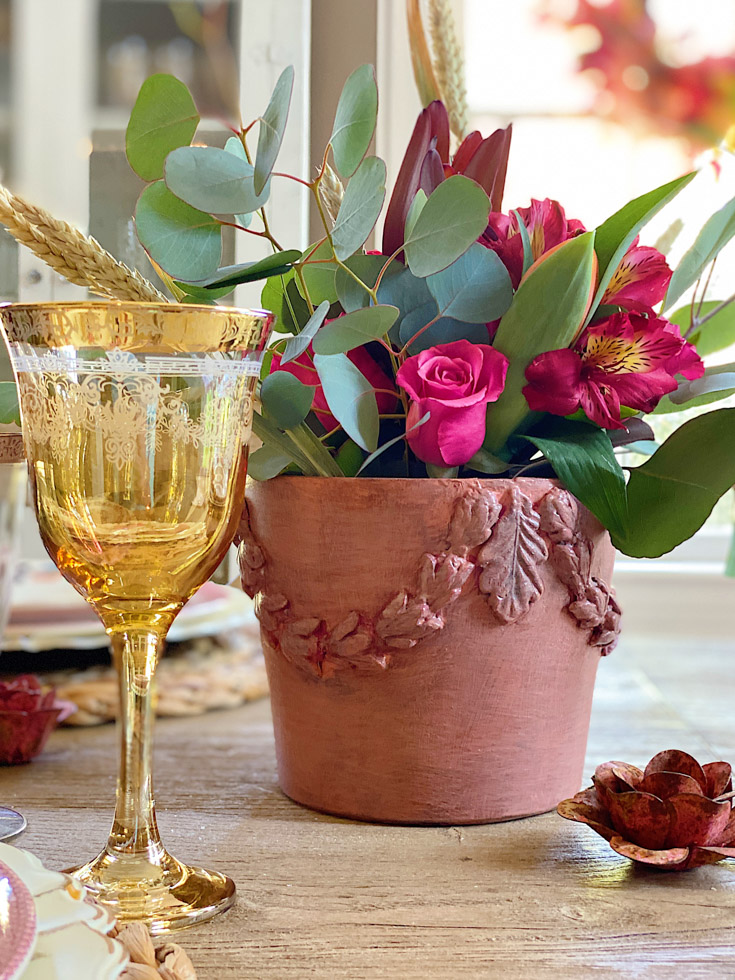 The Best Ceramic Planter DIY | My 100 Year Old Home
It amazes me that I can start with a terracotta pot, add some moulded clay and a few coats of paint, and end up with the best ceramic planter.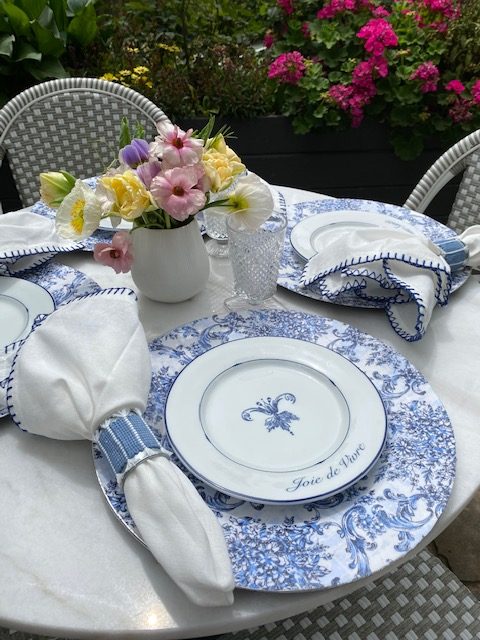 Here's How to Make Your Own DIY Fabric Chargers | To Have + To Host
A few weeks ago, I was in the mood for a blue and white tablescape so I came up with an idea for a DIY fabric charger, which I'm super excited to use on my Thanksgiving table – here's how I did it.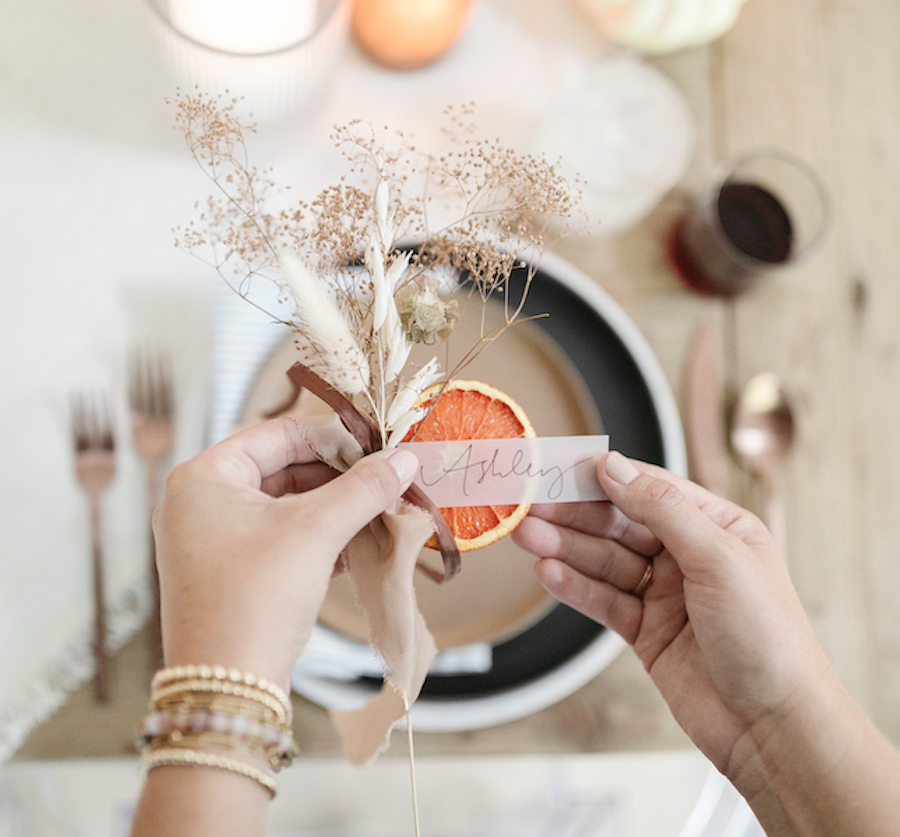 Dried Orange Thanksgiving Place Cards | Modern Glam
These DIY Dried Orange Thanksgiving Place Cards are a beautiful way to add character and personalization to your holiday table. Learn how to make them with me!
---
Thanks so much for joining me today! I had so much fun designing this Farmhouse Fall Centerpiece.
Happy Fall to you all!
Cheers,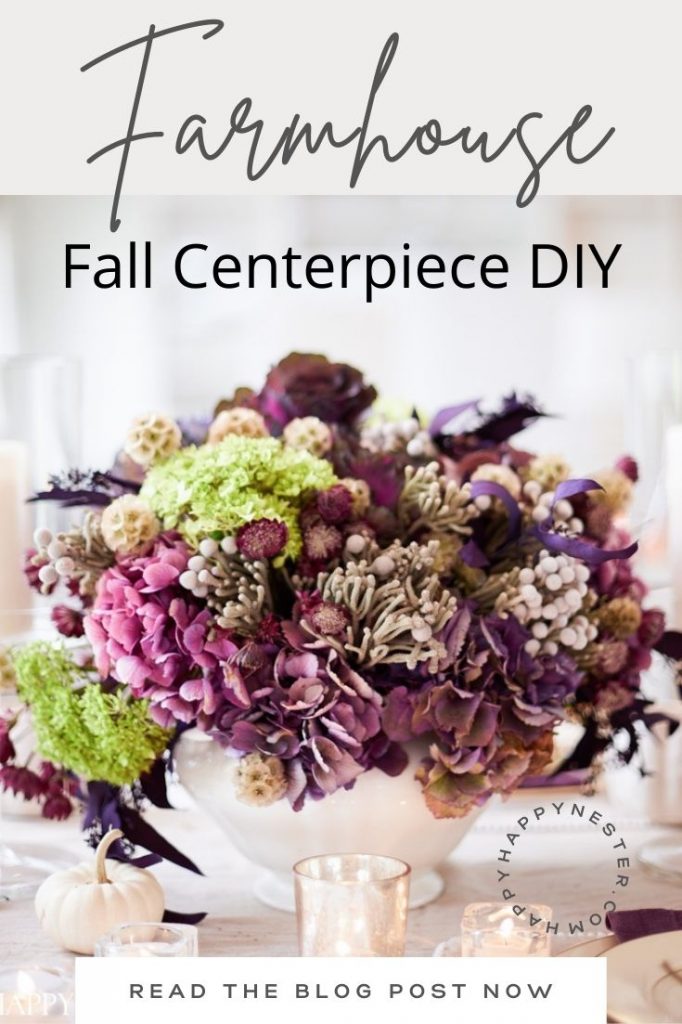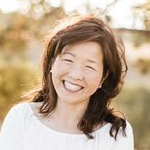 Latest posts by Janine Waite
(see all)