I'm sure you've heard lots and lots about Halloween. But now it's time to talk about Thanksgiving, for real. I am here to inspire you with one of my favorite Thanksgiving Table-Setting Ideas! Today, we have a new layout and I'm including every piece of decor that helped set the scene.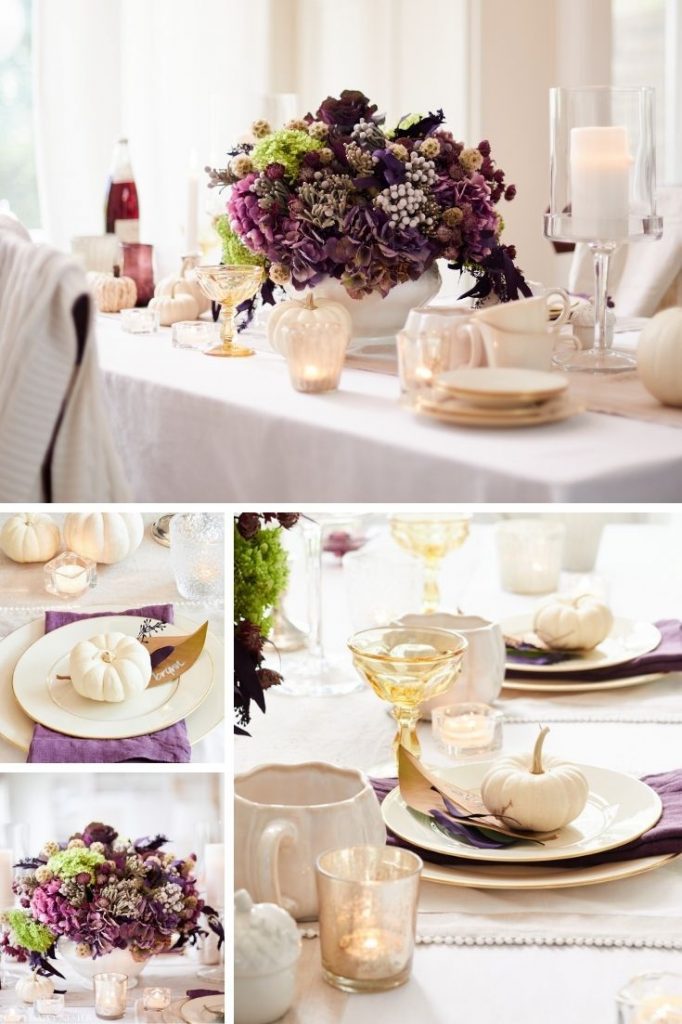 Check out these Thanksgiving tablescapes to then create one of your own to gather at with grateful hearts. I don't know about you, but I am already Halloween-ed out. It's time to get my turkey on! Every Thanksgiving, I tend to go all out when it comes to constructing my dining room table. It's such a particular time of the year to give thanks and feel blessed.
And after decorating, it makes my heart beam with joy seeing my loved ones around the table that I styled. I'm sure you feel the same way and want to create an unforgettable oasis to hold in your memory forever. I am here to motivate you to make that unique table for Thanksgiving! Let's begin. With these tablescape decorations, you will design and transform your dining room table into a Thanksgiving delight full of warmth and beauty! 
Decorative Accents
Table Runners/Table Cloths
Crockery Collection
Centerpiece
Scroll on to see these pieces!
Thanksgiving Table Setting Ideas
*This post contains affiliate links
THANKSGIVING DECOR: DECORATIVE ACCENTS
This year, even though I decided to go out of my comfort zone with a dark-colored tablescape, I still kept it simple with light-colored pieces. I didn't want everything to be dark purple for decorative accents, so I included several neutral-colored trinkets to add a sense of peace to the room. From mini pumpkins and dried leaves to vases and candles, here are my styling pieces!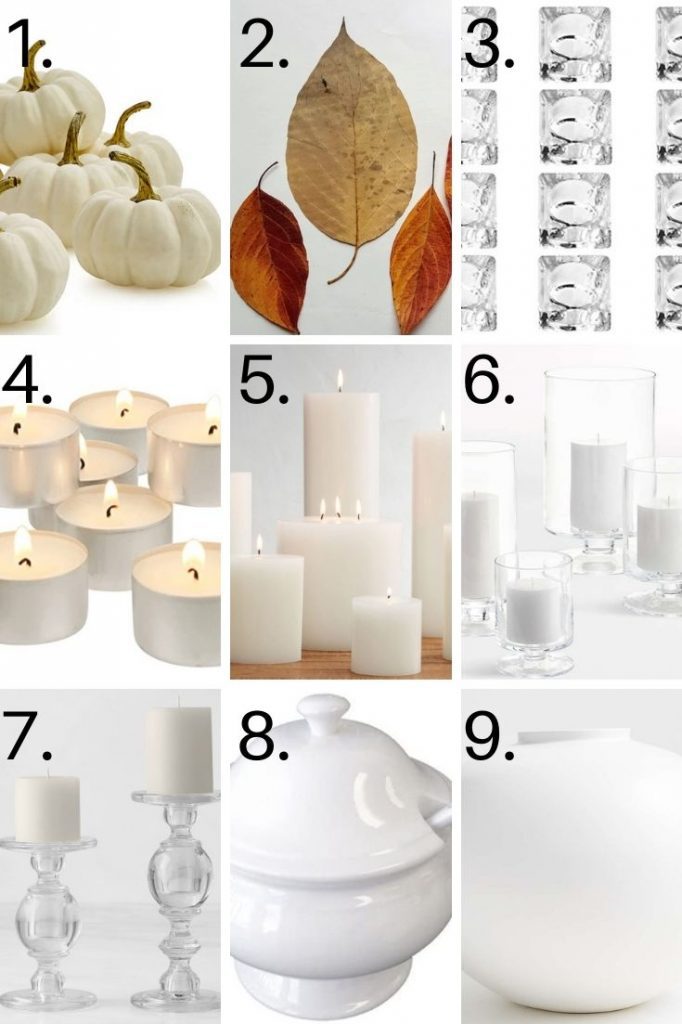 Sources: 1 l 2 l 3 l 4 l 5 l 6 l 7 l 8 l 9
I wanted the main centerpiece to pop with color, so that's why I chose uncomplicated decorations to place around the table. My all-time favorite pieces are my mini candle votives! I think they add such a lovely touch to the setting while also looking minimal.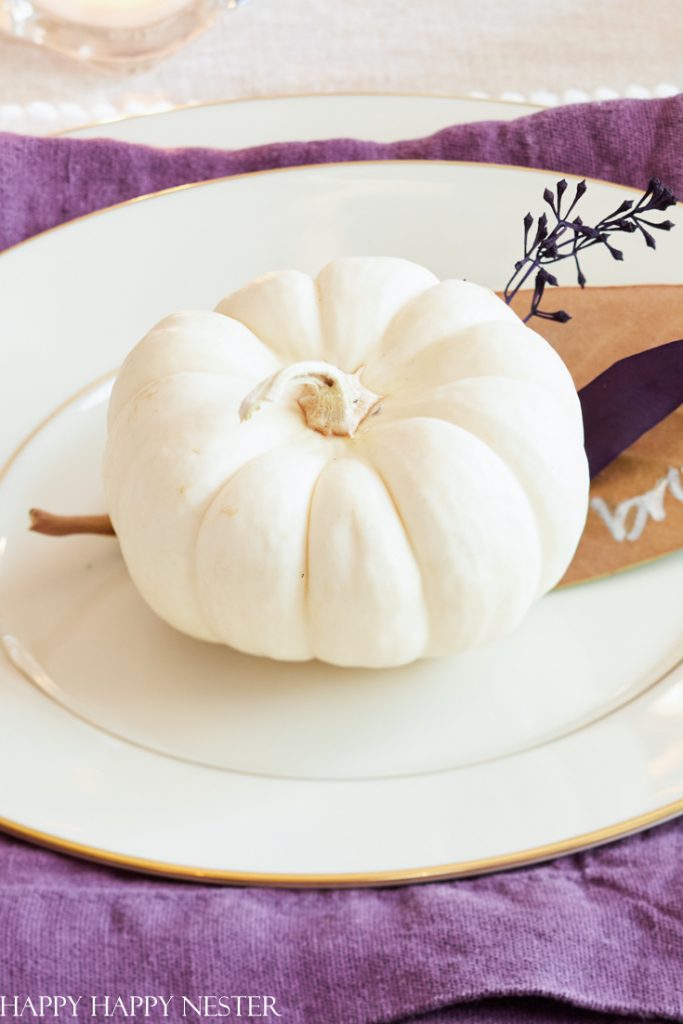 Sources: White Pumpkin l Dried Leaves
Sources: Mini Candles l Mini Candle Votives l Large Candles l Large Candle Containers l Vase
THANKSGIVING DECOR: TABLE RUNNERS/TABLECLOTHS
I usually wouldn't bother draping a table runner, but unfortunately, my dining room table is dark brown, affecting my table setting the vision. So I end up styling the table with a neutral colored or a white table runner and colored napkins to invite more color to the scene. In this case, I included two linen table runners, a white runner that covers the whole table, and a mini light brown table runner placed right down the middle, along with purple linen napkins to match my darker tone for the overall tablescape.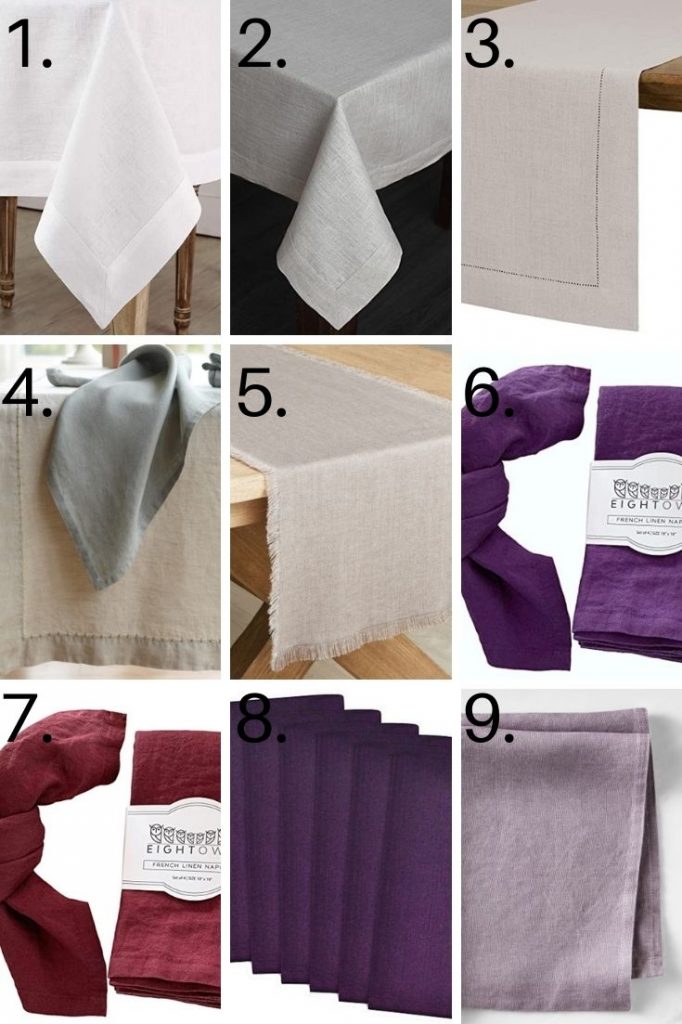 Sources: 1 l 2 l 3 l 4 l 5 l 6 l 7 l 8 l 9
Decorating with a table runner brings the whole tablescape together, creating an organized and clean look to admire. As I said, a table runner isn't the first piece of decor to come to mind, but when it does, I tend to have my favorites when it comes to creating Thanksgiving table setting ideas!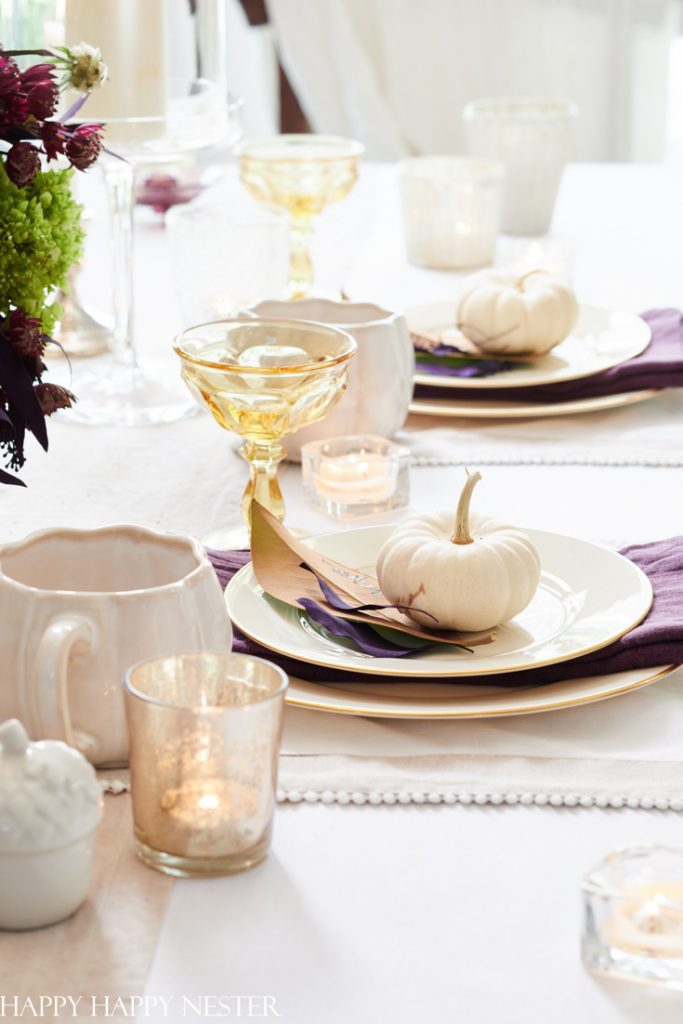 Sources: White Table Runner l Light Brown Table Runner l Purple Napkins
THANKSGIVING DECOR: CROCKERY COLLECTION
I tend to always keep it simple with my plates, bowls, glassware, etc. There's just something elegant about placing cream-colored plates with gold trimming around the rim on a table. Plain and simple, just the way I like it. Whether it's any part of a crockery collection, I tend to go either white or cream-colored with little to no pattern nor design. I leave it to the decorative accents and floral arrangement to spice up the scape.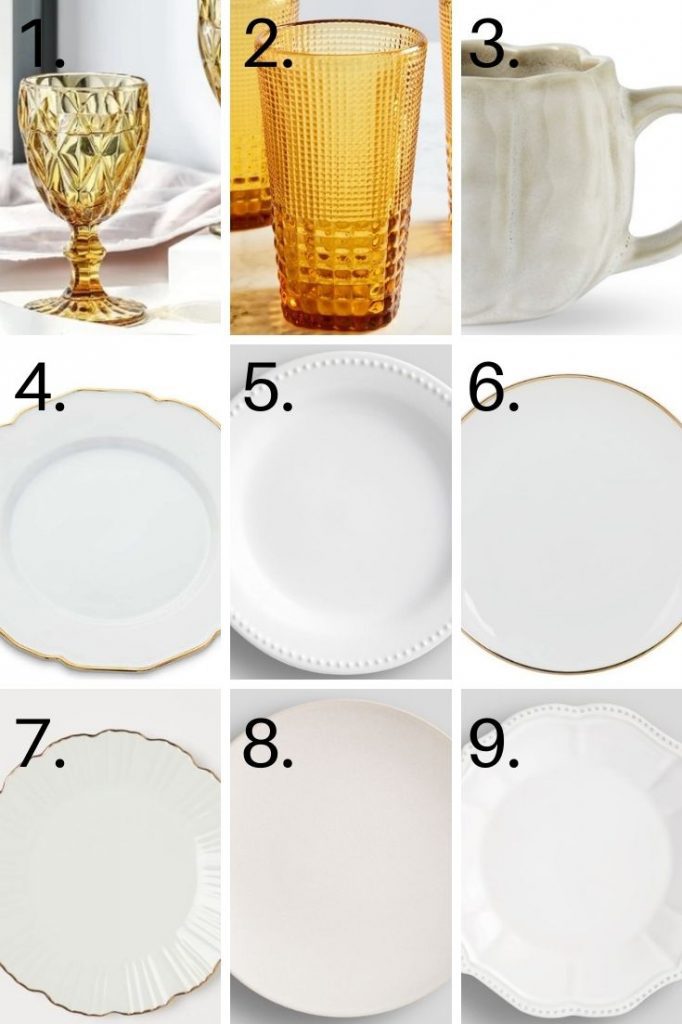 Sources: 1 l 2 l 3 l 4 l 5 l 6 l 7 l 8 l 9
Since this table is for Thanksgiving, I needed to incorporate some pumpkins other than actual mini pumpkins. Therefore, I included my new favorite pumpkin mugs! Not only are these mugs adorable decor pieces, but they are easy to handle and perfect to enjoy your favorite Holiday drinks in.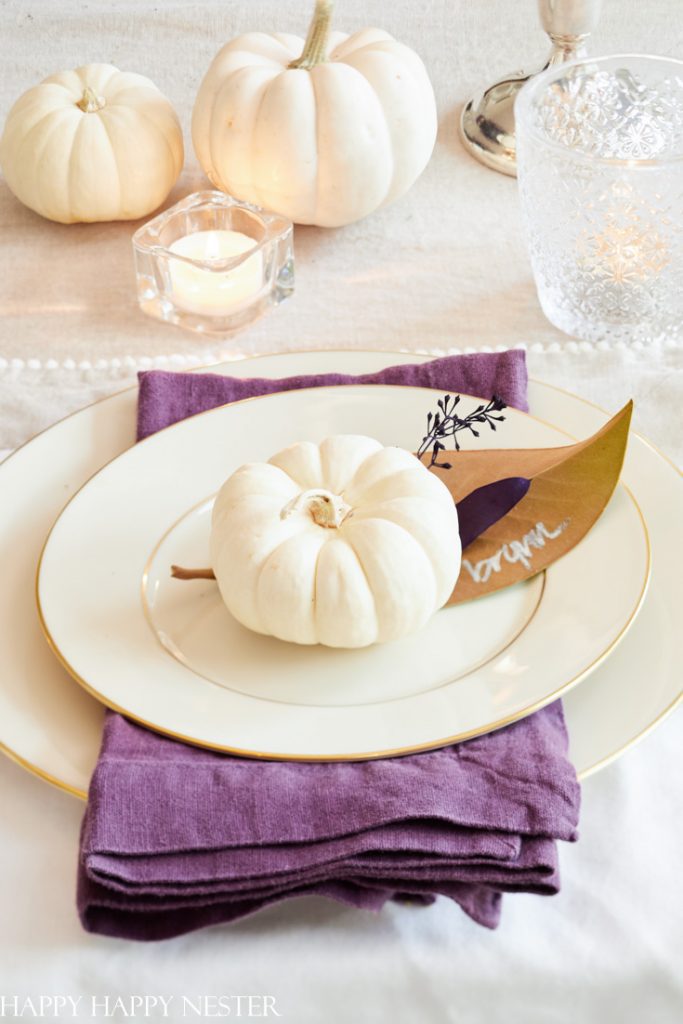 Sources: Cream-colored Plates with Gold Rim l Mini Cream-colored Plates with Gold Rim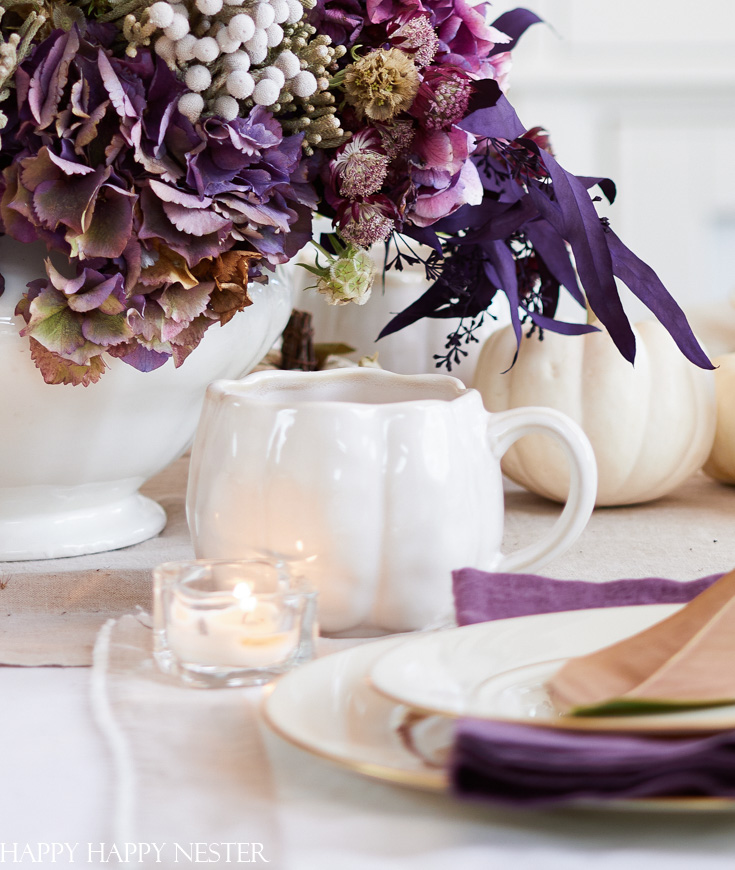 Sources: Pumpkin Mug
THANKSGIVING DECOR: CENTERPIECE
Finally, it's time to put together the centerpiece, aka the floral arrangement. Creating bouquets creates a sense of comfort within myself. Whether it's a mini handheld bunch of flowers or an organized vase full of beautiful blooms, I have always loved styling them. I chose dark-colored flowers for my centerpiece for this tablescape, including purple and green Hydrangeas, purple cabbage, burgundy-colored Astrantia, grass-leaved Scabious, and Brunia berries.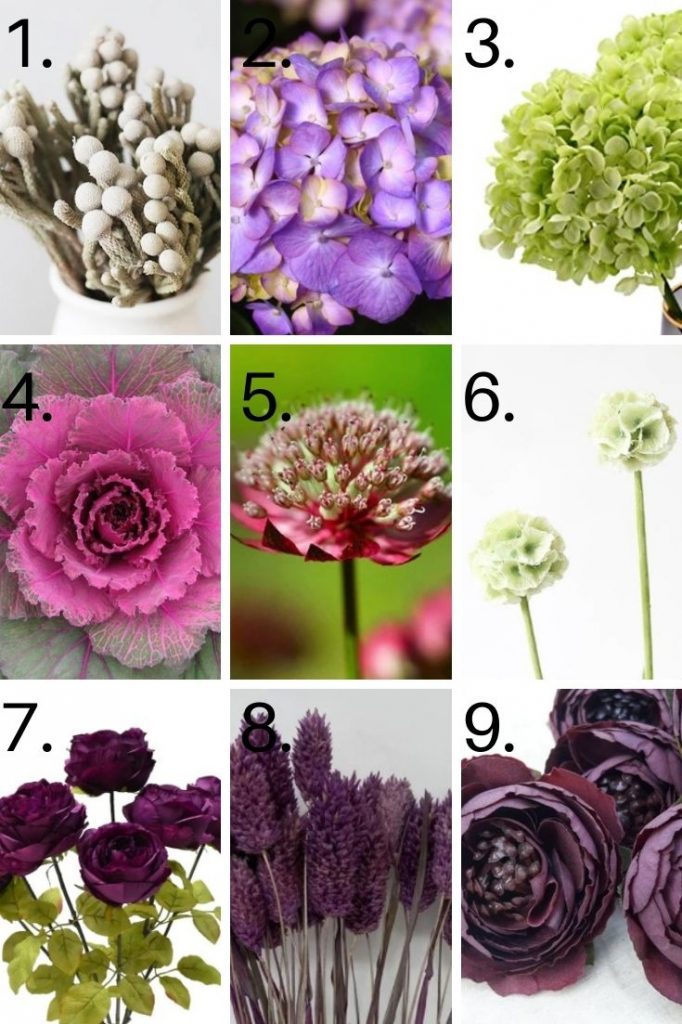 Sources: 1 l 2 l 3 l 4 l 5 l 6 l 7 l 8 l 9
I find it more of a challenge to design centerpieces that have surprising color combinations. Rich fall colors dominate my floral arrangement today, and the purple cabbage and hydrangeas signal the end of summer and celebrate autumn.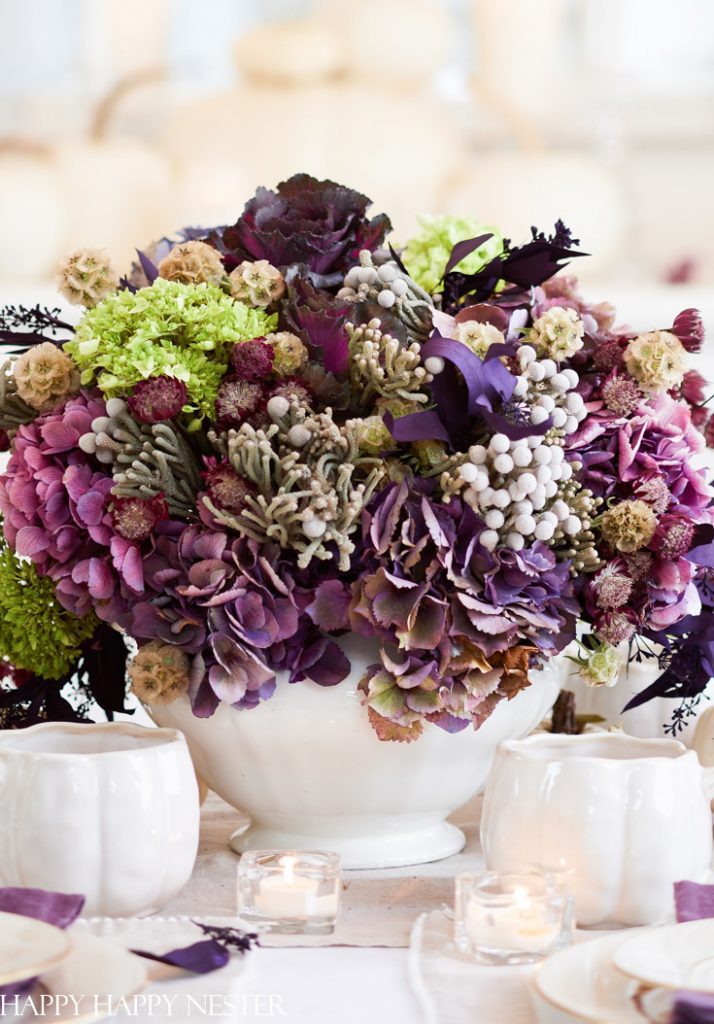 Sources: Brunia Berries l Purple Hydrangeas l Green Hydrangeas l Purple Cabbage l Burgundy Astrantia Flower l Grass-Leaved Scabious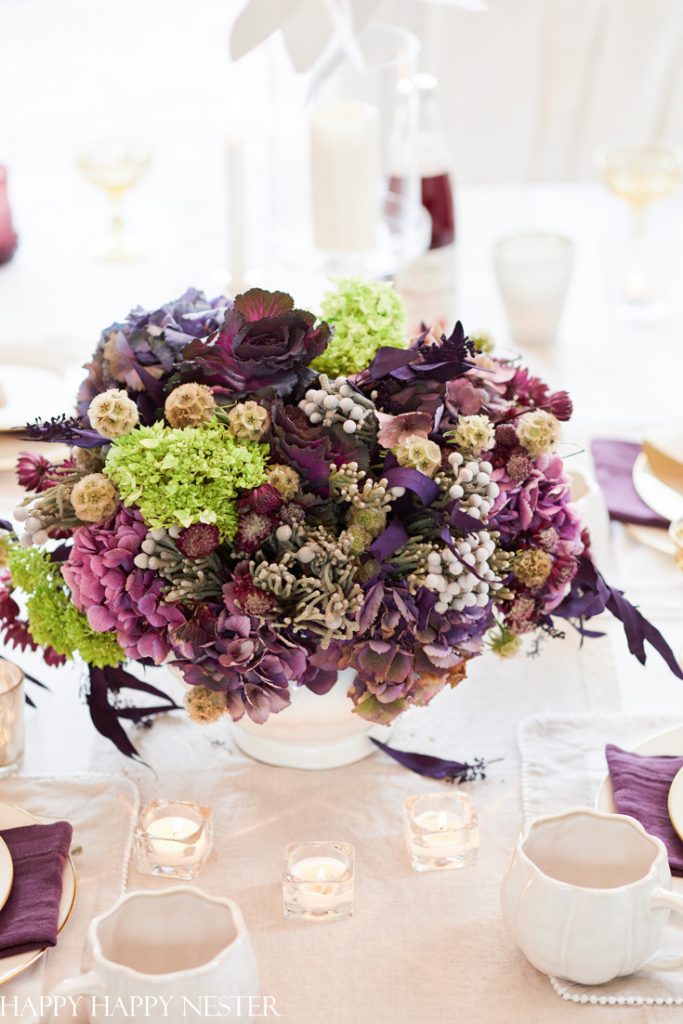 Sources: Brunia Berries l Purple Hydrangeas l Green Hydrangeas l Purple Cabbage l Burgundy Astrantia Flower l Grass-Leaved Scabious
I'm confident that you can create this look this fall, and I include all my decor sources for your convenience!
Now that you have gone through one of my favorite Thanksgiving table setting ideas, how will you style your table? Don't worry, there's still so much time to think of an idea, and besides, it's still October! Time to put on a costume, eat candy, and watch scary movies!
Alright, let's settle this. Have some of you purchased your bags of candy too early to the point where it's tempting to eat them, or are some of you waiting until the last minute to buy your candy to bypass the treat cravings? Which person are you? In all seriousness, my family relates to person #1, and I had to tie up all of the candy bags and lock them up, aha!
Just between you and me, I am way past Halloween, Thanksgiving, and all of the sweet treat cravings that come with the Holidays. I am now moving on to decorating the Waite house for Christmas! So stay tuned for upcoming decor, recipes, crafts, and much more!
WANT MORE POSTS LIKE THIS? HERE ARE A FEW OTHER
THANKSGIVING TABLE SETTING IDEAS
---
Thanks so much for checking out one of my go-to Thanksgiving table setting ideas! I hope my chosen decor pieces have inspired you to create a look like mine or your style! Stay tuned for more Halloween, Thanksgiving, and even some Christmas posts coming soon. Cheers!
Have a terrific Wednesday, everyone,
*Photos: My Photography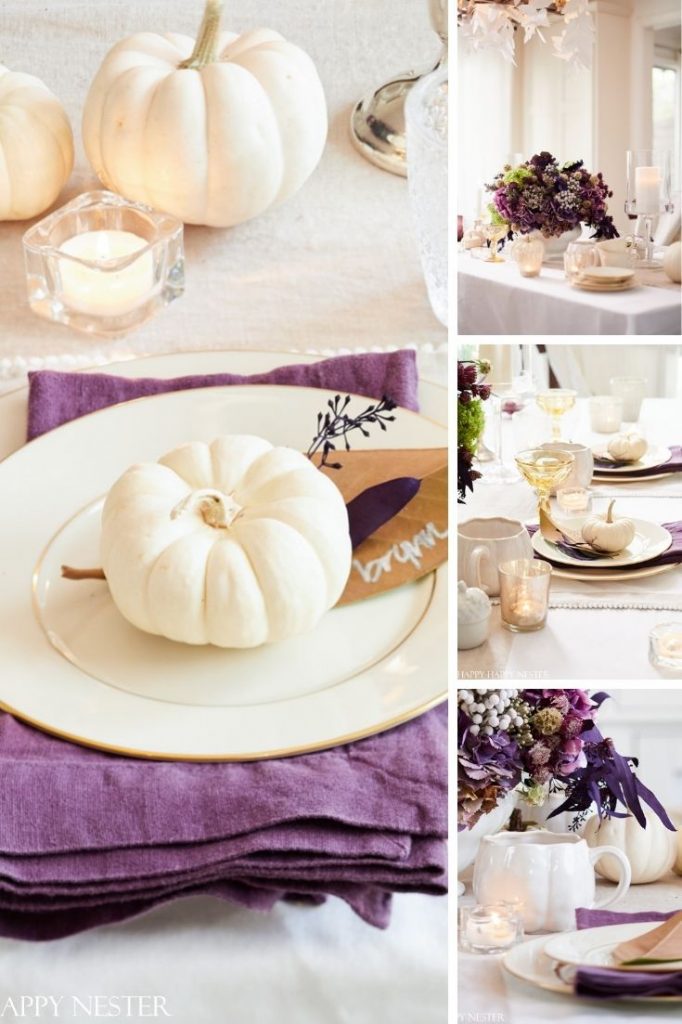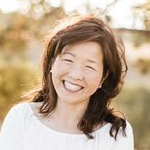 Latest posts by Janine Waite
(see all)