Halloween is over, and time to focus on Thanksgiving. As we all know, I am a big fan of creating table settings for any occasion. Especially Thanksgiving. It's the time to spread love while giving thanks around a beautiful table full of traditional recipes, stunning crockery pieces, decorative accents, and tons more. I am here to inspire you with this collection of Williams Sonoma Thanksgiving Plates and More to start designing your dream table scape today!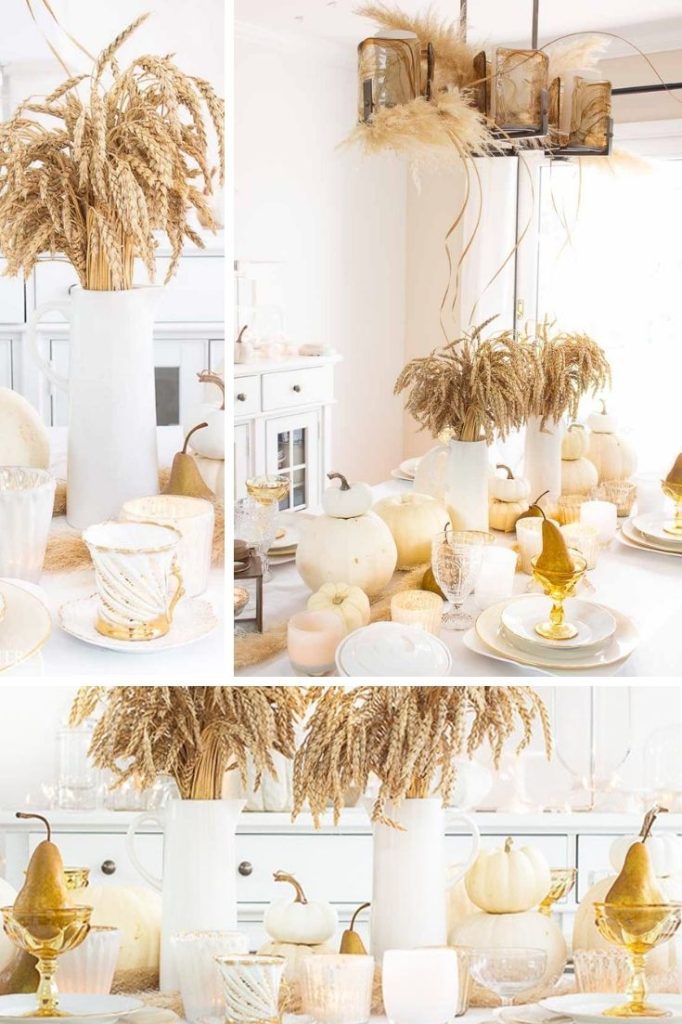 Check out these Williams Sonoma pieces like plates and more to get a sense of what you want your Thanksgiving table to look like. For this particular look, I have included neutral-colored decorations from white plates to dried organic elements. This tablescape is an easy, homemade look that creates a farmhouse style for your home. Now that I have the setting all planned out for you, it's time to start thinking of new recipes to serve. What is one of your family's traditional recipes for Thanksgiving? I'm on the hunt for a new recipe or two and would like to know your favorites, whether it's sweet or savory!
Hopefully, I inspire you to create a look like my tablescape or an idea of your own! I am here to motivate you to make a space you'll never forget. Let's get started! With this collection of Williams Sonoma Thanksgiving plates and more, you will design and transform your table into a place to feel thankful and blessed.
Decorative Accents
Table Runners/Cloths
Crockery Collection
Centerpiece Details
Browse on to see these pieces!
Williams Sonoma Thanksgiving Plates and More
*This post contains affiliate links
THANKSGIVING DECOR: DECORATIVE ACCENTS
I love that with a few simple elements, you can create a gorgeous table within minutes. When I say simple, I mean light brown, neutral-colored, almost white decorations. For as long as I can remember, I have always used cream-colored or light brown decor. But that isn't necessarily a bad thing, and sometimes it can be beautiful. In this case, I rounded up some of my favorite decorative accents, from pumpkins and pears to candlesticks and candle votives, to create a light brown look for Thanksgiving.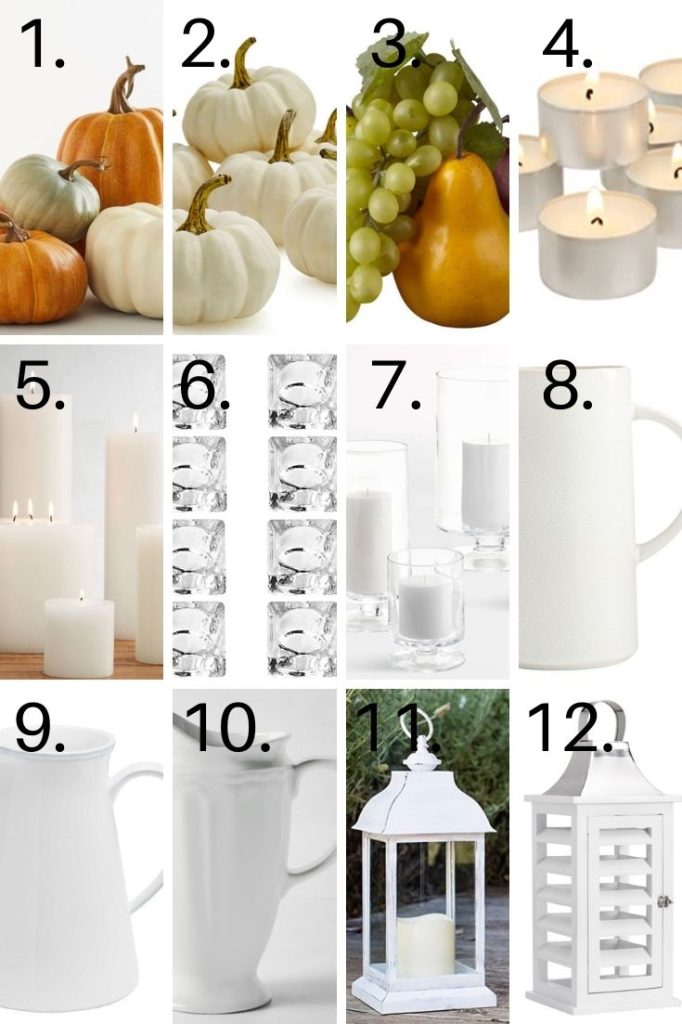 Sources: 1 l 2 l 3 l 4 l 5 l 6 l 7 l 8 l 9 l 10 l 11 l 12
Never once did I think I would go as plain as I did with the color light brown, but now that I know how to design with the given circumstances, I would create another Thanksgiving table setting made as simple as this one.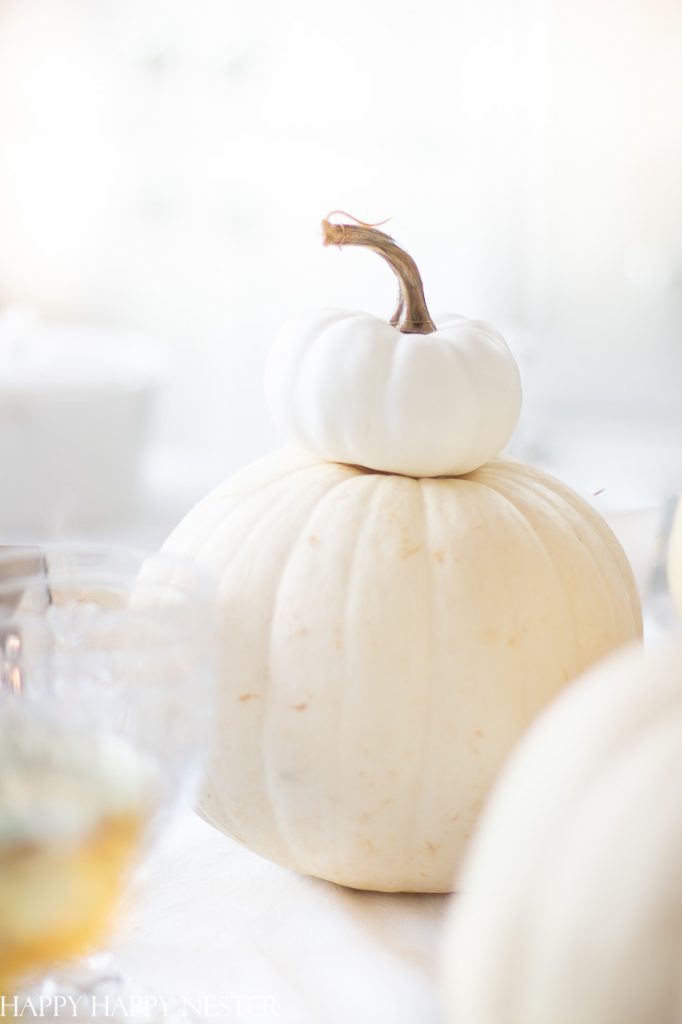 Sources: White Pumpkins l Mini White Pumpkins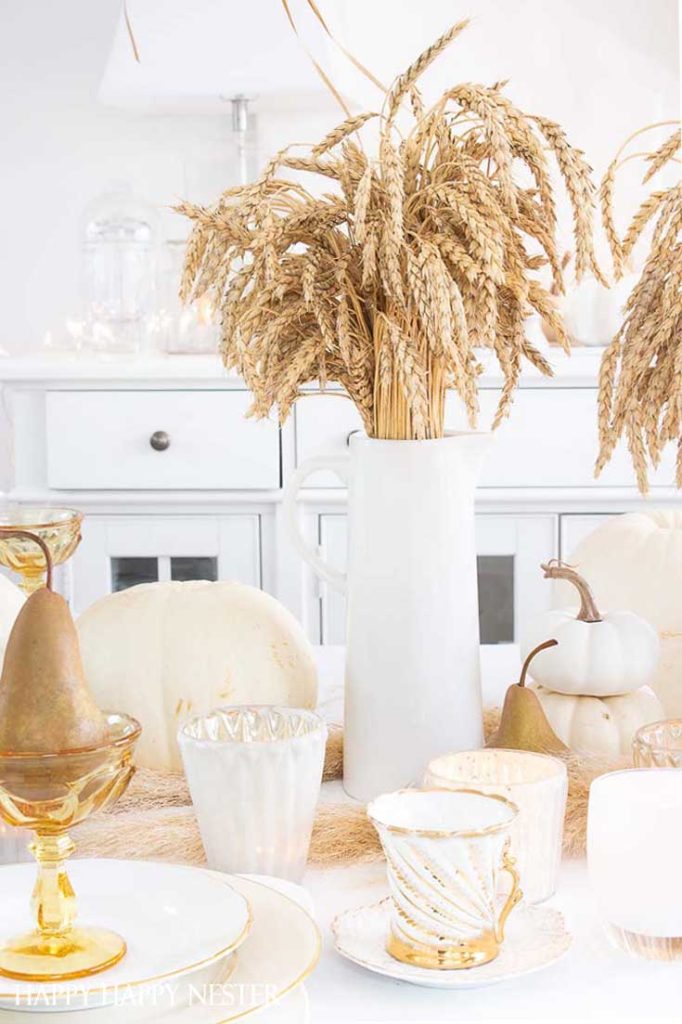 Sources: Mini Candles l Mini Candle Votives l Fall Fruit l White Vase
THANKSGIVING DECOR: TABLE RUNNERS/TABLECLOTHS
Since this tablescape is relatively undemanding, you won't be surprised to know that the table runner and cloth napkins I chose are simple yet stunning. I mean. I love a white table setting, and I always have, always will. Plus, the neutral-colored table runner will look perfect alongside the crockery collection with the collection of Williams Sonoma Thanksgiving plates and more. By saying that, I placed a white linen table runner over my dining room table to play along the lines of creating the perfect backdrop.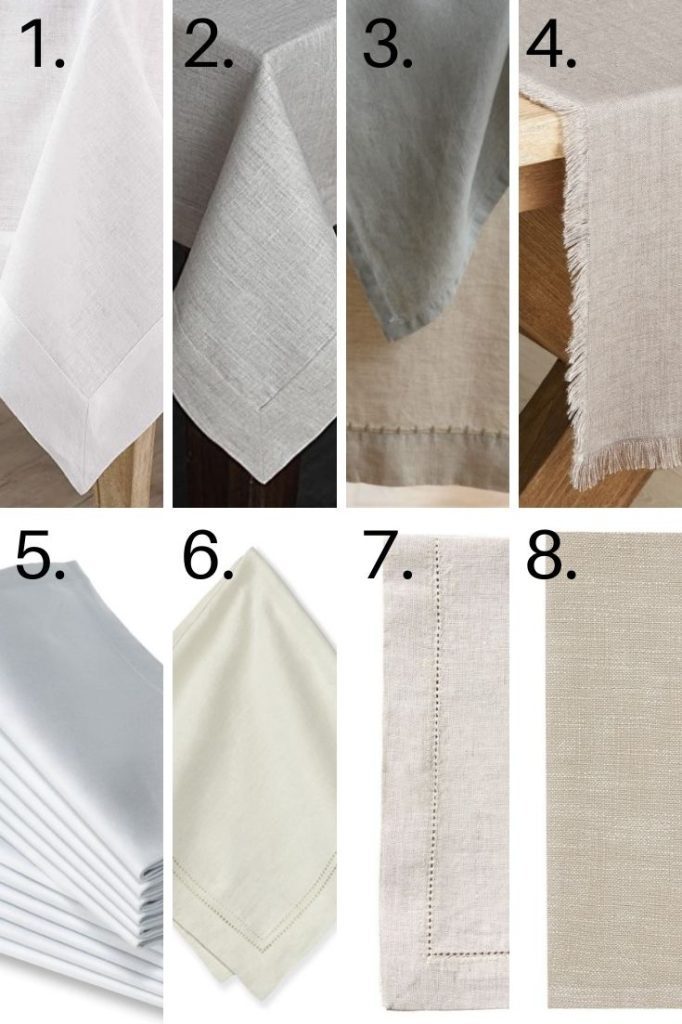 Sources: 1 l 2 l 3 l 4 l 5 l 6 l 7 l 8
What can I say? A white table runner does "pull together" a table scape and aims to create a look like no other. And it's a plus to know that you'll never wonder where to get a table runner like this!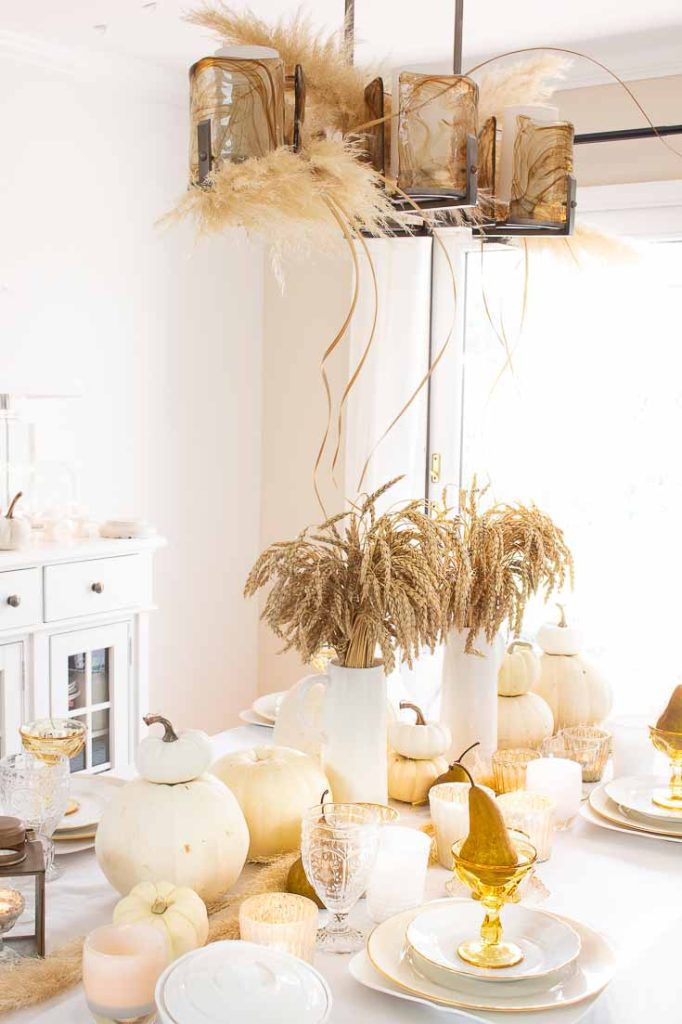 Sources: White Table Runner
THANKSGIVING DECOR: CROCKERY COLLECTION
I've said it before, and I'll repeat it. I always choose to place light-colored crockery pieces for decorating for Thanksgiving because of the simplicity and elegance. My favorites are cream-colored plates with a gold rim or anything that has hints of gold. Some of these pieces are a part of the collection full of Williams Sonoma Thanksgiving plates and more! If you're planning on going simple, it's nice to add a hint of color here and there to add a twist to the scene.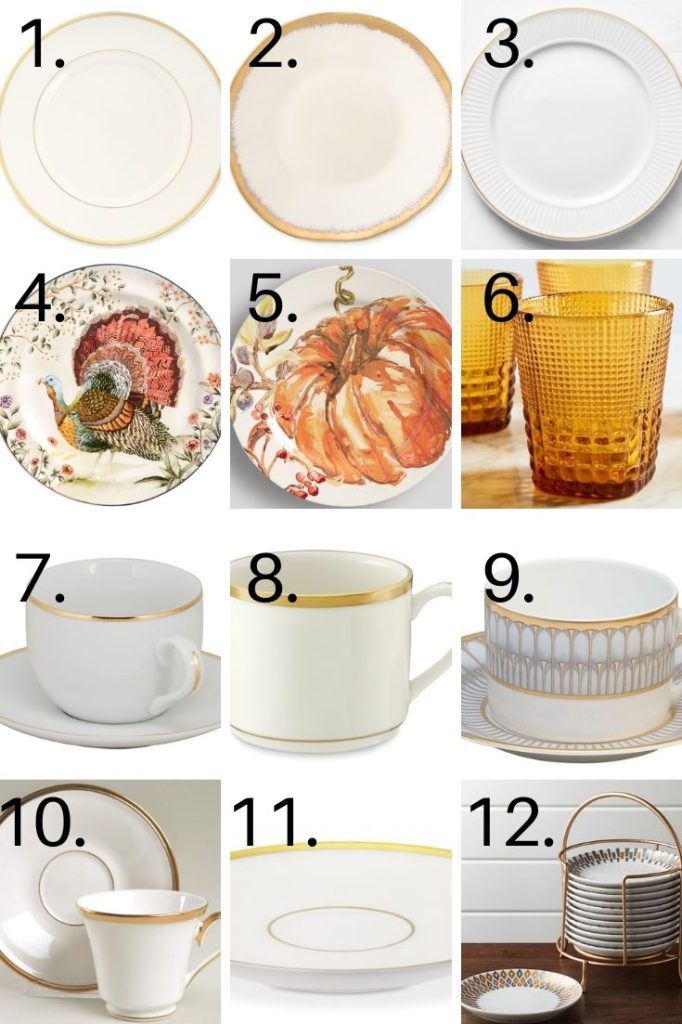 Sources: 1 l 2 l 3 l 4 l 5 l 6 l 7 l 8 l 9 l 10 l 11 l 12
Fun little fact, I bought these pretty French plates from our local store Elsie Green. Everything from the store is shipped directly from France! I also purchased the top, scalloped plate from their sale section, and thank goodness I didn't spend too much money. As you can tell, I'm all about saving money these days, so the amber glass cups are from my local thrift store, Goodwill.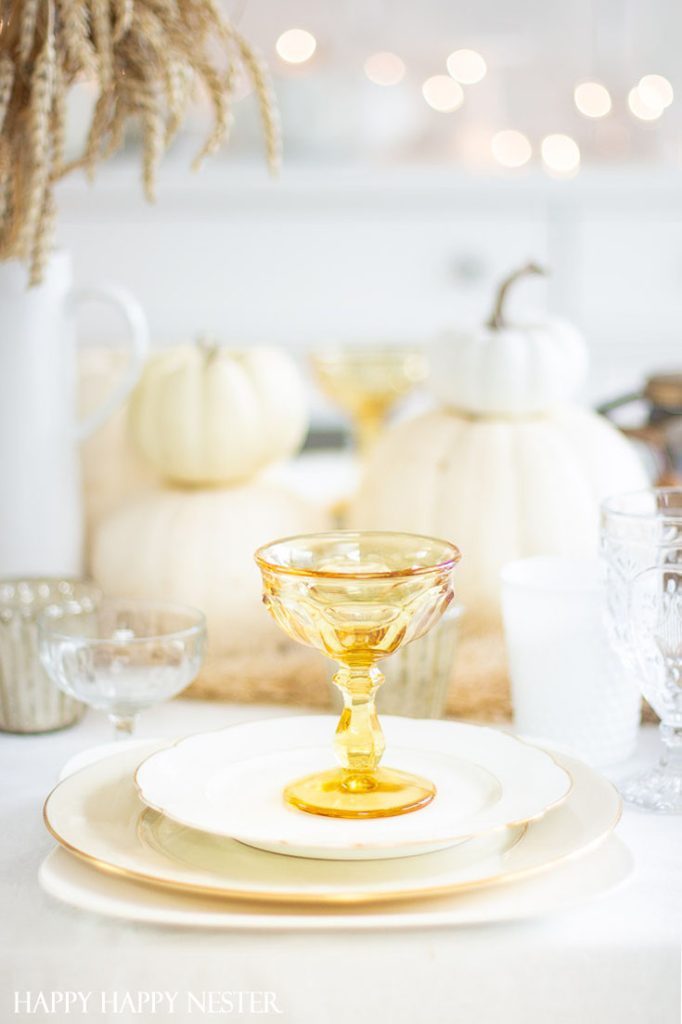 Sources: White Plates with Gold Rim l Mini White Plate l Amber Glass Cups l White Pumpkins l Mini White Pumpkins l White Vase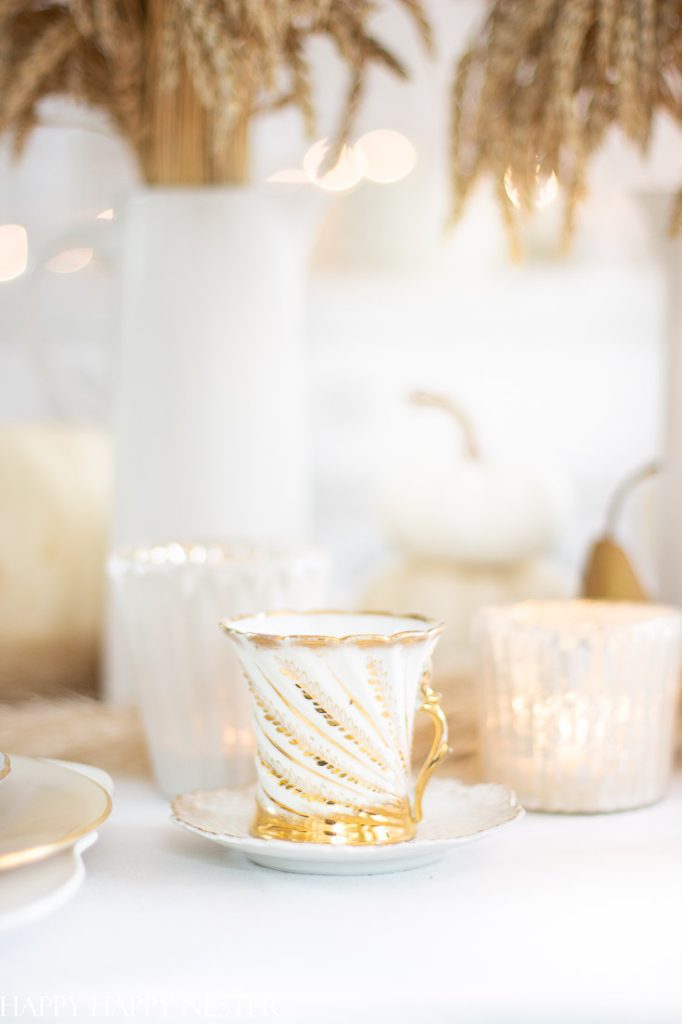 Sources: White and Gold Tea Cup l Gold and White Tea Cup Set
THANKSGIVING DECOR: CENTERPIECE DETAILS
Even though you're creating a Thanksgiving table setting made easy doesn't mean you can't add some organic elements. In this case, I decided to add some bunches of natural dried wheat and wild pampas grass. Besides adding pumpkins and pears, these bunches of grains and grass bring a Farmhouse look to the table.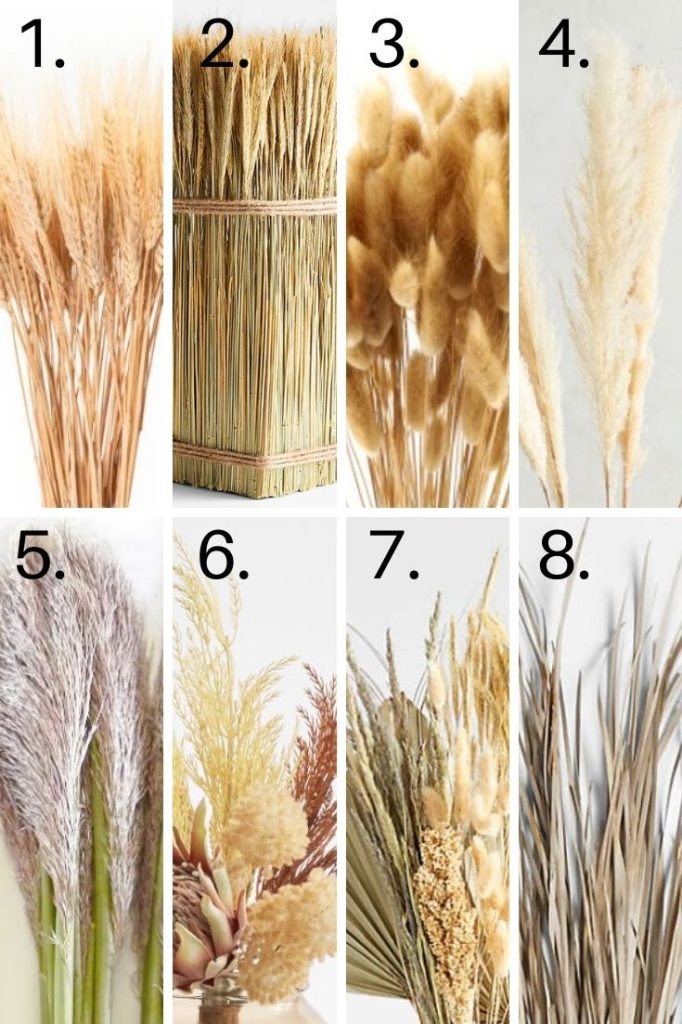 Sources: 1 l 2 l 3 l 4 l 5 l 6 l 7 l 8
I bought the dried wheat bunches from our local antique fair but found the pampas grass on the side of the road, if you can believe it. In the end, I placed both the pampas and wheat as part of my centerpiece, but I also hung some grass in my chandelier!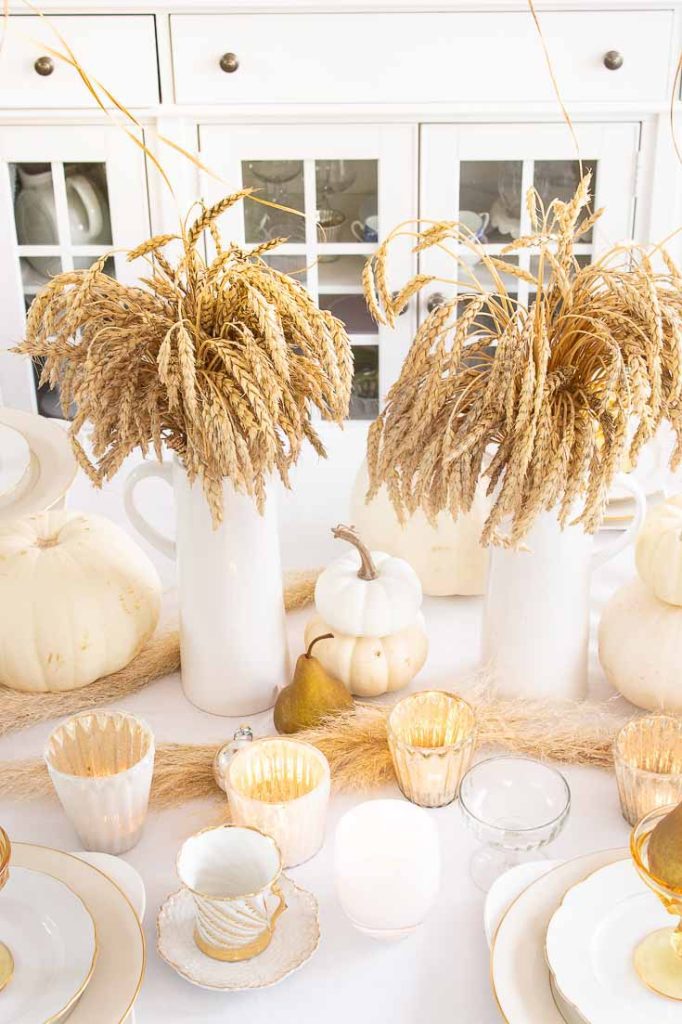 Sources: Dried Wheat Bunches l Pampas Grass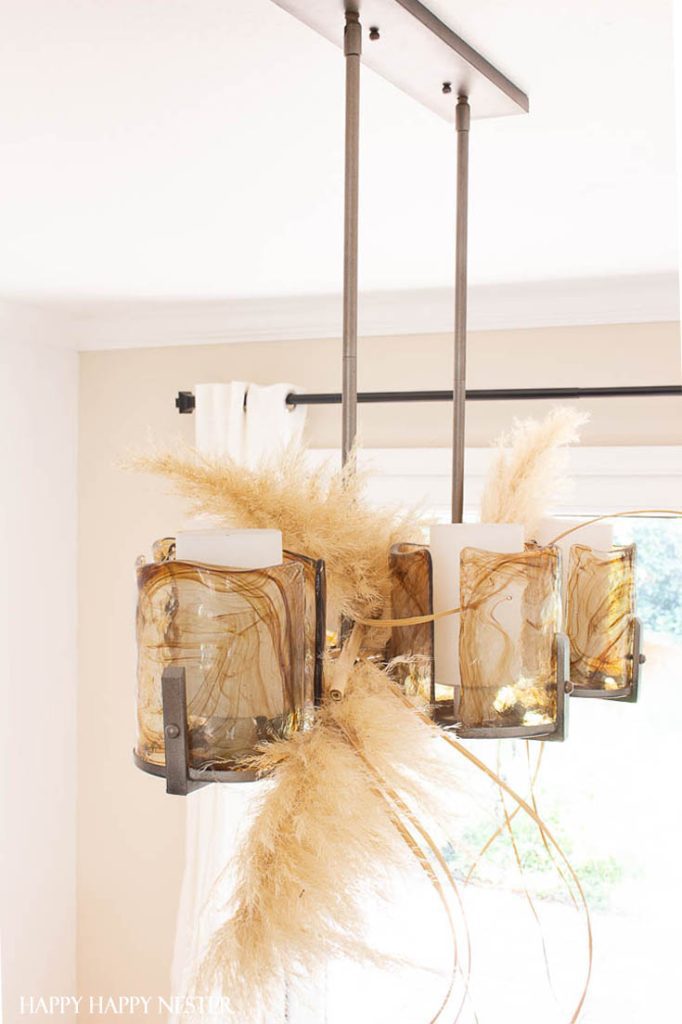 Sources: Pampas Grass l Dried Grass Bundle
I'm confident that you can create this look this fall, and I include all my decor sources for your convenience!
Who doesn't love a simple, made-easy table setting? I do, and I know some of you do too. That's why I created one in the first place because I know that times are busy during the holidays. Once Halloween ends, I have my daughter's birthday coming up, then Thanksgiving, and before you know it, it's almost Christmas time! So yes, I am a busy bee in November and barely have time to create a table, but this one took me no time at all and turned out looking better than I thought.
Since we are on Thanksgiving, I want to know your family traditions, recipes, games, and more! My dear friend Leslie has a tradition in her family called "pie for breakfast." Does anyone else have pie for breakfast? It sounds lovely, and I know my family will be on board. One family tradition of mine to give to you is to get outdoors and exercise, whether it means walking around in the neighborhood or taking a hike in the hills! We are very grateful to have the mountain right in our backyard to go to when needing a breath of fresh air.
Let me know your thoughts, comments, or questions about my Thanksgiving 2021 look, and I always love to hear from you. I hope this collection of Williams Sonoma Thanksgiving plates and more has enlightened you to try a new look this year.
WANT MORE POSTS LIKE THIS? HERE ARE A FEW OTHER THANKSGIVING IDEAS
---
Thank you so much for checking out one of this selection of Williams Sonoma Thanksgiving plates and more! I hope these decorations have inspired you to create a look like mine or your style! Stay tuned for more recipes, decor ideas, crafts, and more! And be on the lookout for my upcoming Christmas posts!
Have a great day, everyone,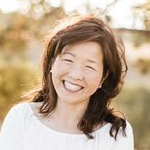 Latest posts by Janine Waite
(see all)