Don't you just love Thanksgiving? I like that it is a celebration of family and friends, food, and gathering around a table. So, speaking of tables, let's chat about your table. If you need some inspiration, I have 5 ways to create inexpensive Thanksgiving table for your holiday dinner. So with a few little tips and tricks you can design a simple table for practically a few dollars.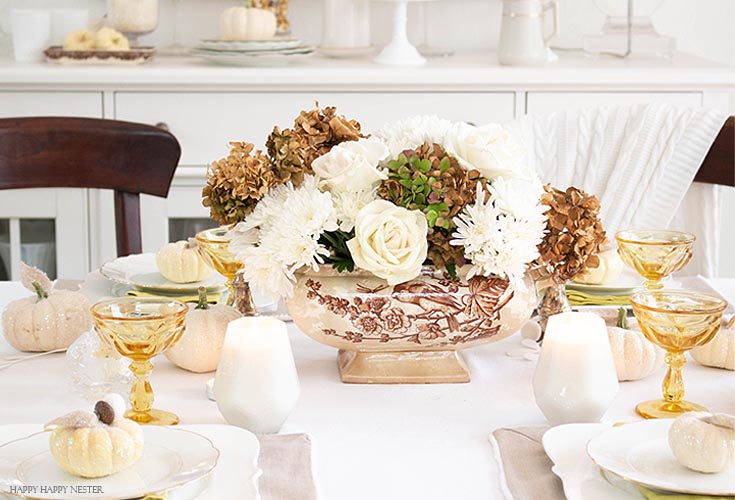 *the following post contains affiliate links
How to Create Inexpensive Thanksgiving Table
I have rounded up five different ways to decorate your Thanksgiving table this year. I love decorating that is easy, inexpensive and creative. So, let's dig in and get busy decorating for Thanksgiving.





1. Choose an Inexpensive Container For Your Flower Arrangement
When I'm out shopping at antique stores, I always keep an eye open for some unique vessels for my floral arrangements. I love to use a container that isn't necessarily used for flowers. I prefer soup tureens since the bouquets in them tend not to be too tall and cumbersome. Btw, you can see another floral arrangement on my Valentine's Day post. Also, I like that they are horizontal in shape and so they embrace more of the table.
This adorable French soup tureen cost only five dollars and it adds so much character to our Thanksgiving table. Who knew that inexpensive Thanksgiving table decorations could be so easy.
2. Choose Inexpensive Flowers
Keep your flowers simple. I thought that I would only use two types of flowers this time, white chrysanthemums and dried up hydrangeas from my garden. I like the contrast of the white and brown. It's cool that they also pick up the fall colors. I ended up adding three white roses from another bouquet. But, ultimately this arrangement only cost me like six dollars.
You gotta love that this inexpensive arrangement is so easy to create.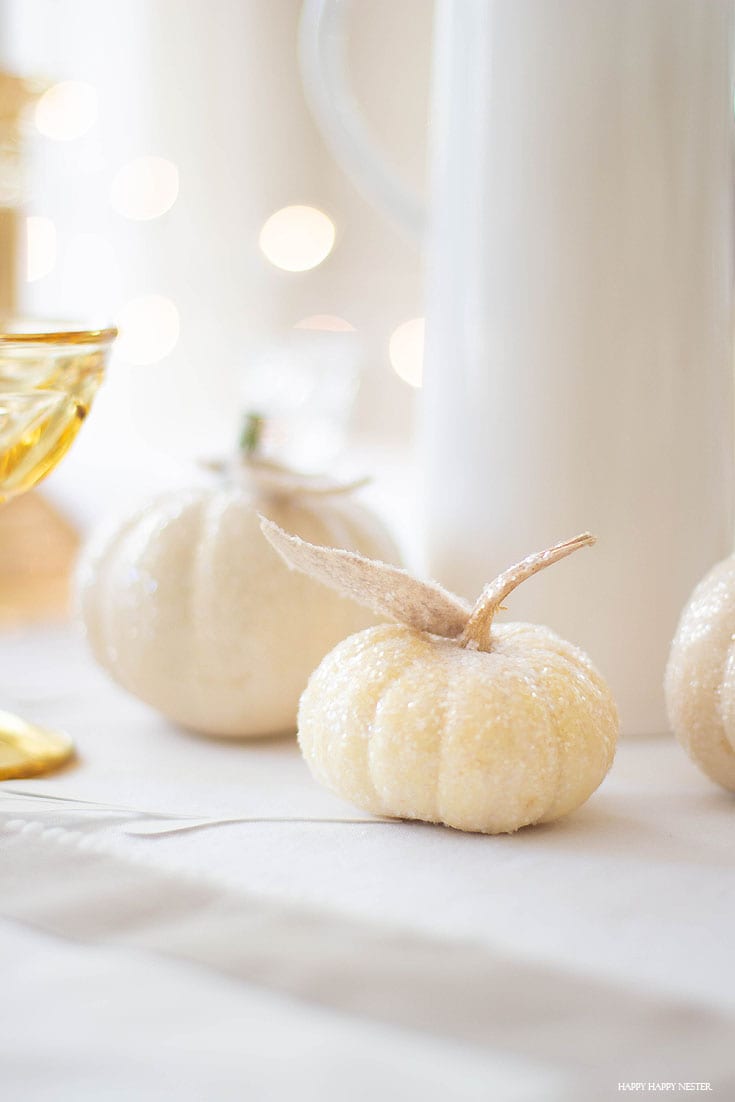 3. Create Inexpensive Table Decor
I made these charming glitter pumpkins with just a few items. It is so great that Mini-pumpkins are such an easy way to add some decor for just a couple dollars.
It is cool that Thanksgiving embraces an abundance of natural elements. Autumn leaves, pumpkins, and acorns work nicely for a Thanksgiving table. It makes decorating your table with inexpensive Thanksgiving table decorations easy peasy.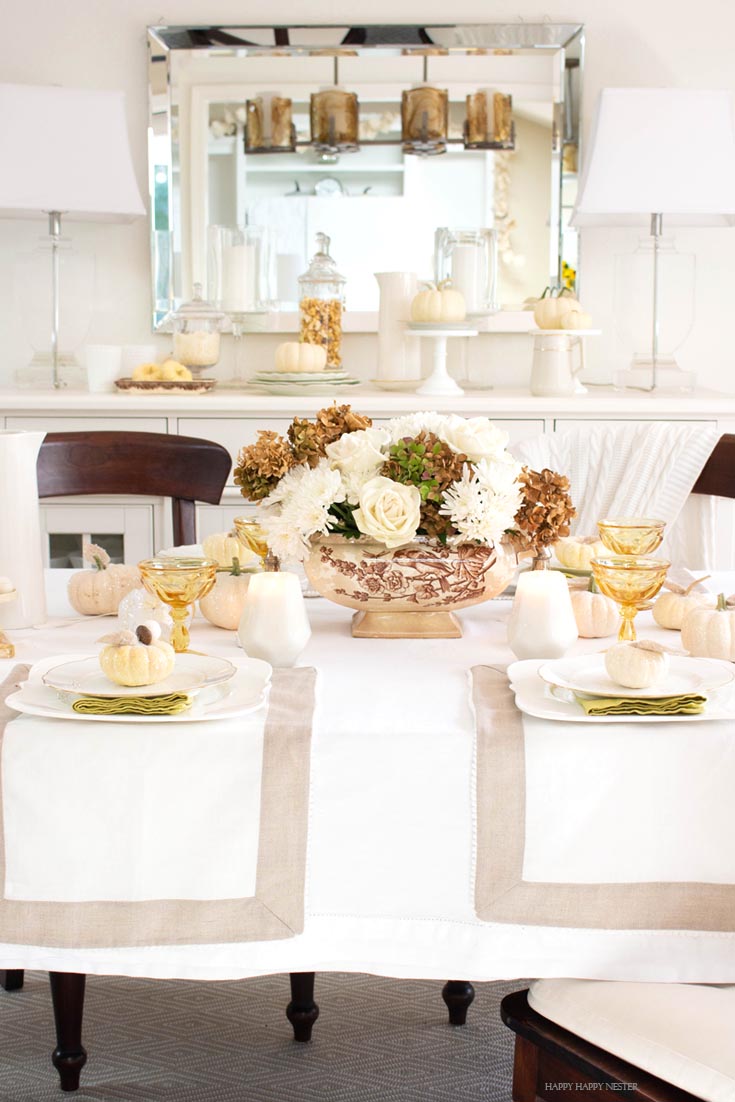 4. Use Inexpensive Glassware and Plates
I discovered these amber glasses at our local thrift store for just a couple dollars. I guess my takeaway here is to be creative and use some vintage glasses or peruse your local thrift store. If you shop online, I have included a few links for your convenience.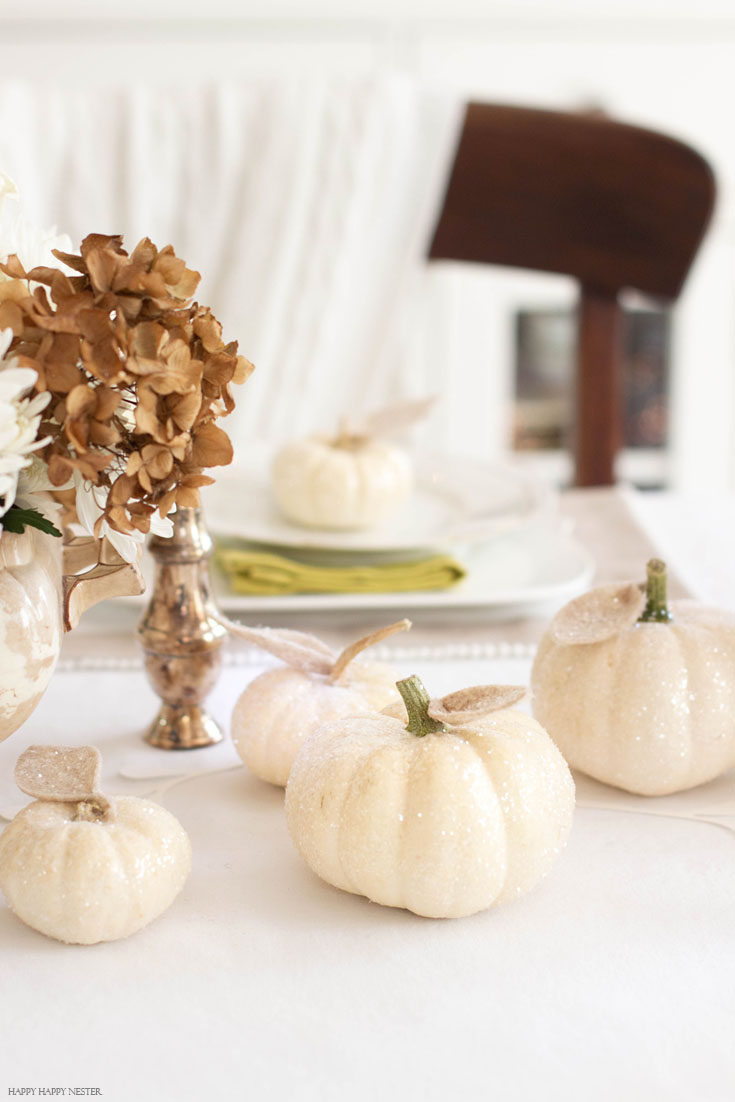 5. Decorate with Pumpkins
Pumpkins are everywhere this time of year. They are super inexpensive and for only a couple dollars you can easily decorate your table with some mini pumpkins. Add a bit of glitter and felt and you have a sparkly table that will make you smile. Well, last year, I styled our unique Thanksgiving table with the pink pumpkins and it was so fun!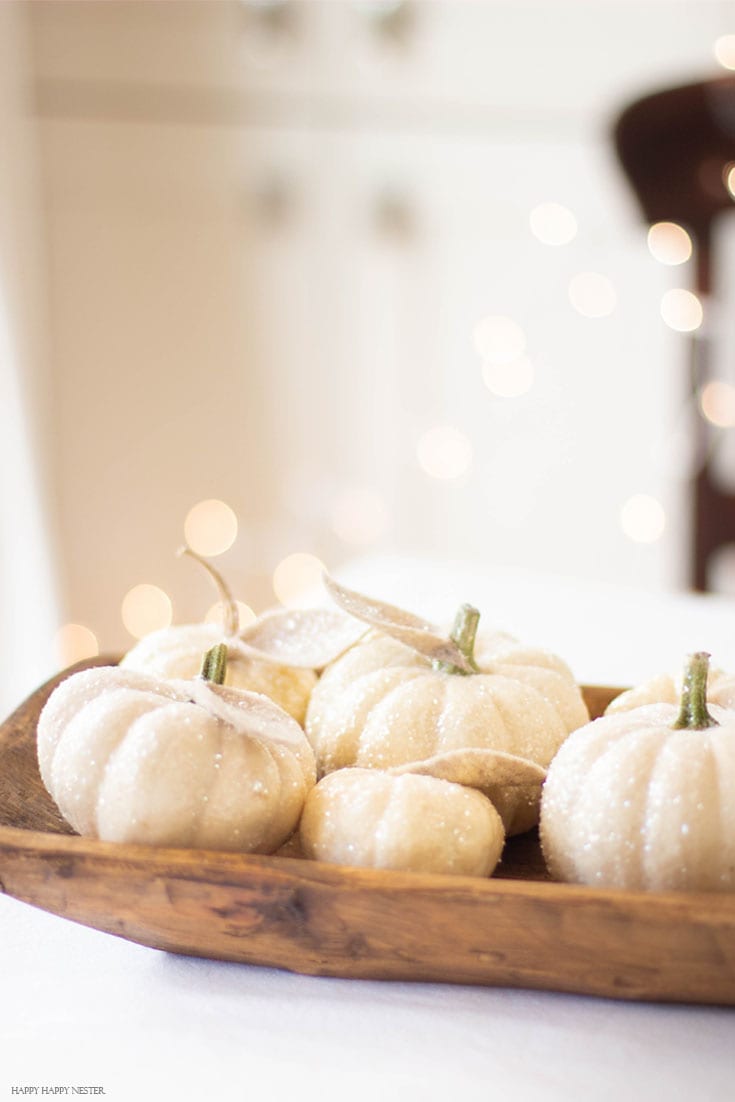 Where to Buy Thanksgiving Table Decor

Ok, if you aren't into making your own table decor there are quite a few options to buy items. I love shopping and seeing all the different items available. If you like the more traditional look then I would suggest, Williams Sonoma. And while you are shopping there you could pick up a few of their yummy prepackaged items for your Thanksgiving meal.
I just shopped at World Market and I was smitten by the whimsical plates that they carry.  They also have a wide array of items from cake stands to dinner napkins.
Pottery Barn has a nice collection of faux pumpkins as well as festive salad plates.
Some Table Linen Ideas

As you can see I love white table linen. I feel it is so versatile. I have a few white tablecloths that I use all year around.
As far as napkins, I love the collection that World Market sales. I was just there today and they have every color you can imagine. You get six in a package for $9.99. That price is so reasonable. I totally want to do a blog post about dinner napkins, so make sure to sign up for my newsletter so you don't miss a post.
Here's What is on Our Thanksgiving Table
So, in addition to the inexpensive Thanksgiving table decorations, we will have these following dishes on our table. Our family loves to cook and gather for a homemade meal.
[one-half-first]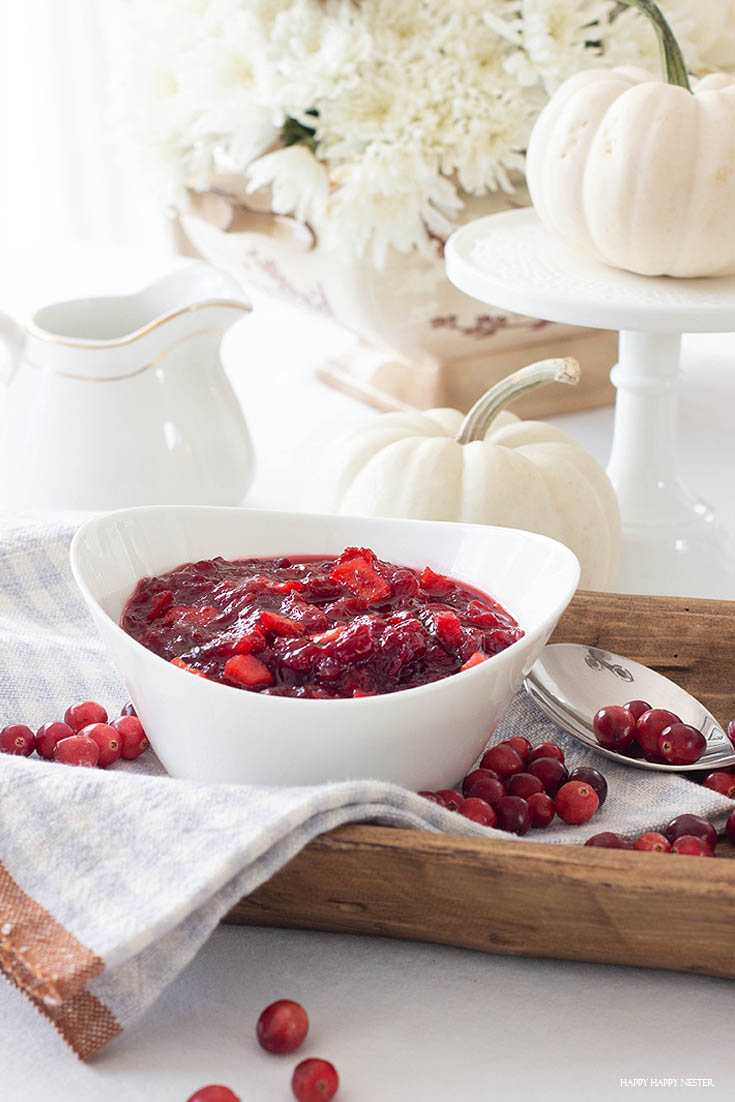 [/one-half-first]
[one-half]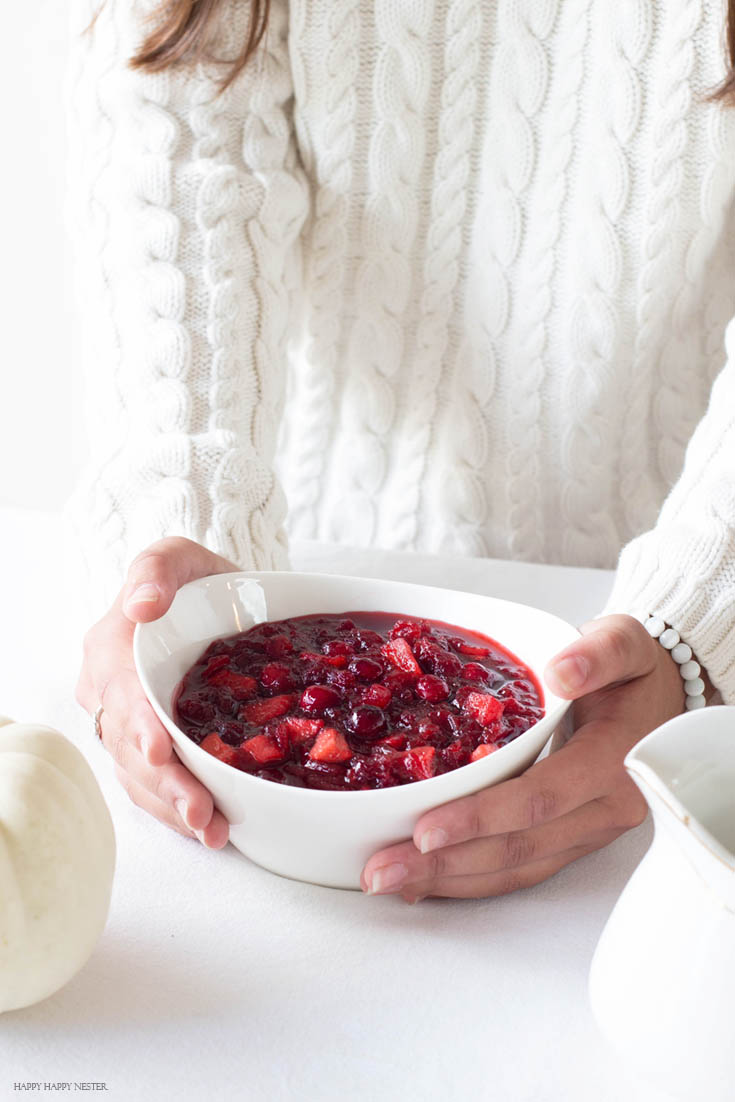 [/one-half]
This Maple Apple Cranberry Sauce is the perfect blend of sweet and tart. I combined Maple Syrup with Granny Smith apples and fresh cranberries.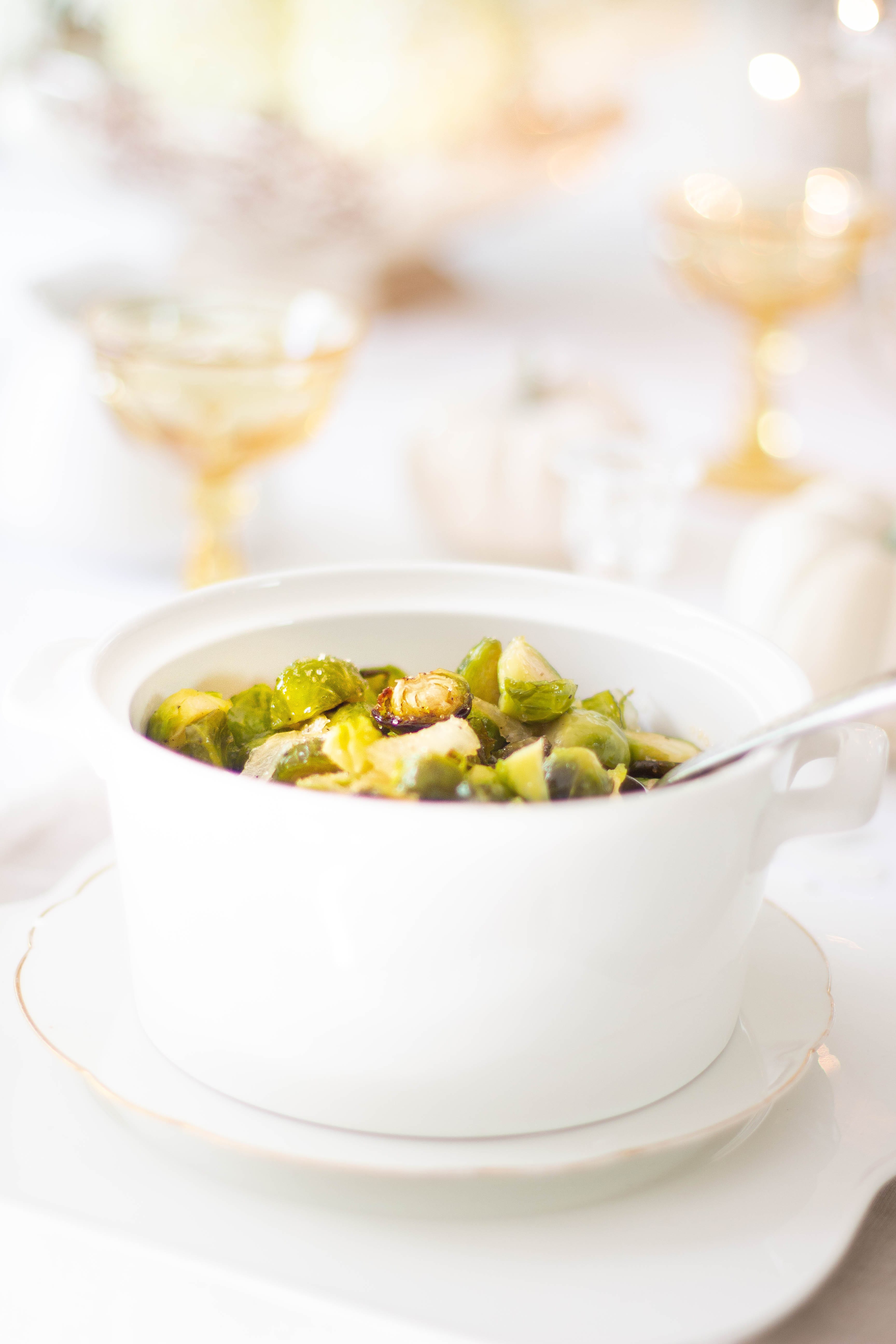 My new caramelized roasted Brussels sprouts recipe not only has the sprouts but also caramelized onions. This new combination is the best and the sweetness of the onions is so tasty.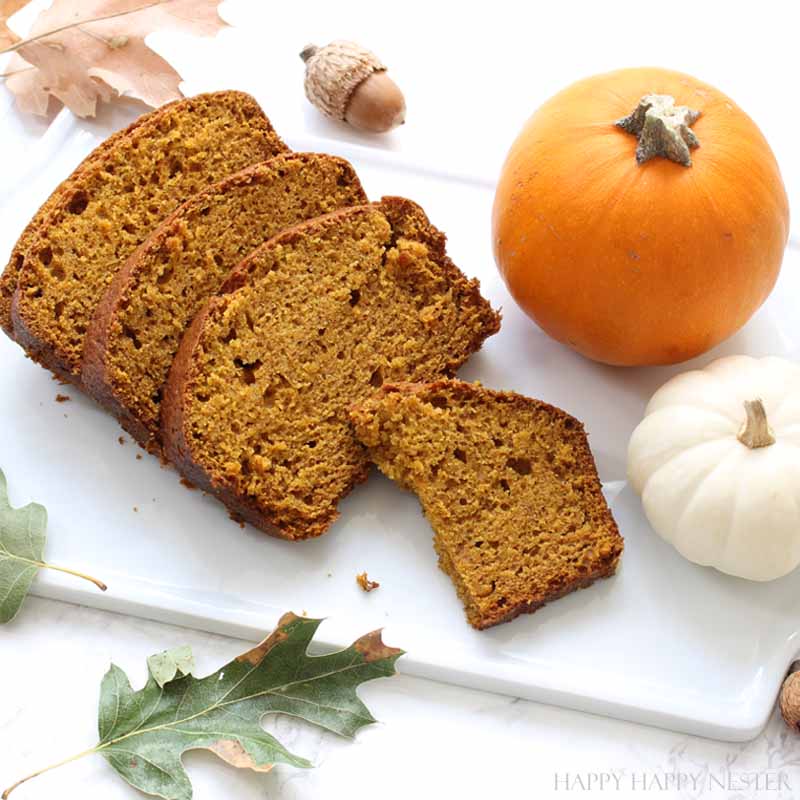 If you are planning on making some pumpkin bread, you need to try out this Starbucks copycat pumpkin bread. It is moist and full of yummy fall spices. Make your pumpkin bread from scratch and make this recipe.
This blog post is a part of a Thanksgiving Tour. Check out my friend's posts for more ideas. I'm certain you'll be inspired by today's tour. Thank you for visiting my post on ways to create an inexpensive Thanksgiving table.
Cheers,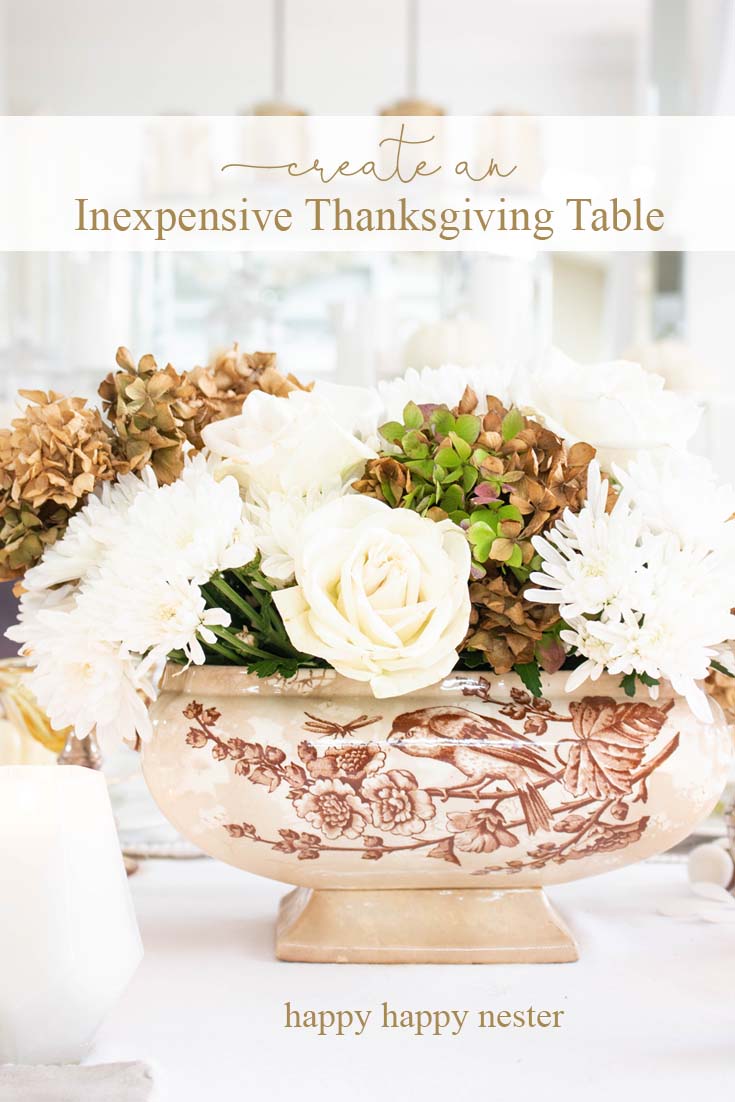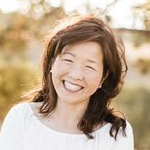 Latest posts by Janine Waite
(see all)