My Elegant Thanksgiving Table is not only beautiful but also pretty inexpensive! This simple table includes pink heirloom pumpkins, fall leaves, and flowers from my garden.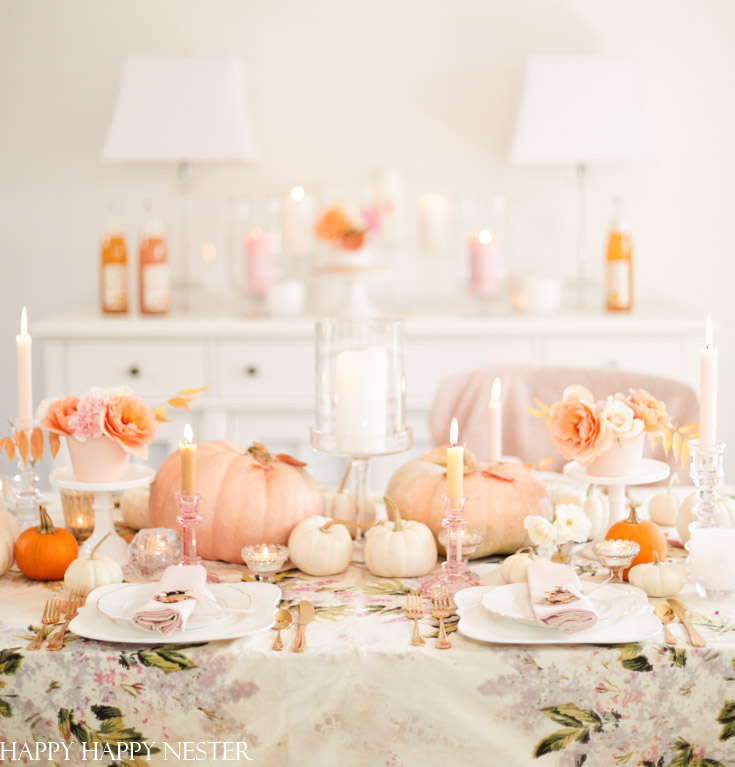 Use free items like fall leaves to add beautiful accents to the table. Purchase inexpensive white mini-pumpkins or use faux ones if you prefer. Add glass candlesticks and votives that add a bit of sparkle to the table.
I recently created a Thanksgiving place card, and so I decided to style our dining room table for the shoot. Well, I loved the table decor so much that I asked my brother to photograph the decor. I couldn't let this one go unnoticed on the blog. It was so easy to create, and the pictures are simply divine.
I'm confident that you can create this look this fall, and I include all my decor sources for your convenience.
This fall and winter are going to such a blast. I have so many projects lined up for you!
But, let's get started on my Thanksgiving table!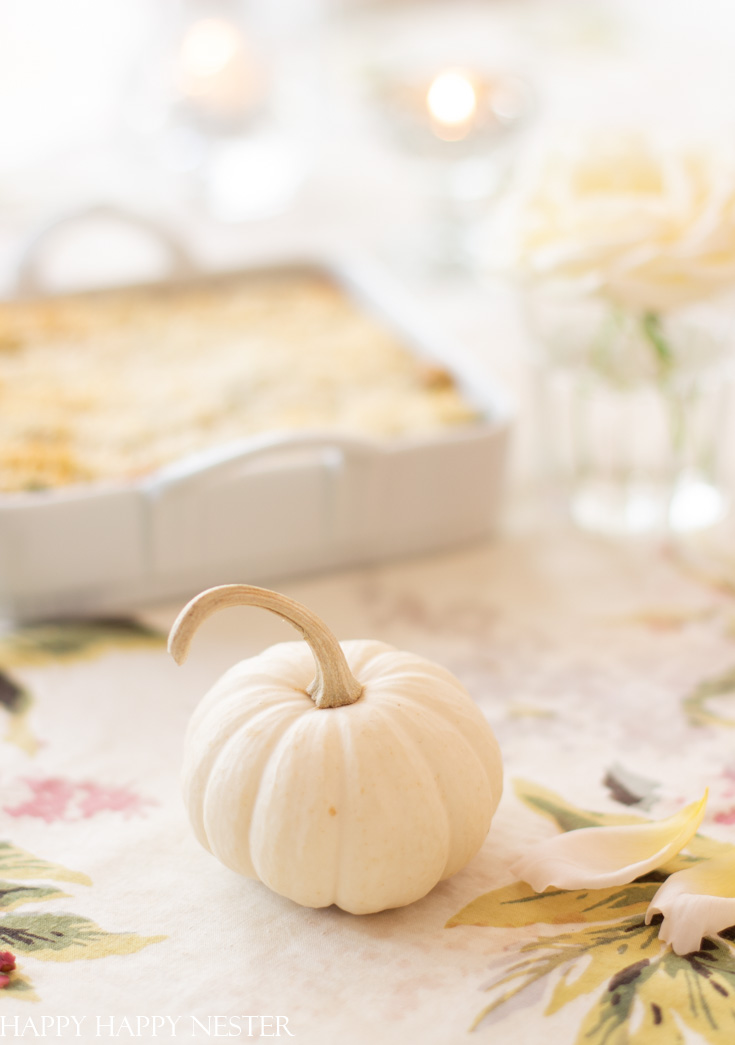 When it comes to tablescapes, I have a few basic items that I always rely on to decorate my tables. If you invest, you're all set for future tables, and all you need to do is add a centerpiece. Here is what I have in stock.
Elegant Thanksgiving Table Decor
*The following post contains affiliate links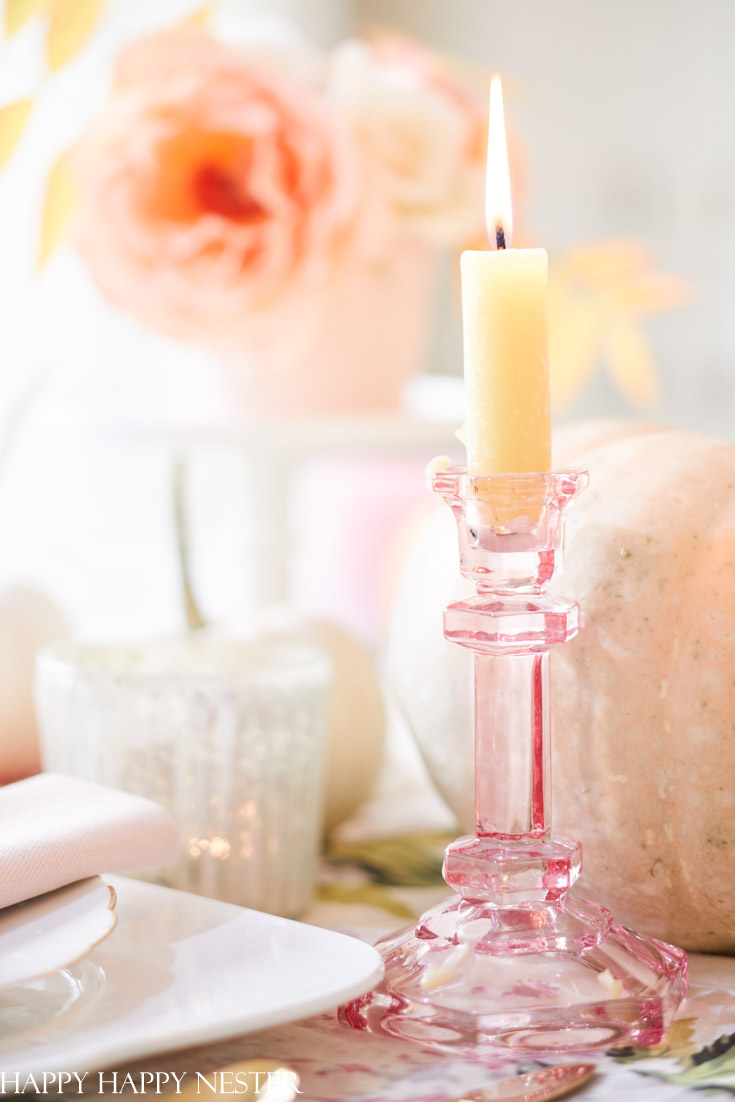 Essential Table Decor
Candlesticks
I always love clear candlesticks. I bought the tall clear candlesticks from Pottery Barn. I like glass since it reflects light so beautifully. All the candlesticks that I own and shown here are no longer available, but here is a great link to Etsy's collection. Everyone always asks me where I bought the pink glass candlesticks, and originally Target carried them, and they are no longer available. Here is a link to some vintage candlesticks that are similar.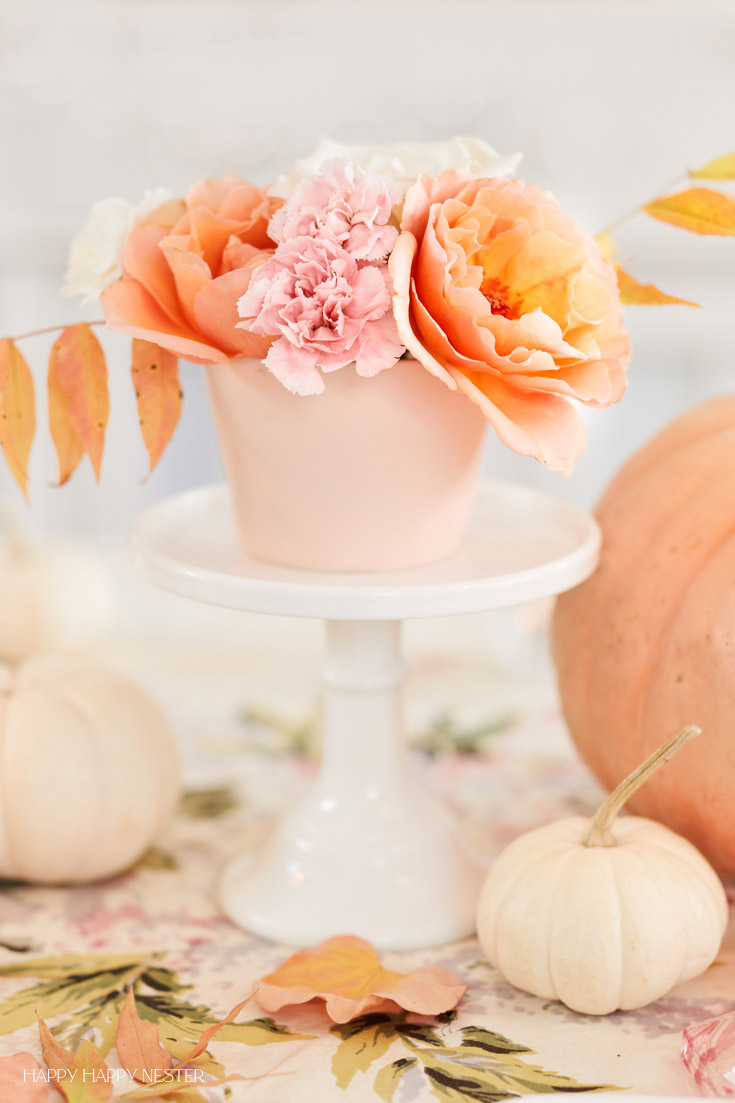 Cake Stands
I must admit that I have an obsession with cake stands. I own mostly clear glass or white cake stands to go nicely with all the elegant table settings that I create. I love the classic Mosser Cake Stand. They come in many colors and a couple of different sizes. Also, I love this cute one from World Market.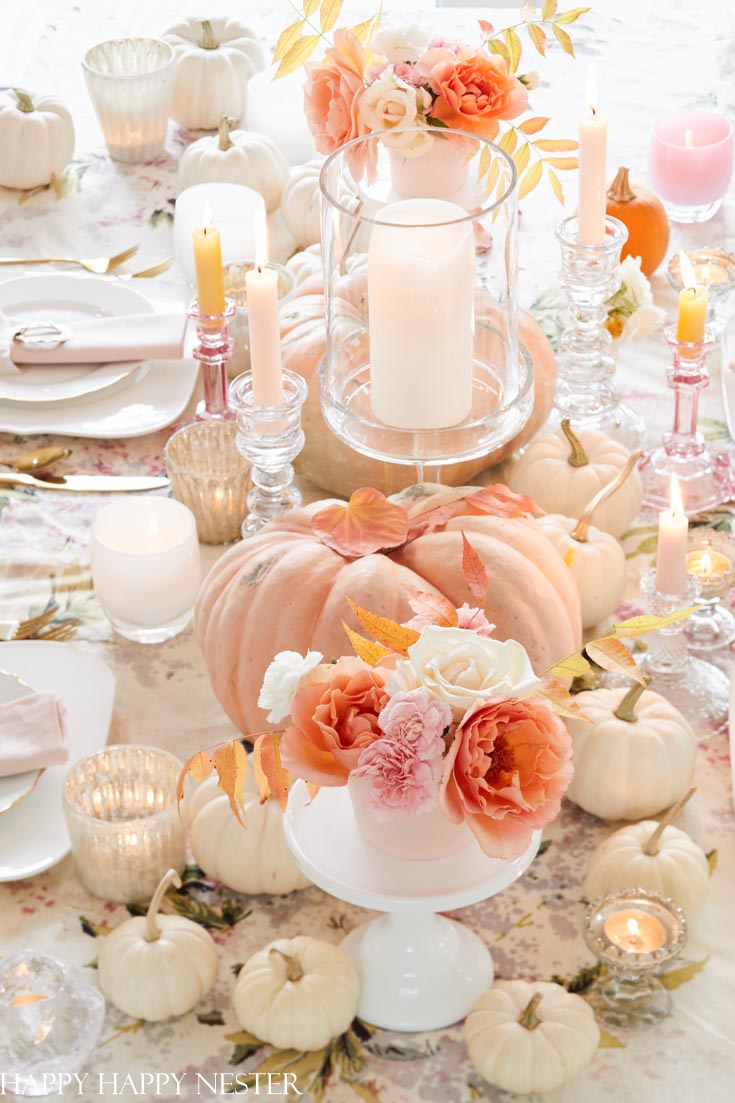 Votives
I always rely on my glass votives as well as my mercury glass votives. The mercury glass with a gold inner lining tends to give a warm sparkle, which is quite lovely. Pottery Barn and World Market has such a great selection.
Hurricane Lanterns
I bought two hurricane candle lanterns from Crate and Barrel a long time ago. They have since discontinued my version but still carry something just as pretty.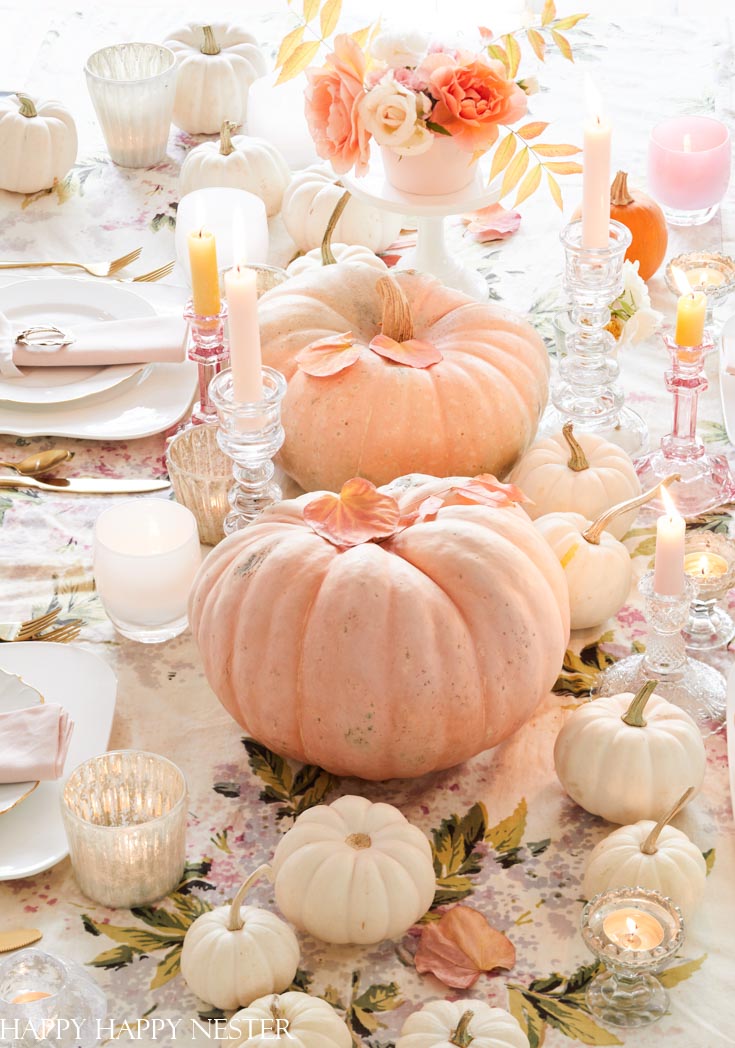 Vintage Tablecloth
I knew that to make an elegant thanksgiving table; I needed to use a pretty tablecloth. I found this one at a Flea Market and paid only $30 for the material. I love the look, and the soft colors set the stage for the blush-colored pumpkins. Here is a link to some similar tablecloths.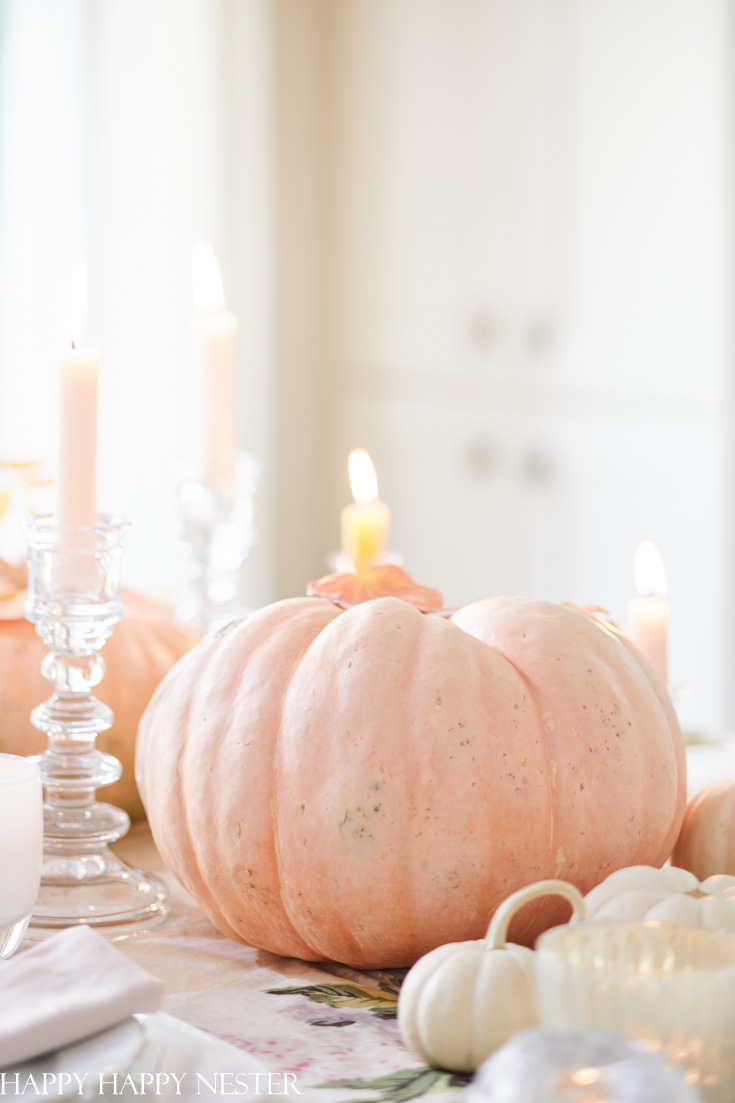 Add Beautiful Pumpkins
Bring out the big pumpkins for drama! I bought two big heirloom pink pumpkins for the centerpiece and then sprinkled the white mini-pumpkins around the table. It doesn't get any easier than decorating with pumpkins. They instantly become the fall focal piece, and your work is practically done.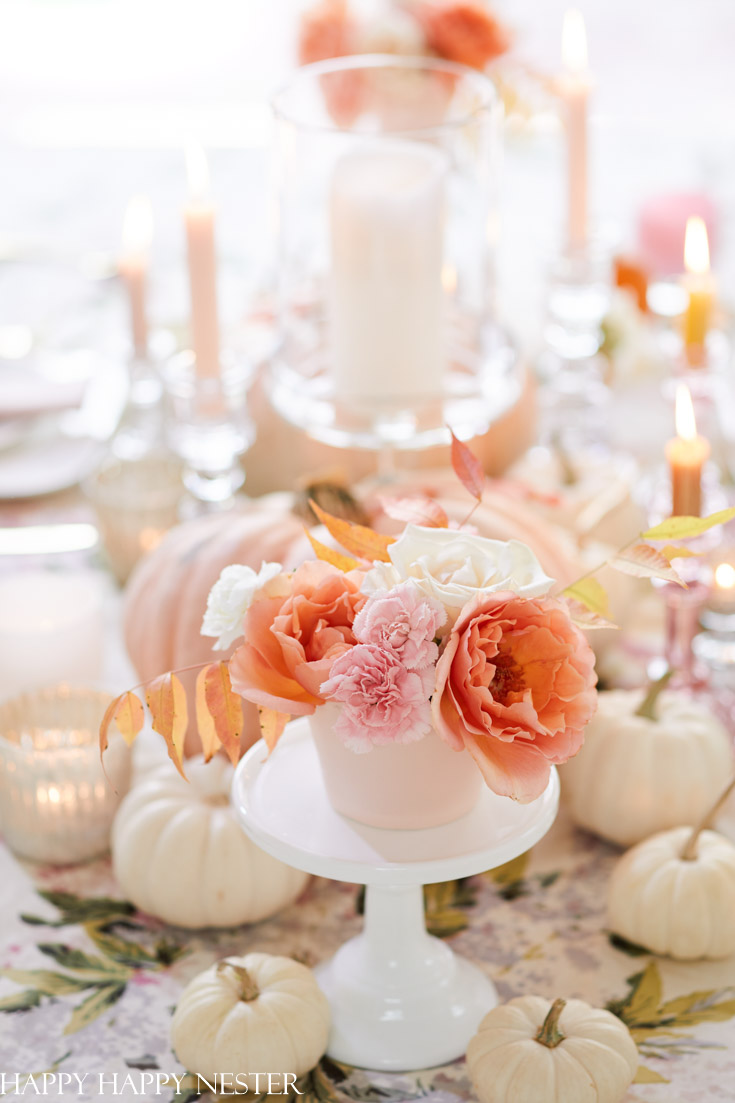 Make a Simple Floral Arrangement
Since the pandemic has curtailed my trips to the San Francisco Flower Market, I went ahead and picked my peach-colored and white roses from my garden and added a few sprigs of fall leaves to the mix. I did buy a few pink carnations to fill in some spots, but for the most part, the flowers are from my garden. I love that I didn't spend too much money on flowers this time around.
I also arranged the mini-bouquets into my blush pink mugs and covered up the handle with some big pretty leaves. Be creative when it comes to vases!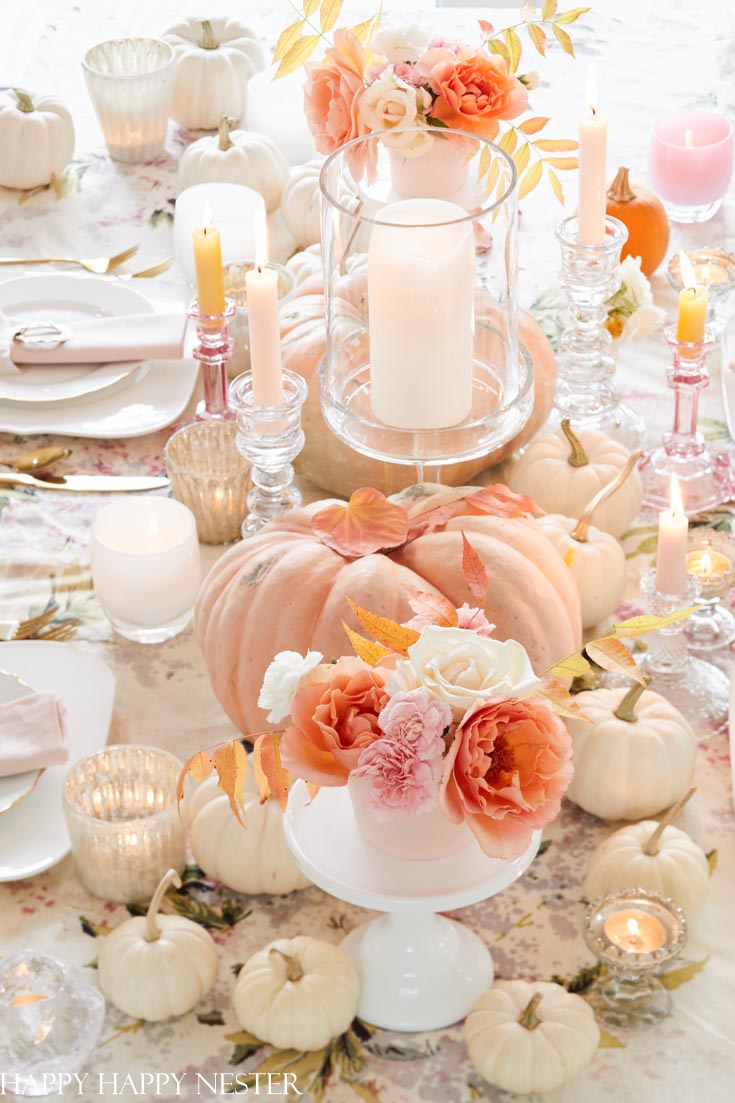 Add Pretty Fall Leaves
My daughter and I went for a little stroll in our neighborhood and found quite a few pretty orange leaves. They are so gorgeous and perfectly add such a beautiful accent to the pink pumpkins. So, don't be afraid to forage through your garden and neighborhood for floral decor. By the way, I have a fun foraged floral arrangement that cost under $10. You might enjoy reading the post.
Here are a few other fall posts that might interest you:
I thoroughly enjoyed writing and styling this elegant Thanksgiving Table. And I can't wait to eat our big turkey dinner at this pretty table.
Happy decorating, and stay safe and healthy!
Cheers,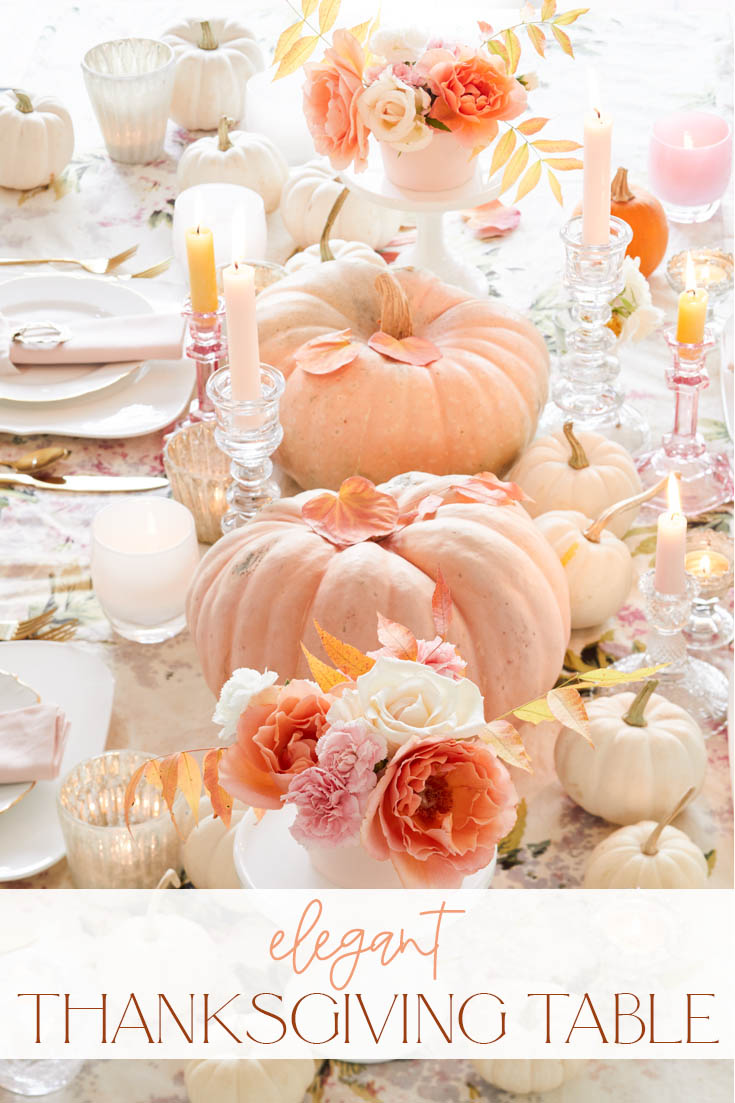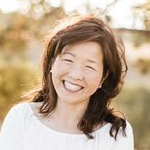 Latest posts by Janine Waite
(see all)