This is a treat to have 21 DIY Fall Centerpiece Ideas all in a post. All these bloggers are incredibly talented, and their floral arrangements are so creative and fresh.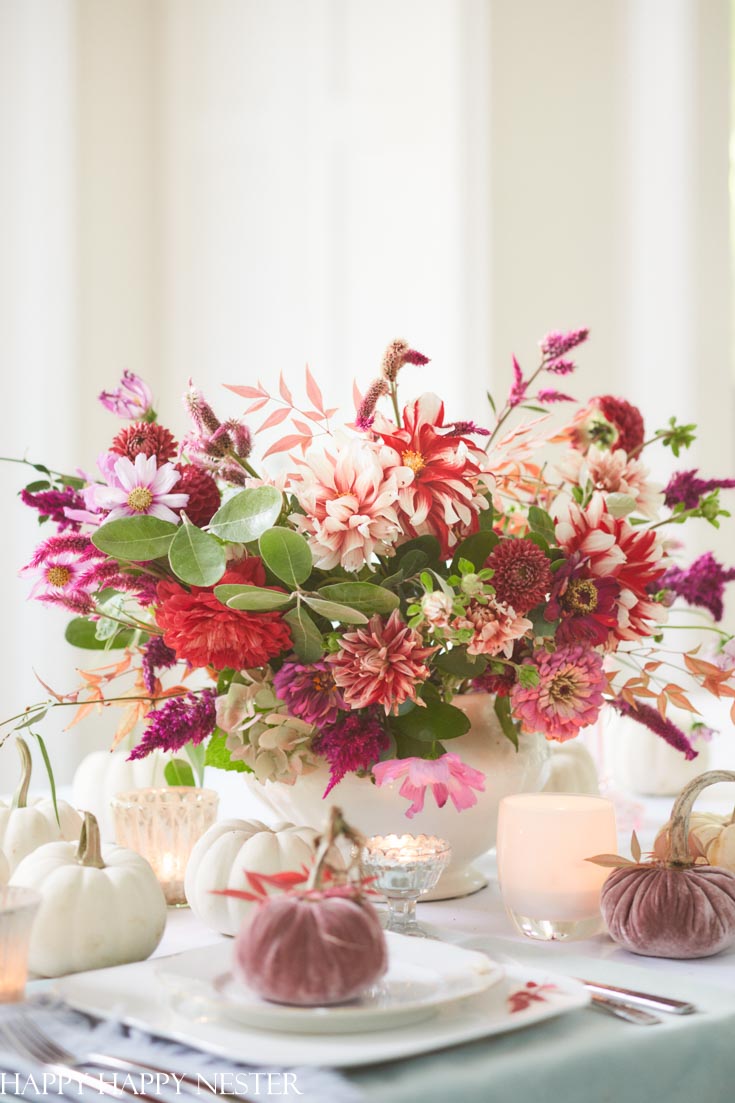 Flowers make me a happy girl, so I'm jazzed to share my romantic floral arrangement this week. And as predicted, I created a non-traditional flower arrangement for fall. Here's to breaking tradition.
Now let's talk about some of my fall centerpiece ideas from past blog posts. Here are a few that I have created so far.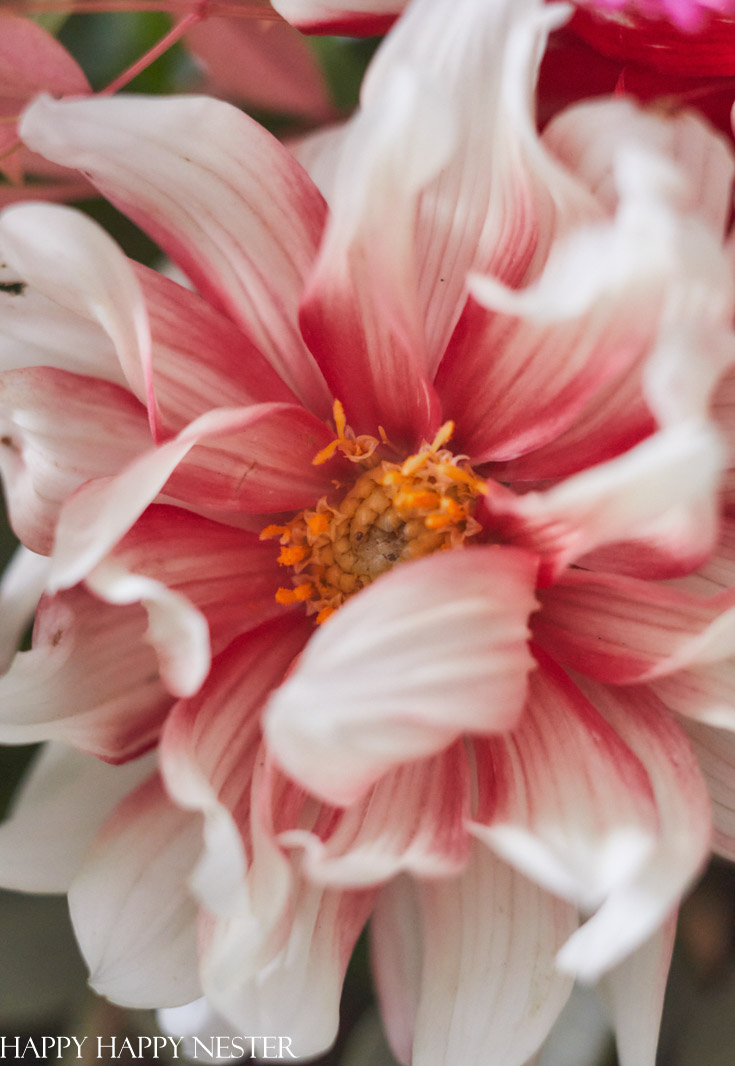 If you are interested, I'll share five choices that created my bouquet and table decor.
Choice of Autumn Flowers
Dahlias
Zinnias
Purple Celosia
Cosmos
Zinnias
Nadina Branches
Pineapple Guava Branches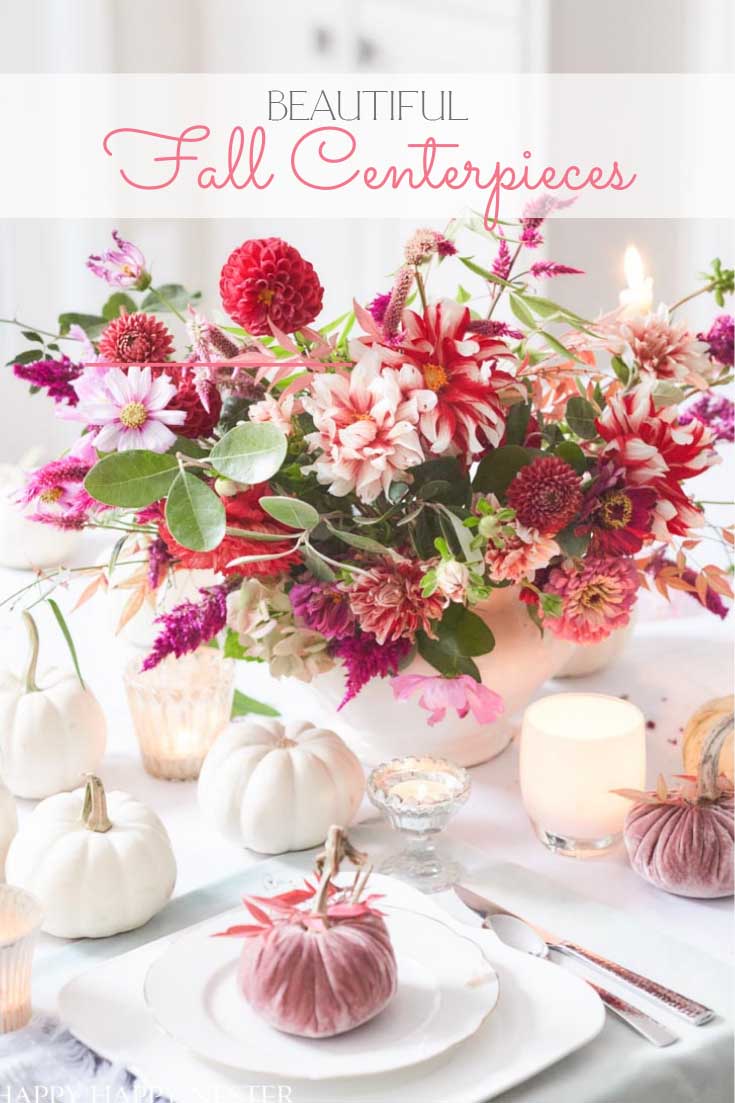 It's been a tough year, and I'm social distancing and quarantining, so as a result, I'm not going to grocery stores or, for that matter, the San Francisco Flower Market. So this fall, my flower arrangements have been a bit sparse.
Since we are mostly staying home, my only bright part of my week is visiting our small outdoor farmer's market. Every Saturday, we mask up and buy our weekly fresh pluots, apples, veggies, and of course, fresh flowers. Well, last Saturday, it was business as usual, and little did I know it would be my lucky day.
I was pleasantly surprised to find such gorgeous dahlias.
It was such a great treat and one that I really needed. Not only was I thinking of putting together a bouquet of dahlias, but I was also able to find some beautiful blossoms for this arrangement.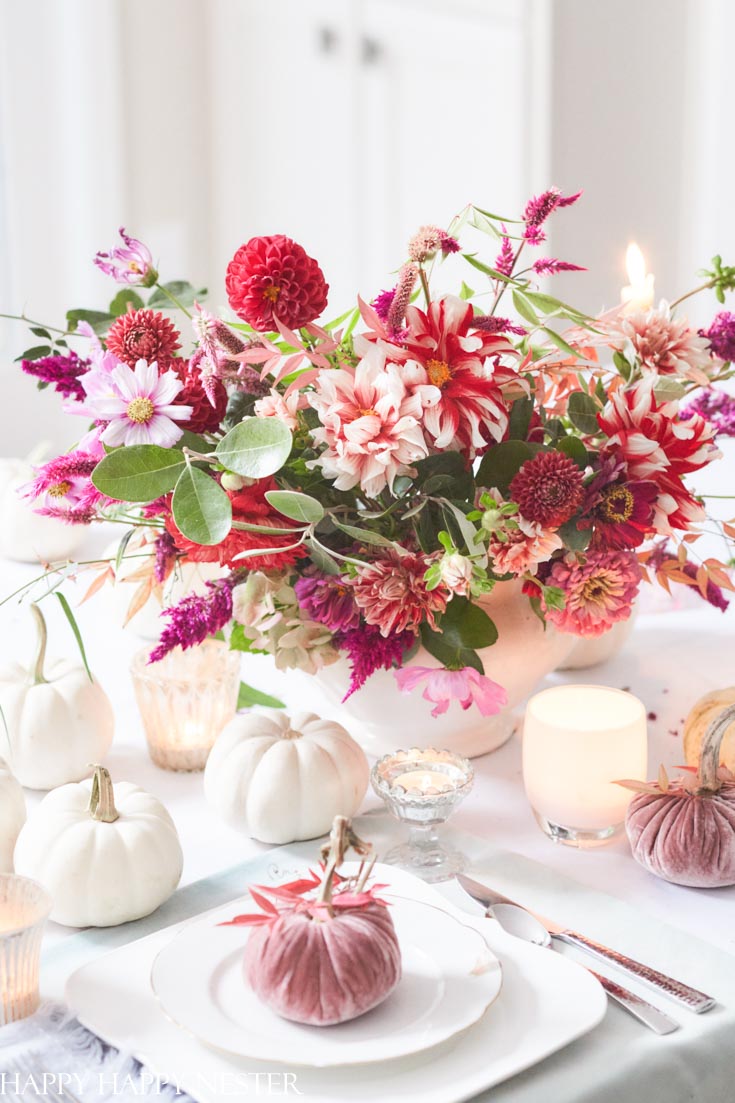 Alternative Autumn Colors
As you know, I love to play with color and especially pink. For this flower fall bouquet, I chose not to do the traditional colors since I like a challenge when it comes to this fall centerpiece ideas post.
So my colors are pink, purple, rust, and a bit of greenery from my yard. The green provides relief from all the dark colors and a contrast to show off the flowers. If you want your flowers to pop, use combinations of complementary colors like red and green, purple and yellow, and blue and orange.
By the way, I always love to pull branches from my yard, so you noticed the Pineapple Guava leaves. If you look closely, you may spy a few guavas hanging among the mix of flowers. And the red and brown bamboo looking leaves are actually from my Nadina bushes. And not but not least, my husband pruned our Happy Wander vine, so I plopped a few of them in with the flowers for some organic movement.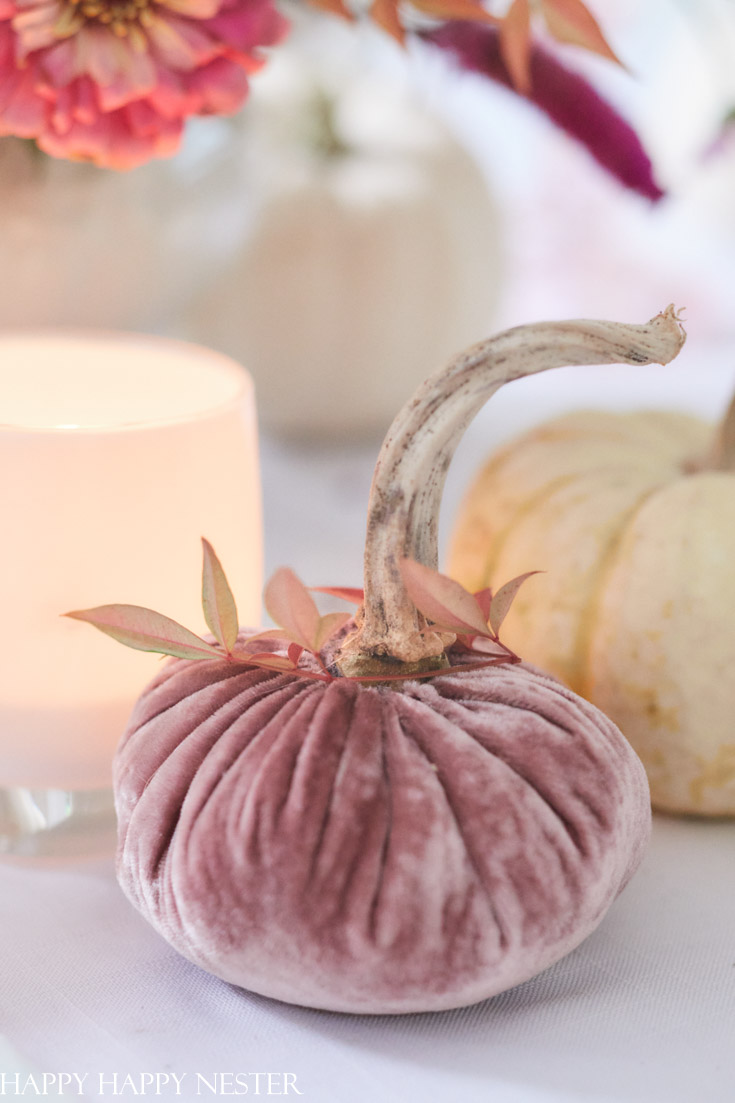 Glass Candle Votives
I always love to add a bit of glow and sparkle. And I rely on my wide variety of glassybaby votives and some fun mercury glass votives that illuminated the flowers. Candles add a bit of magic to a table.
So make sure to add to your list of fall centerpiece ideas some candles.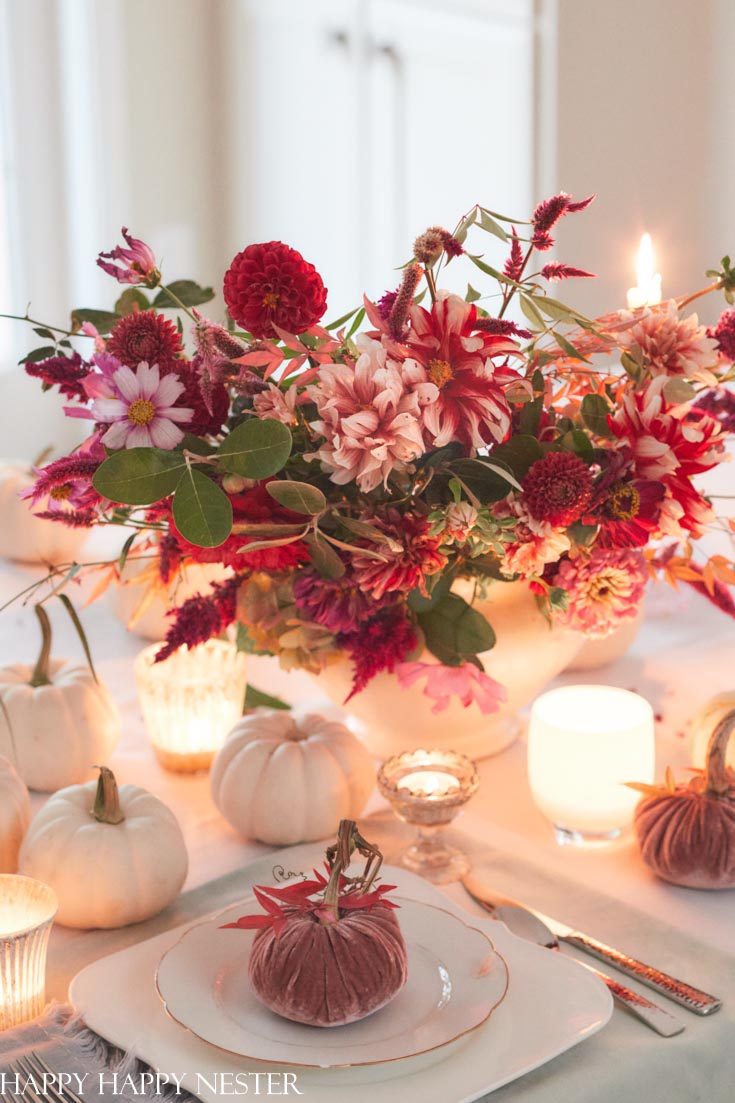 Flower Vase Choices
Well, I originally placed the flowers in my old rusty pail, but we soon realized that it was way too big for the table. Also, it didn't show off the flowers enough. I quickly pulled out my cream-colored soup tureen and plopped them in and rearranged the flower another time. The tureen always sets the stage for all my flower arrangements. I probably need to find more white vases.
Other Table Decor Suggestions
I kept my table accents pretty simple. My white linen table cloth was on hand for this fall tablescape ideas post. My fall centerpiece ideas were to use my natural wood table, but I quickly abandoned it since it's super dark. Besides, I like how the white tablecloth creates a soft and feminine surface for my tablescapes.
Other accents I added are a few white pumpkins. We tried adding mini orange pumpkins, but they tried to steal the show, so we took them off the table. My blush velvet pumpkins were a nice touch and complimented the arrangement nicely.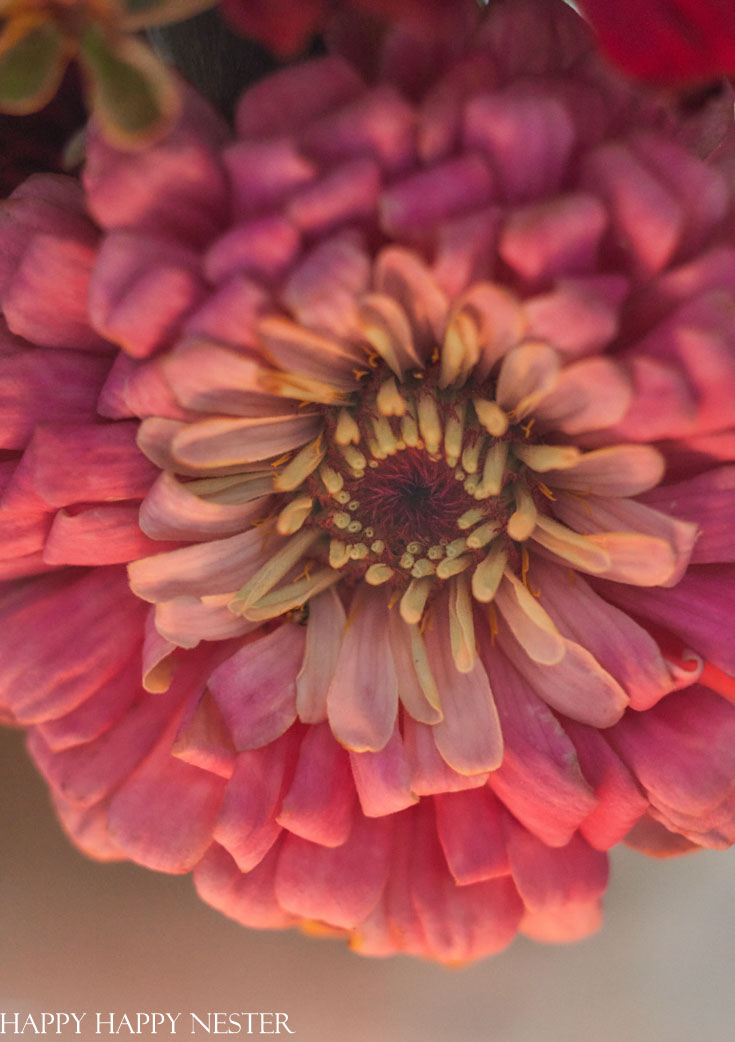 I thought I would close the post with some happy thoughts. Here are my brother's photos of the pretty flowers. Don't you agree that we all need something positive in our daily lives?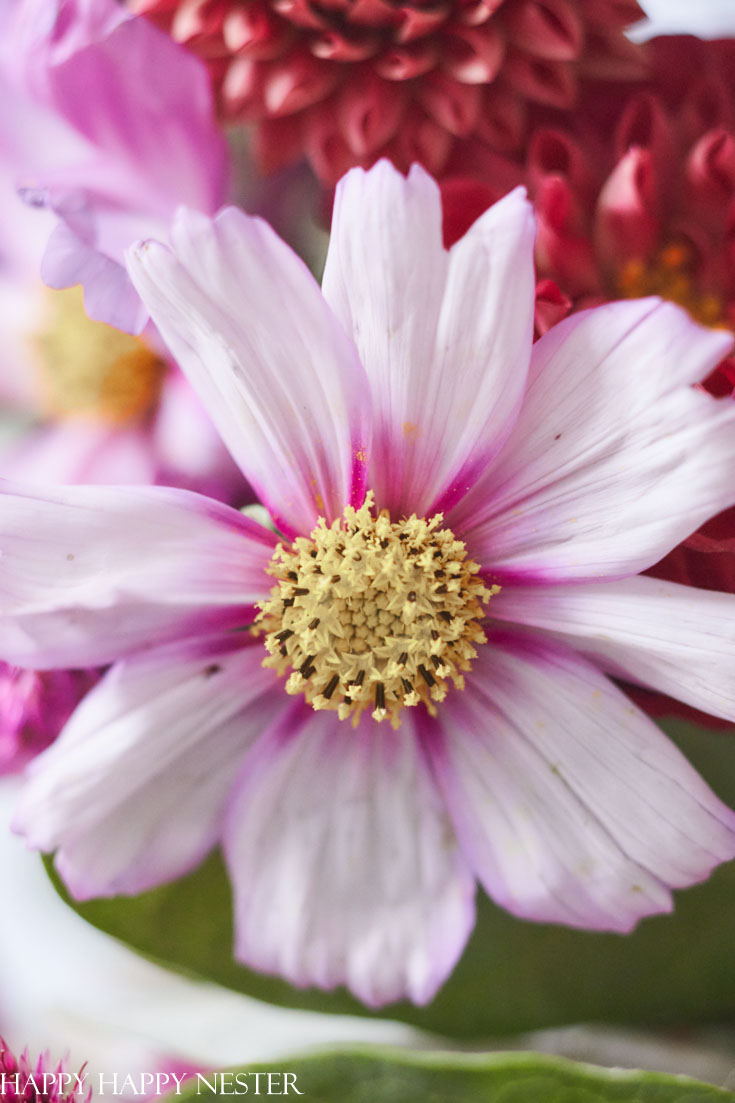 I'm delighted that I found our little farmer's market to supply my flower obsession. And it feels nice that I can support these local farmers during these tough times.
I hope you have a chance to check out my friend's fall centerpiece ideas DIY blog posts.
And don't forget that I show the behind my projects' scenes over in The Nester's Circle. We are a busy creative group that enjoys working on projects together. And for now, you can get your first month free if you sign up!
Cheers,

21 Floral Arrangements

DIY Fall Centerpiece Ideas – Happy Happy Nester
Mini Fall Floral Centerpiece Ideas – The Ginger Home
Mini Pumpkin Flower Arrangement Centerpiece – Tatertots & Jello
Fall Flower Arrangement – My 100 Year Old Home

Faux Autumn Floral Arrangement with Pears – Sincerely, Marie
Easy Fall Wheat Centerpiece – My Sweet Savannah
Garden Fall Floral Arrangement – Craftberry Bush
Easy Upgrade to a Grocery Store Fall Bouquet – The Happy Housie

Moody Fall Floral Centerpiece – Zevy Joy
Trader Joe's Fall Floral Arrangement – Rooms for Rent
Fall Floral Arrangement with Mums – Inspiration for Moms
Hydrangea and Peony Frugal Fall Arrangement – Pine and Prospect Home

Easy Fall Centerpiece Ideas – Jennifer Maune
Simple Fall Floral Arrangement – Twelve On Main
Concrete Pumpkin Floral Arrangement – Lolly Jane
Fall Tablescapes – Hallstrom Home

Painted Paper Mache Pumpkin Centerpiece – Finding Lovely
Easy DIY Fall Faux Floral Arrangements – Dreaming of Homemaking
DIY Simple Fall Centerpiece Ideas – Lemon Grove Lane
Cozy Fall Family Room with Faux Florals – Styled With Lace
Fall Floral Arrangement with Dried Hydrangeas – A Blue Nest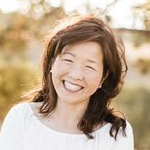 Latest posts by Janine Waite
(see all)