This 5 Minute Summer Centerpiece is so easy and quick, and I am confident you'll love the results. If you have the hydrangeas in your garden, then you can whip this flower arrangement up for free. I also got some free lavender this spring from a friend, and this is the spring table decor.
Get ready to gather up all your white/cream vases and containers for this fun project. And once you have your containers, you are ready to start your 5 minute summer centerpiece. And oh yeah, don't forget to check out the other summer centerpieces that my friends created.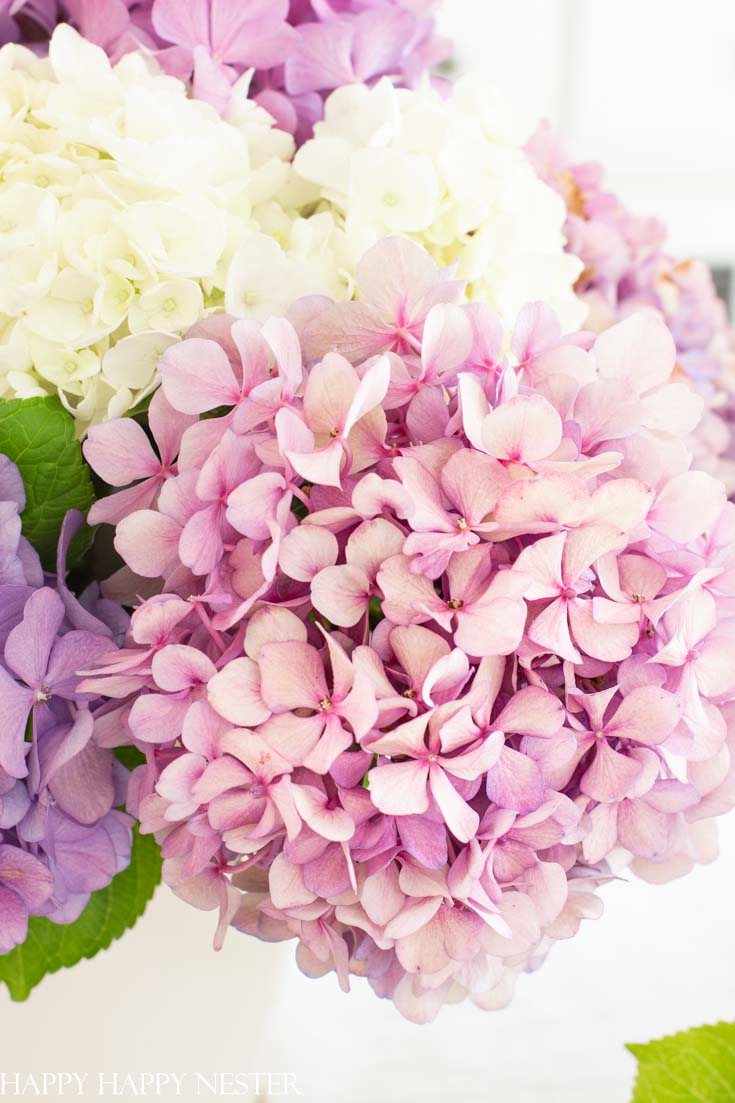 But before we go any further, I'll have to let you in on a little secret of mine. I had my summer centerpiece all planned out, and once I got home from a business trip, something in my garden got me to change my mind. The turning point was that when I was away on my trip, my ten hydrangea bushes began bursting with beautiful blossoms.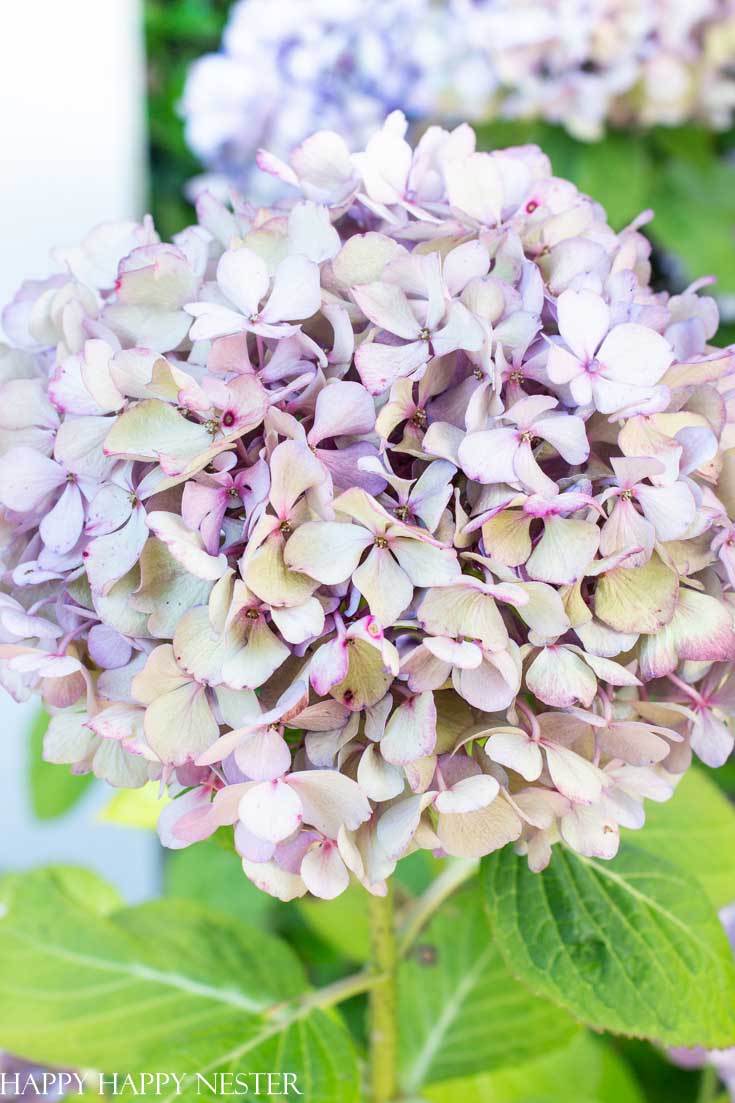 And when I spied all my gorgeous garden hydrangeas I thought to myself, why am I planning on buying store-bought flowers when I have a gazillion hydrangeas?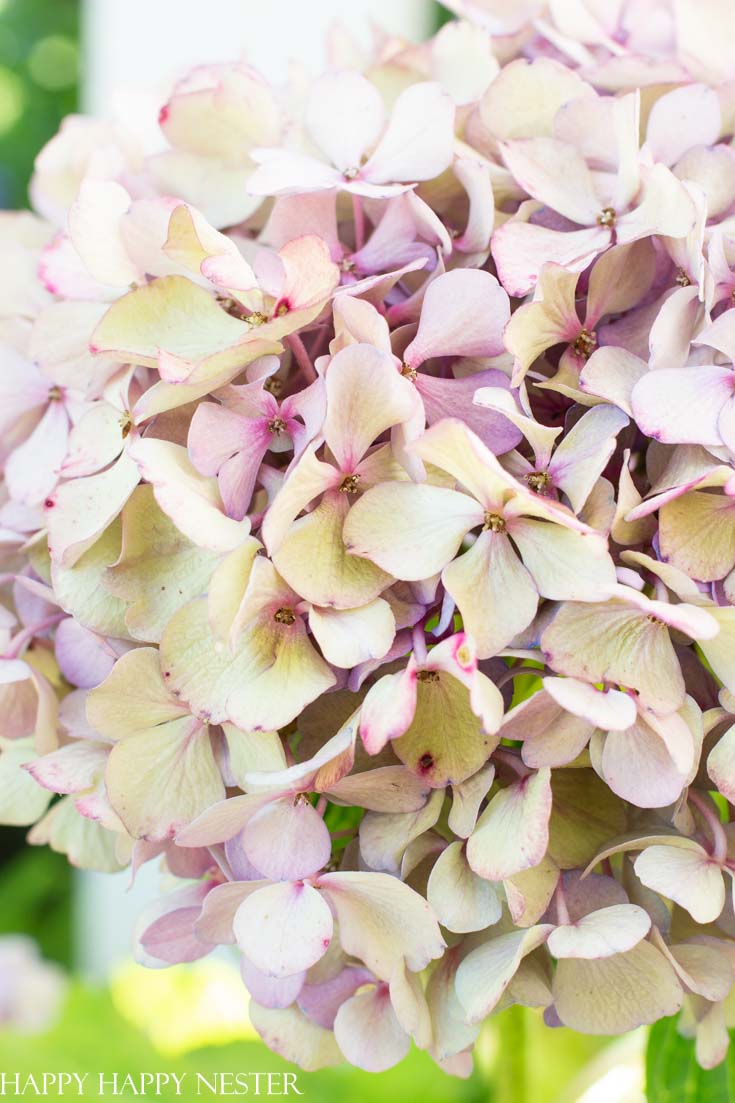 So, I nixed my summer fruit and flowers bouquet idea quickly and got my garden clippers out and grabbed these colorful summer hydrangeas.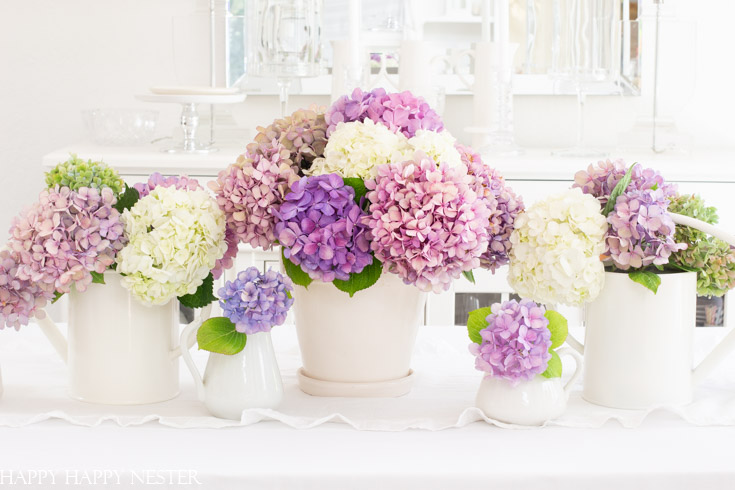 I feel like it took me longer to decide on which vase to use than the time it took to create my 5 minute summer centerpiece.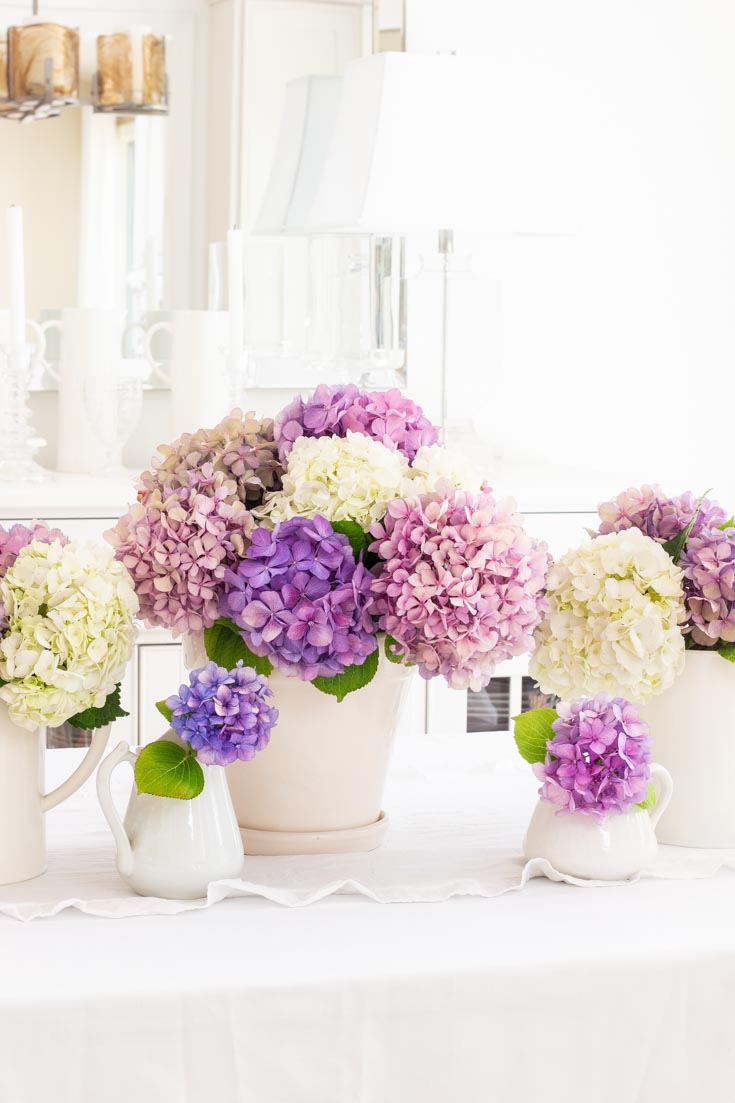 Let's Get Started on 5 Minute Summer Centerpiece
1. Choose your container and table cloth.
So, I went with the all-white containers and table cloth since I wanted the hydrangeas to be the focus and star of the table.
2. Work from the bottom up.
Now, that you have your vases chosen, start with the stems you want on the bottom. These stems will be shorter. I always check out the height of the vase with the stems. Then I make sure I cut them this length and another half the length of the vase. Remember you can always shorten the stem but you can't length it, so start longer than you estimate for the stem's length.
3. Next fill in the middle section.
Once, I had the base of flowers cut and chosen, I moved up and filled the middle. Since I didn't use a frog or floral foam, this method of working low to high keeps the stems and blossoms in place.
4. Fill the top section.
I used all the pinks, blues, greens, and white colors, so I just made sure to disperse them evening. I also make sure that similar shades are not side by side.
5. The height of the flower arrangement.
My sweet friend Jodie asked me what height I like to design my flower arrangements. And I realized that I intuitively make them the height of the vase and another half. So basically one a half the height of the vase. I also make the arrangement the width of the vase and then another half.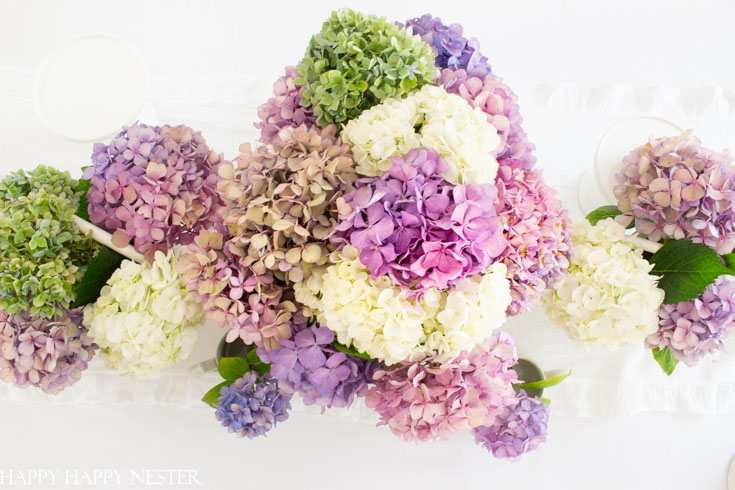 And that's all it took to create this 5 minute summer centerpiece. I love how much these beautiful summer flowers take over my table with their pastel and happy colors. Next, I'm going to work on the table setting ideas for another post, so stay tuned.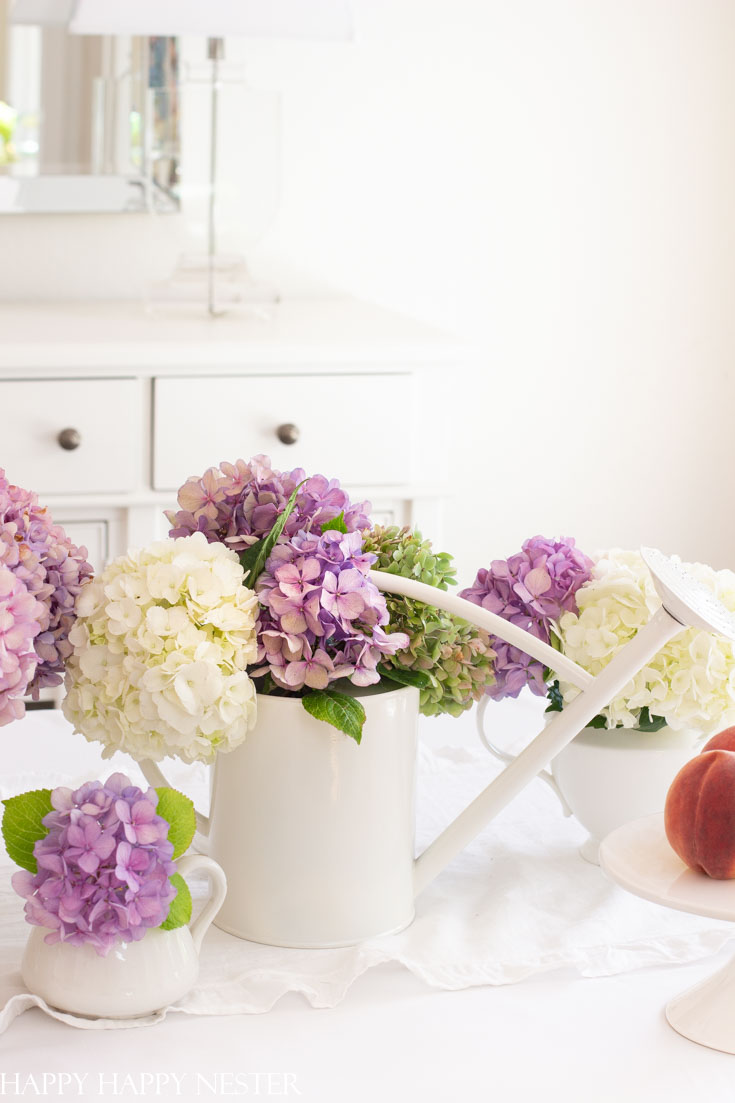 Thanks so for dropping by today and I enjoyed your visit. Make sure to take a look at my dear friends on the list for my summer centerpiece inspirations.
Cheers,

More Summer Centerpiece Ideas

Rustic Summer Centerpiece with Dahlias at Modern Glam
Outdoor Summer Centerpiece at My 100 Year Old Home
5 Minute Summer Centerpiece at Happy Happy Nester
Summer Table Decorations at Lolly Jane
French Country Centerpiece at Sanctuary Home Decor

Easy Summer Centerpiece at The Handmade Home
Edible Summer Tablescape at Twelve on Main
Lavender Inspired Centerpiece at Home with Holly J
Simple Summer Centerpieces at The Happy Housie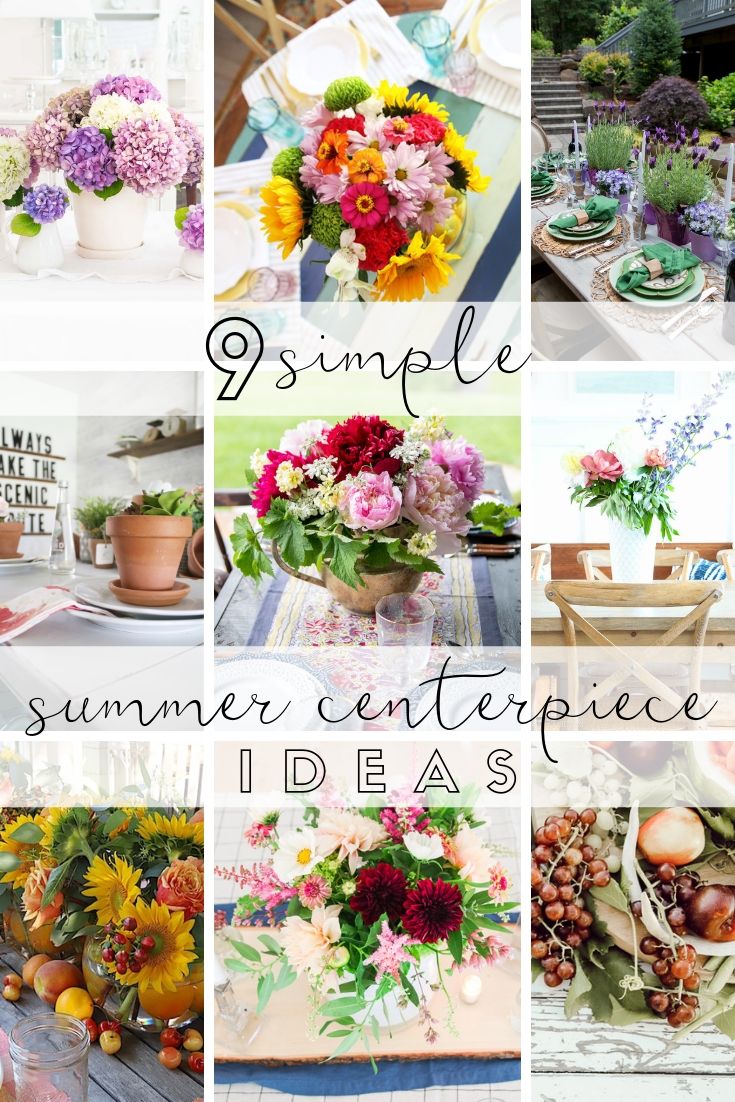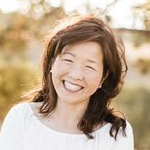 Latest posts by Janine Waite
(see all)