Summer Table Decor with Hydrangeas is what's happening over at our home these days. My garden is bursting with hydrangeas, and so now every inch of my dining room table is covered. Join my friends and me as we share our summer table decor in this summer blog hop.
*This post contains affiliate links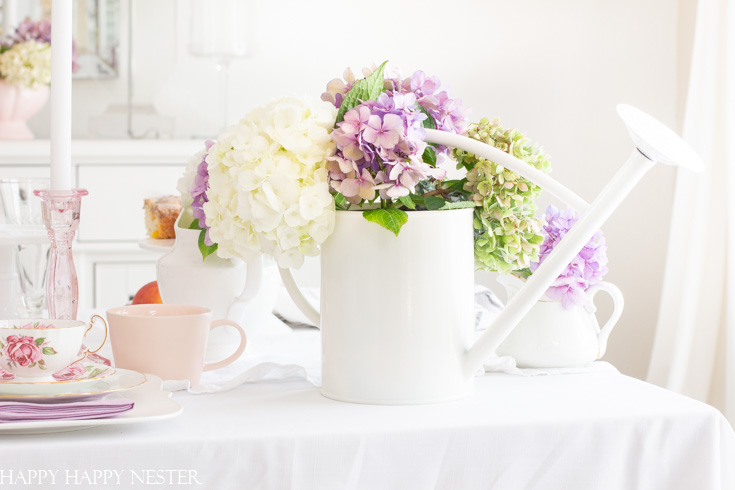 "To me, flowers are happiness."
Stefano Gabbana
I love the quote from this fashion designer. And right now these flowers make me smile and fill my heart of happiness. Isn't it funny how flowers can lift our spirits?
Let's Talk About Hydrangeas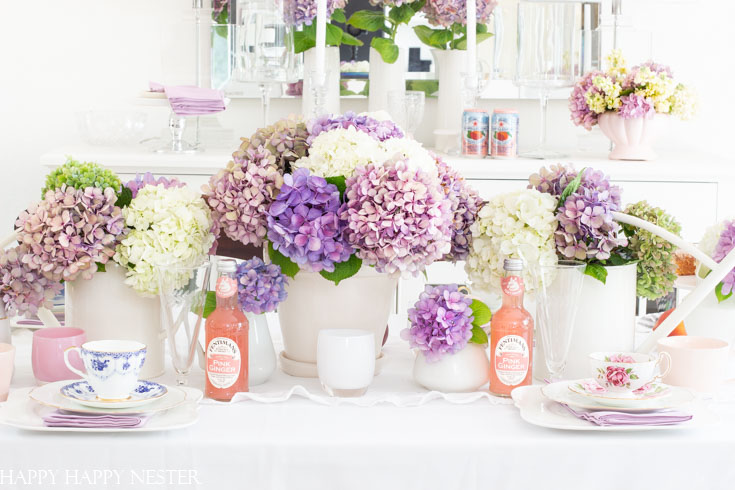 Over on my Instagram stories, I love sharing my summer hydrangea blossoms. Ultimately, I get asked a lot of questions about them, and some questions I find I don't know the answers. So, I thought it might be helpful to talk about a few basic hydrangea facts. So, before we start in on my summer table decor with hydrangeas, let's talk about these beautiful flowers.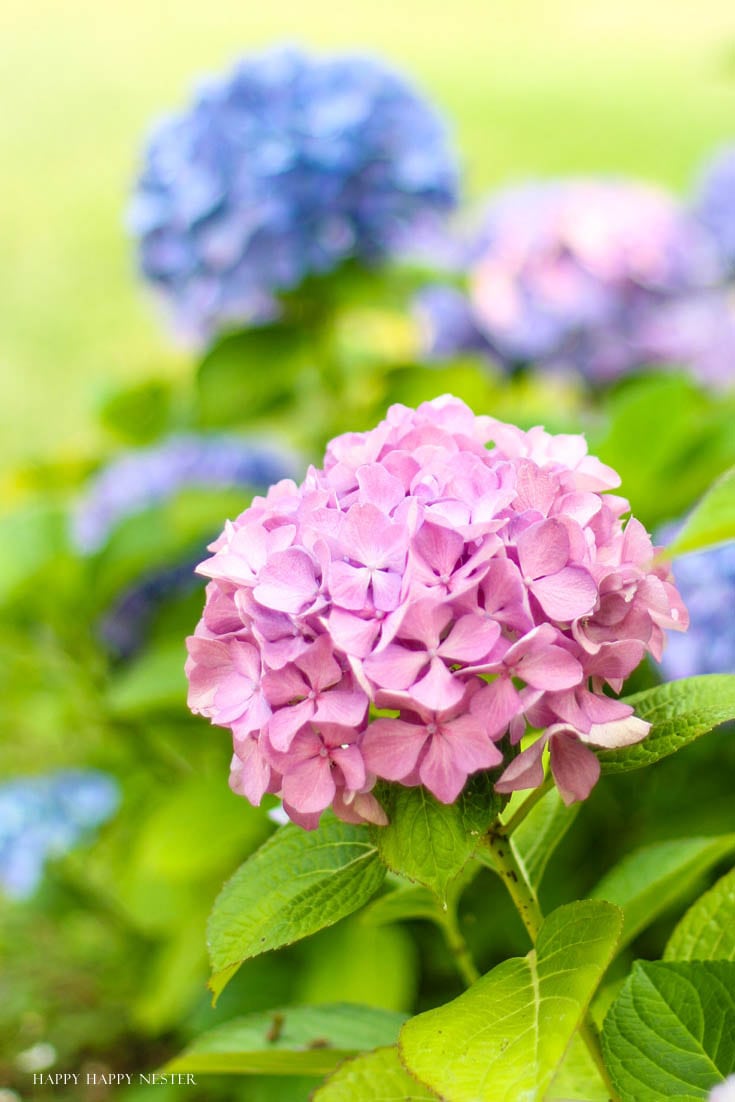 Four Types of Hydrangeas
Smooth Hydrangeas
Smooth Hydrangeas are also known as snowballs. Their leaves are heart-shaped, and unlike other hydrangeas, you can't change the color of these blossoms. These are best in cold climates. They are suitable for Zone 3-5.
Oakleaf Hydrangeas
This variety withstands the heat of summer. And by the way, their leaves do look like an oakleaf. They are suitable for Zone 5 or warmer.
Bigleaf Hydrangeas
(Mophead, Mountain, Lacecap)
This variety is the most common of all hydrangeas. The popular, Endless Summer hydrangea is in this category. I have the Bigleaf, and they come in pink and blue. They are best in Zone 5-9.
Panicle Hydrangeas
These are good in Zone 3. They are easy growers, and they can get as tall as 15 feet!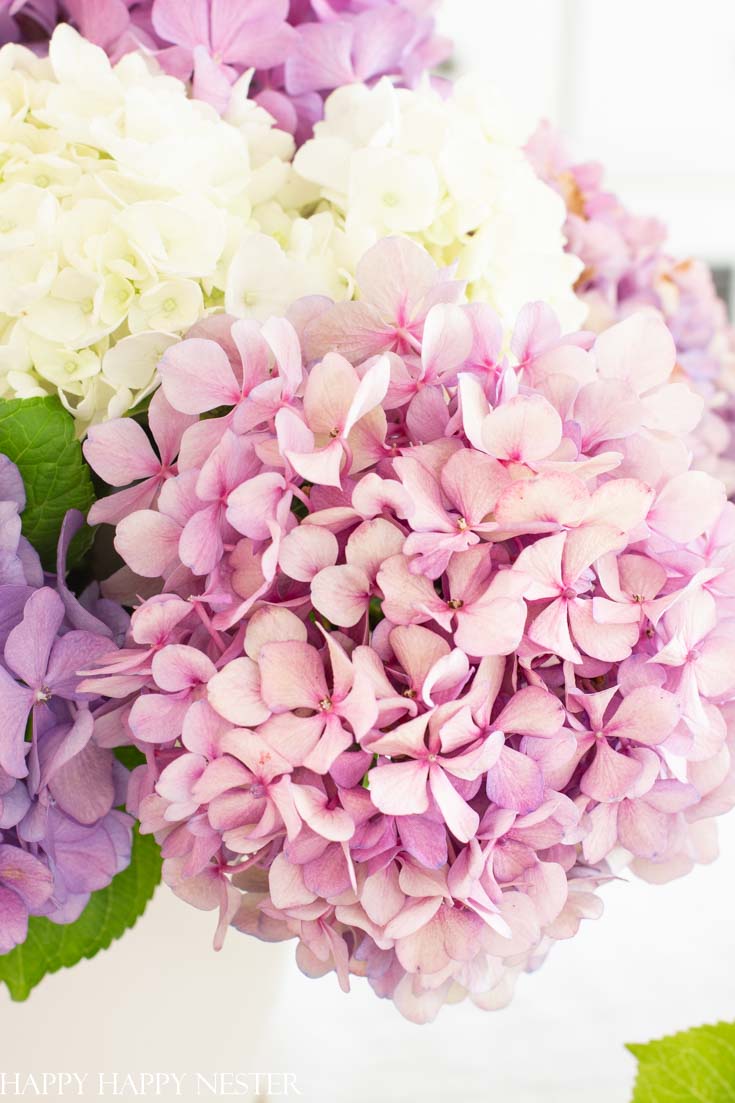 Sunlight
Can Hydrangeas Grow in the Shade?
So, I guess they prefer dappled light. I had Lace Hydrangeas at my house in Seattle, and they had dappled light, and they thrived! But, realize that if they are in full shade, you probably won't get blossoms. So, the rule of thumb is six hours of sunlight per day. But, if you live in the south, you can get away with three hours. It must be the sun is more intense in the south?
Can They Grow in the Sun?
They like morning sun but not the harsh afternoon sun. Mine get harsh afternoon sun, and they look a bit wilted. And I read that I should mulch the soil to keep the plant cooler. I guess the bottom line is to make sure to plant them in the right spot.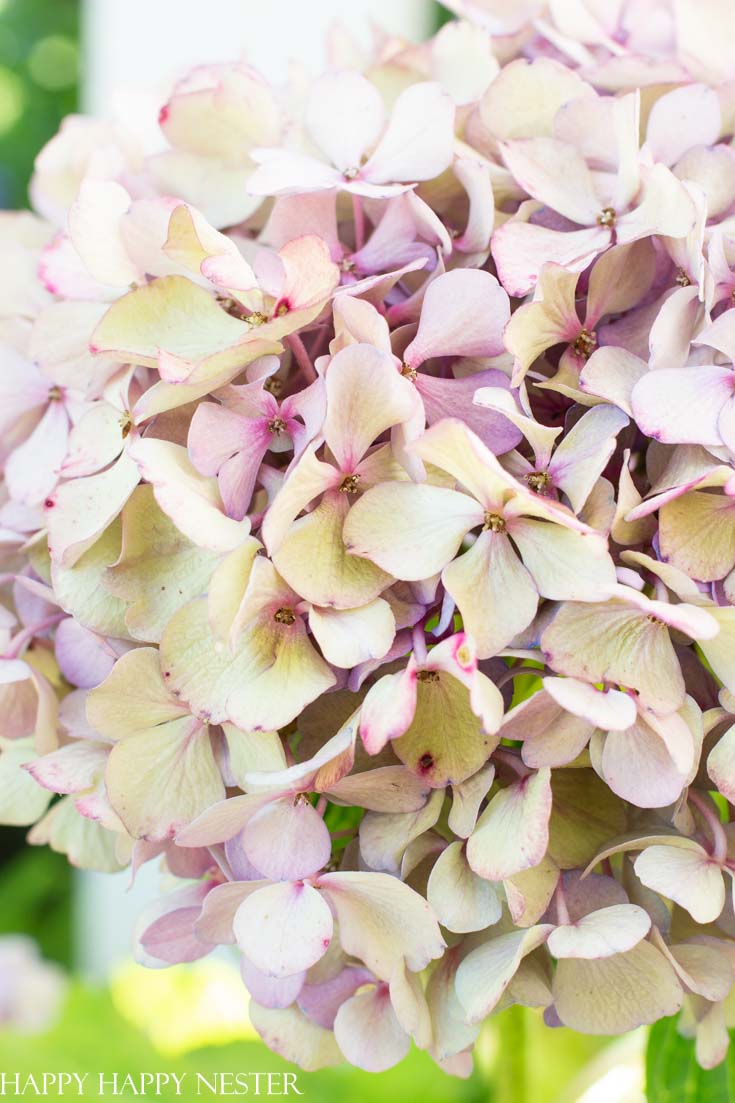 Pruning
Before we get started on my summer table decor with hydrangeas, let's look at how to prune your hydrangeas. Ok, here is the information that I found about pruning hydrangeas.
Check what type you own.
I found it is essential to know which hydrangea you have before you prune. I guess each variety likes its own style of pruning. Like mopheads don't like to be pruned, and this is what I own, and just out of fear I haven't pruned them, and they do so well. It feels like everyone unanimously mentioned that it is ok to prune dead stems. Ok, now I won't be afraid to trim them off, but I'm happy I didn't prune my mophead variety. Well, since it is so specialized when and how to prune that I'm sending you over to this great source on how to prune hydrangeas.
Ok, let's get this party started.
Summer Table Decor with Hydrangeas
Here are the few elements that I used to create a fun summer table.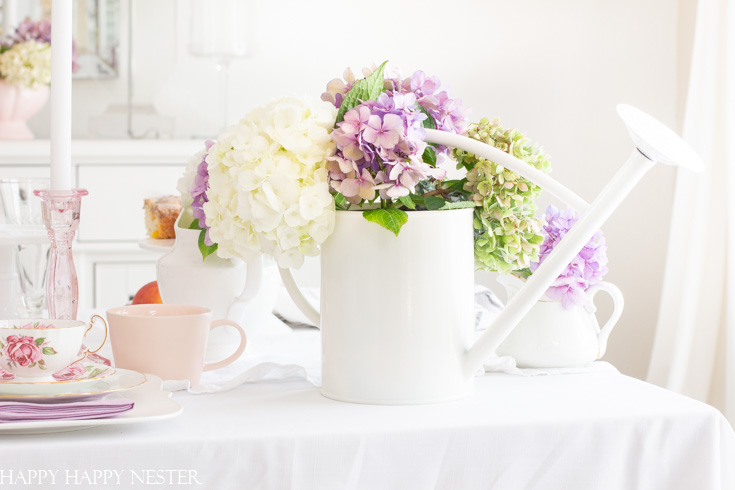 Fun Containers for A Summer Table
When it comes to vases, I love to mix it up. So, for this summer table decor with hydrangeas, I used the Target white water cans from the hearth and hand line. I bought two and placed them on each side of the center flower arrangement.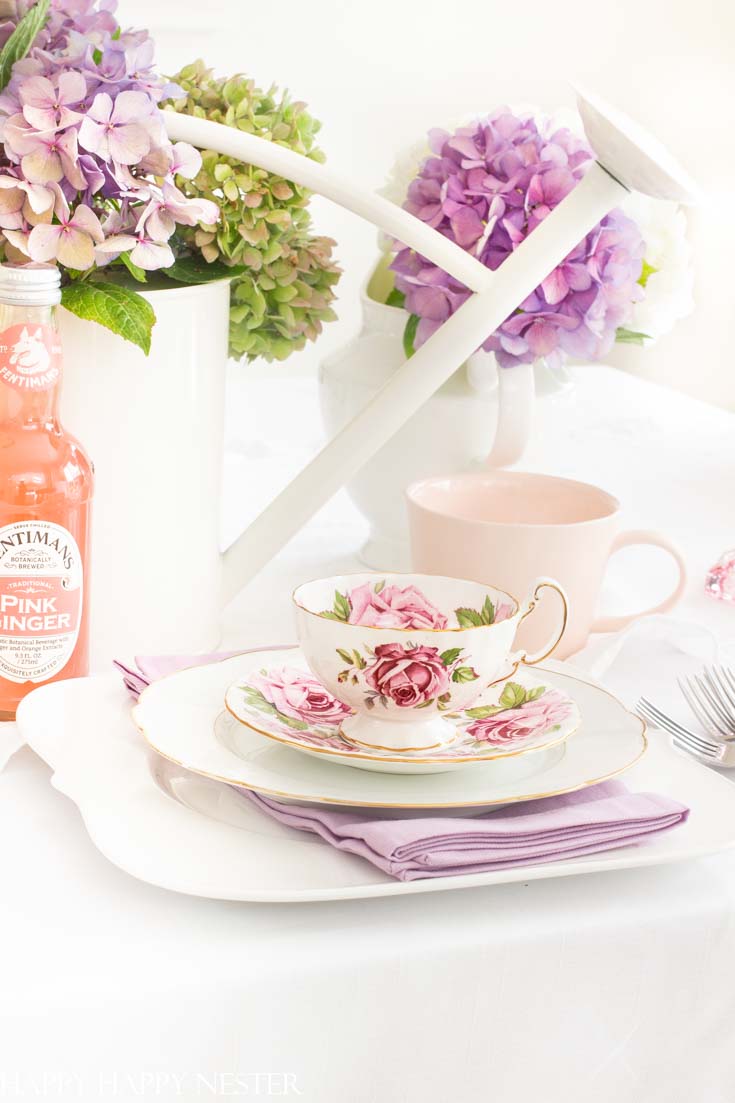 Teacups to Add to A Summer Table
Add some fun teacups to add some charm. I always have a collection of teacups for my entertaining. I don't own a full set, so my teacups never match which I think adds a bit of interest and fun.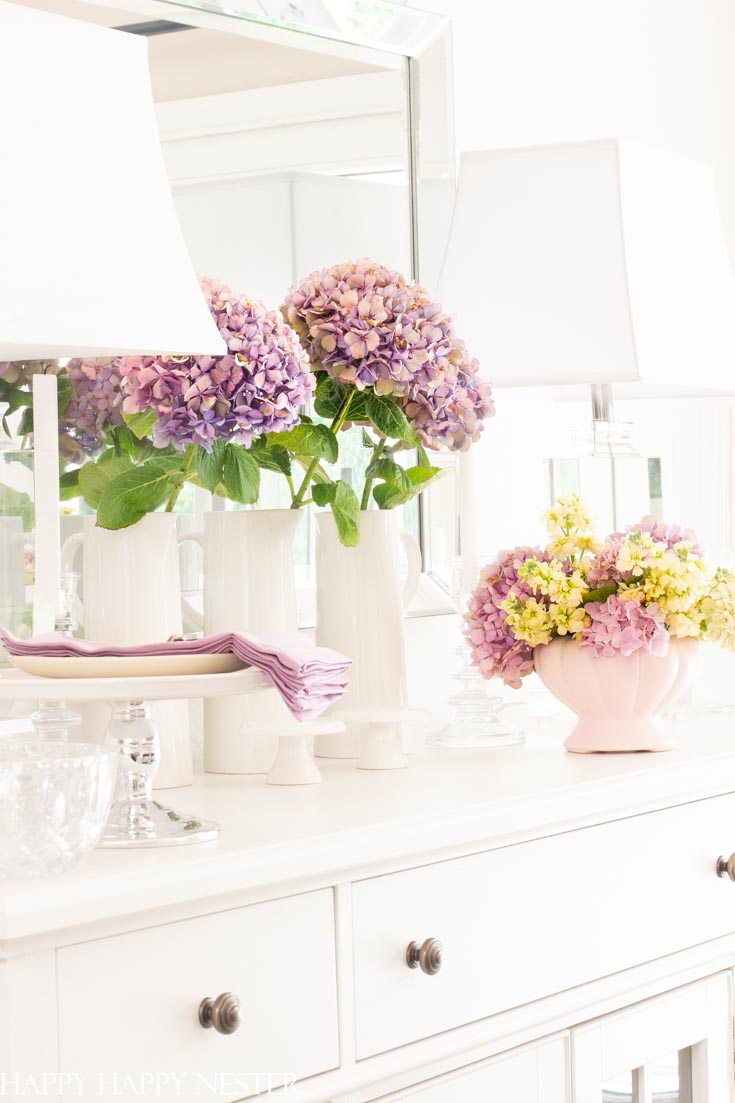 Cloth Napkins Add a Splash of Color to a Table
I love the spot of color from a pretty cloth napkin. I have a little stash of almost every color napkin, and I love adding them to bring out another accent of color. So, don't be afraid to add some to your summer table decor with hydrangeas.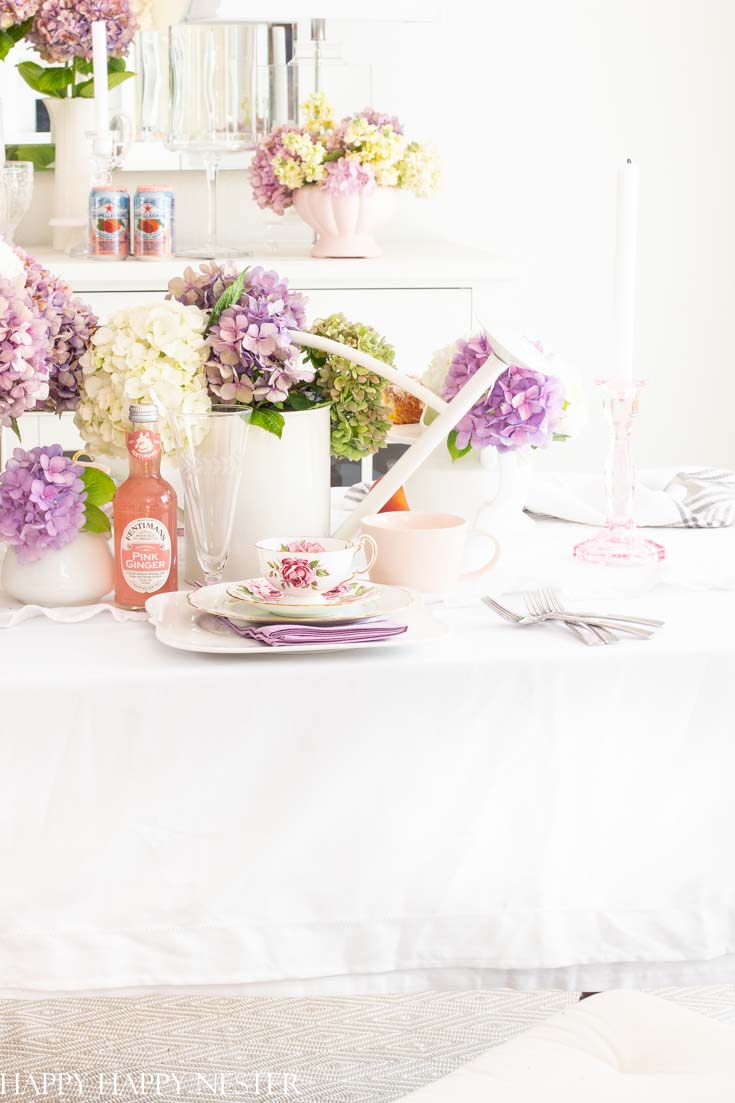 White Table Cloth Are the Best for Decorating a Table
I always love a white tablecloth. It adds a crispness and a canvas for flowers and dishes. I love that I don't have to make any decisions on which tablecloth to use. Also, it is excellent that it doesn't distract the attention or upstage the rest of the table decor.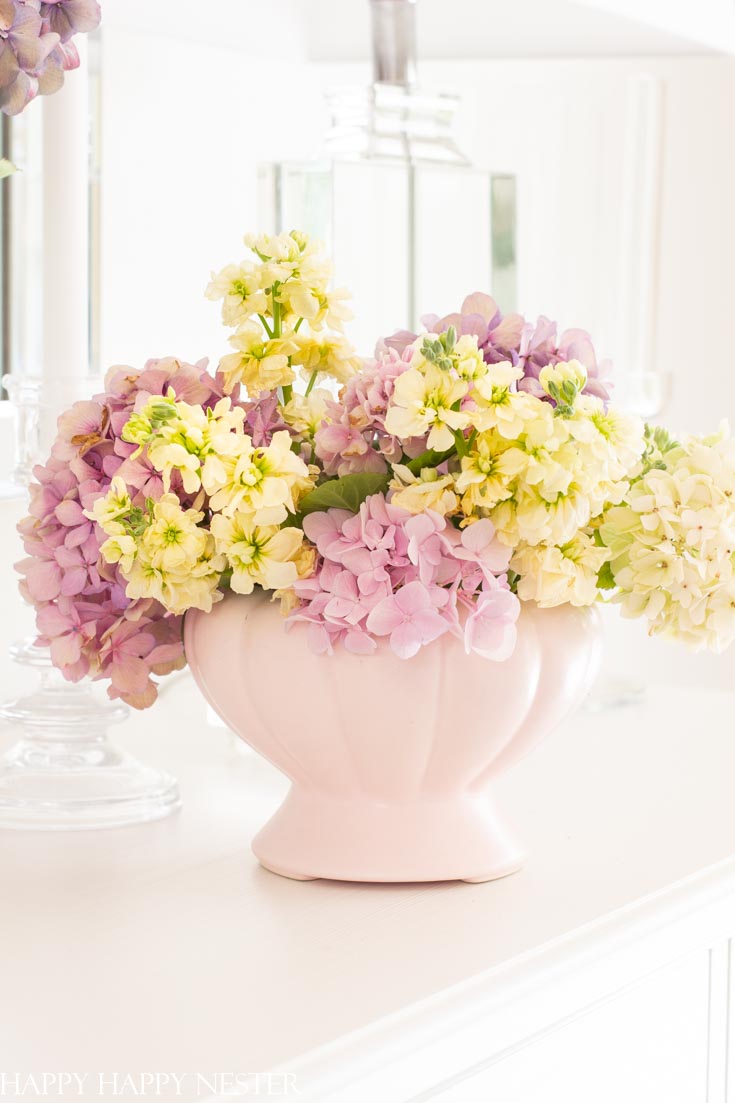 Add Flowers Like Hydrangeas to A Summer Table
Adding flowers is a no brainer. Whether you add hydrangeas or other gorgeous blossoms, make sure to enjoy your flowers from your garden.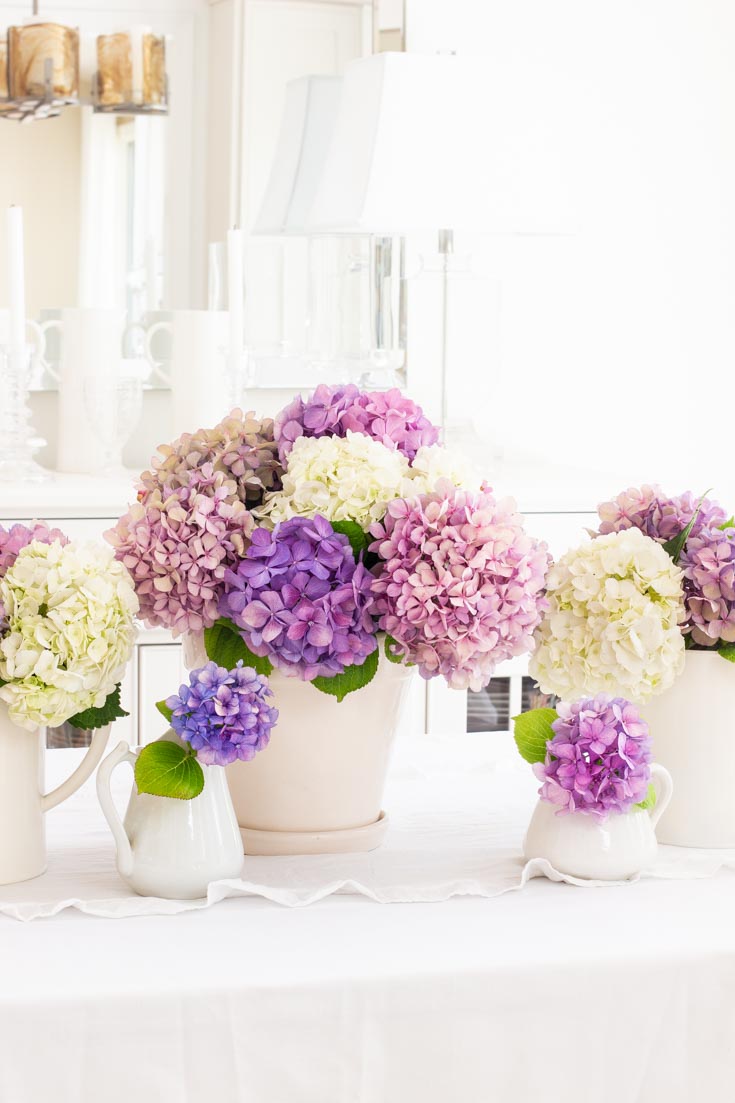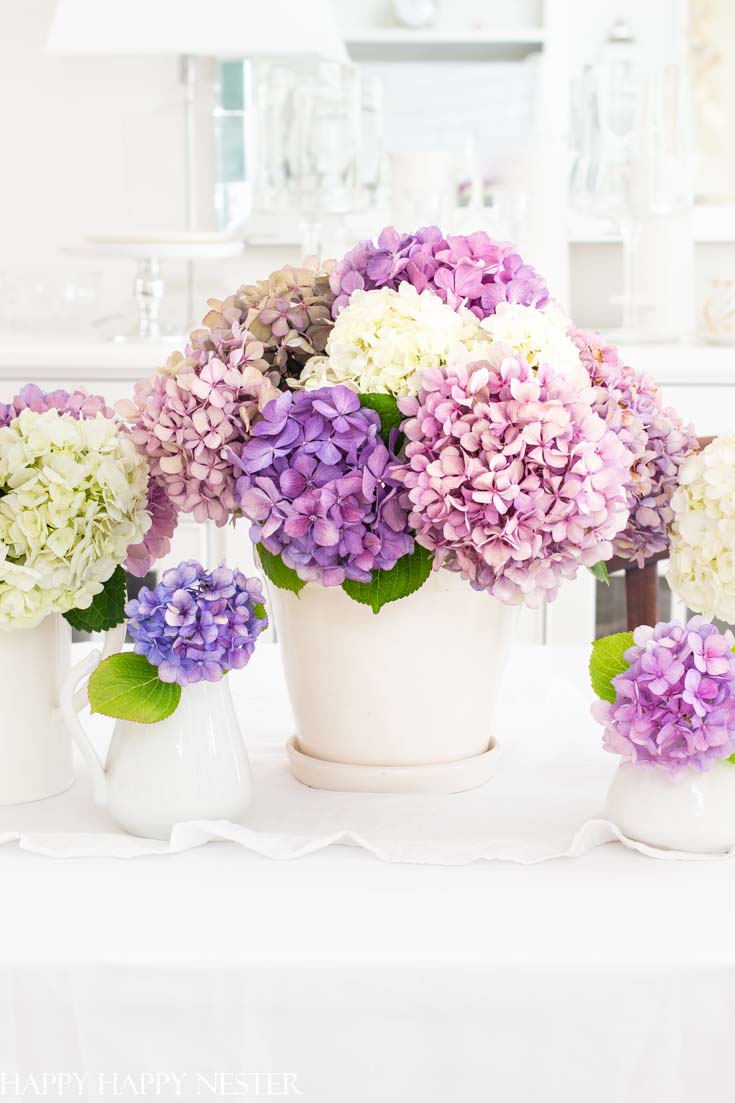 I have this 5 minute summer centerpiece.  post that I published the other day. I decided to pick a few of my garden hydrangeas and decorate our dining room table so that every surface is covered with these gorgeous flowers. And to think that I didn't spend too much money since my garden provided the flowers.
Add Food with Summer Fruit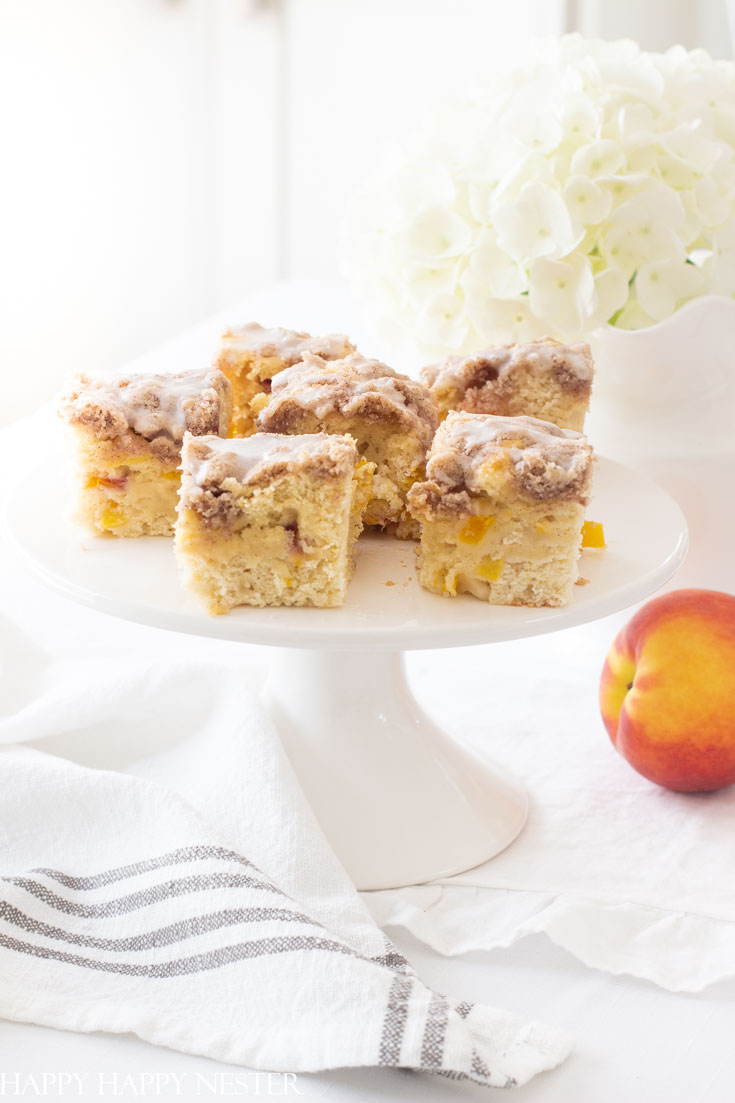 Summer entertaining is excellent since there are so many options for vegetables and fruit. I recently came up with this recipe a peach buckle recipe that is ideal for the summer. If you happen to have a lot of peaches around the house, you might want to try this recipe.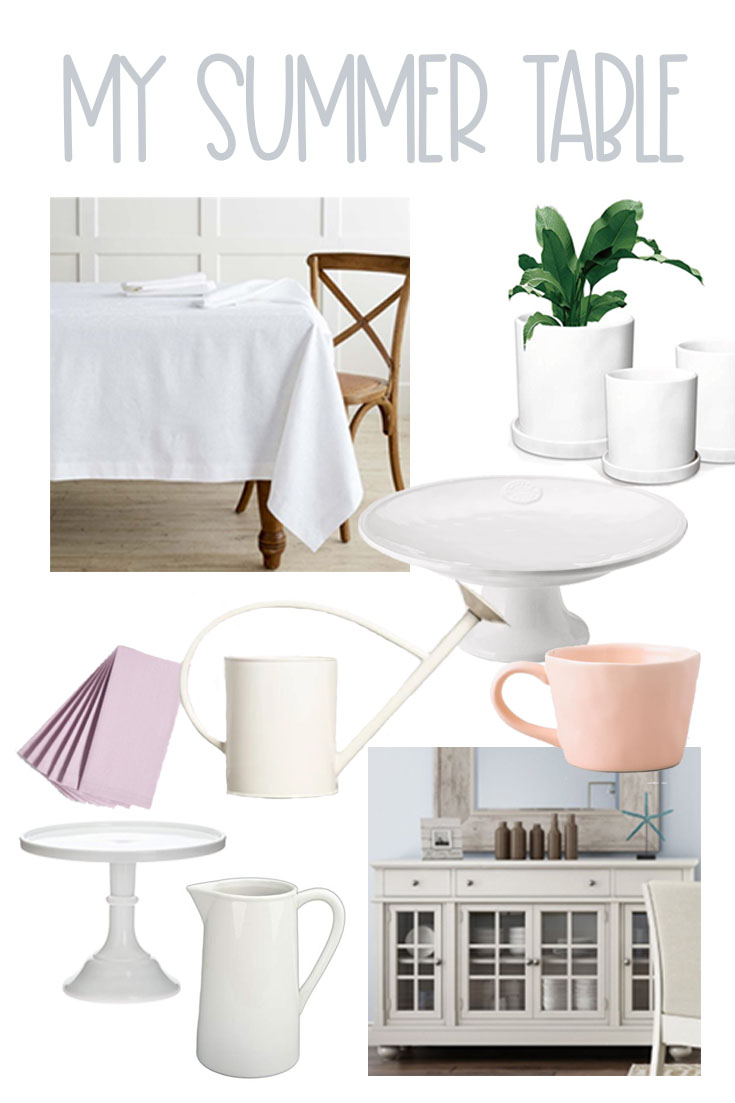 White Table Cloth | White Ceramic Pots |  | Purple Cloth Napkins | Hearth and Hand Water Can
Williams Sonoma Cakestand | Pink Coffee Mug | Moser Cakestand | White Ceramic Pitcher | Birch Lane Buffet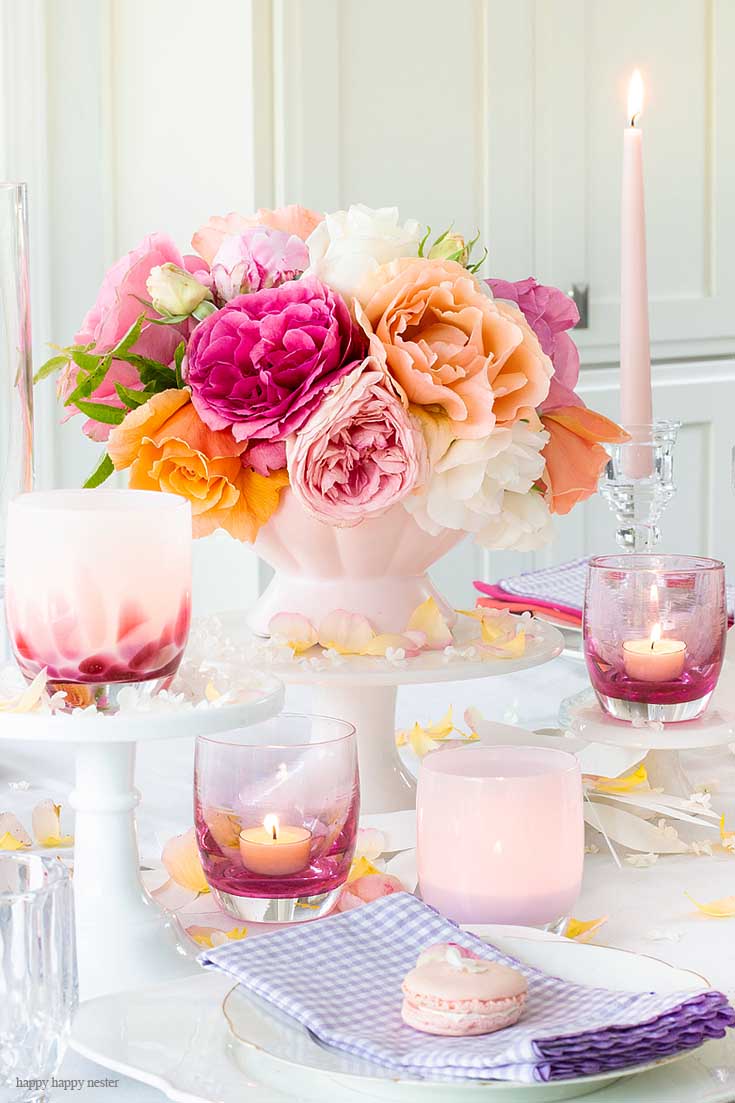 Lastly, here is another table setting from my casual table setting ideas for every day. I thoroughly enjoy decorating our dining room table, and I must say that I love both these looks.
Well, this was a fun post to create, and I'm so delighted to be joining these very talented bloggers. Their photos and posts are listed below, so happy touring.
My Friend's Summer Tables!
Let me know if you enjoyed this post on summer table decor with hydrangeas. For now, happy summer to you all.
Cheers,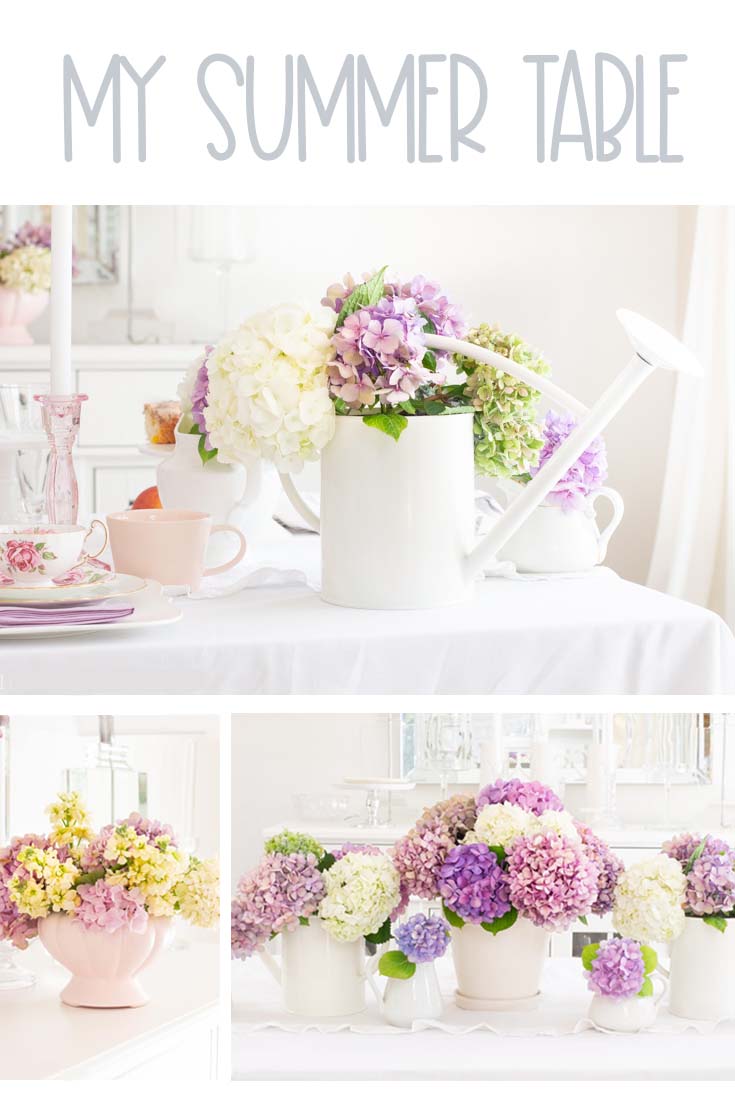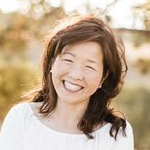 Latest posts by Janine Waite
(see all)