Diy Felt Flower Wreath is today's fun craft project. If you like making felt flowers, then you'll love this project. I wanted to make a colorful and dainty wreath out of felt, and this is what I created.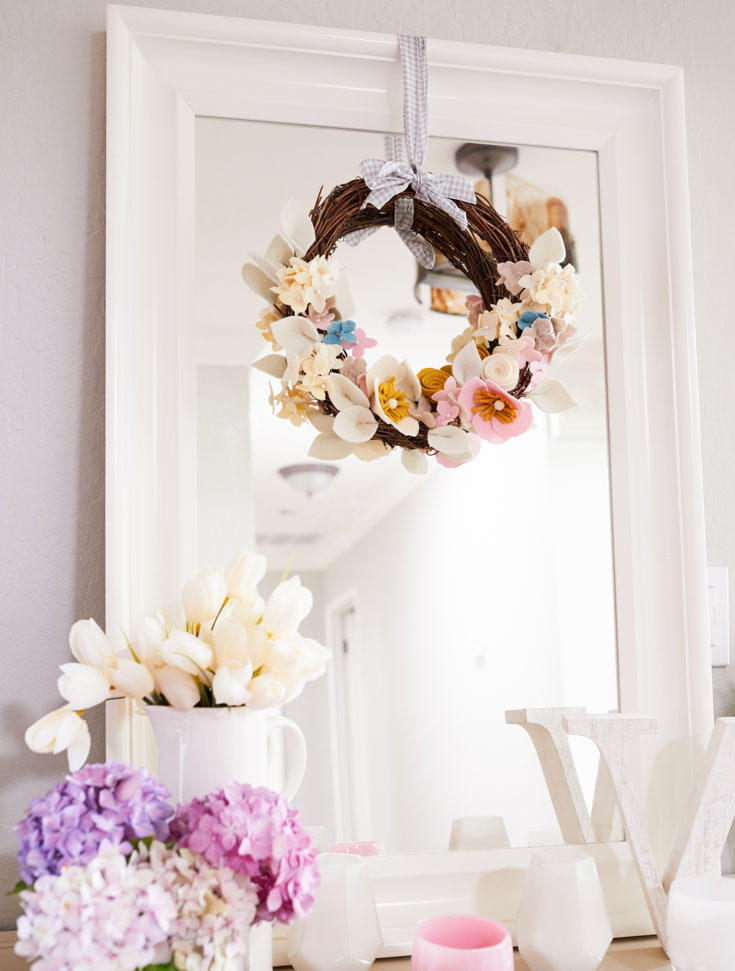 Happy 4th of July!. It has been a crazy year, and I hope you are all safe and healthy. If you need a fun project, then here is such a cute felt flower wreath that will brighten up your home for summer.
I love felt and how it exudes a coziness. I guess over the years, my love for felt has eeked out into lots of great DIY felt flower posts. Well, this wreath combines a few hydrangeas, anemones, and rosettes flowers. So, get your craftiness out, and let's get busy making this happy felt wreath!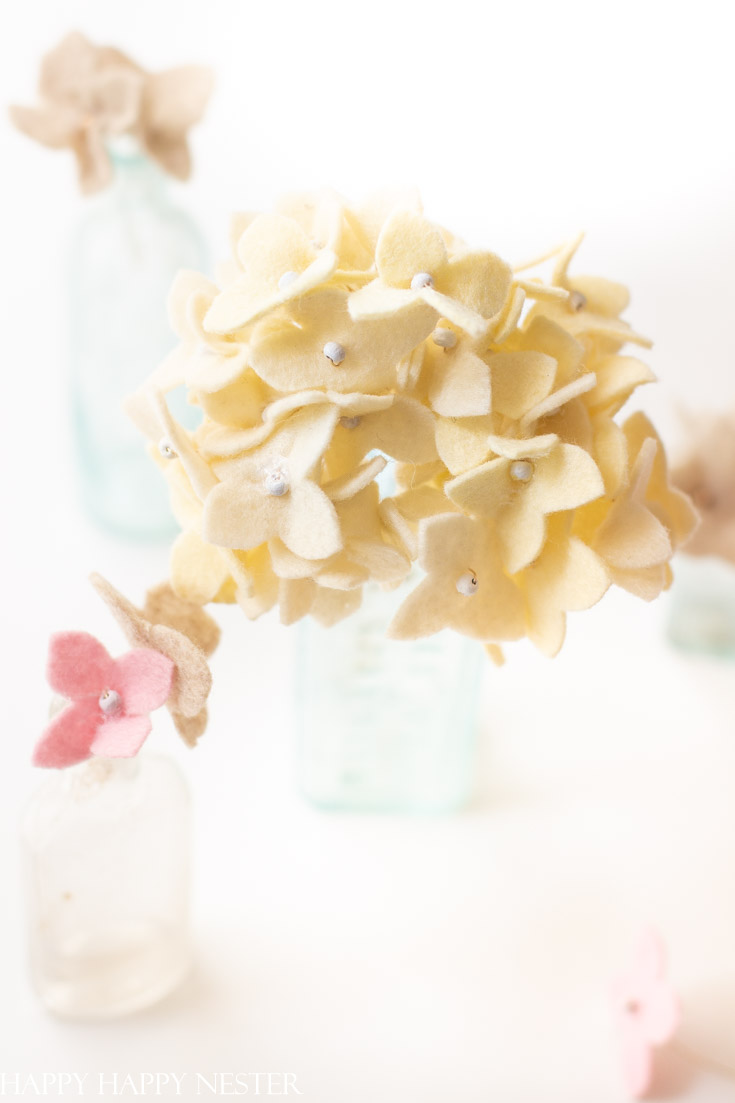 Here's What You'll Need to Make This Felt Flower Wreath
This project combines a bunch of flowers that I have shared in different posts. So to make this wreath, you need to visit the three projects. Here are the flowers and their tutorial links.
Felt Hydrangeas
So, here is the link to the felt hydrangeas you'll need to make. I made three small hydrangea blossoms in cream, but choose whatever color you want your hydrangeas to be. While you're making hydrangeas, make a few single blue and pink flowers.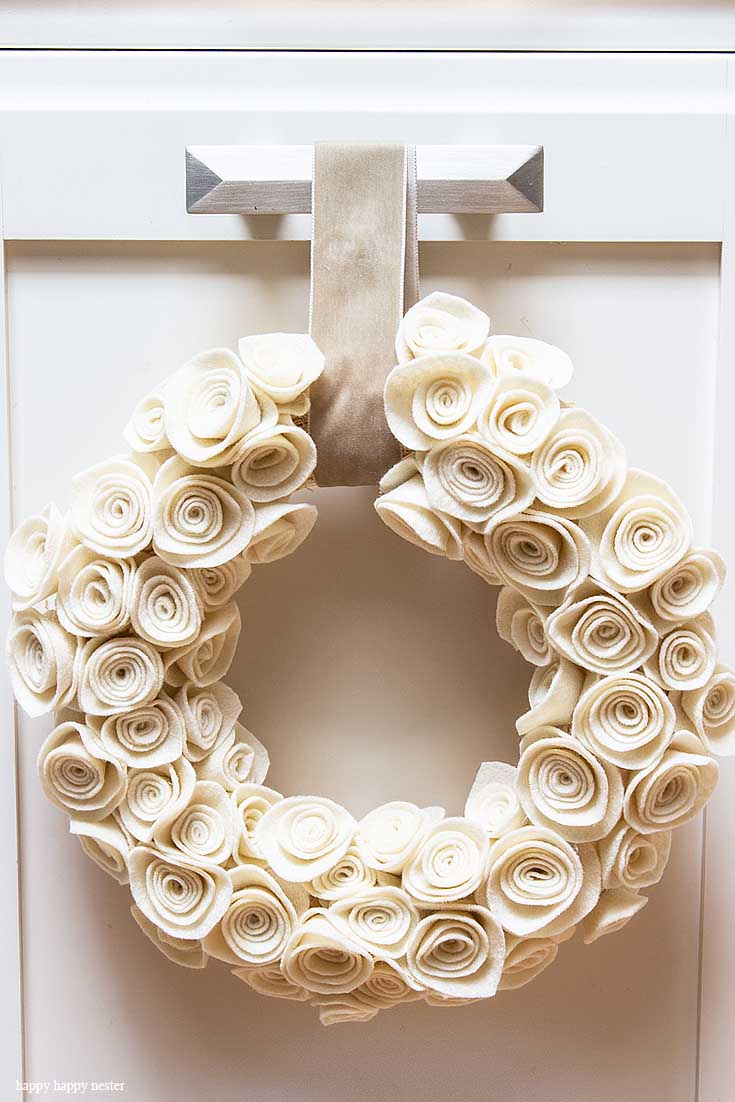 Felt Rosettes
Here is my all rosette wreath. Yeah, I'm a bit obsessed with flowers! These rosettes are super easy to make; you cut out a round shape and roll to the center. My good friend, Leslie, is also crazy about felt, you can see her felt flower pillow project.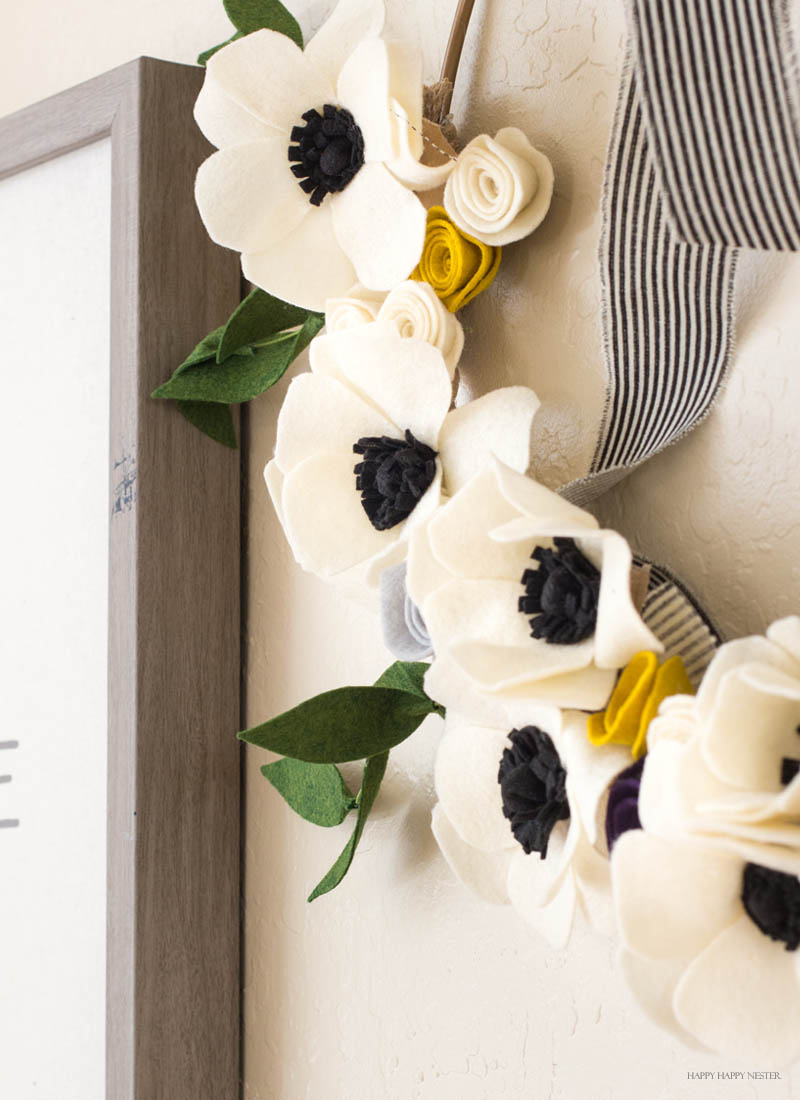 Felt Anemones
I made this Anemone and changed the colors. In the new version, the petals are pink, the stamen is orange, and I glued a wooden bead in the middle.
Materials to Make DIY Felt Flower Wreath
1 12-inch Grapevine Wreath
Felt – Colors: Cream, Pink, Blue and Orange
(Also, I had felt that I bought from all kinds of stores, so the amount listed here is an estimate)
4 sheets of Cream Felt for hydrangeas, one Anemone, and ten small leaves
1 sheet of Carnation Pink for small flowers and one Anemone
1 sheet of Blue for small flowers
1 sheet of Orange for one Anemone and two rosettes
Gold Wire for hydrangea flowers
Bronze Wire for leaves
Beads – small beads for hydrangeas, large beads for anemones
Instructions:
(For this DIY felt flower wreath, please refer to other posts for instructions.)
1. Make three hydrangea blossoms. Also, make six small pink flowers and two blue flowers too.
2. Create one pink and orange Anemone. ( Make sure to substitute the middle with wooden beads.)
3. Make one cream and Orange Anemone.
3. Make one cream felt rosette and also two orange rosettes.
4. Cut out 10 small leaves and hot glue each one to the end of the thick wire. Pinch together the sides of the leaves to the wire.
5. Attach flowers to the wreath via the wire or just hot glue all the flowers and leaves to the wreath. I always attach via the wire, so later, if I want, I can attach the flowers and use them for another project.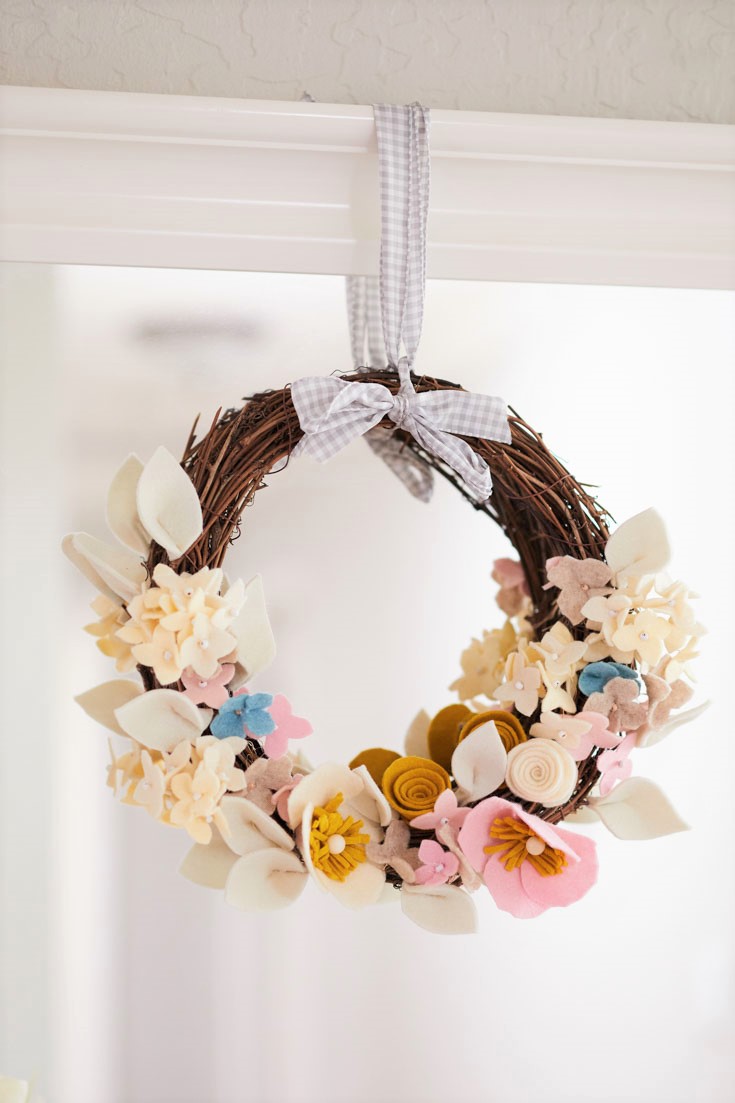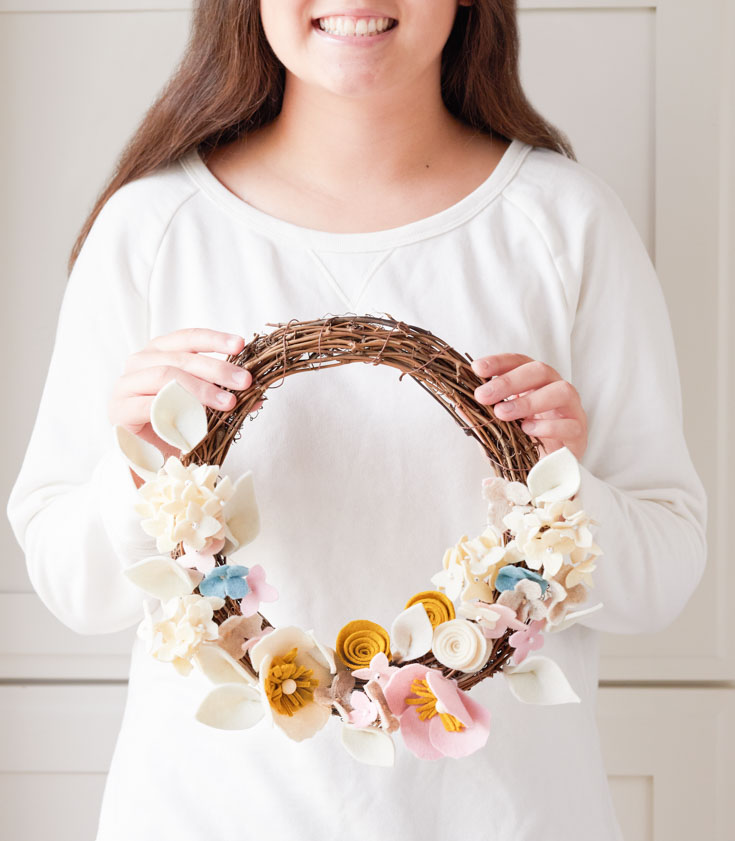 I hope you enjoyed this DIY felt flower wreath project. If you are like me, I like having a wreath for every season. This one is so soft and feminine, and I love how it greets people as they walk into our home. But most of all, I love the fun crafting distraction during these stressful days.
Happy Crafting!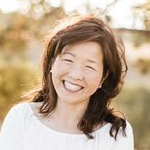 Latest posts by Janine Waite
(see all)