My Casual Table Setting Ideas For Every Day always includes flowers and beautiful glassybabys. Also, this table is dear to my heart since these roses are the first blossoms of the season.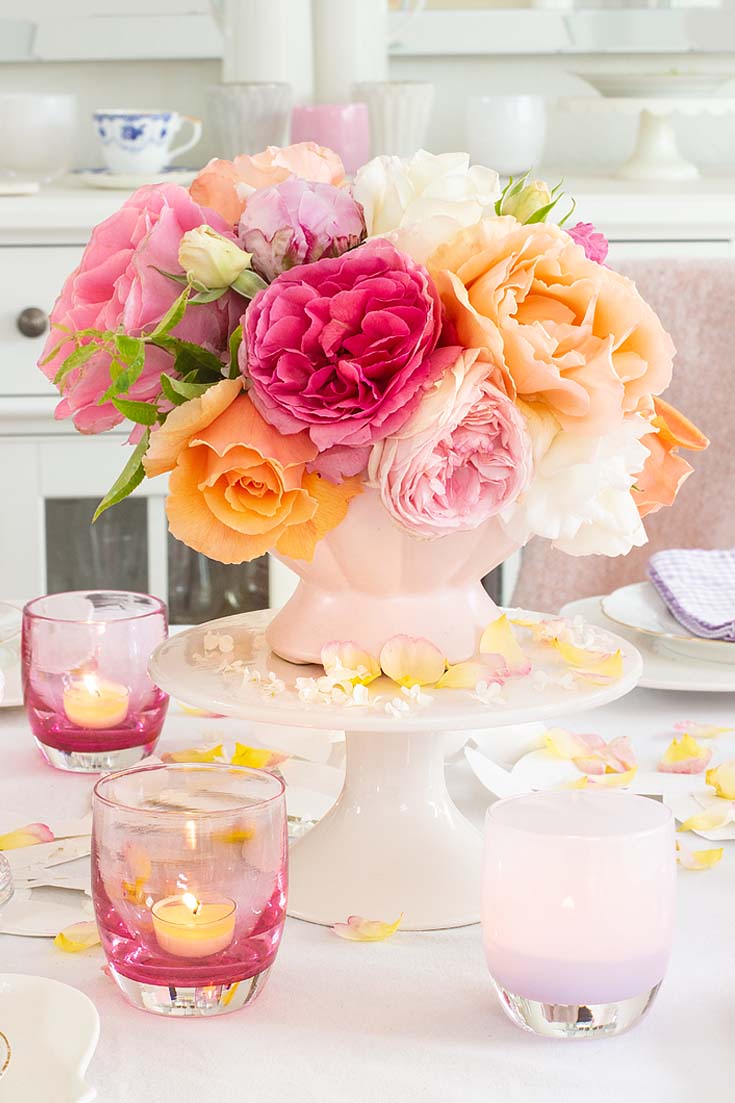 Our dining room table is always ready to go with a white cotton table cloth since it is the perfect canvas in which to create a casual table setting ideas for every day living. If you have the essential items like cake stands, candles, vases, linens, and plates, you are ready to create a beautiful table setting.
Summer Table Blog Hop
Also, I want to mention that this post is part of a blog hop of summer tables setting, so when you get to the bottom of the post, you'll see all the other post that Alicia from A Burst of Beautiful rounded up. I know that I will go visiting later today to see my friend's beautiful tables.
*The following post contains affiliate links.
Here is How is How I Created a Casual Table Setting Ideas For Every Day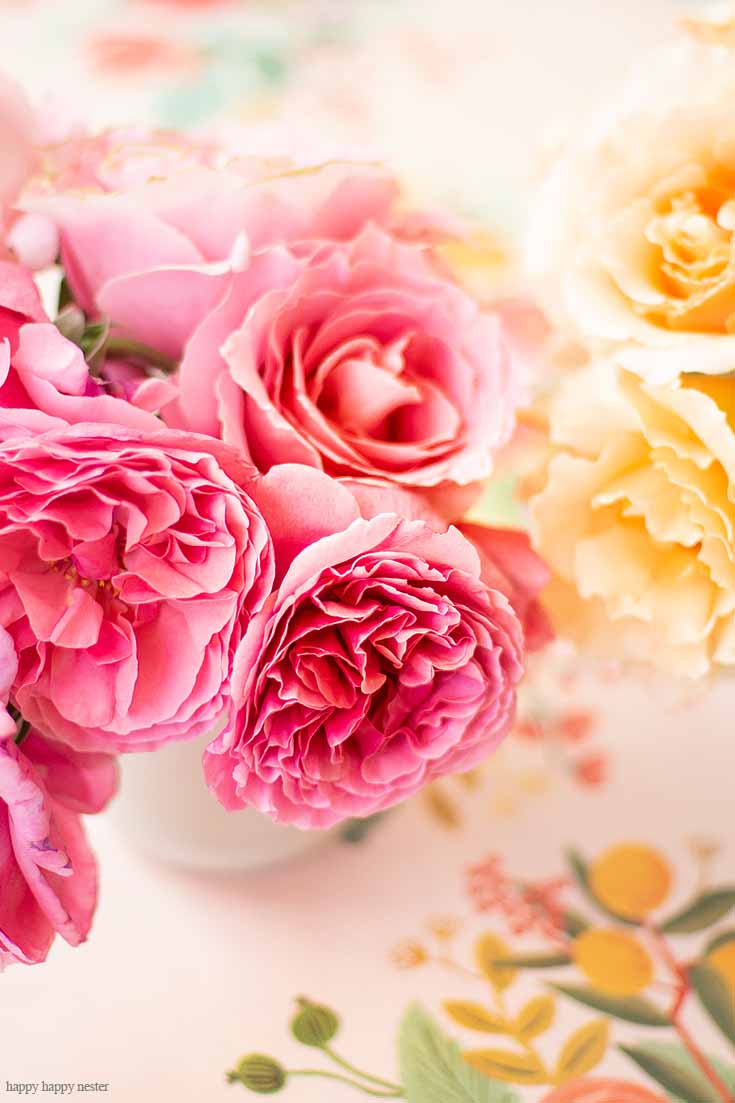 Flowers
So, as you can see, I chose the color pink as my central theme. But this time I decided not to pay a visit to the San Francisco Flower Market or the grocery store, I would get out my garden snippers and pluck a few off my rose bushes in my garden.  The roses you see here are all from my first blooms from my garden and somewhere on my computer is the list of the names of my roses. Off the top of my head, I know that the dark pink one is called Dee Lish and the light pink David Austin one is called Bliss (this one I found is similar). I will write a future post on my garden roses so stay tuned.
I'm over the moon crazy in love with the color combination of pink and orange, and so it's not surprising that I have rose bushes with orange and pink blossoms in my garden. But, once I arranged the roses in my vintage pink vase, I feel that these colors can be a bit intense. So, I combined a few of my white blooms for balance. Then I sprinkled a few fresh rose petals on the table for a bit of fun and whimsy.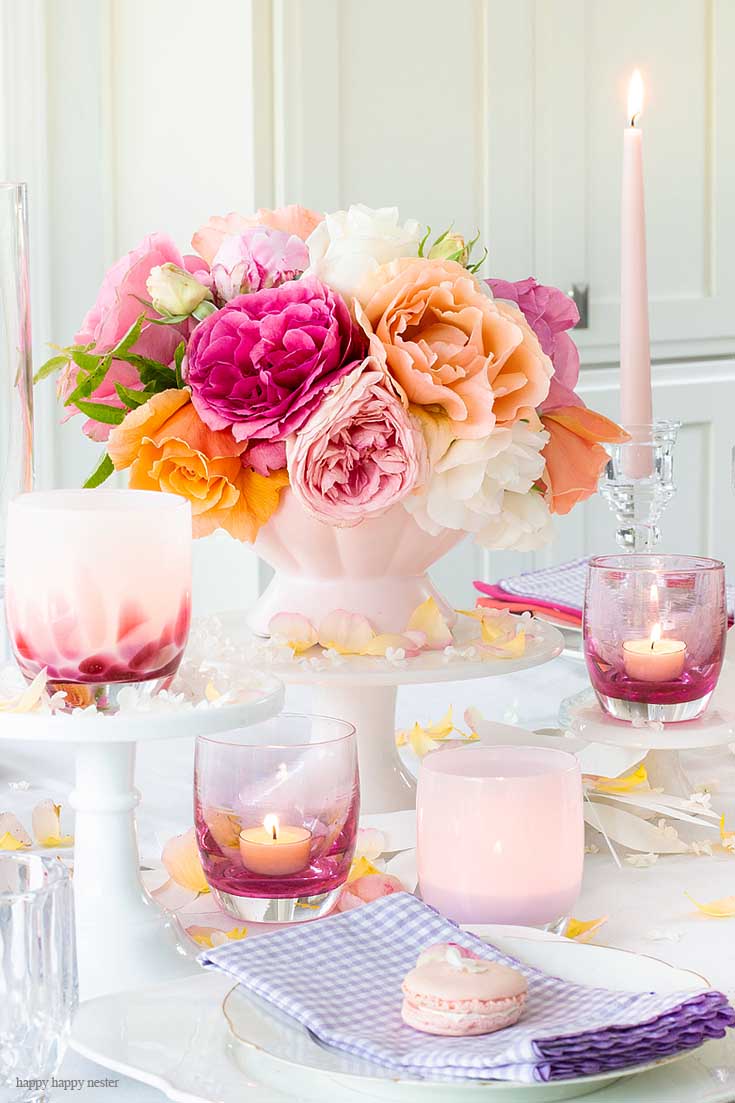 Candles
This table all began with my glassybaby candle votives. You see, the Seattle company reached out to me for an Instagram collaboration, and they sent me all these gorgeous candle votives. I had a blast decorating this table that while I was photographing it, I had the great idea to share it for this blog hop. I love it when something like this happens, and I'm more efficient with my blogging.
Ok, back to my glassybabys. I have quite a few of them, but I didn't own the clear ones like the one pictured here called Petunia. Now, I have a new obsession with clear glassybabys since I love how they sparkle and reflect light so pretty. You can see that I obsessed with candles and for this casual table setting ideas for every day I brought out my Pottery Barn Harper Glass candlestick holders and of course my pale pink tapered candles.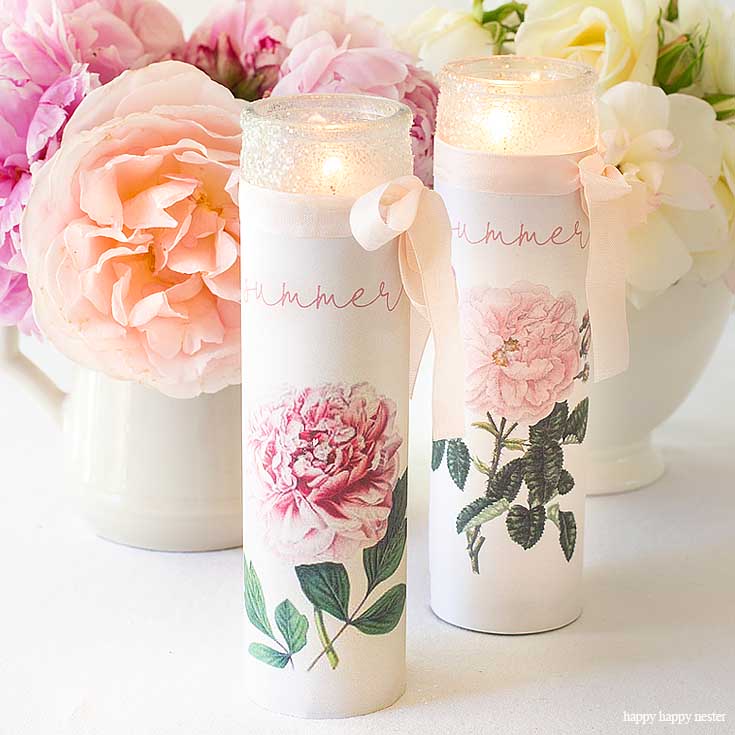 My motto is that you can't have enough candles, so I also made a summer printable candle project recently with some fun white glass candles.
Linens
So, when it comes to my casual table setting ideas for every day, I always have a white tablecloth ready to go since most table decor goes well with white. It is a bit tricky to have a white table cloth since my teenage son is always staining the darn thing. He is so funny since he will leave a big coffee cup stain and when asked about it, he will vehemently deny responsibility. I'm sure one day I'll look back fondly at these memories. But for now, he is away to college, so that little problem is no longer an issue. Ok, back to the linens, when it comes to napkins, I always try and pick up some fun colors to reinforce my color scheme. Don't you love the little pop of colors?
Food
Ok, my little bits of food that I photographed are color coordinated. I know, I know, that is a bit over the top, but I was shooting a bunch of recipe posts, so I just added them to this summer table since it was already set up. This yummy drink recipe is a great summer drink, add a glass of crushed ice, and you'll quickly cool down from the summer heat.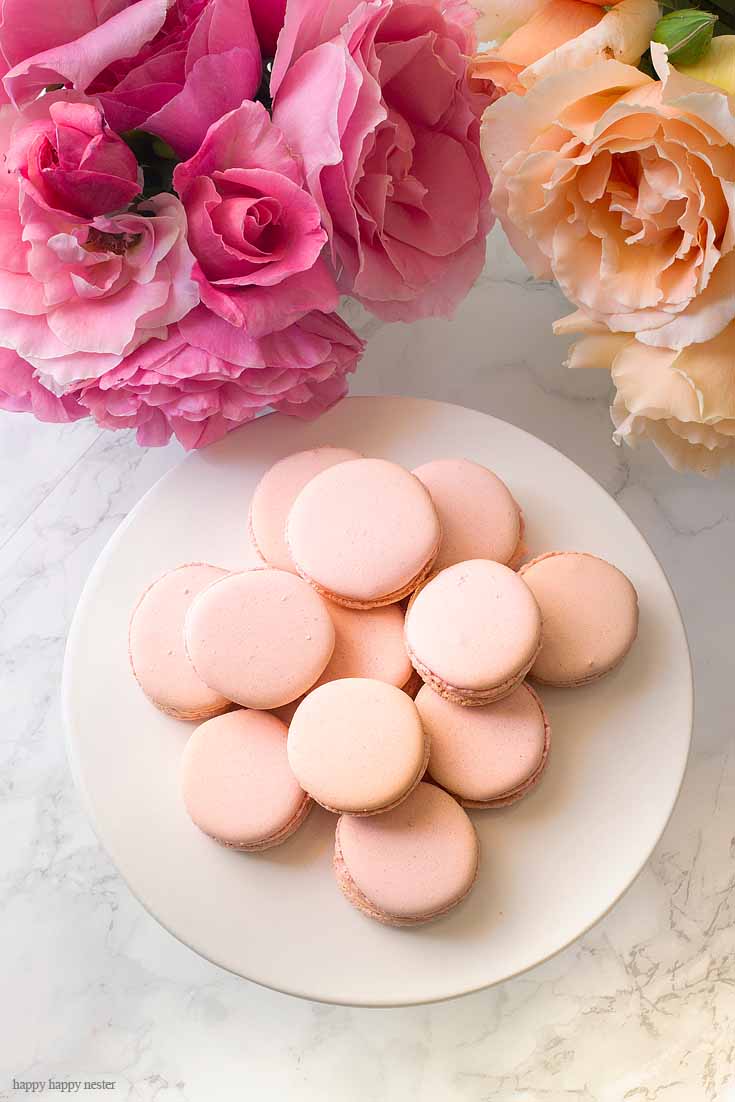 Uh, these macarons are delish. I have friends begging me to make them. I finally nailed down the best technique, and I shared every little observation on my French Macaron post. I promise you will have success when you follow my detailed recipe.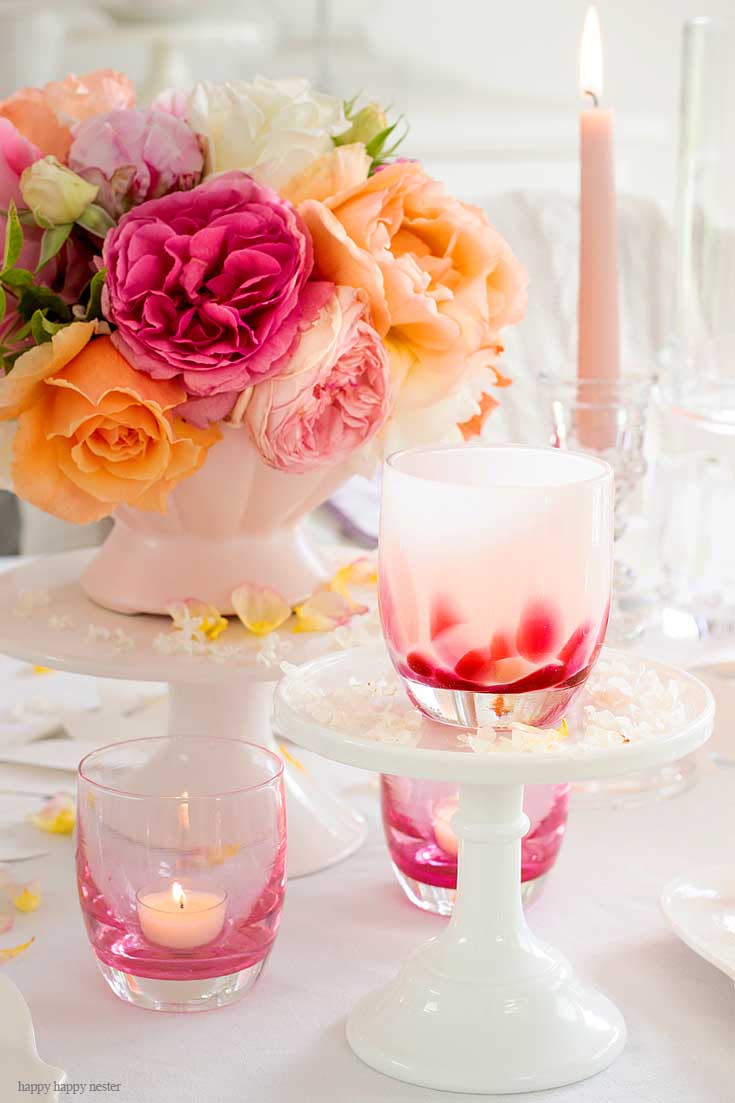 I love the touch of white snowball petals under the glassybaby votive named Petals. Can you tell, I'm in love with glassybabys?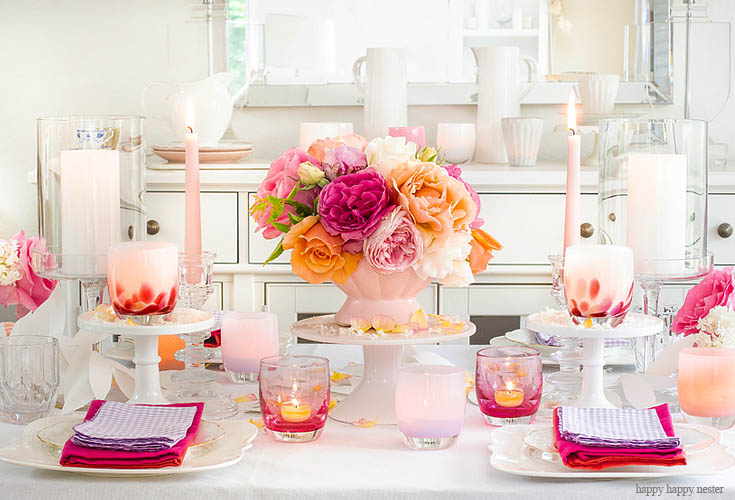 Thanks so much to Alicia for this wonderful blog hop! Sometimes I wonder how little ol' me got invited to this fantastic blog hop. Well, I sure hope you enjoy the tour and come away with lots of excellent table decor ideas for this summer!
Cheers,

A Burst of Beautiful | Amber Tysl | Sincerely, Marie Designs | Clean and Scentsible
Maison de Cinq | Town and Country | The Happy Happy Nester | Anderson + Grant
My Sweet Savannah | Finding Silver Pennies | Taryn Whiteaker | The Wicker House
Shabbyfufu | She Holds Dearly | The Handmade Home | Caitlin Marie Design
Paint Me Pink | Rooms FOR Rent | Summer Adams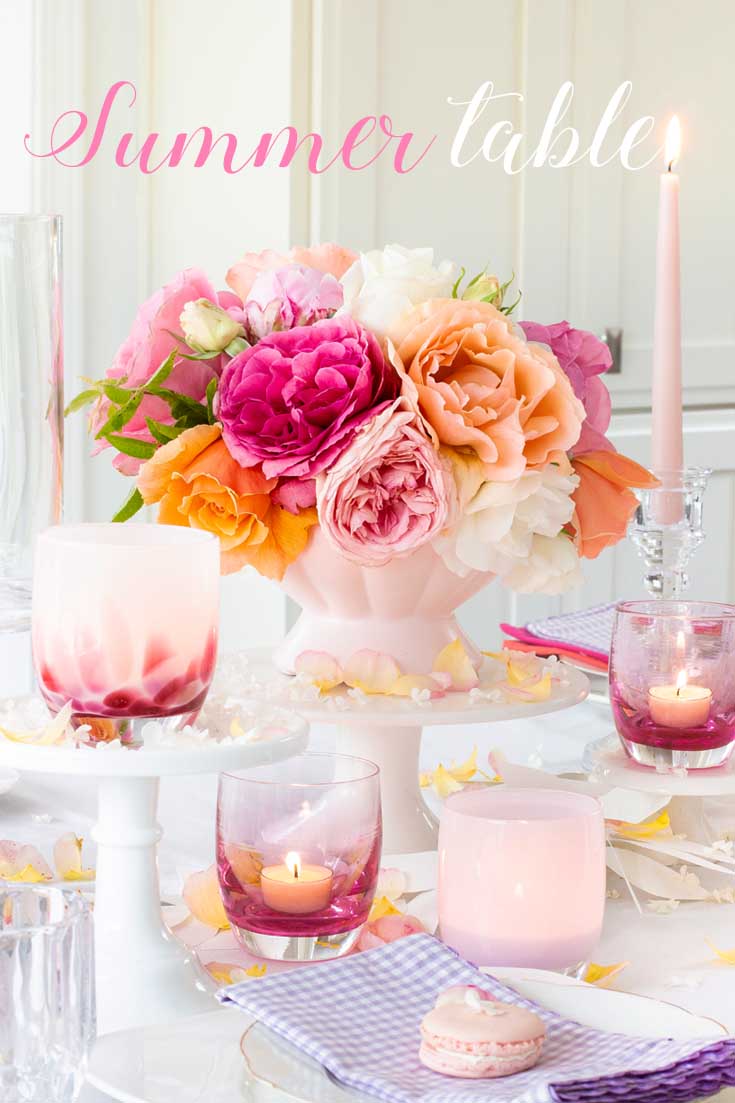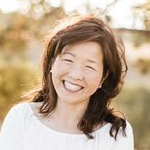 Latest posts by Janine Waite
(see all)