Did You Know That Valentine's Day Is One Of My Favorite Holidays?
Not only is if my favorite holiday, but I also love decorating and creating things for Valentine's Day as well. So, I thought it would nice to share with you my six tips on how to easily create a romantic Valentine's Day table.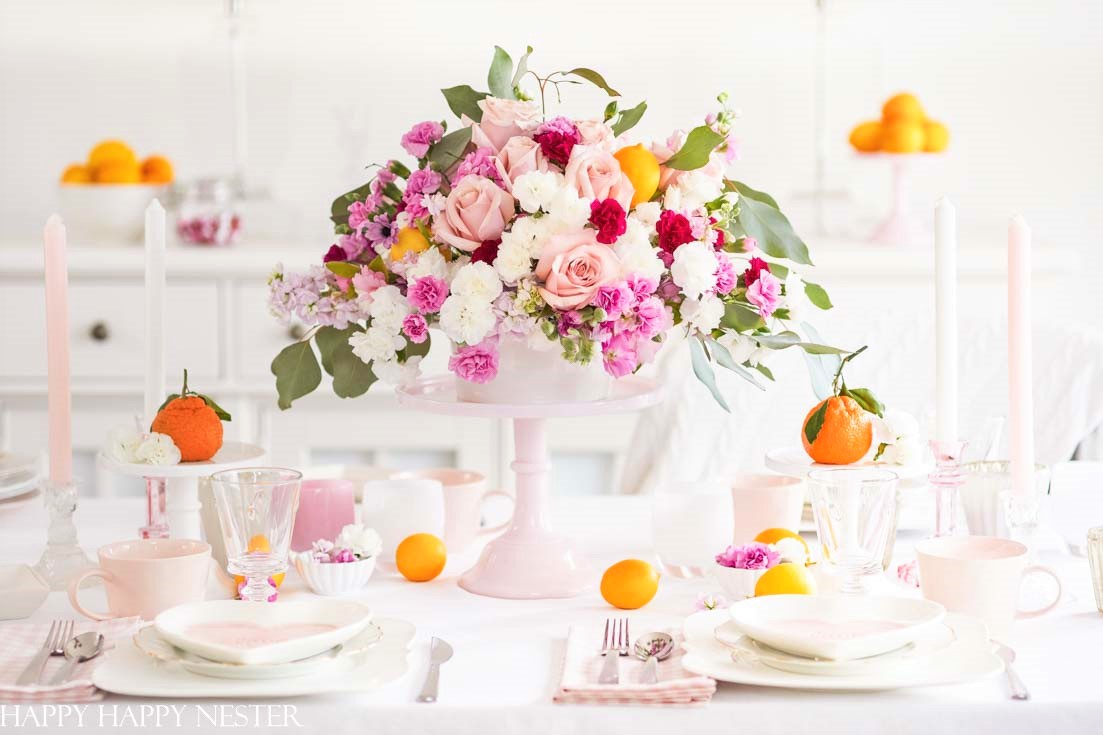 * The following post contains affiliate links
But, before we continue, I need to say thank you to Sheila from Maison de Cinq for hosting this lovely Valentine's Day blog tour. Also, I need to mention that these bloggers are uber-talented, so make sure that you scroll down to see their posts as well.
I'm not sure if you know this about me, but I love decorating tables for the holidays. Yes, I must admit working on spreadsheets, business contracts, and emails, makes my brain seize up. I guess you can say I'm a left-brain type of person. I was the kid who squeezed as many art classes into my schedule and still couldn't get enough art. My brother and I would style and shoot still lifes when our friends were hanging out at the beach.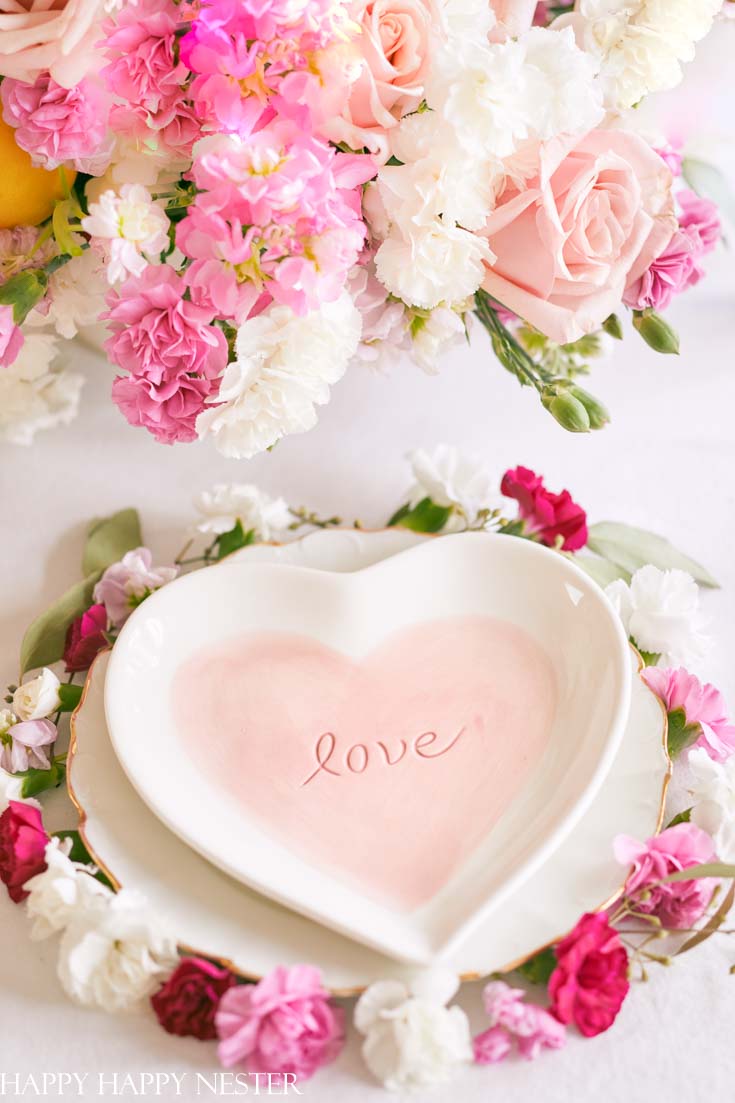 So, you can imagine when I recently mentioned to my brother, Mark, that I needed to decorate a Valentine's Day table, he immediately offered to take the photos.
We work well together, and we get a bit giddy like kids when a photo turns out so pretty. Our mother would be so pleased to see us collaborating again.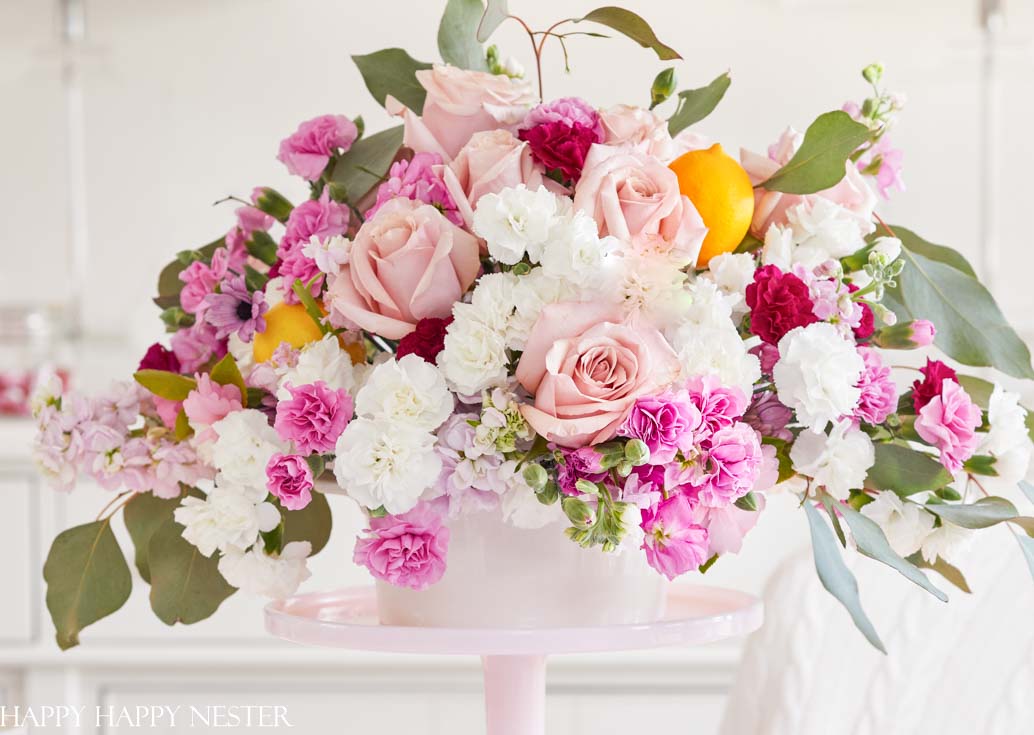 Ok, enough about me and more about this fun and festive table. I'm happy to show you how I styled this table. And yes, with a few little tricks, you can create a pretty Valentine's Day table this year!
Focal Point
I always love to place a pretty bouquet as the focal point. For this arrangement, I decided to buy the flowers from a local grocery store. Yup, in this bouquet, there are no exotic flowers. I used pink roses, white carnations, pink carnations, dark pink carnations, pink stocks, and a few sprigs of eucalyptus.
Oh my goodness, I almost forgot that I placed a few of our fresh homegrown lemons on wooden skewers and added them into the bouquet. I have added fruit to my arrangements. Also, if you look carefully, the container is a white casserole dish. I wanted a squatty vase and couldn't find one, so I got creative.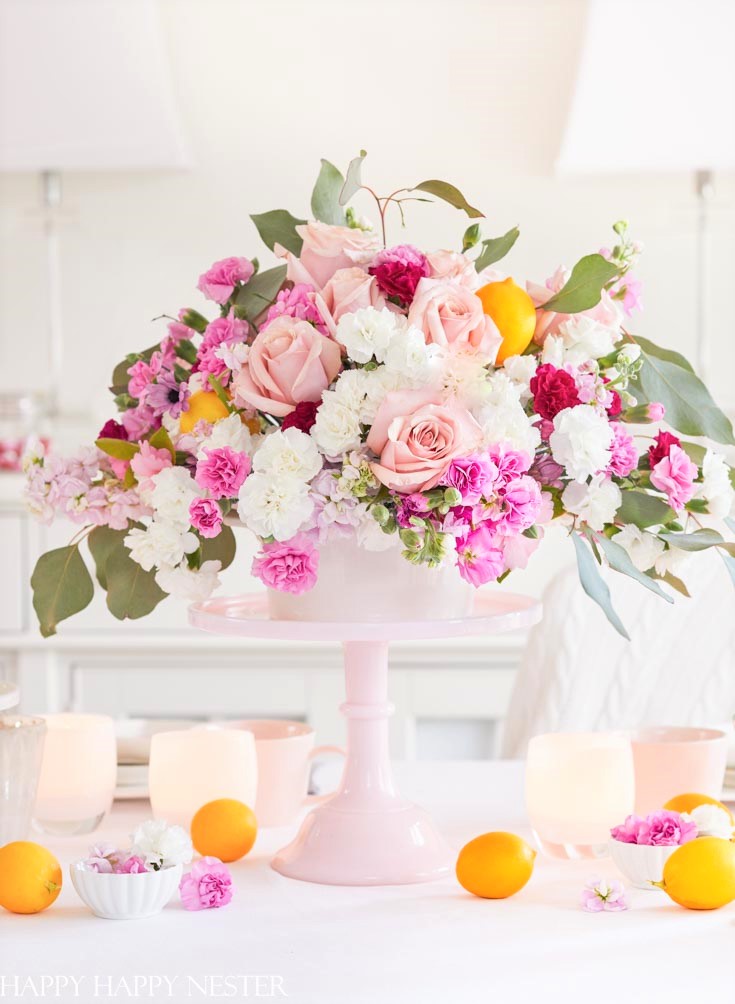 Cake Stands
I own quite a few cake stands, as you can see from this Valentine's Day table. I thought, why not place the flowers on a beautiful pink Mosser glass cake stand. Then off to the sides are two mini white cake stands. They break up space and add visual interest to a table.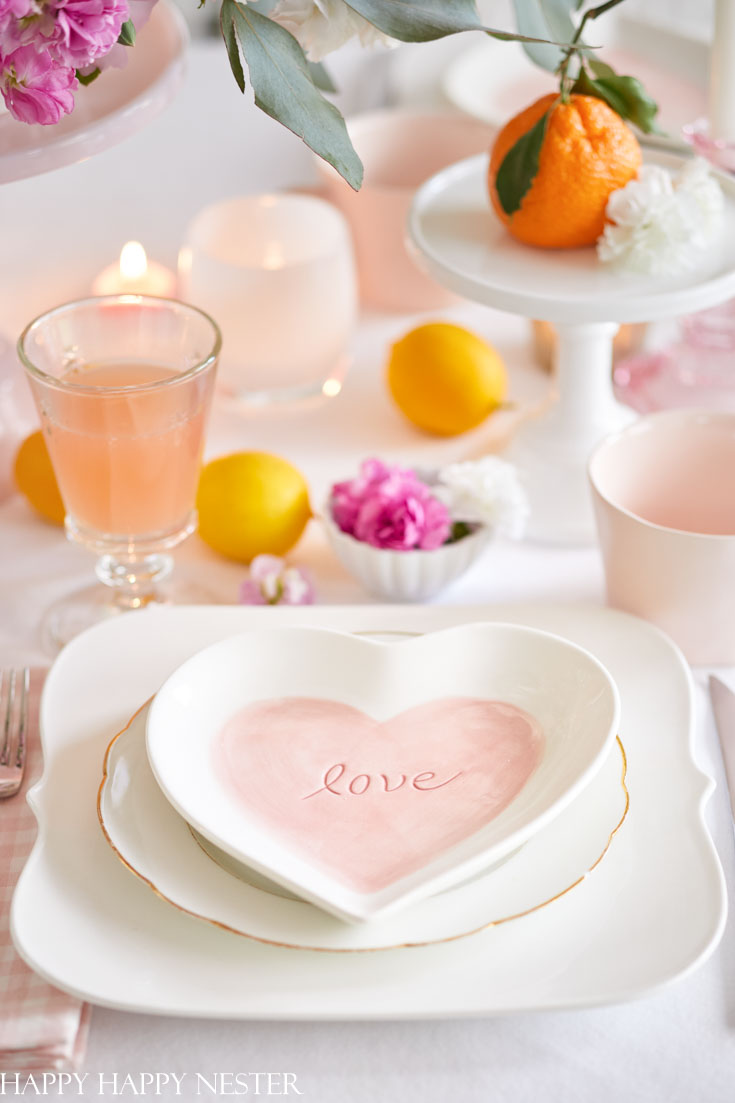 Cute Plates
This cutie caught my eye at Pottery Barn. The pale pink and handwritten lettering is the perfect little added touch for an inviting Valentine's Day Table. These heart plates are timeless.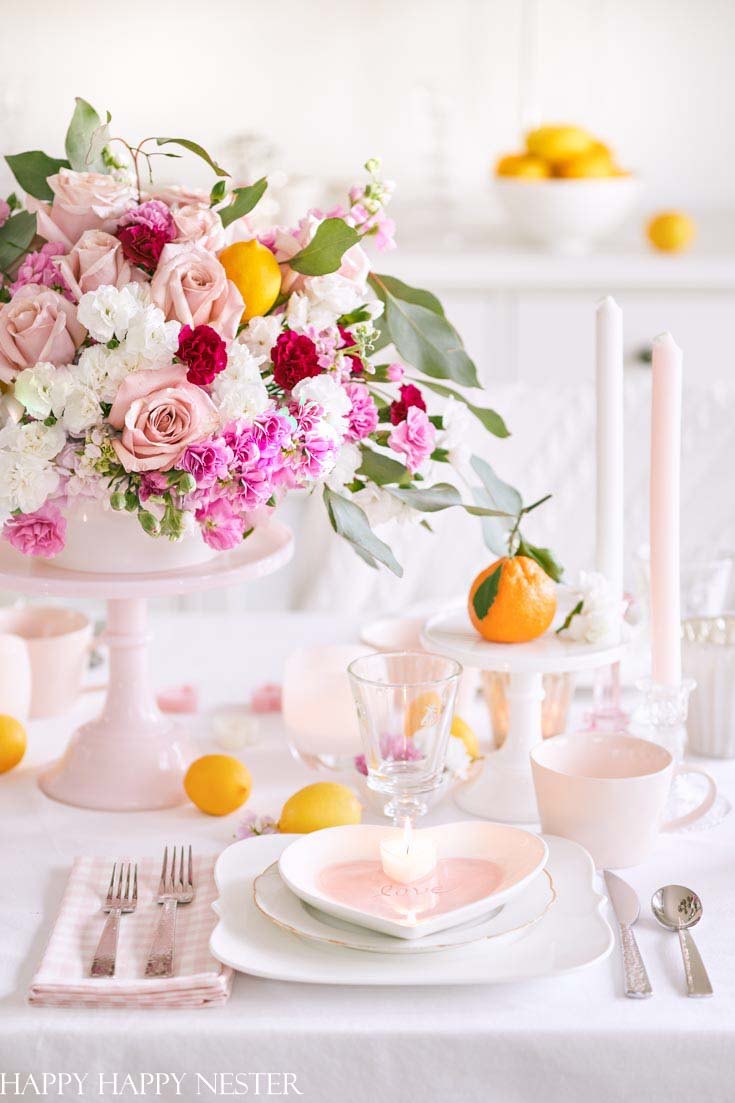 Napkins
Napkins are like the scarf to an outfit. I feel that cloth dinner napkins add a pretty pop to any plate setting and table. So have fun with your napkins like these charming pink gingham napkins from Pottery Barn.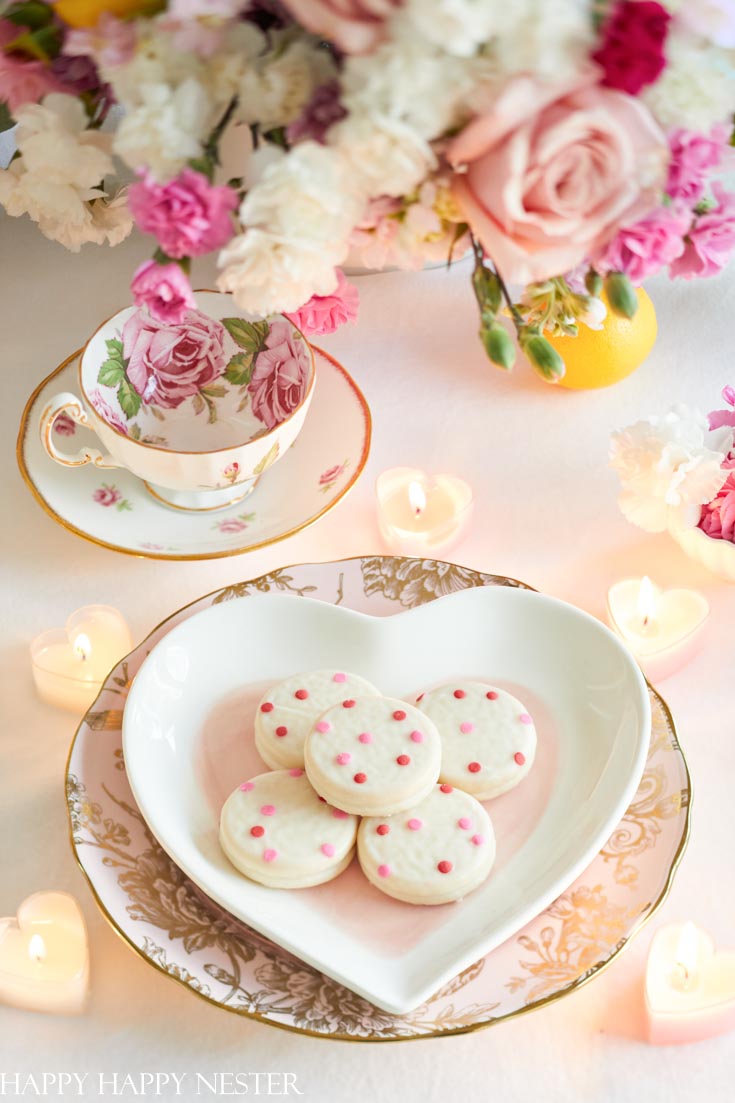 Candles & Votives
I bought these heart-shaped candles last year and waited all this time to use them. If you don't have any candles on hand, invest in some pretty glass votives like my glassybabys. I have white ones that I pull out for many occasions. Lighting a table is essential and sets the stage for romantic twinkly lighting.


Flower Petals
A couple of years ago, my husband and I celebrated Valentine's at a restaurant in San Francisco. And on the table, they sprinkled red rose petals everywhere, on the tables on the pathways. Well, of course, this inspired me, and I added some to this table as well as a fall pumpkin table. The petals are an organic and dainty little accent that adds a lovely touch to any table. By the way, if you like this adorable small heart plate, you'll want to check this out at Pottery Barn.
I'm a romantic at heart. And this Valentine's Day will include a yummy dinner at home with this beautiful table setting. I hope you have some fun plans for your special day. Thanks again for joining me and hello to any of you who are new to my blog.
Cheers,

Here Are More Valentine's Day Ideas!
Maison de Cinq | Ella Claire Inspired | Zevy Joy | Happy Happy Nester
My 100 Year Old Home | Modern Glam | Summer Adams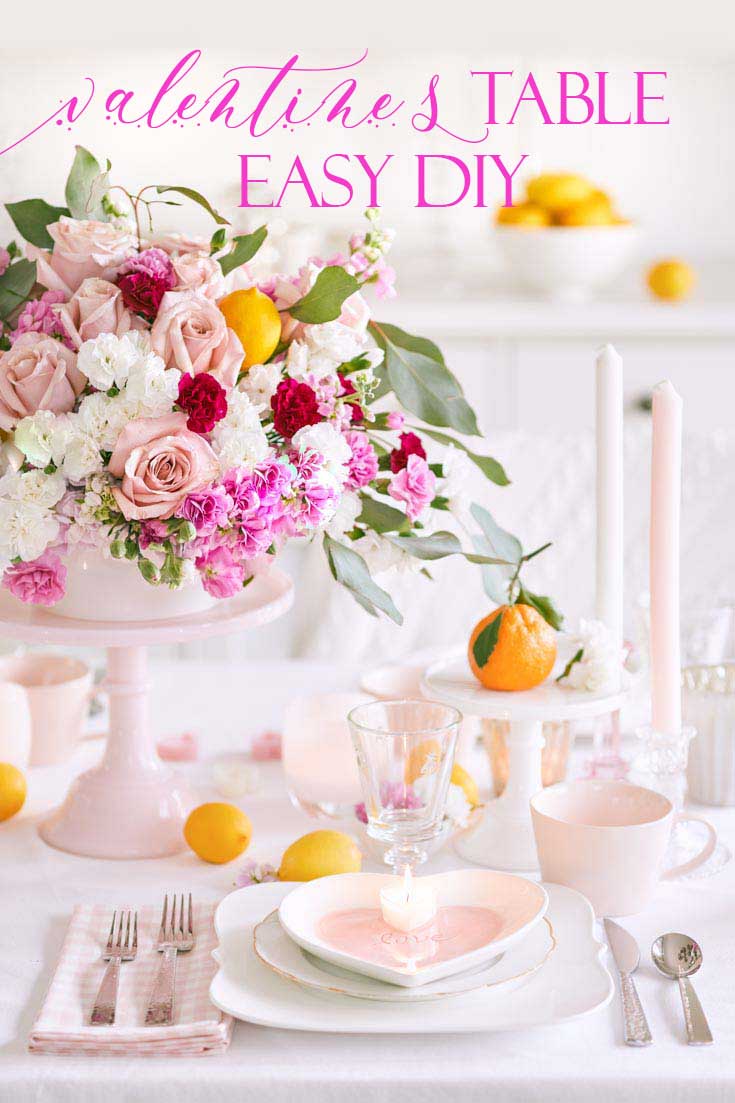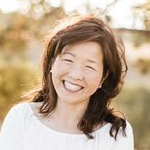 Latest posts by Janine Waite
(see all)