Let's get into the swing of love! Start by checking out this collection of Valentine's Mantel Decor to get a head start on decorating your home for February. Then, style your mantel with a heart garland or two, a wreath, and a couple of adorable signs with Valentine's Day sayings!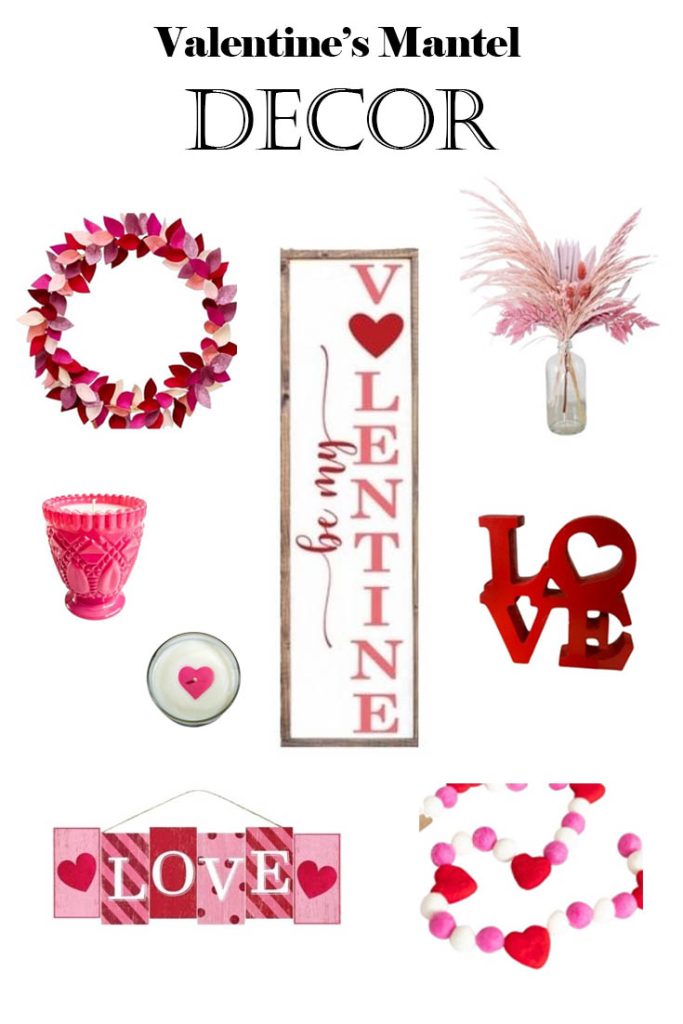 Besides decorating for Christmas, Valentine's Day is the next best holiday that I love decorating my home. Why? Well, because I love the colors of this season. The different shades of pink and red create the most loveable space. Plus, I love celebrating love!
How do you celebrate Valentine's Day? Double date? Day-trip with friends? Adventure with the family? The possibilities are endless. Whatever you decide to do, do it with a happy heart.
Depending on the weather, we would usually go to the city (San Francisco) and explore a new town we haven't been to yet. But, unfortunately, the current pandemic had other plans, so we will most likely be staying home and enjoying our time together as a family.
Nevertheless, we will have just as much fun! Because… we will bake delicious desserts to share amongst ourselves and send to loved ones nearby and cook a delectable dinner to enjoy while watching one of our favorite movies!
But before these festivities begin, we must first decorate with Valentine's mantel decor. Take a look at this selection of accessories, decorations, trinkets, and more!
Garlands
Candles
Signs
Wreaths
Extra Mantel Decor
Browse on to see Valentine's Mantel Decor!
Valentine's Mantel Decor
*This post contains affiliate links
GARLANDS
One of the best decorations you could have is a garland. Whether the event, season, or holiday is, using a garland is the way to go. And besides, these garlands are just darling with their hearts, patterns, and designs! What's not to love?
When it comes to styling with Valentine's mantel decor, have fun with it, which means decorating with more than one garland.
There are many ways to use more than one garland. You can layer, intertwine or align your choice of garlands. But, trust me, in this case, more is better!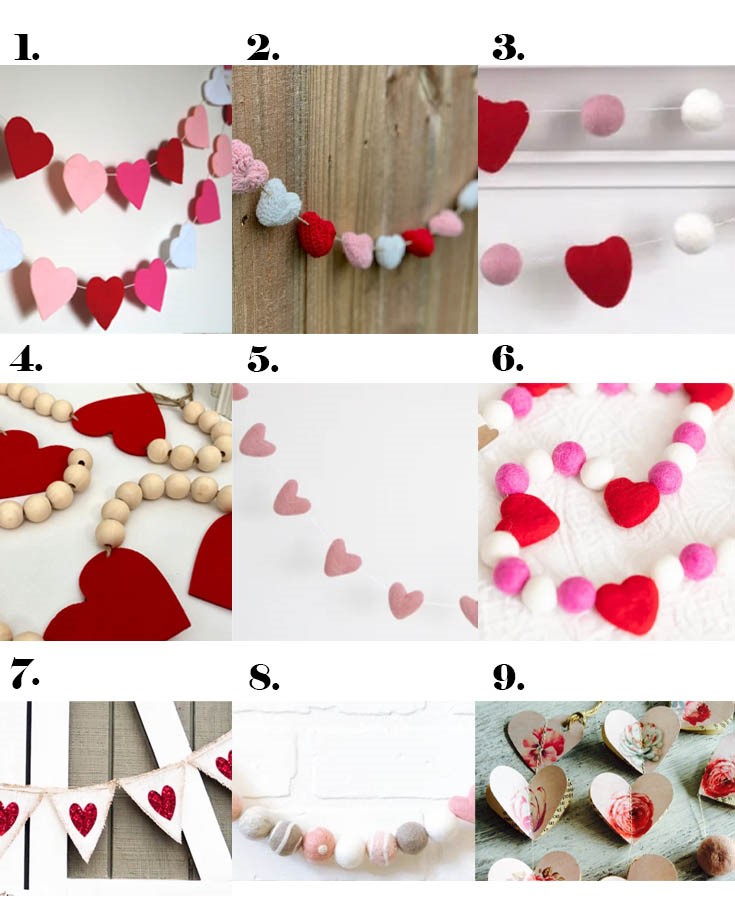 Sources: 1 l 2 l 3 l 4 l 5 l 6 l 7 l 8 l 9
Aren't these the cutest decorations you've ever seen? The lovely shades of pink, red and white create the perfect color combo to decorate your mantel with. Don't stop now. Scroll down for more decor!
CANDLES
You can never go wrong with candles. Even if they aren't lit, I love styling with candles to create cozy energy in the unforgettable room.
This specific collection screams Valentine's Day with their heart-shaped wax and love-inspired containers that it's hard not to want.
Sources: 1 l 2 l 3 l 4 l 5 l 6 l 7 l 8 l 9 l 10 l 11 l 12
Whether you light your candles or not, I guarantee you will fill the air with love while also having the most beautiful mantel to showcase during February.
SIGNS
Now, these signs are just a little extra to add when it comes to using Valentine's mantel decor because, to celebrate this special day, words need to be displayed. Plus, I just thought these would look adorable in your home!
I'm not the biggest fan of decorating with signs this tiny, but the colors got me thinking otherwise when this time of year rolls around, the pinker, the better!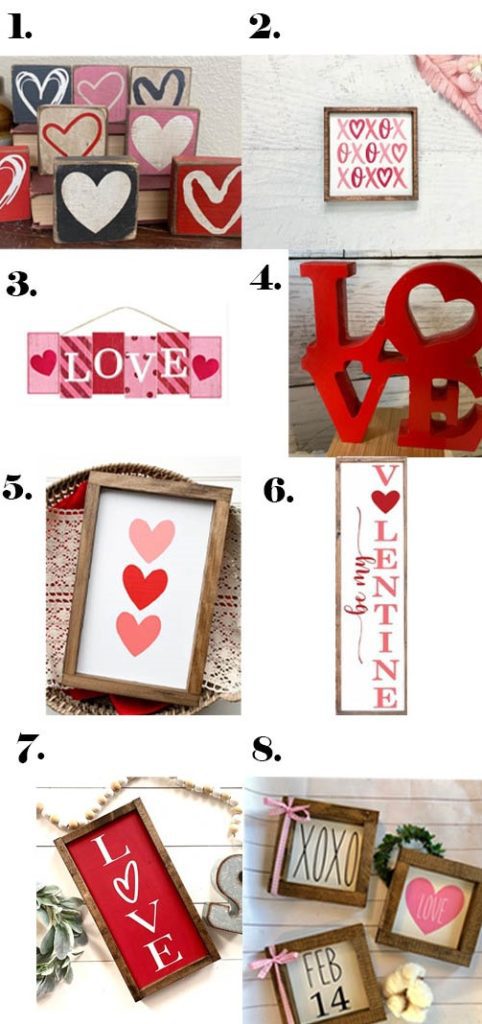 Sources: 1 l 2 l 3 l 4 l 5 l 6 l 7 l 8
Was I right, or was I right? These signs are just the cutest, and I don't blame you if you want them all.
Choose whatever sign speaks most to you, and have fun styling with this selection of Valentine's mantel decor!
WREATHS
Finally, we have reached my favorite part of this blog post. It's time to look at Valentine's Day wreaths! Believe it or not, you could easily make a wreath of your own, but if you want something new, here are ten wreaths to choose from.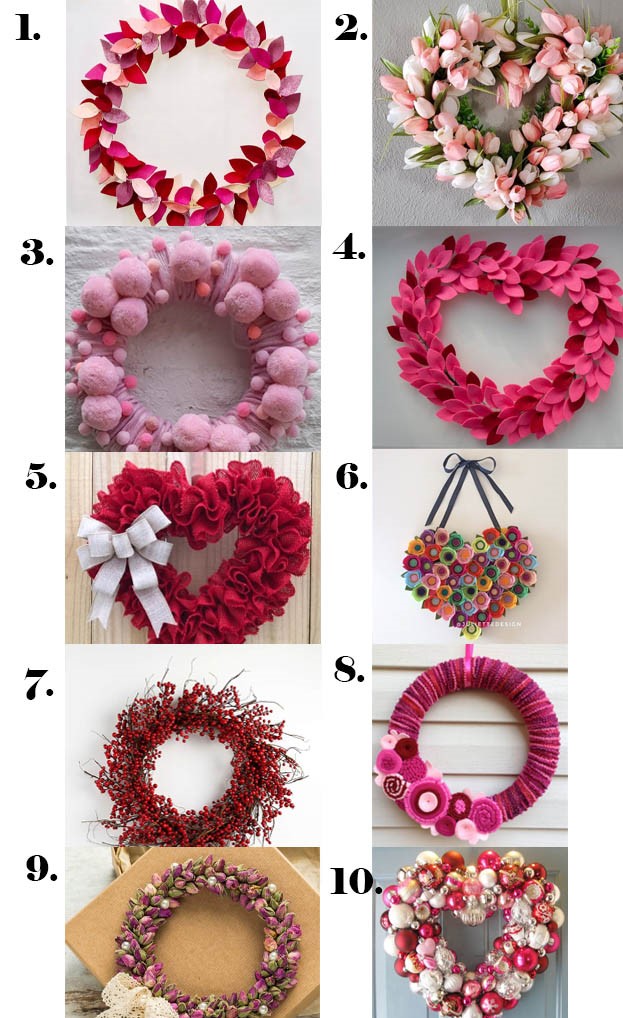 Sources: 1 l 2 l 3 l 4 l 5 l 6 l 7 l 8 l 9 l 10
Speaking of wreaths, if you are interested in making your own, I have a couple of DIY wreaths on the blog. I promise they are simple to create and perfect for decorating. Check them out!
Whether you are buying a wreath or making one, I hope you found inspiration to go along with your additional Valentine's mantel decor.
EXTRA VALENTINE'S MANTEL DECOR
Bonus! Since this is one of my favorite holidays, I thought it was only best to add a few extra decorations. As much as I love using wreaths, garlands, and candles to create that stunning space, I always love using a little extra.
This collection consists of gnomes, village houses, and tons more, so stay awhile to find that perfect piece of decor!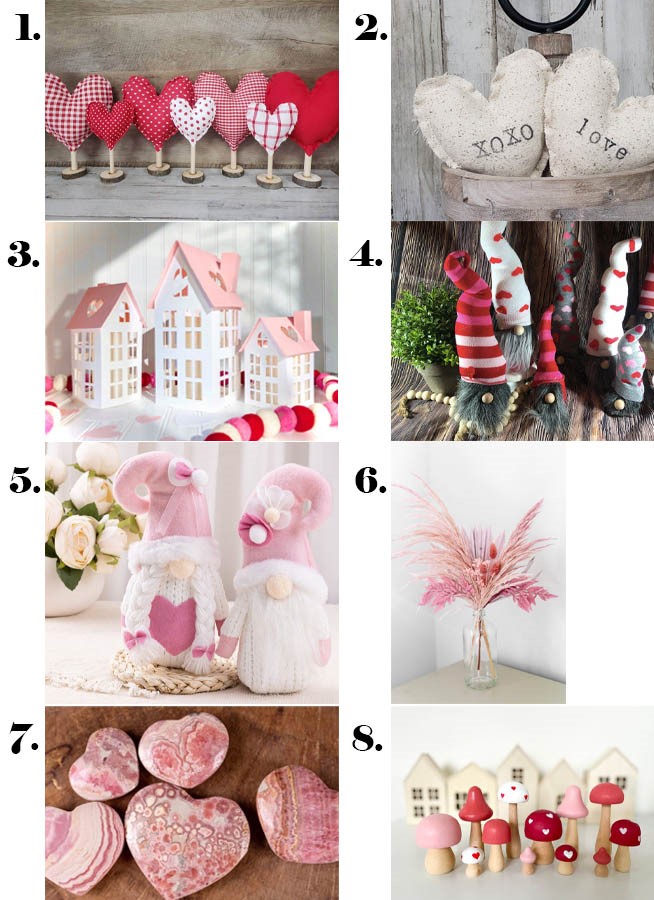 Sources: 1 l 2 l 3 l 4 l 5 l 6 l 7 l 8
I hope you are as extra as I am because I sometimes go overboard with my decor! Valentine's Day is all about showing appreciation to the people and places we love. In this case, I love my home, so when it comes to decorating, the more, the better 😉
Wow! You've made it to the end (almost). Out of this collection of Valentine's mantel decor, hopefully, you found something to place in your home to celebrate the holiday of love.
I just wanted to pop on here and say thank you. Thank you for being a part of this blog journey and supporting me since day one. I appreciate it so much from the bottom of my heart. Thank you!
WANT MORE POSTS LIKE THIS? HERE ARE A FEW OTHER VALENTINE'S DAY IDEAS
---
Happy Wednesday!
Do you know what that means? We are halfway to the weekend, and in honor of celebrating, I just wanted to say thanks (again) for taking the time to check out some Valentine's mantel decor! Stay tuned for more decor, crafts, DIYs, and more on the blog!
Have a wonderful day,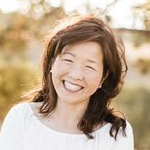 Latest posts by Janine Waite
(see all)