As we are getting closer to yet another holiday, take a look at this collection of Valentine's Day Gnomes for inspiration to design and decorate your home for that particular day.
I share details on how these became popular decorative items, tips on how to style them, and a wide selection of gnomes with different designs, colors, and looks!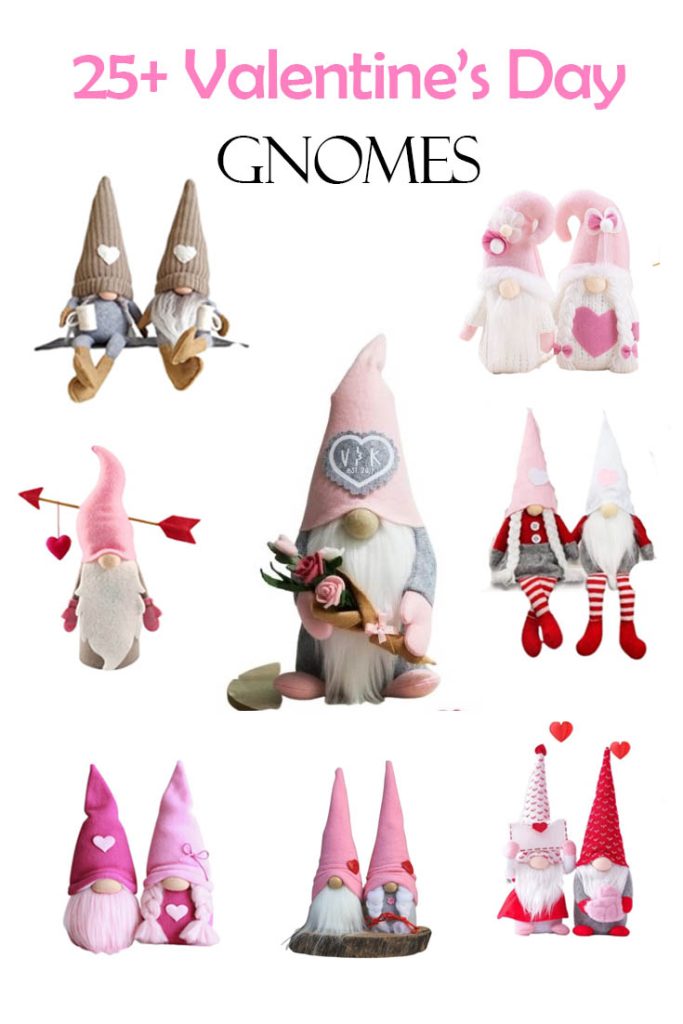 Not long ago, I published a blog post about Christmas gnomes. It went viral. You guys seemed to love the different types and still do to this day. So, to honor the popularity of gnomes, this post is all about Valentine's Day gnomes!
Decorating with gnomes isn't the first thought that pops up in someone's head when it comes to Valentine's Day, but these decor items are lovable, adorable, and perfect for the holiday.
If you enjoy accessorizing your home with mini, darling animals, you'll love these gnomes. They are just the right amount of cuteness to add to your existing decor! As you scroll down, you will see multiple sections of different colors, sizes, and styles of gnomes to choose from, so have fun with it.
Plus, the gnomes that I have picked out today are designed with the three colors of Valentine's day, including all shades of pink from soft salmon and rose to rouge and strawberry, which happens to work perfectly for Valentine's decor. I mean, who doesn't like pink? I love everything about it, so for all those people who are just as obsessed with the shade as I am, you are in the right place!
As January is coming to an end and February is beginning, get a head start decorating your home by checking out these Valentine's Day Gnomes.
White Gnomes
Pink Gnomes
Red Gnomes
Continue to see Valentine's Day Gnomes!
HISTORY OF GNOMES
"Legend says that you need to be nice to them, so they are nice back. They originated from Scandinavian folklore and were "house gnomes" who lived in or under the house. They would protect the children and animals from evil or misfortune. They have recently taken on a role similar to the American Santa. In Norway, they call them Nisse."
My dear friend, Elisabeth, who lives in Sweden, was the one who inspired me to collect gnomes. Every once in a while, she will send authentic gnomes from Sweden. If it weren't for her, I would never have noticed these adorable characters.
If you want to see the other blog post about gnomes, here is a collection of Christmas Gnomes.
Valentine's Day Gnomes
*This post contains affiliate links
WHITE GNOMES
Not a pink person? No worries, it's not for everyone. Instead, here is a collection of white Valentine's Day gnomes to choose from.
White is a simple color to decorate with, so I thought adding gnomes with white outfits, designs, and styles was best.
Even though these aren't your traditional colors, you are still achieving that "Valentine's Day" look, and that's what matters the most.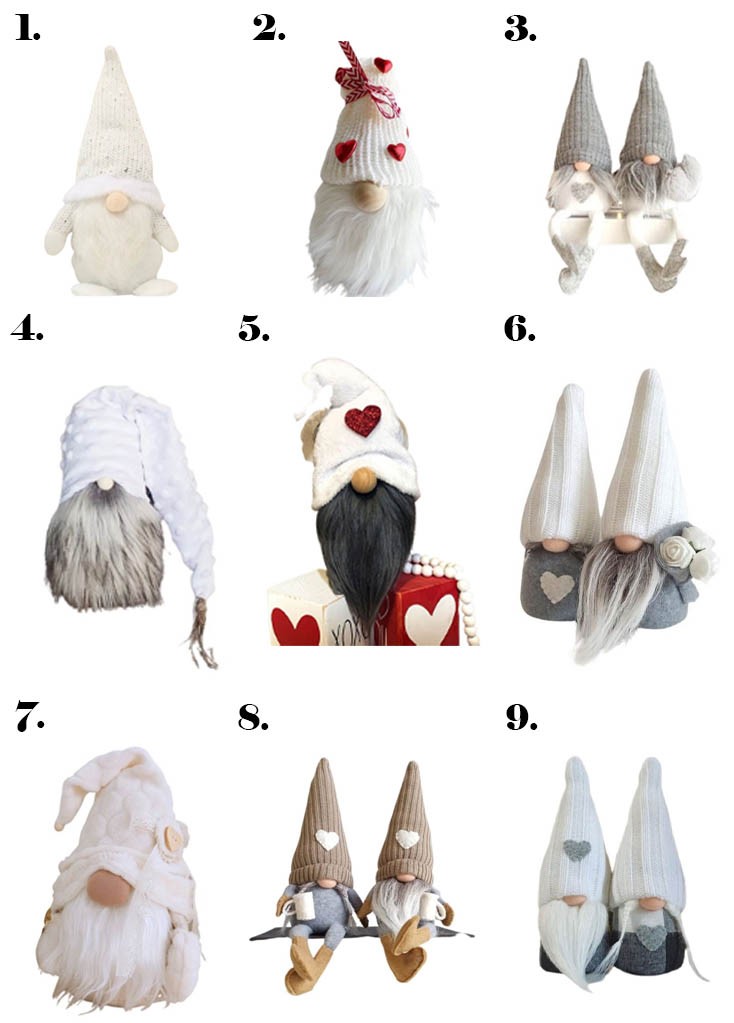 Sources: 1 l 2 l 3 l 4 l 5 l 6 l 7 l 8 l 9
Aren't these adorable? There's just something happy about these gnomes that whenever I look at them, I can't help but smile!
The great thing about this section is you can decorate these particular gnomes year-round since white is one of those colors that works every season or holiday.
Now, for those people who are dying to see pink… keep scrolling!
PINK GNOMES
Woo hoo! Finally, we have made it to the part most of you (including me) have waited for. Now, if you're someone who goes all out on Valentine's Day like I do, here is your type of gnome.
I present to you pink Valentine's Day gnomes!
Here you will find every shade of pink possible within these charming characters. I guarantee you will find one (or two) to bring home.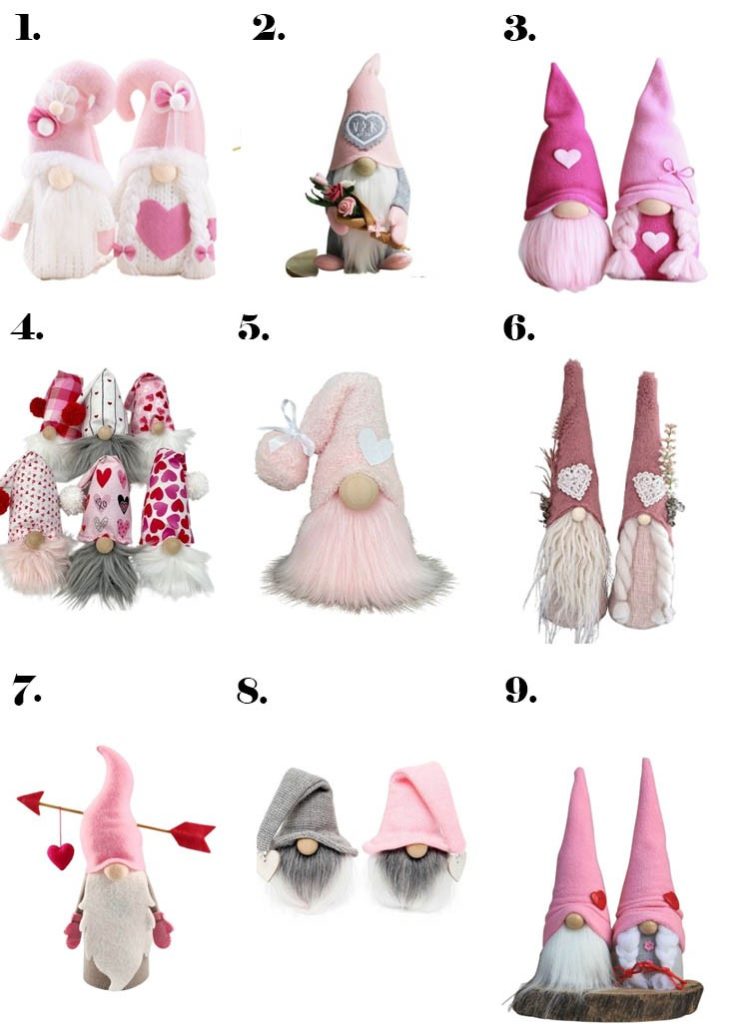 Sources: 1 l 2 l 3 l 4 l 5 l 6 l 7 l 8 l 9
Wow. This might be one of the cutest Boutique of the Week blog posts yet.
If you thought the white gnomes were terrific, look again because I'm pretty positive this pink selection will knock your socks off.
Pink fans, I got you. Once decorated, these gnomes will bring happiness, love, and good vibes into your home without a doubt.
RED GNOMES
Last but certainly not least, here is a collection of red gnomes. Red is one of the most important colors for Valentine's Day because it is symbolic of the heart.
I chose these specific gnomes with love from my heart in hopes that someone likes to select one or many gnomes to place in your home as I have in mine.
There are many different ways to decorate for Valentine's Day but using gnomes is unique.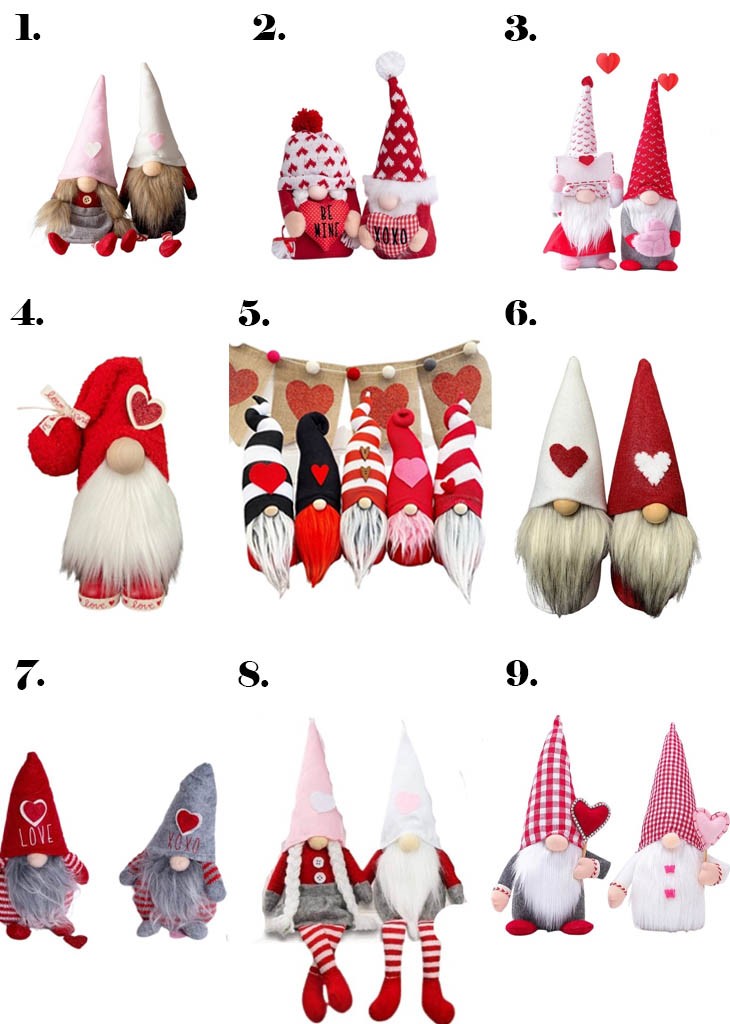 Sources: 1 l 2 l 3 l 4 l 5 l 6 l 7 l 8 l 9
I can't say enough good things about this collection of Valentine's Day gnomes, but believe it or not, I have convinced myself to purchase more to add to my ongoing collection!
Let's hope I'm not the only one who has decided to purchase one or two of these adorable characters. And besides, the more cuteness in your home, the better 😉
Valentine's Day is by far one of my favorite holidays to decorate because of the colors. I chose white, pink, and red gnomes because those are the primary colors of Valentine's. Also, they resemble kindness, love, friendship, safety, and all of those good things we desire in life.
I wanted to come on here and say that I appreciate you. I know I've said this before in almost every blog post, but it's true. I want you to know, whether you've been here since the beginning or you're a new friend, I notice and appreciate your support more than anything.
Thank you. Let's celebrate this Valentine's Day and everyday by spreading love to everyone.
WANT MORE POSTS LIKE THIS? HERE ARE A FEW OTHER VALENTINE'S DAY DECOR IDEAS
---
Happy Wednesday!
Hello everyone! I hope you're having a great day so far, and I also hope you were able to find a gnome (or two) in this collection of Valentine's Day gnomes! These gnomes brought a smile to my face, and I'm looking forward to decorating my home with a few of them once they arrive.
It's been a busy week, my friends, so I'm off to decorating and creating! Catch me on the blog.
Have a wonderful day,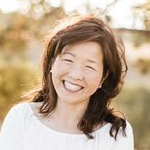 Latest posts by Janine Waite
(see all)