Get cozy for the lovely holiday with these Valentine's Day Pillows. With this collection consisting of pink, red and white pillows, there is something here to decorate your home with.
Even though Valentine's Day is less than a week away, there is still time to decorate. Here you will find an adorable yet stylish pillow to add to the bed, couch, or favorite chair.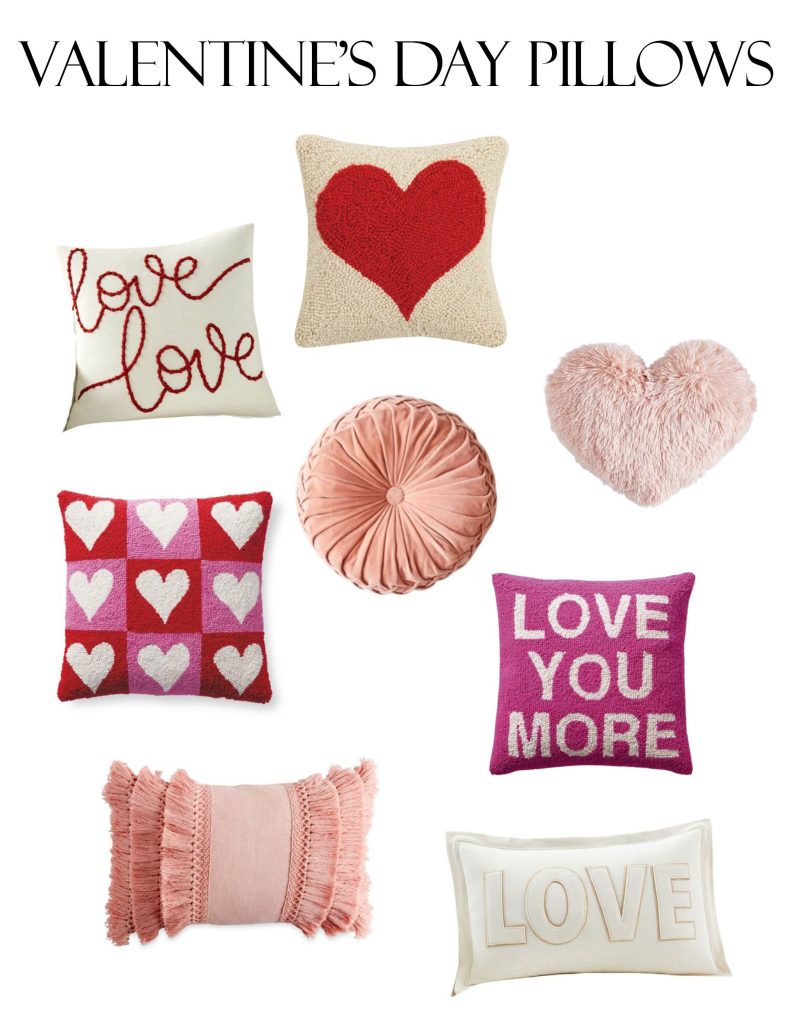 All of my pillow fans out there, here is the post for you. It seems every couple of months, my pillow collection grows. I can't help it. So when I see a good deal, I can't pass it up.
Can anyone else relate? Let's hope I'm not the only one.
Since you've clicked on this post, I assume you must also be a fan of pillows. I'm glad you're here because this collection of Valentine's Day pillows is one of my favorites and will indeed become one of yours too.
When Valentine's Day rolls around, I can't decorate my home without pink decorations. It's a must for a holiday. Luckily, if you're not that big a fan of the shade, there are red and white pillows to cure your pillow obsession. This whole collection can balance any style you may have created in your home, I guarantee it.
Now's the chance to find a pillow (or three) to create that homey look for Valentine's Day!
Pink Pillows
Red Pillows
White Pillows
Valentine's Day Pillows
Browse on to see these pillows!
Valentine's Day Pillows
*This post contains affiliate links
PINK PILLOWS
We are starting strong with my favorite color, pink! This section of pillows is full of adorable choices to choose from, whether you want a light, medium, or dark shade of pink. But, of course, you can never have enough pink when decorating for Valentine's Day.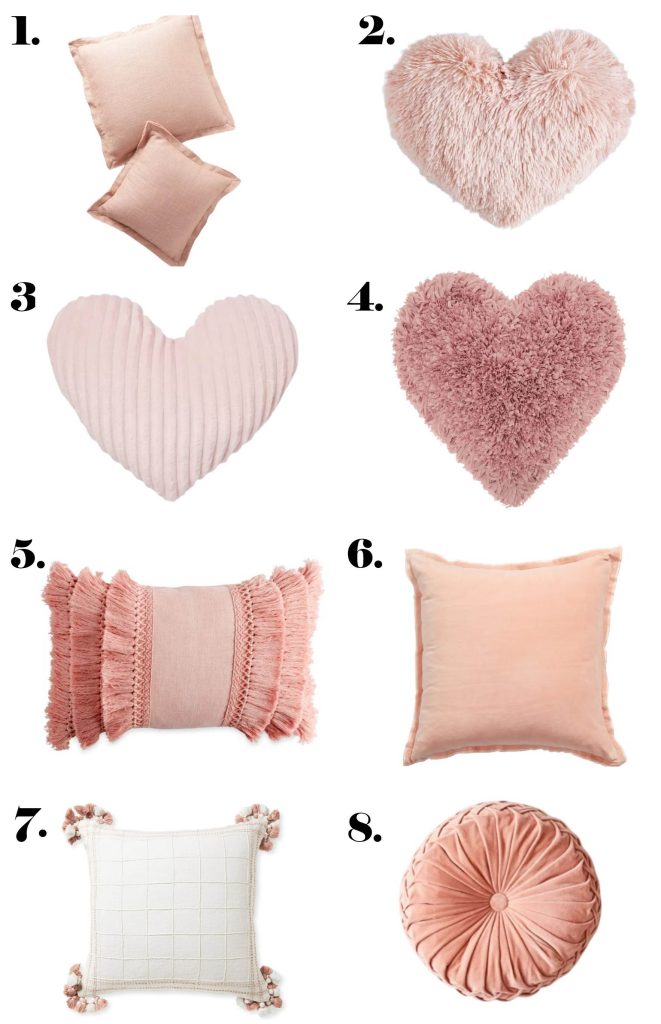 Sources: 1 l 2 l 3 l 4 l 5 l 6 l 7 l 8
RED PILLOWS
If you want to go bold, go red. These Valentine's Day pillows are something special because who wouldn't love a perfect-sized, comfortable pillow to snuggle with? I sure would, and this selection of red pillows will have you wanting every pillow in this post.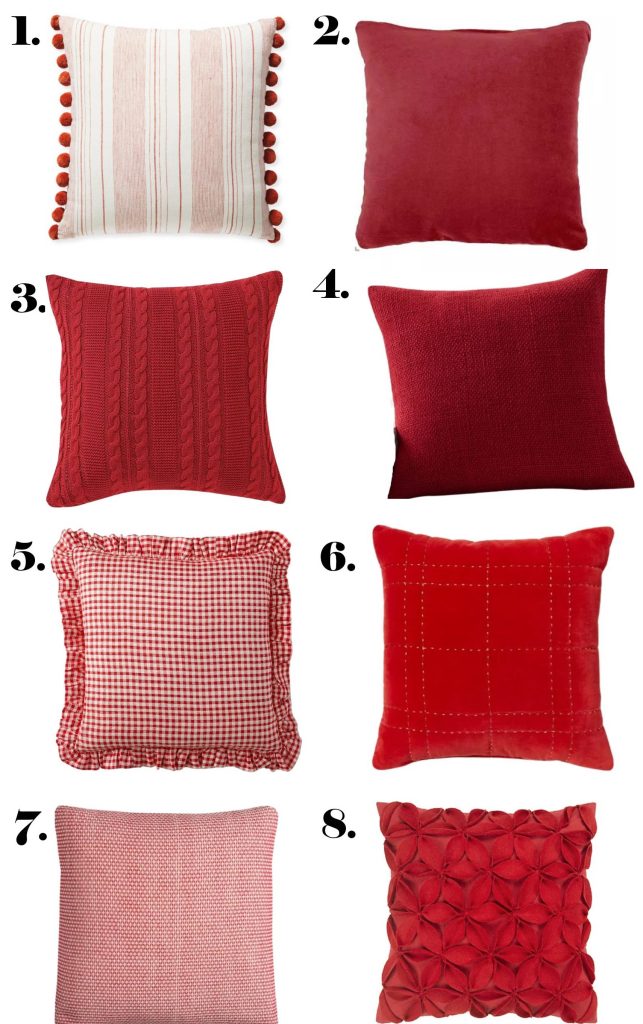 Sources: 1 l 2 l 3 l 4 l 5 l 6 l 7 l 8
WHITE PILLOWS
Here is a collection of white Valentine's Day pillows because sometimes styling with simple accessories is better than going big and bold. I can't tell you how many white or cream-colored pillows I have, but it's a lot, and the number is growing by the year. So, for all the pillow people out there, here is your collection of casual pillows for Valentine's Day.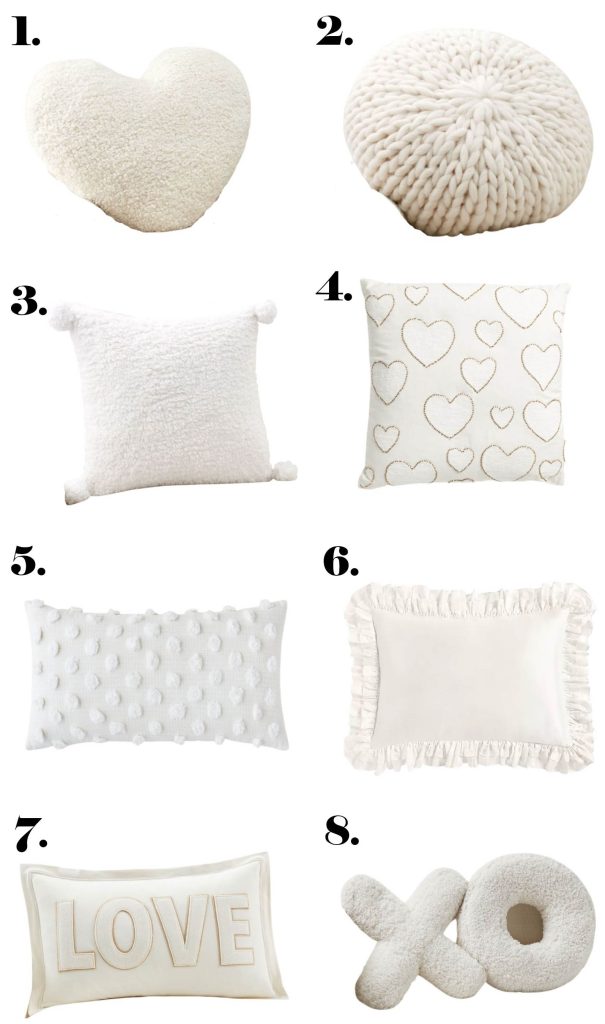 Sources: 1 l 2 l 3 l 4 l 5 l 6 l 7 l 8
VALENTINE'S DAY PILLOWS
Check out these fun and cute Valentine's Day pillows with swoony sayings and adorable designs. This collection will not only make you smile whenever it's snuggle time but will look fantastic in your home. Believe it or not, I am one of the few people who love reading silly sayings that are sometimes considered "cheesy" to the teens, but I love them! So shoutout to the people like me who love corny quotes, this selection of Valentine's Day pillows is just for you.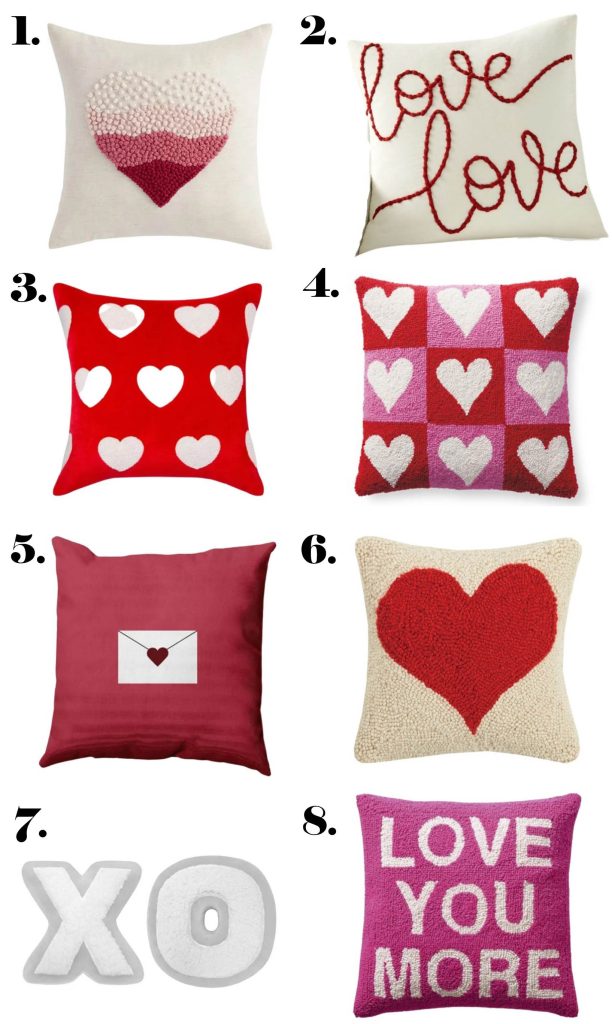 Sources: 1 l 2 l 3 l 4 l 5 l 6 l 7 l 8
WANT MORE POSTS LIKE THIS? HERE ARE A FEW OTHER VALENTINE'S DAY IDEAS
---
Happy Wednesday,
How are you celebrating Valentine's Day? Hopefully, you can do something fun with your partner, friends, or family. On other matters, I also hope you found a comfy pillow from this collection of Valentine's Day pillows! I added a few fuzzy pieces to my wish list and can't wait until they arrive.
Stay tuned for more desserts, decor ideas, and posts like this!
Much love,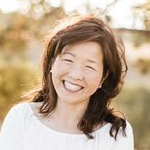 Latest posts by Janine Waite
(see all)