Time to celebrate a little early with this collection of Valentine's Day Squishmallows. Gift these adorable plush toys to your kids to see their faces light up with joy.
Today's post is all about Valentine squishmallows, including sizes mini to large, along with a keychain collection of cute creatures.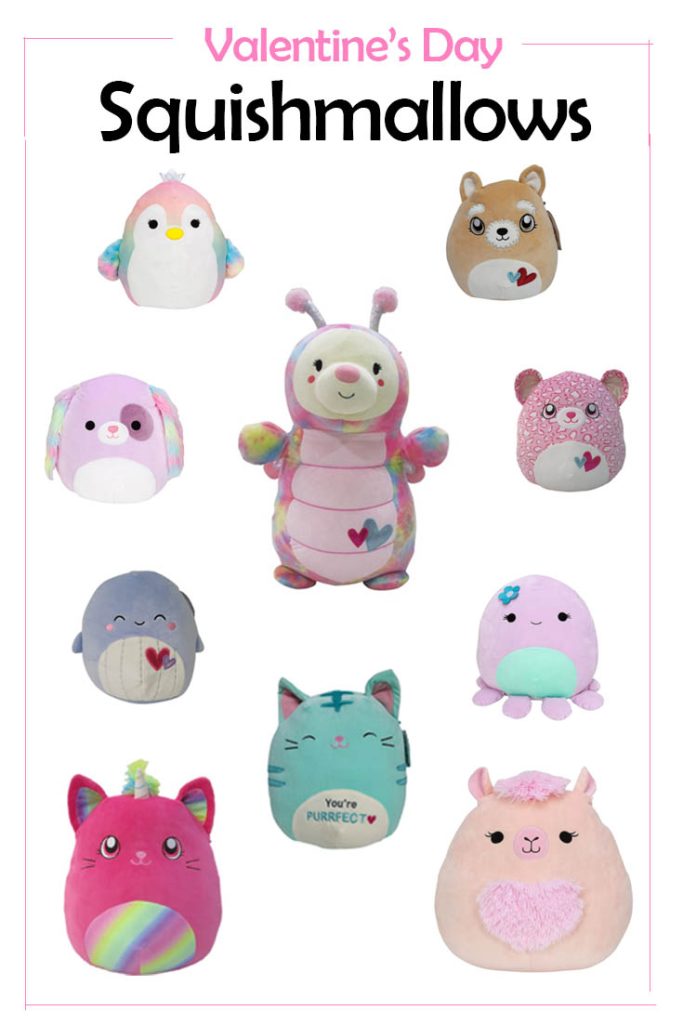 Ever since moving to California, I have seen squishmallows everywhere, especially keychains. When dropping my daughter off at school, I would see kids her age with tons of these adorable toys attached to their backpacks.
Even though ten years have passed and my daughter is now 20, I still see kids in our neighborhood with squishmallow keychains.
After doing my research, these fun creatures are super popular among young kids! If you're wondering what it is, a squishmallow is a plush-filled toy that is soft, so soft that it feels like you're hugging a marshmallow.
Wow, your kid or kids, and surprise them with one of these adorable Valentine squishmallows. Big or small, there is every color, size, and type of animal in this collection of Valentine's Day squishmallows.
Keep the trend of these fuzzy friends going by gifting a few or keeping a few for your family and start your collection. Besides, who wouldn't want to snuggle with these stuffed animals during movie night or before bedtime? If I could turn back time and go back to the prime time of 10 years old, I would love these Valentine squishmallows.
Now's the chance to be the super mom/dad you are and get one (or two) for your kids.
Mini Squishmallows
Large Valentine's Day Squishmallows
Keychain Squishmallows
Browse on to see this collection of Valentine's Day Squishmallows!
Valentine's Day Squishmallows
*This post contains affiliate links
MINI SQUISHMALLOWS
I'm starting this collection with mini Valentine squishmallows because why not? These plush toys are adorable, affordable, and perfect for your kid. Back in the day, my daughter would have loved these. But, believe it or not, she still thinks they are the cutest characters!
These mini squishmallows are here for your younger kids if they seem to enjoy smaller stuffed animals more than larger-sized ones. I know everyone has their preference, so I'm here to give you options.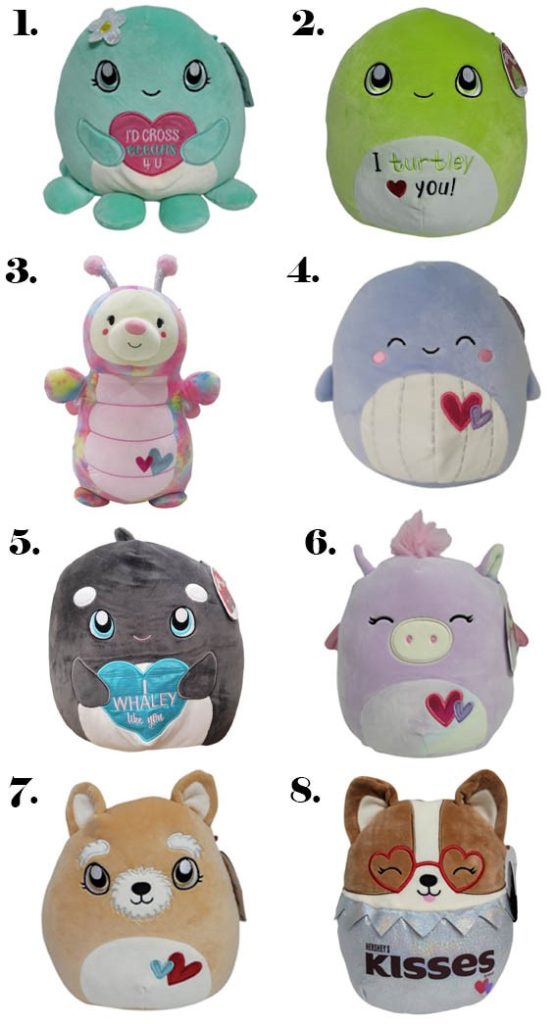 Sources: 1 l 2 l 3 l 4 l 5 l 6 l 7 l 8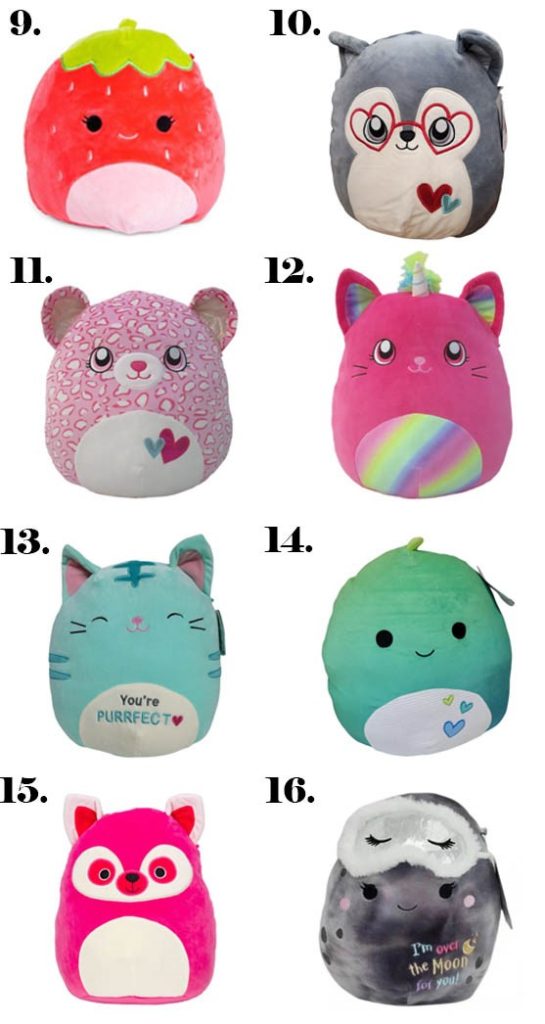 Sources: 9 l 10 l 11 l 12 l 13 l 14 l 15 l 16
I can't believe I didn't write a post about these Valentine's Day squishmallows earlier. They are just too cute to handle! Don't stop now. Continue scrolling to see more.
LARGE SQUISHMALLOWS
When you thought the mini squishmallows were adorable, get a look at the large Valentine squishmallows! Now, I think these are my favorites. I was obsessed with giant stuffed animals when I was younger, like the kind you win at carnivals! These toys bring back so many good memories from my childhood.
Now, there are different types of animals to choose from in this collection, which is so fun! I made it this way, so if your kid or kids wanted to collect multiple animals, they could do so starting here.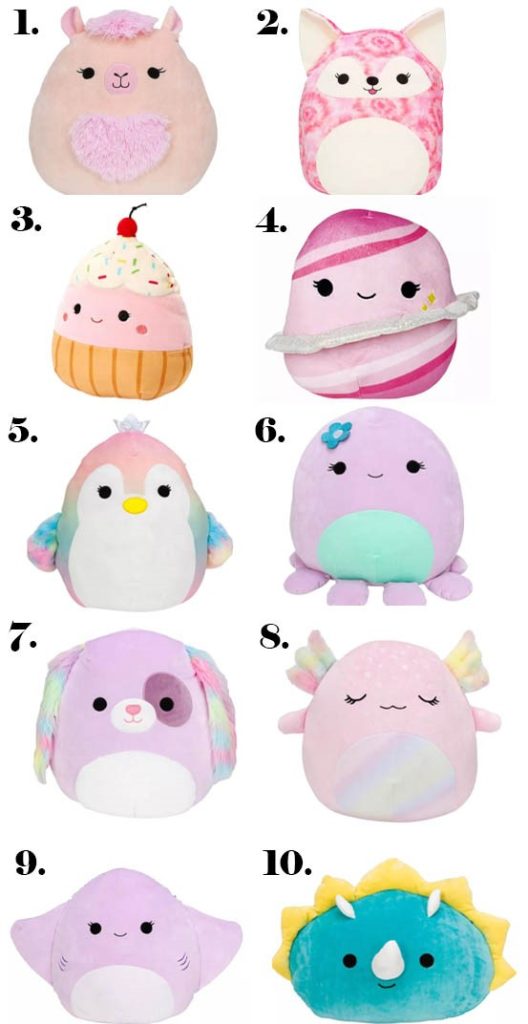 Sources: 1 l 2 l 3 l 4 l 5 l 6 l 7 l 8 l 9 l 10
After picking out these squishmallows, I found a few new family members born last year and thought these Valentine's Day squishmallows would be wonderful gifts for them. Not only are these plush animals kid-friendly, but they are affordable, accessible, and overall a wholesome first stuffed animal for a bit of kid.
KEYCHAIN SQUISHMALLOS
Last but certainly not least, here is a selection of keychain squishmallows. Now, these are the toys that grabbed my attention in the first place, and look at where we are now. These Valentine's Day squishmallows in keychain form are just as adorable and fun as the stuffed animals. It's a smaller-sized stuffed animal that can go wherever you go, whether it's on vacation, on the way to school, or a friend's house! Either way, it's the perfect accessory for a kid.
Plus, with enough of these, you can start a collection of cute squishmallows with your kids. I enjoy writing posts like this and making it for parents and their kids because there is nothing better than spending quality time with youngsters!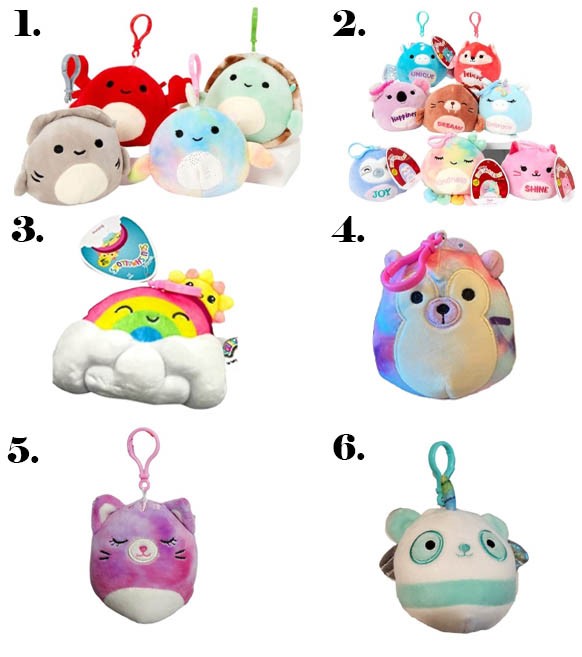 Sources: 1 l 2 l 3 l 4 l 5 l 6
I really can't say enough good points about these Valentine squishmallows. There's just something about these stuffed animals that makes me smile. Hopefully, looking through this collection of Valentine's Day squishmallows, you were able to find one (or two) plush toys for your kids. And if not, then I hope these adorable characters brought a smile to your face.
Wow! We made it to the end of this post. I have been blogging like crazy trying to publish many Valentine's Day contents so if you're new to the blog, take a look at my most recent Valentine blog posts to get a look at love from the blog.
WANT MORE POSTS LIKE THIS? HERE ARE A FEW OTHER VALENTINE'S DAY IDEAS
---
Happy Wednesday,
Cheers to being halfway to the weekend, and cheers to another Valentine's Day blog post! Can you believe that it's already February? I have lots of fun projects planned for this month, and I'm so delighted to share them with you.
One excitement that I can share with you is tomorrow is my son's 22nd birthday! We are welcoming him home from college and celebrating the weekend away.
In the meantime, I hope you have the time to check out these Valentine's Day squishmallows for your kids, and have a great rest of your week.
Much love,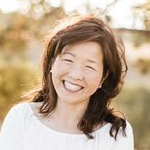 Latest posts by Janine Waite
(see all)