Early this week, I gathered up some gorgeous lilacs for this Beautiful Spring Table with Fresh Flowers, and I'm pleased with how it turned out. Lilacs have an oldfashioned feel that takes my breath away.
*The following post contains affiliate links
I always keep an eye out for any flower. Yes, I'm easily distracted when I drive and hike, and my eyes quickly spot gorgeous flowers that surround me. What most people see as just a freeway, I look at it as a field of wild lupines, poppies, and flowing cherry tree orchards. Lately, my mind is focused on creating a beautiful spring table with fresh flowers.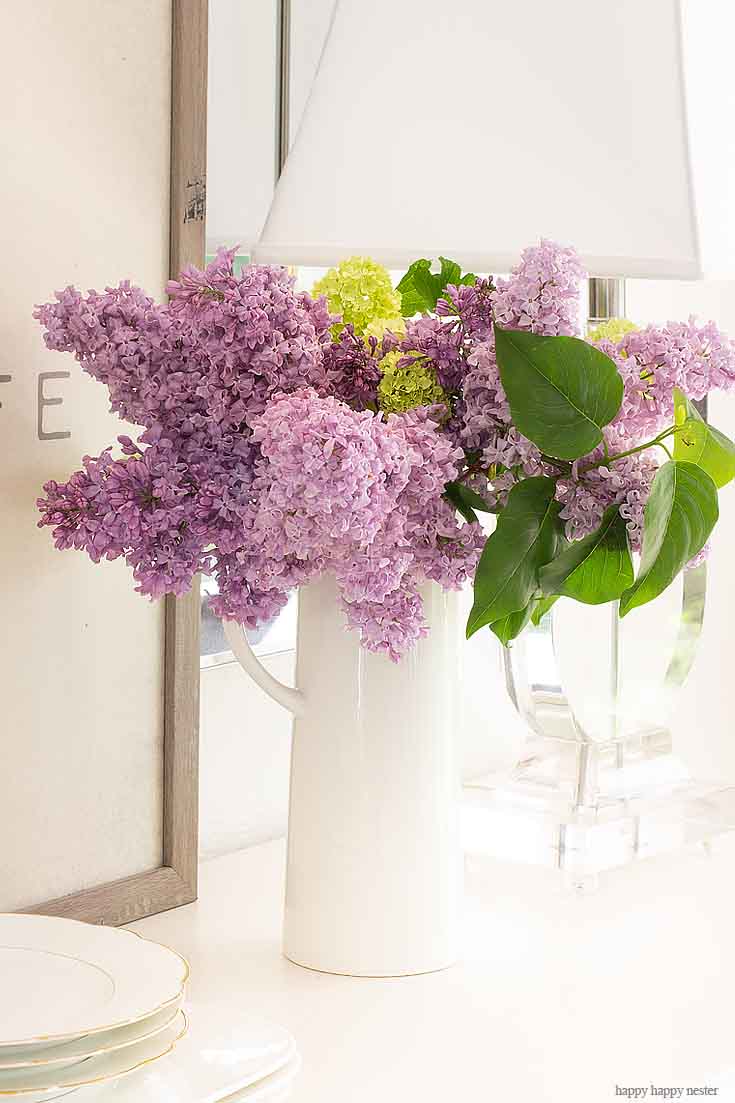 So, on my daily workout, I walk the hills in our neighborhood, and of course, I'm always noticing the various flowers along our path. Well, my friend and neighbor, Don has two magnificent and mature Lilac trees. So, the other day, I asked him if I could pick a bouquet of them. Of course, he said yes and reminded me daily to pick his flowers before they were gone. Gosh, I'm the luckiest blogger to have friends with flowers!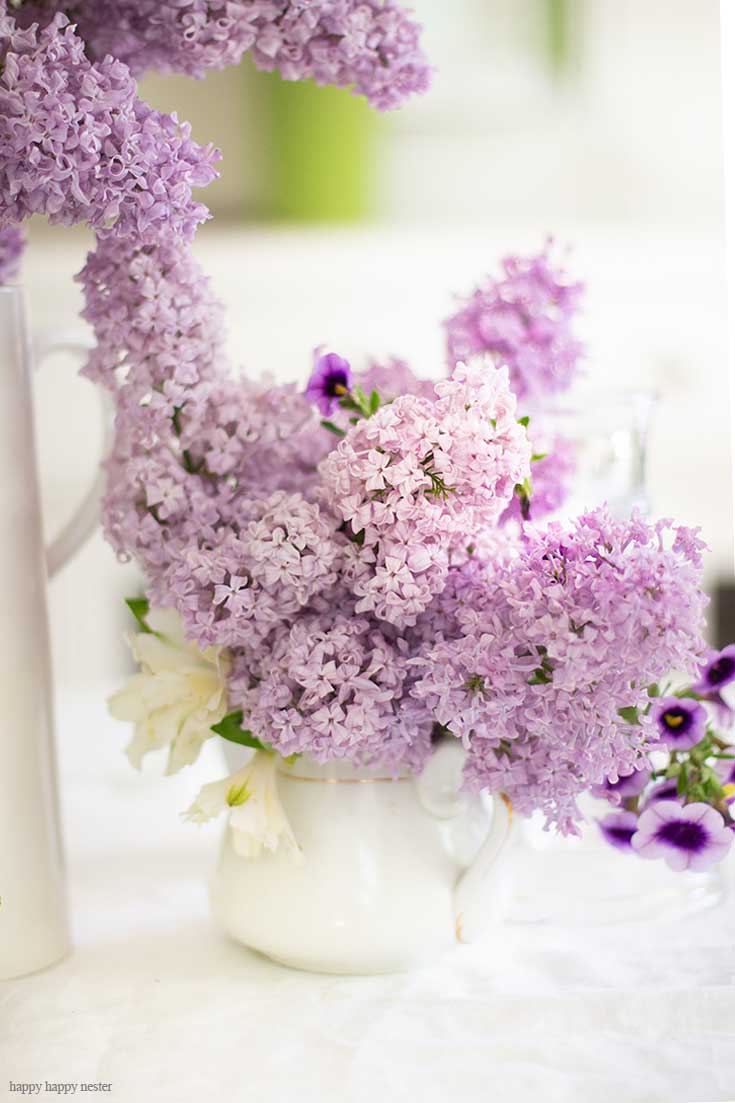 Beautiful Spring Table with Fresh Flowers
Well, on my Monday hike, we passed by Don's home at the top of the hill, and I plucked a big bouquet of them for my table. When I got home, I placed them in this glass vase and soon realized I needed more. So, the next morning, I hiked back up to his home and grabbed a smaller bunch for the little French pitchers you see in this photo.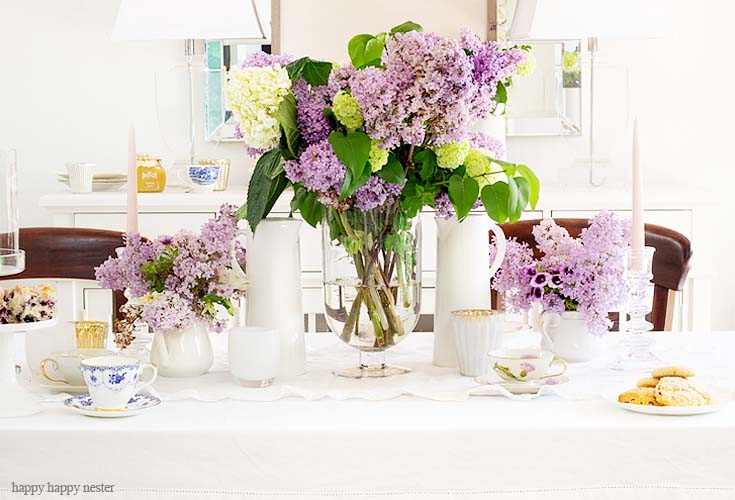 My little secret when designing my bouquet is don't be afraid to add flowers from your garden. You see, I added some of my purple petunias, white snowball blossoms, Alstamerias, and Rosa Banks branches. Your garden is an excellent resource for greenery and flowers.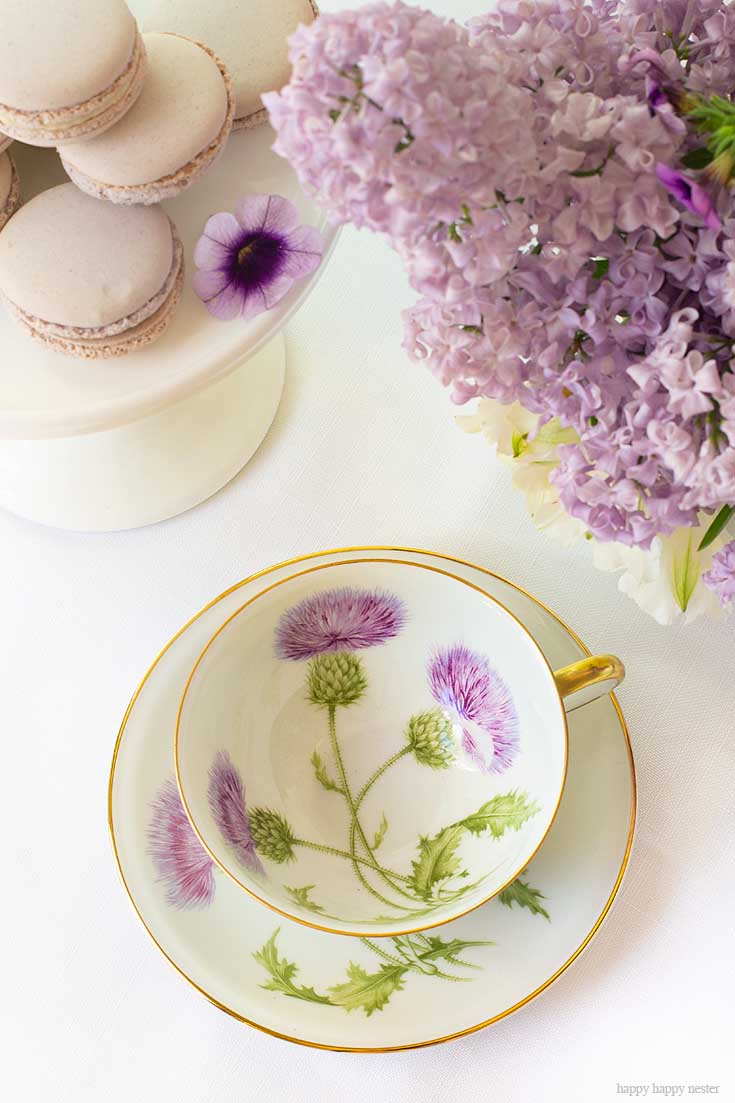 So, as you know, I love flowers, and I'm always picking them from my yard and other places. I have a fond memory that takes me back 19 years ago next month.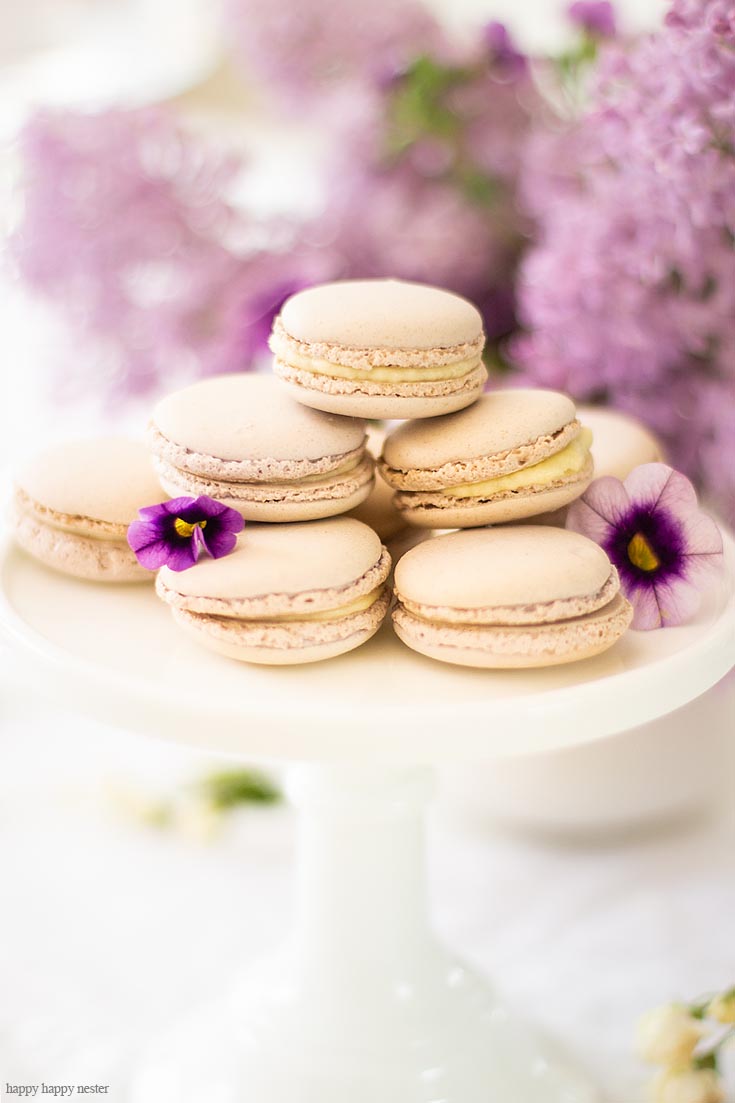 We were over in the country Kazakhstan on a trip to adopt our infant son. We were standing right outside the hospital with our newborn, and we were observing all the surroundings. We wanted to take in every nuance of our son's birthplace so that we would retell it to him when he was older.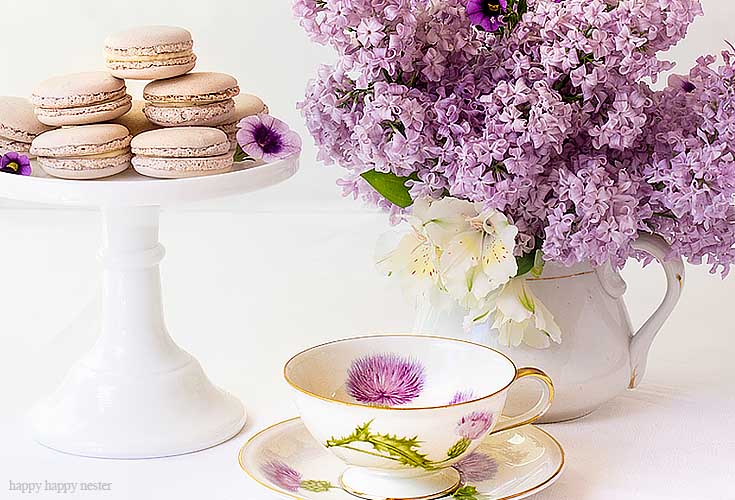 Well, this woman was waiting for the bus, and she spied some beautiful lilacs just beyond the bus stop. She quickly walked over and plucked a few branches from the tree.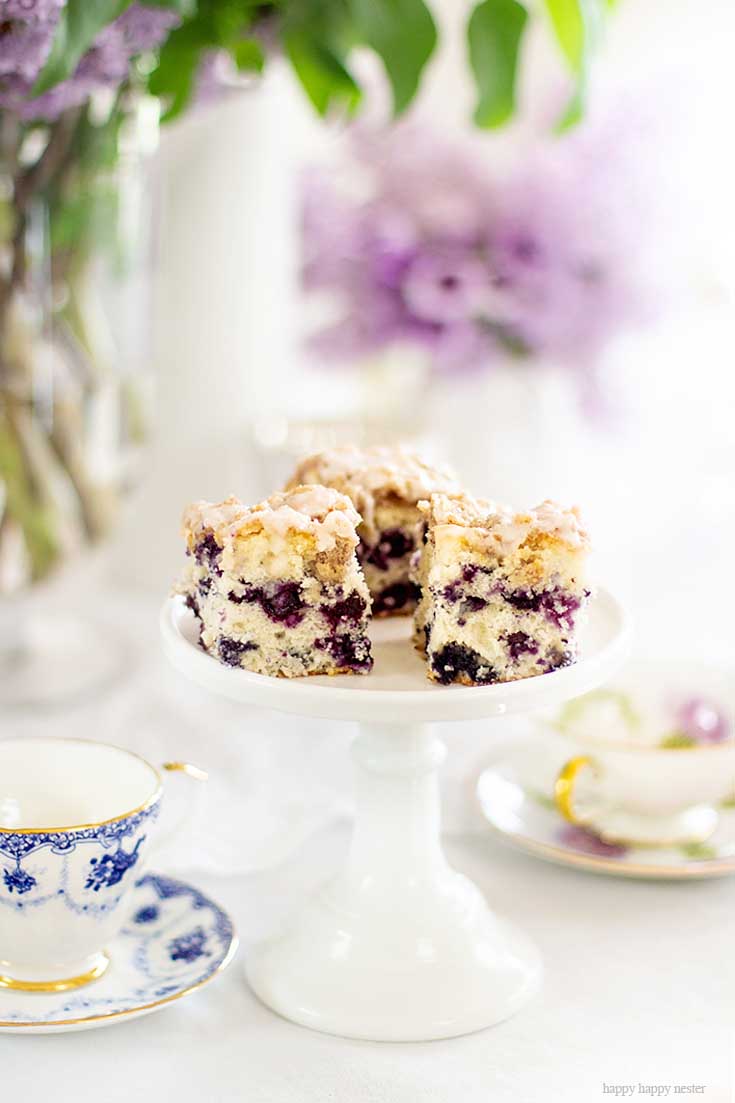 Unbeknownst to her, she didn't realize that the bus was about to drive off and she almost missed her ride! I was blown away at the thought that she is so similar to me and yet we live a whole world apart! I couldn't help but think that it is a small world after all. Flowers know no boundaries and I find they bridge the gap and bring us all together.
Ok, on another note, I need to mention that this photo captures my scrumptious blueberry buckle. You have to bake this easy blueberry coffeecake recipe!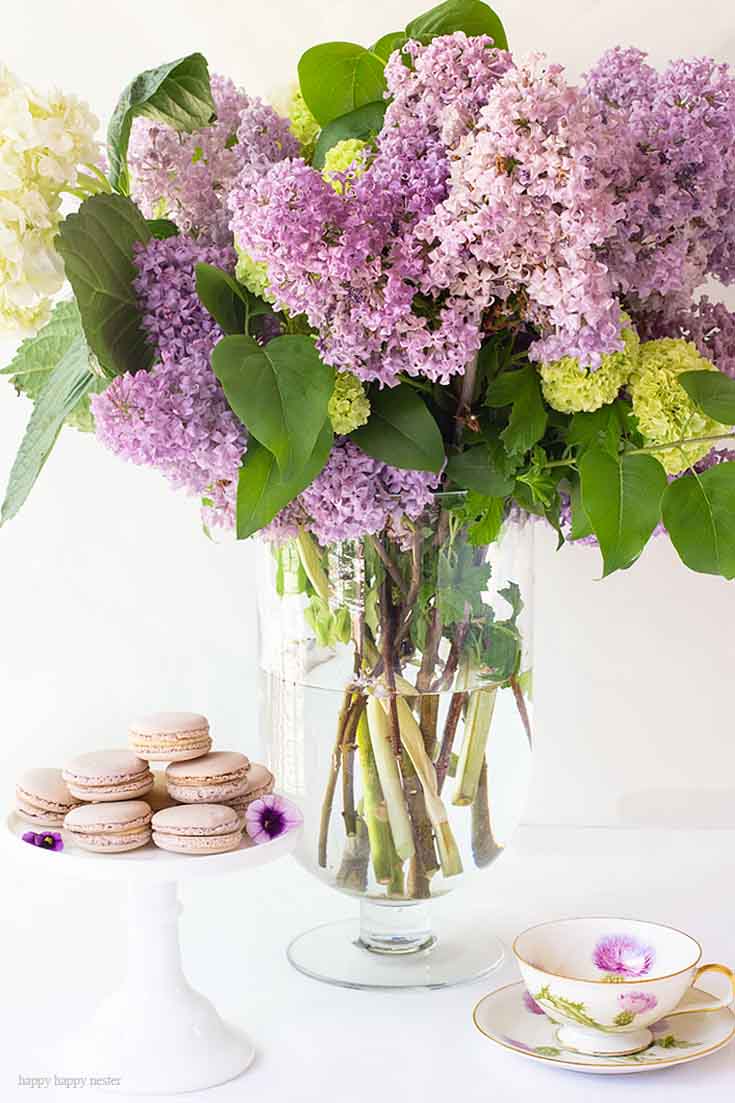 Also, the cookies pictured here are from my basic French macaron recipe that you need to try. Believe me when I say that these cookies are so scrumptious.
Well, I sure loved sharing this beautiful spring table with fresh flowers with you. I hope that it has inspired you to go out and grab some spring flowers from your garden and gather up some pretty teacups and get busy styling your spring table. So, if you want to see more posts of spring tables well, I have just the one for you. Ok, thanks again for your visit and have a great week.
Happy Decorating!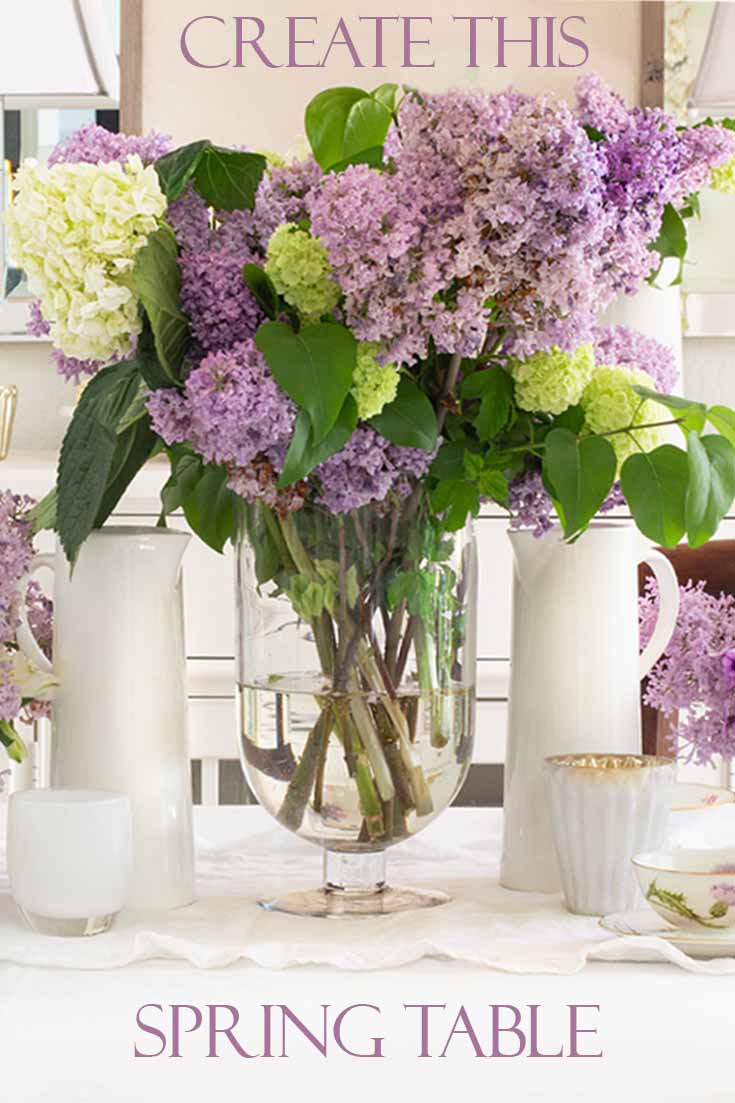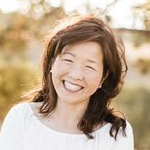 Latest posts by Janine Waite
(see all)