Fall Flower Centerpieces are rich with fall flowers. Autumn has some of the prettiest flowers to add to an arrangement. Dahlias, Chrysanthemums, Zinnias, Sunflowers, and more.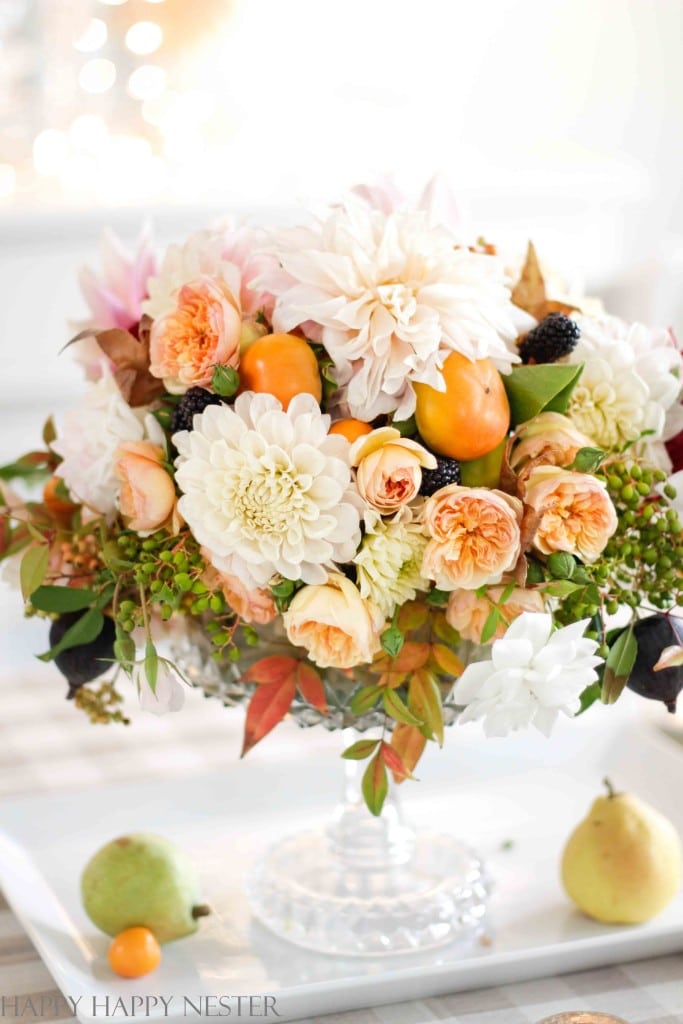 I've rounded up some beautiful fall flower arrangements that I hope will inspire you. The collection includes many styles and flowers so I'm sure you'll find something you'll like.
I feel fabulous flowers are abundant this time of year. As we begin to move indoors after a long warm summer, it's nice to extend pretty flowers into our homes. The best way to do that is by adding fall flowers.
If you don't have flowers available at your local store, try making a foraged bouquet or a succulent arrangement.
There are so many options for fall centerpieces.
Let's look at 18 unique bouquets from my and my friend's collections!
Fall Flower Centerpieces
As I began this post, I was surprised to find that I've created quite a few flower bouquets. I must admit that it's kind of nice to have them all together in one post!
I also gathered some beautiful flower arrangements from my talented friends.
I think you'll enjoy perusing all these fantastic and inspiring floral arrangements.
So, grab a warm cup of coffee or tea and hang out.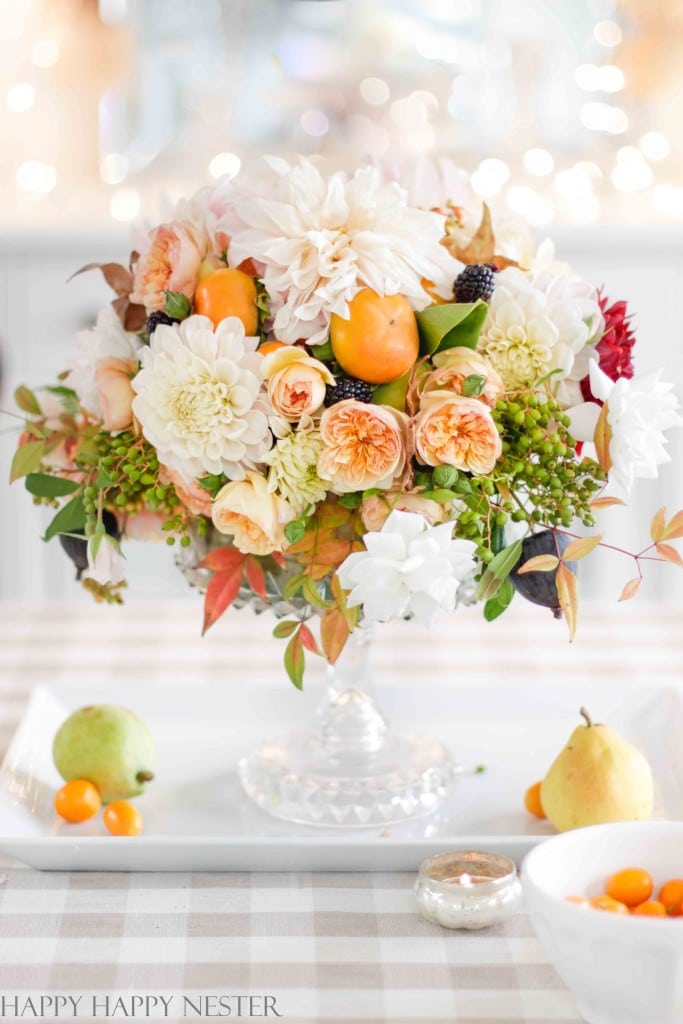 Add Fruit To Your Arrangement
There is a bounty of fruit in the Fall, so why not add it to a pretty flower arrangement? Check out how to make a flower arrangement with fruit over the DIY post.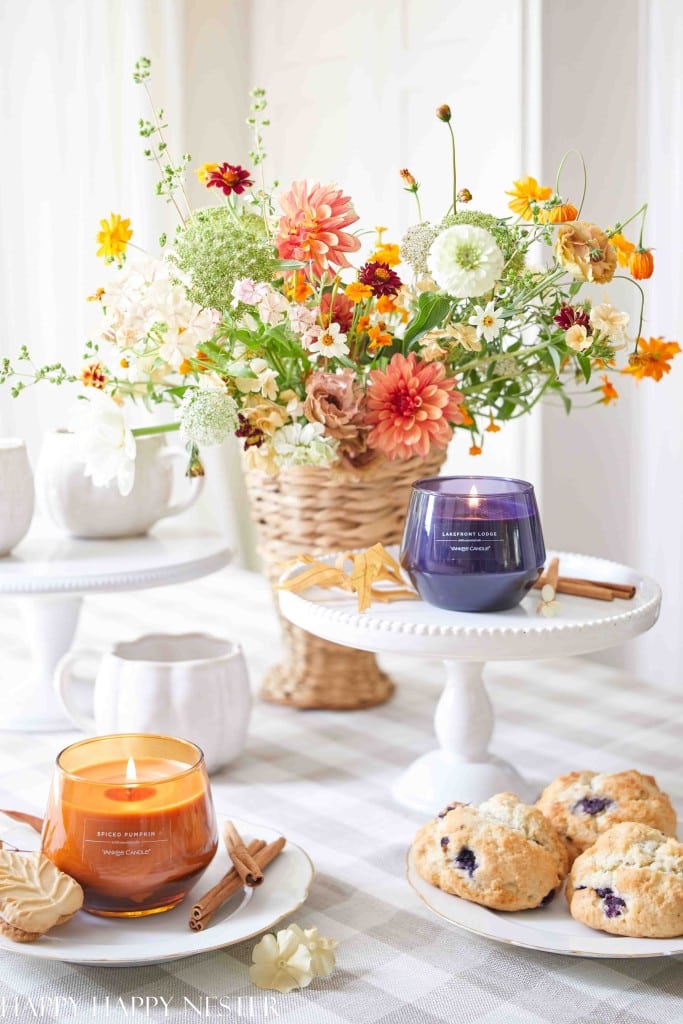 A Rattan Vase with Garden Flowers
Create a fun fall bouquet using a rattan basket. Add garden dahlias, cosmos, queen ann's lace, and more to create this organic style centerpiece for Fall. I lined this with a plastic Ziploc baggie, transforming it into the cutest vase.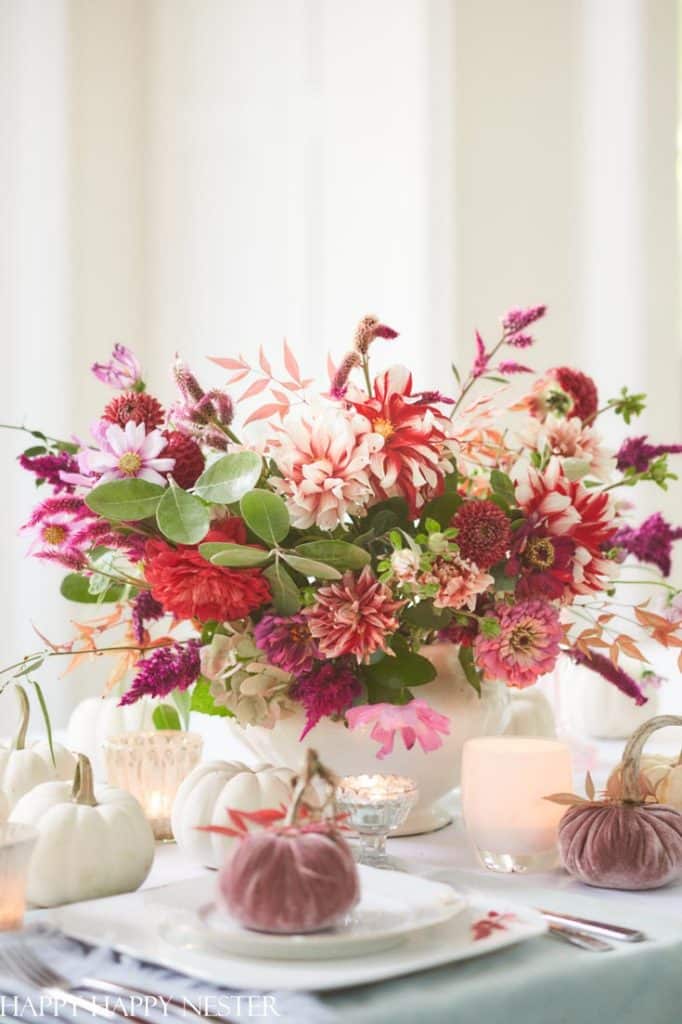 Fall Dahlias and Zinnias
Create a pink and red tablescape that is not your ordinary traditional fall table this Fall. Dahlia and zinnias take center stage on this pretty fall table.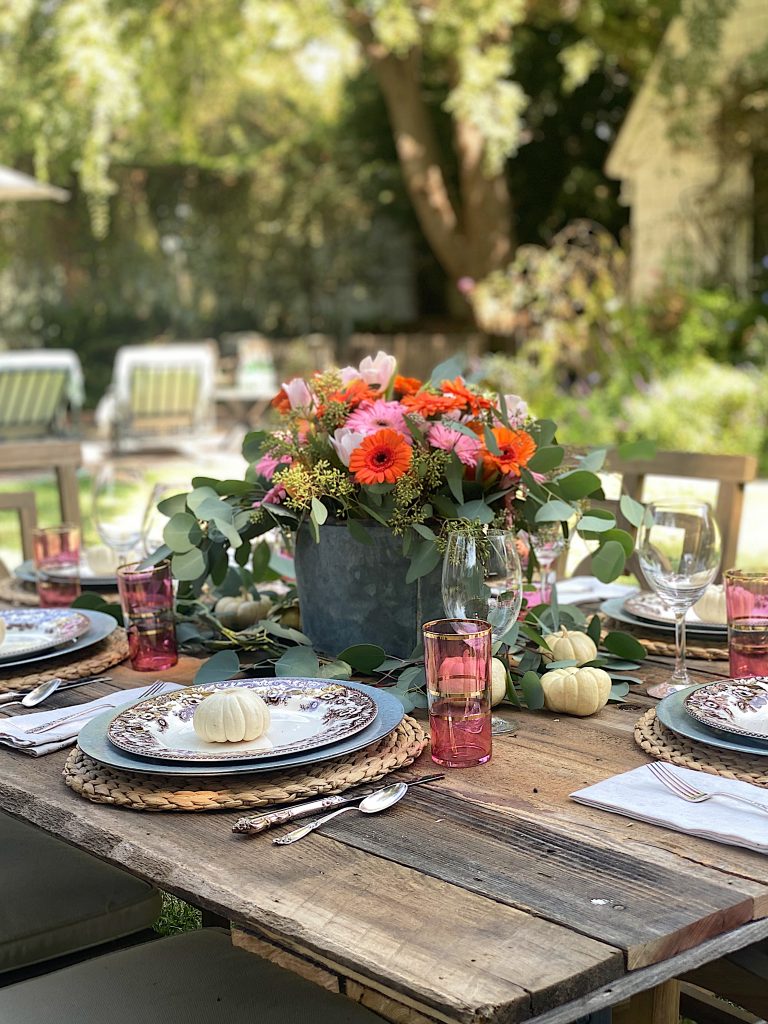 Gerber Daisy Bouquet
Fall Flower Arrangement from My 100 Year Old Home is elegant and gorgeous! Leslie always has such beautiful outdoor table decorations.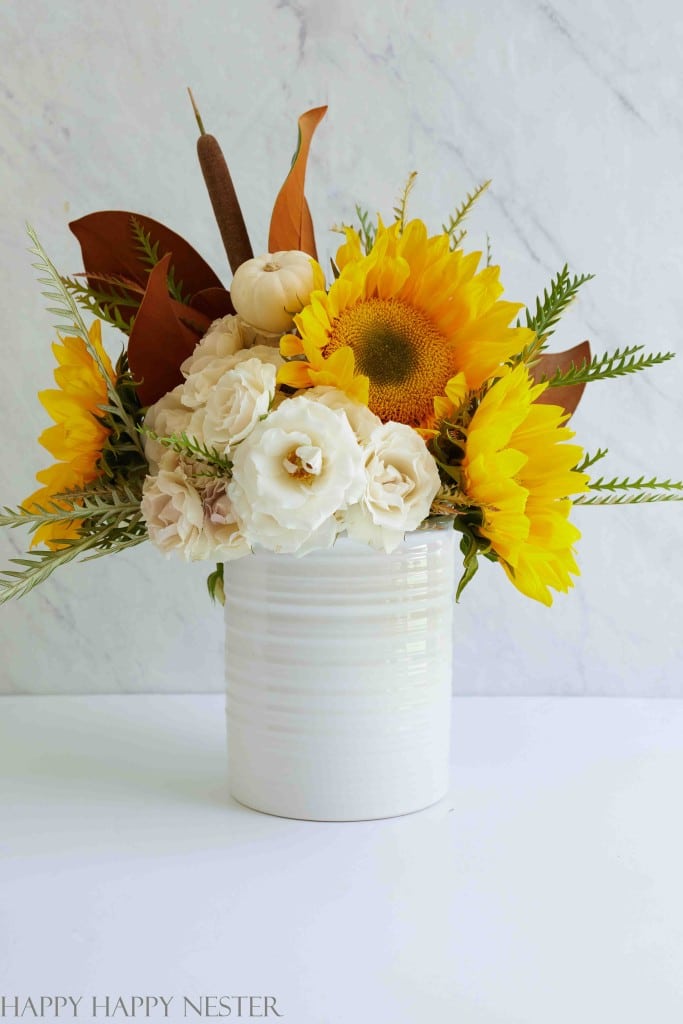 Sunflower Arrangement
Sunflowers are best in the Fall! This Trader Joe's arrangement is not only simple, but I share the exact flowers and greenery you need over on the post. Combine them with some fall leaves and cattails, and it's a happy sunny fall bouquet.
Fall Rose Bouquets
I love everything Leslie from My 100 Year Old Home creates. This Fall Table Decor Ideas post is packed full of great ideas! Leslie is such a great hostess and event decorator.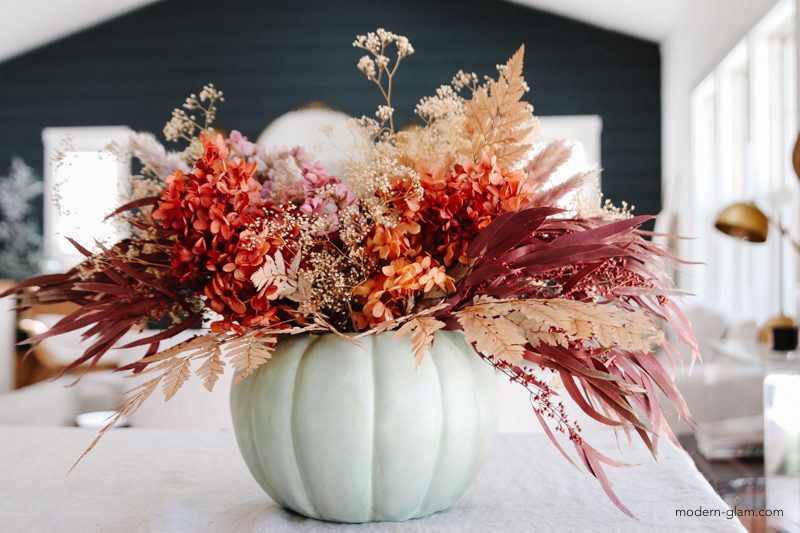 Dried Floral Arrangement
Ashley always has such a fantastic twist on decorating. And this beautiful fall bouquet is another one of her grand arrangements! The pumpkin Centerpiece with Dried Flowers is from Modern Glam.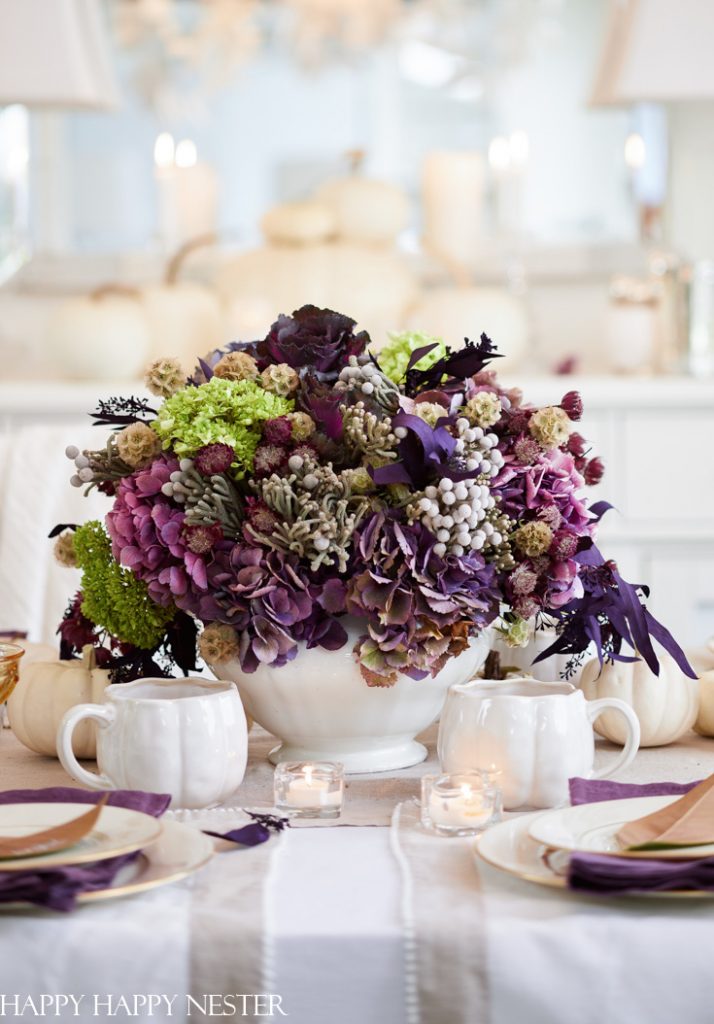 Hydrangea Arrangement
Combine purple and green hydrangeas with some fun fall cabbage. This rich and stunning bouquet is perfect for a non-traditional fall table. Place it on a white and tan table setting, and the flowers will pop as a gorgeous accent!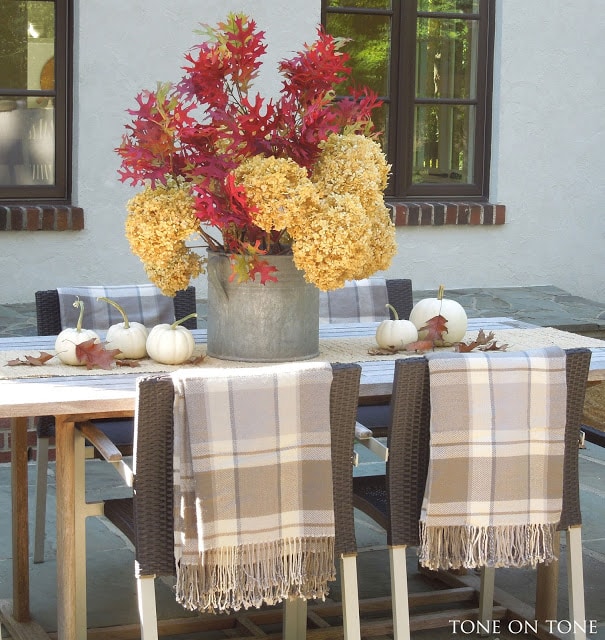 Fall Leaf Bouquet
Welcoming Fall with a Beautiful Floral Arrangement by Tone on Tone Design is stunning! Loi always creates low-key and simple floral bouquets from his garden! I love his style and home!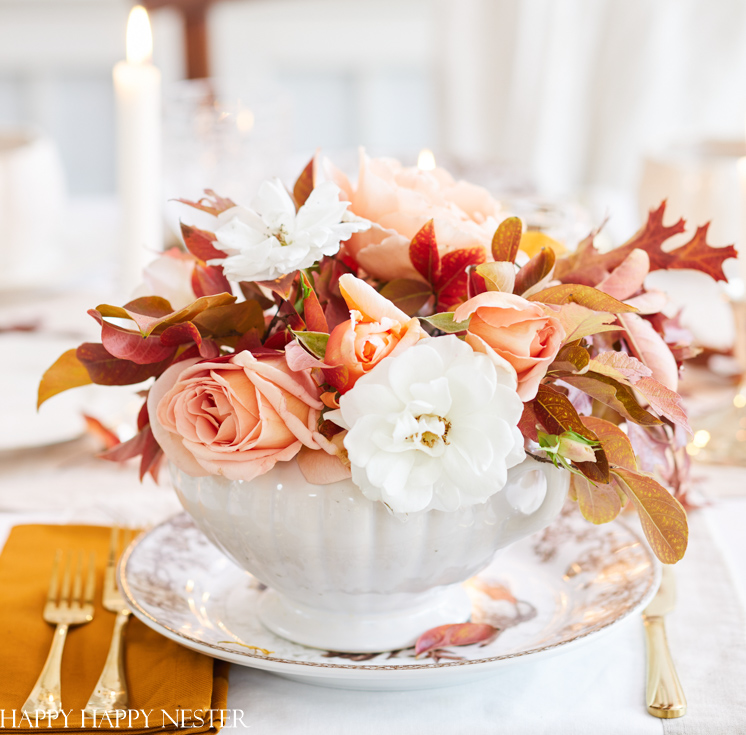 Fall Leaves and Roses
All the flowers and leaves came from my garden. So this inexpensive bouquet is perfect for a fall table! Place the floral arrangement in a white soup tureen and it looks gorgeous on a Thanksgiving table!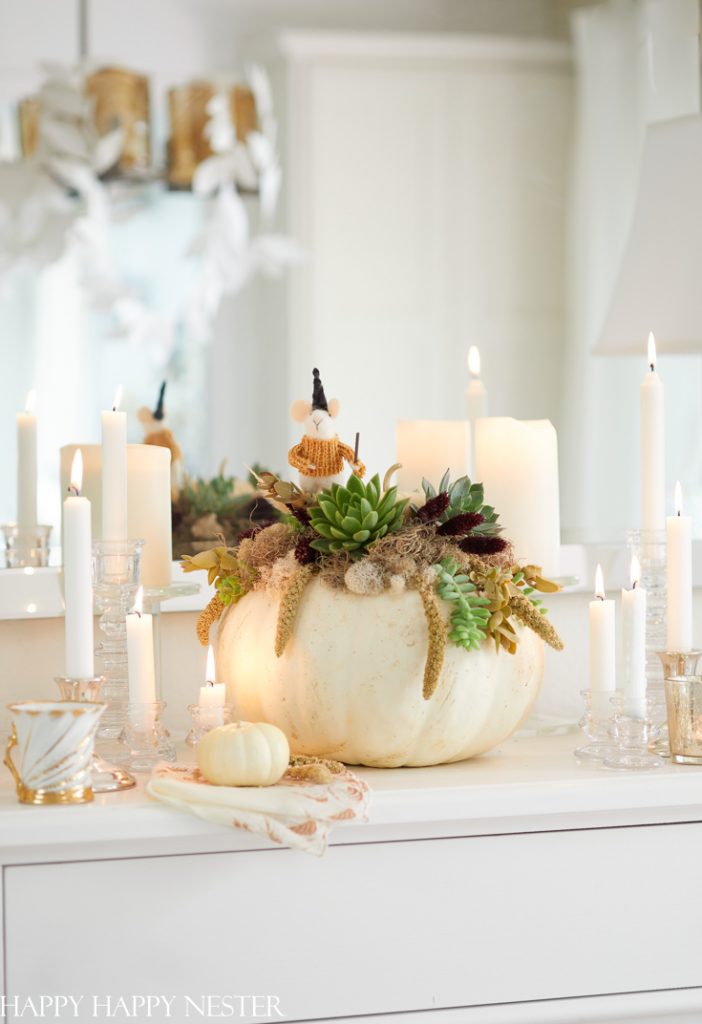 Succulent Centerpiece
I know this fall succulent pumpkin centerpiece is not a floral arrangement, but I included it here. The beauty of this centerpiece is that it lasts quite a few months. Make it this Fall and enjoy it through the holidays!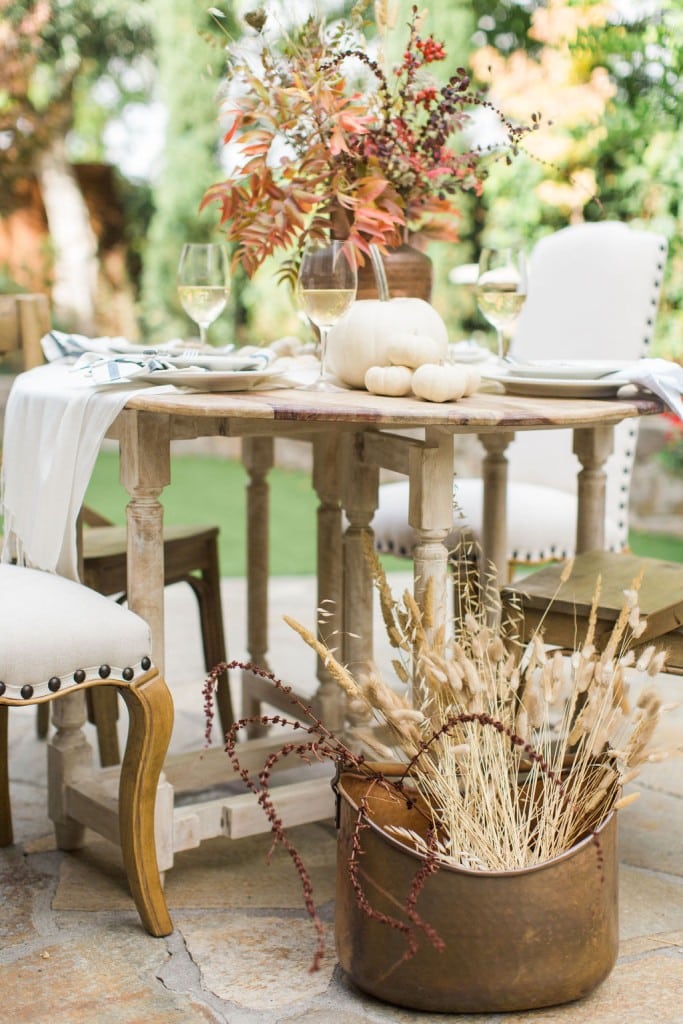 Foraged Centerpiece
A Foraged Centerpiece is one of my favorite types of arrangements to create. This lovely centerpiece by Finding Lovely is simple and beautiful!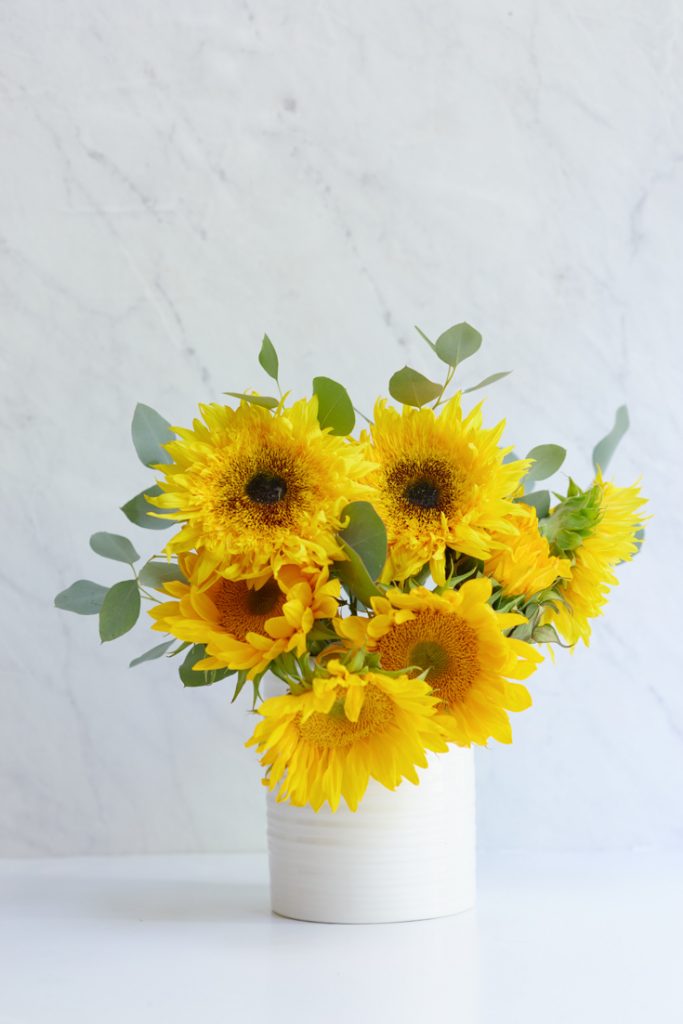 Easy Sunflowers
Sunflowers are always a fall favorite! Add a few eucalyptus leaves, and in minutes you'll have a pretty and cute fall centerpiece.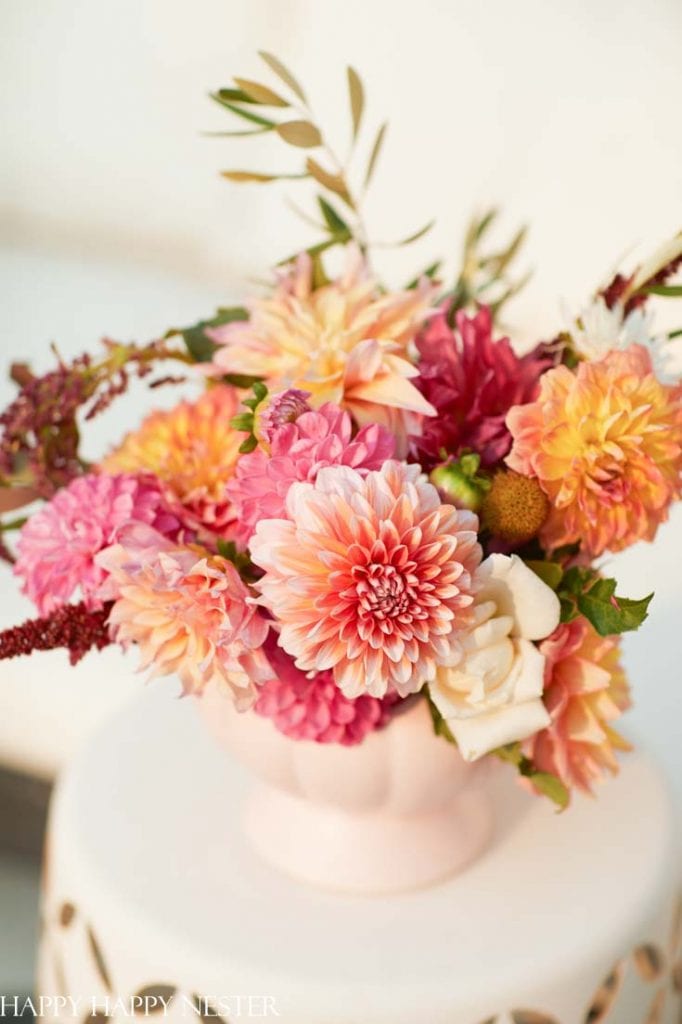 Fall Dahlias
I always love a vase full of fall dahlias. The colors are stunning, and the pink vintage vase is perfect for a non-traditional fall bouquet!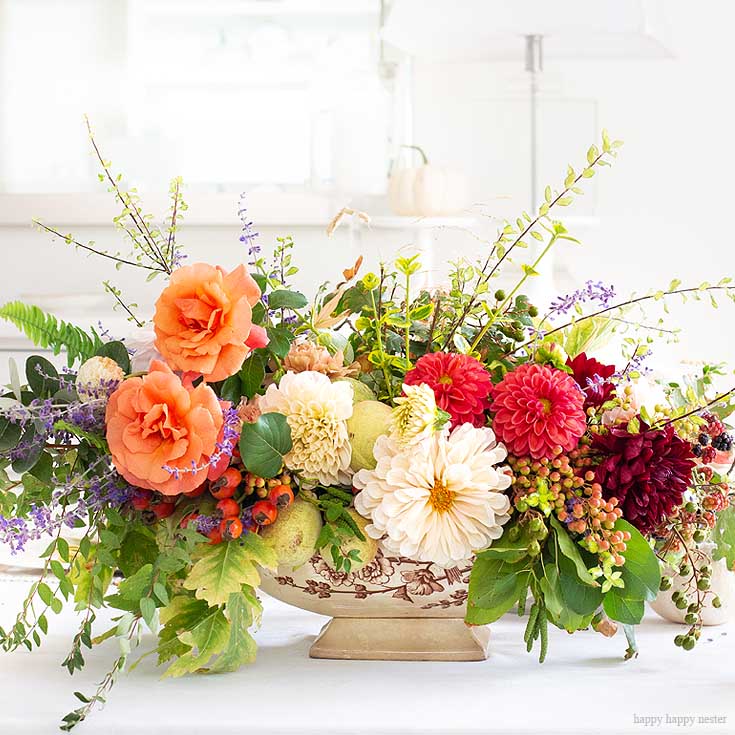 Beautiful Foraged Greenery
I always love a foraged floral arrangement. Plus, this arrangement costs about $5-$10 when completed! You have to love that price!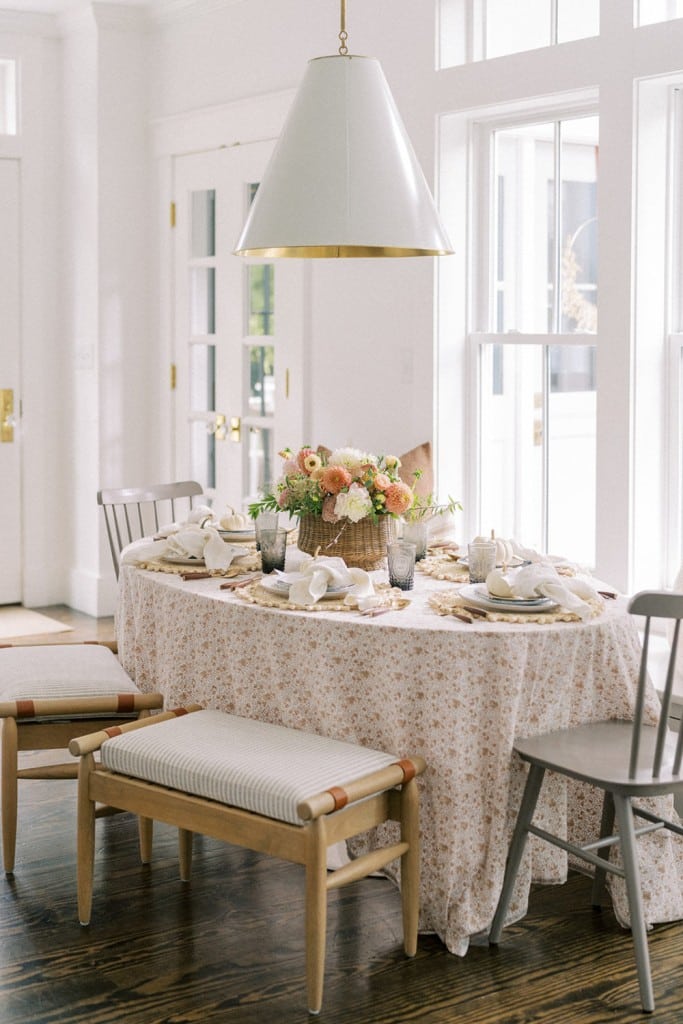 Pretty Fall Flowers in a Basket
Mix up your fall bouquet with a basket! I love this post, A Warm Fall Table by Finding Lovely. Everything Jackie creates is terrific!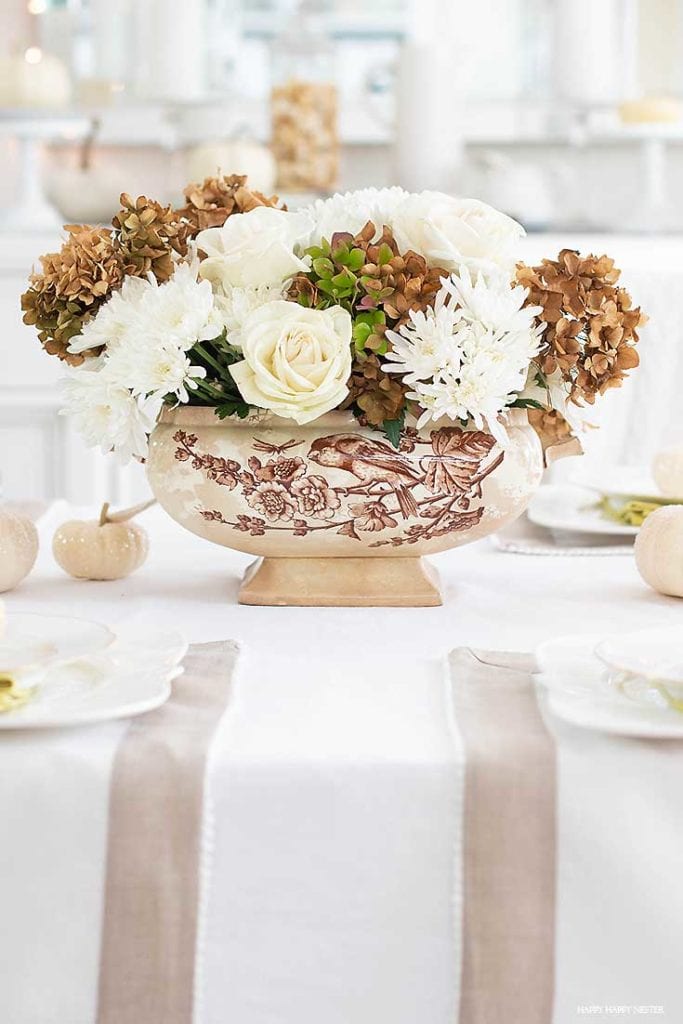 Fall Hydrangeas and Roses
It doesn't get any simpler than this bouquet. Use a vintage soup tureen for the vase, and add your fall garden hydrangeas and white roses to your bouquet. You can add a few white chrysanthemums to the arrangement for added filler. Check out this inexpensive Thanksgiving table post!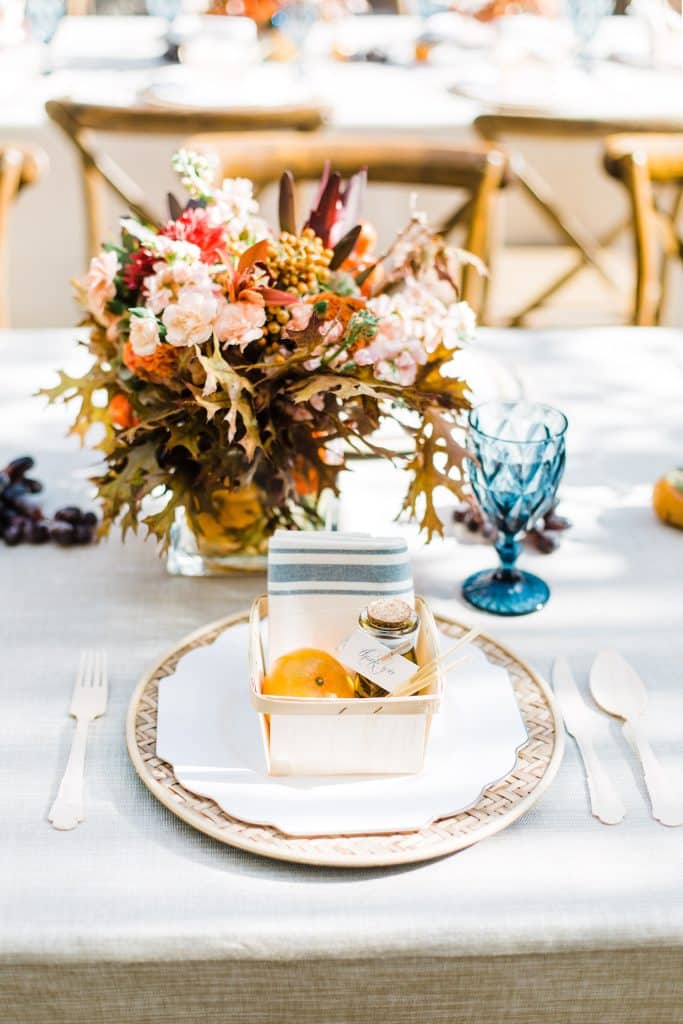 Fall Leaves and Roses
You must love this stunning Harvest Baby Shower Floral Arrangement by Finding Lovely! It's an easy and inexpensive addition to any floral arrangement. Always look out in your garden or neighborhood for some gorgeous fall leaves.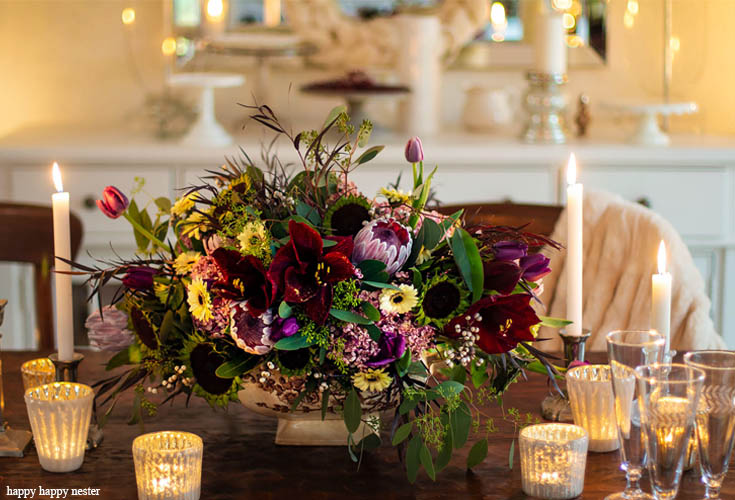 Thanksgiving Table
Decorate a table for Thanksgiving this year with beautiful purple hydrangeas. Create an English-style table with rich maroon colors.
---
Flowers on a table always elevate their surroundings to another level. This Fall and Thanksgiving, make sure to create some beautiful fall flower centerpieces!
Have fun creating some pretty bouquets.
Cheers,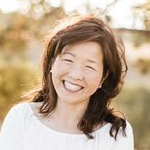 Latest posts by Janine Waite
(see all)