Lately around the Waite Pad, it's all about Cozy Fall Decor Ideas with Pink and Orange. And if you like nontraditional color combinations for the Autumn, then you'll love this fall tour.
I think that this year has put us through a lot of stress, and we desperately crave a lovely home. I love that after decorating our living room, my whole family mentioned they love how fall has arrived in our home.
I always look forward to Autumn.
I love wearing fuzzy socks, wrapping up in a warm blanket, and decorating with pumpkins and fall decor. It is the best time to retreat indoors and refresh our interior spaces.
Here in Northern California, we have a somewhat short autumn and winter. So, when September arrives, I waste no time, and I embrace everything fall.
So, I've rounded up some ideas to help you introduce some cozy fall decor in your home.
Indoor Fall Decorations Ideas
*The following post contains affiliate links
Add a Pop of Fall Color to Your Decor
This year, I had a few different combinations of colors going on in our living room, and I finally settled on shades of light pink and orange to create our cozy fall decor.
The thing I realized is that when it comes to styling, you shouldn't ignore what you like. You have to create a space that comes naturally for you. If you try and force it, most likely, your passion won't come through.
So pink and orange it is for my fall decor.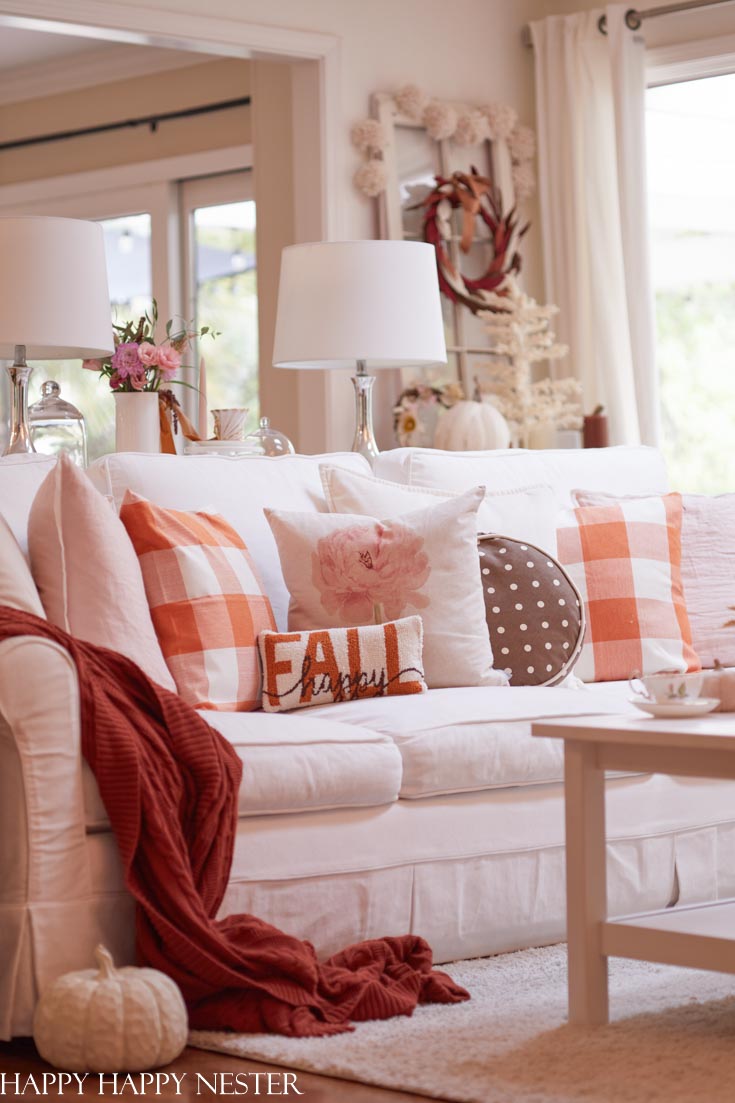 Bring Out Autumn Colored Cozy Blankets
Of course, I had my pink blankets out for the summer, so I paired it with this beautiful cinnamon-colored cable throw. I love the rich color of this blanket.
Doesn't it scream fall?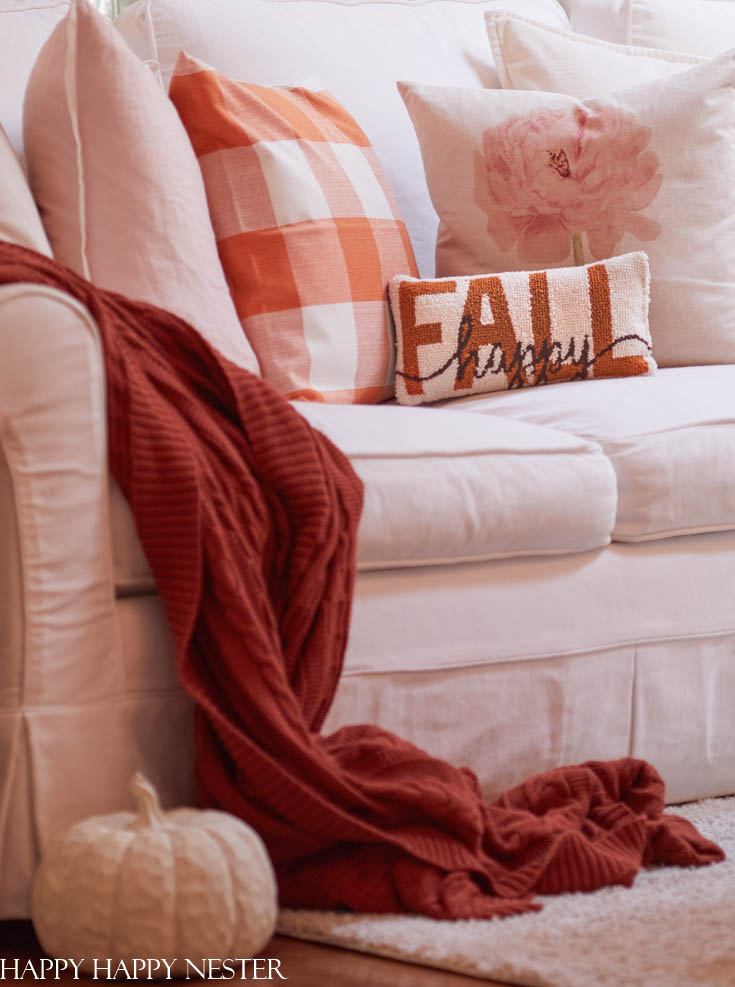 By the way, I have a few collections of throws that I rotate with the seasons.
Be Playful with Fall Pillows
I can't help myself. I have a soft spot for whimsical decor. As much as I try to be serious, I fail miserably. I guess you can say that I need to feel happy in my home.
This fun Happy Fall pillow creates a cozy fall decor.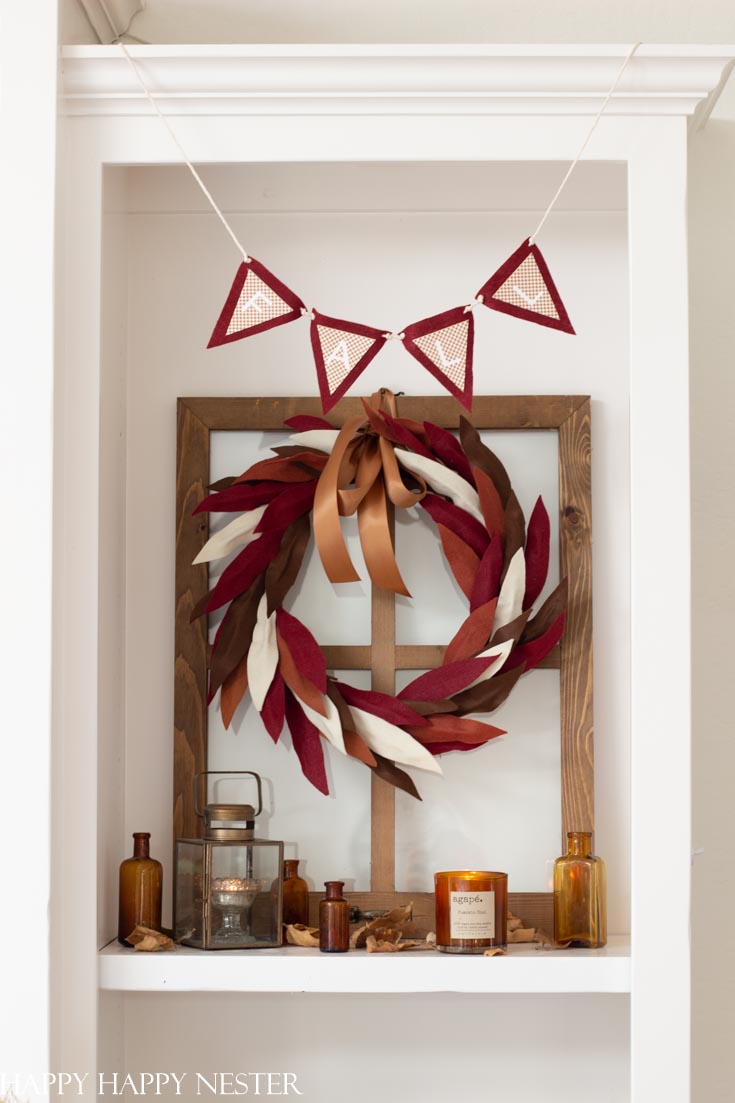 Get Crafty and Make Autumn Garlands and Wreaths
I always make my home decor. Wreaths are the simplest thing to craft. My friend, Leslie, and I laugh at how many wreaths we have made. If you are interested in making one this fall, here are a few to get you started.
I also enjoy making garlands. The one in the above photo is my latest printable. I'm super excited that it will be published next week! So stay tuned.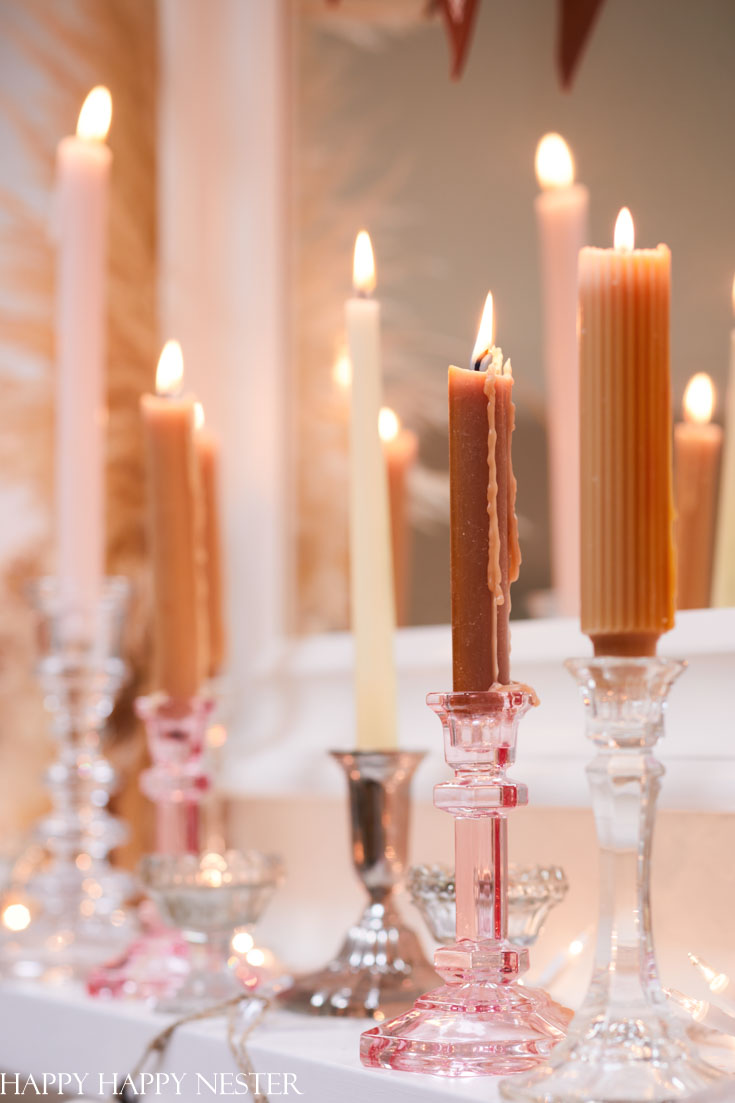 Add Pretty Candles to Add a Glow
Fall is the perfect time to bring out candles.
Don't be afraid to mismatch the candlestick holders. The eclectic decor adds so much character to a home.
As long as your candles are color-coordinated, it will work. And oh yeah, don't forget to light them and enjoy their beauty.
Lighting the candles created a cozy fall decor.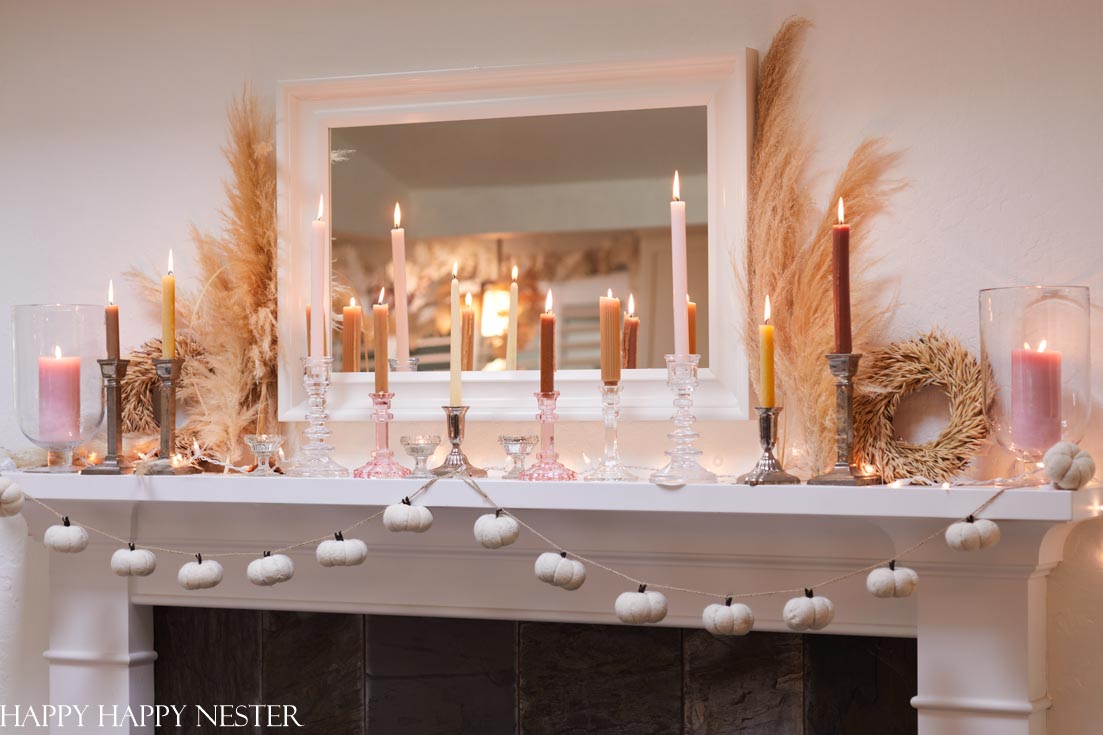 Bring in Nature
I'm always picking branches and flowers on our various road trips.
I found these in the parking lot of the Alameda Antique Faire. There were so many bushes, and I couldn't help myself.
The only thing I must warn about is that they are highly flammable. So be careful when lighting your candles next to them. I made sure the flames of the candles weren't touching the pampas grass.
Yup, we have enough wildfires in California, we don't need another one over here.
Put Out Your Faux Pumpkins and Real Pumpkins
I'm still waiting for the real pumpkins to hit our grocery stores. But in the meantime, these faux pumpkins will have to do.
And if you can't find the right colored pumpkin, maybe consider painting them.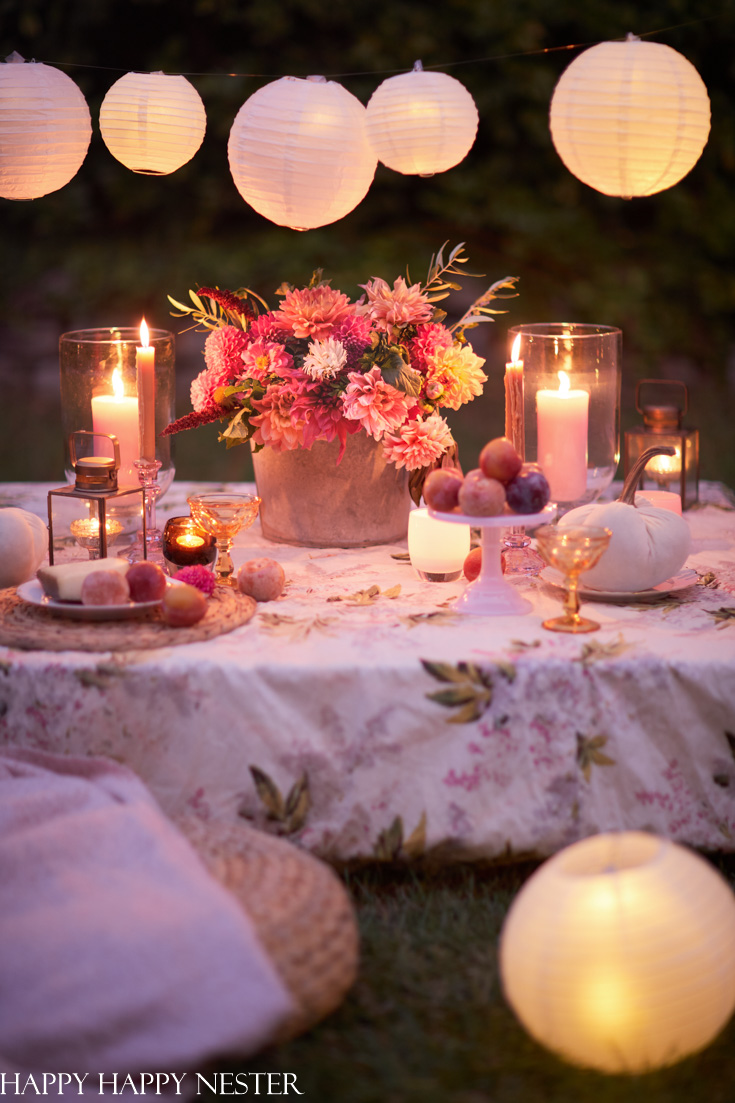 Add Twinkle Lights and Lanterns to Add Warmth
I did add twinkle lights to our living room, and they add such a lovely ambiance from twilight to bedtime.
We styled and enjoyed a fall dinner out in our backyard. And we added these fun paper lanterns. Adding different types of lighting sources always adds so much ambiance to a space.
Add Beautiful Fall Flowers – Dahlias
Dahlias are my favorite fall flower. They are so cheerful and full of autumn colors.
Also, using a rustic pail for a vase adds a bit of cozy to your fall decorating.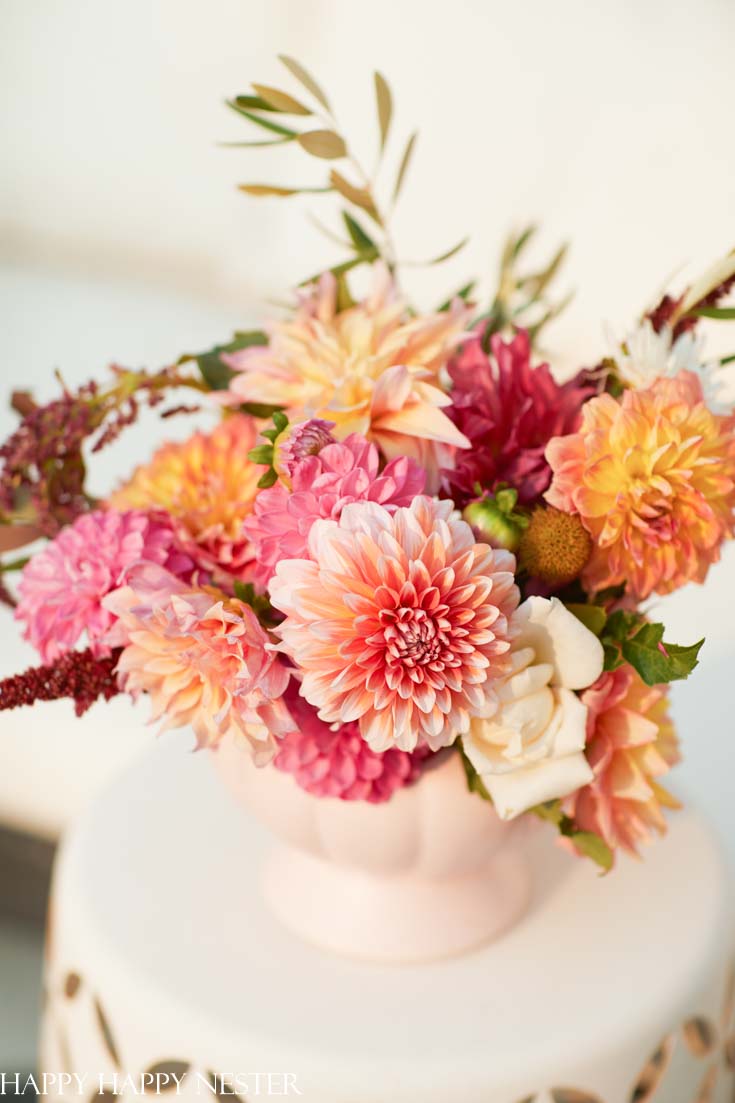 I hope you enjoyed this post on cozy fall decor ideas. It has been a bit stressful over here due to the fires, smokey air, record temperatures, and the pandemic. But somehow we are hanging in there.
It sure helps our spirits to have our home decked out with hints of fall.
Here's to making our homes comfy cozy, and beautiful this September.
Cheers,

PS: Make sure to check out The Nester's Circle if you like crafting, baking, and decorating. Right now, if you sign up, your first month is free.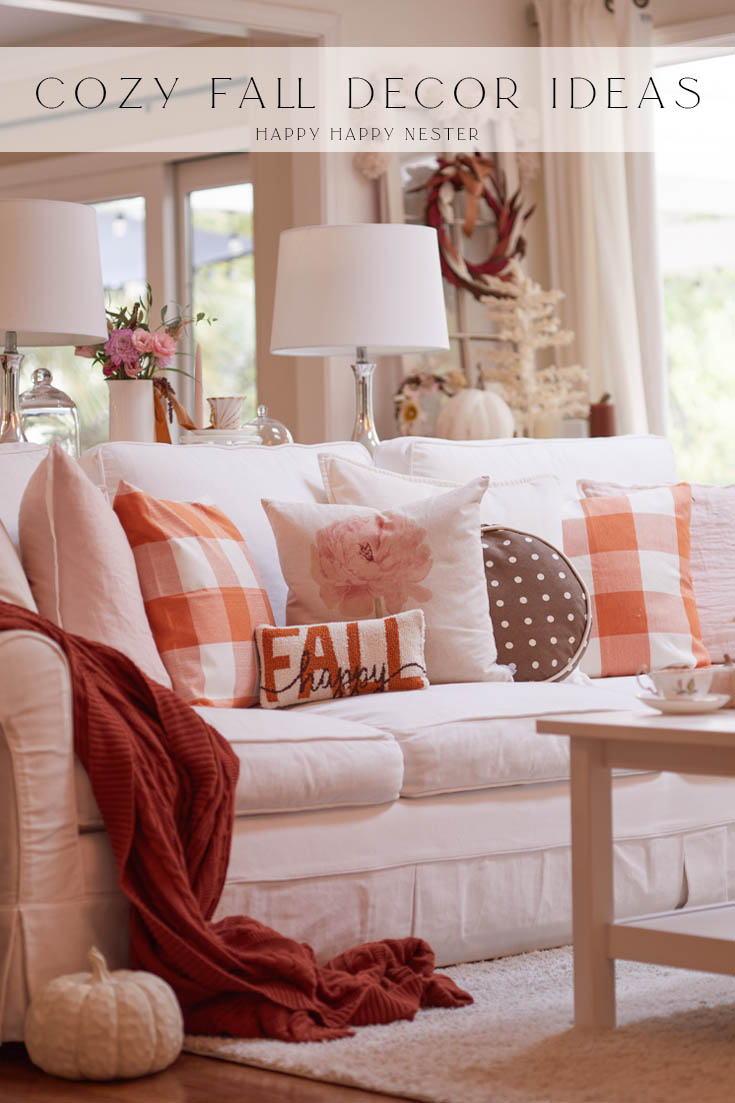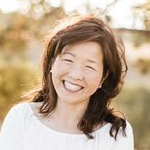 Latest posts by Janine Waite
(see all)