Today's craft is How to Make a Fall Wreath Tutorial. This project is a fun and easy felt wreath. The look is cozy and rich with all the autumn colors.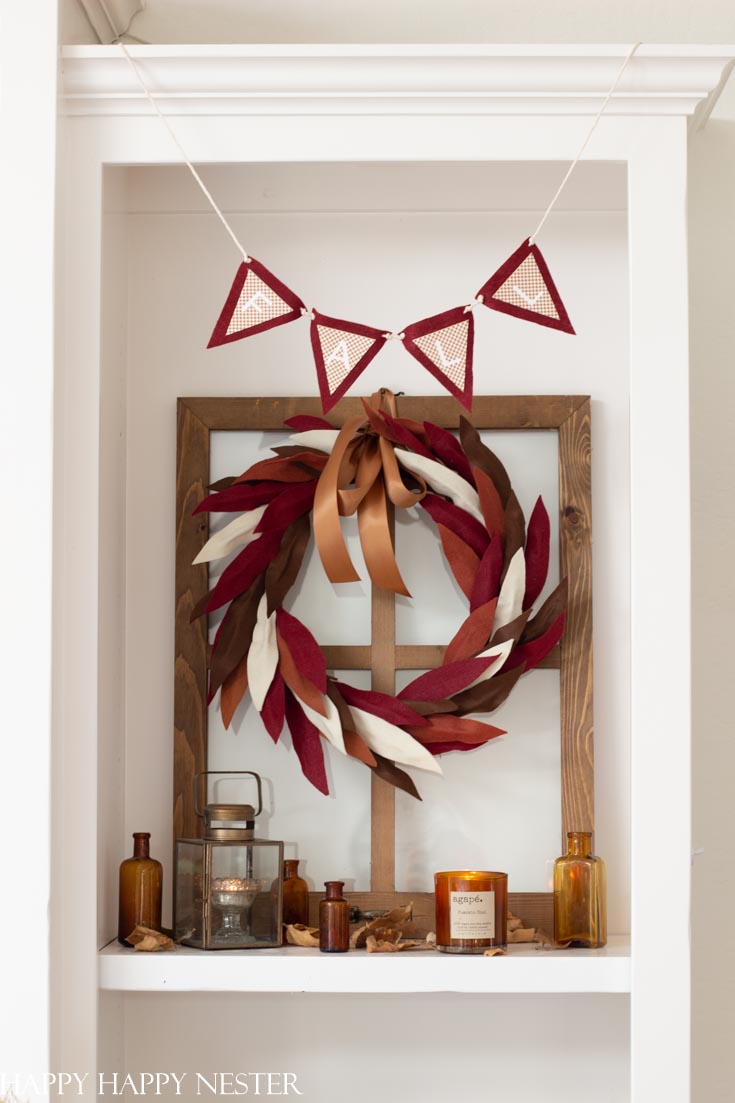 I love this time of year, and I have a ton of autumn projects, garlands, wreaths, and Halloween porches. But, every year is a new look and new design struggles. I would be lying if I told you I never struggle with decorating. This past week was a doozy.
I'm a bit discombobulated.
I've been decorating our home for fall. Simple enough, but as always, nothing goes as planned.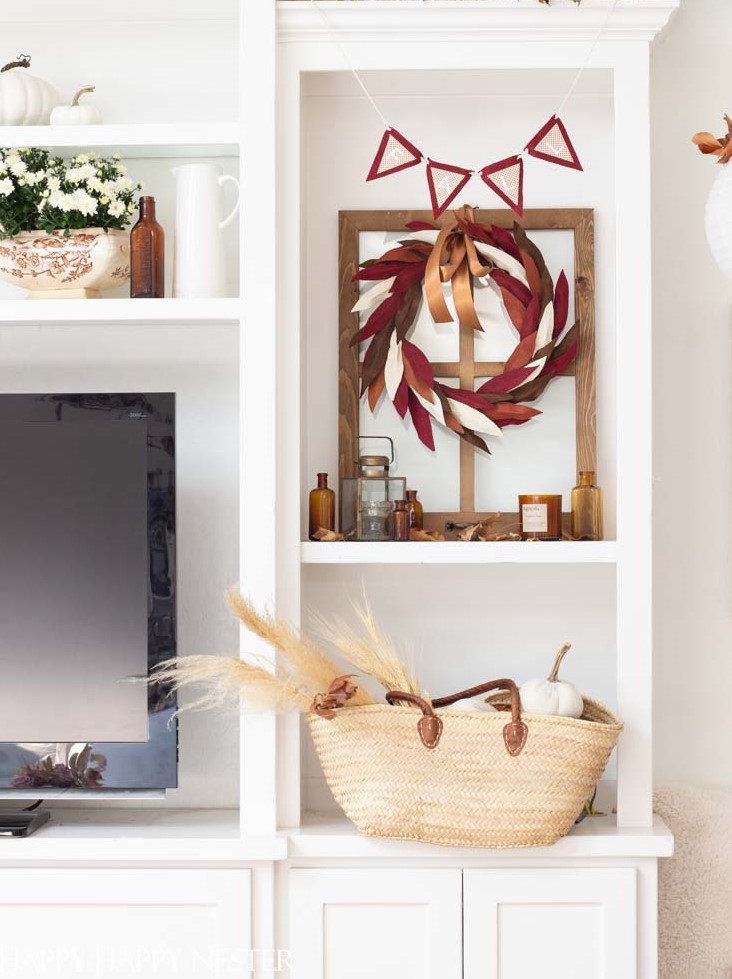 You see, I had our living room all decorated. My colors were flowing nicely, browns with touches of pinks. I even added some dried leaves to our entertainment center and mantel. I was super pleased with the pink and brown cozy and unique look.
In my mind, I was finished with the living room, so onto the next project.
Well, next on my decorating schedule was to style the front porch for this post on how to make a wreath. I had to grab a photo of my project on our cranberry colored front door. But I quickly realized that the smoke was too intense, and I had to retreat indoors. Yes, we have fires everywhere in the bay area right now.
I moseyed back to the finished living room, and I innocently placed my felt wreath up in the entertainment center to take some photos. And that's when my decor would never be the same.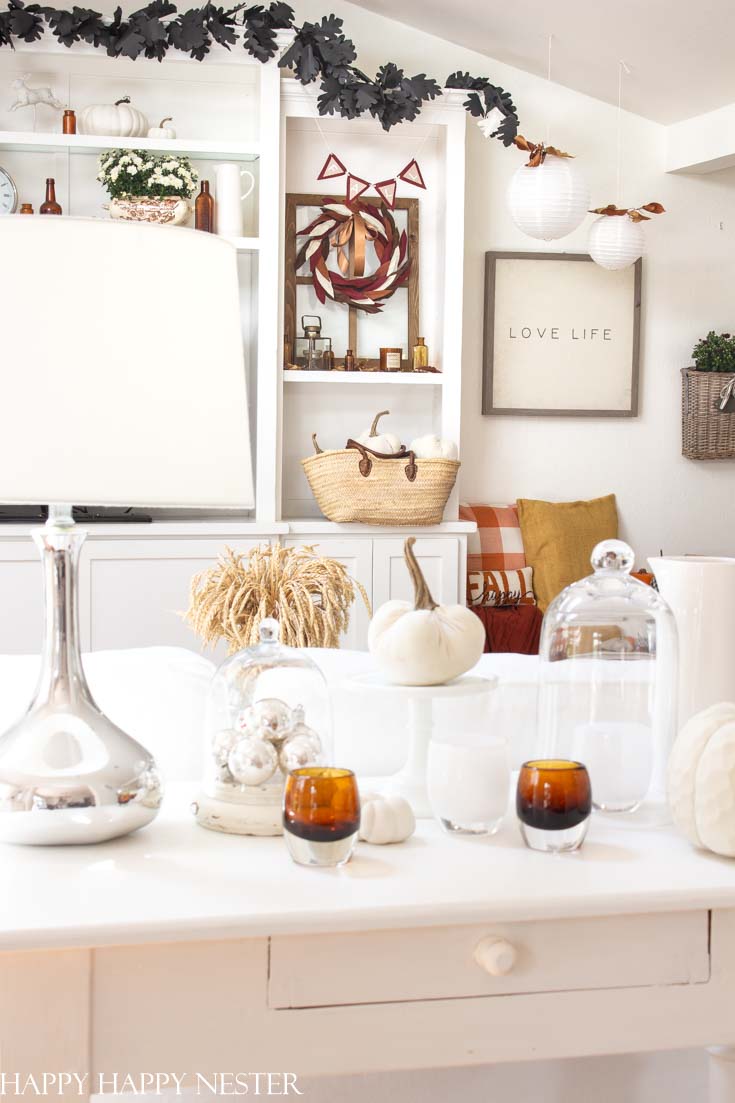 Sadly, I said goodbye to all the pink decor. And the dried leaves were replaced with my black paper leaf garland. I had a couple of wakeful early mornings trying to work out my new look. It is still a work in progress.
I love my wreath, and I now it looks so pretty in the living. However, I'm pretty sure that I have to make another one. My life of crafting escapades never ceases.
Ok, enough about my crazy autumn decorating crisis, let's begin this project.
*The following post contains affiliate links
Supplies
Leaf pattern (fill out the form below to receive your free leaf pattern)
1-12 inch grapevine wreath
Four colors of felt – 4 sheets of cranberry, two sheets of brown, two sheets of Rust, and one sheet of Cream (this is an estimate since I bought some of felt at Joann Fabrics)
scissors
ribbon (optional)
How to Make a Fall Wreath
1. Print out the leaf template. Please subscribe to Happy Happy Nester to receive your free leaf template.
2. Cut out the leaf pattern.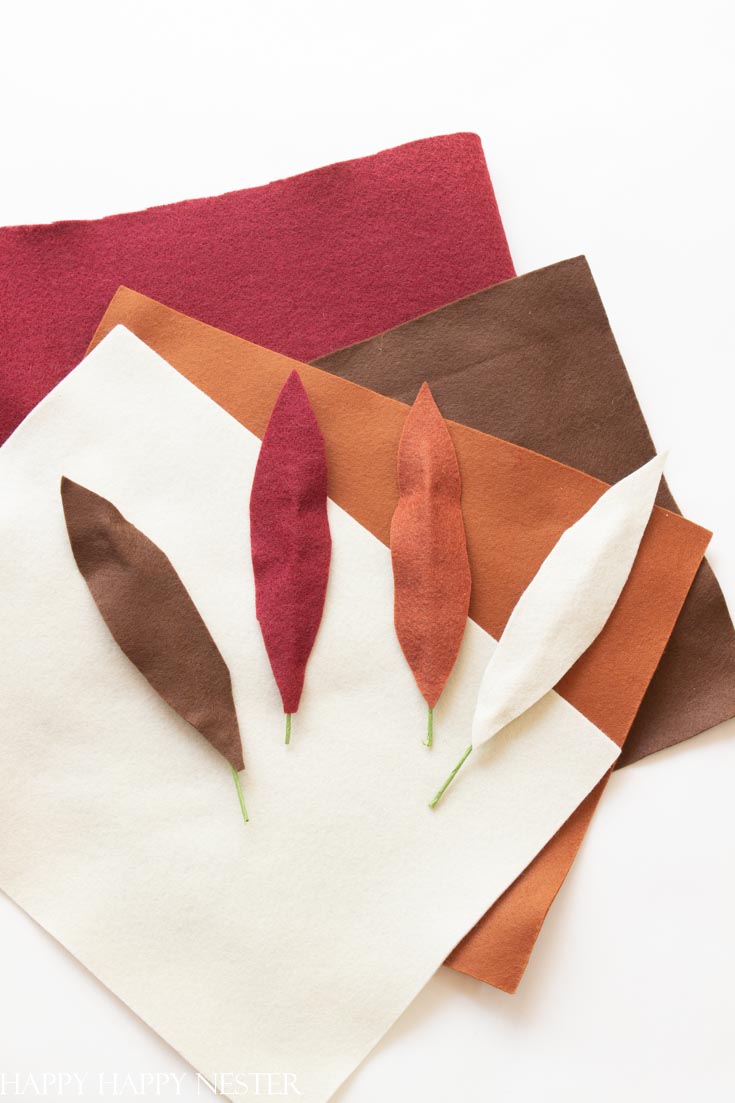 3. Place the leaf pattern on the felt and cut out a few leaves at a time. My wreath is mostly dark, with highlights of the cream leaves. So, if you create a wreath with the same four colors of felt that I used, then here is how many leaves you'll need to cut out. By the way, there is a total of 49 felt leaves.
17 Cranberry leaves
14 Brown leaves
10 Rust leaves
8 Cream leaves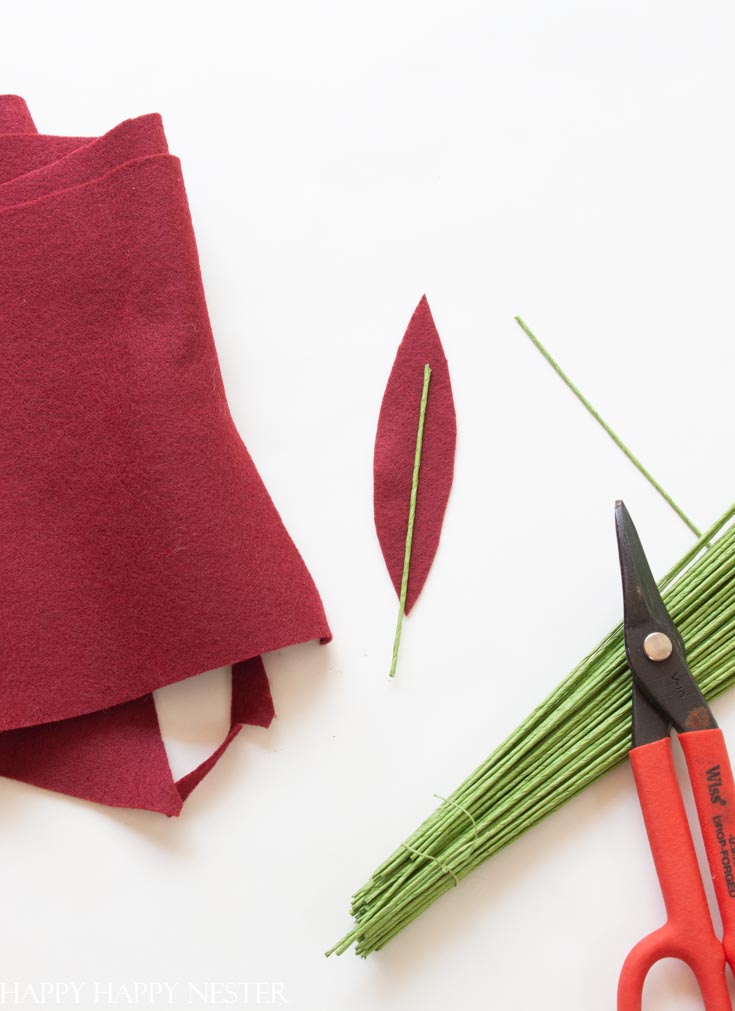 4. Once you have your leaves cut out, cut out your wire. Each leaf will have one wire, so make sure to cut out 49 pieces of wire. The length should be around six inches. You'll have about an inch that extends beyond the bottom of the leaf.
5. Now place a line of glue on the wire, making sure not to glue the last inch.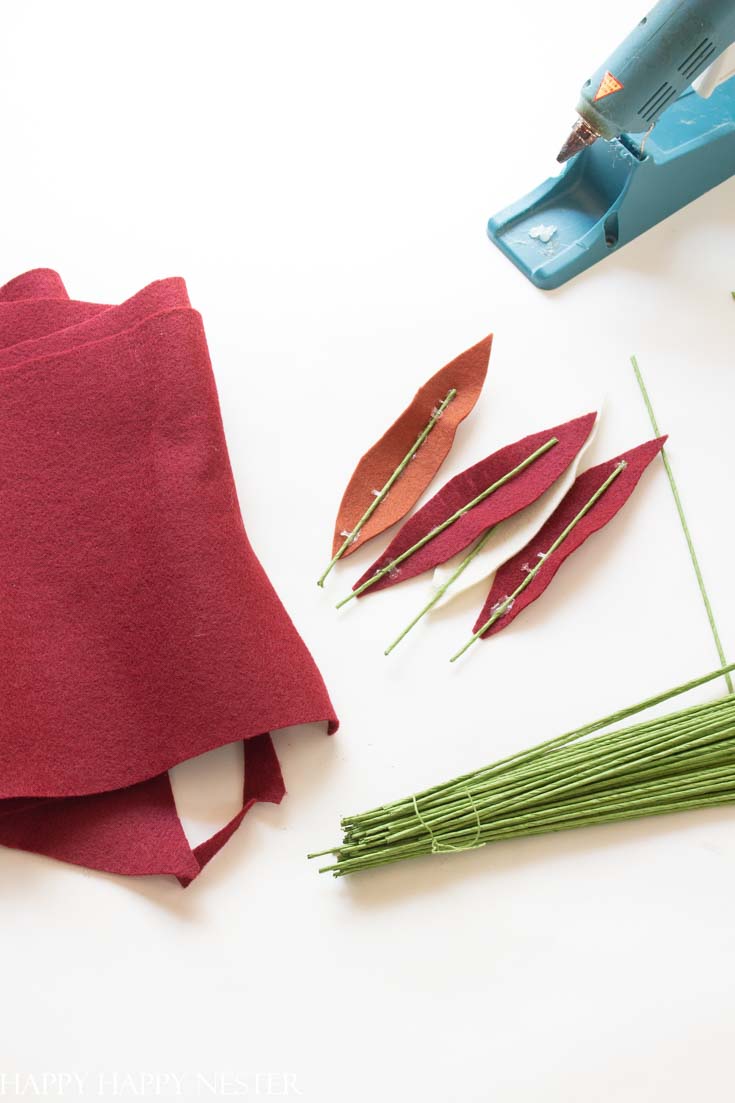 6. Attach the wire to the middle of the leaf and pinch them lightly together.
7. Repeat this on all the leaves.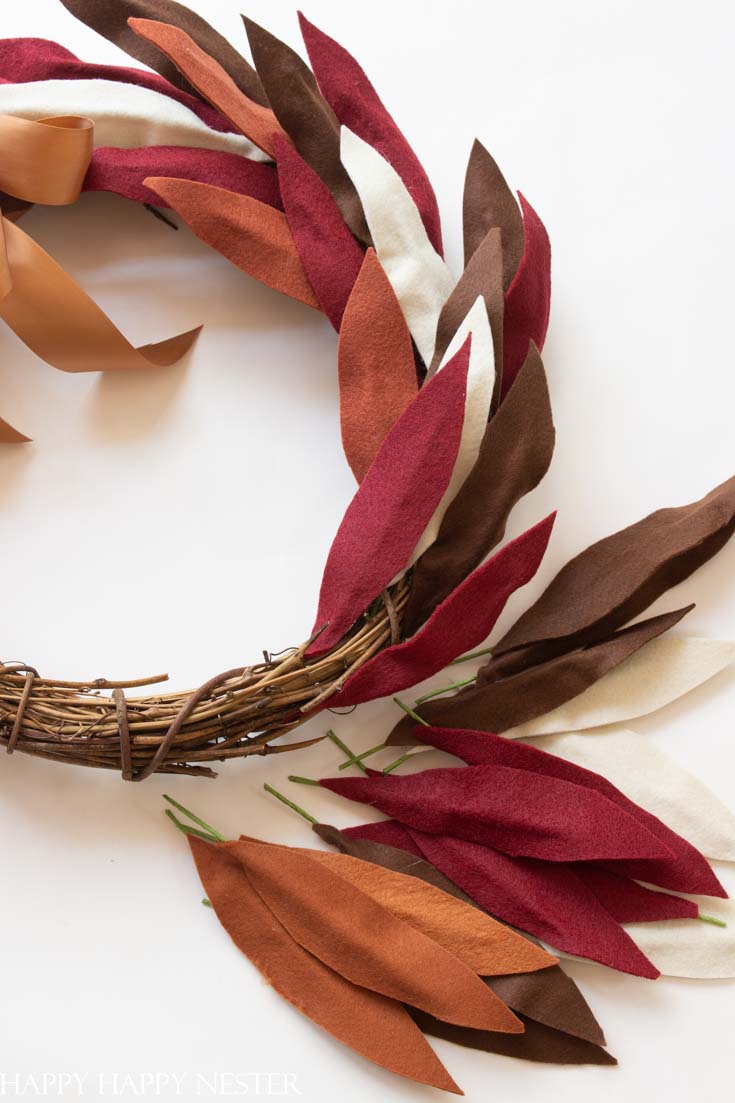 8. With your finished leaves, you'll now attach them to your grapevine wreath. You can place them in the wreath by securely wedging the wire amongst the vines, or you can hot glue it into place.
9. Alternate colors and place the cream leaf of the leaves. I ended up using more cranberry-colored leaves and placing one on each side of the wreath.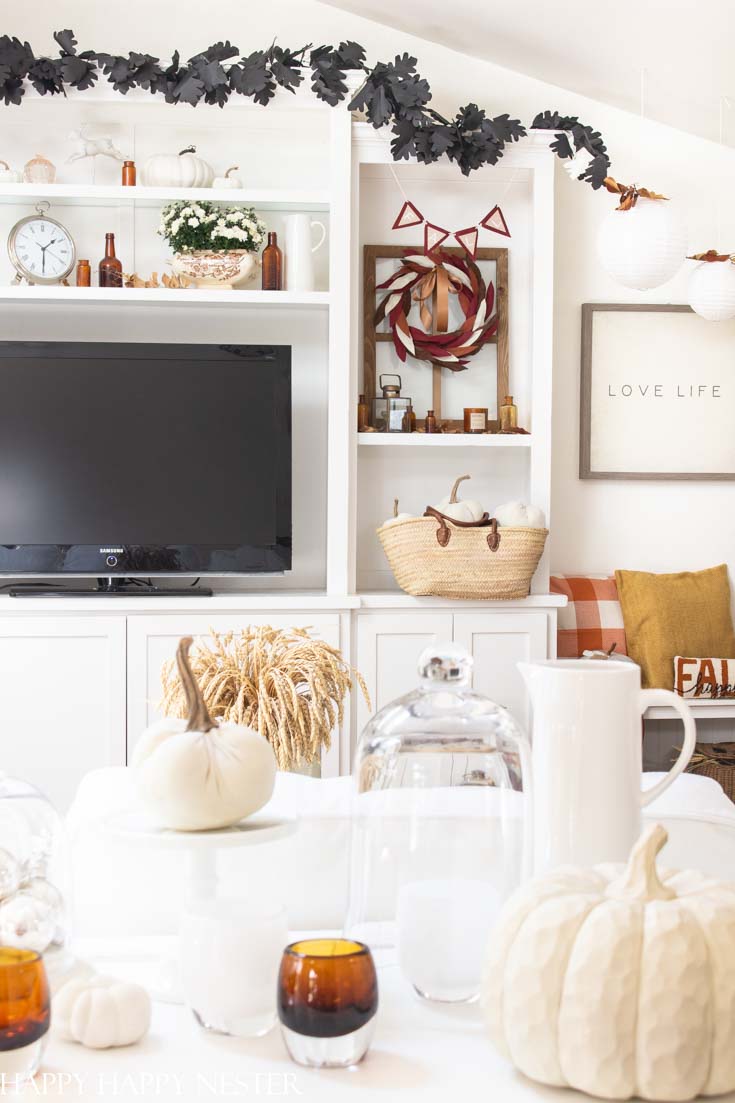 I'm confident you'll love the look of this pretty autumn wreath. I'm almost ready to welcome in the new season.
Have a great time perusing my friend's projects.
And don't miss out on my private Nester's Circle. The membership costs $15/month, but in September, I'll be offering a special deal. So, sign up for my email and I will notify you about this special offer.
Happy Crafting,

If you don't have the time to make this, shop these wreaths instead!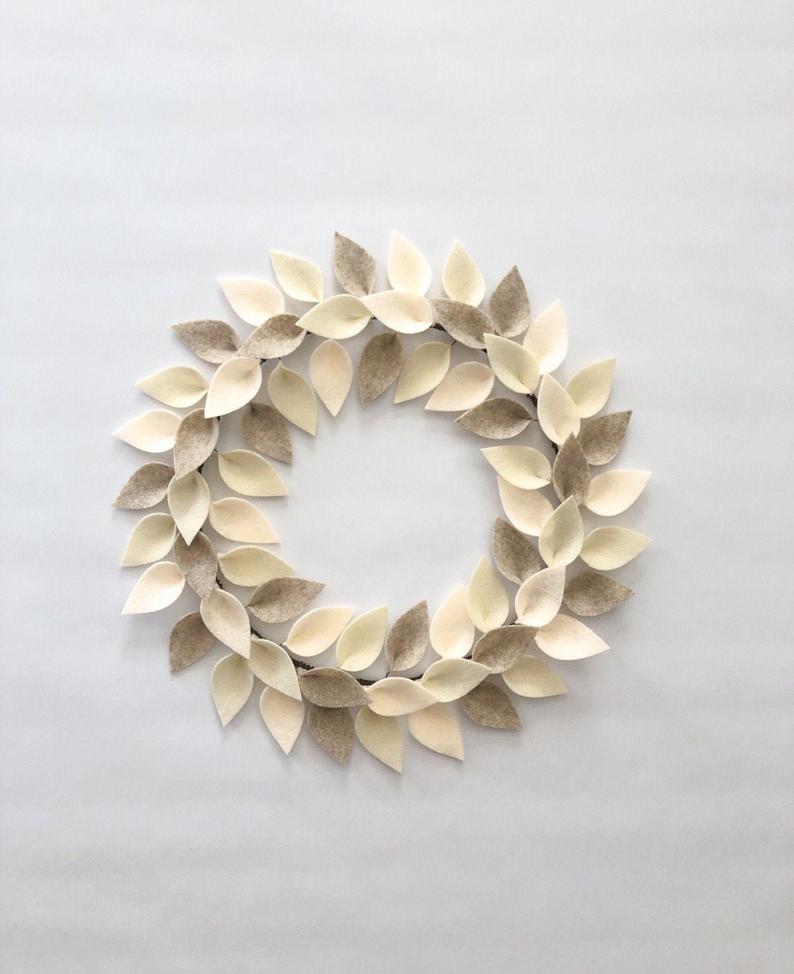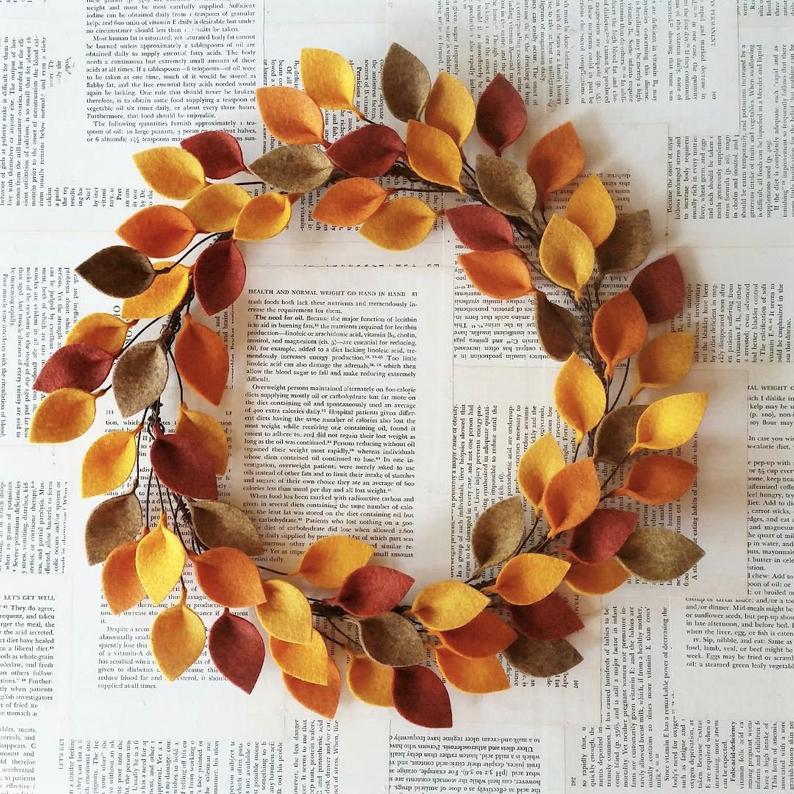 16 Fabulous Fall Wreaths
Now check out these other beautiful and creative ideas. Click the link below the images to visit the posts and see more.

My Favorite Wreaths for Fall – My 100 Year Old Home
DIY Easy Oak Leaf Fall Wreath – My Sweet Savannah
Pampas Grass Wreath – Finding Lovely
Dollar Store Fall Pumpkin Wreath – Tatertots & Jello

Fall Felt Wreath Tutorial – Happy Happy Nester
Dollar Store Fall Wreath – Craftberry Bush
Fall Split Wood Bead Wreath – Lolly Jane
Early Fall Wreath – A Blue Nest

Fall Corn Husk Wreath – Sincerely Marie
Pine Cone and Eucalyptus Fall Wreath DIY – Twelve On Main
Dried Floral Fall Wreath DIY – Life Is Better At Home
Fall Yarn Wreath Tutorial – Hallstrom Home

Eucalyptus Fall Wreath – Modern Glam
DIY Romantic Boho Fall Wreath – The DIY Mommy
Faux Eucalyptus Wreath – Maison de Pax
DIY Fall Wreath Ideas – Jennifer Maune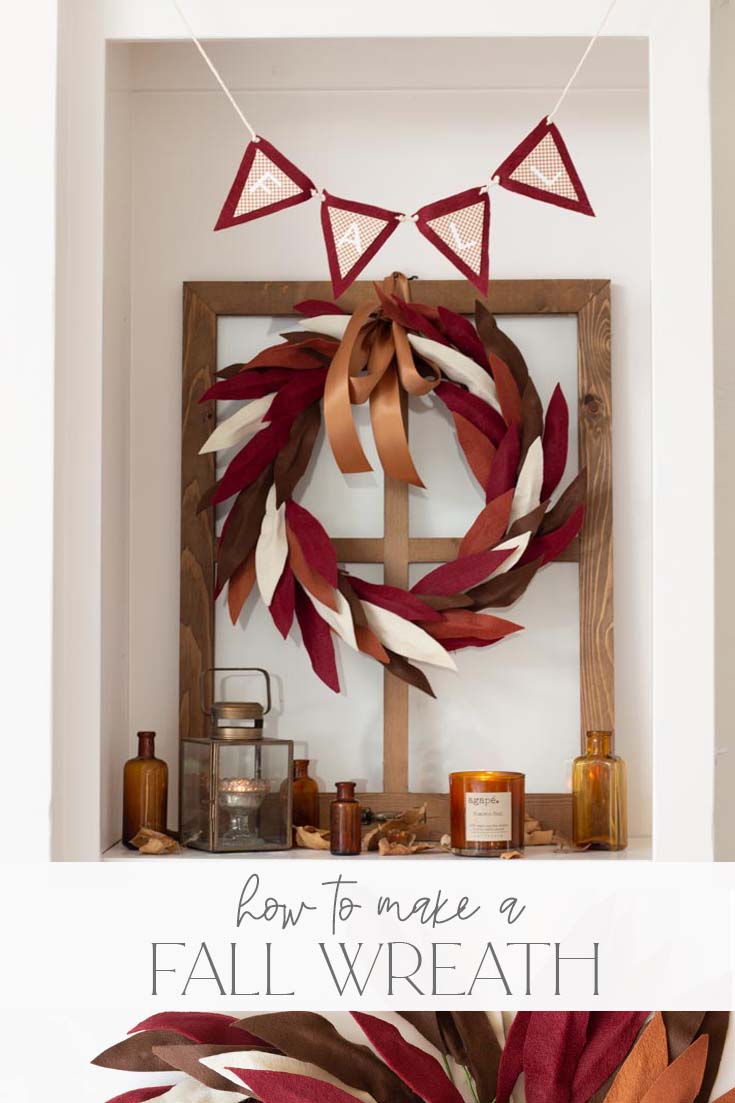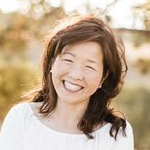 Latest posts by Janine Waite
(see all)