Have you started decorating? Here is a collection of Autumn Signs Decor to inspire you to begin designing your space for fall.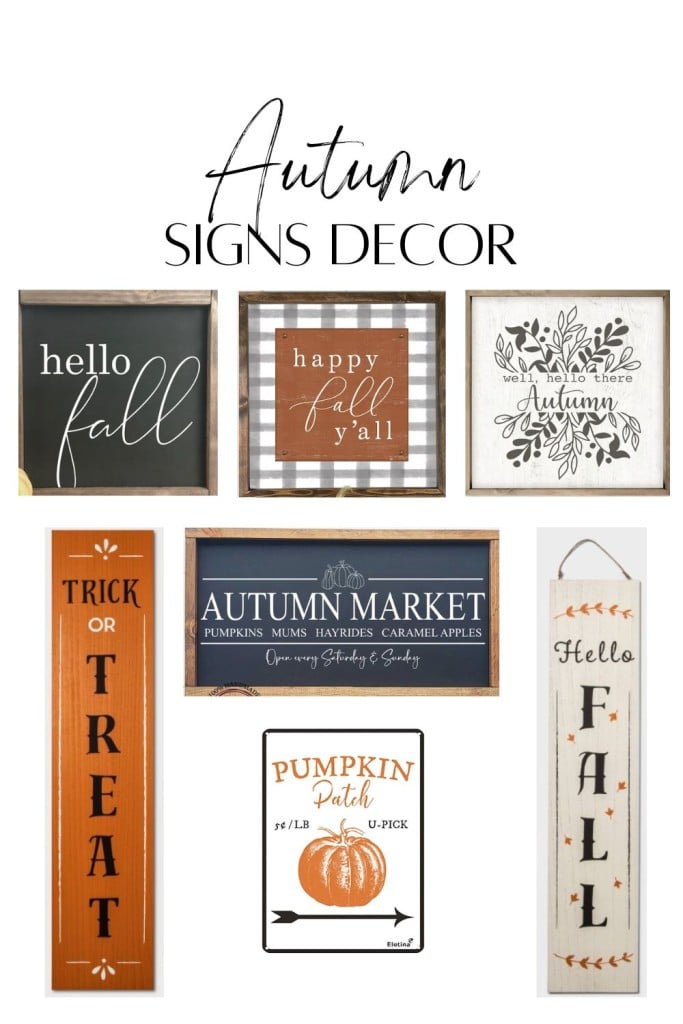 Signs are a great decoration choice for those who want to bring festivity into their home. Let's check out your options!
If you're looking for a simple way to add some spice to your space, you're in the right place.
Add one of these to your front porch, living room, kitchen, or patio for the extra autumn look.
I have chosen tons of signs for every style to choose from, so come on, and let's get decorating!
White signs
Orange Signs
Brown Signs
Fall Signs
I aim to inspire you and others to decorate for the specific season, and now that fall is in full swing, it's time for you to start buying pumpkins, placing signs, and hanging wreaths!
Autumn Signs Decor
WHITE SIGNS
Let's start the post off with something simple, the color white! I love decorating with this shade because it's super easy to style, AND it always looks fabulous!
If your style is more farmhouse chic, I recommend these signs. I also recommend these signs if you LOVE the color like me! You can't go wrong with it.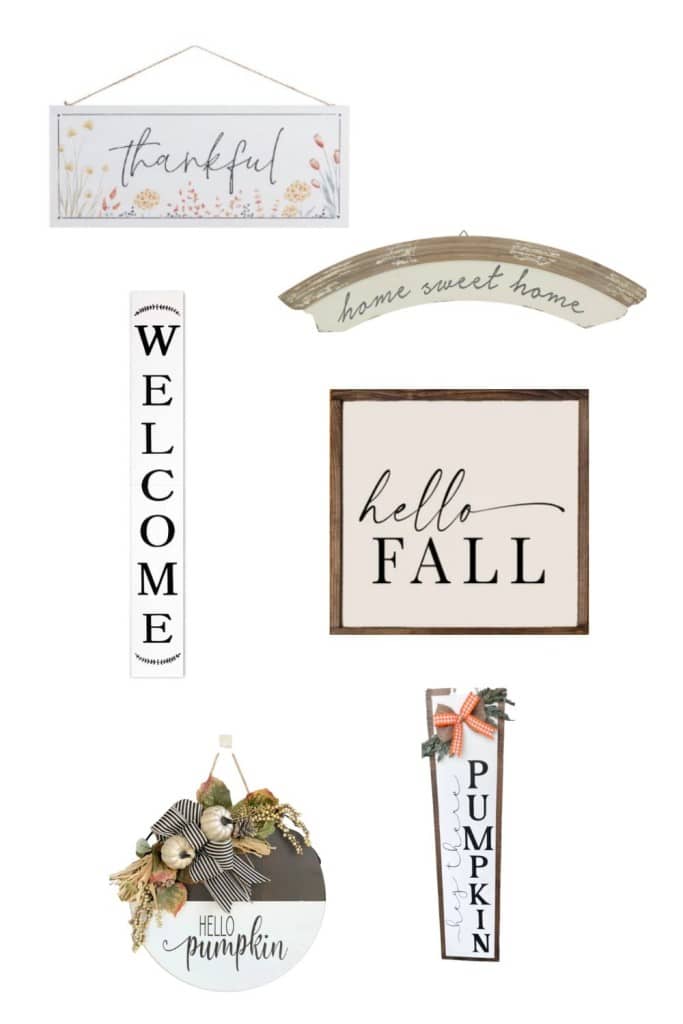 Sources: 1 l 2 l 3 l 4 l 5 l 6
I might be overselling the color here! As I said, white is such a simple yet stunning color to decorate with. So….? What did you think? Do you love or LOVE these signs? Don't stop now. There are still three more collections of autumn signs!
ORANGE SIGNS
I am calling all fans of the color orange. Look at this collection of festive signs and picture one of them on your front porch. Well, does it look good? I think yes! Now is your time to shine!
But seriously, I usually am not a fan of this shade, not even for fall time, but I have to admit… these choices are SO cute.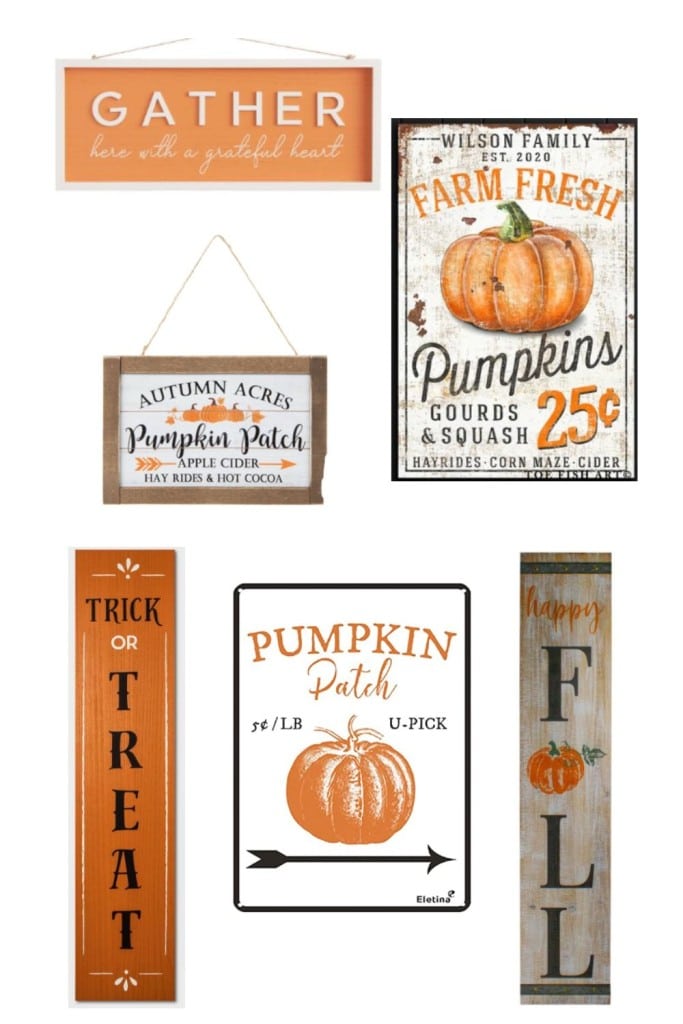 Sources: 1 l 2 l 3 l 4 l 5 l 6
Whether you like or love the color, I suggest looking at this selection to find your next piece of decor.
BROWN SIGNS
Last but not least, we have brown options to look at. Last but not least, we have the perfect autumn shade, brown. Woo hoo! Here is our definitive collection of one-colored signs!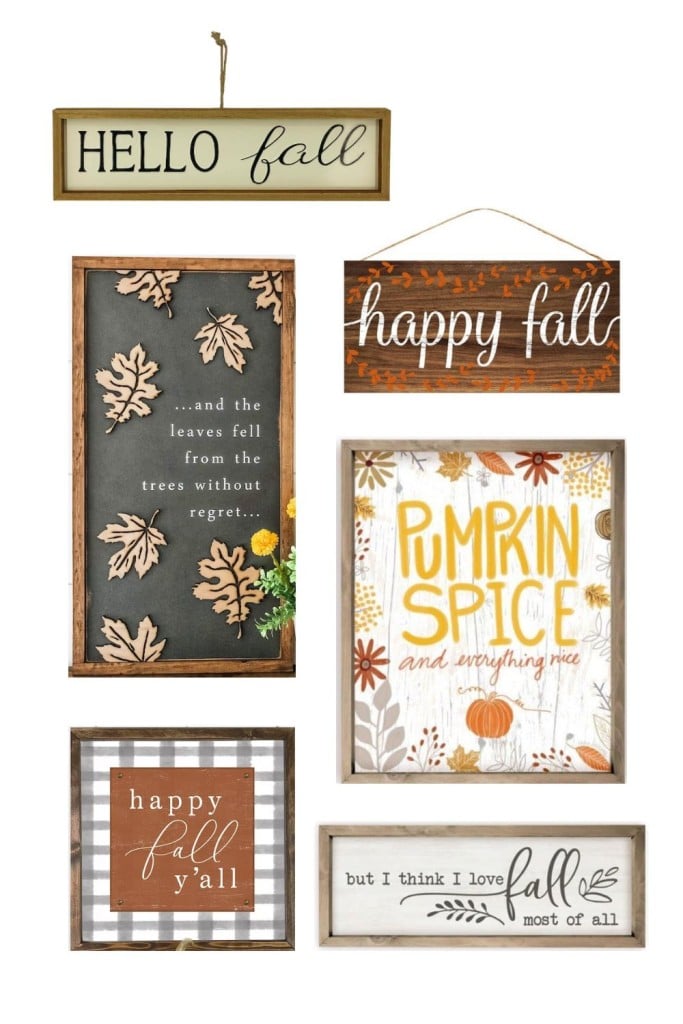 Sources: 1 l 2 l 3 l 4 l 5 l 6
Now, after checking out these signs, you, too, can start decorating! I always love adding small decorations around the house with hints of brown. Believe it or not, brown is also an easy shade to decorate with, similar to white.
FALL SIGNS
You thought the post was over? Please! I always have a surprise up my sleeve. Here is the LAST and FINAL collection of autumn signs decor.
I present fall signs with designs, patterns, and multiple beautiful colors!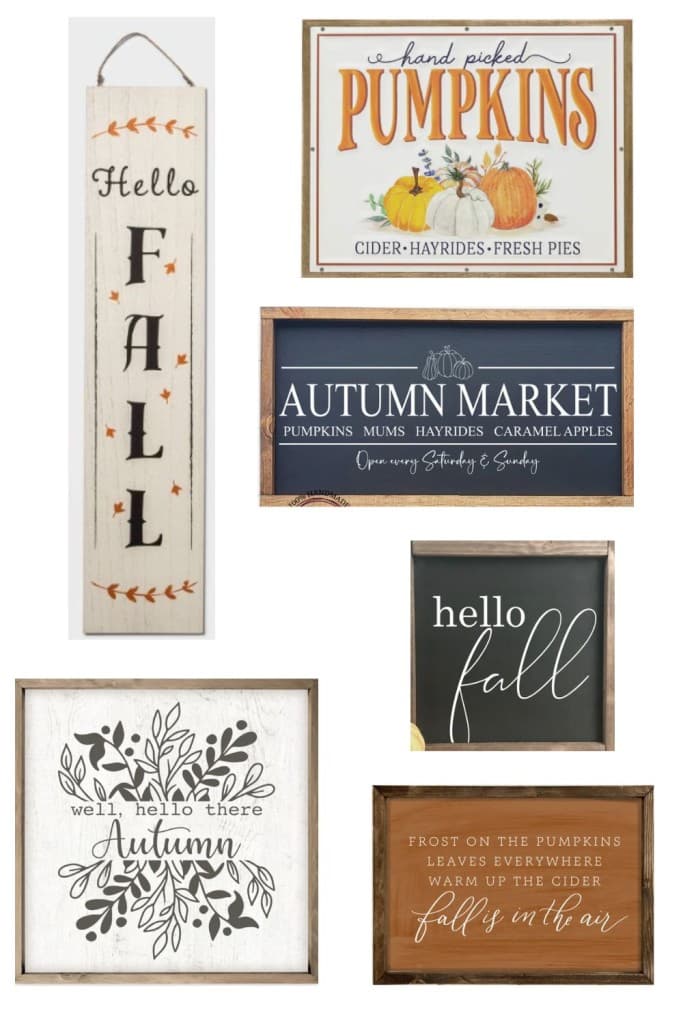 Sources: 1 l 2 l 3 l 4 l 5 l 6
Whatever your primary style is, don't worry. These options will work. I decided to include this section because what is a fall blog post without festive signs? It's complete madness.
WANT MORE INSPIRATION? CHECK OUT THESE POSTS FROM THE BLOG
---
Hey!
Thanks for checking out this post about autumn signs decor! I had such a wonderful time collecting these links. I even found some for myself.
Ha!
Whenever I write a post about decor, I always find myself adding more and more to my cart.
Since autumn is just beginning, I have tons of future ideas for you, so stay tuned to the blog for friendly recipes, cute decor ideas, and fun crafts to make!
But I also have many published posts, so feel free to check those out to get extra inspiration for the new season.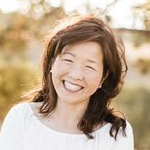 Latest posts by Janine Waite
(see all)