Today, I am delighted to show you some helpful tips and tricks on how to Decorate a Dining Room Table for Thanksgiving. These tips will help you create a warm and welcoming table setting.
Every year, I have always found myself choosing light-colored flowers and simple statements to create a table, until now. I branched out, and I went with dark blooming flowers, stems of greenery, and pops of gold.
If you are here for the first time, welcome!
This week includes a Thanksgiving 3-Day Series with my dear friends. Here is the week's line-up:
Monday – Thanksgiving DIY
Tuesday – Thanksgiving Recipe
Wednesday – Thanksgiving Table Reveal.
You will see my friend's projects in the photos and links below.
In the meantime, if you are looking for Thanksgiving inspiration, then here are a few other posts that may interest you.
---
Over the weekend, I took a trip to my favorite city, San Francisco. And as I was heading to the flower market, I thought about my Thanksgiving table.
Inspiration
At first, I thought, let's play it safe and create a simple setting, but the other part of me said no way! I was at war with my mind and my heart. I soon concluded that I would walk into the flower market without an idea and choose whatever flowers catch my eye and make something out of it.
If you can believe it or not, my plan worked.
But for now, let's dive into the details of what specific items I used to decorate a dining room table for Thanksgiving.
---
Alright, friends, are you ready to decorate a dining room table for Thanksgiving? Let's begin.
*This post contains affiliate links
Decorate a Dining Room Table for Thanksgiving
Centerpiece
Creating a centerpiece is vital. Whether it's a basket full of pumpkins or a floral arrangement, go big or go home. So I went big with these flowers from the flower market.
Helpful Hint
Here is a hint that has helped me more than once, make sure you have contrasting colors that work well with one another, whether purple and yellow or green and red.
Flowers
I chose dark-colored flowers for my centerpiece, including purple and green Hydrangeas, purple cabbage, burgundy-colored Astrantia, grass-leaved Scabious, and Brunia berries.
Centerpiece Details
Now at first, this DIY may look simple to put together. But in reality, there are a few steps that need to happen to construct this centerpiece.
Step 1: Choose Your Container.
Step 2: Fill Vase with Water and Flower Preserver
Step 3: Trim Leaves Off
If you would like to know more about how to craft this creation, check out my blog post, Farmhouse Fall Centerpiece DIY, where you will find anything and everything to know about this gorgeous centerpiece!
Onto the next step on how to decorate a dining room table for Thanksgiving!
Tablecloth
When you are about to decorate a dining room table for Thanksgiving, adding a tablecloth or two will bring the whole table setting together with its elegant touch. Trust me, finding a tablecloth was the first item on my mind when I started to put together this table.
Tablecloth Colors
It's best to find a color that resonates with your existing decor. As for me, since my floral arrangement was dark-colored and my decor was light-colored, I decided on choosing two neutral-colored tablecloths.
For my linen napkin, I chose dark purple. I chose a dark purple like the flowers from my centerpiece because I wanted one more splash of purple on my table, and besides, the color went well with my white and gold decor.
My Choice of Tablecloth
The main tablecloth covered the whole dining room table while the linen table runner went down the middle.
As I mentioned above, I included linen napkins between the large plate and medium-sized plate to add more pops of purple to my table setting.
Candles
Who doesn't love a little sparkle during their mealtime? I sure do, and I also love placing candles everywhere because they add a warm vibe to the room.
What to Add
The next thing to add when decorating a table for any holiday is candles! I included votives and candlesticks in glass displays and floral cups.
Where to Add
I placed my candles and votives around the centerpiece and near each seat where friends and family would be seated to enjoy their meals.
My Choice of Candles
Now your candles don't have to smell like cinnamon or nutmeg, don't worry about that, but they do have to fit in with your color scheme. Since my dishware, tablecloth, and mini pumpkins are light-colored, almost white, I included simple cream-colored candlesticks, tea lights, and votives.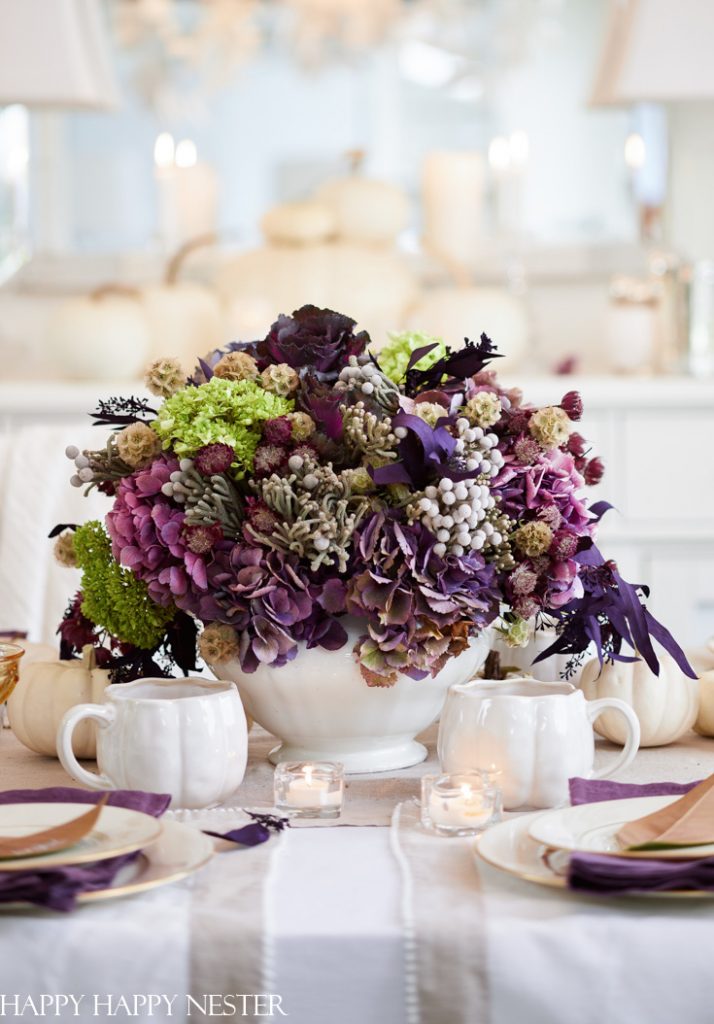 Colors
I've said it before, and I'll repeat it, color means everything. Choosing the correct color palette that will blend with your decor to create a stunning table setting is necessary.
Combinations
You want to choose a wise color combination before you start to decorate because sometimes what we think is stunning in our heads might not look as pretty in person as we planned.
Some color combos that are helpful for specific Holidays are yellow and purple, green and red, purple and green, orange and brown. There are many other options, but those are some of the prettiest styles that work well together!
My Color Combination
I decided to choose green and purple flowers and greenery because the colors, green and purple, blend very well together. I also chose to place white and gold decor such as candles and dishware because gold and white look beautiful when side by side.
Purple and gold are also opposite on the color wheel, meaning they will most likely complement each other well when placed in the same area.
Helpful Hint
If you want to add drama or more drama to decorate a dining room table for Thanksgiving, can I suggest complementary colors? Such as yellow and purple, green and red, purple and green, orange and brown.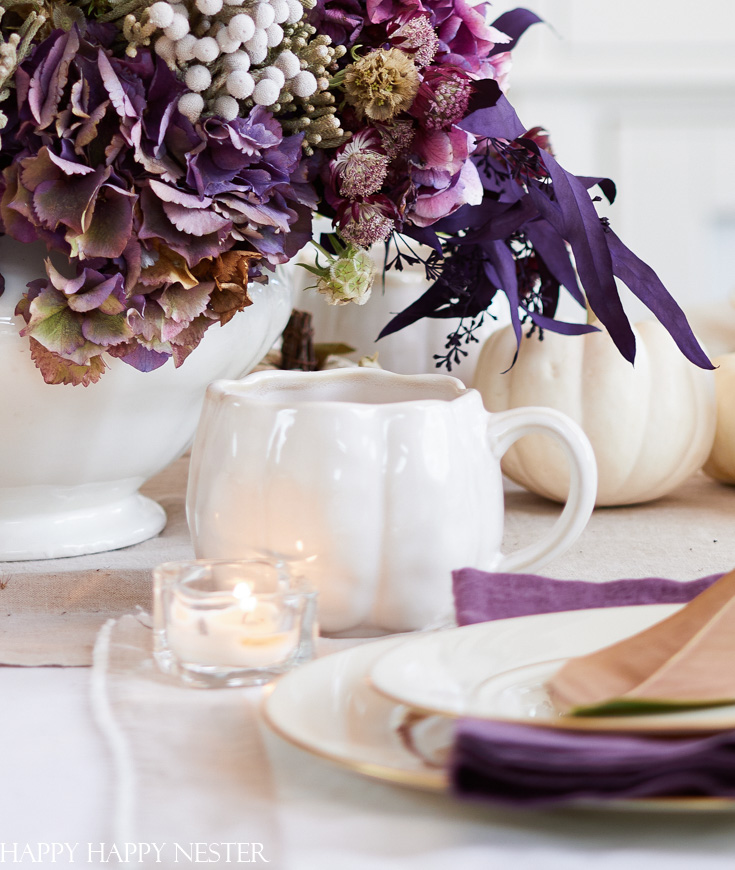 Seasonal Accents
Once you have a centerpiece, tablecloth(s), candles, and your desired color palette, it's now time for some seasonal accents to add!
Pumpkin Mugs
I came across the cutest pumpkin mugs from Williams and Sonoma on one of my recent shopping outings. They caught my attention as soon as I walked into the store.
This mug is cream-colored in the shape of a pumpkin with a comfortable drinking handle. It is one of a kind and worth it for all of you tea, coffee, and hot chocolate drinkers.
Placemats
It's always lovely to have placemats under your dishes and utensils when eating a meal. Not only does it add to the beauty of your table, but it also prevents the tablecloth from getting food on it!
I decided to place linen placemats to add to the neutral colors of the existing tablecloths. It's safe to go neutral with decorations such as placemats and tablecloths because they are just simple additions to the table.
Mini White Pumpkins
Since this table is Thanksgiving styled, it needs some pumpkins. For me, I decided on mini white pumpkins to place on the table. I put one mini pumpkin on each plate around the table to add an adorable look, along with placing them in bunches of 2-3 around the table to add more pumpkin goodness!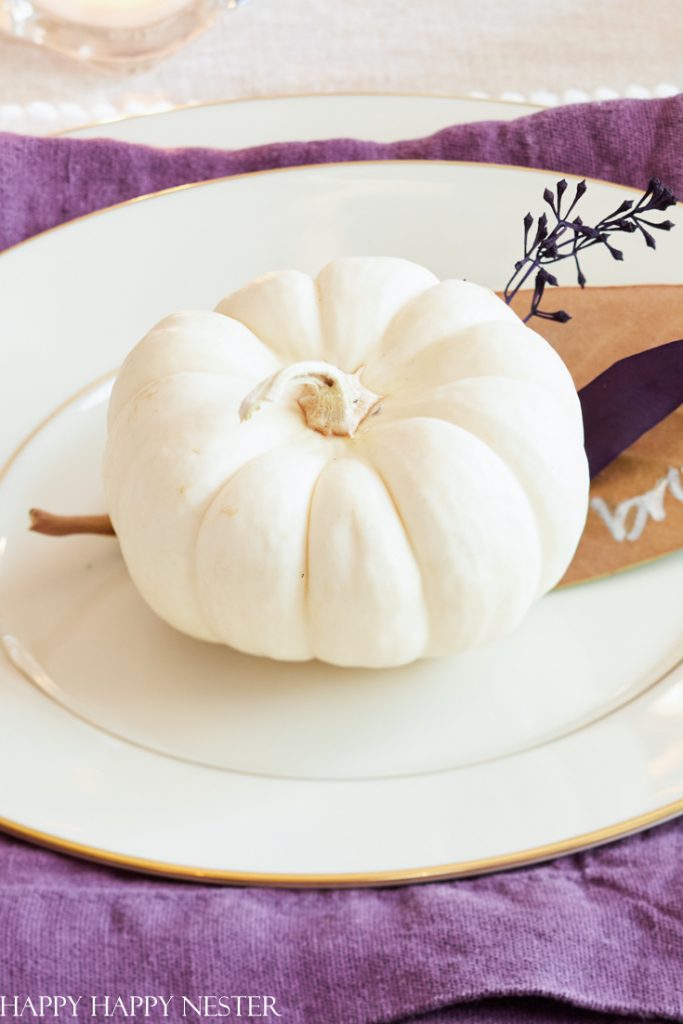 I thoroughly enjoyed styling this table for you. I hope your Thanksgiving table will be beautiful and inviting for your family this year.


Check out my friend's Beautiful Thanksgiving Tables!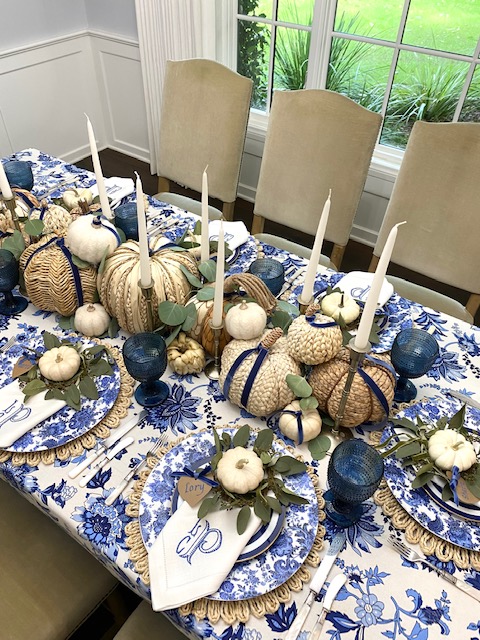 My Unique Thanksgiving Table: Blue, White & Straw | To Have + To Host
Here's how I created this blue and white Thanksgiving table using natural elements like straw pumpkins, dried artichokes, and fresh eucalyptus sprigs for a unique take on this holiday table setting!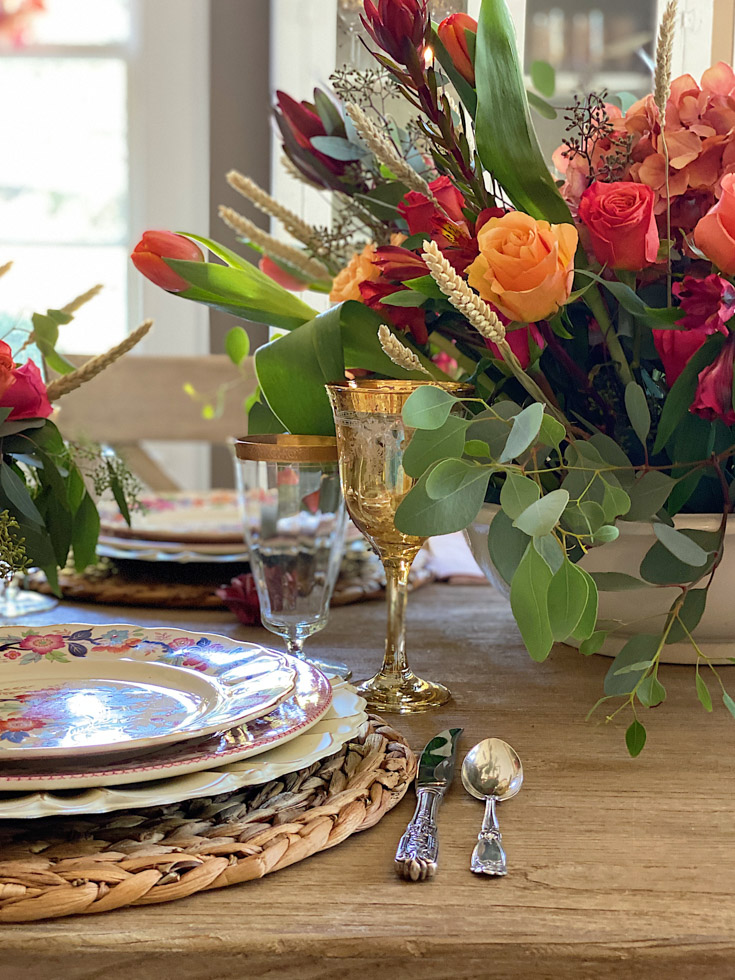 Thanksgiving Colors and Table Decor Ideas | My 100 Year Old Home
I set this table and I think it is one of my favorite Thanksgiving table decor ideas. The Thanksgiving colors on my table are just wonderful!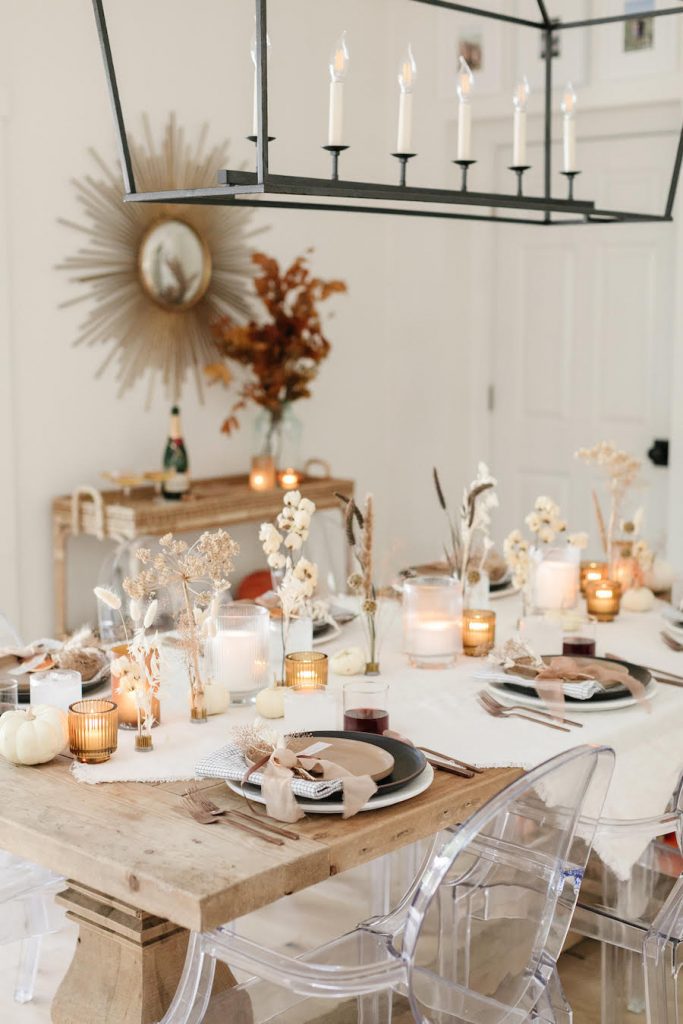 How To Set A Thanksgiving Table Like A Pro | Modern Glam
My friend, Meghan Murray is an event planner and hosts the most fabulous celebrations! Today she is sharing how, with just a few tweaks, you can make your Thanksgiving table look like it's straight out of a magazine."
---
It was lovely hanging out with you today. Enjoy your fall and see you back tomorrow for more fun fall projects!
Cheers,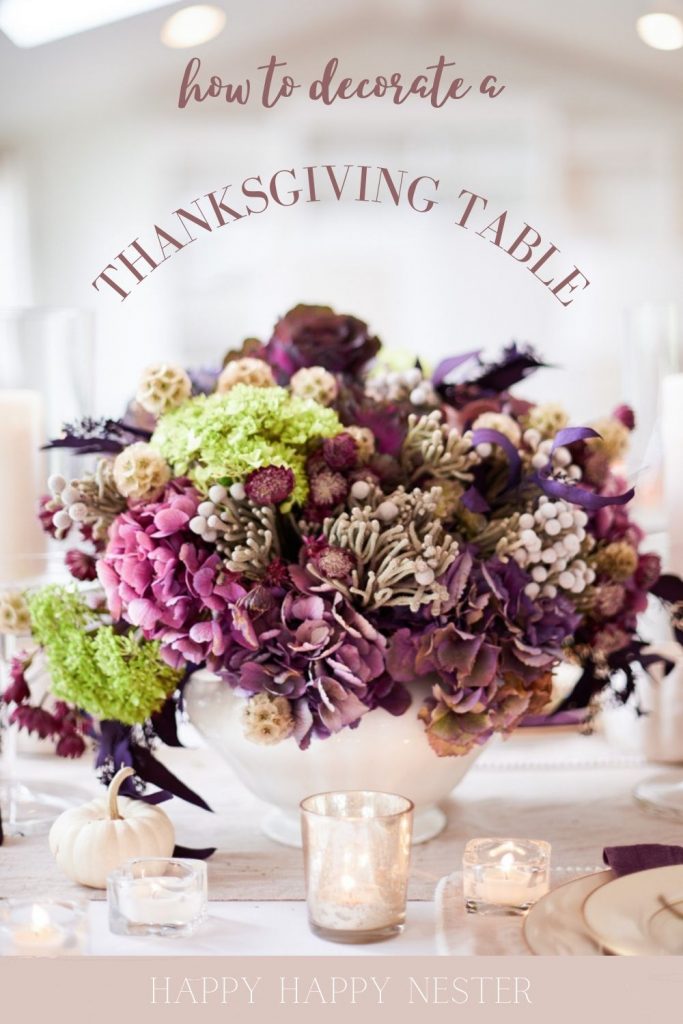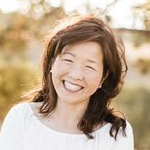 Latest posts by Janine Waite
(see all)