Spring Decorating Ideas for Dining Room Table include a floral centerpiece that radiates to the rest of the table. Introduce organic items to brings fresh life to your Easter table.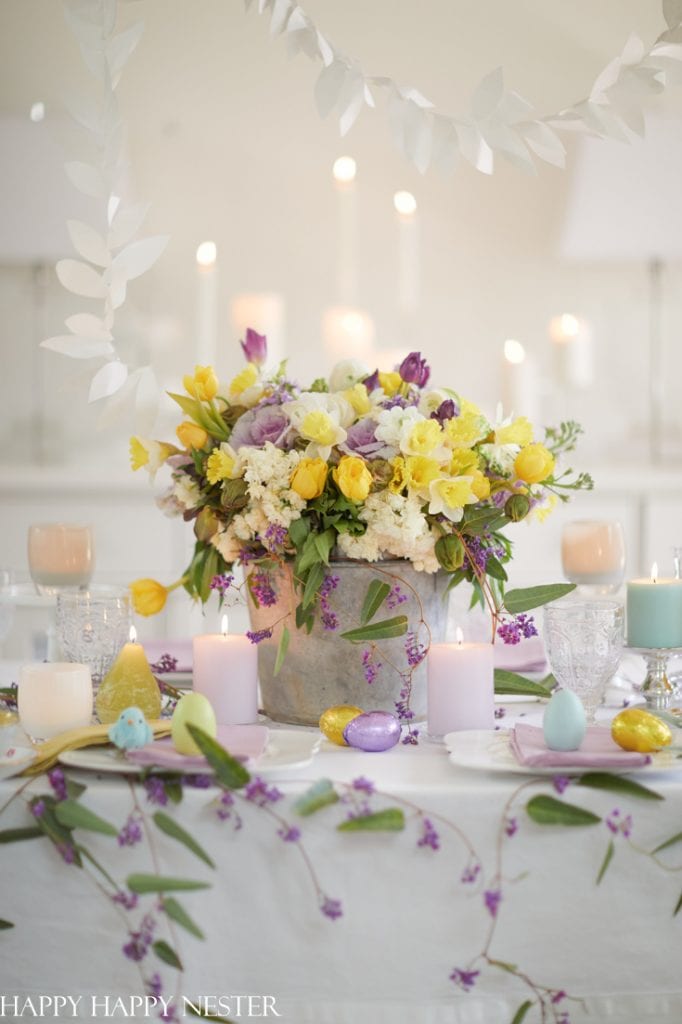 I'm sharing some simple spring decorating ideas for your table. It is easy to pull decorations that you already own and design a stunning table for Easter!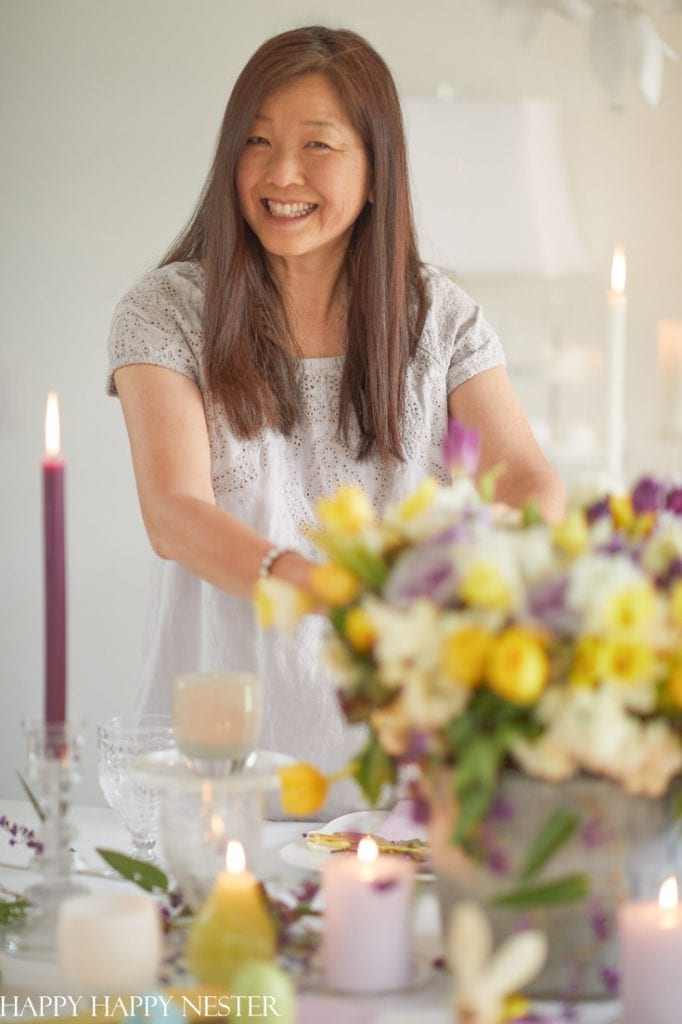 Today is the final day of our 3-day Spring/Easter Blog Series. I love these projects since it pushes me to create things that probably wouldn't exist if it wasn't for this gentle push.
Here is the list of this week's blog posts just in case you missed the earlier projects.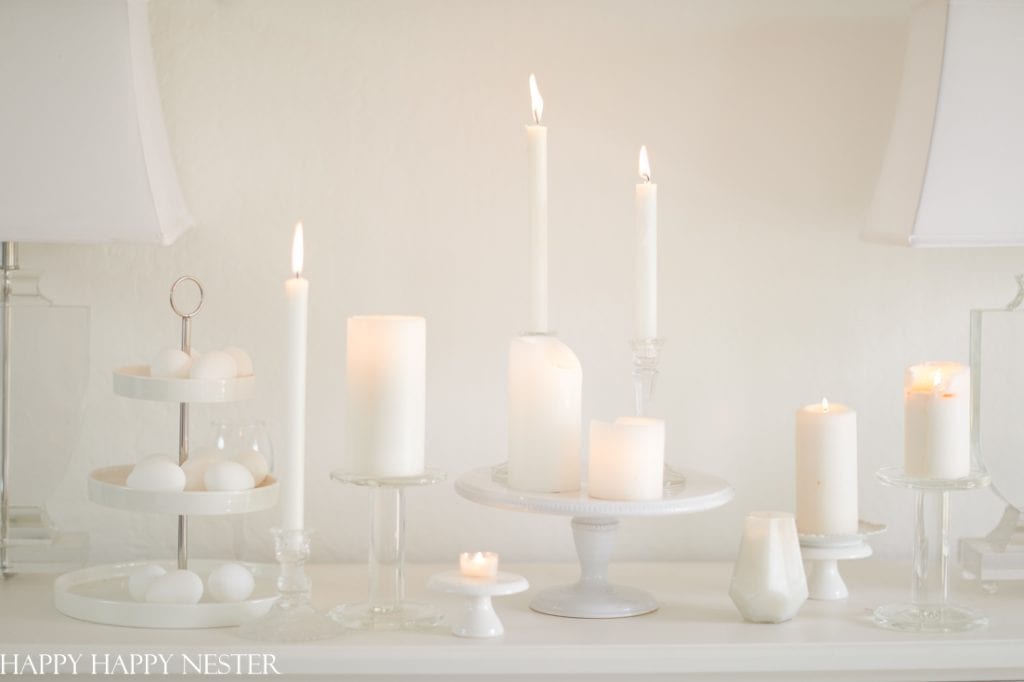 *The following post contains affiliate links
Spring Decorating Ideas for a Dining Room Table
When I begin brainstorming for my dining room table, I love a clean slate. So I always start by clearing off my dining room table, and then I place my trusty white linen table cloth on it.
I love the crispness of a white canvas. If the table and my buffet aren't cleared off, I get hung up, and my creativity doesn't flow. So whether you're tackling a bookshelf, coffee table, buffet, or dining room table, take the time to clean off all surfaces.
Next, you'll have to plan the rest of the table. I knew immediately that I wanted a table that reflected a garden that had blossomed in our dining room. So with that in mind, I started with my focal point, which brings me to our first question.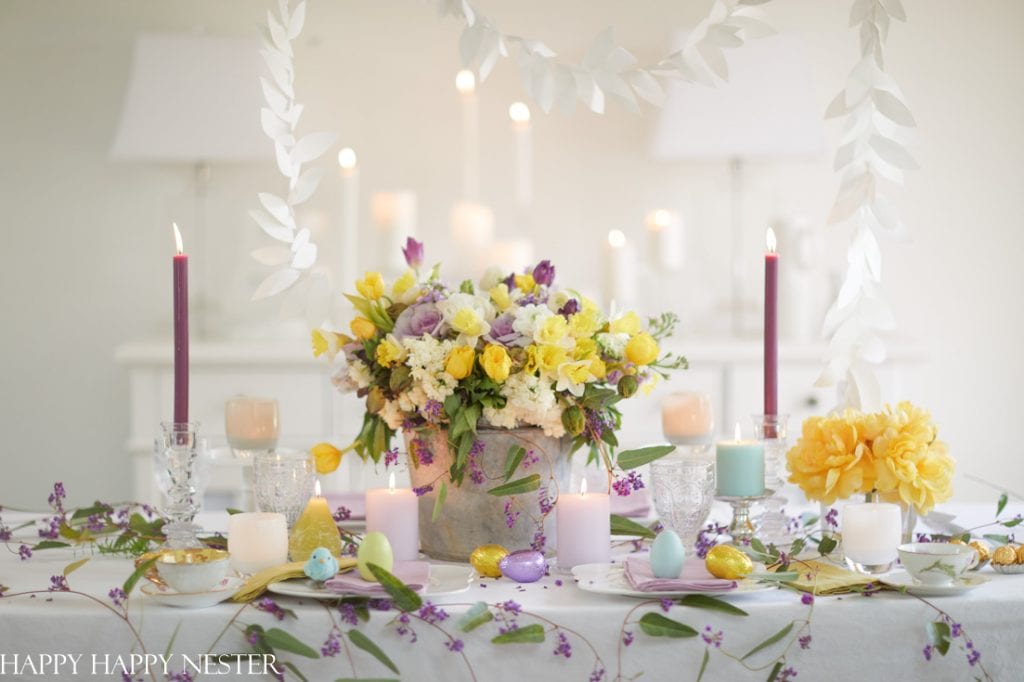 What do you put in the middle of a table?
Before I began decorating, I contemplated what I would place in the middle of the table. This year, I went with fresh flowers.
You can place most anything in the middle, a basket of Easter eggs, a holiday figurine, a trio of candles, and more. The sky's the limit, so be creative. One Easter, I placed the cute Pottery Bunnies in the middle. You can view this Easter Table post here.
Once I decided on a flower arrangement, I needed to figure out what color scheme I would focus on. And lately, I love yellow and lavender. So last Saturday, we took a trip into San Francisco to the Flower Market. I had such a blast picking a bunch of beautiful flowers for my arrangement.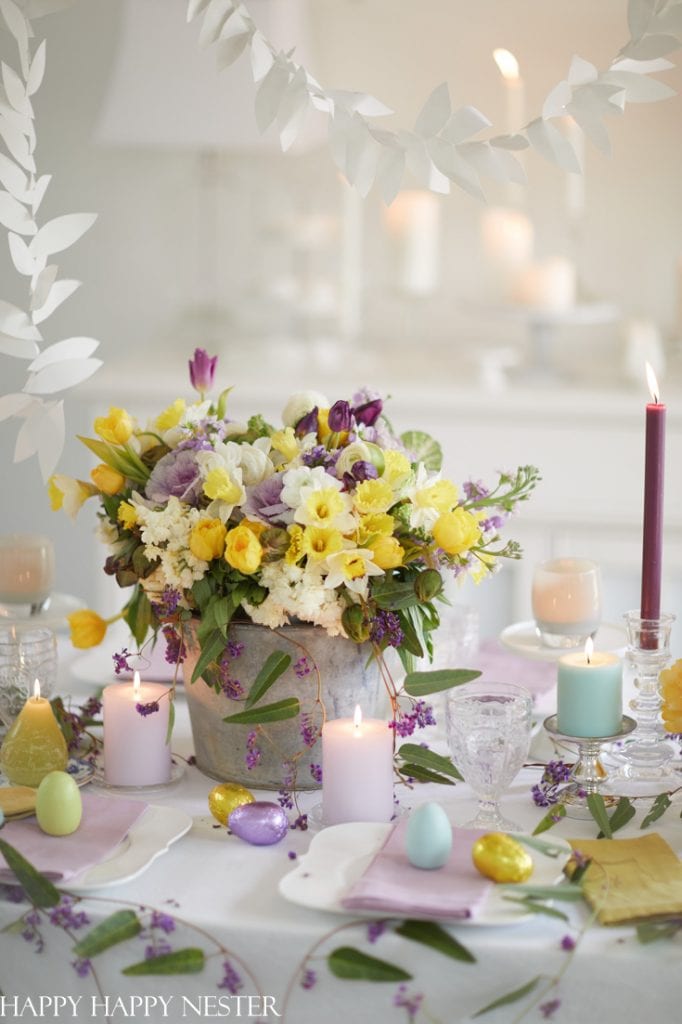 How do you decorate for spring on a budget?
Outside of the flowers, I pulled together things that I already own. A white linen tablecloth, white plates, lavender napkins, glass candlesticks, Glassybaby candle votives, tapered candles, and my favorite Mosser cake stands.
I also strung my paper garland above to give the room one more garden element. Make sure to check out the tutorial since it is always a great garland to have in your supplies.
Also, bring in flowers from your garden to save some money. I brought in my purple vines from my Happy Wanderer plant. When I snipped some vines in my garden, the bees didn't want to share the sweet blossoms, and they buzzed me a ton.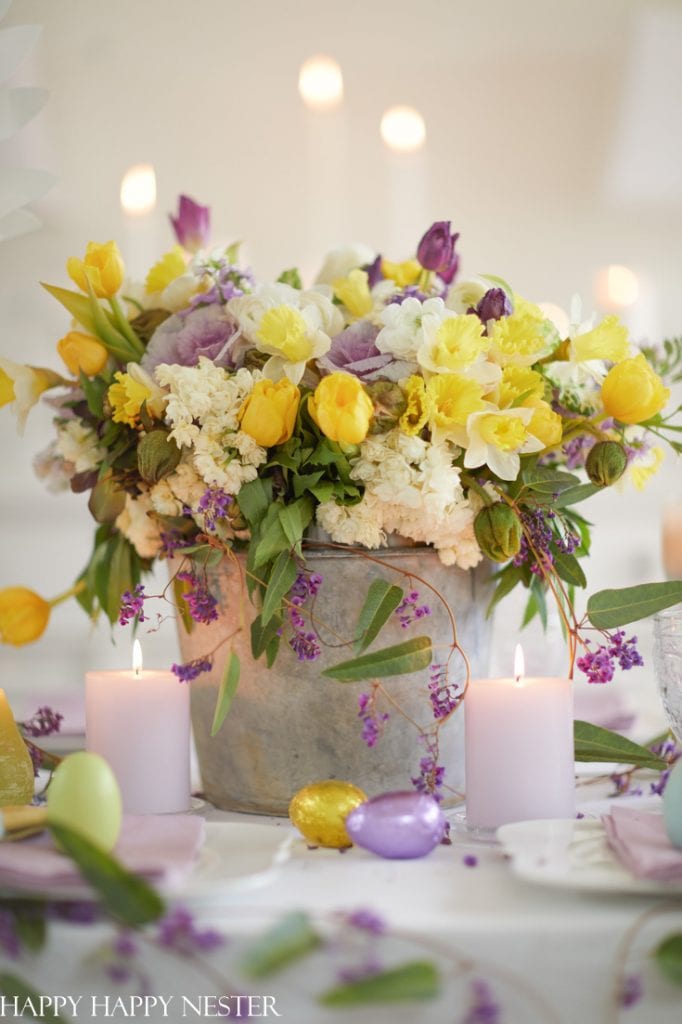 If you were wondering what flowers I bought here is a helpful list. You can inexpensively replicate this arrangement with mostly daffodils, tulips and a sprinkling of stock.
Here are the flowers I placed on my Spring table.
Daffodils
Yellow Tulips
Purple Tulips
Purple and Green Cabbage
Creamy White Double Blossom Daffodils – Erlicheer
White Icelandic Poppies
Lavender Stock
Happy Wanderer Vine – Purple
I placed my flowers in the rustic bucket and placed a big pot inside. My pail has holes and won't hold water. To keep the flowers in place, I used a heavy metal flower frog. Here is a link to a page of them.
Have fun with your decor!
Surprise your family and friends with some fun decorations. I always love to smile at cute things.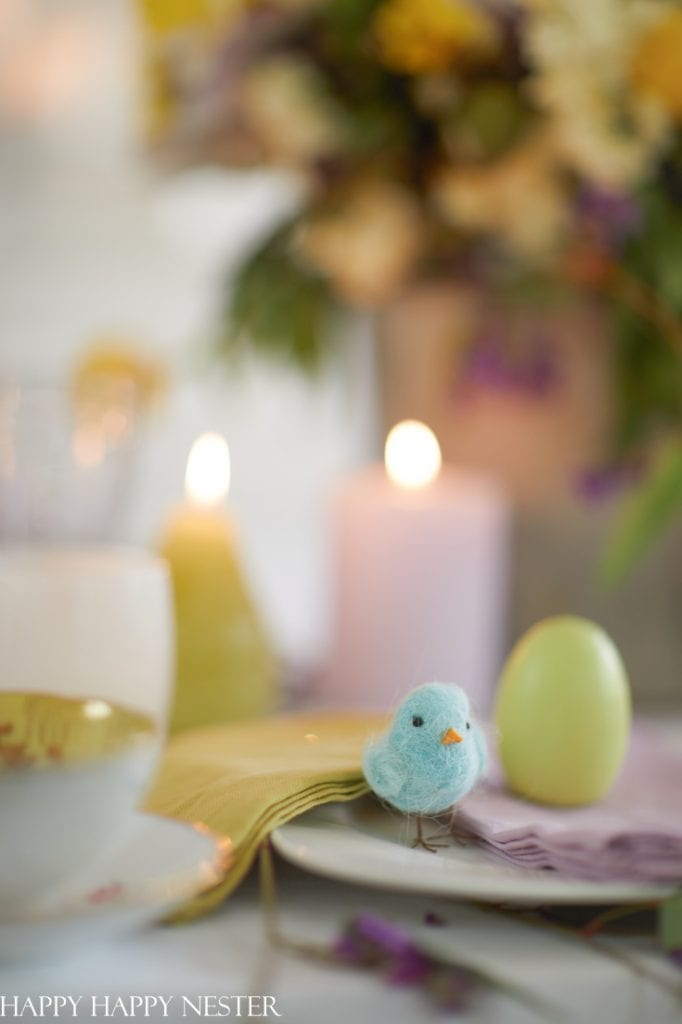 I wish I could find these cute birds I bought last year. If you find them, please let me know.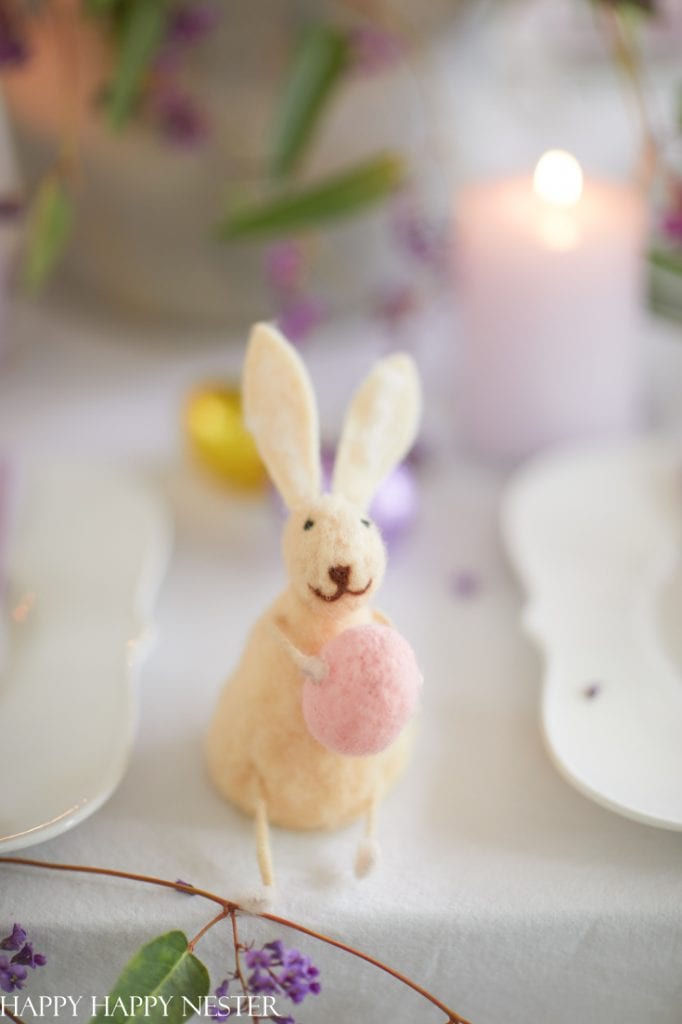 This little bunny is for Leslie. It is the cutest and I hope she likes it! I'm always placing whimsical items in our home.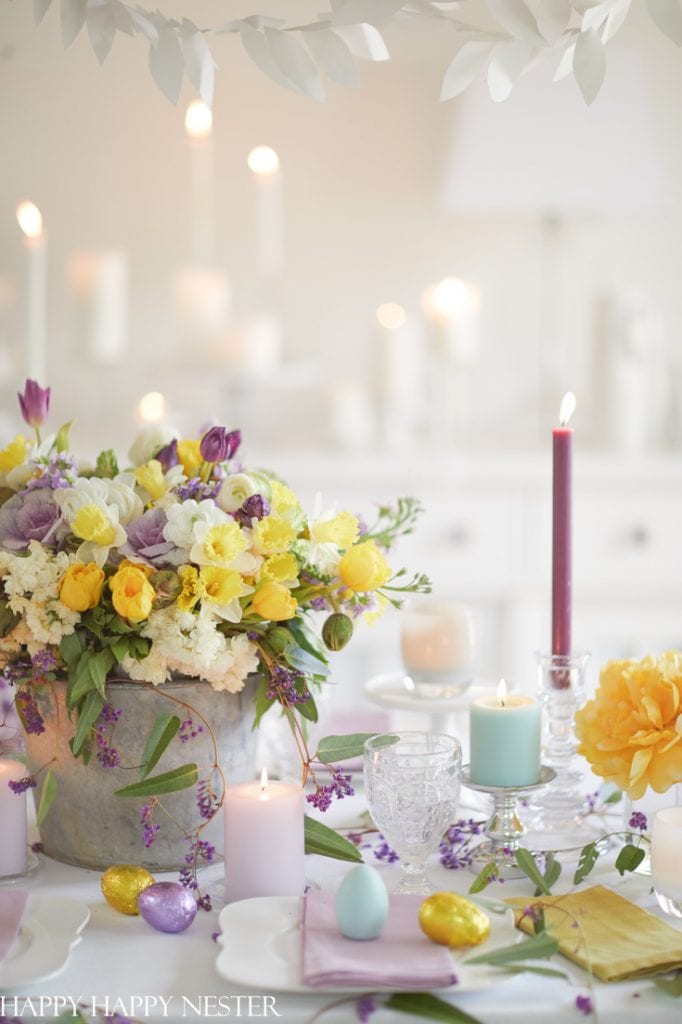 Here are My Friend's Spring and Easter Tables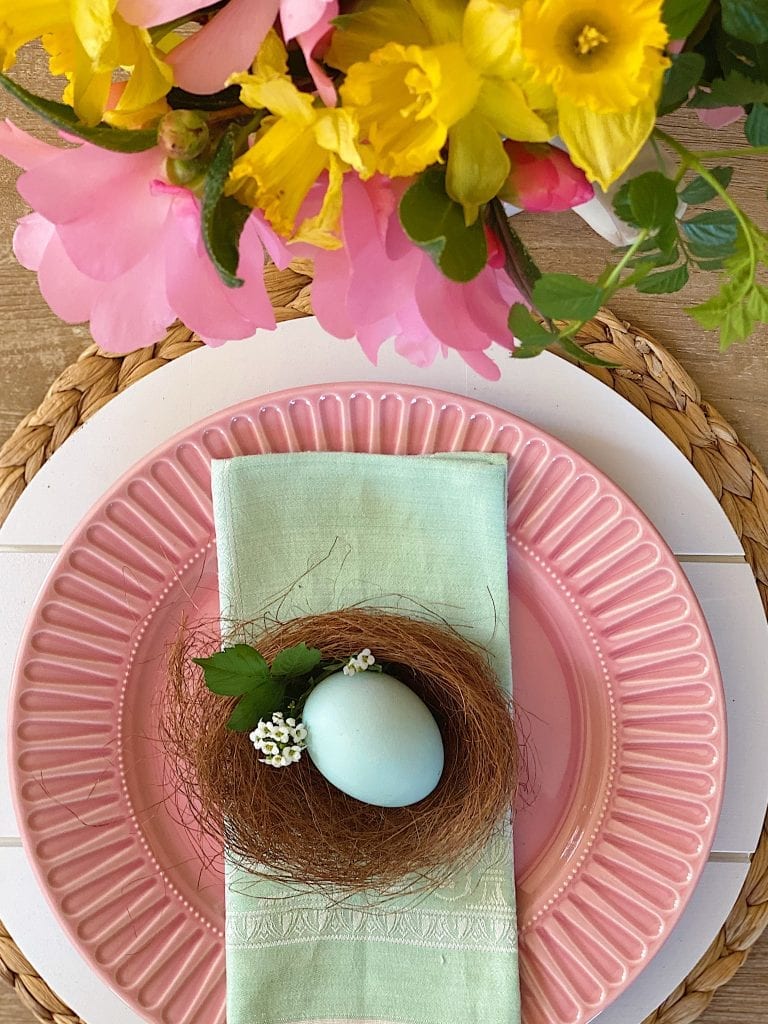 My 100 Year Old Home | Colorful Table for Easter Dinner
Today I am sharing a very colorful table for Easter dinner. It is easy, simple, and really fun to create.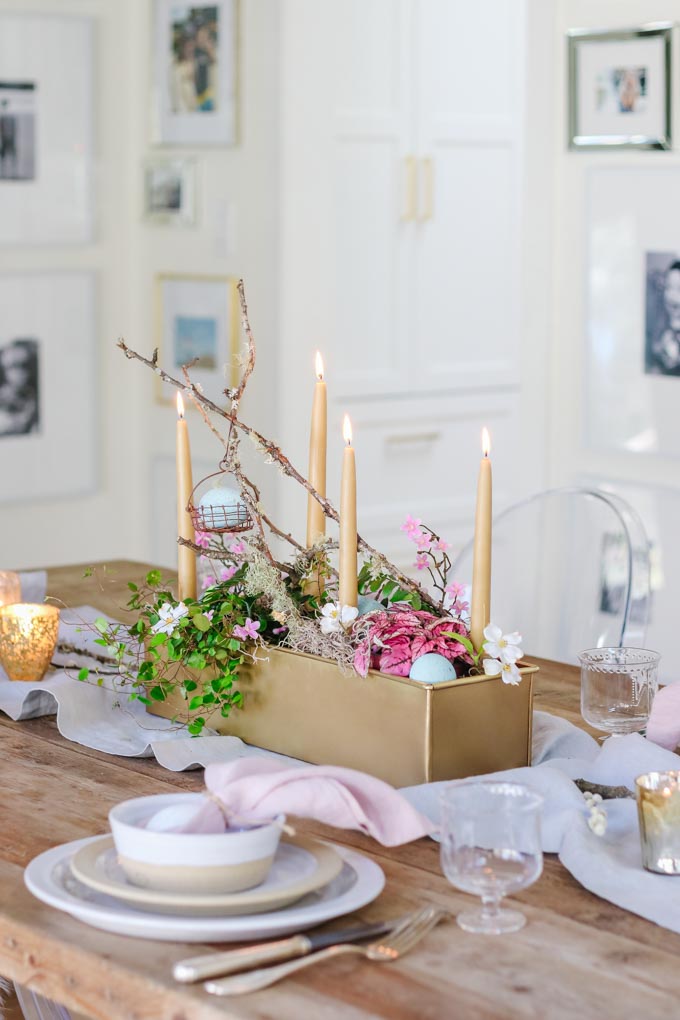 Modern Glam | Natural Style Easter Table
This natural style Easter Table is perfect for a casual gathering. With organic elements, a living centerpiece and neutral colors, this tablescape is simple yet elegant.
Thanks so much for joining us for this fun blog series! I hope you enjoyed this spring decorating ideas post. I sure loved bringing all these fun elements together to create a beautiful table for Easter!
Cheers,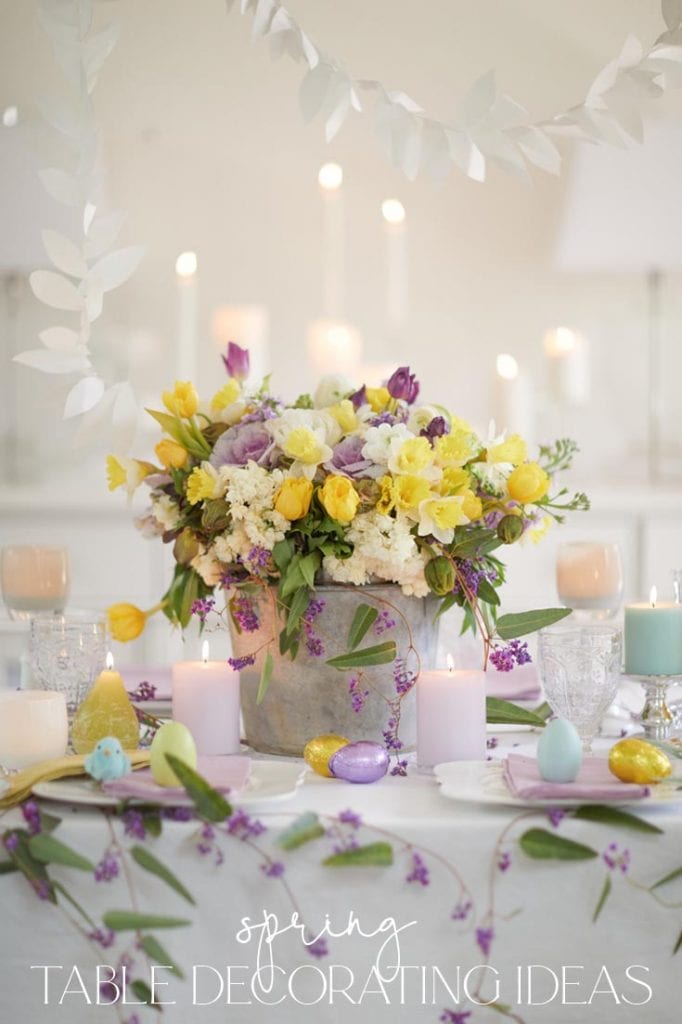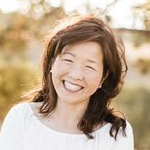 Latest posts by Janine Waite
(see all)