Spring is in the air, so I took this opportunity to round up 12 Inspiring Spring Table Decorations. This beautiful collection of tables includes an array of decor that is guaranteed to please every style.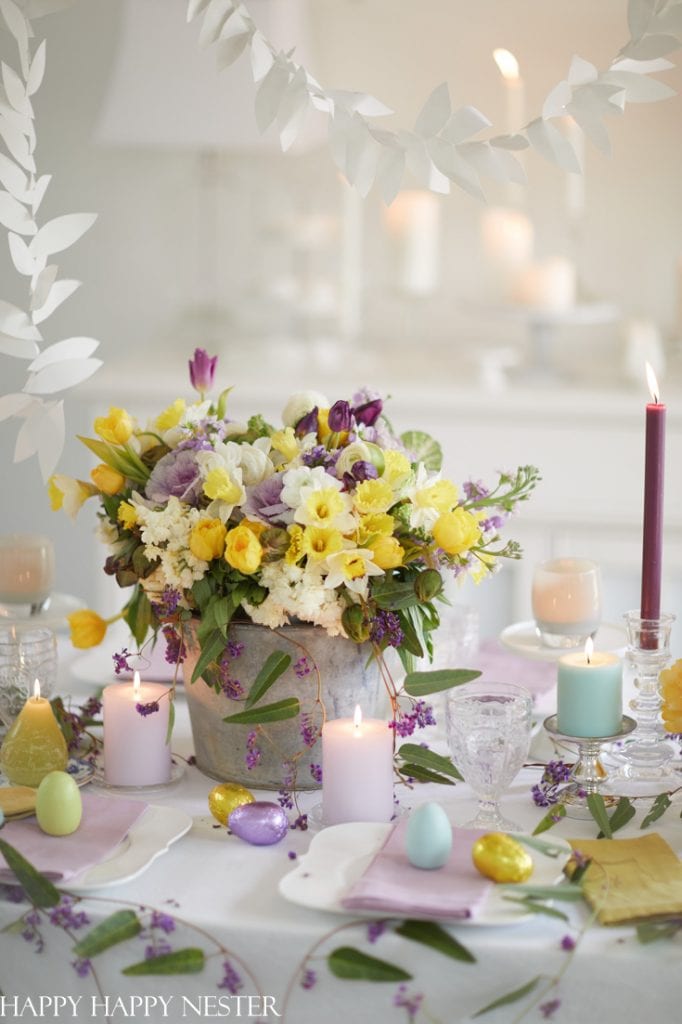 I enjoy creating pretty tables throughout the year. I love that if you focus on a theme and its details, a table can quickly alter a dining room that immerses you in another world.
After a long winter of very little decorating, it's always fun to dive into decorating for spring. So hopefully, this blog hop will inspire you to do just that, decorate your dining room table. I'm delighted to participate in a fun roundup of Spring Table Decorations organized by Robyn's French Nest.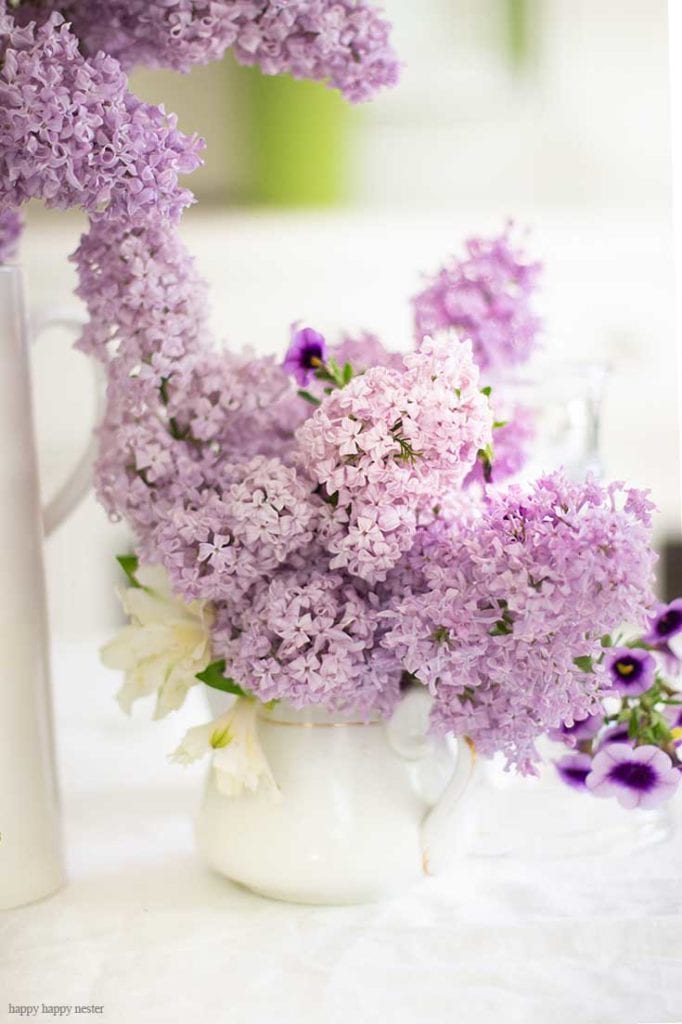 When I look over my blog and all that I've shared, I'm always amazed at how many tables I've decorated over the years. So, today's collection highlights some of my friend's tables and mine.
Spring Table Decorations
Let's look at these 12 gorgeous tables and all their tutorials and decorations.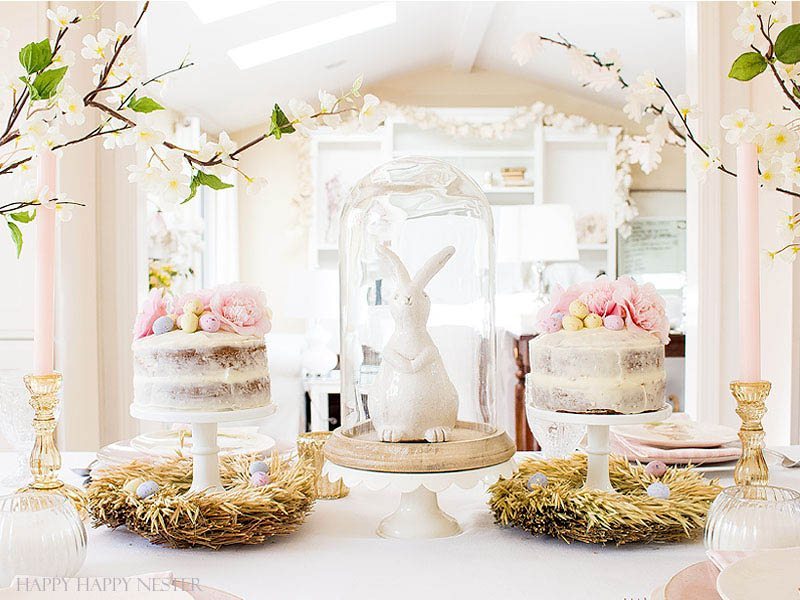 Setting A Simple Easter Table | Happy Happy Nester
My Easter table is one of my favorites. And oh my goodness, the bunny figurine and the mini-carrot cakes create a fun and fabulous table setting. This table set the stage for a beautiful Easter dinner.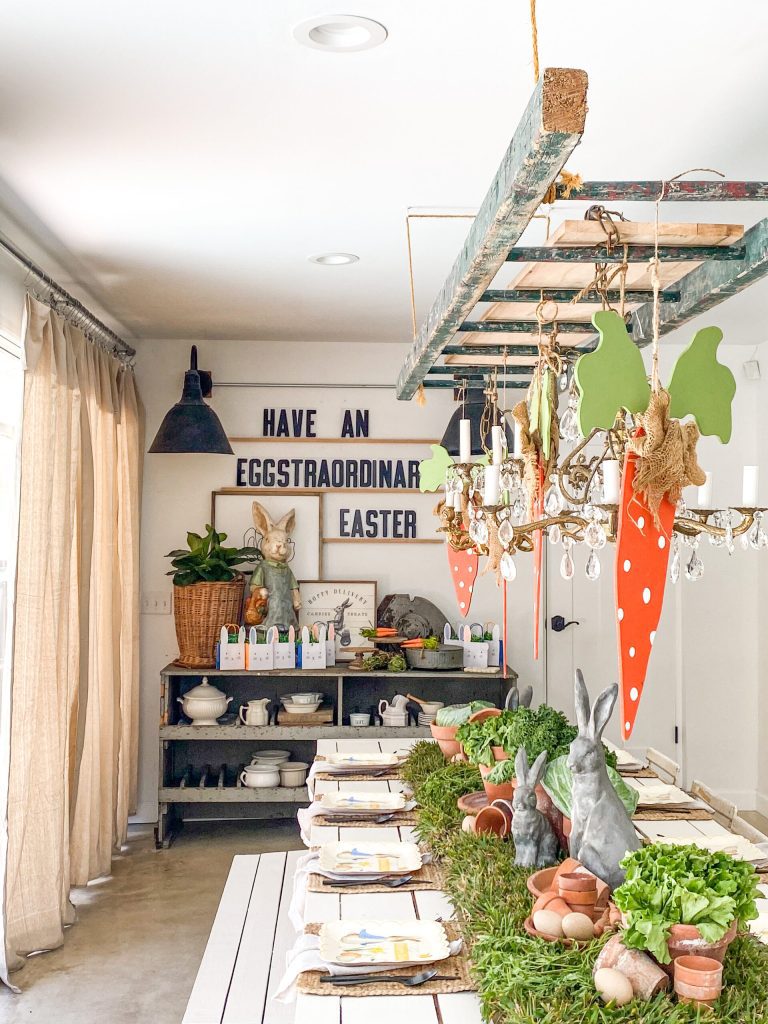 How to Make a Unique Table Runner With Grass | Robyn's French Nest
Robyn's fresh, unique table runner has natural grass! Yes, you heard correctly. She is such a creative blogger, and her added elements of bunnies and terra cotta pots add so much charm. I love how she added live features to her wonderful table!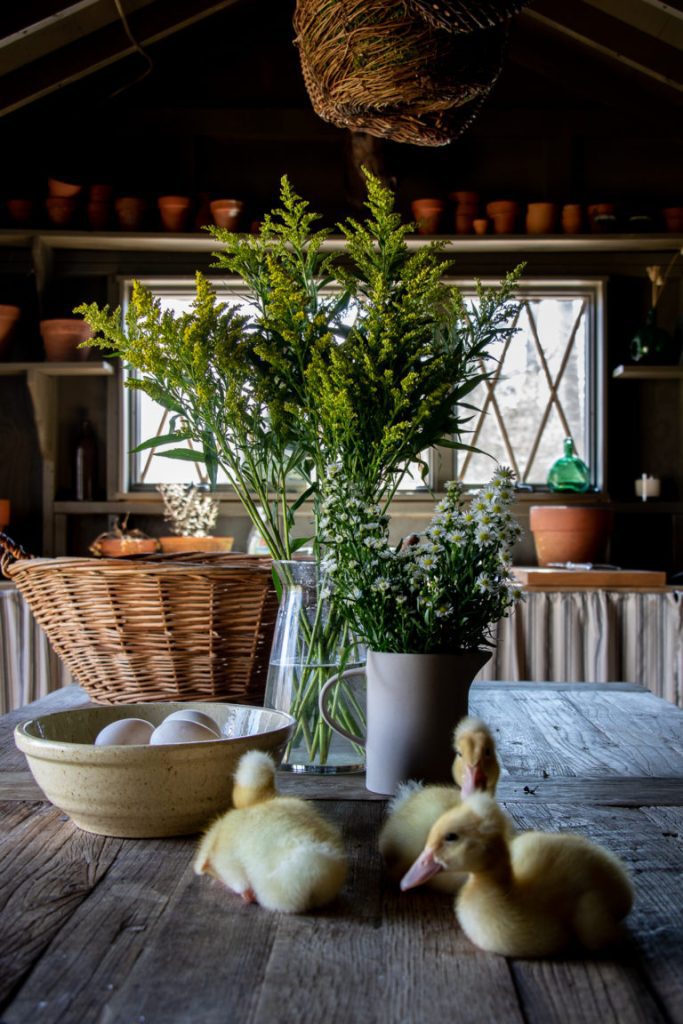 Simple Easter Table | Seeking Lavender Lane
Deb created this casual and gorgeous Easter table with grocery store flowers and other natural elements. Of course, her little ducklings are so adorable! Her room and table are classic and simply divine.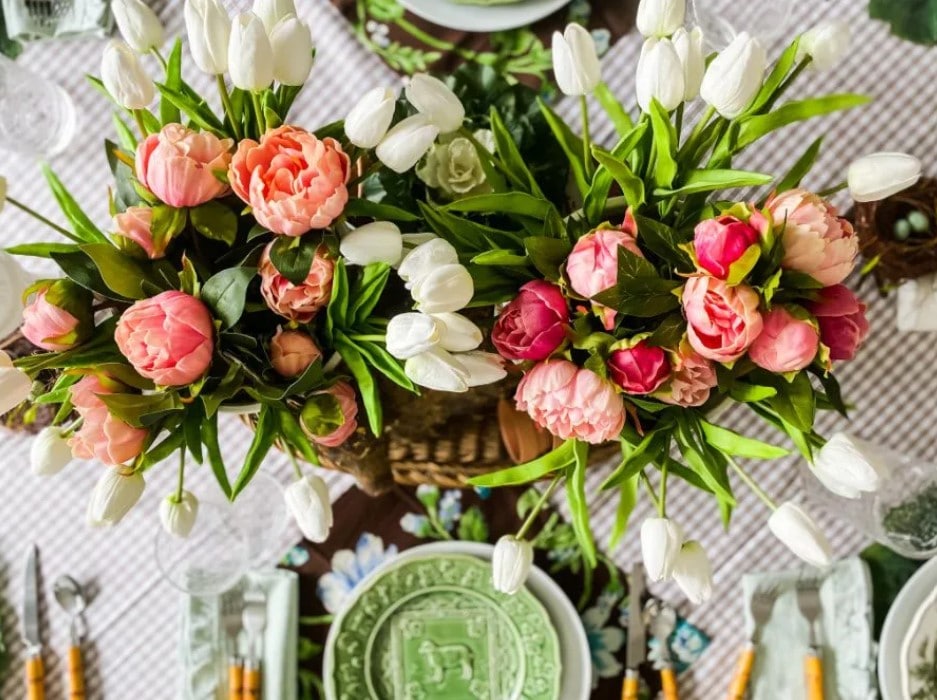 How To Set A Pretty Easter Table | The Tattered Pew
I love Kelly's Easter Table. She layers fabric so beautifully and creates a realistic-looking floral arrangement. Every piece of her table is perfect for spring, and her cute spring plates are to die for, and I do need some.
---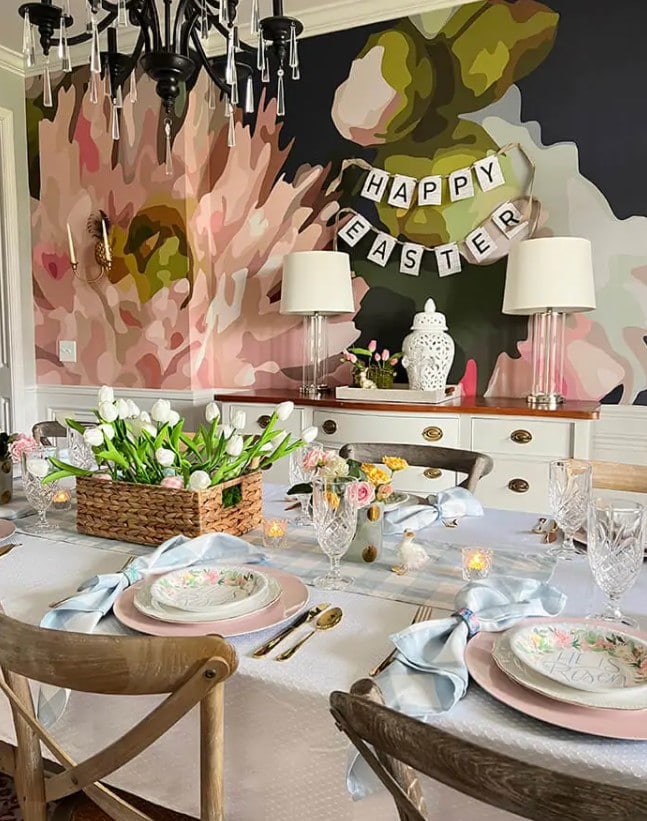 Simple Easter Tablescape | Less Than Perfect Life of Bliss
Julie's buffalo check table runner and napkins set the stage for a pretty pastel table. Her attention to detail is fantastic. I love how she used a roll of washi tape for her napkin holders. The designs are perfect for a spring look.
---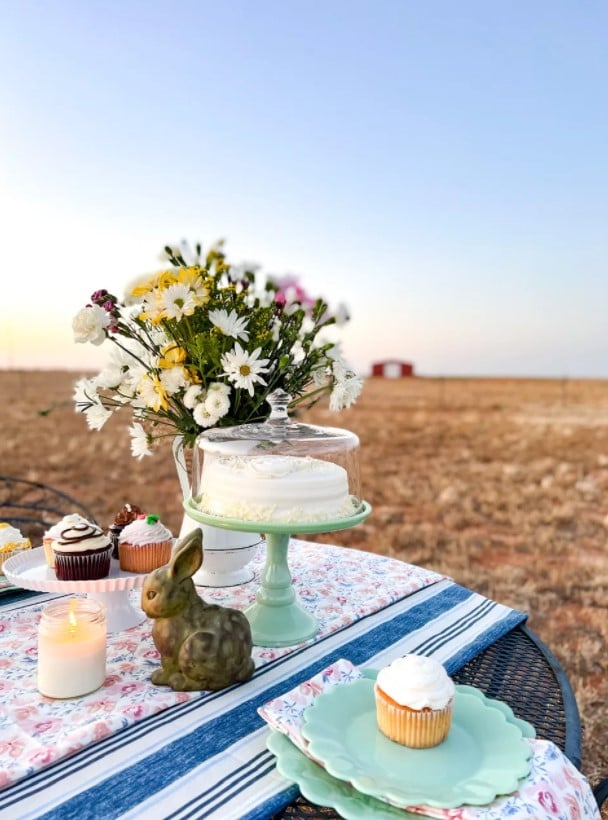 How To Make A Country Style Outdoor Easter Tablescape With Rustic Elegance | Our Prairie Farmhouse
Need some inspiration for setting up an outdoor table setting? Then you'll want to check out Tammie's table and all her beautiful table decor.
The outdoor backdrop of the Texas Prairie is stunning in both the daytime and at sunset. I always prefer outdoor dining if given the choice of a location.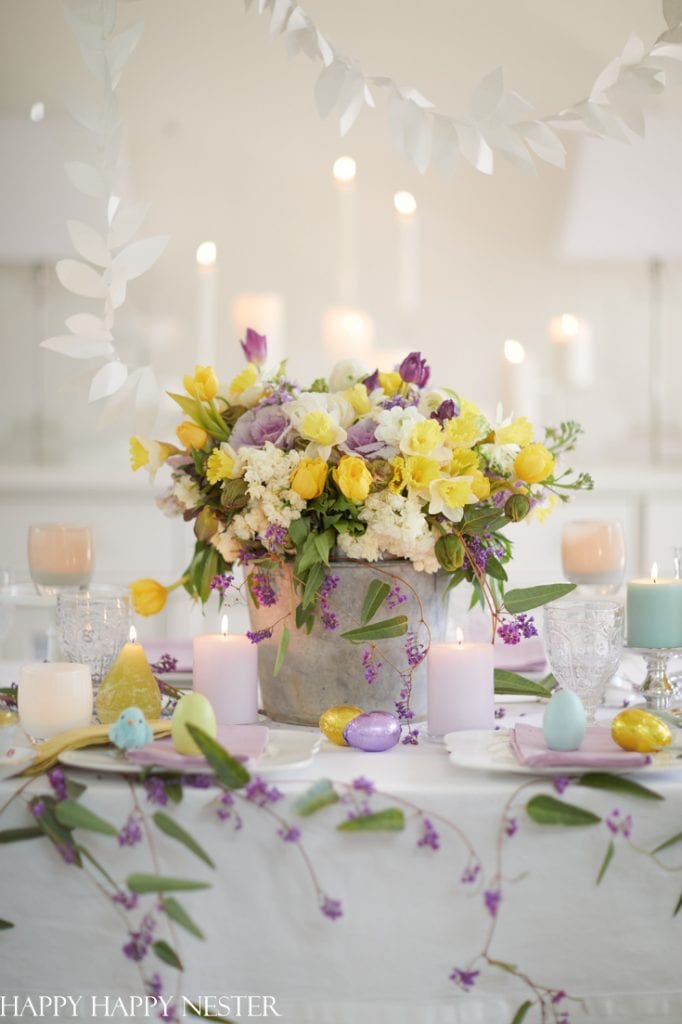 Spring Decorating Ideas For A Dining Room Table
Spring Decorating Ideas for Dining Room Table include a floral centerpiece that radiates to the rest of the table. Introduce organic items to bring new life to your Easter table.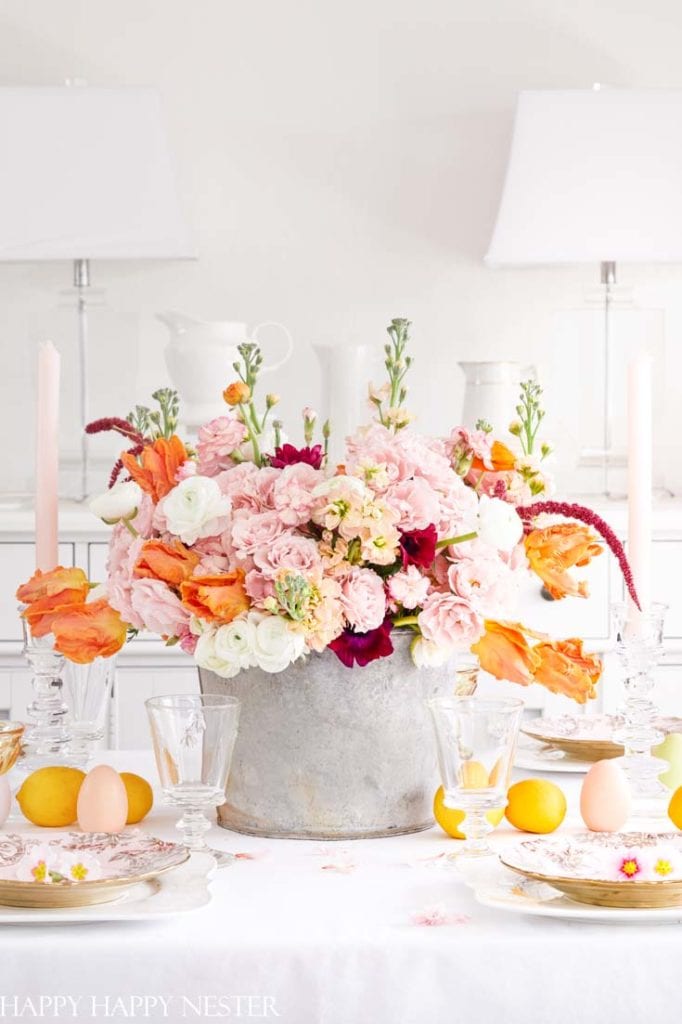 Creative Flower Arrangements For Spring
I'm always excited to come up with more flower arrangements for spring. And for this project, I took a trip to the San Francisco Flower Market, and here are the stunning results. In this post, I share how to make this lovely bouquet of spring flowers.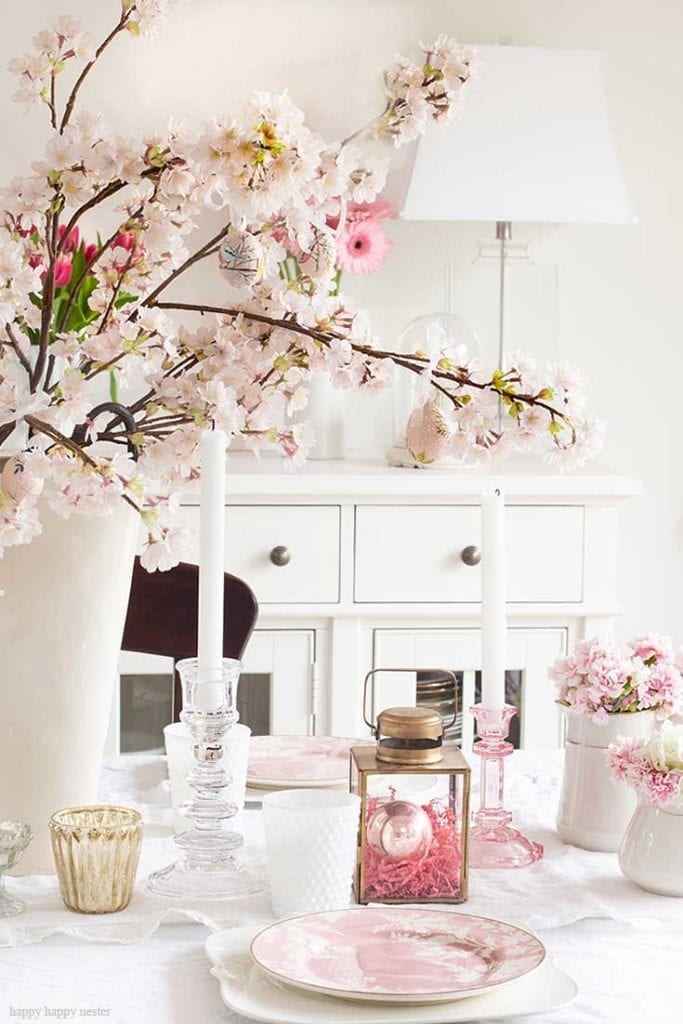 You'll enjoy my spring home tour from a couple of years ago. I share some fun ways to add flowers to freshen up your home for spring.
I collaborated with a few friends to create this gorgeous outdoor table. The flowers are impeccable, and the table decor is fit for a queen. I hope you have a chance to check out how to recreate this table for your spring and summer dining.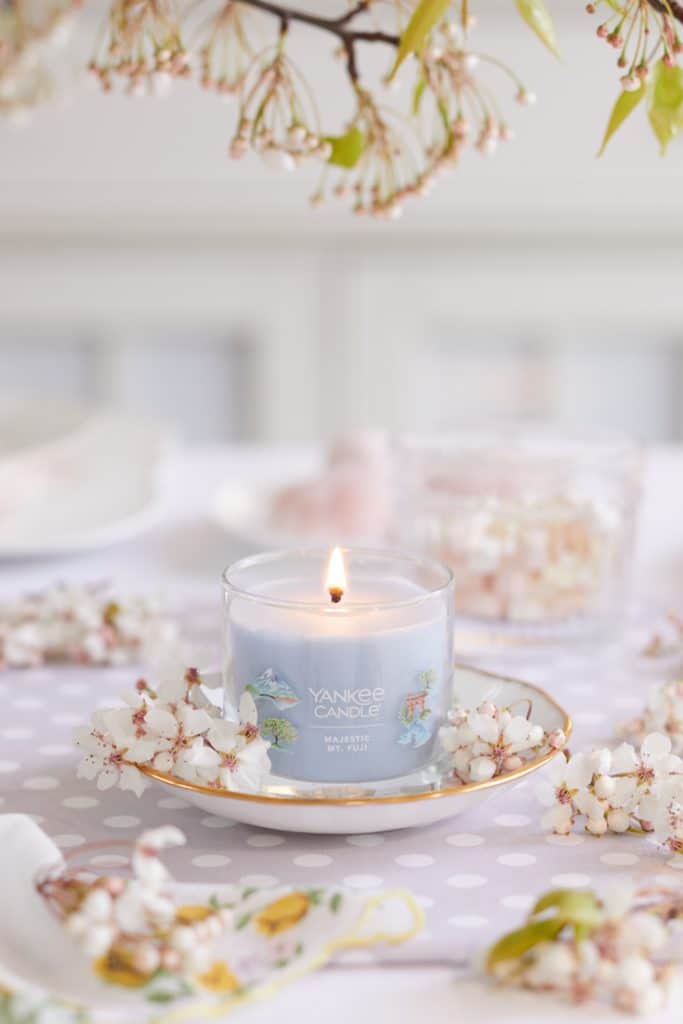 Table Decorations With Candles And Flowers
The combination of flowers and candles is perfect for welcoming spring into a home. This easy table displays beautiful flowers from around my neighborhood!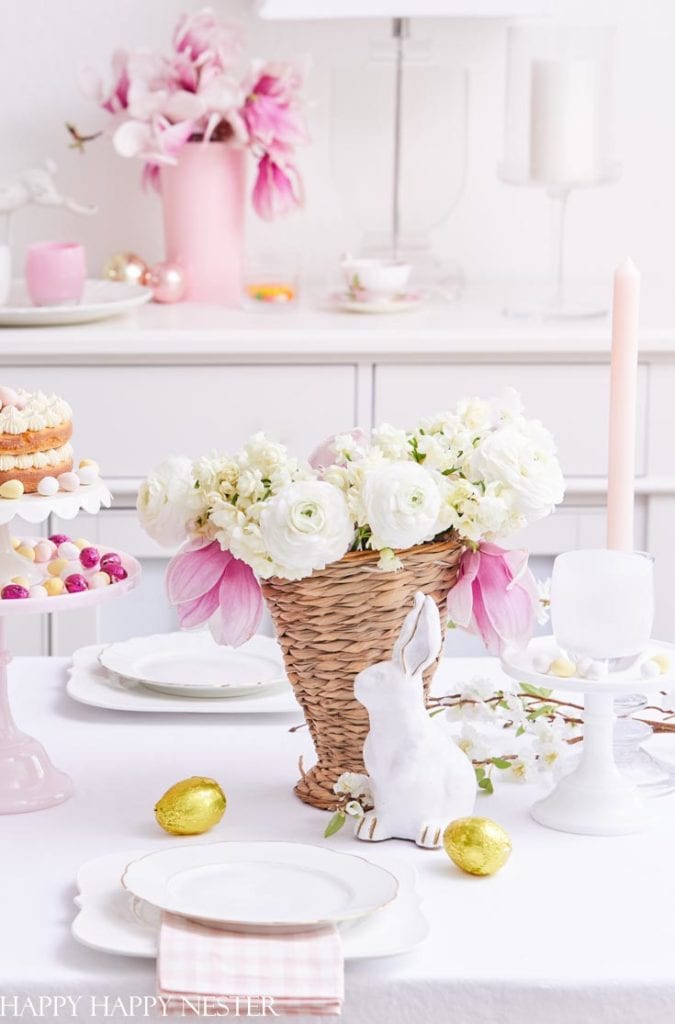 How to Arrange Simple Table Decor
Spring is my favorite time of year, and I love all the pretty fresh colors surrounding this lovely season. As you can see, my love for spring made an appearance in our dining room.


---
Well, I enjoyed this fun blog hop on spring table decorations. Have fun decorating your table this season, and I promise to create more tables for you for the rest of the year.
Cheers,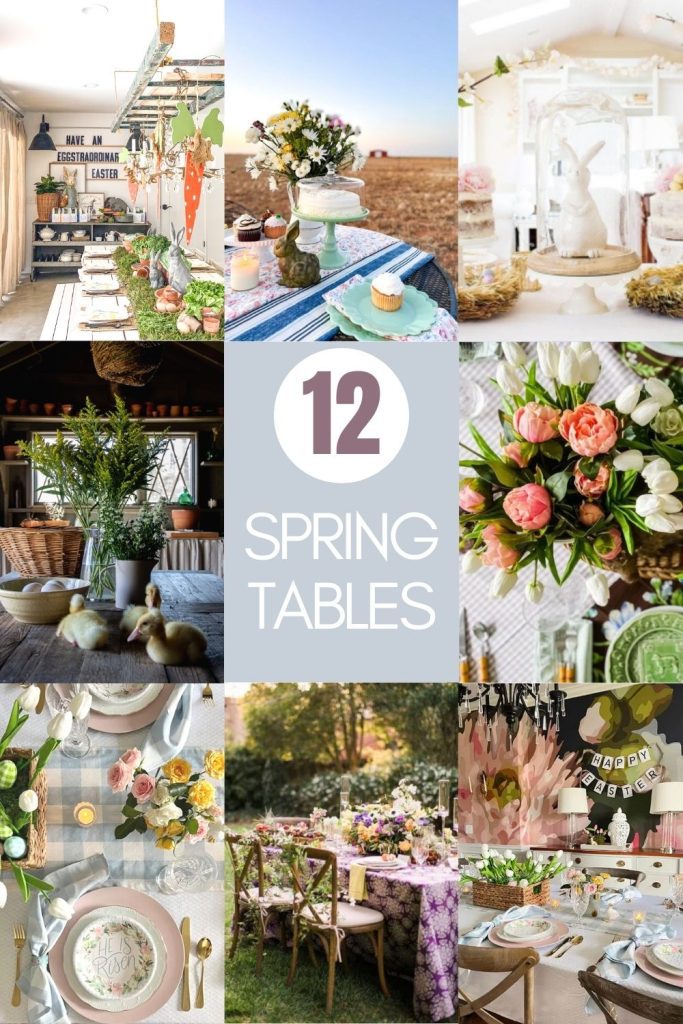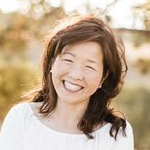 Latest posts by Janine Waite
(see all)