It has been raining cats and dogs around here, so I'm so ready for a Pretty Pink Spring Home Tour. Glad you can join me today and if you are new to my blog, a warm spring hello. Tana from Your Marketing BFF is hosting this wonderful spring blog tour, and I'm so honored to be included. I hope you enjoyed Marissa's tour at My Casa di Bella her home is so stunning!
*The following post contains affiliate links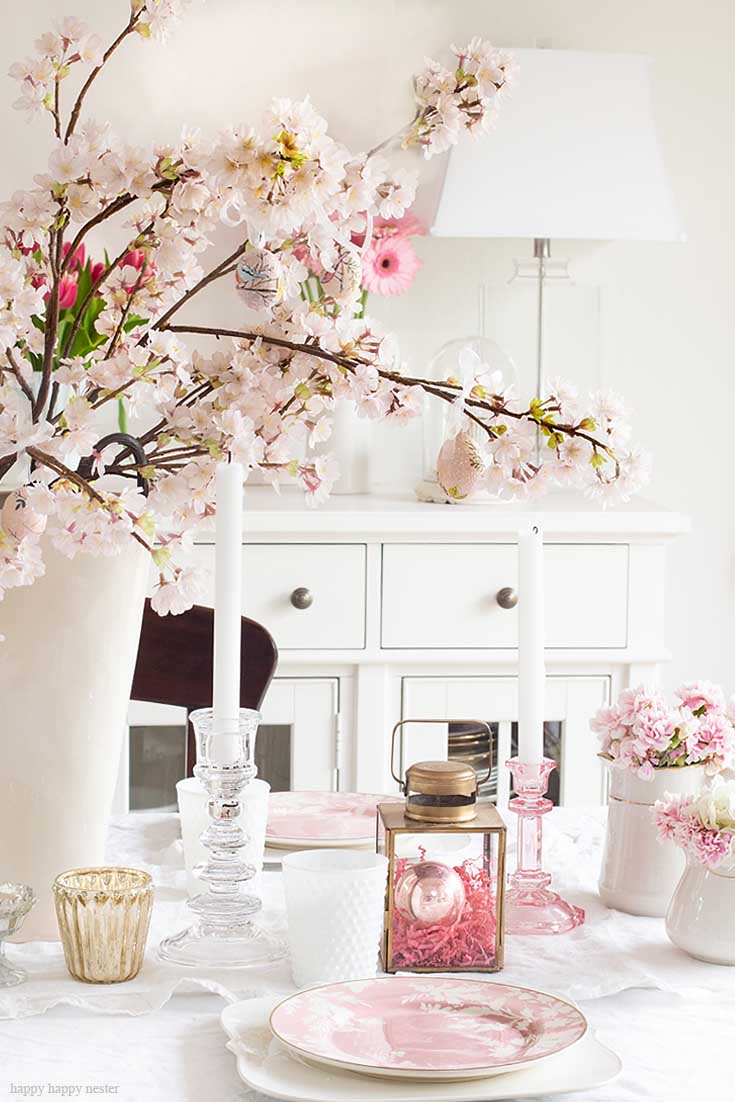 A. Pink Candle Stick | B. Harper Stacked Glass Candlesticks | C. Eclectic Mercury Glass Candle Votives | D. Monique Lhuillier Rose Salad Plate
Pink Has Sprung Over At Our Home
I naturally gravitate towards the color pink. It catches my eye, and now my house is covered in pink and white. So, when styling for spring, a pretty pink home tour made complete sense. Also, I have a few Hygge home posts that I worked on recently, and I've included these pretty spring photos in this tour as well.
Pretty Pink Spring Home Tour
Let's start the tour from room to room.
Entryway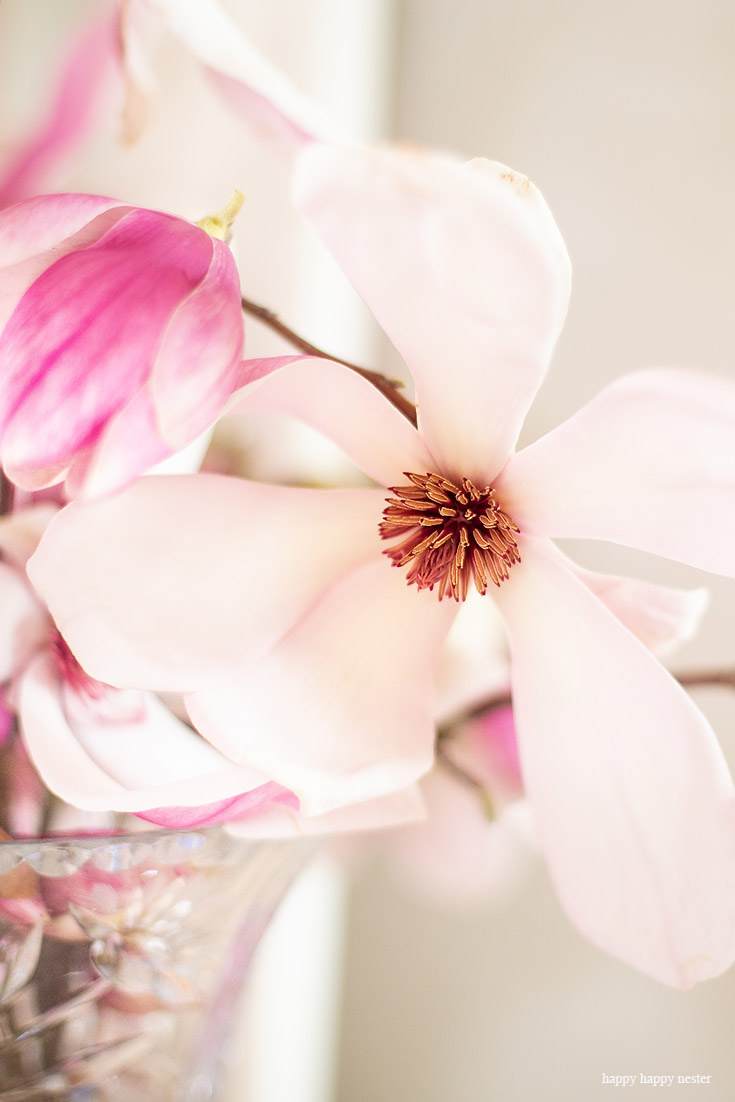 Despite all our crazy weather, our local magnolia trees are blooming and my friend and neighbor, Sallie let me pick her tree's gorgeous pink blossoms. Last year, I made some realistic Paper Magnolias in which I used the real petals as templates. To be honest, the paper flowers I created look like these real ones!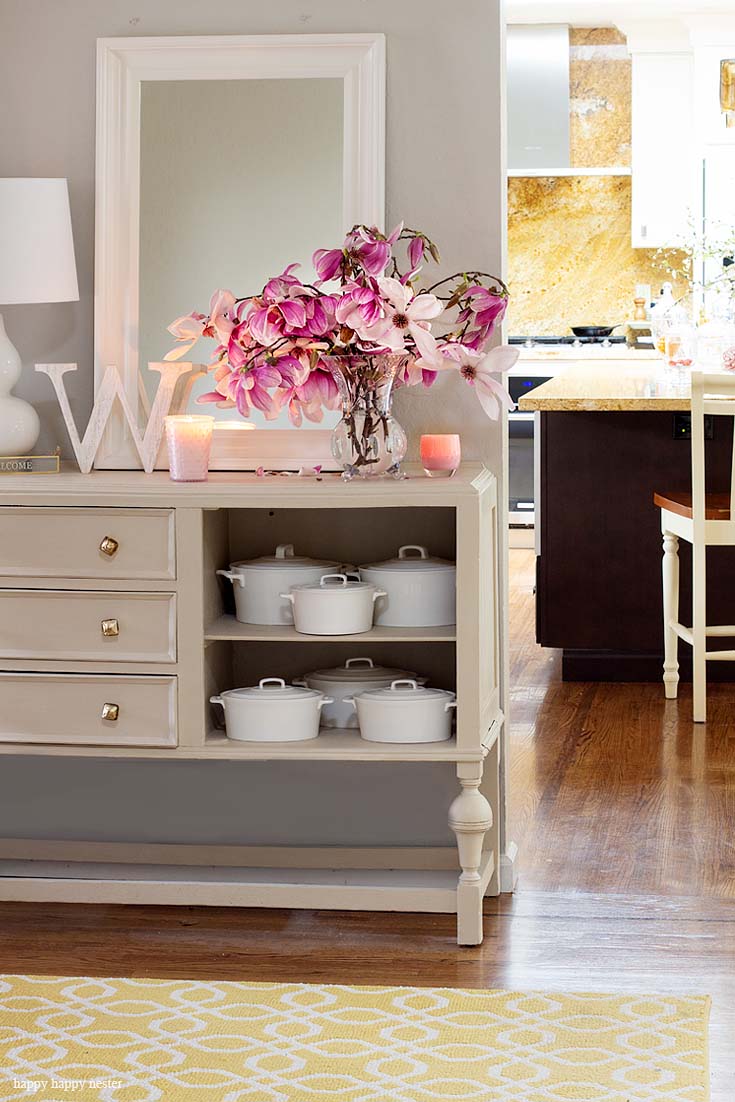 As you can see we have a pretty small entryway, and this is somewhat typical of California Ranch style homes. So, this little vintage buffet barely fits in this spot but I was determined to greet people with seasonal decor. So, today Sallie's magnolia flowers are decorating the table, and their tropical fragrance is filling the room.
Living Room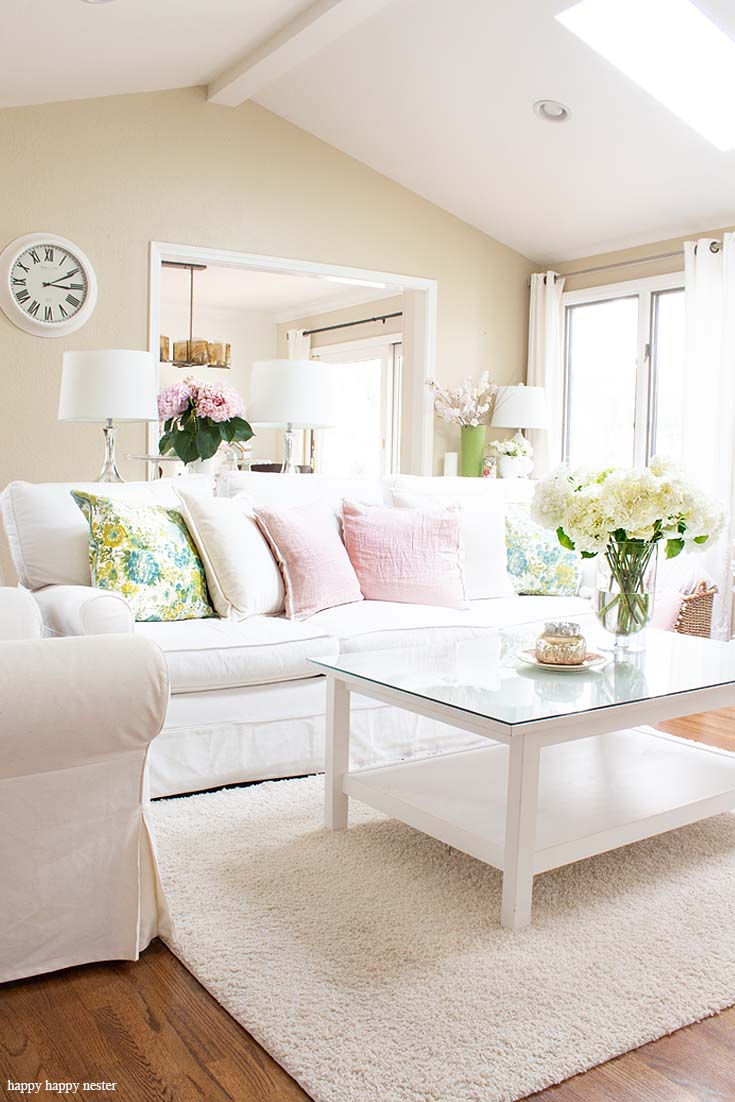 A. Safavieh Lamps | B. Crate and Barrel Sofa | C. Aviles Cream Area Rug  | D. Capri Blue Candle
Like I said it has been raining for the last couple of weeks and so over the weekend, the sun poked its head out for a couple for minutes. I did get this shot with the light filling our living room. Spring is the time of year where I like to add flowers to this room. Also, I unearthed a few of my floral pillows from my linen closet. But, I love my Pottery Barn white velvet pillowcases and the pink linen pillows. The velvet fabric is so soft and lovely to sit with when cuddled up in my faux fur blanket.
Yes, those are real hydrangeas that I bought at the San Francisco Flower Market. I actually have a San Francisco blog post that includes one of my trips to the market.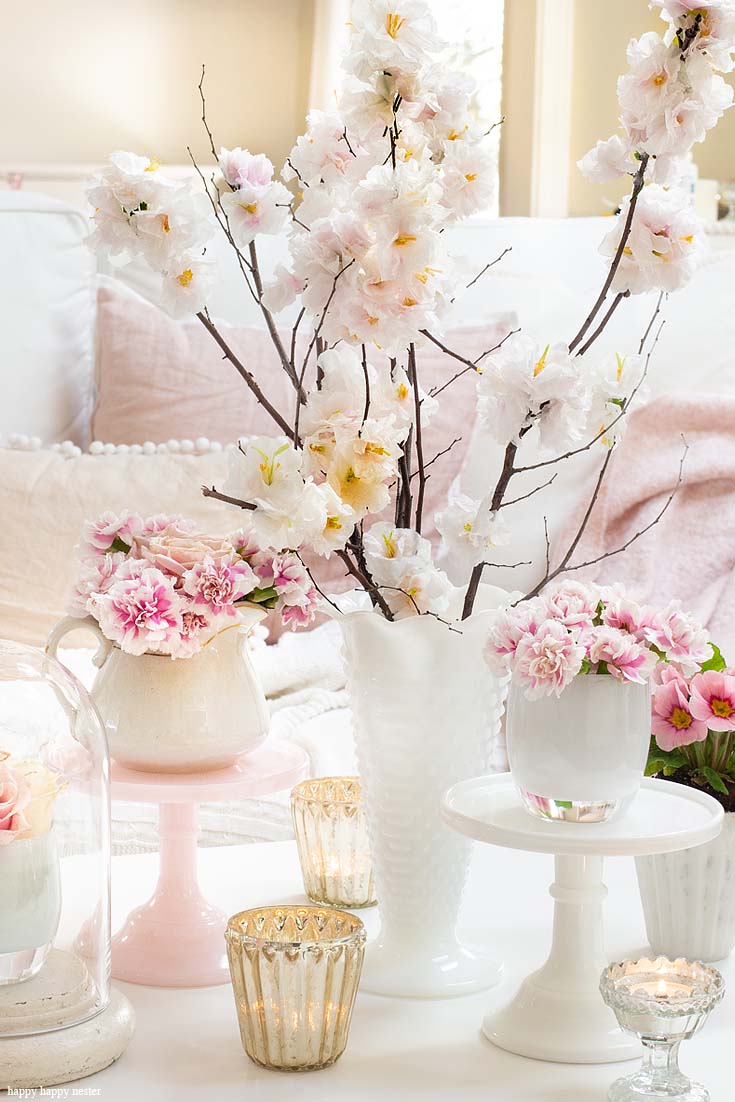 So, the flowers in the white hobnail milk glass vase are my recent tissue paper cherry blossoms. Yup, these flowers aren't real, and they are made out of Kleenex! You can make your own flowers from the directions on my paper flower tutorial blog post.
And the flowers you see in the photo are my other paper flower cherry blossoms that I made last year. I love that I can have them out all year long and they don't wither up and die like fresh flowers!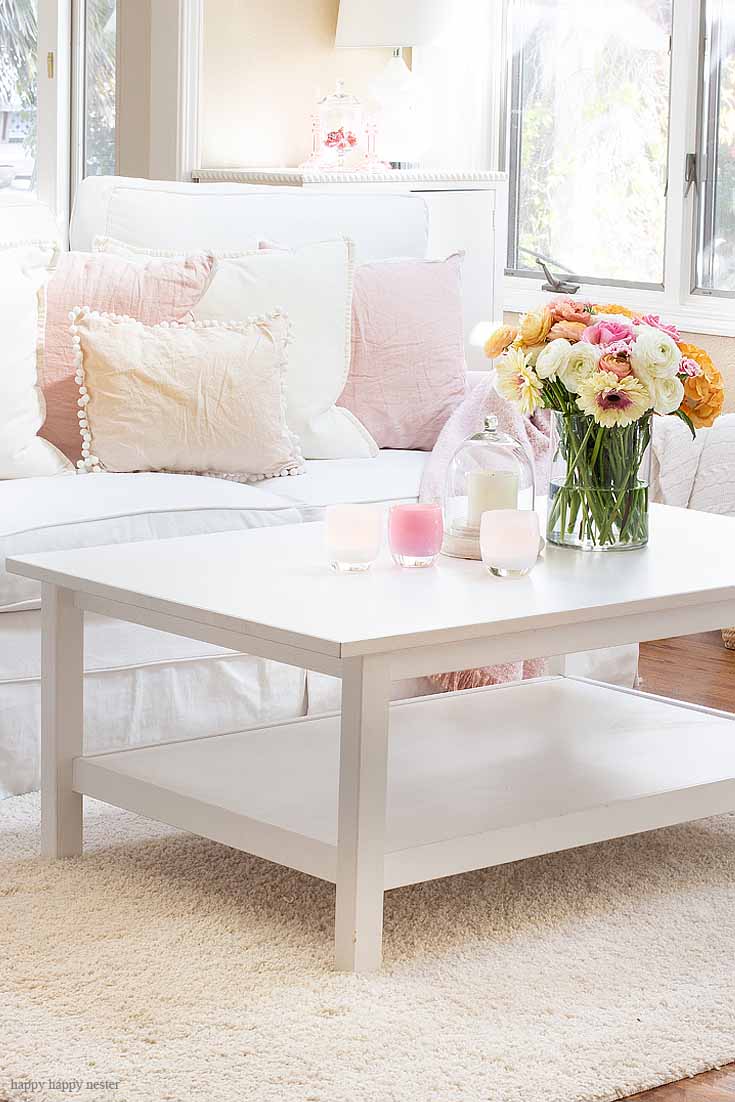 Do you see the little pom pom pink pillow on the sofa? I dyed that fabric with avocado skins. Yes, you heard correctly, avocado skins from my daughter's avocado toast lunch. It is a great way to get a light pink, and beautiful dye and it is super easy to do.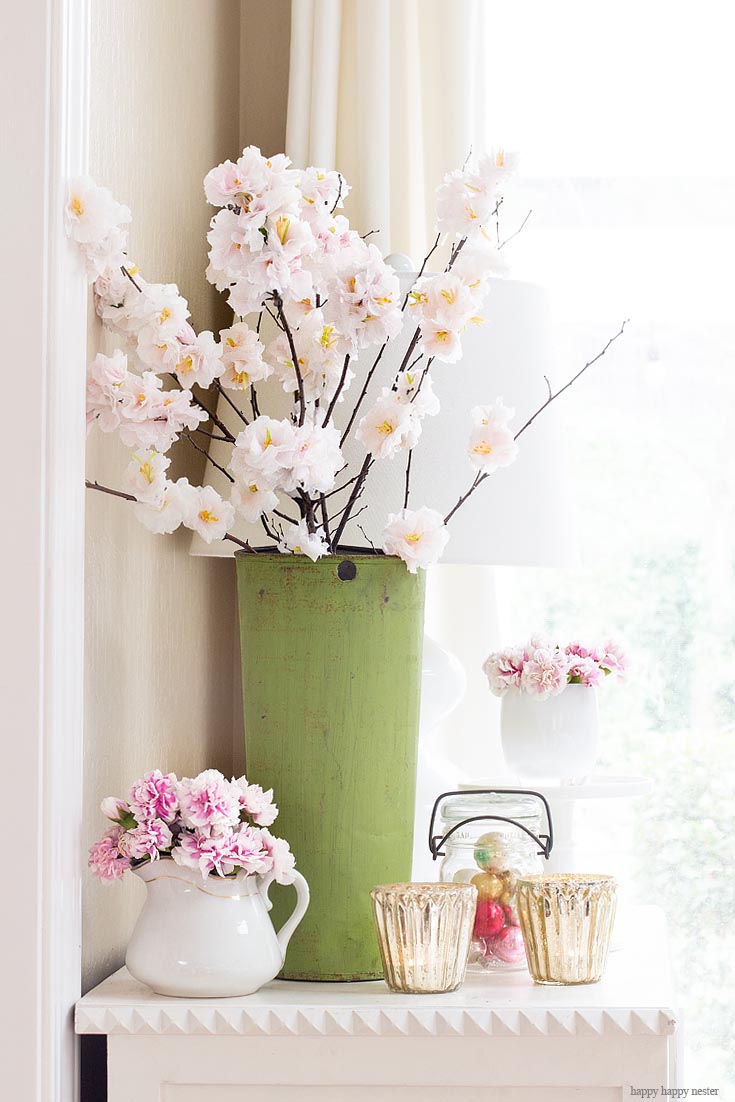 Dining Room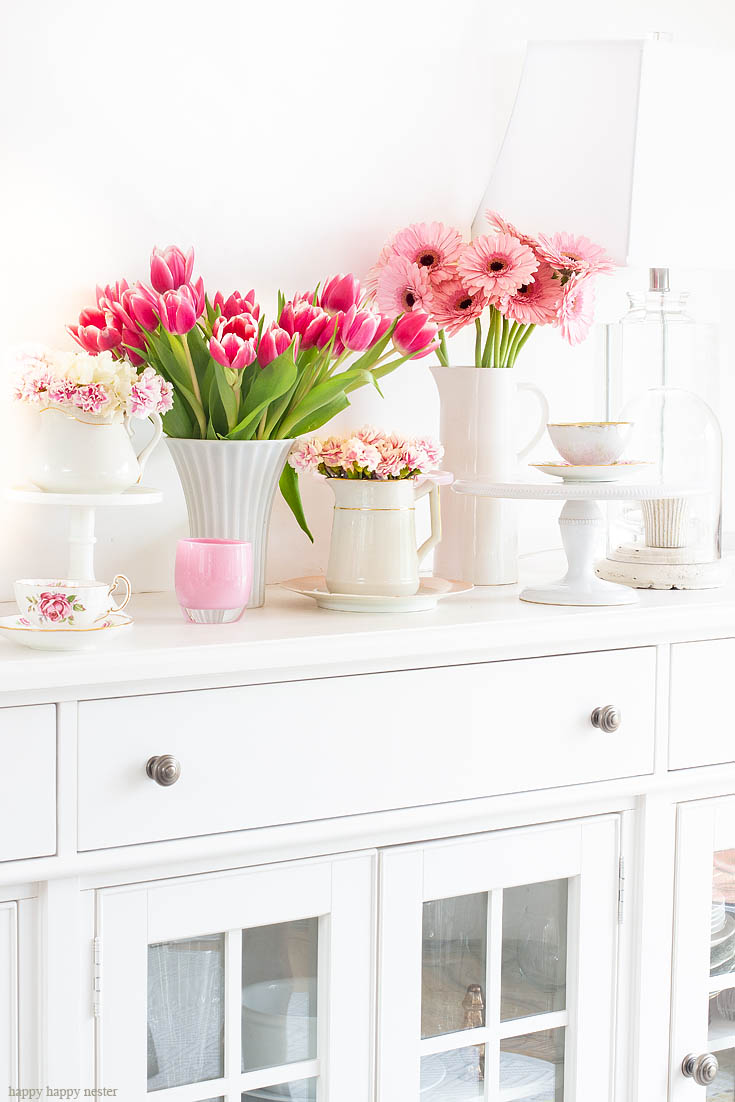 I love my buffet from Birchlane. I love how nice this buffet has made it for storage and entertaining. You will like my post about entertaining with Birchland and Stonewall Kitchen. You'll see that I love flowers in that post as well.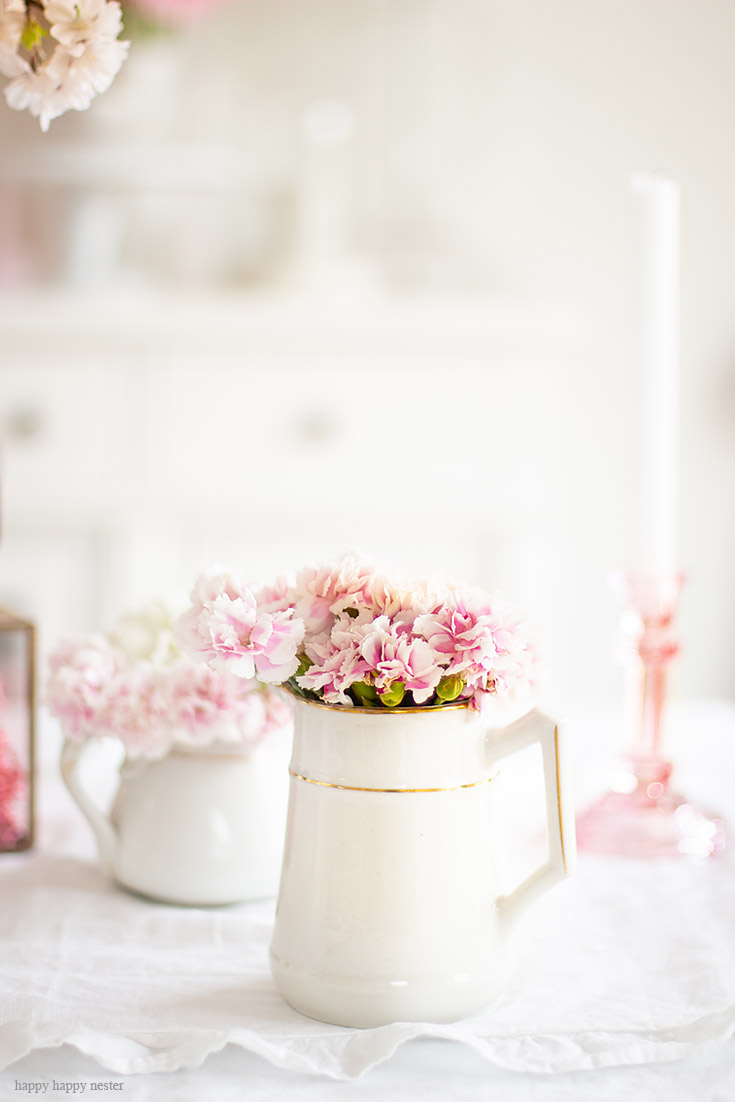 Every container is up for grabs when it comes to vases. I had a blast decorating it with flowers for this pretty pink spring home tour.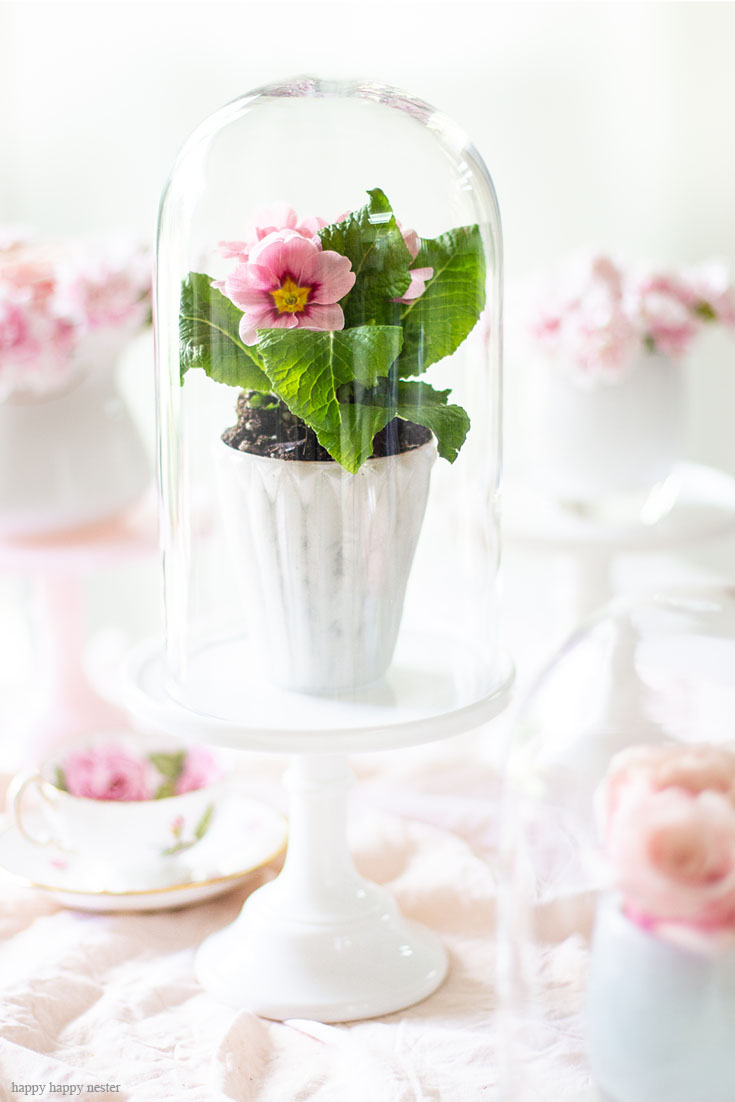 You need to get out your cake stands and have fun decorating with them. I also brought out my glass cloches and some cute primroses for a recent cake stand styling post.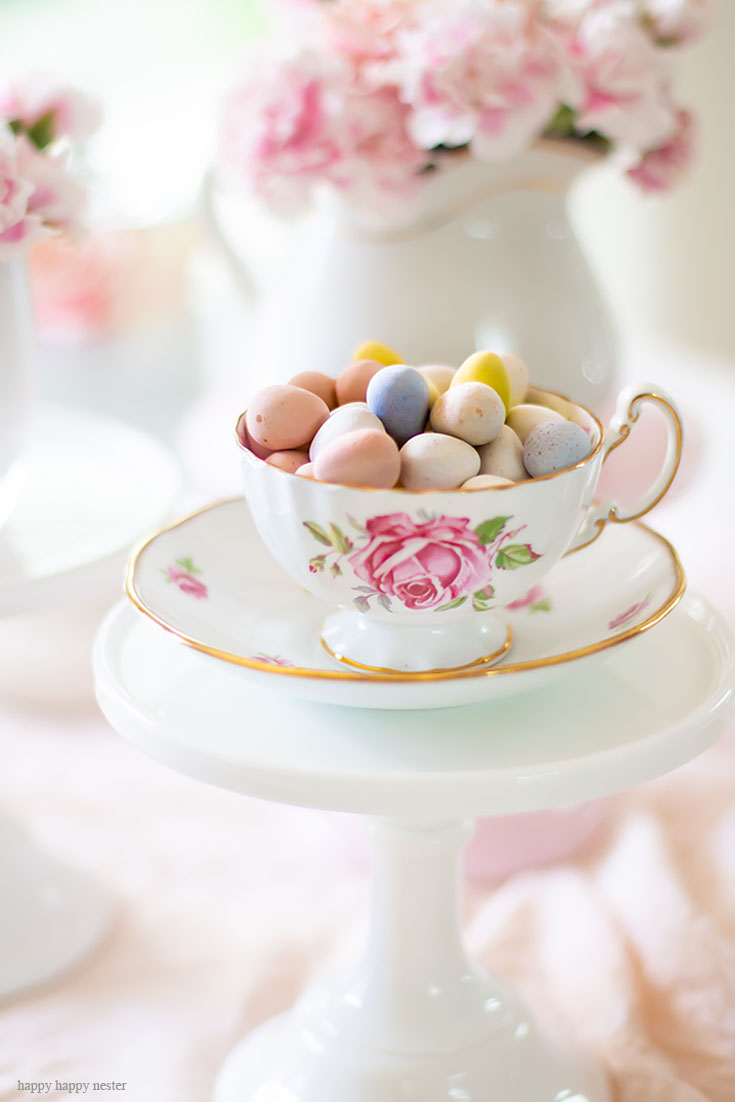 I just had to sneak in a bit of Easter eggs! I now realize I need more cute tea cups since they are super fun as candy dishes. And I know the exact place to find them. You see every month I visit the Alameda Antique Fair, and they have a gazillion vendors that I will be able to peruse. I will be a girl on a mission.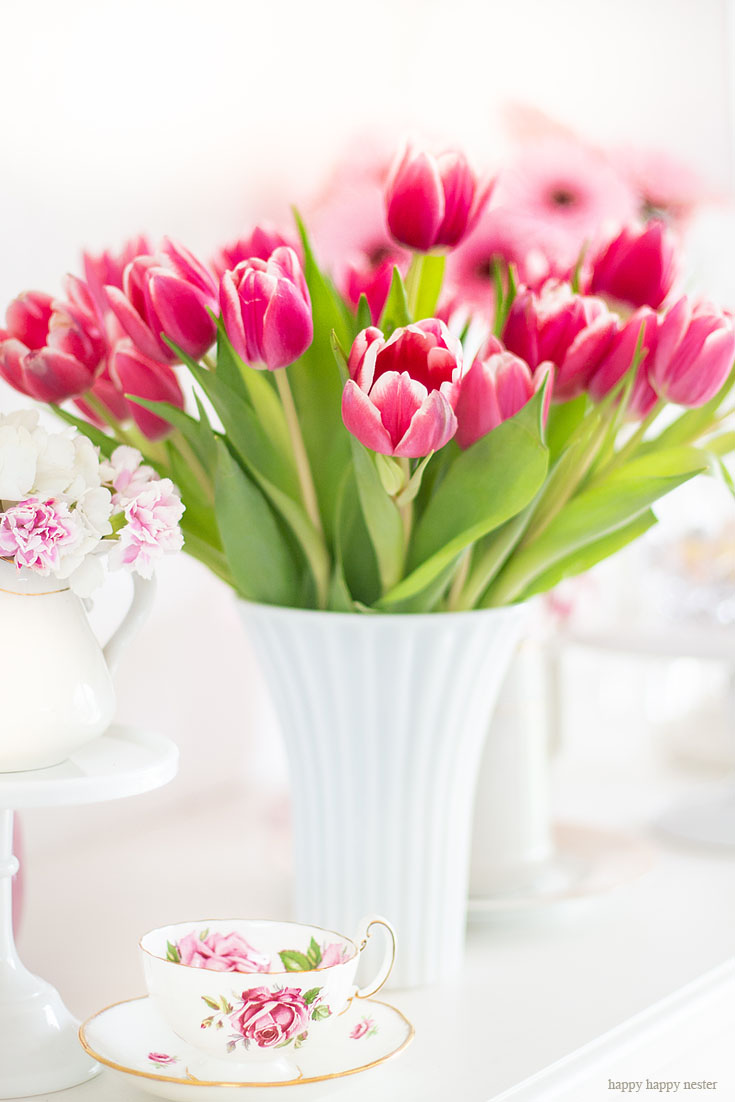 Well, Happy Spring and I hope you liked my pretty pink spring home tour! I had a ton of styling and sharing it with you today.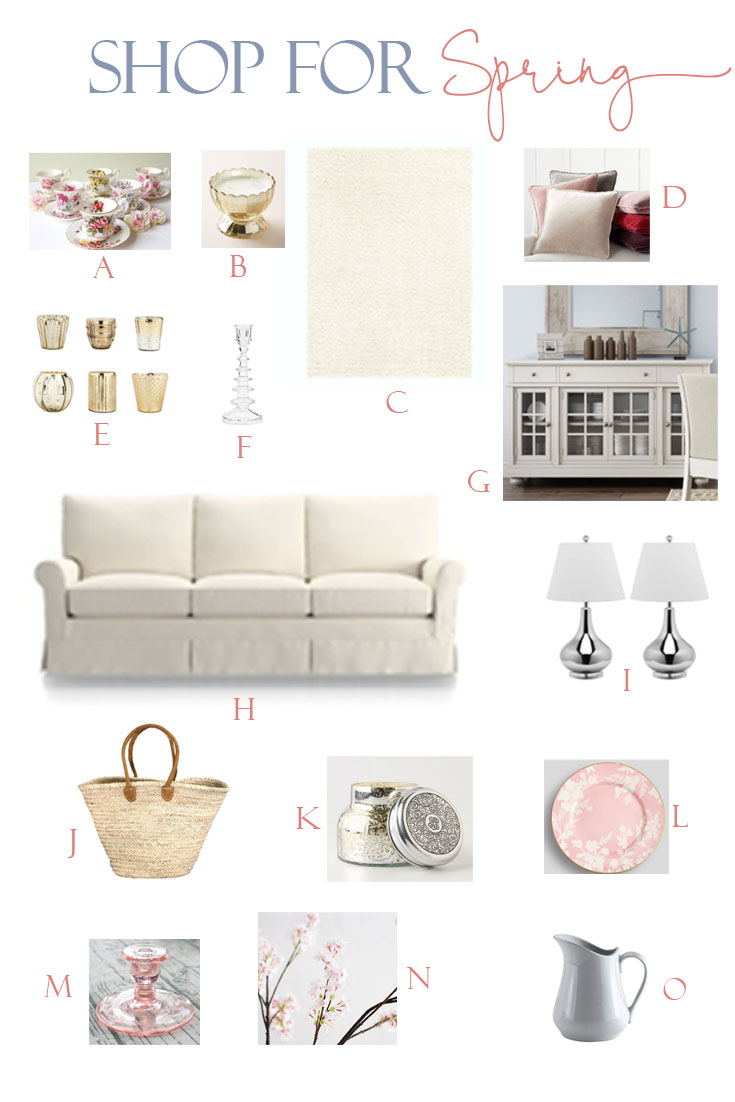 A. Vintage Teacups | B. Candle Votive | C. Aviles Cream Area Rug | D. Velvet Pillows Covers
E. Mercury Votives | F. Harper Glass Candlesticks | G. Sideboard | H. Crate and Barrel Sofa | I. Safavieh Lamps
J. Moroccan Straw Market Bag | K. Jar Candle | L. Monique Lhuillier Rose Salad Plates 
M. Vintage Candlesticks | N. Faux Cherry Blossoms Stems | O. Ceramic Pitcher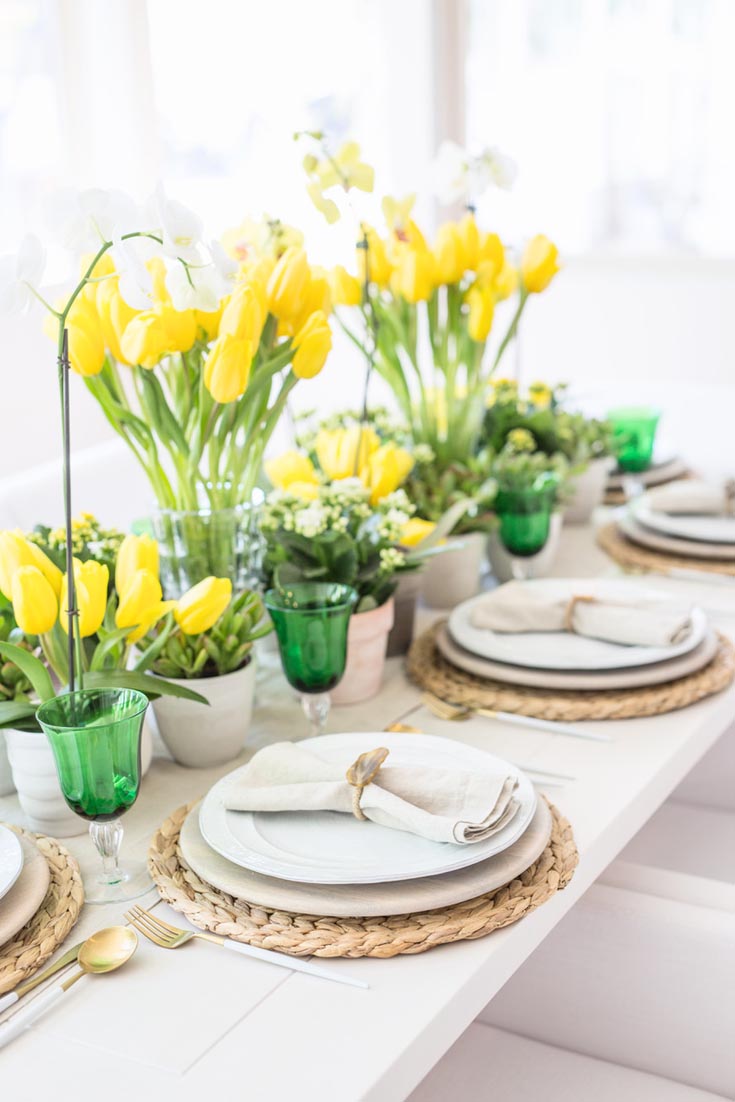 Now I bid you goodbye, and I send you off to the next tour, To Have To Host. And I know that you are in for a big treat from Lory!
Cheers,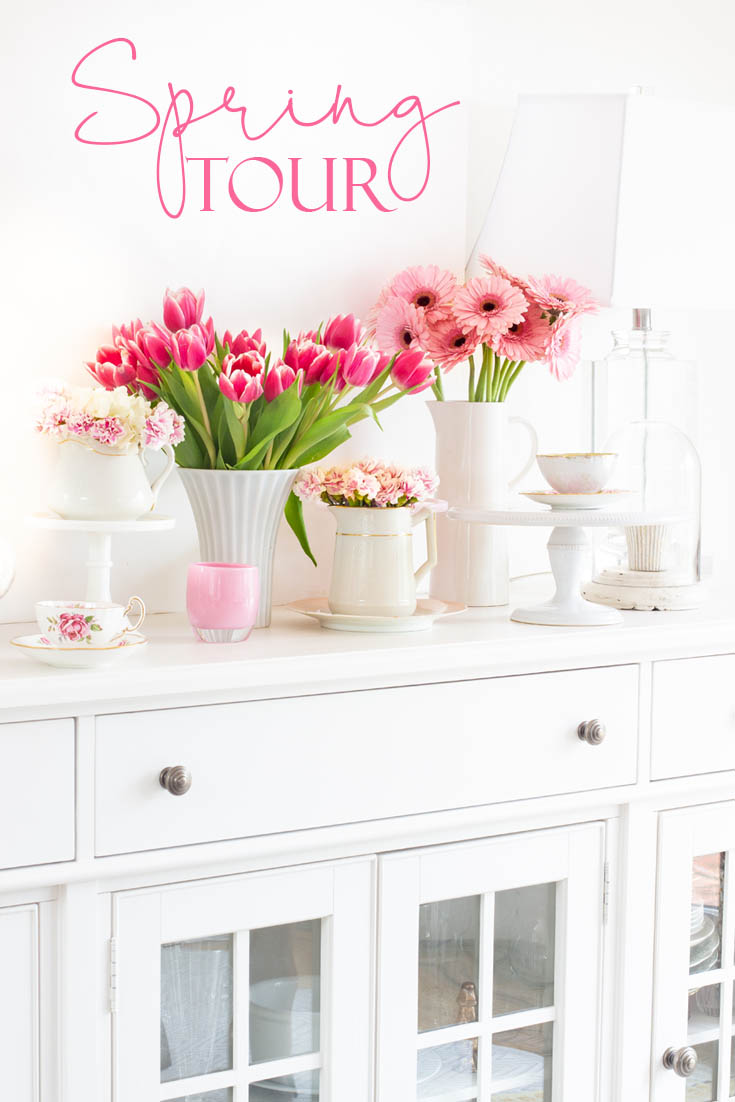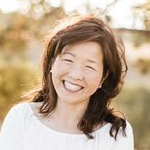 Latest posts by Janine Waite
(see all)