When I was looking for a pillow project and deciding on my material, I came across Dyeing Fabric with Avocados: Skins and Pits. Did you know that avocados create a beautiful pale pink dye that is so pretty on cotton material? I'll show you how easy it is to dye cloth in this post.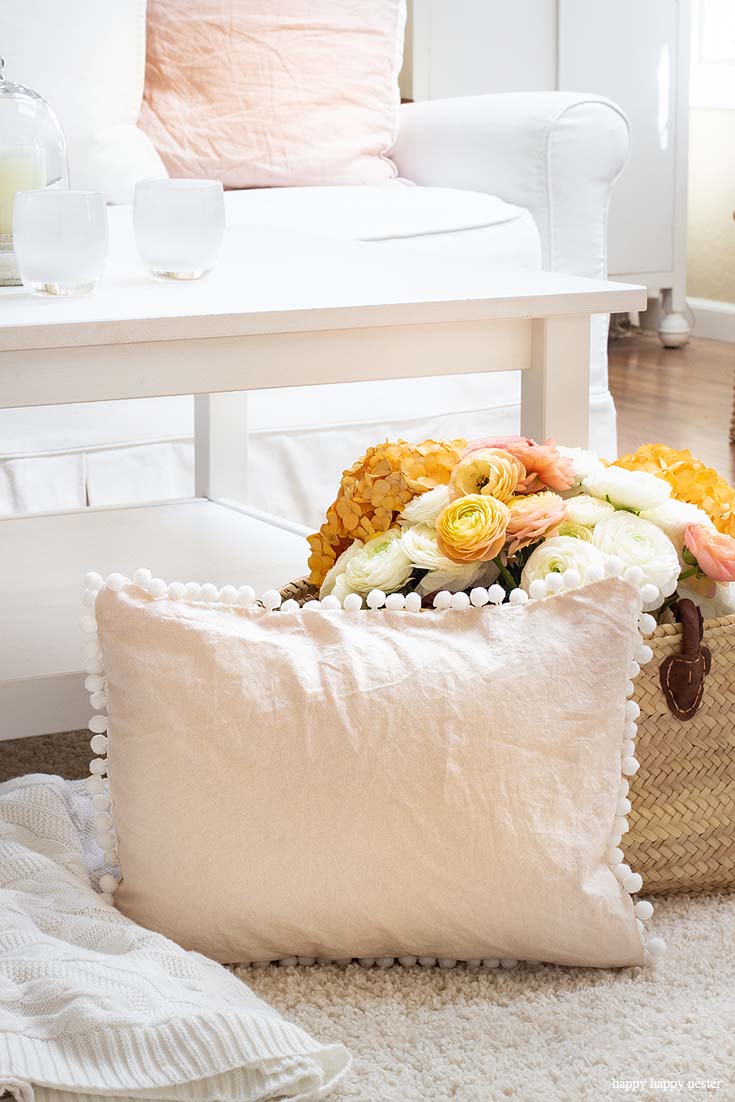 Dyeing Fabric with Avocados Skins and Pits
Yes, you heard right, in this post, I'm dyeing fabric with avocados. I used avocados to dye my cotton material, and it is a gorgeous pale pink color. So, if you have some avocado toasts for lunch, don't throw out the skins and pits since you can dye some pillowcases, tea towels, and napkins!
But, first I would like to welcome you to our 3 Ingredient Challenge where a bunch of us came up with a project using these three things: Fabric, Paint, and Trim. I ended up using a dye which is kind of similar to paint. So, check out the middle of my post for my friend's projects.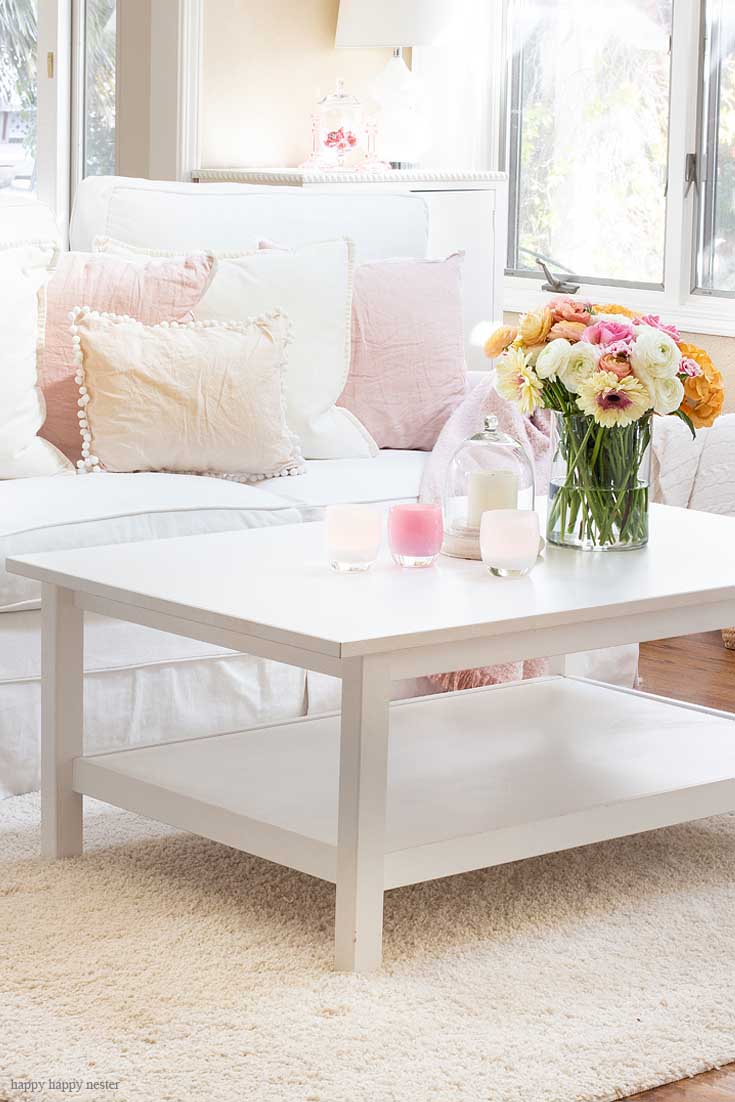 How to Dye Fabric with Avocados
When I researched dyeing fabric with avocado skins and pits, there were a few different methods. Of course, there are a ton of variations on how to prepare the avocado dye, which fabrics to dye, and the mordant.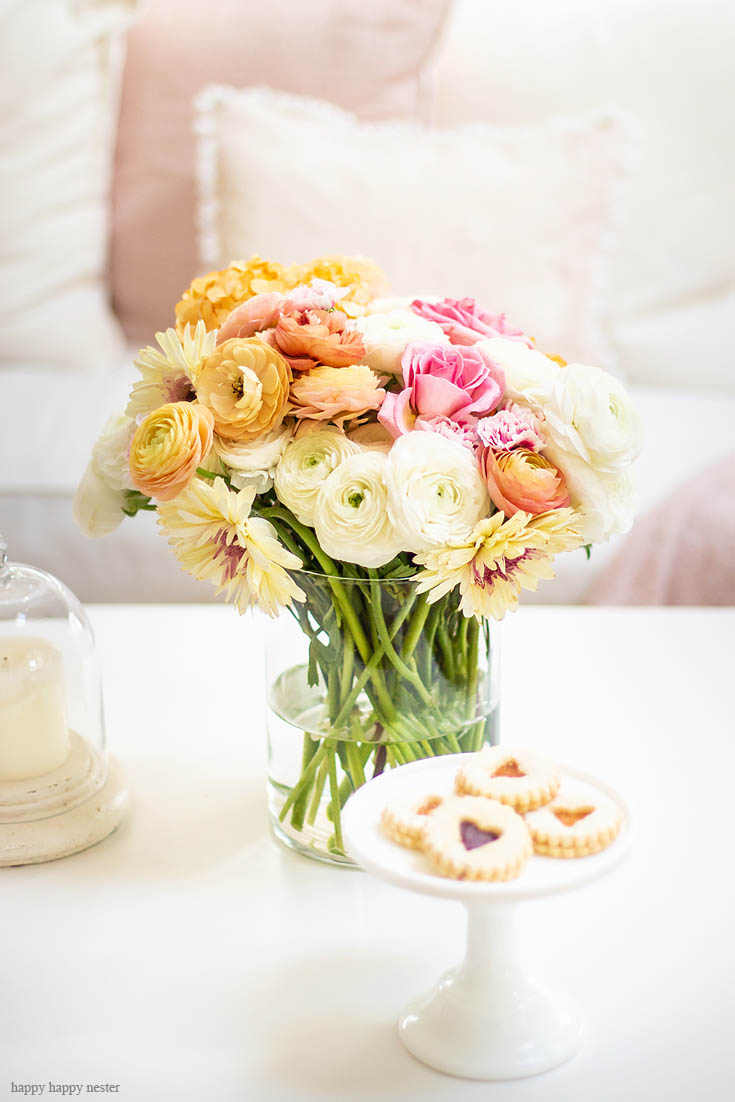 What type of fabric should I use?
I only used cotton for my fabric since I didn't want to introduce a whole slew of ingredients. To be specific, I chose cotton muslin since I loved its casual appearance with all its wrinkles. There is an excellent source of avocado dye colors on this blog post.
How to set avocado dye?
So when setting my fabric, I used an avocado dye alum mordant. This mixture consisted of Alum and Baking, and it worked. After washing my dyed fabric, none of the colors bled or came out.
When dyeing fabric and fibers is there a difference between the avocado skins and pits?
So when dyeing fabric with avocados supposedly there is a difference but I couldn't get my avocado pits to produce any color. I cut them in half and still not much to report. The skins produced a pale pink, and I noticed that as it sat longer (like a week), the color got stronger.
Do you boil the avocado dye?
I read on a website that heating the avocado and water caused the color to turn brown, but I didn't find that to be true on my project. I brought my dye bath to a boil and then simmered for an hour, and the color was a gorgeous blush pink.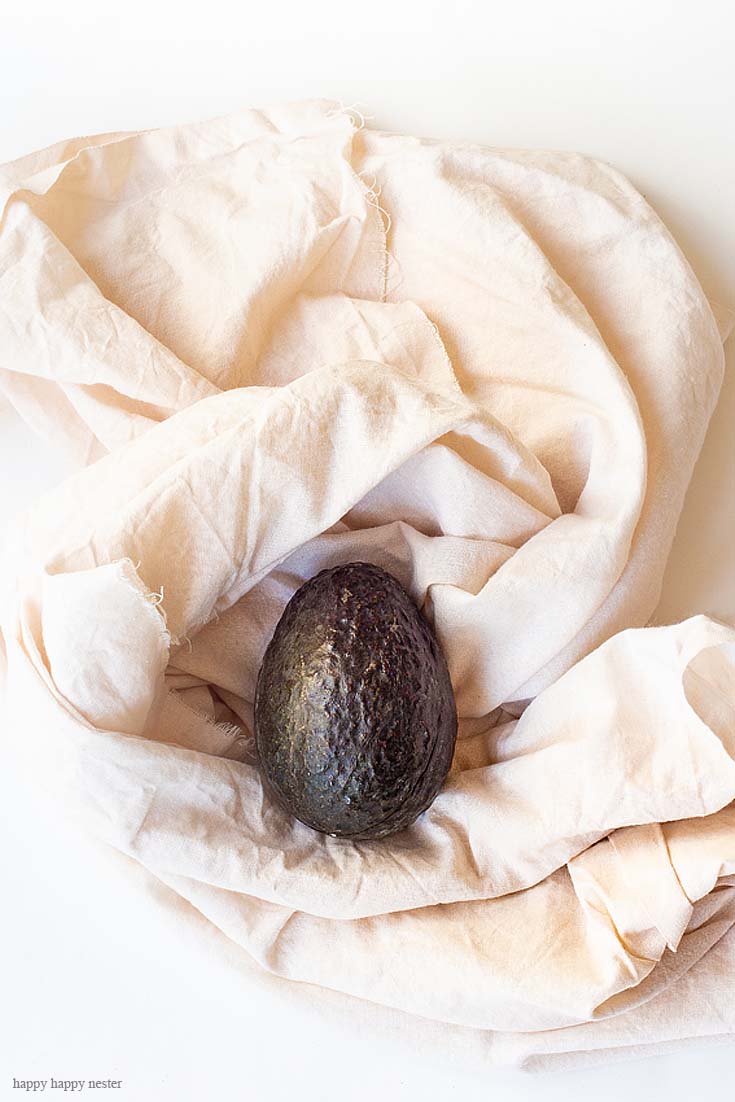 Making the Avocado Mordant
You'll want to make an avocado mordant using Alum and Cream of Tartar. This step is essential in preparing your fabric so that the dye stays in the fabric. Don't panic, and this is an easy step.
Mordant Ingredients
Mordant Instructions
Add 10% Alum to fabric weight and 5% Cream of Tartar
Sorry, you'll have to do the math and figure out how much you'll need depending on the weight of your fabric.
1. Place the Alum, Cream of Tartar and material in a pot of boiling water.
2. Reduce to a simmer and continue for an hour.
3. Take off the stove top and rinse and wash by hand.
4. Pop material in the dryer or hang dry.
5. Your fabric is ready to dye.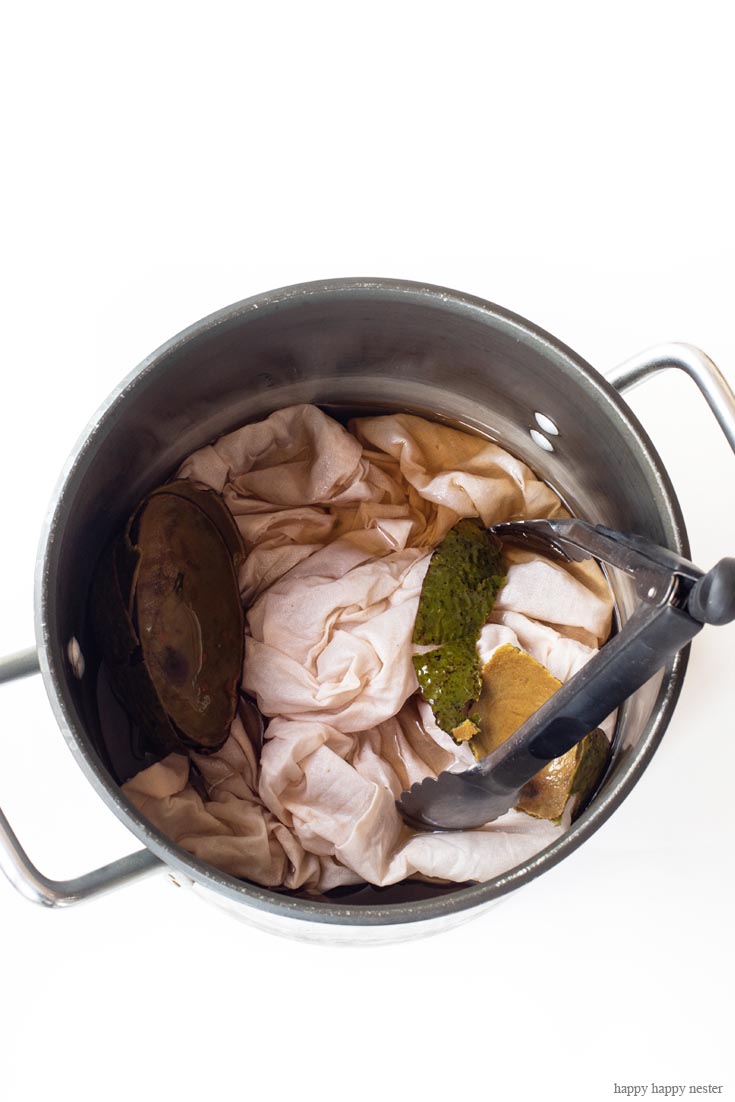 *This post contains affiliate links
How to Make Avocado Dye
Fabric Natural Supplies
Instructions for Making Avocado Dye
1. Remove the skins and pits from your avocados. Make sure to clean all the flesh from them.
2. Fill your pot with water and the skins or pits. You can crush your skins a bit and cut your pits. Be careful when cutting your avocado pits, they are slippery. So, I made two dyes, skins, and pits. The pits didn't emit much in the way of color whereas the avocado peels did. So, you can make two dyes or combine them, and it is up to you which one you like.
3. Bring the water to a boil and then reduce to a simmer.
4. Place your fabric in the simmering pot of water.
5. Let simmer uncovered for an hour.
6. Cool and let the fabric sit in the dye for however long you wish. The longer you let it sit, the deeper the pink will become. I allowed mine to sit for two days and I got a pale pink.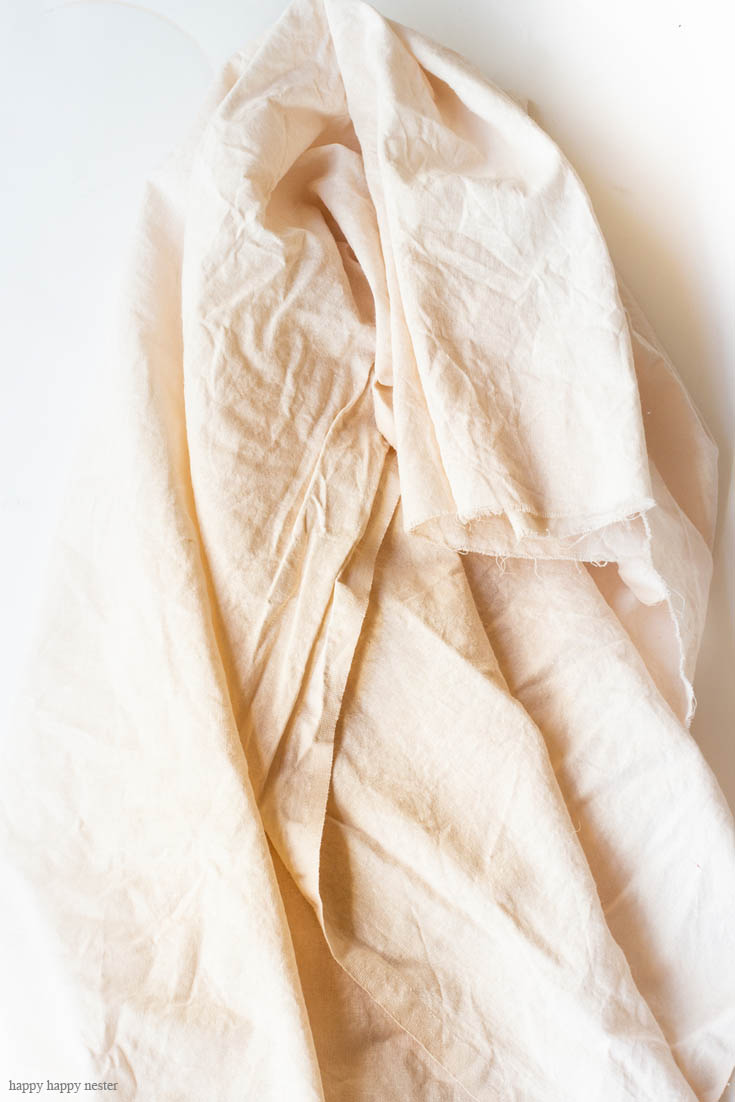 Making pillows with avocado dye
I feel like I should write a whole separate post on how to create my little pom pom pillow. But here goes, this is an epic post!
Making pillows with avocado dyed fabric
Now that you read about dyeing fabric with avocados let's dig into making this cute pillow. I feel like I should write a whole separate post on how to create my little pom pom pillow. But here are the instructions which will make this an epic post!
Pom Pom Pillow Supplies
1 12″ x 16″ pillow insert
avocado dyed fabric
3/4″ white pom pom trim
Pom Pom Pillow Instructions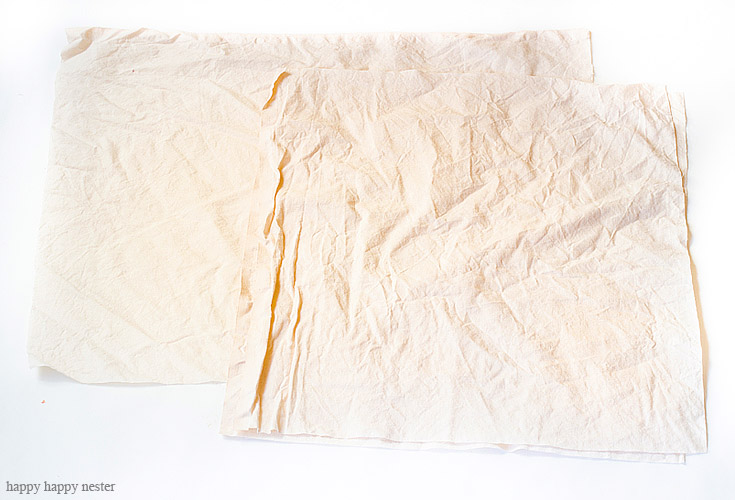 1. Cut your fabric. I used the plastic bag that my pillow came in as my pattern.
You will need one full piece, and add an inch and a half on all edges.
Then you'll need to cut two pieces that equal half of the pattern with an additional 5 inches to both the ends of both pieces.
2. You will want to sew a nice 1/2″ edge to the 2 back panels. These edges will overlap and be seen on the back. If you have a nice raw edge then no need to sew this hem.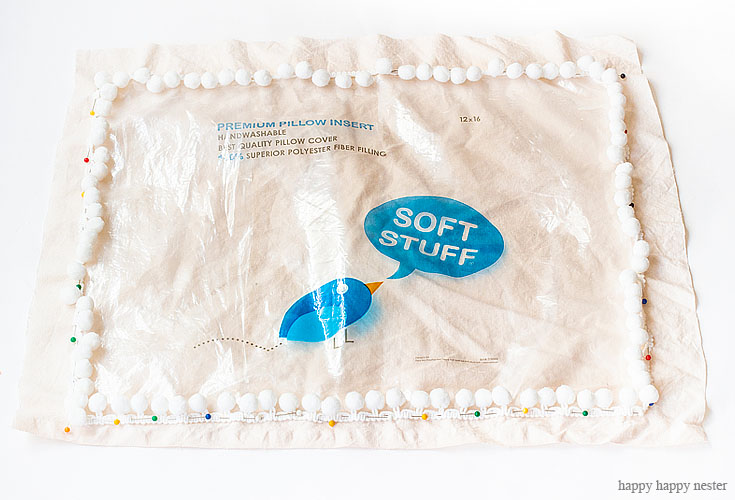 3. Place and pin your pom pom trim all around the edge of the front of your pillow. Baste into place.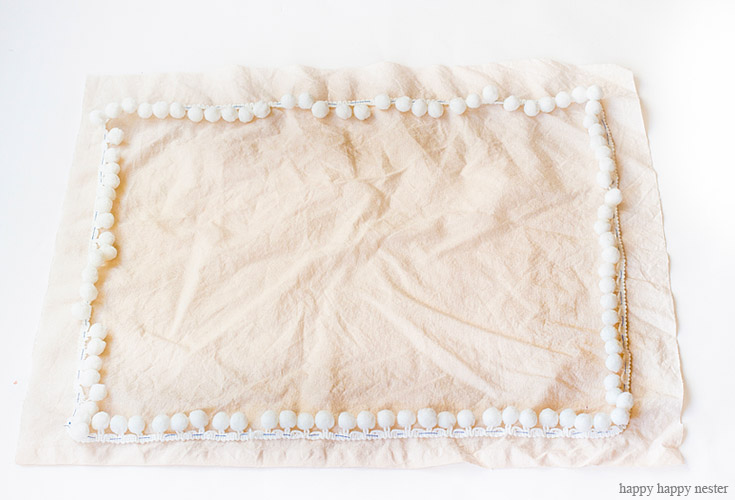 4. Sew your trim onto the material using your sewing machine's zipper foot.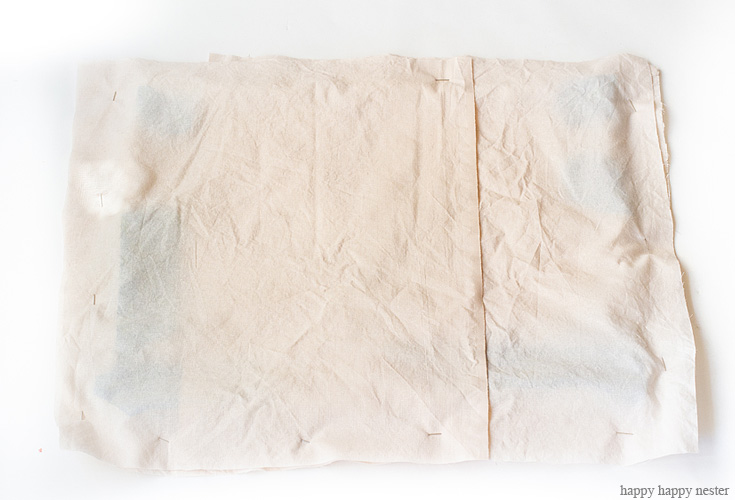 5. Pin the 2 back side panels to the right side of your front piece. They should overlap on each other. The blue you see in the photos is some tape that is holding the pom poms in place. You don't want them flopping into the seam.
6. Turn your pillow over so that your trim seam is showing. Sew your pillow on top of that seam making sure that the pom poms are facing into the middle of the pillow and not into the seam.
7. Turn the pillow right side out and place the insert inside the pillow.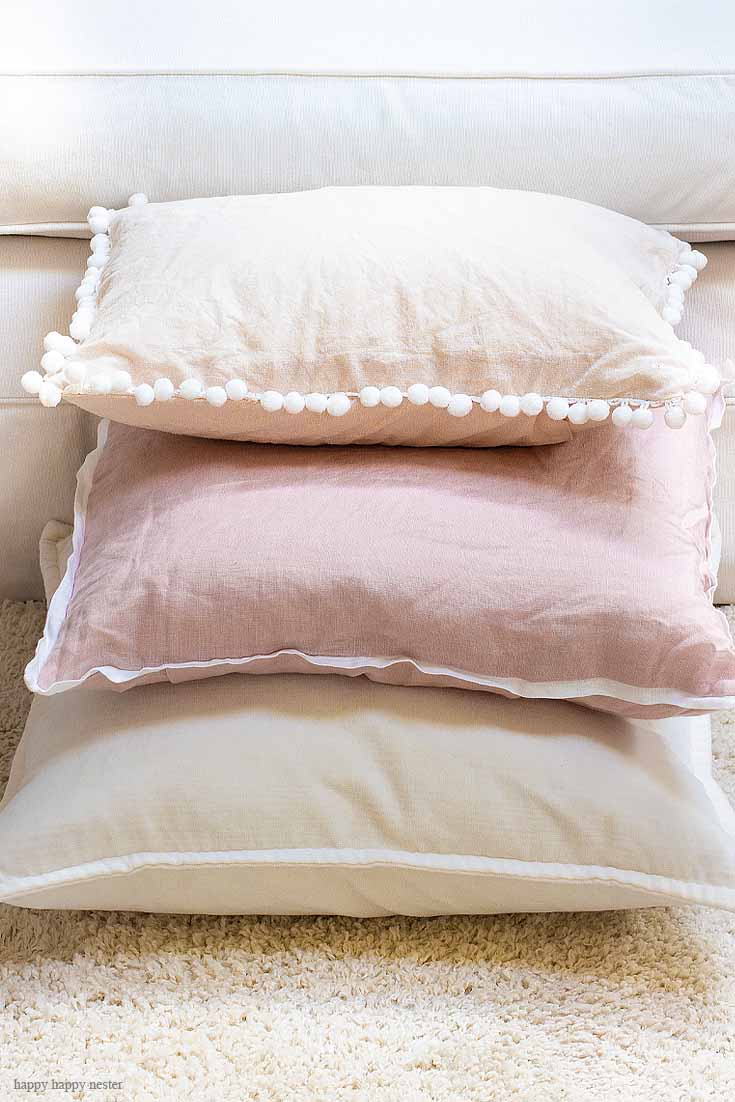 So, if you don't want to go through the hassle of making a pillowcase from scratch there is another option. You can dye one of your white cotton pillows in the avocado dye and then you are done lickety-split.
Ok, now that you know everything there is to know about dyeing fabric with avocados let's get this party started and see what other awesome things you can make with fabric, paint and trim.
Here Are My Friend's Cool Projects!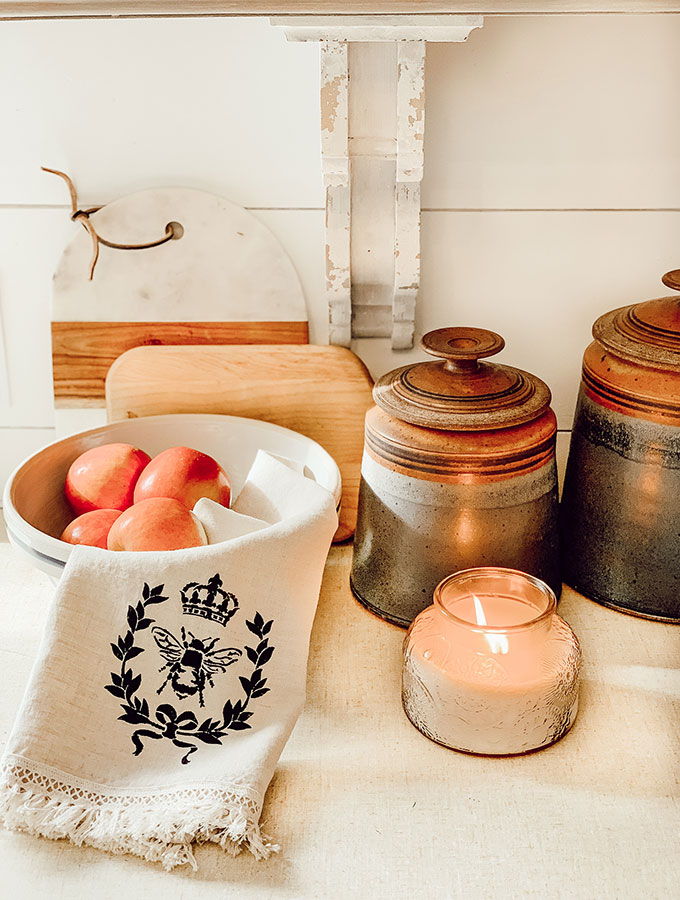 Rhonda from Hallstrom Home created this incredible post on How to Stencil Tea Towel with Chalk Paint. I love her stencil since I adore bees.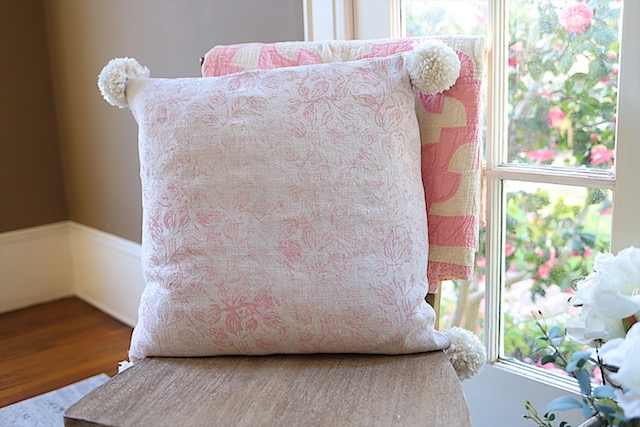 This gorgeous Painted Fabric Pillow is from my dear friend, Leslie from My 100 Year Old Home. I love the vintage style pillow which totally looks great in Leslie's truly amazing home.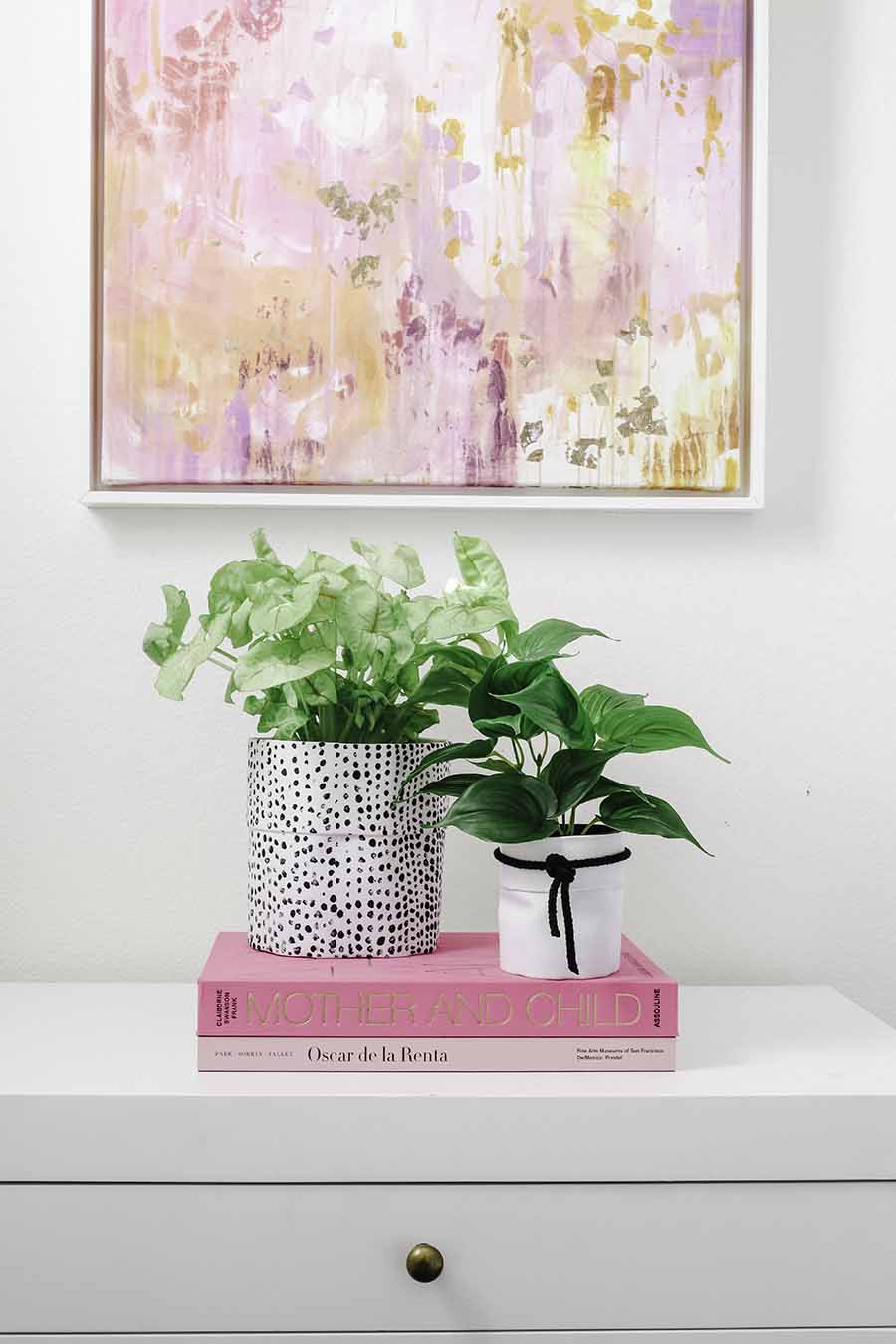 I love everything, Ashley from Modern Glam creates. Again, she made this fantastic Fabric Planter DIY She designs the coolest projects! I'm amazed at how she can whip up her crafts and they come out so fabulous. So people have all the talent.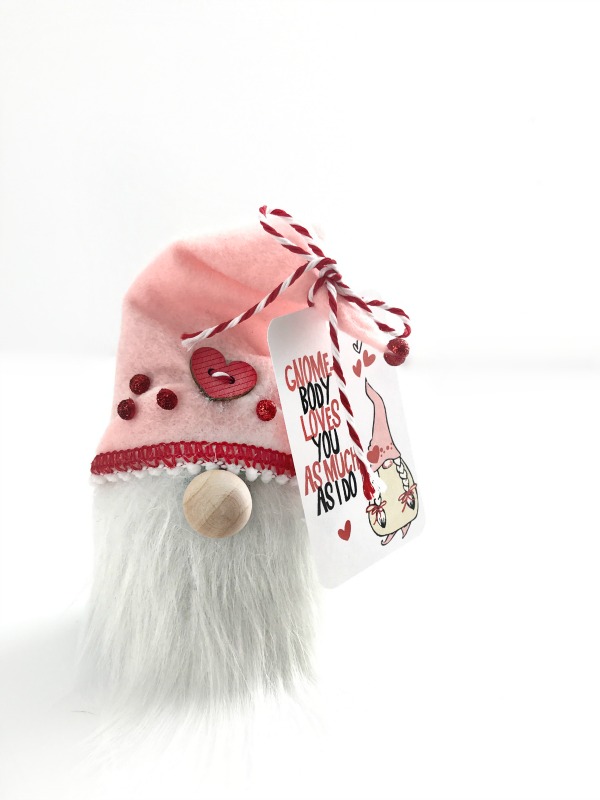 This little nordic gnome steals the show! Tauni Everett's DIY Valentine's Day Gnome is crazy adorable. I think I will have to make this little guy!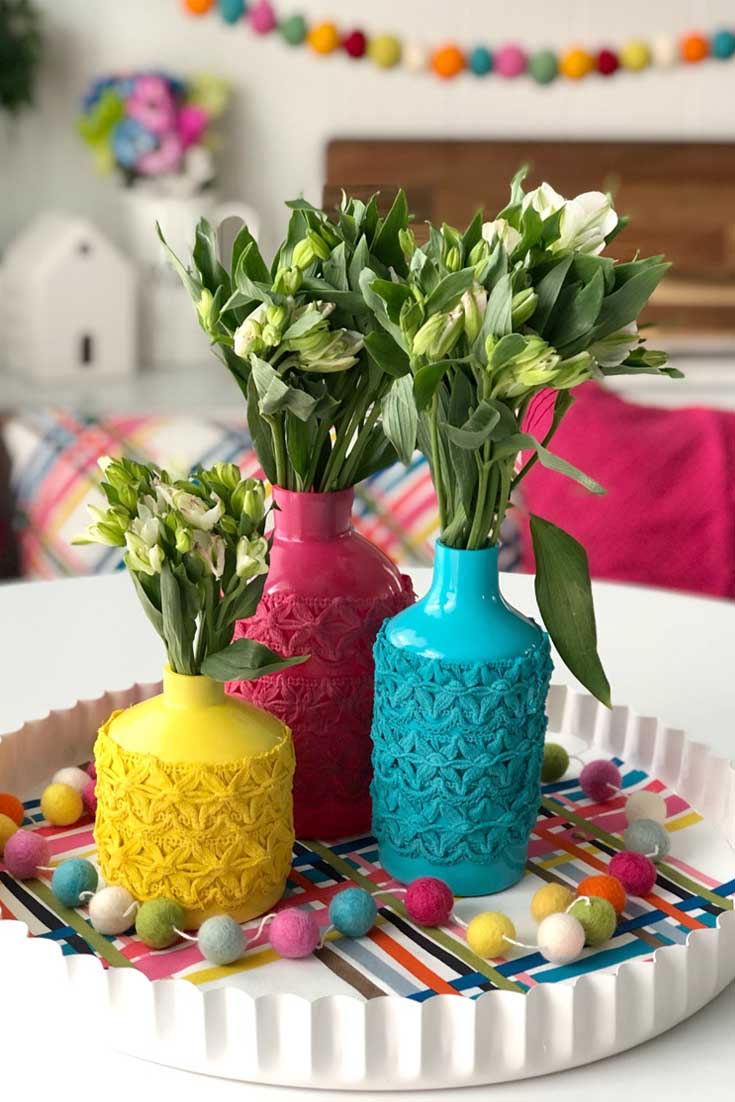 Jen from Tater Tots and Jello has endless talent, and these Anthropologie Inspired Colorful Spring Vases are the best! Jen always nails her projects with beautiful happy colors.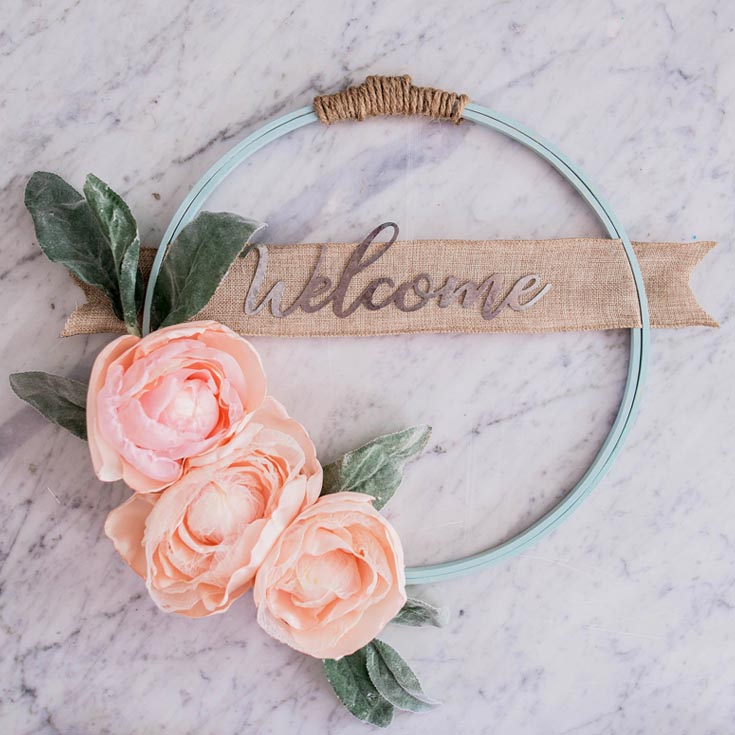 I seriously love all hoop wreaths, and Christina from The DIY Mommy has created this Hoop Wreath with DIY Fabric Flowers I must admit I had a similar idea so of course, I thoroughly love her wreath.
Whew, I know this is a very long post, but I hope you enjoyed dyeing fabric with avocados as much as I did. I have another piece sitting in the bowl of avocados skins and pits, and it is a brighter pink. I just may make some dinner napkins out of the fabric. I'll let you know. Until next time, Happy Crafting!
Cheers,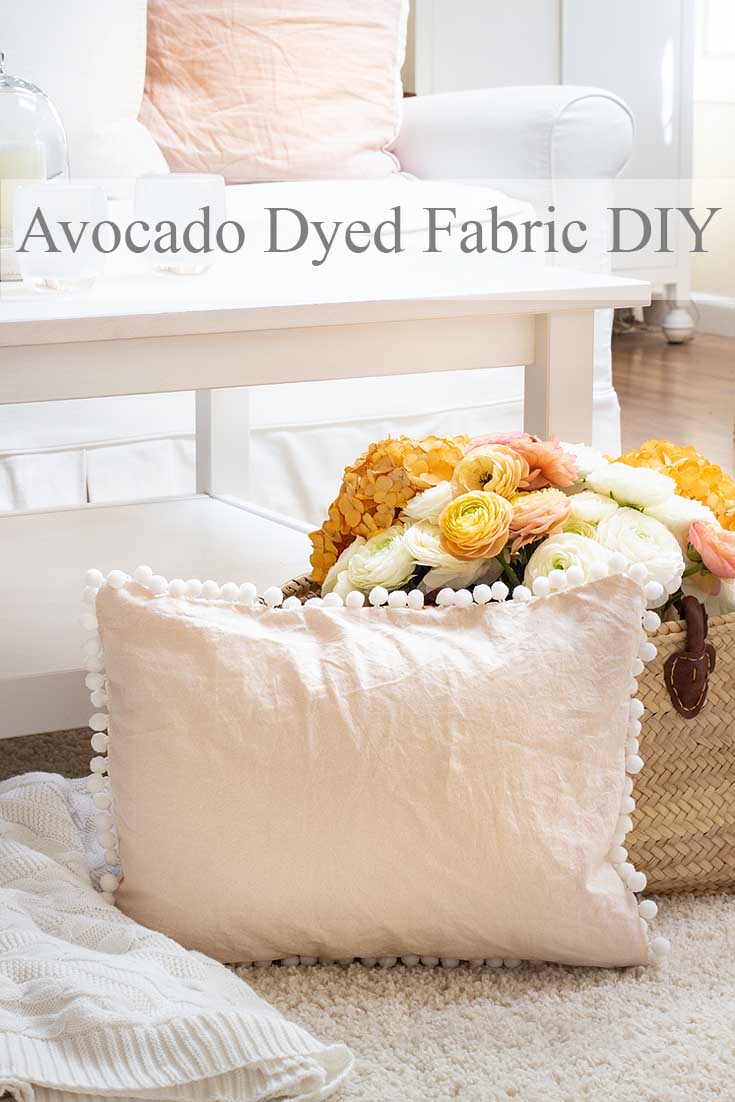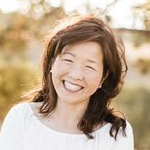 Latest posts by Janine Waite
(see all)