I have always been a fan of reusing simple items and creating a project or piece of decor out of them. If you're like me, giving an "old" craft a "new" life seems right. So today, we are going to be talking about some of the Best Upcycling Ideas for Your Home!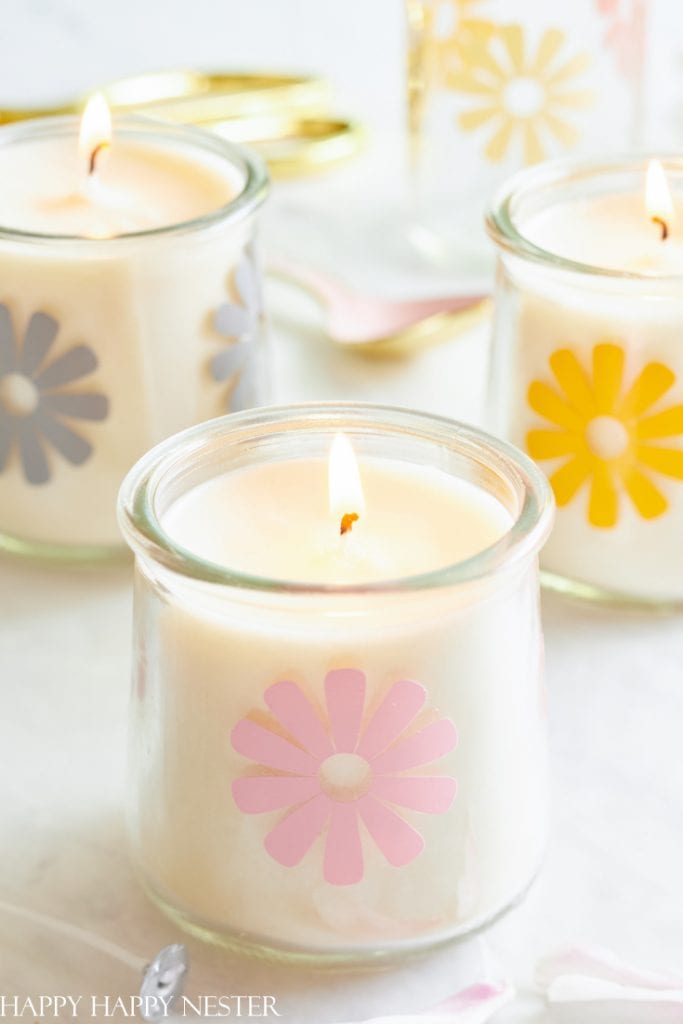 You're in for a treat! I hope these projects inspire you to get creative today.
Saturday Chitchat with Janine – Volume 18
Welcome to this week's Saturday Chitchat!
It's finally the weekend, and this weekend is a special holiday because it's Memorial Day weekend! This means it's time to have fun and make memories with family and friends!
To start the weekend on the right foot, below, I have listed some fun and exciting upcycling crafts to enjoy with your loved ones!
So for all of you people out there who are wanting to have a good weekend, let's get started!
Check these posts out below and have a great Saturday!
A Personal Note from Janine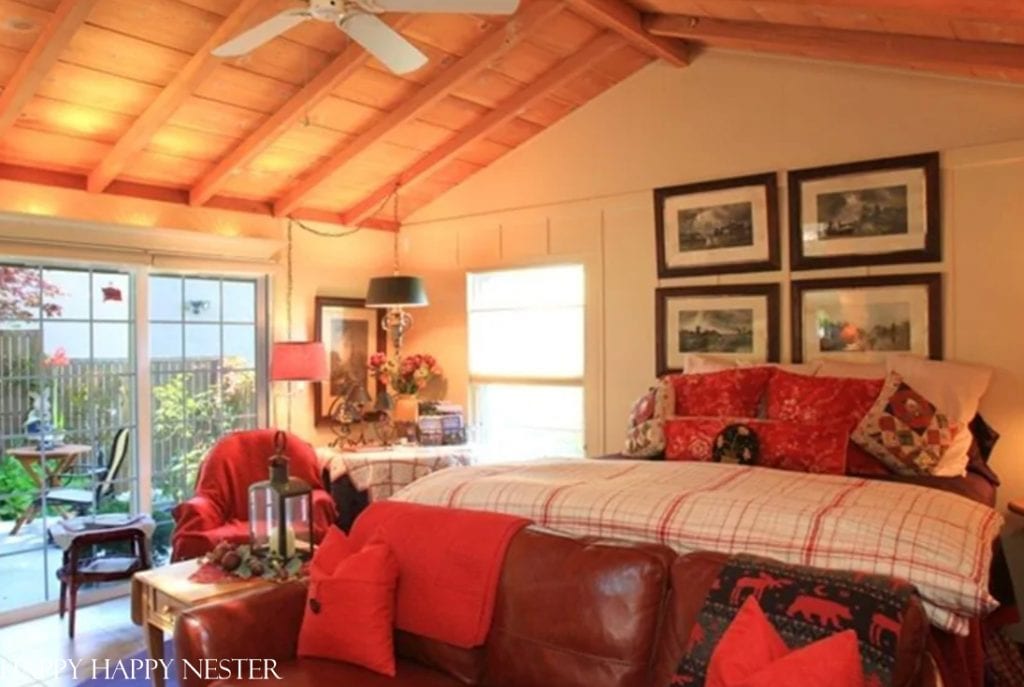 A couple of weeks ago, my husband and I went on an early anniversary trip to Carmel, a favorite getaway of ours!
We rented and stayed in a beach cute cottage with a beautiful Bohemian-styled garden filled with bird feeders, pots of orchids, succulents, vines of different plants, sitting areas, and artwork among the plants. It felt like a secret garden!
In the mornings, my husband sat outside on the cozy patio and enjoyed watching the birds. They flew in between Barb's gorgeous cymbidiums, ferns, and outdoor lanterns, trying to get to the birdfeeders.
My husband was so inspired by this lush and whimsical gardening that he now plans to add some hidden treasures to our landscaping.
So now he is on a mission when we go window shopping at antique stores. We keep our eyes open for unique bird feeders, pots full of plants, interesting succulents, and more!

This Week's Inspiration – Upcycling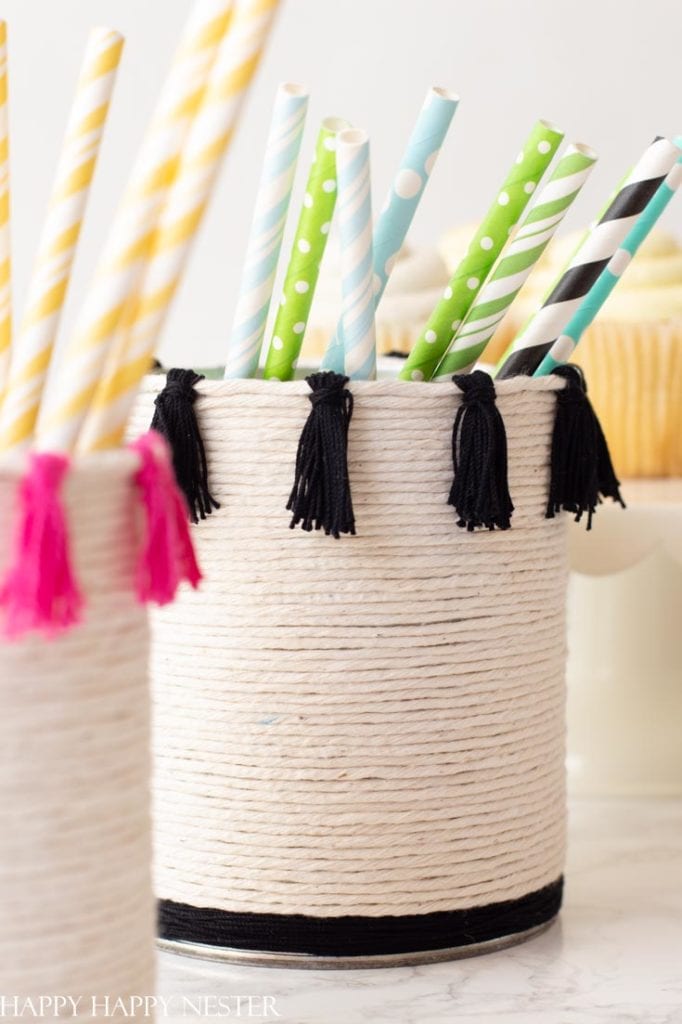 Upcycling Tin Cans
I have always wondered if there were another way tins cans could be of use for us. So, I decided to brainstorm some craft ideas to create with these cans. If you've wondered the same thing, then this upcycling craft with tin cans is for you!
This fun craft is simple and a blast to make with your children because of the playful colors and different threads.
For this post, I share with you the challenge of decorating tin cans and transforming their drab exterior into a fun decorate item!
Come on over to the blog to learn how to make this upcycled tin can craft!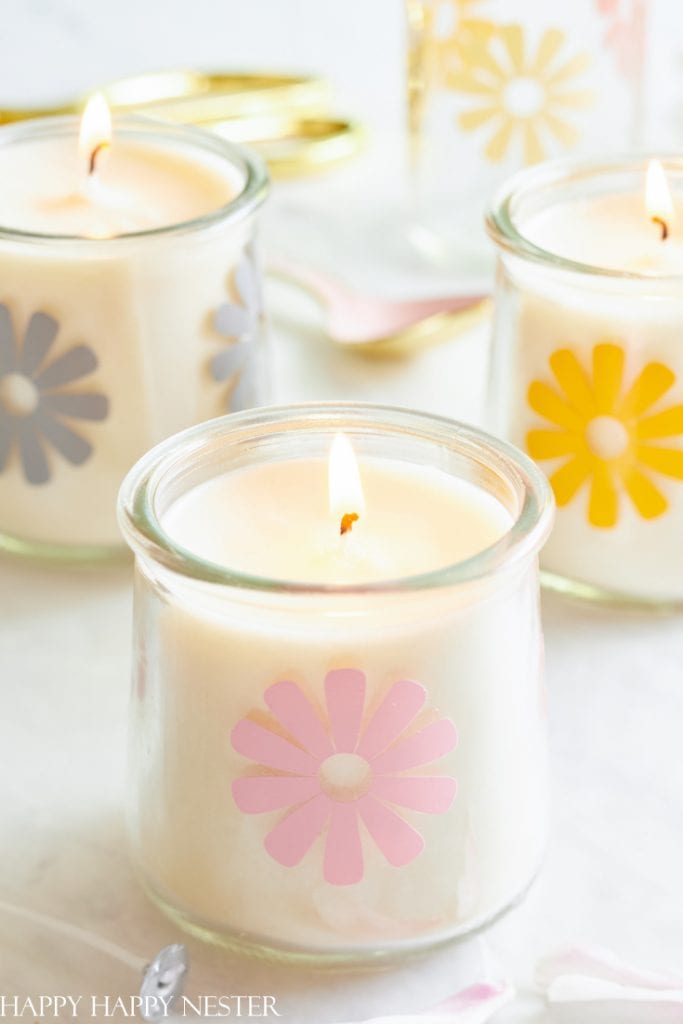 Yogurt Container DIY
Every time I finish a snack of yogurt, I never want to throw away the cute containers. I decided to collect them for a future craft, and finally, I have the perfect DIY for you!
Today, I am thrilled to share with you on how to upcycle your French yogurt jars!
I also show you step-by-step instructions on how to use and prepare your sticker design on my very own Cricut Maker Machine, along with how to make this fun glass candle votive!
Check out this post to get started on how to start saving your yogurt containers and turning them into simple yet stunning home decor!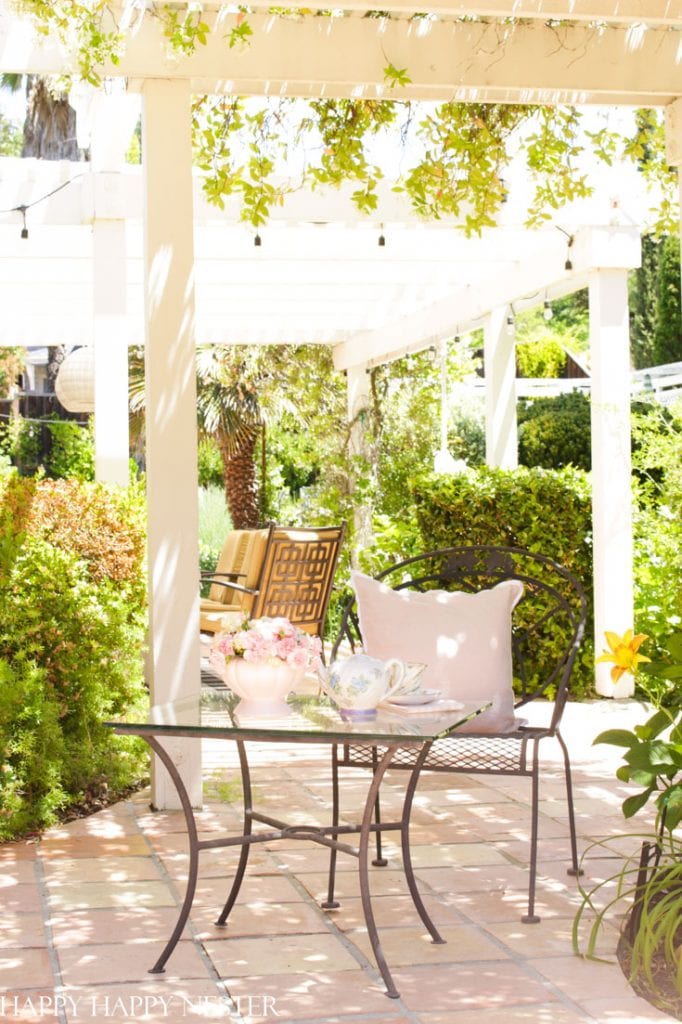 Chalk Painting on Metal
Have you ever wanted to paint your metal home decor with chalk? I used to wonder the same thing until I took a leap of faith, and it turns out it's easy to Chalk Paint on Metal!
If you have old outdoor furniture that needs refreshing, then Annie Sloan's chalk paint is the answer to your solution. I found that chalk paint lasts a long time and withstands the elements!
In this blog post, I include step-by-step instructions on how to chalk paint metal furniture! So come on over and get started on transforming your favorite furniture into a new look!
---
This Week's – Boutique of the Week (Beautiful Paper Peonies)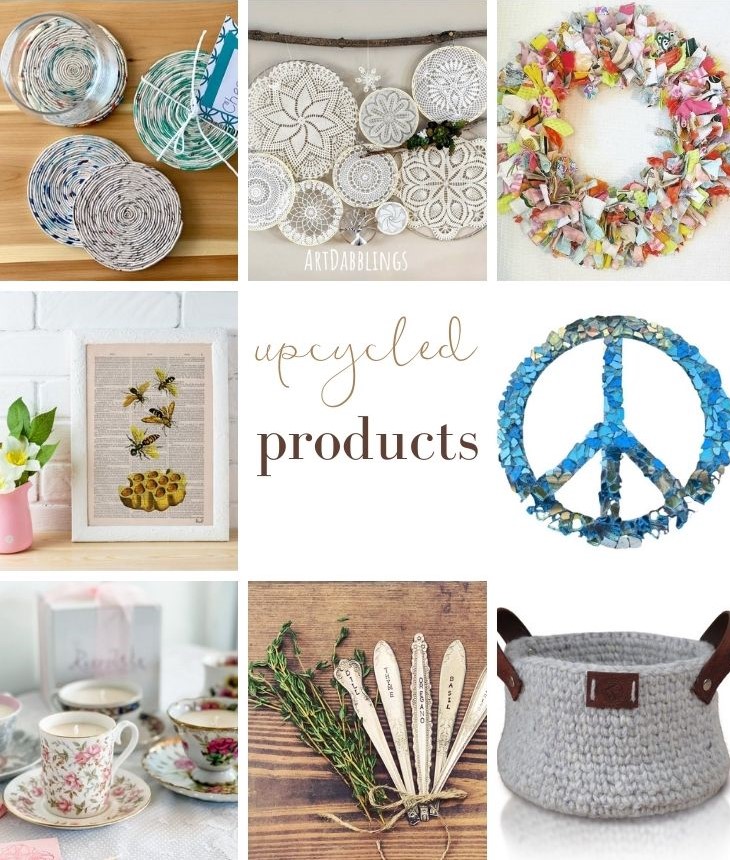 Upcycled Home Decor
Whether you're creating something from scratch or reusing an item, these upcycled products, and recyclable products are great for your home decor!
This post has 10+ options of upcycled crafts that are simple yet stunning and a blast to create!
If you're like me and have always had a passion for reusing and recycling, then these upcycled products are perfect for simple decor throughout your home!
Instead of throwing your products away, check out this blog post to find some fun crafts and ideas to become inspired to create!
---
My Favorite Things – Upcycled Home Decor
*The following post contains affiliate links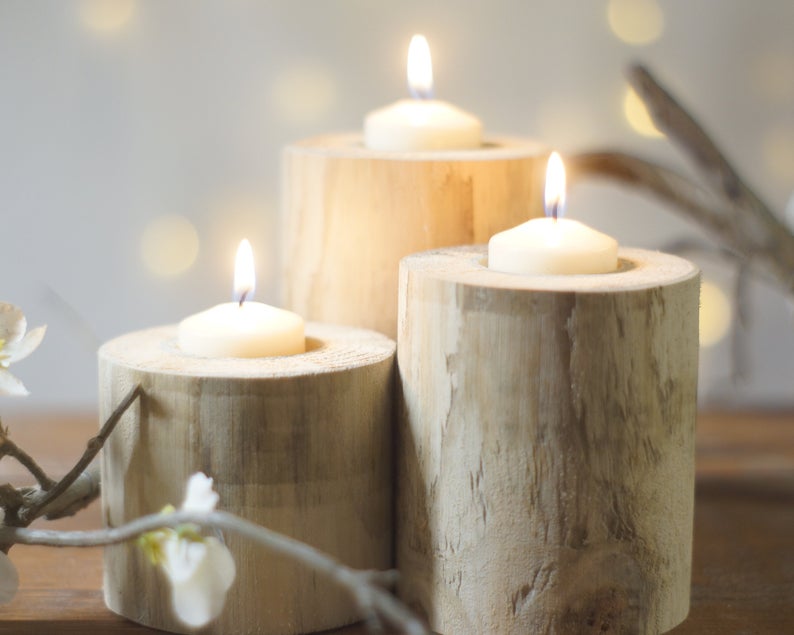 LOG CANDLES
Who wouldn't want a stylish yet simple candle holder? I have always had trouble finding the right candle holder to fit my decor in my house.
But thankfully, I have found log candle holders that fit any style and any occasion!
So if you share my struggle to find the perfect candle holder, then this is the one for you! It's simple and stunning enough to style with other decors throughout your home!
Check out this Log Candle!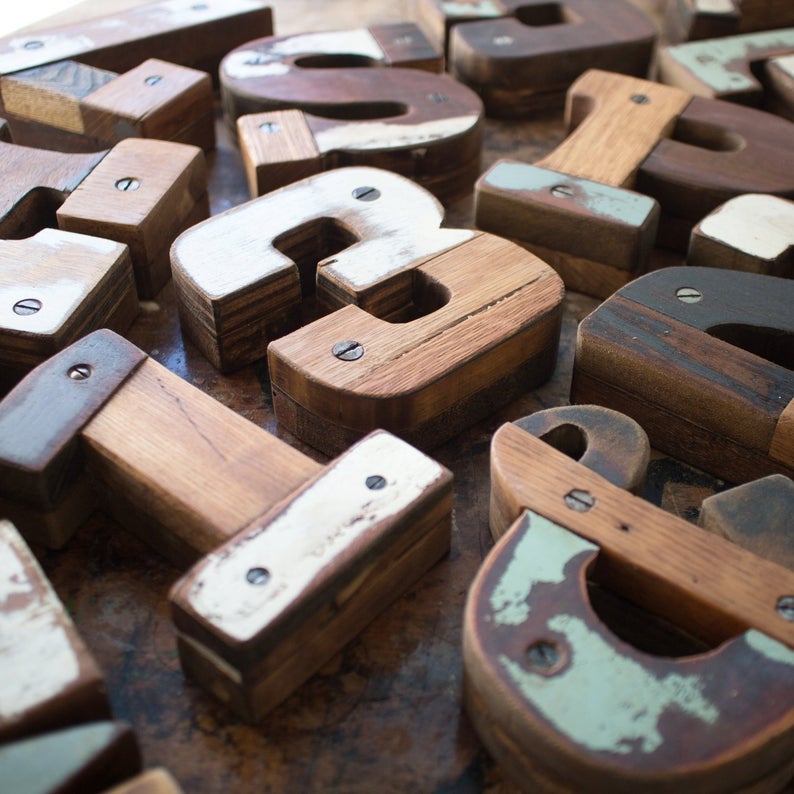 Wooden Numbers and Letters
When decorating my home, I always want decor that will pop out, whether it's many small items or one big piece. If you're the same, these fun numbers and letters are great decor!
These wooden numbers and letters are handcrafted with antique wood and are made exclusively for you, so no two are alike!
These decor pieces are perfect when adding a big enough item to add some pop to your home!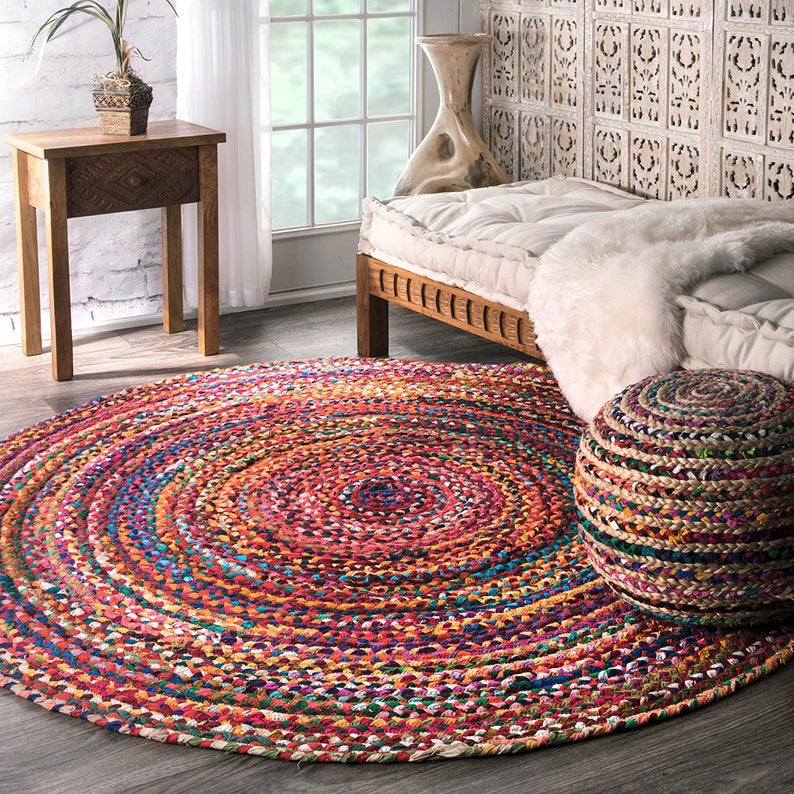 Hand Braided Area Rug
Summer is arriving, and we want to have a fun season by decorating our house with fun and vibrant colors!
If you are wanting to start styling the house with a pop of color then this rug should be your first culprit!
This rug is made with lifelong durability, and beautifully handcrafted that will give your home a perfect glance of decor!
This rug reminds me of what fun is supposed to be. With the bright colors and swirling patterns, this piece of decor will for sure bring summer into your home!
---
Easy Craft Projects to Make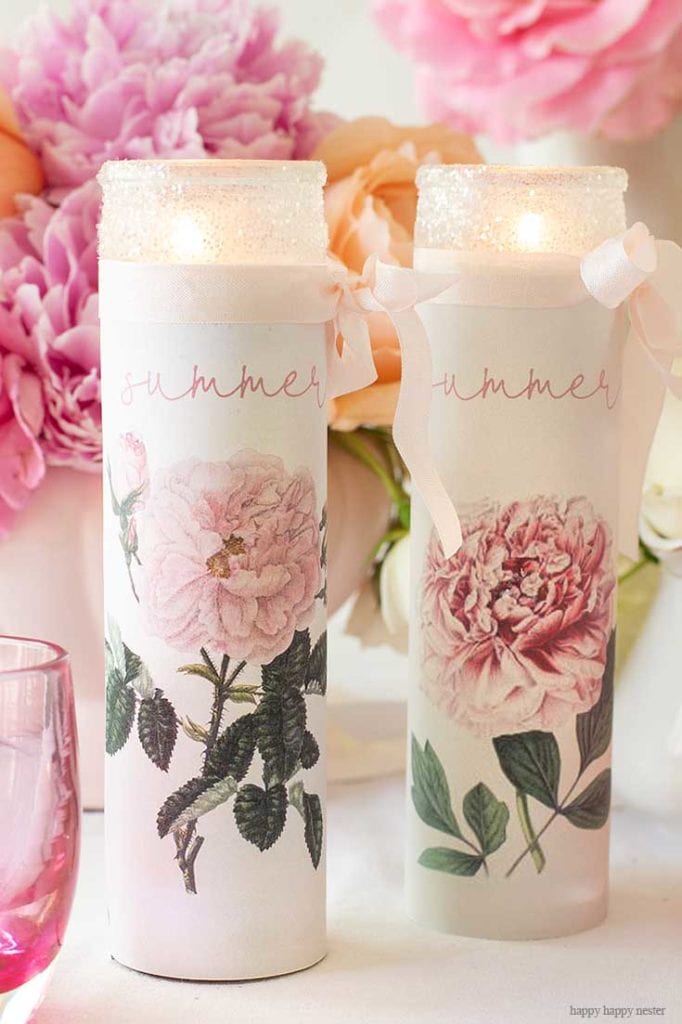 Summer Candle DIY
If I had to recommend one easy yet fun craft that will stay durable throughout the year as a piece of home decor, this summer candle DIY is the one.
But seriously, this candle is such a blast to make and has been a favorite of mine ever since I created it!
It's basically a candle that you can add your own twist of YOU to by personalizing it with your favorite colors, designs, ribbons, and you name it!
Sounds fun right? Trust me, this is wonderful DIY to make as home decor, gift, or just something to create with the kids.
Come on over to the blog and check out this summer candle DIY!
Chunky Knit Wreath
In need of a simple yet stunning wreath? I have one for you. But seriously, this wreath takes less than 30 minutes to make!
I have always loved the white chunky wool yarn, so why not make a wreath out of it? Trust me, making a wreath out of this fabric is the next best thing because of the soft feeling along with the comfortable, warmness it brings to the space of your home!
For this craft, I include a list of supplies needed, step-by-step instructions, and I also answer some frequently asked questions some of you may have!
Join me and come over to the blog to create this warm, soft, and overall lovely wreath today to bring a cozy feeling to your oasis!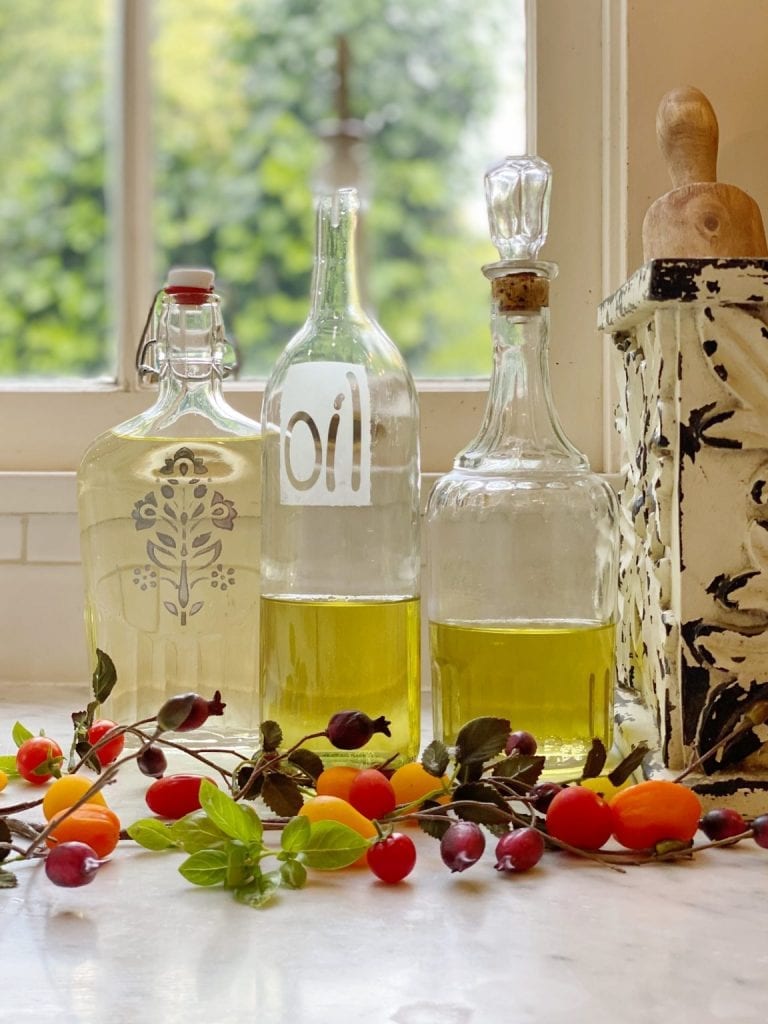 Amazing Etched Glass Project
My great friend, Leslie, from My 100 Year Old Home, always invents amazing projects and crafts to share with people who love all things decor, entertaining, cooking, and crafts!
She recently created these olive oil dispensers with used wine bottles and syrup containers! I don't know about you, but these glass bottles will get the job done while looking stunning in your kitchen!
So, come on over to Leslie's blog, My 100 Year Old Home, to check out this fantastic etched glass project!
---
Trending Over On The Blog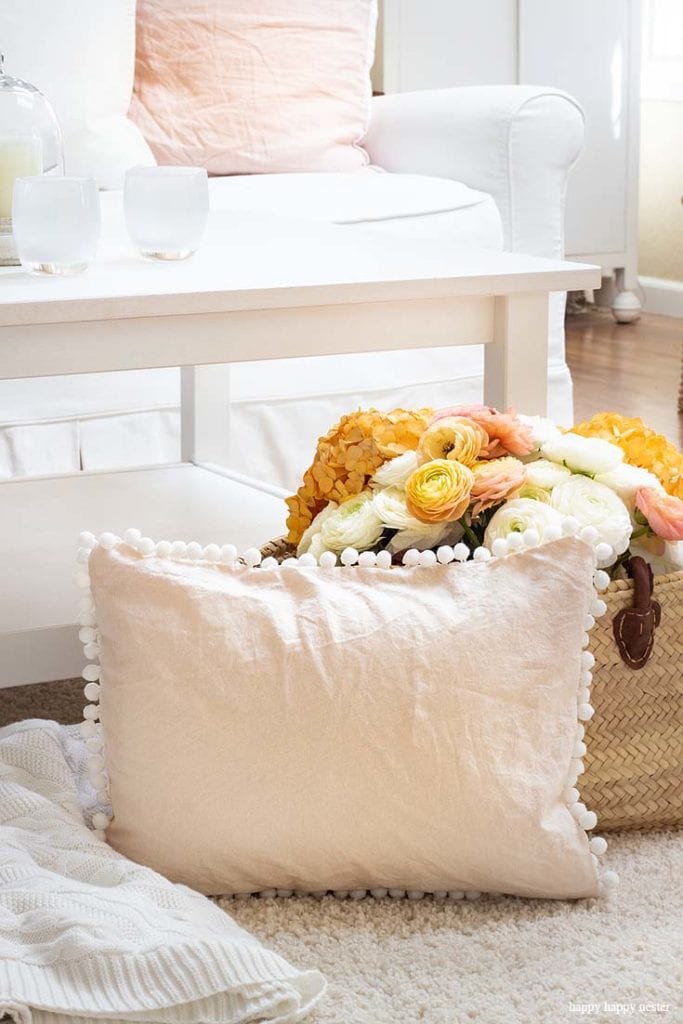 Fabric Dyed with Avocados
When looking for a pillow project and deciding on my material, I came across Dyeing Fabric with Avocados: Skins and Pits. Did you know that avocados create a beautiful pale pink dye that is so pretty on cotton material? I'll show you how easy it is to dye cloth in this post!
Yes, you heard right. In this post, I'm dyeing fabric with avocados. I used avocados to dye my cotton material, and it is a gorgeous pale pink color.
I also answer some frequently asked questions you and others may have throughout the process!
So, if you have some avocado toasts for lunch, don't throw out the skins and pits since you can dye some pillowcases, tea towels, and napkins!
Come on over to the blog to start putting your leftover avocado skins and pits to use!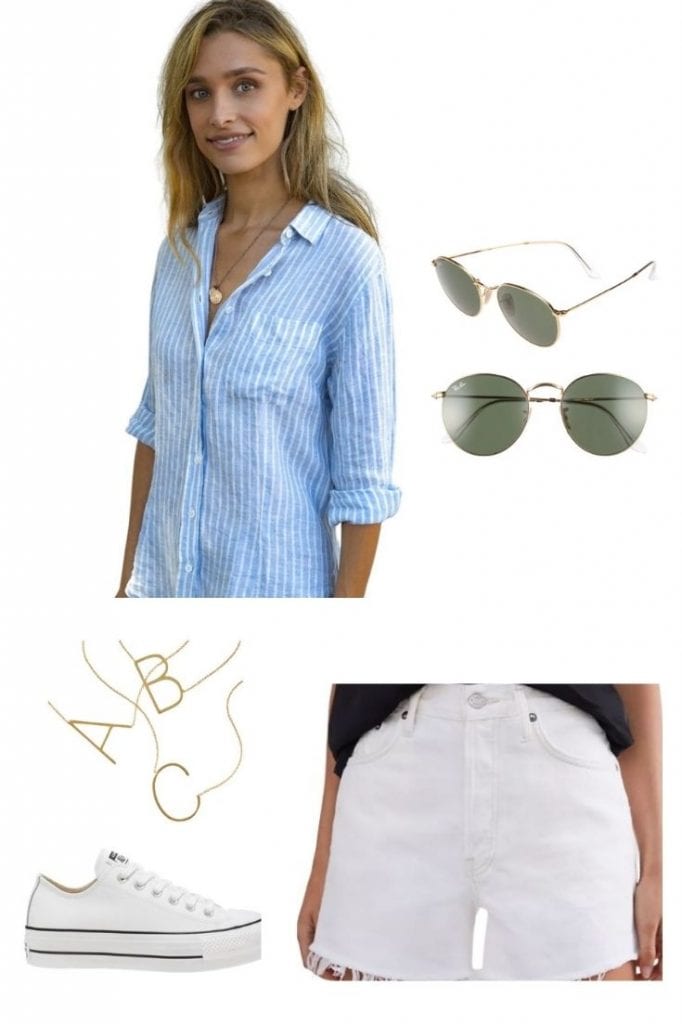 Casual Summer Outfits
Summer is coming, and that means we are all in need of a new wardrobe! In this post, I am happy to share with you 7 outfit ideas that you can mix and match to have the best summer!
Basically, we want you to feel good and look good in what you wear, so with the help of these outfits, we hope to inspire you to wear these looks or create your own!
Summer is all about spending time with friends and family and making memories, and our main goal is to make sure you have comfortable yet stylish clothing to wear while having fun!
So, come on over and check out these fits and get ready to have the best summer ever!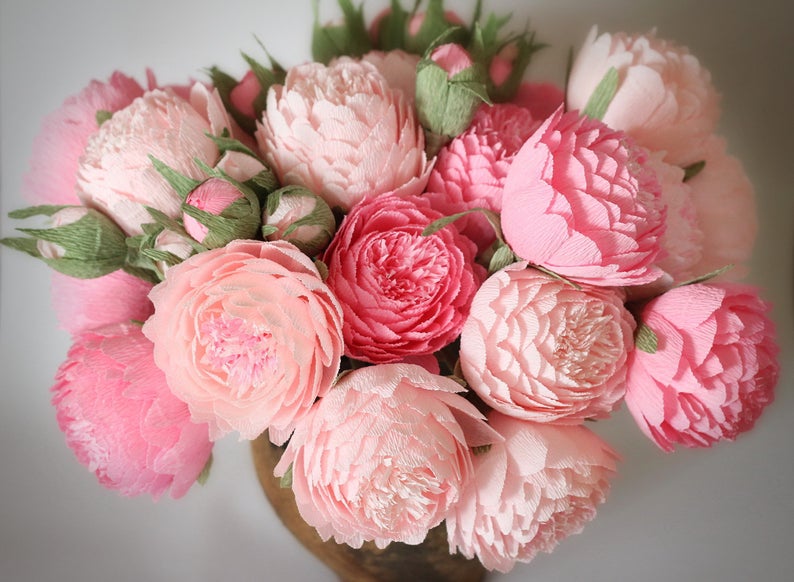 Paper Peonies
Do you want to be able to admire your flowers a little longer before they wilt? I have a solution! This Week of the Boutique is all about Paper Peonies for sale on Etsy!
This post has 10+ options of Peonies made out of paper of all different colors and sizes!
That way you are able to enjoy your flowers inside and outside without having the fear of them wilting or dying so soon!
Check these paper flowers to get started on creating floral arrangements that will last forever!
---
Fun Upcycle Ideas!
Upcycling Ideas
Reusing items and upcycling them is always a good idea. So for those who have already been doing so, here are some fun upcycling crafts and projects!
I have found 44 simple DIY wine bottle crafts and ideas on cutting glass, so let's put all of those empty wine bottles to use!
It is only natural that you have a few wine bottles on your hands along with those corks and no ideas what to do with them besides throwing them away.
Find creative ways to reuse them, adapt their function and obtain new beautiful items for your home and garden!
Obtain beautiful wine bottle centerpieces or glass lamps and chandeliers; cut them to make candle holders and unique food plates. Just let your imagination do the work for you and be creative!
---
This Week's Tips – Kitchen Tips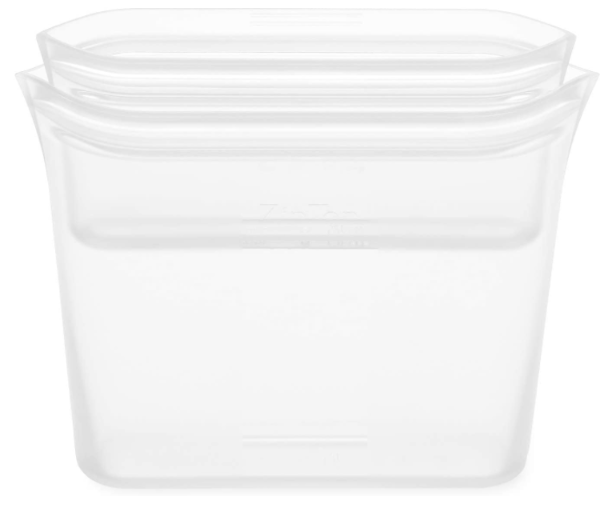 Plastic Bag Alternatives
Want an alternative to plastic bags? Start using these Zip Top 100% silicone and reusable food storage bags!
These containers are made in the USA, so they are 100% pure, non-toxic platinum silicone is completely free of BPA, lead, PVC, latex, and phthalates which means they won't leach harmful chemicals!
Not only are they non-toxic but they are versatile, designed for easy use and cleaning, and better for the planet!
Check these containers out to start bettering our ecosystem!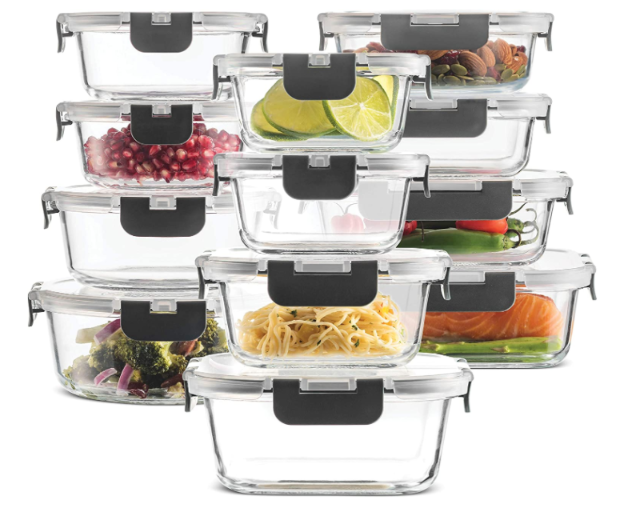 Glass Containers
This summer calls for road trips with friends and family, meaning there's going to be snacks and yummy meals to enjoy on the way! But no one likes a spill in the car, but I have a solution for that.
I have found some glass containers made out of premium glass, safe and friendly, have an airtight seal, and are easy to clean and store!
But seriously, these containers are a must for when storing leftovers, making a snack-to-go or for when you're hungry in the car.
Check out this 24 piece food container set that is BPA free, 100% leakproof, great on-the-go and freezer and oven safe!
---
Here's What We Are Doing This Weekend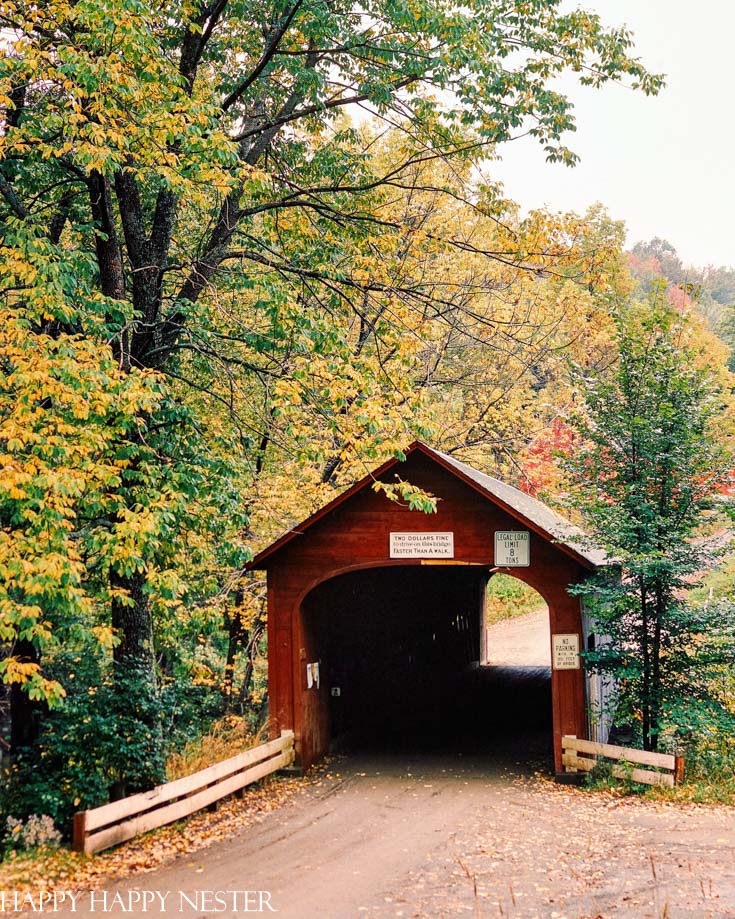 A Trip to Vermont
We have a trip to Vermont in a couple of days and so this weekend we are packing and getting ready.
I hope to take a few photos so I can share them with you in a future post. We will see if we make it to the fabulous King Arthur Shop in Norwich, Vermont. If you have ever visited this unique shop, you know how excited I am about my trip.
But, the main reason we are traveling to Vermont is to visit my husband's parents. They are true Vermonters and have lived there their whole lives. Since they live on the other coast, we rarely get out to visit them. So, I'm looking forward to seeing them.
Here is to traveling again and reconnecting with friends and family!
---
Well, this wraps up this week's Saturday Chitchat celebrating upcycling projects!
Thanks so much for chatting with me!
Happy Memorial Day Weekend!

Catch up on Saturday Chitchats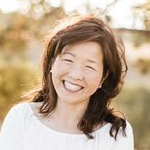 Latest posts by Janine Waite
(see all)