Some of today's Valentine's Projects are easy, and they can be made last minute! So, it's not too late to have a fun Valentine's Day celebration.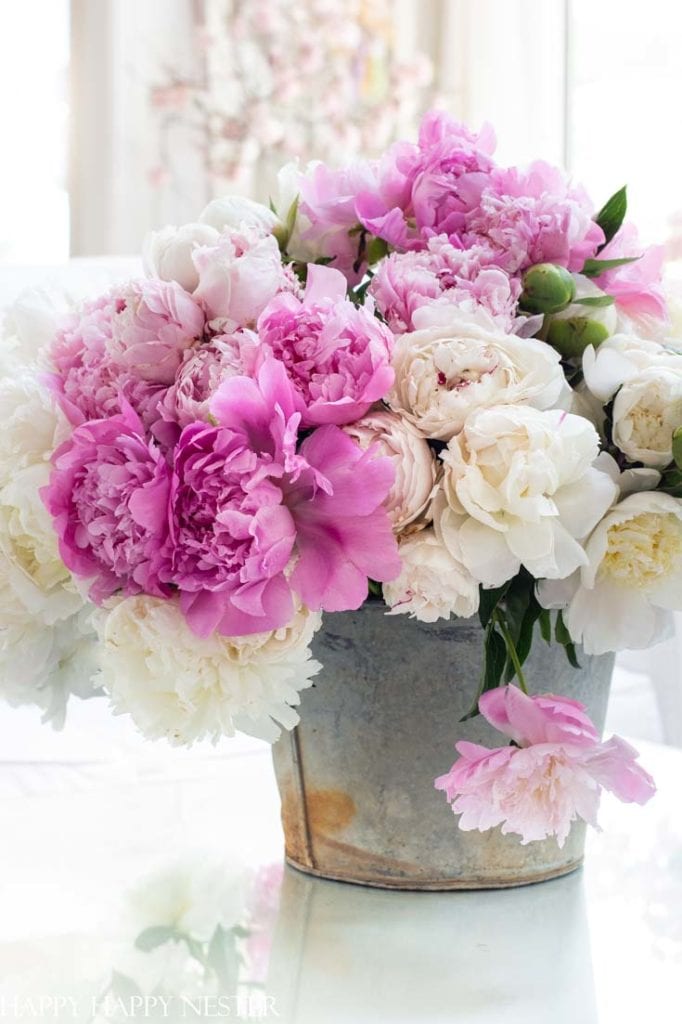 This post is full of inspiring Valentine's ideas like recipes, crafts, decorating ideas, and more.
Saturday Chitchat with Janine – Volume 3
Happy Saturday!
Welcome to my Saturday Chitchat where we come together as a community of creative women.
Well, Valentine's Day weekend is finally here. I must say that I had fun creating lots of holiday projects this month. I think I made more Valentine's projects this year than all my blogging years combined.
And today is the final installment of my Valentine's crafts and baking posts.
I'm enjoying all the pink in our home. But now I'm switching to spring and Easter. I'm super excited to begin playing around with the pastel colors and decorations.
And by the way, we have been gearing up for Easter and spring projects over in my Private Paid Membership Circle. We are busy with lots of fun holiday crafts. It's a wonderful community of women.
But, in the meantime, get comfy, grab a yummy warm drink and let's chat about Valentine's projects (that are easy)!
---
A Personal Note From Janine
Well, tomorrow is Valentine's Day!
I have to chuckle since many years ago before I was married, a funny thing happened.
I spent Valentine's Day making a wonderful dinner for my then fiancé and now husband. I got the candles out. My roommate at the time was so kind to leave the apartment for the evening. I had the whole dinner planned.
So, my husband showed up, and he was late and harried. He spied the beautiful dinner and gifts. At this point he didn't have a clue that it was Valentine's Day. He mentioned how nice the dinner was, and he asked why I got him so many gifts! Well, long story short, he learned his lesson and he never forgets Valentine's Day!
Nowadays, receiving a gift is not my priority, and my husband is probably ecstatic that I've changed in that regard. But, enjoying a nice meal is more what we both want these days. And since the restaurants are always busy on Valentine's, we always prepare a homemade dinner at home.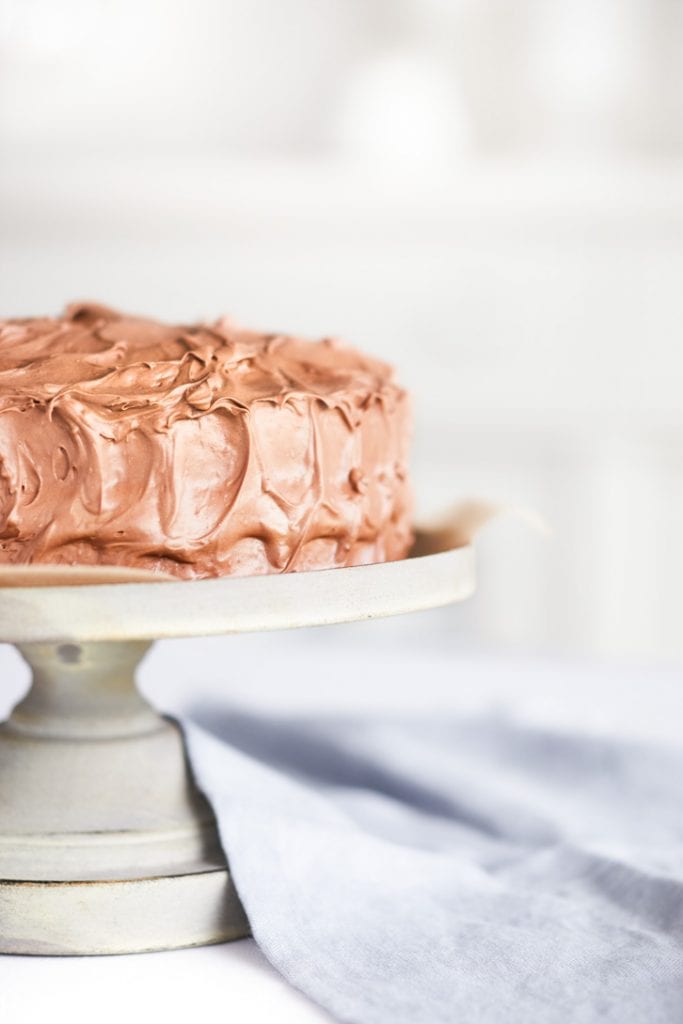 So, this year is not much different for us. We will enjoy spending some time in the kitchen together, cooking dinner, and baking a yummy dessert. Maybe we might make my chocolate cake recipe with beets in the ingredients!
Whatever your plans are for the weekend, I hope it's relaxing and fun.
---
This Week's Inspiration – Valentine's
Gather up your faux flowers, and let's make this pretty flower project. It's such an easy project, and you can customize it to match your home decor. I loved it so much that I created one with cream flowers!
I can't tell you enough how gorgeous this looks in our bedroom. It's swoon-worthy!
I have quite a few Valentine's projects that are easy, so check out the list below.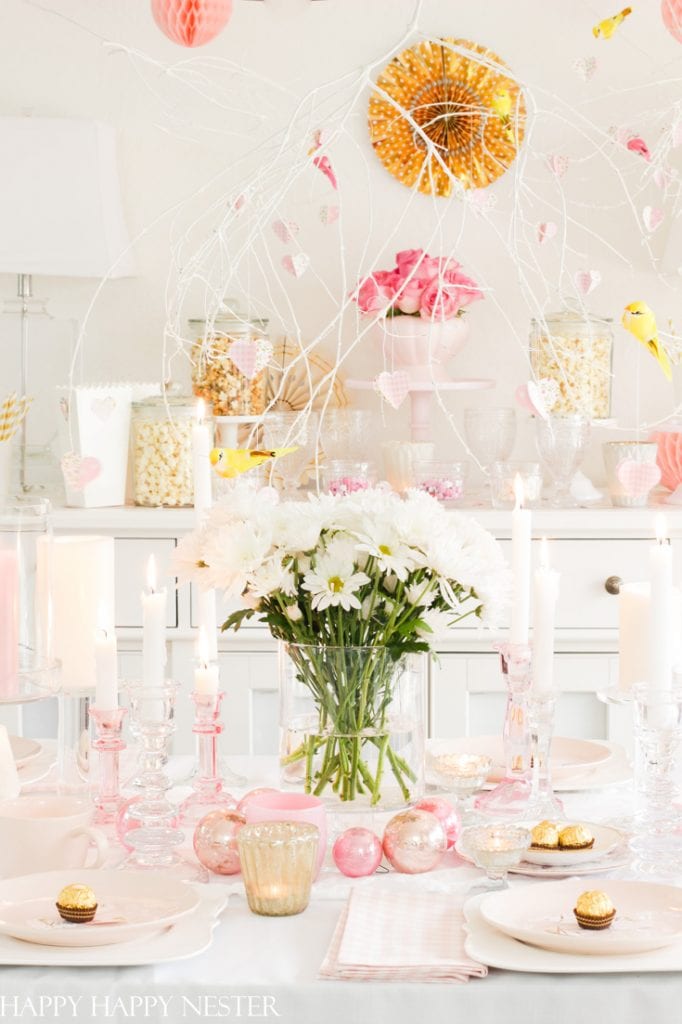 I know it is kind of late to plan your Valentine's Day table. But maybe some of the cute branches I share in this post can be carried over to Easter and spring!
I also share my fun popcorn bar that I recently created for my family. We love popcorn!
See how our dinning room was transformed for Valentine's Day.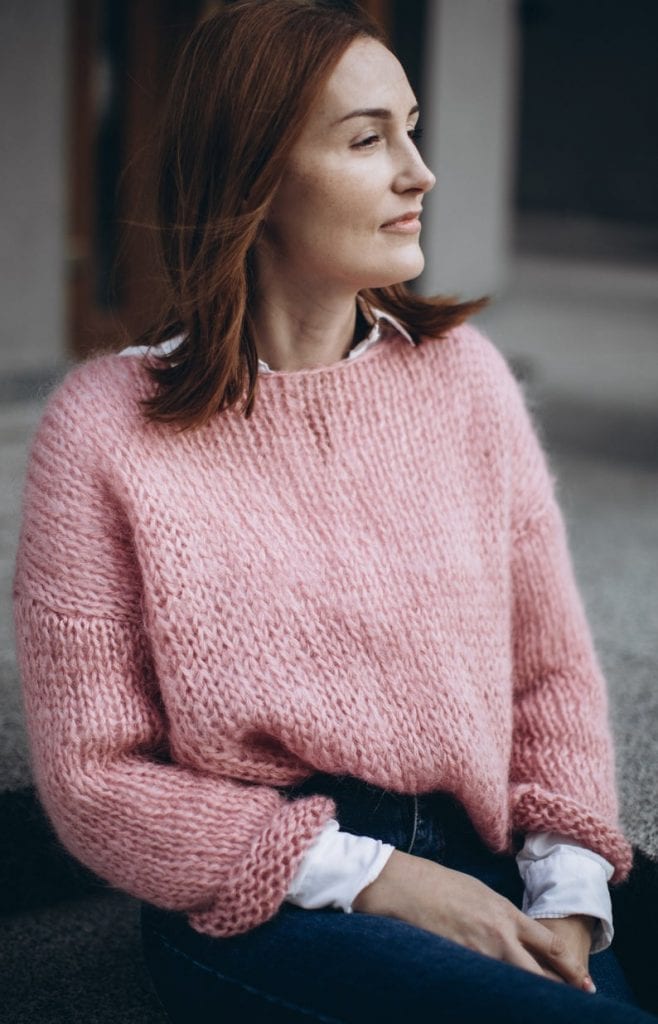 Pretty Sweaters for the Winter
Here is the latest Boutique of the Week. In this post, I featured beautiful and unique hand-knit sweaters. I made sure to feature a few different styles to suit everyone's fashion taste.
You know that I rarely post about fashion, but lately, I'm obsessed with sweaters. So, I couldn't help writing up this post. Come on over and see what things I picked out for you.
---
My Favorite Things – Valentine's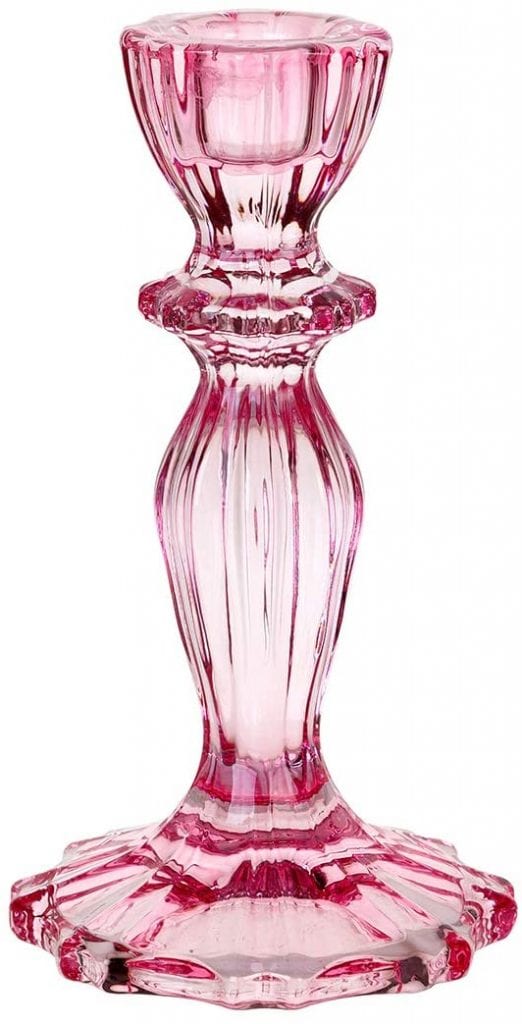 I have some candlesticks like these and I always use them when I'm decorating the table for the holidays!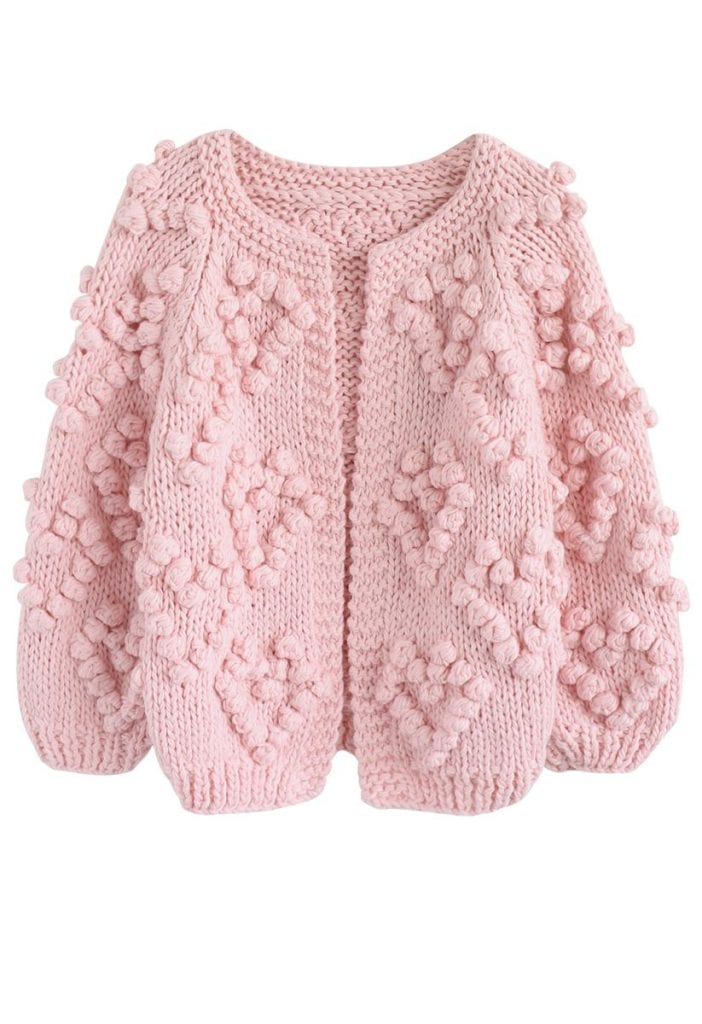 By the way, I bought this cardigan in pink and beige, and I LOVE them! They're so soft and super cute.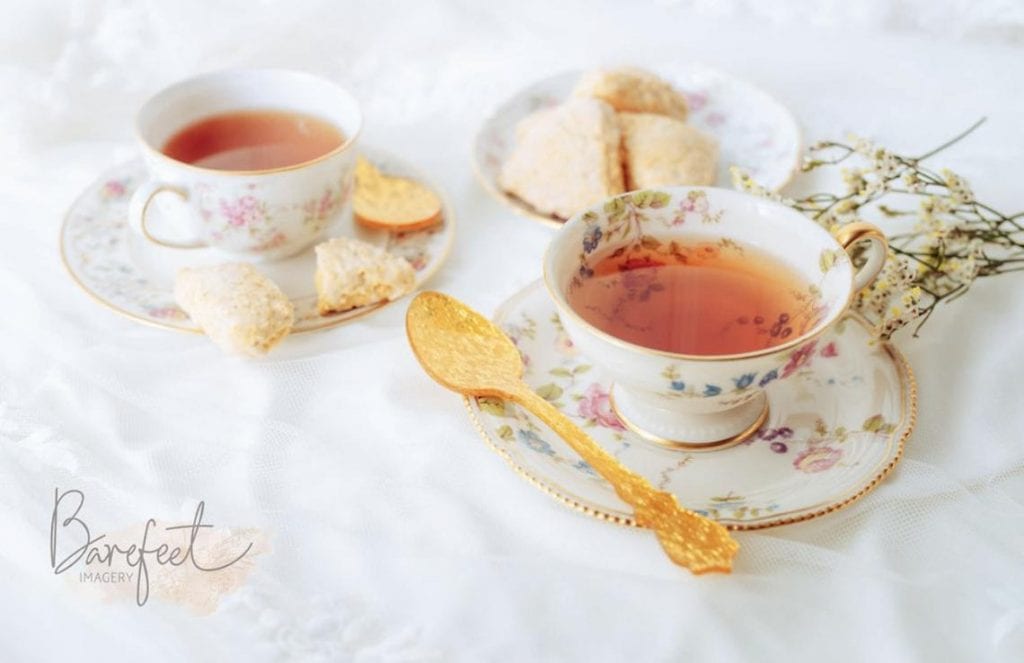 This is on my list to order a few of these pretty teacups!
---
Recipes for the Week – Valentine's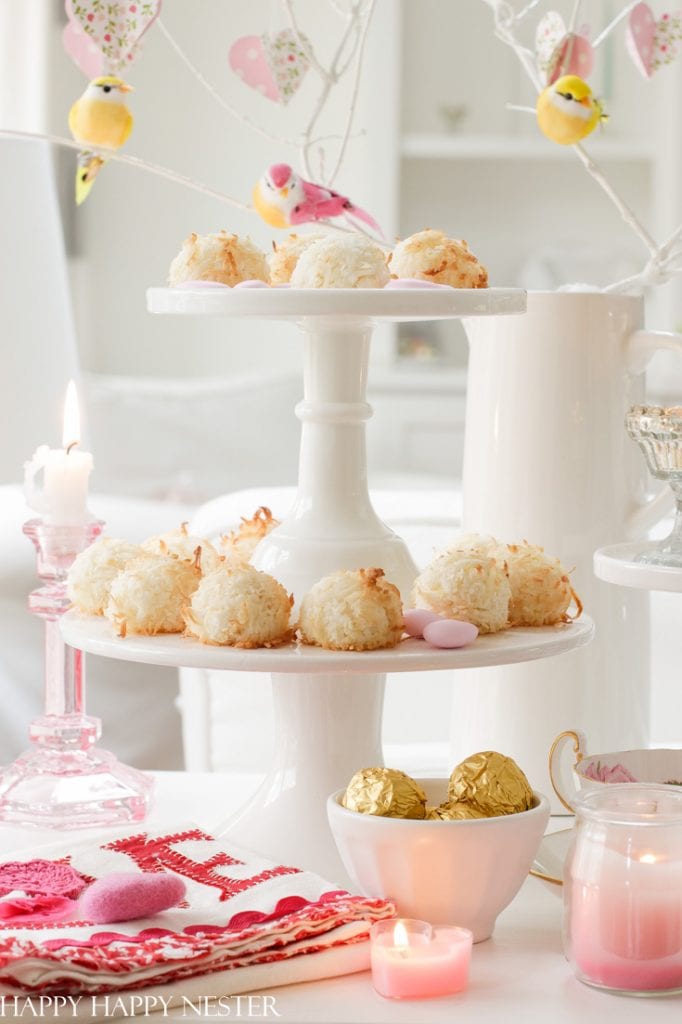 This is an old recipe that I recently updated the photos. So, I baked a couple more batches of these coconut macaroons. Oh my goodness, they are so light and delicious.
Dip them in chocolate and add some fun Valentine's candy sprinkles to them.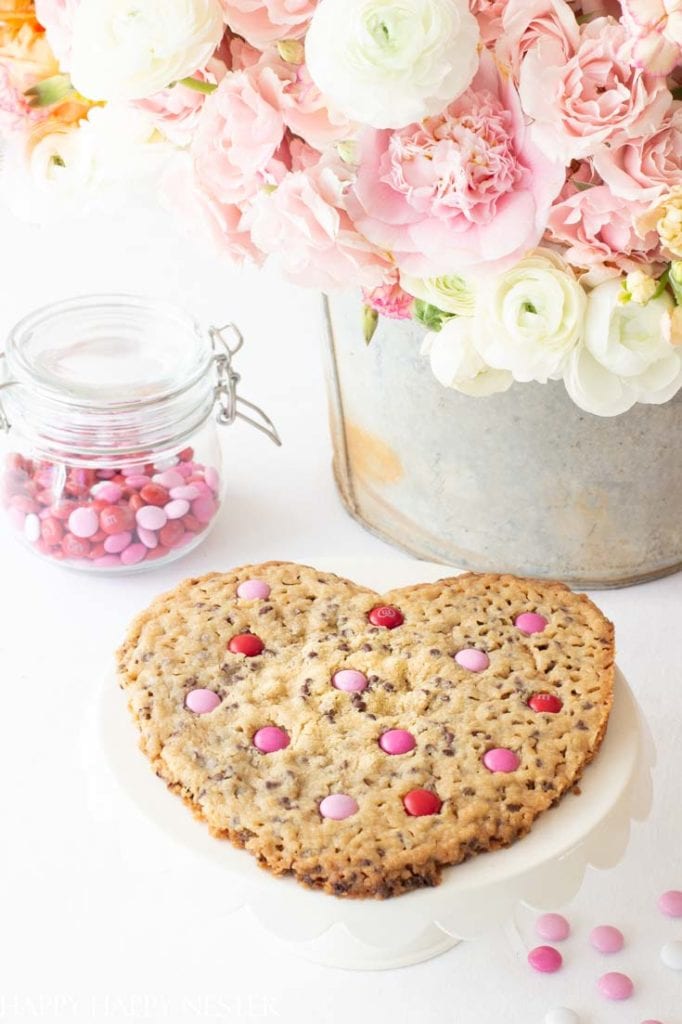 Last year, my daughter created this Cute Kid Cookie in the Shape of a Heart. It is the easiest cookie to make and a perfect project for your children or grandchildren.
Plus, I love how this cookie is crunchy and delicious and so easy to make. I collaborated with Betty Crocker for this post, and the cookie is from their cookie brittle product line. This was by far my favorite item that I had to use for the sponsored posts.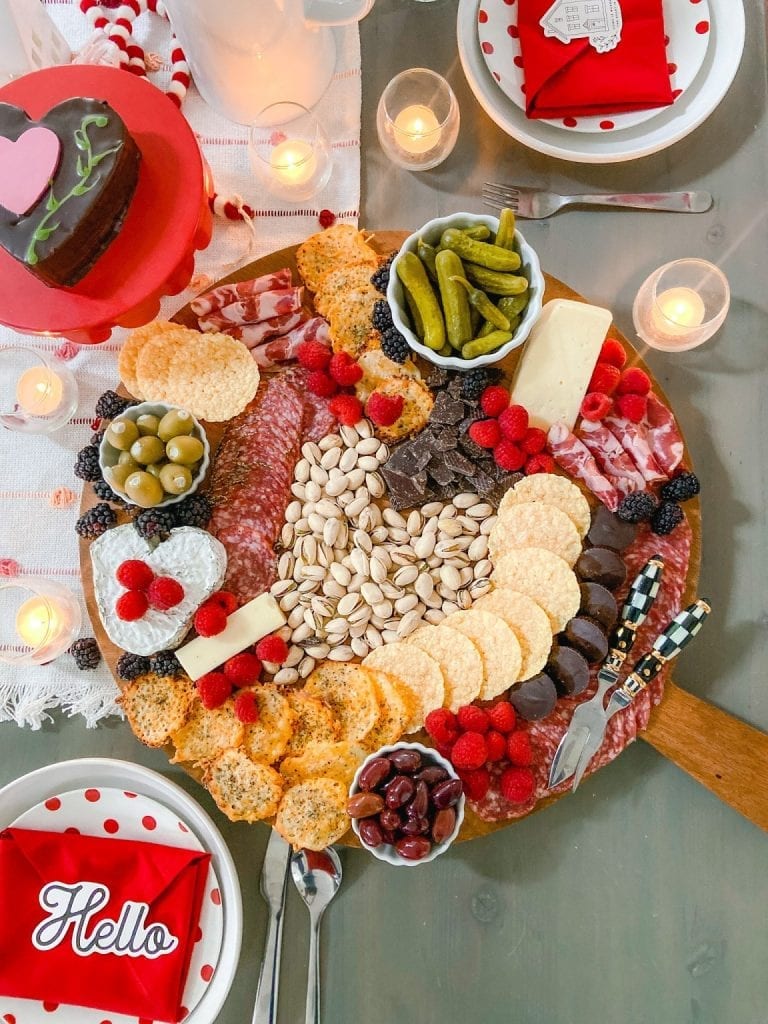 Jen from Tatertots and Jello made this yummy and pretty Valentine's Board. This is something you can make on Sunday. Be creative add some of your family's favorite foods. I love that she designed a heart in the middle of the board. Now that's so clever!
---
Crafts for the Week – Valentine's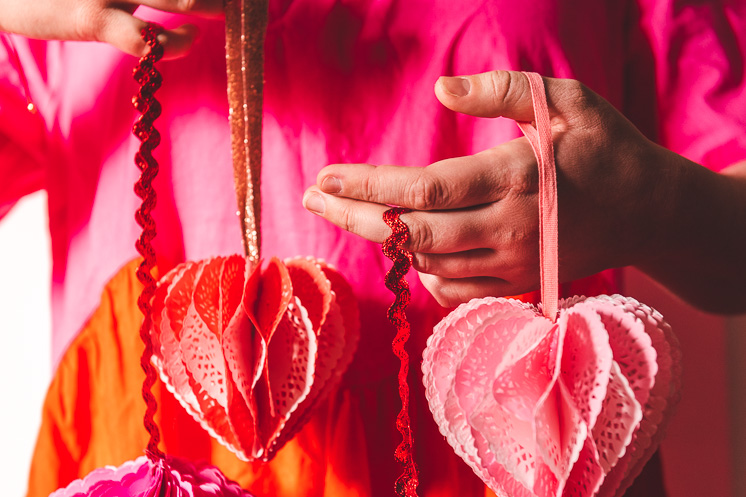 HONEYCOMB VALENTINE'S HEARTS DIY
I love everything they create over at The House that Lars Built. These adorable honeycomb hearts are so cute. Hop on over to see the tutorial.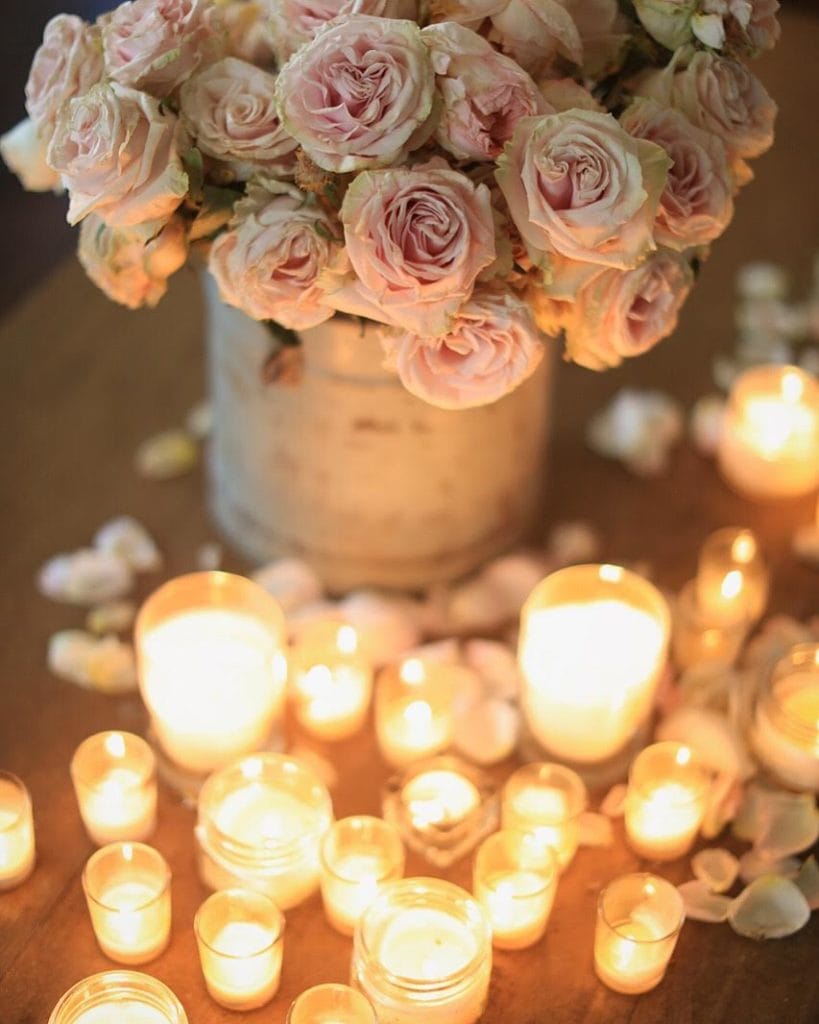 This beautiful table setting comes from Courtney over at French Country Cottage. She creates the prettiest decorations. I'm enamored with all these candles. In fact, I have a bunch saved over in Amazon. This would be easy to pull together for some quick Valentine's projects this weekend.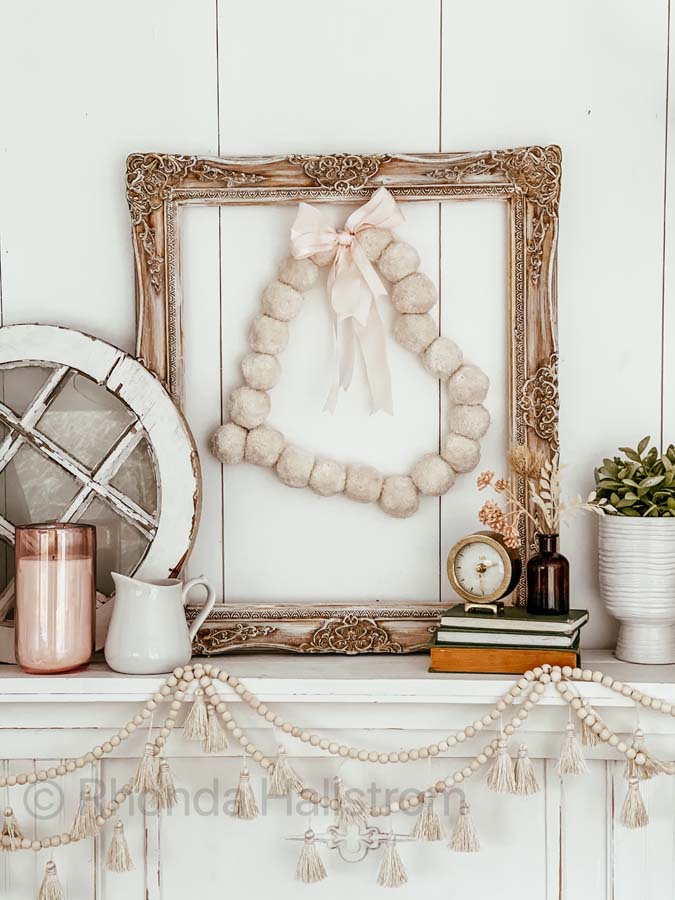 My friend Rhonda made this adorable pom-pom wreath. I love the chunky pom-poms. She creates some comfortable and pretty home decor. And don't miss the feature I posted on her Farmhouse decor.
Hop on over to her blog post for a the tutorial.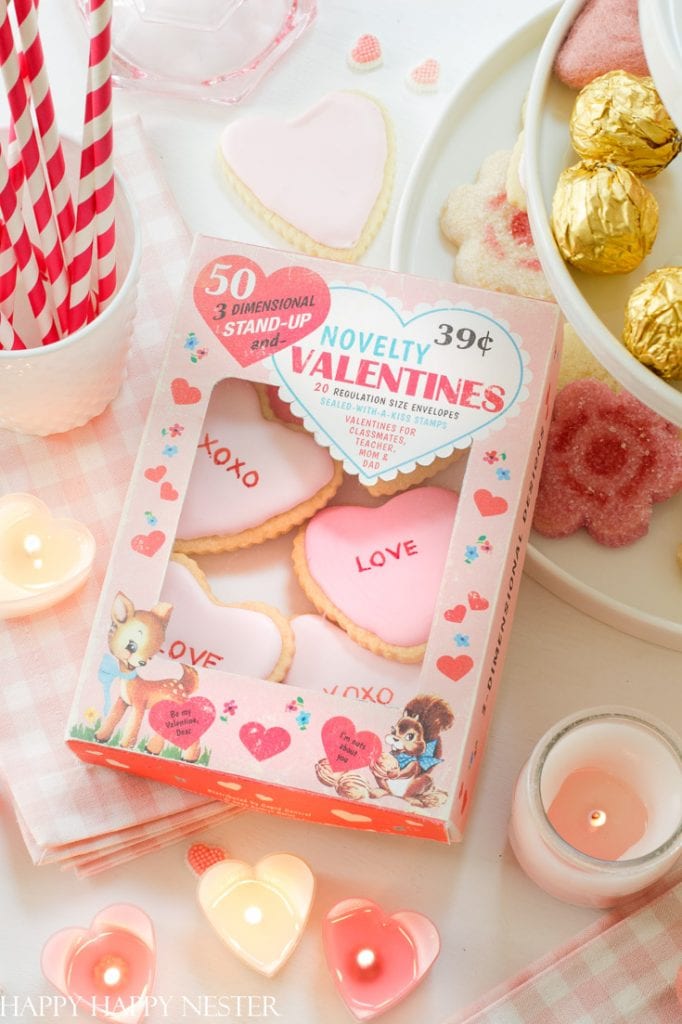 And don't forget to put your gifts to a friend in this adorable vintage style box.
Find out where to download this cute printable. This shop carries a few different designs. Choose one you like and download the printable immediately.
---
Helpful Home Tips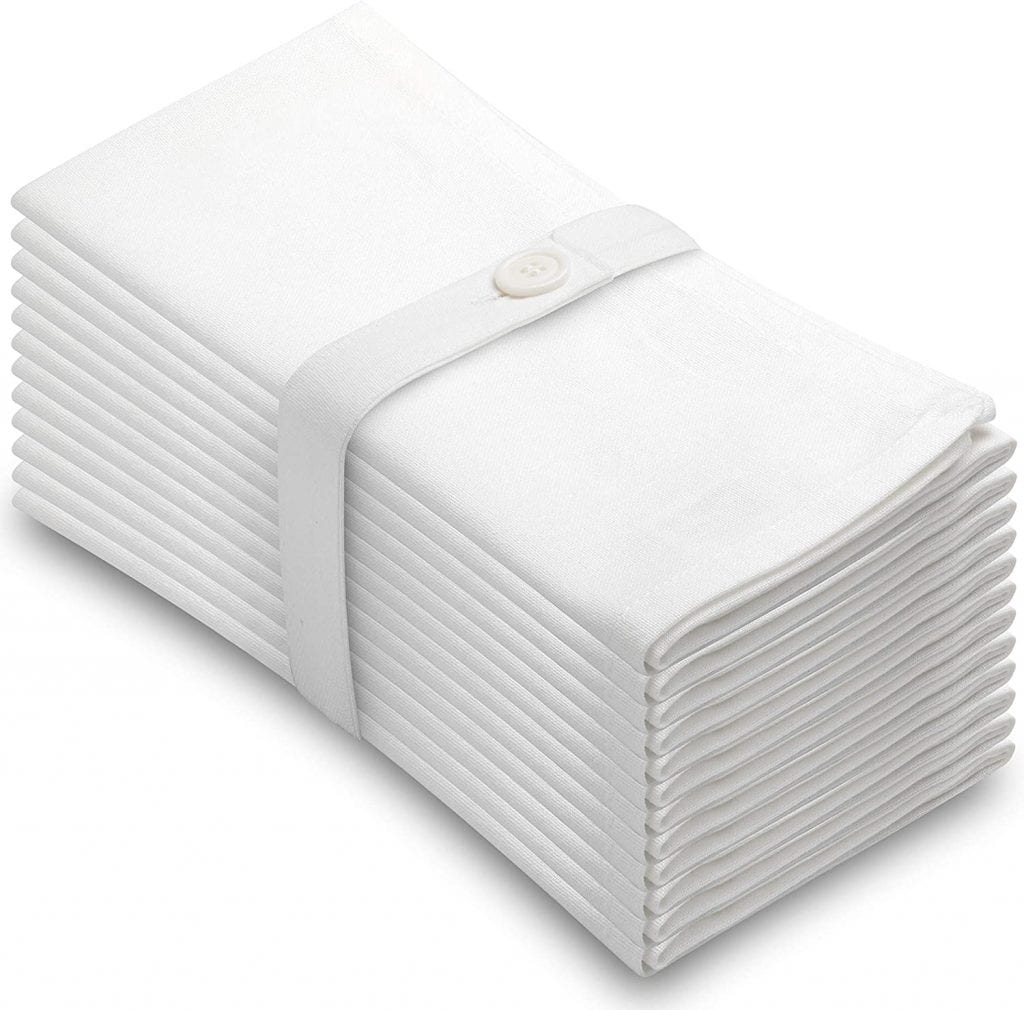 Recently my son mentioned that he want some cloth napkins.
So, I bought some all-cotton white napkins. It turns out that we all love using them.
The first couple of washes were pretty wrinkly out of the dryer. But then, after more washes, the fabric relaxed, and now I pop them out of the dryer and fold them without many wrinkles.
To remove the stains, I spot clean them with bleach, and they are as good as new. I ended up buying some black napkins but bought a cotton blend. So, when I washed them, all the white lint stuck to them. I guess it is important to buy all the cotton napkins. Live and learn.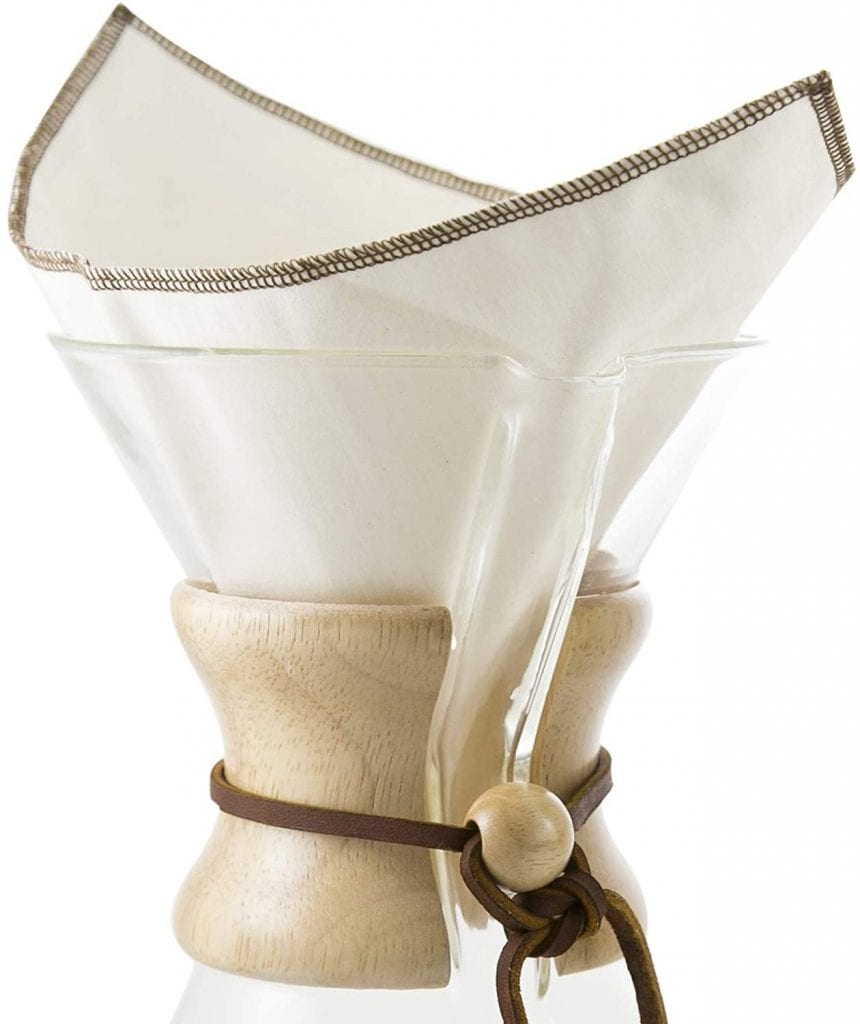 We own the double-walled glass Bodum pour-over coffee maker, and we use this reusable cloth filter. My husband and I love it! No more paper filters over at our house. Also, I'm sure you are wondering if it makes a smooth cup of joe? Yes, indeed it does!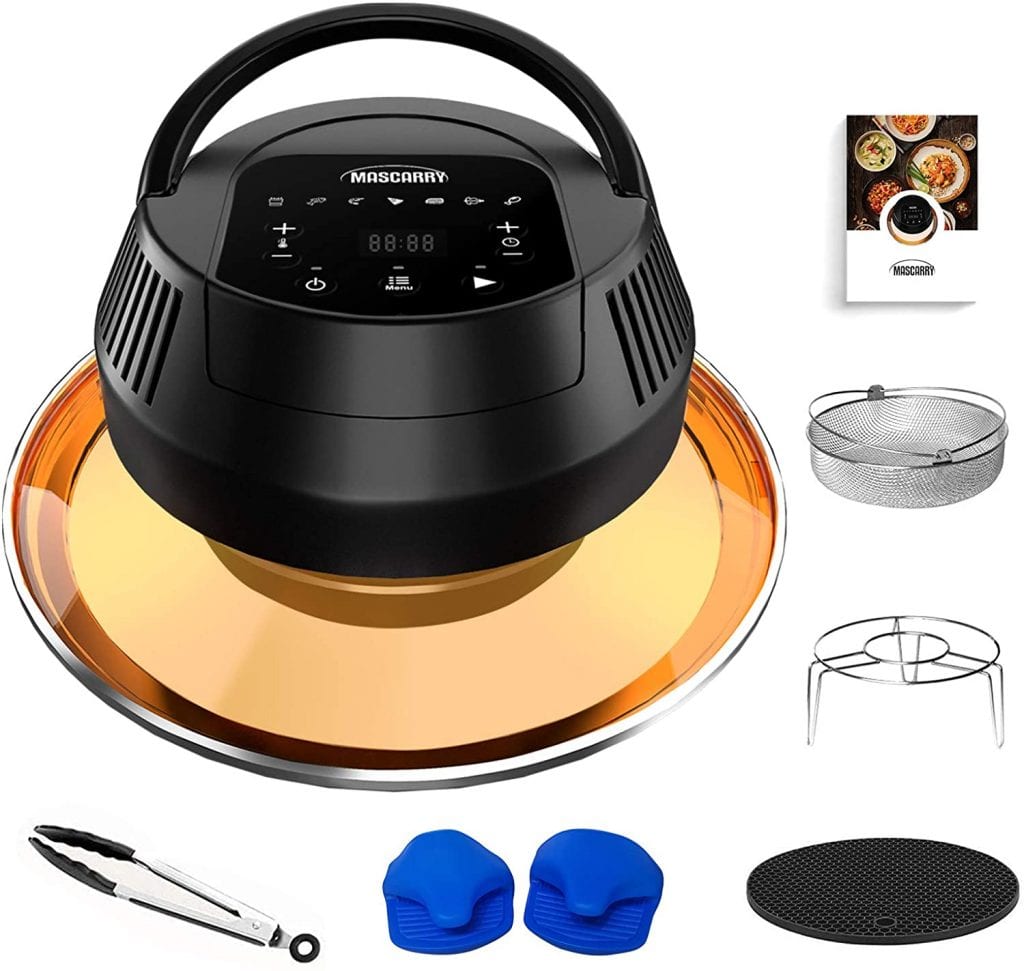 If you have an Instant Pot and don't want to invest in another appliance, then maybe check out this air fryer lid. It sits on top of the Instant Pot, and it fries food nicely. We recently made Katsu Chicken for the Ramen recipe that is shown below. Oh my goodness, it came out so delicious, and the only oil I added was a little squirt of canola oil.
My only complaint about this product is that the Instant Pot size limits how much you can fry. So, I had to cook the chicken in stages. But, it tasted fabulous and without using almost no oil.
What's Cooking in Our Kitchen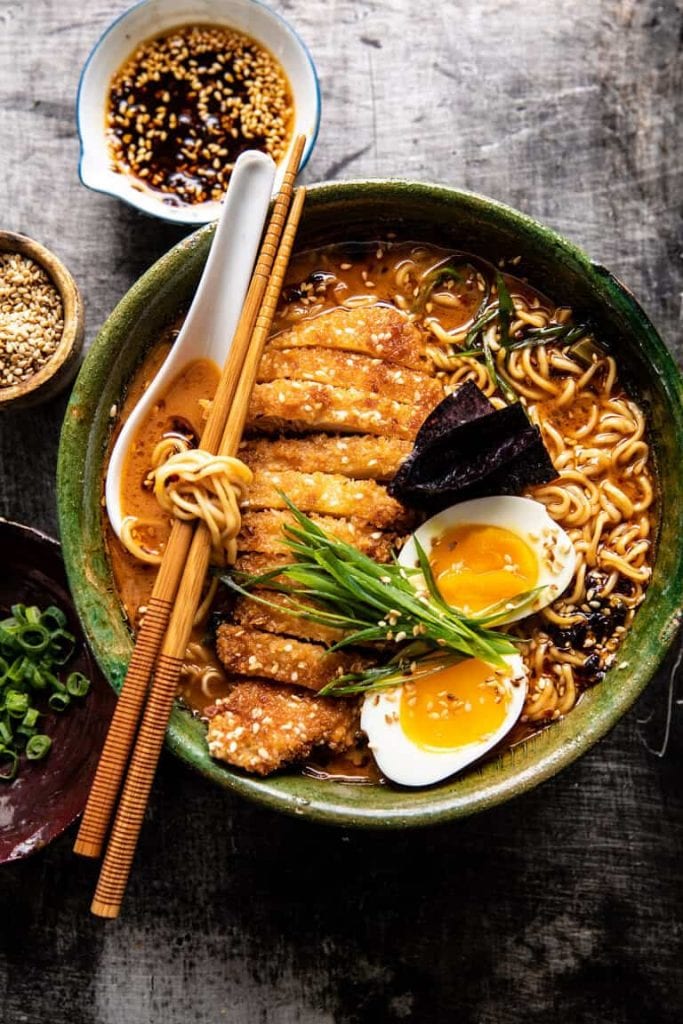 THE BEST RAMEN RECIPE!
My son is obsessed with Ramen, and I'm obsessed with the recipes from Half Baked Harvest. So, the other day, we made this dish, and it is the best ramen. I normally don't care for the Ramen I have ordered in the restaurants, but this recipe nailed it.
If you try it, make sure to buy the noodles and all the ingredients Tieghan mentions to use. This is definitely a keeper, and my son was so happy with his meal!
He helped make the soup base while I cooked the chicken in our new air fryer! I promise I'll post the recipe soon.
---
Well, I hope you enjoyed all these Valentine's projects. Let's get crafty and creative this holiday weekend.
Have a lovely weekend!
Cheers,

IN CASE YOU MISSED IT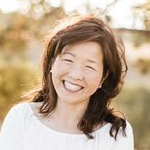 Latest posts by Janine Waite
(see all)