This easy DIY Flower Wall Hanging is easy to create with faux flowers. Decorate your bedroom wall with it for Valentine's Day or Spring.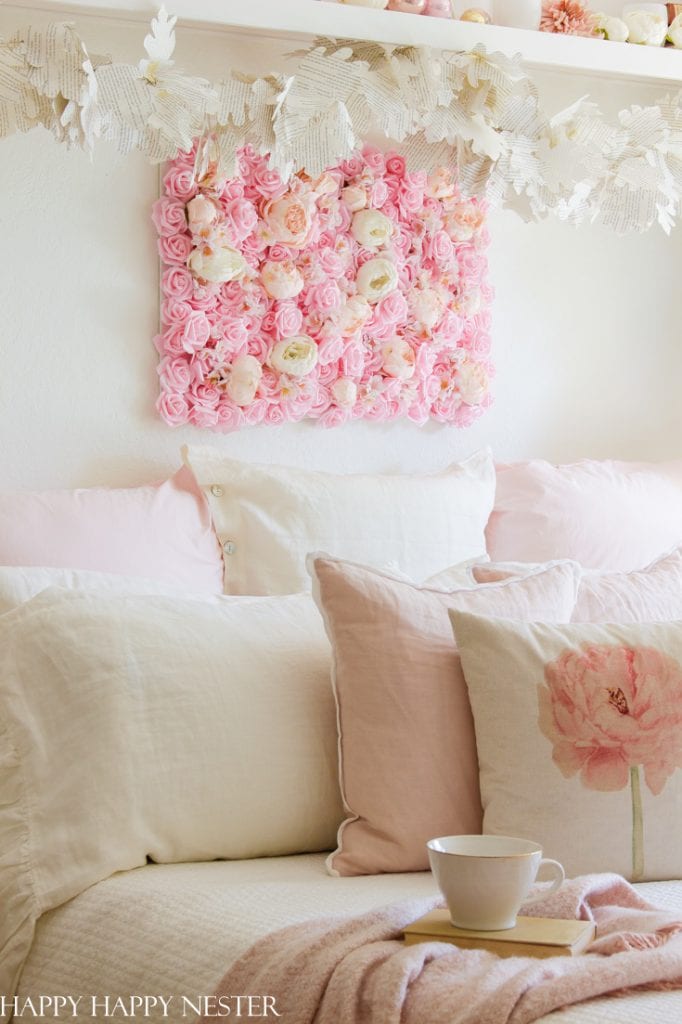 I was amazed at how fun and easy this wall-hanging flower arrangement was to create. It's perfect for a wall, wedding, dorm room, office, birthday, or any special occasion.
So every year, I'm always mesmerized by the decorations surrounding the English Chelsea Garden Show. You've probably seen the cafes with walls all decked out with gorgeous faux flowers. Well, this was the inspiration behind this project. And if I can't travel to the garden show, I'll bring a little to my home.
My husband calls me an anglophile. I have to agree with this opinion. 🙂
But before we get this post started, I want to mention that my friends have shared their fabulous Valentine's Day crafts, and you can view theirs at the end of this post.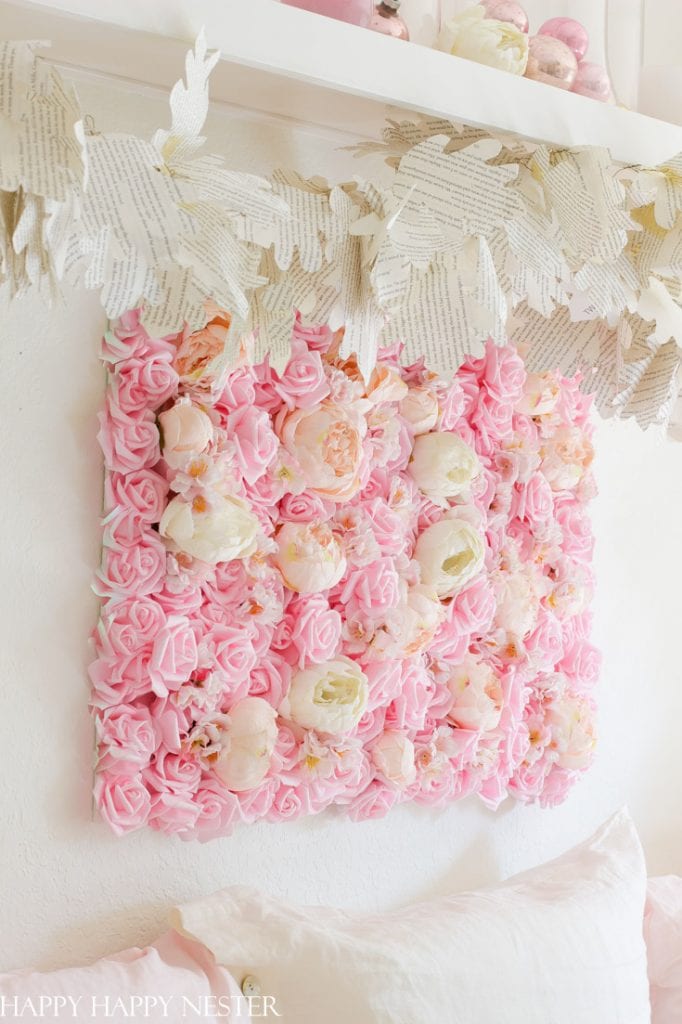 FAQ's About
DIY Flower Wall Hangings
How many flowers do you need for a flower wall board?
To give you a rough estimate of how many flowers you'll need, I got my ruler out and counted one square foot, so a 12″x12″ area. I found that I used about 50 roses (these roses measure 2″x2″) and 3 peonies (that measure 3″x3″). Depending on how big you make your wall hanging, you can calculate your flower needs based on a 12″x12″ square.
Also, I bought extra roses since they were pretty cheap!
Are flower walls real or fake?
Of course, flower walls can use real and fake flowers. It just depends on your goals and how much you want to spend. I guess Kanye West gifted Kim Kardashian the best Mother's Day gift ever, a wall of real hydrangeas, roses, and peonies. Here is the link to her Instagram post. I have to say that I don't follow Kim, but I had to check out her gorgeous flower wall! Rumor has it that this gorgeous flower wall set Kanye back about $10,000 – $20,000.
How do you hang flowers on a wall?
Of course, there are few ways to hang flowers on a wall. Either hang flower garland backdrop, floating flowers, hanging flower baskets, and much more. But, this project is super easy. I attached the flowers to a removable board and then hung it with temporary command strips. So, when you want to change it out for the seasons, it's pretty easy!
What if I want a wall of flowers but don't want to make the boards?
Here is a quick way to get the wall without all the work, prefab panels. The downside is that buying the number of panels you want can get a little expensive. But if money is no object and you are strapped for time, this is the best way to go.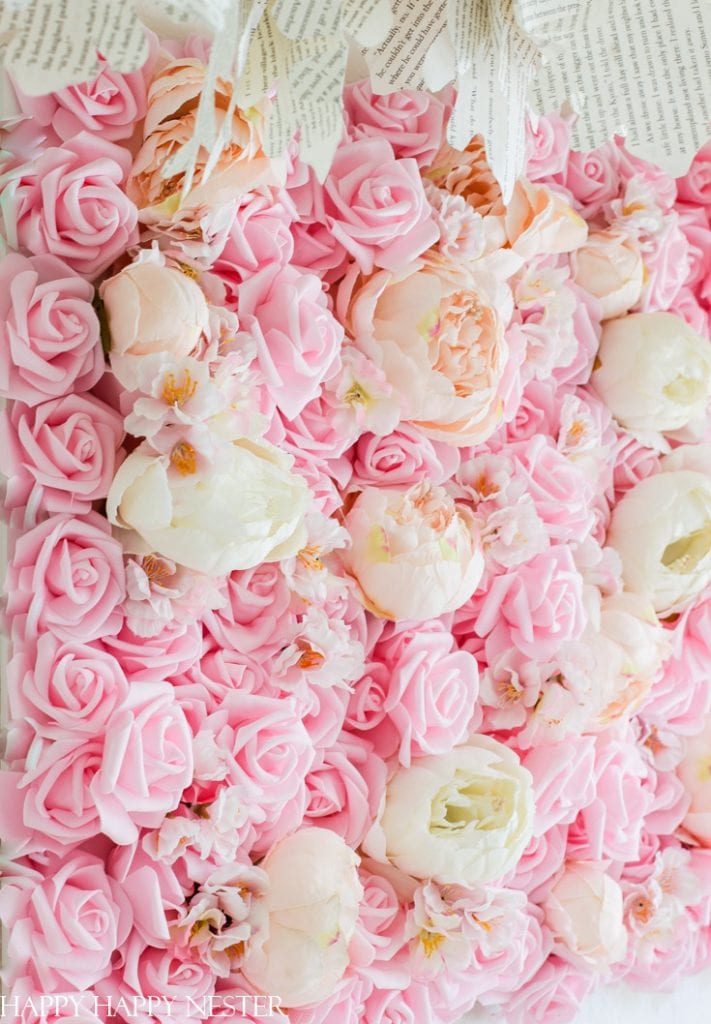 I absolutely love flowers and my blog has quite a few posts. I hand picked these for you:
Let's get this project started!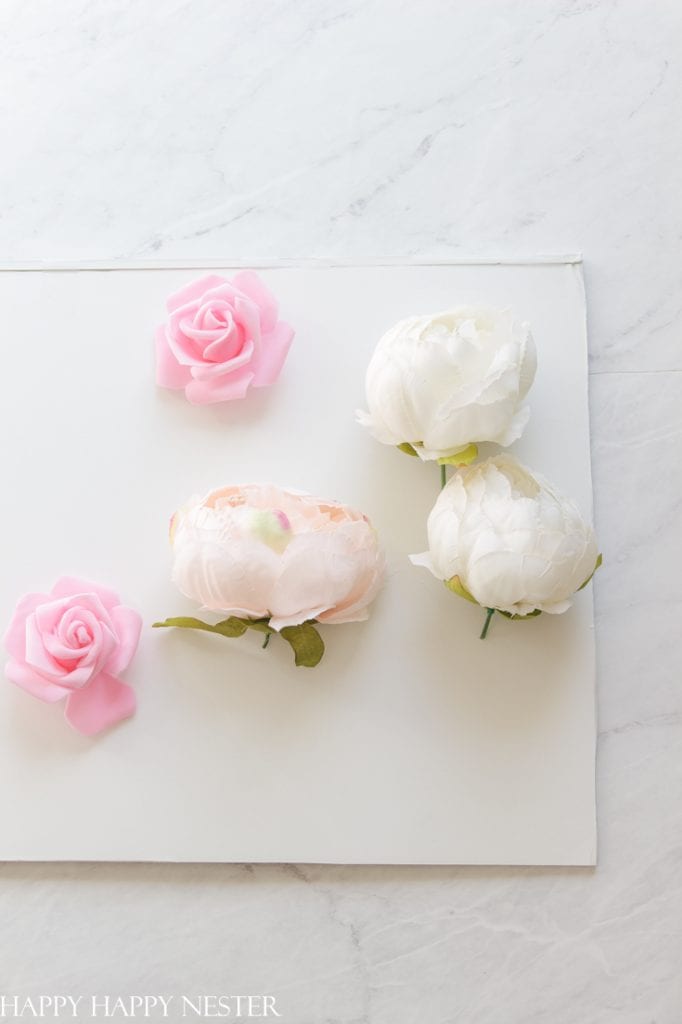 How to Assemble a Flower Wall
SUPPLIES:
Faux Flowers – Pink Roses, Pink Peonies (but use whatever flowers you love)
Foam Core Board (mine is 17″x27″)
Wire Cutters to Cut Stems
INSTRUCTIONS: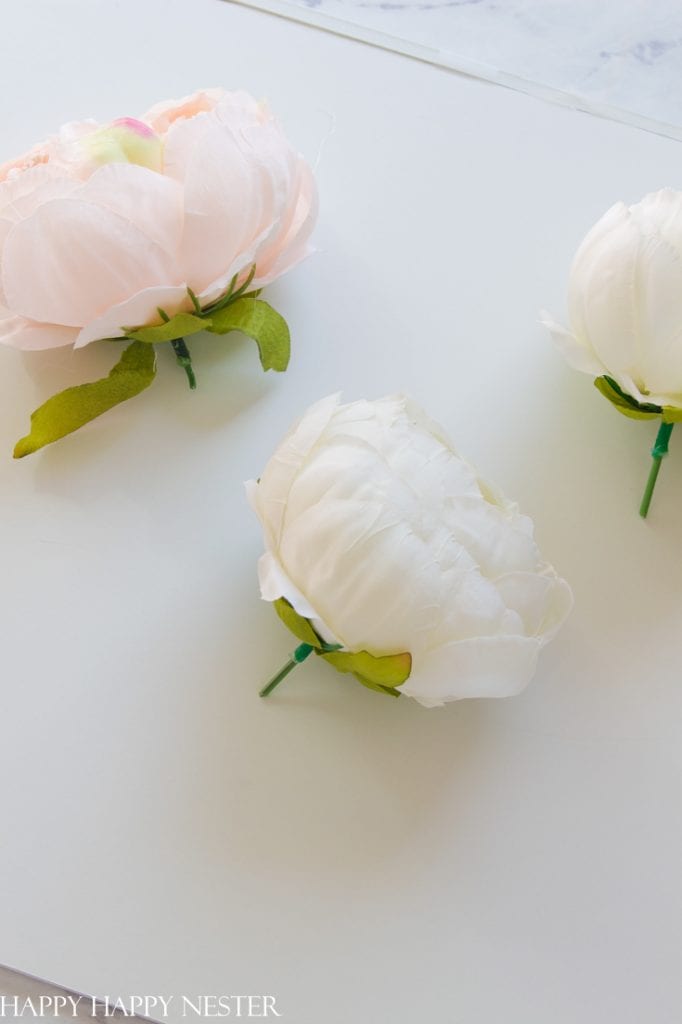 Step 1 – Prepare Your Foam Board
Determine what size you want your flower hanging. My foam board is 17″ x 27″ and I used about 125 roses and 20 peonies.
Step 2 – Cut Stems
I left about an inch of peony stem. And by the way, the roses I bought came without stems, so no need to trim them.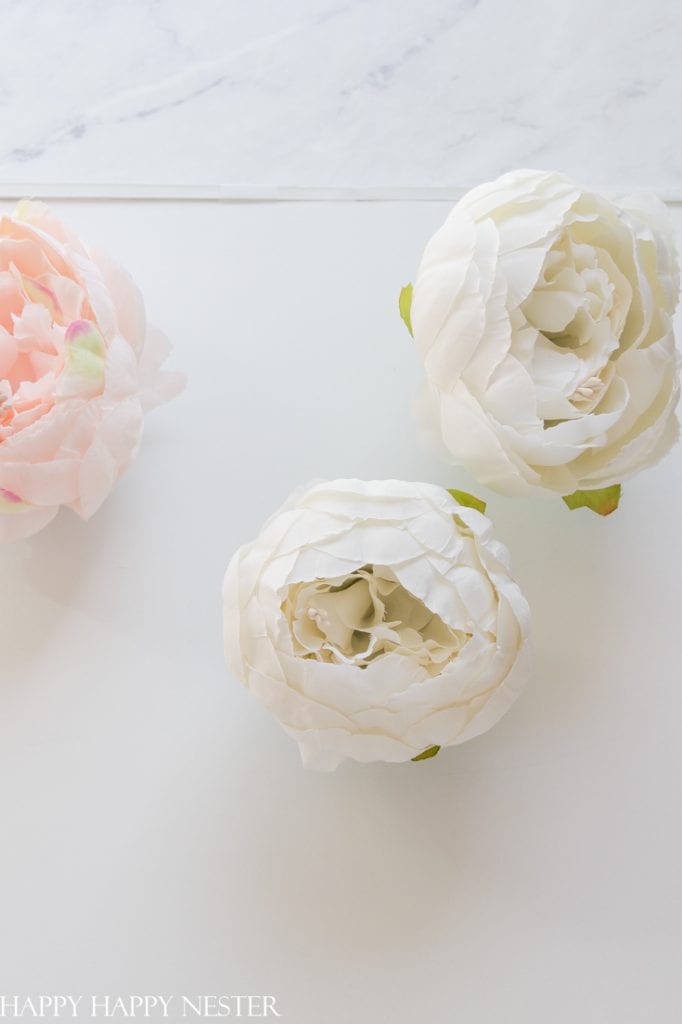 Step 3 – Place Peonies on Board
Since the faux peonies are more oversized and command more visual attention, I placed them around the board first. Once you determine where you want to add them, punch a hole with the stem and push it through the foam core. You can hot glue them or just leave them in place. I left mine since they were securely positioned on the board.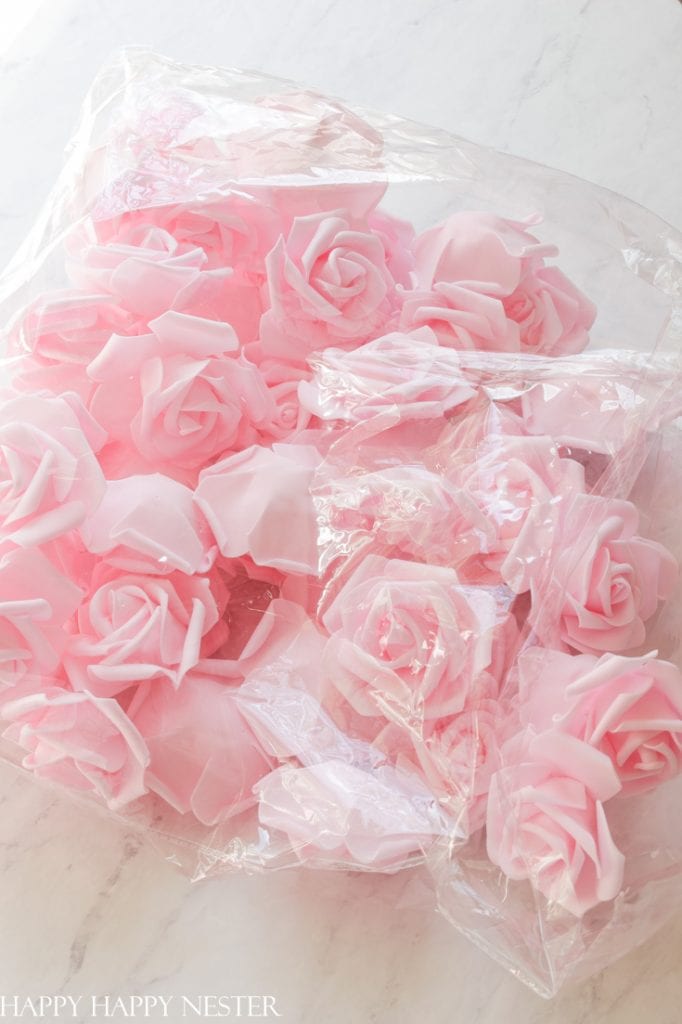 Step 4 – Start Gluing Your Foam Roses
Here are how the roses arrived. This bag holds 100 foam roses, that don't look all that bad in person.
Ok, I glued the first layer on the board and then added a few here for a second layer. The sporadic second layer added visual depth.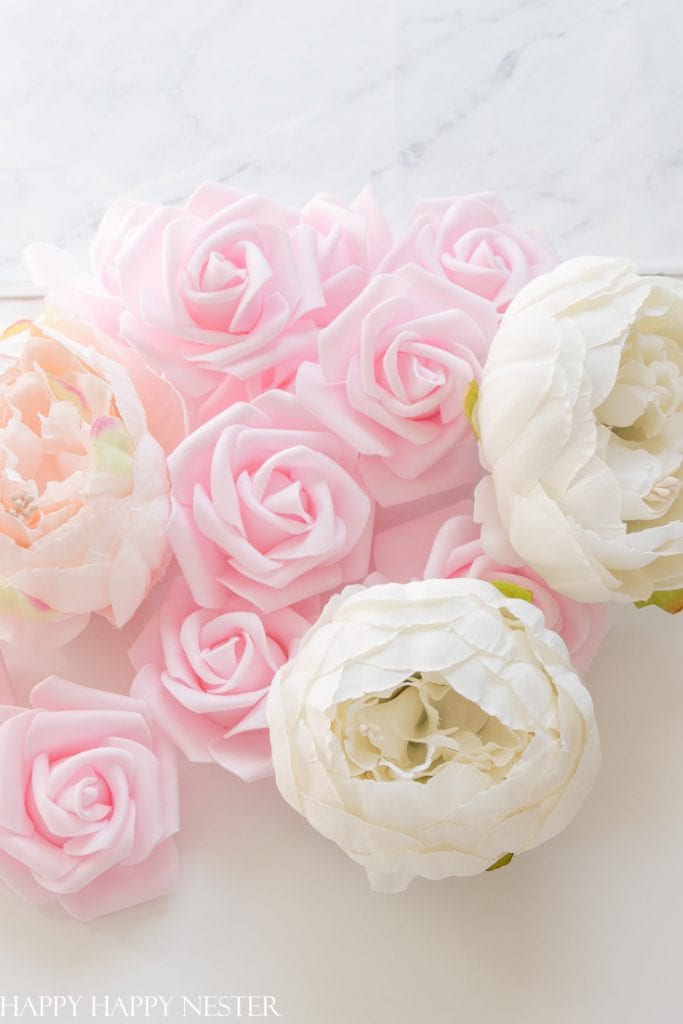 Also, when placing the roses, I styled them so that they weren't symmetrical. Otherwise, it appears a bit fake, if you know what I mean.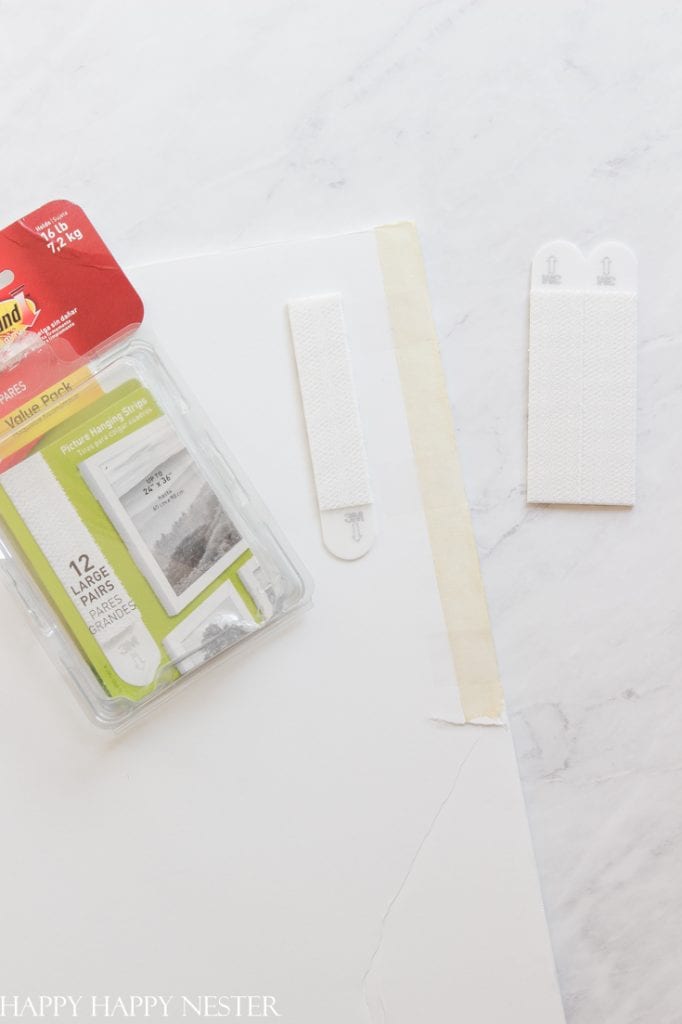 Step 5 – Add Velcro Strips
I placed my strips vertically on the back of my foam core board. Then put it on the wall and marked it with a pencil to line up, and attach the other velcro. Once both sets of strips were ready, I attached the flower wall hanging to the little alcove above our bed.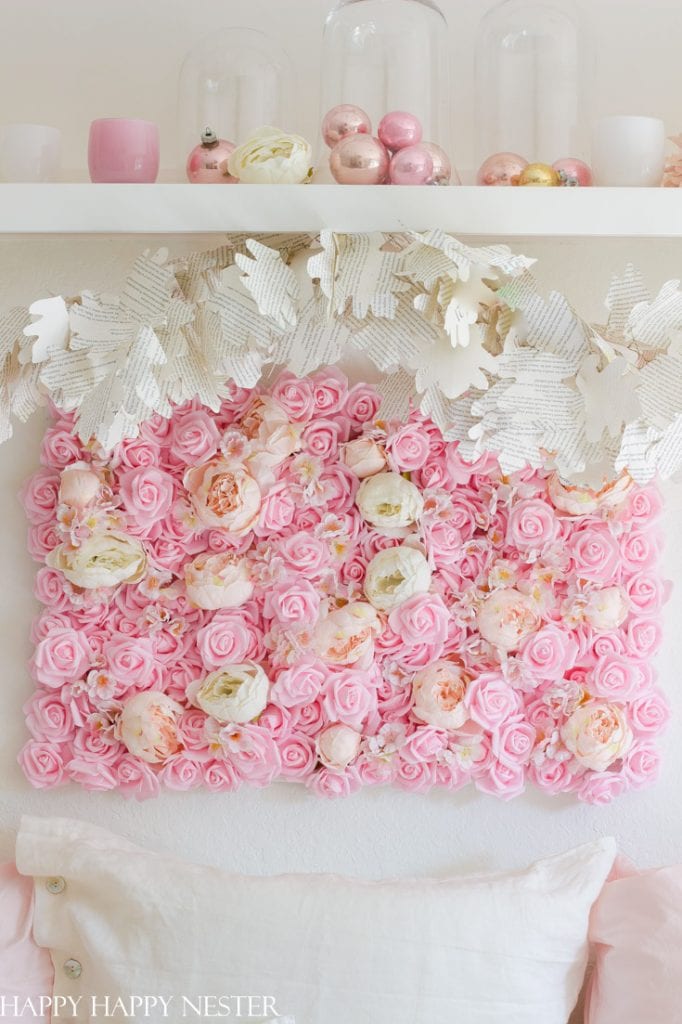 Tada! My DIY flower wall hanging is so cute and so simple to create. Probably the most challenging part of this project was picking out the flowers and then waiting for the Amazon truck to arrive with them.
Well, happy crafting my sweet friends!
Cheers,

MORE GREAT PROJECTS!
Thistlewood Farms | Valentines DIY Artwork Projects
Make three simple DIY artwork projects for Valentine's Day! All you need is a blank canvas and paint.
My 100 Year Old Home | DIY Valentine Conversation Hearts
This DIY Valentine's Day Craft is fun and easy to make. The conversation hearts are made from air dry clay and stamped with alphabet stamps.
Tatertots and Jello|Valentine's Day Charcuterie Board
The easiest low-carb keto charcuterie board. Create an easy Valentine's Day charcuterie board, including homemade cheese chips and other delicious keto-friendly nibbles in less than 30 minutes!
The DIY Mommy | Sweet DIY Pampas Grass Arrangement
Looking for a unique gift idea to show someone you care? This sweet DIY pampas grass arrangement makes a lovely and unique gift. Use a variety of pink and natural coloured grasses to make this soft, textured bouquet and add a custom stamped tag for the perfect finishing touch.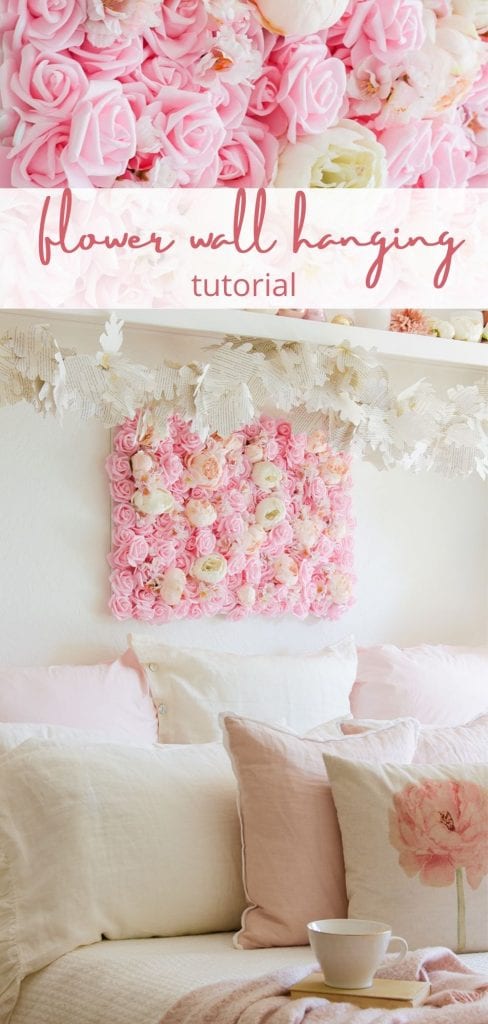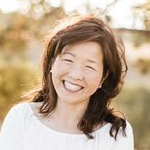 Latest posts by Janine Waite
(see all)