I've had this idea to create a DIY Foraged Flower Arrangement for a while and my friend, Kathy offered to create one with me. Well, we had a blast, and I think the whole arrangement cost about $5-$10. You, can't beat that price!
*This post contains affiliate links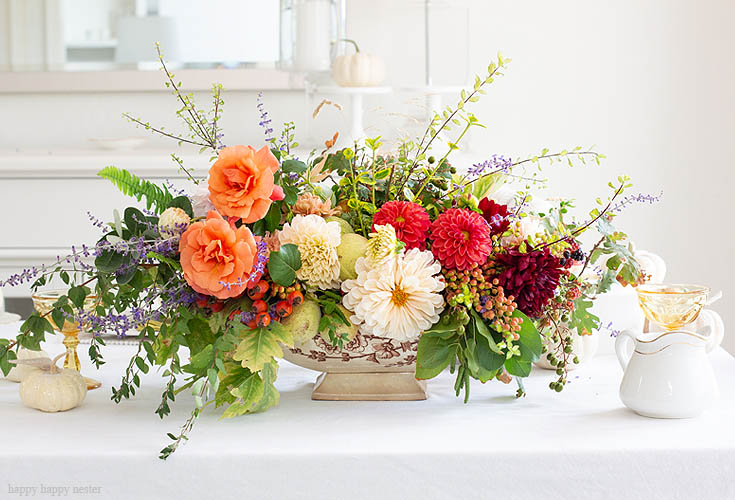 Now, let's meet the florist, shop owner and my friend, Kathy.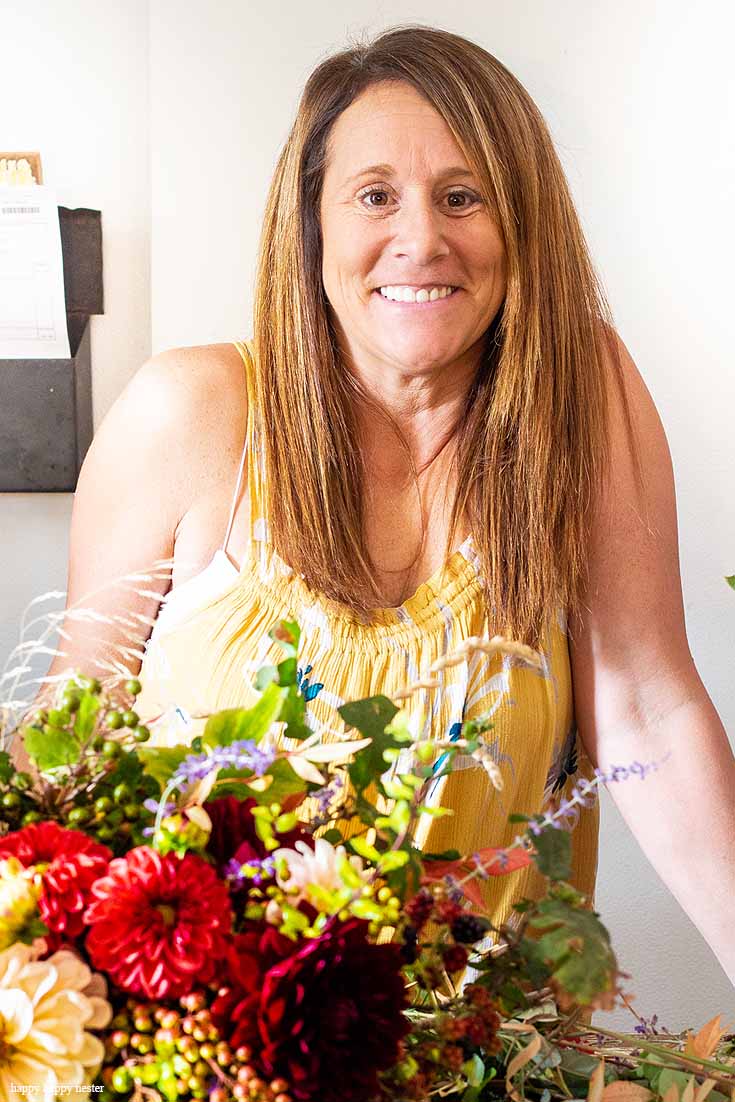 So, like I mentioned this post may not have been created had it not been for the encouragement from my friend Kathy. You see, I have known Kathy for a couple of years, and we have always talked about working on a project together. Hooray, we found time to work together!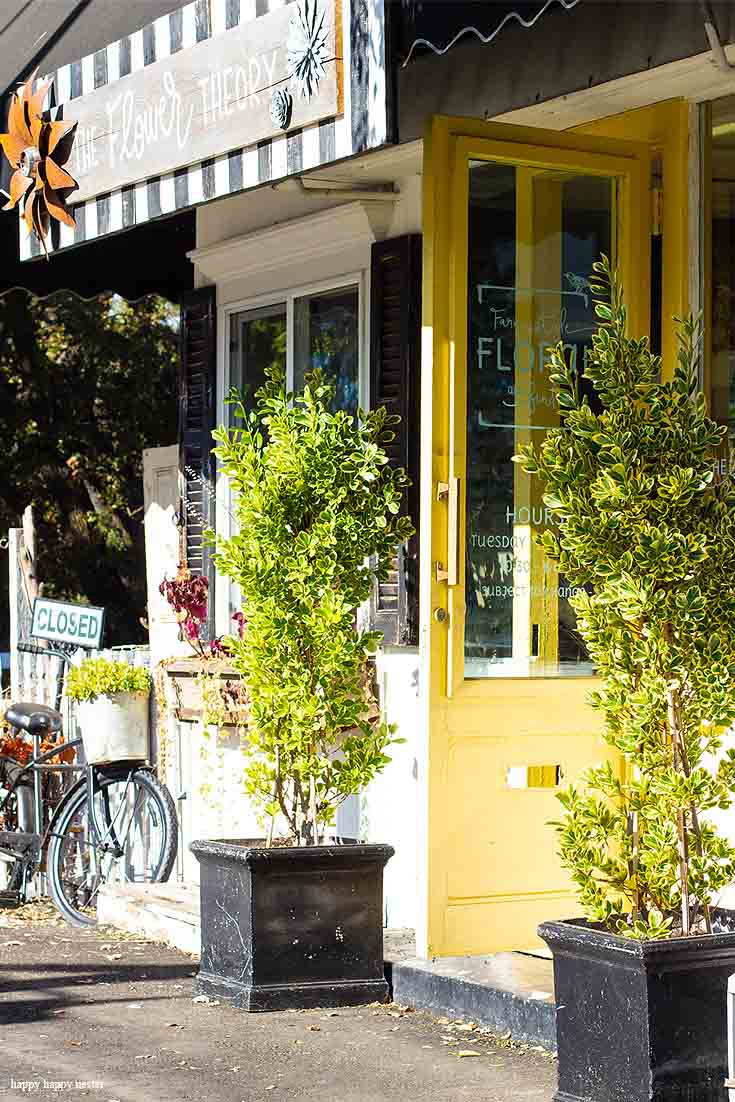 Kathy owns an adorable shop (The Flower Theory), and she designs flower arrangements and sells vintage decor. She is always creating such cool home decor, and her ideas are endless. I'm delighted that she collaborated with me on this post.
The Flower Theory
100 Hartz Avenue, Danville, California, 925-718-8865
Wed-Fri 10:30-5:30 Sat 12:00-6:00  (spring hours) 
Closed Sunday- Monday
Ok, let's get this show on the road!
Here are 5 Things About Foraging for Flowers
1. Identify Poisonous Plants
Before you beginning foraging, you must read my cautionary message. If you do go out in a field or your local woods make sure that you know how to identify poison oak or ivy. After we foraged for flowers and greenery, Kathy was a bit concerned that we had picked poison oak. At first, I was a bit panicked, but then I looked over our greens, and I knew we were ok. You see, my husband is severely allergic to it, I know how to identify it.
But, remember if you go out in the fall or winter the leaves are off the plants, and you only have bare branches to identify it. So, that can be tricky when identifying the bushes. So, because of this, I feel that it is always good to shower after you walk in the woods just in case we did somehow touch poison oak. Always best to be safe than sorry.
2. Round-Up Flowers and Greenery in Your Garden
Ok, the first thing we did was we rounded up any greens or flowers from our gardens. I had a few roses and some pretty Nandina branches with their beautiful leaves and berries.
Kathy rounded up some great smelling roses and some orange rosehips! Who would think that rosehips would be nice in a floral arrangement?
3. Wear Boots, Garden Shoes, and Gardening Gloves
Garden shoes are a must when walking around the woods. We happened to find some wild blackberries and boy their thorns are nasty. So thick garden gloves are always a great idea since you never know what you'll want to pick when you forage.
4. Bring Pruners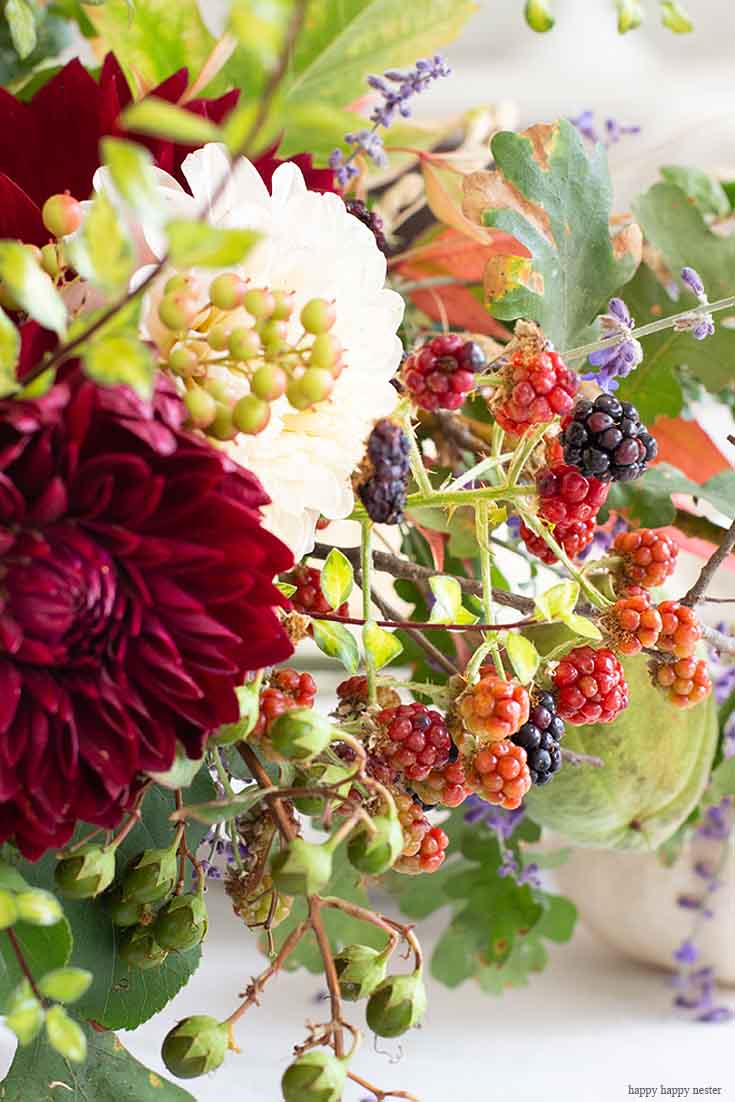 Bring some good garden pruners is a must when picking greenery or flowers. I have a great pair that fit perfectly in my hiking tote.
5. Pick Anything That Looks Cool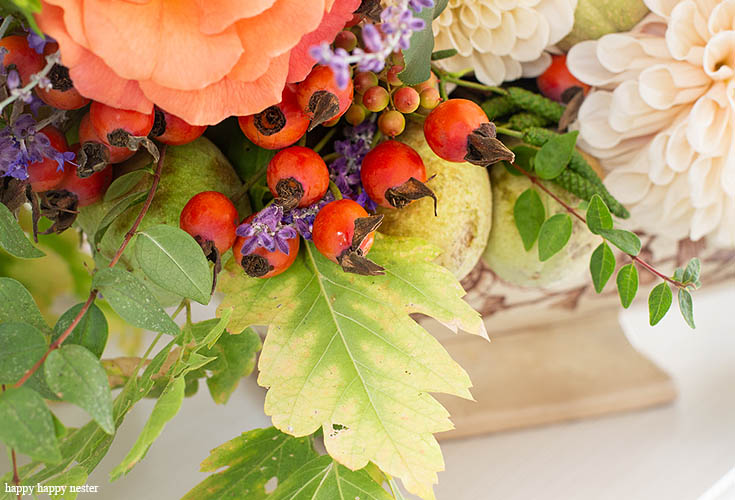 We found that the beautiful fuzzy buckeye was hanging from the trees and I told Kathy that they would be gorgeous in our DIY foraged flower arrangement. I don't think I usually would think of them for a bouquet, but when you don't have flowers from the store, everything takes on a different view.
DIY Foraged Flower Arrangement
1. Chose a Container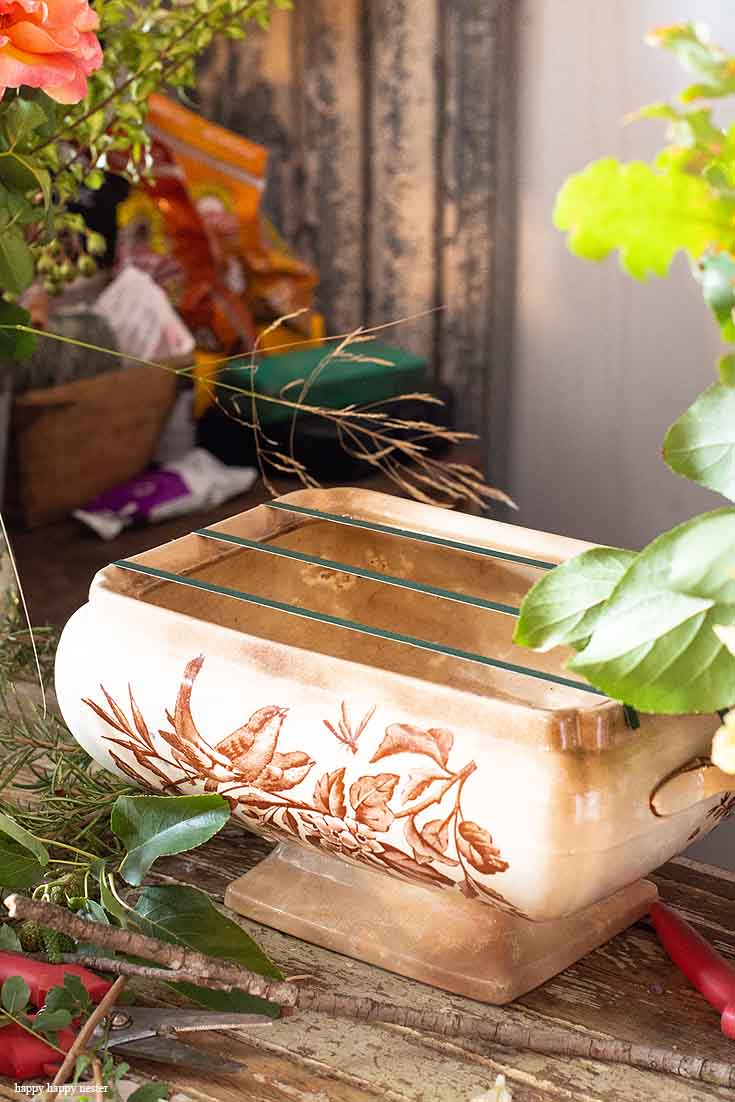 I love soup tureens for flower arrangements. They provide a great shape since they are full and low. Also, this one cost me $5 at our local shop. Be creative and use whatever you have in your kitchen.

2. Prep Your Container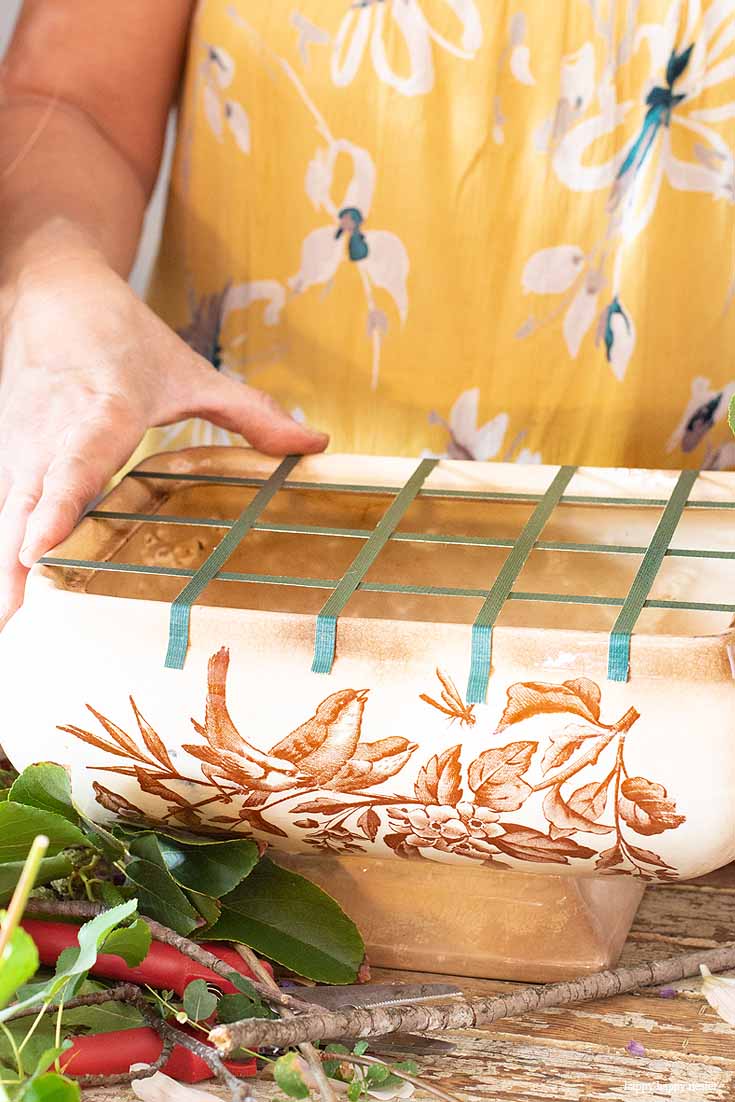 Once you gathered all your flowers and greenery, get your container ready. I loved that Kathy used waterproof floral tape on the top of my soup tureen.


3. Prep Your Water
I always add the floral mixture solution to preserve the flowers. I did a fun experiment where I tested all the different things that claimed they were a flower preserver. You might enjoy that post, What Makes Flowers Last Longer.
4. Start Adding Your Flowers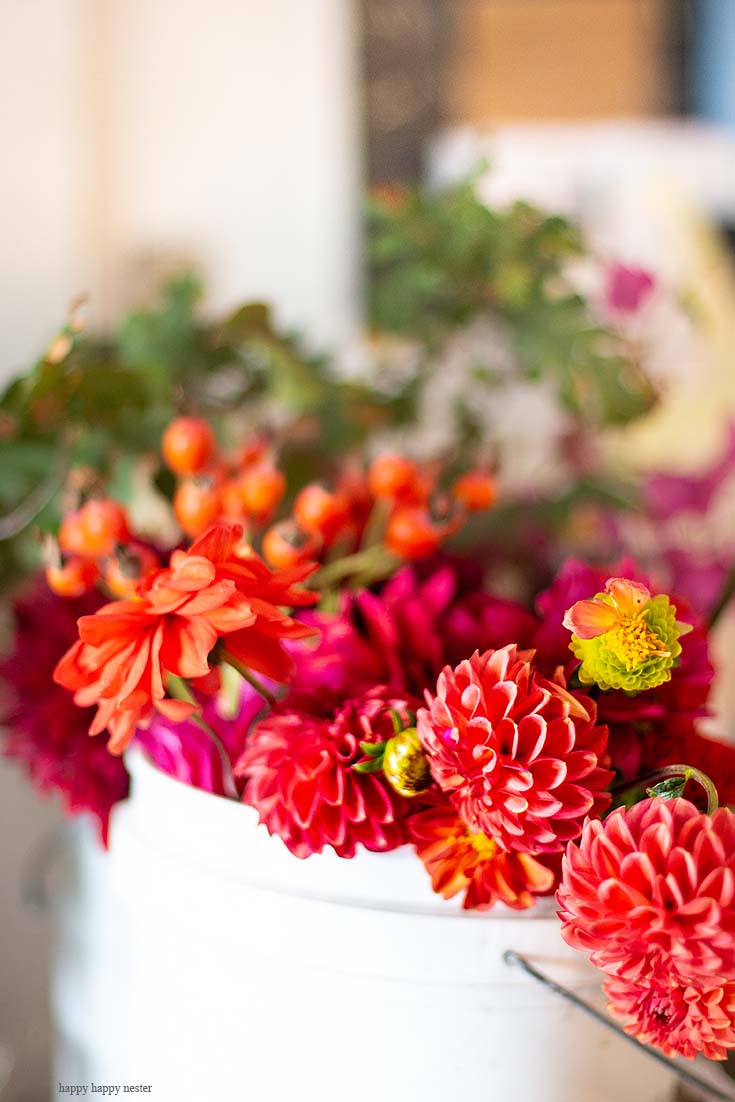 The only flowers that she bought are these lovely dahlias that she purchased from special farm, Beyond Emancipation's, Grow Oakland Farm. This farm is not like any other since it employs former foster youth in their transition to living as independent adults. These flowers are the only thing that Kathy bought for this DIY foraged flower arrangement project!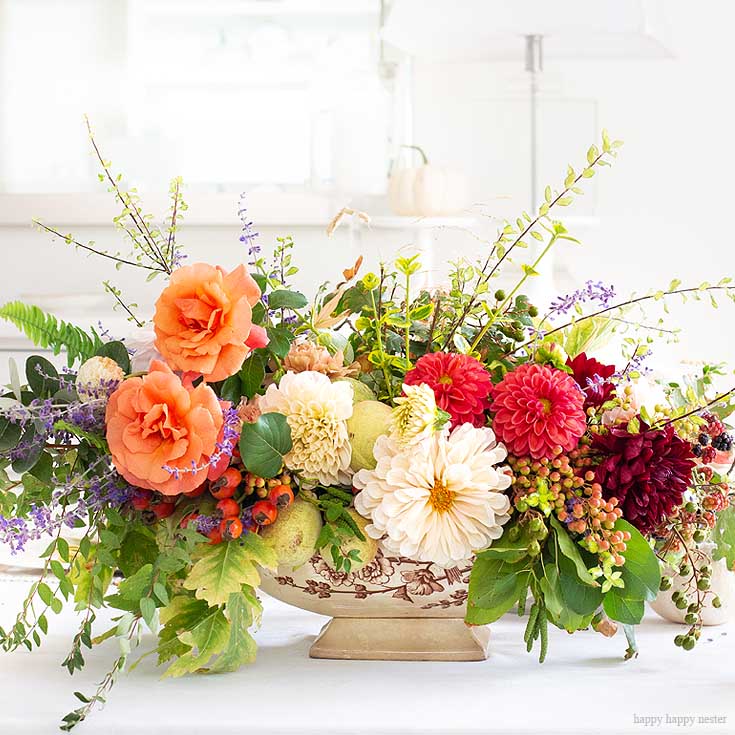 5. Don't Be Afraid to Have the Flowers Arranged Asymmetrically.
I love that Kathy draped the berries off to the side as well as the Buckeye. They both add a gorgeous organic flow to the arrangement.
You know that I always love any project that involves flowers, so this DIY foraged flower arrangement was so up my alley. I love the organic nature of this bouquet and how gorgeous these wild elements can be. This bouquet reminds me of my spring table setting that I designed with my good friend Sheela.
So, start looking outside in your yard or an open field for some greenery and flowers to make a beautiful floral arrangement. Maybe in the future, I'll be making a DIY foraged wreath or a DIY foraged garland. So, make sure to come back for a visit.
Cheers,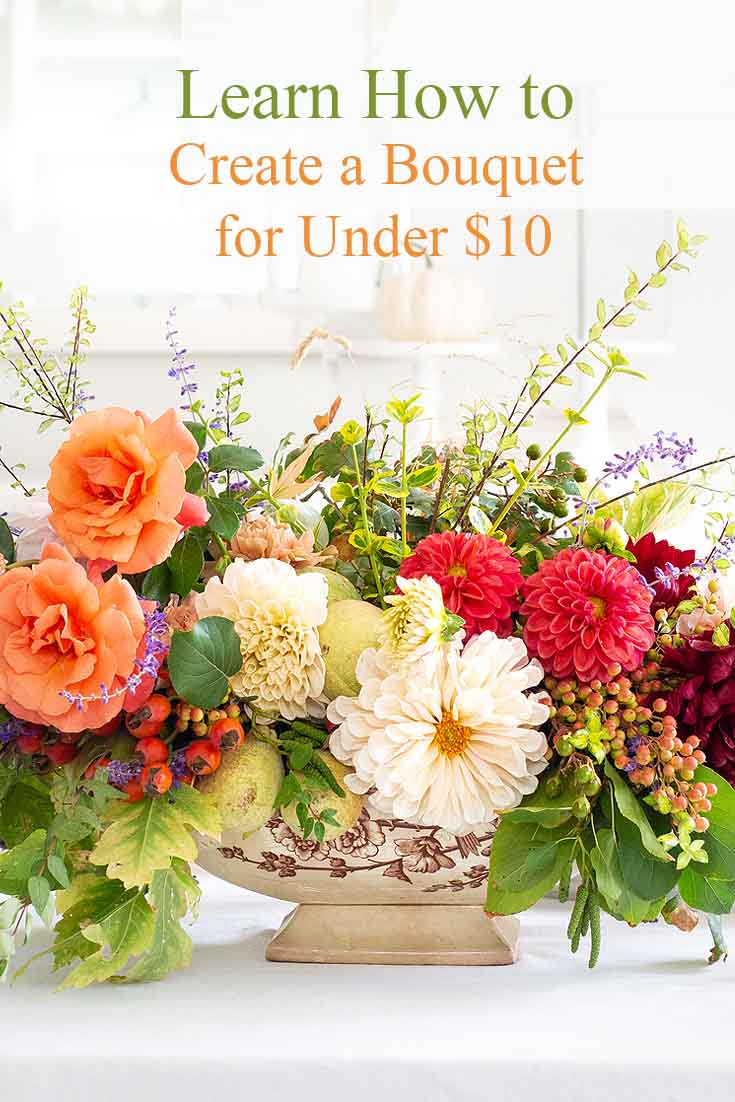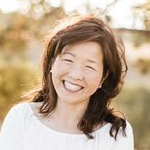 Latest posts by Janine Waite
(see all)