I hope you are ready to Create a Gorgeous Mother's Day Floral Bouquet today! The cool thing about my floral arrangement is that I used three flowers and greenery that you can buy at your local grocery store, roses, tulips, and eucalyptus. It doesn't get any easier than that!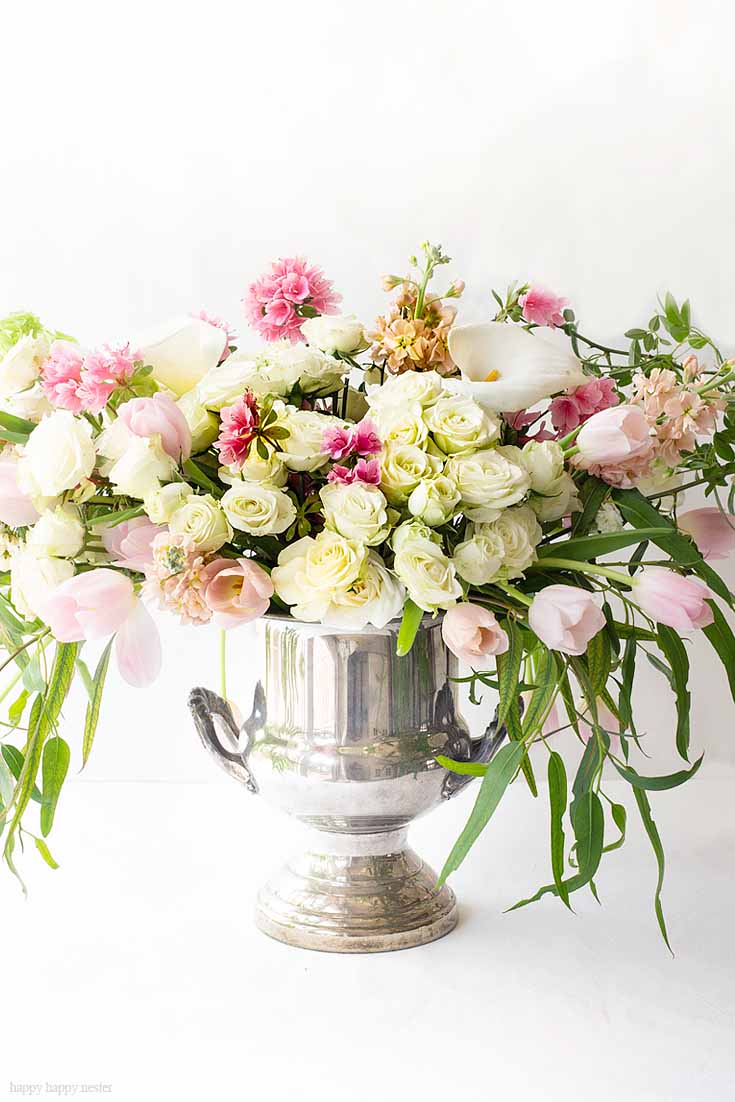 So, it was super helpful that I had a basic idea which flowers to place in my floral arrangement, but choosing out the colors was a bit more tricky. So, how cool would it be if I share with you the process that I went through to create this beautiful bouquet?
*The following post contains affiliate links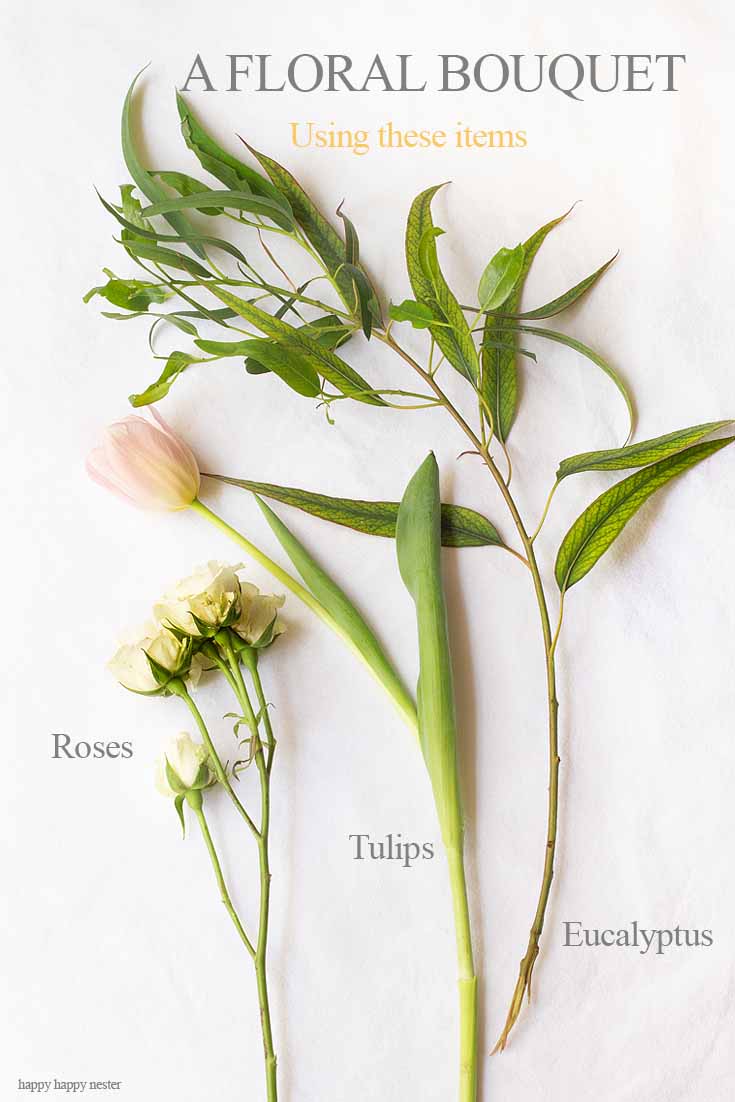 3 Ingredients Challenge
So, my friends and I do this 3 Ingredients Challenge once a month, and this time we chose our Mother's Day floral arrangements. So, we wanted to select flowers and greenery that most of you can find in your local grocery stores. I did go a step further and found flowers in my garden to add to the mix. All right here are my friends, collaborating with me on this fun floral design: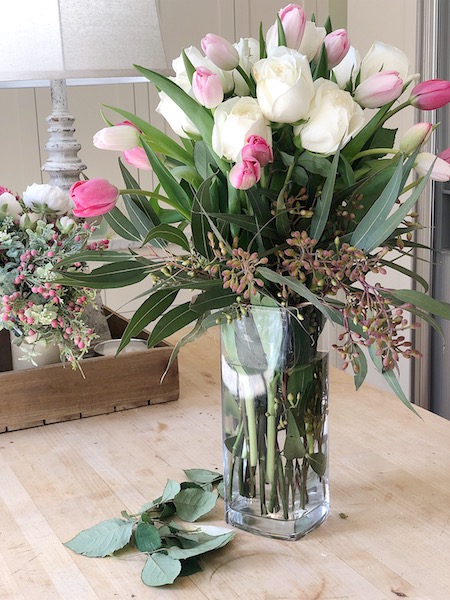 Leslie | My 100 Year Old Home
I don't know how my friend, Leslie does it all but she styled another gorgeous Mother's Day Floral Arrangement!  It appears that we all love pink this spring.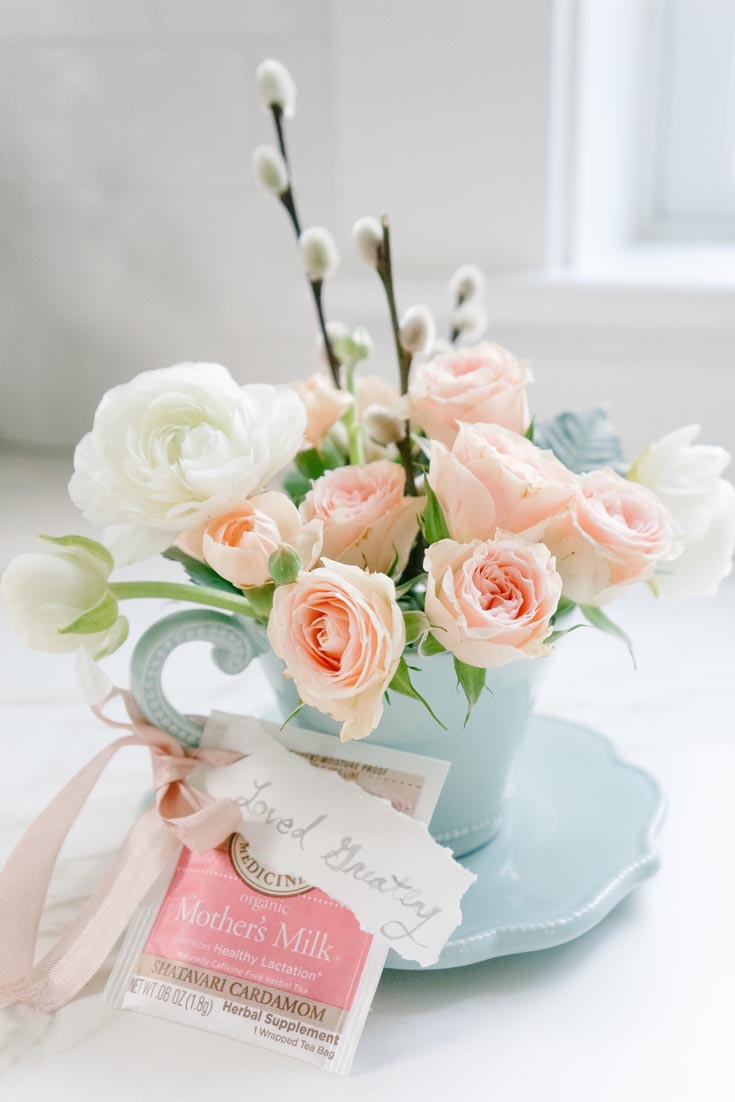 Jackie | Finding Lovely
Wow, I so love this from Jackie. A Sweet Floral Arrangement Gift is so darling! And can I say that her charming bouquet in the pretty teacup is such a fun idea and gift?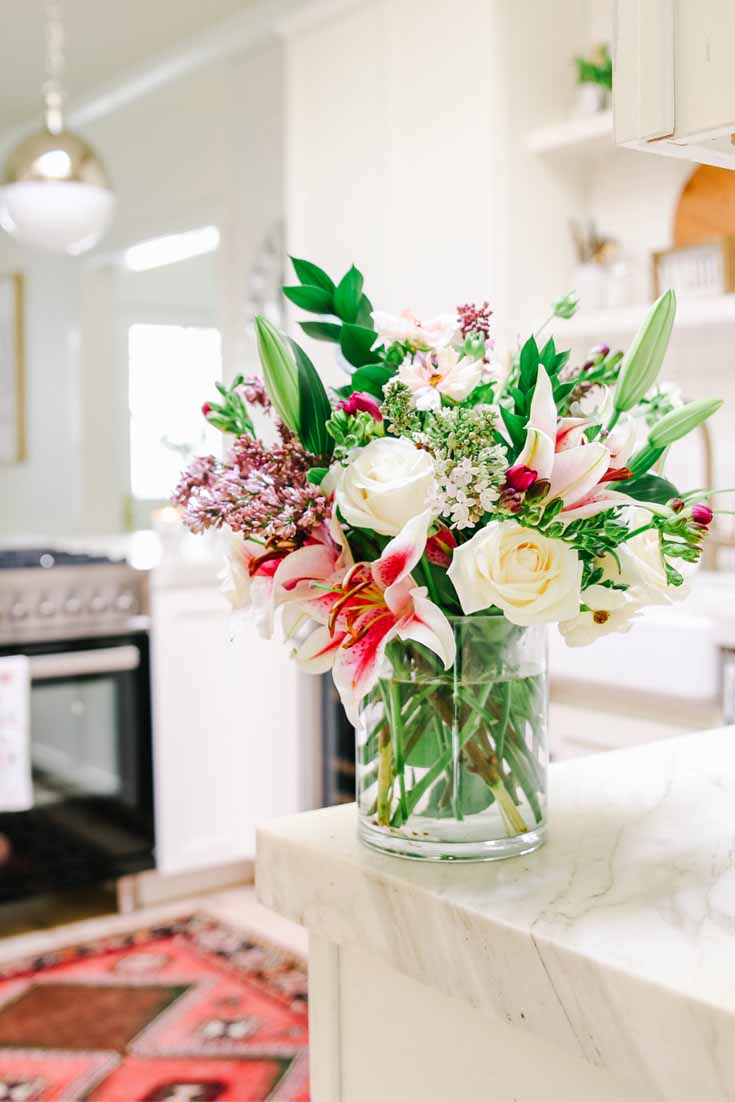 Ashley | Modern Glam
Ashley's Grocery Store Flower Arrangement is such a fresh bouquet. I'm sure her lilies are filling her kitchen with a beautiful fragrance. Their scent always reminds of Hawaii.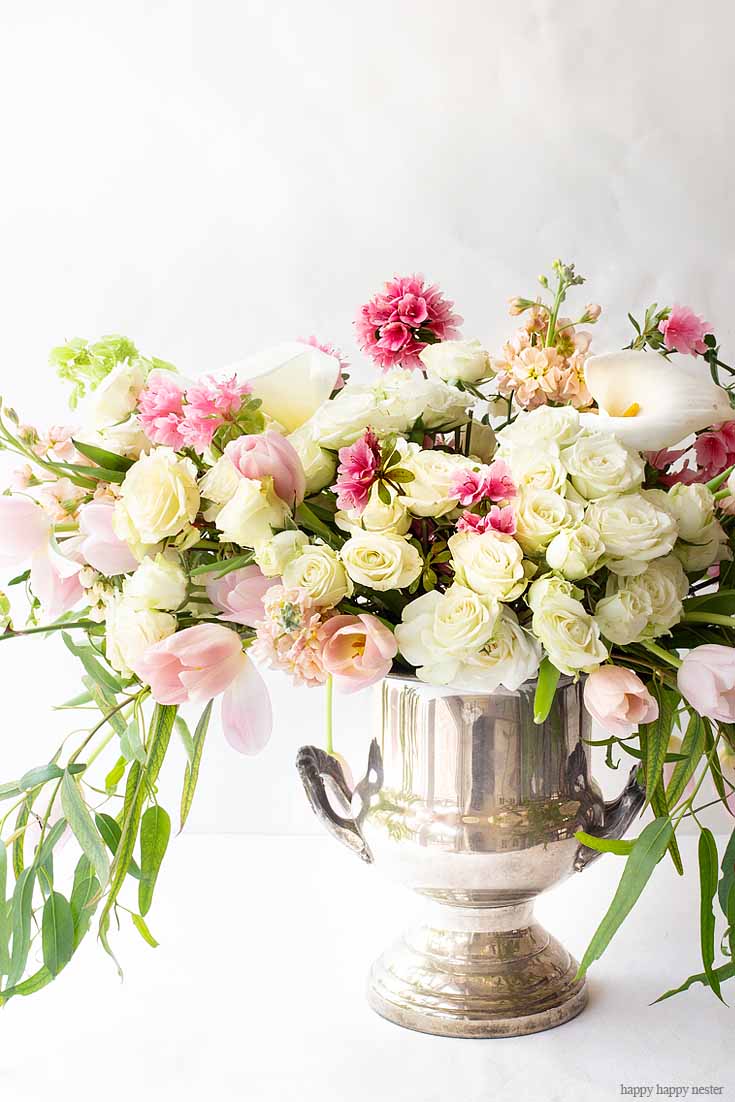 How to Create a Gorgeous Mother's Day Floral Bouquet Tutorial
Choosing Colors
I originally wanted pale pink roses, but all the roses at our grocery store were bright pink. So, I quickly changed switched plans and chose baby roses and bought those instead. If you like baby roses, our local Whole Foods usually has them in stock for $5.00/bunch.
Selecting a Container
I didn't want to use a glass vase since it shows the stems and that can be distracting. Also, it seems like I use my white soup tureen a lot so, I decided to use this fun silver champagne ice bucket. And for a minute I thought, should I polish it or go with the tarnished vintage look. I decided on the tarnished since it added a bit more interesting. Ok, another thing to consider is that the wider the rim vase, the more flowers you'll need. By the way, I found a pretty ice bucket over on Amazon, Champagne Bucket.
How Many Flowers to Buy
It is crazy how many flowers you need to fill a vase. And it is so true when arranging flowers, and more is better in this case!
So, for this post on how to create a gorgeous mother's day floral bouquet here is what I used:
dozen and a half baby white roses
1 dozen pale pink tulips
snipped 4 branches of Eucalyptus
5 stems of peach Stocks
Azelas stems from my garden
4 branches of Rosa Banks from my garden
2 Calla Lillies from my garden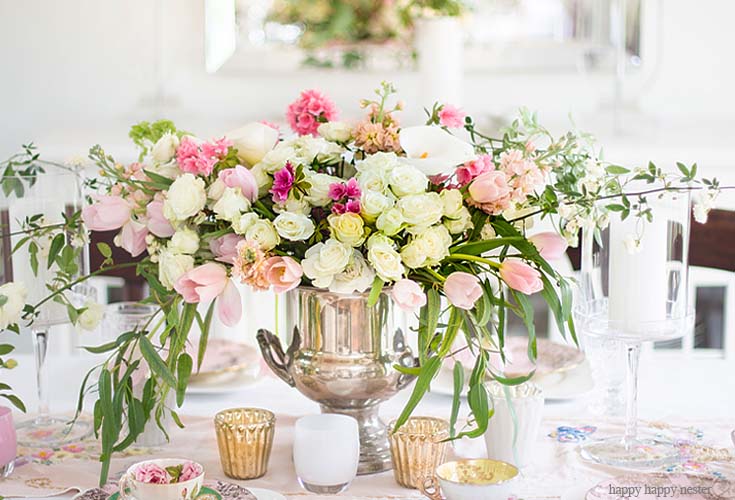 How to Assemble
I didn't use a frog or floral tape for flower support. But, instead, I just started placing the bulk of the roses in the center.
Cut them to size, and make sure that they gradually get taller in the middle.
I then added the tulips and placed them at the rim of the vase, so they droop down in a romantic style. I did disperse a few among the roses.
Next, I placed the azaleas in between the roses for spots of color and interest.
I always like things cascading on the sides, so I styled the rosa banks branches swooping off organically to the left and the right.
Water the Flowers
When it comes to the water you place them in you might want to take a look at my post about which water solution works best for cut flowers. It is interesting what things did work on my cut tulips. On another note, I always fill the vase and the next day I double check it again, since the flower seems to soak up a ton of water on the first day.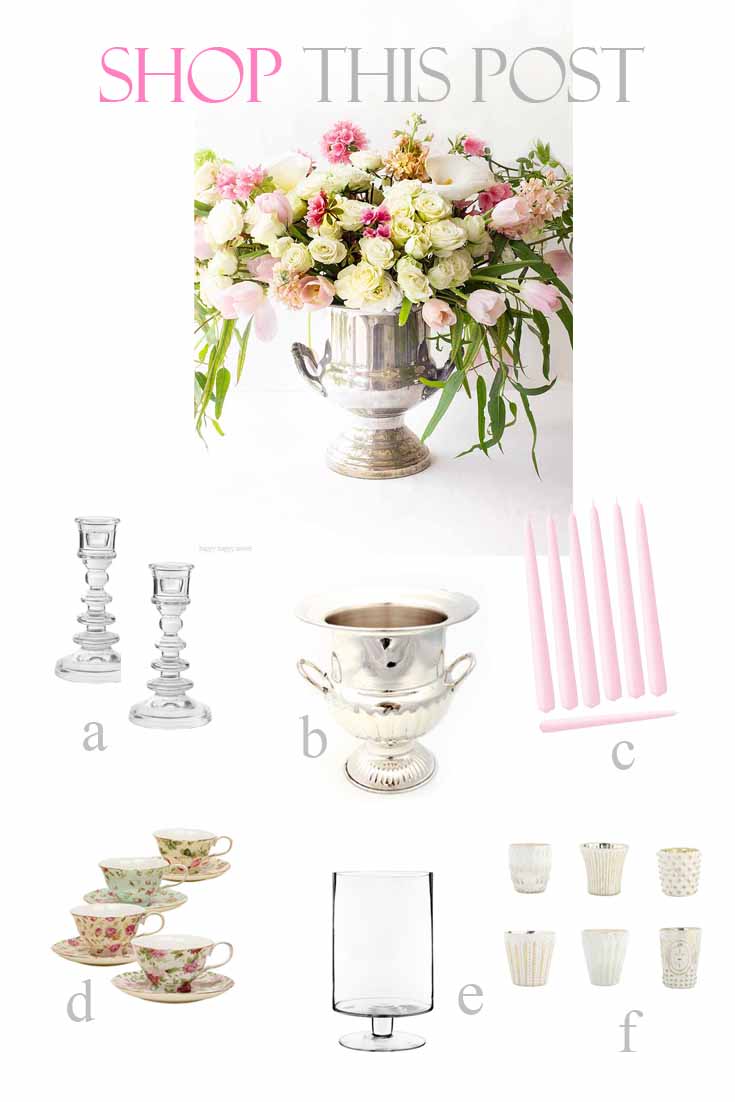 a. Harper Glass Candlesticks | b. Champagne Ice Bucket | c. Pink Tapered Candlesticks
d. Set of 4 China Teacups | e. Glass Hurricane | f. Mercury Glass Votives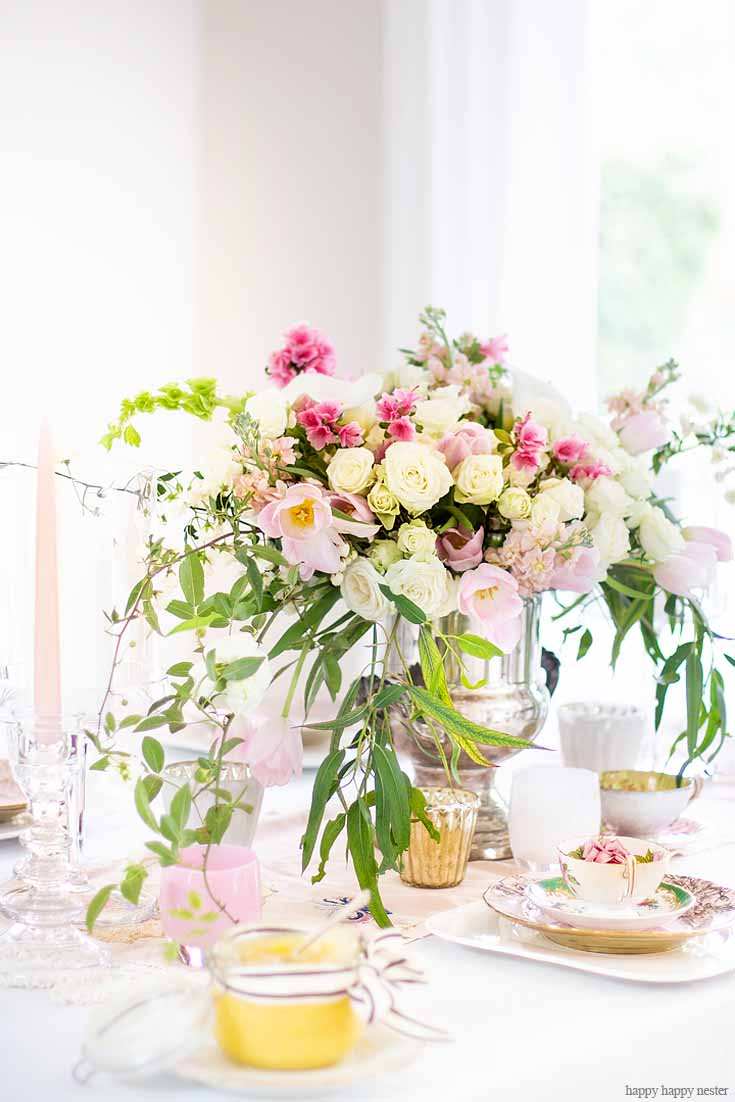 Well, sometimes we can't always get fresh flowers, so I find that I will resort to faux flowers. If you missed my latest post on how to make crepe paper flowers, you will want to check it out! These Icelandic poppies look real and will last forever. I do sometimes add my paper flowers to fresh bouquets.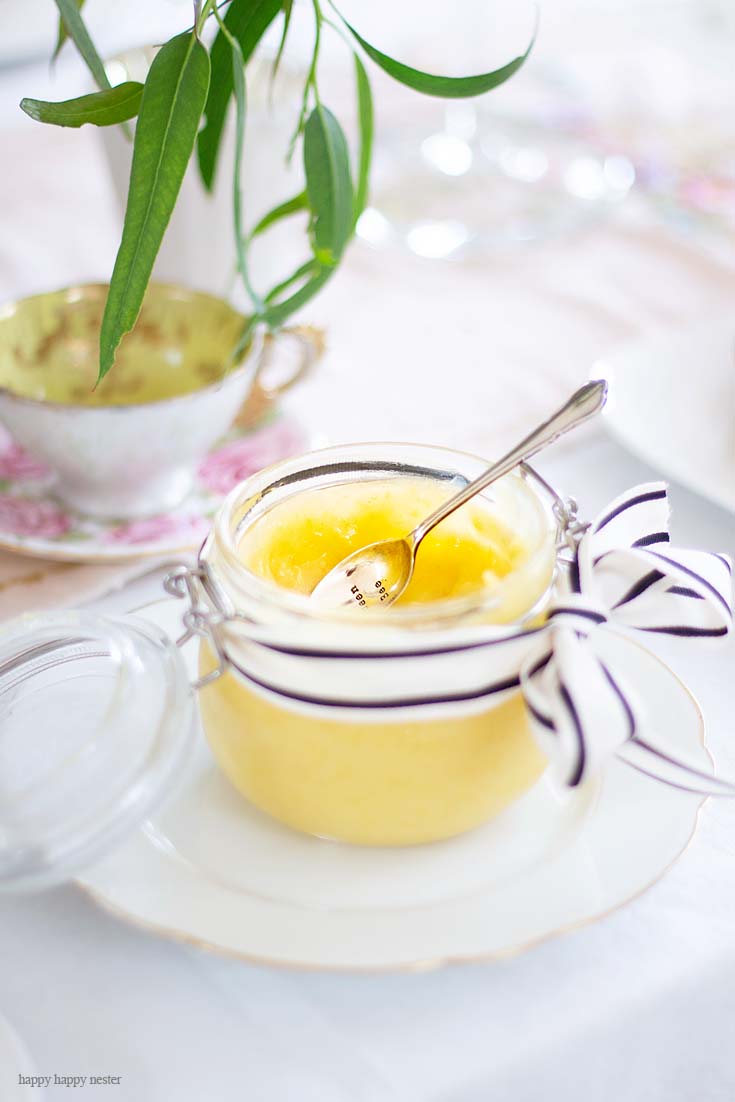 Ok, we take a break for a delicious lemon curd recipe that you must make for yourself or your mother! I promise that you'll love this fresh, sweet citrus spread!
Well, I hope you like this fun post on how to create a gorgeous mother's day floral bouquet, and now you'll make one for yourself or your mom! Have a wonderful weekend and thanks for stopping by!
Cheers,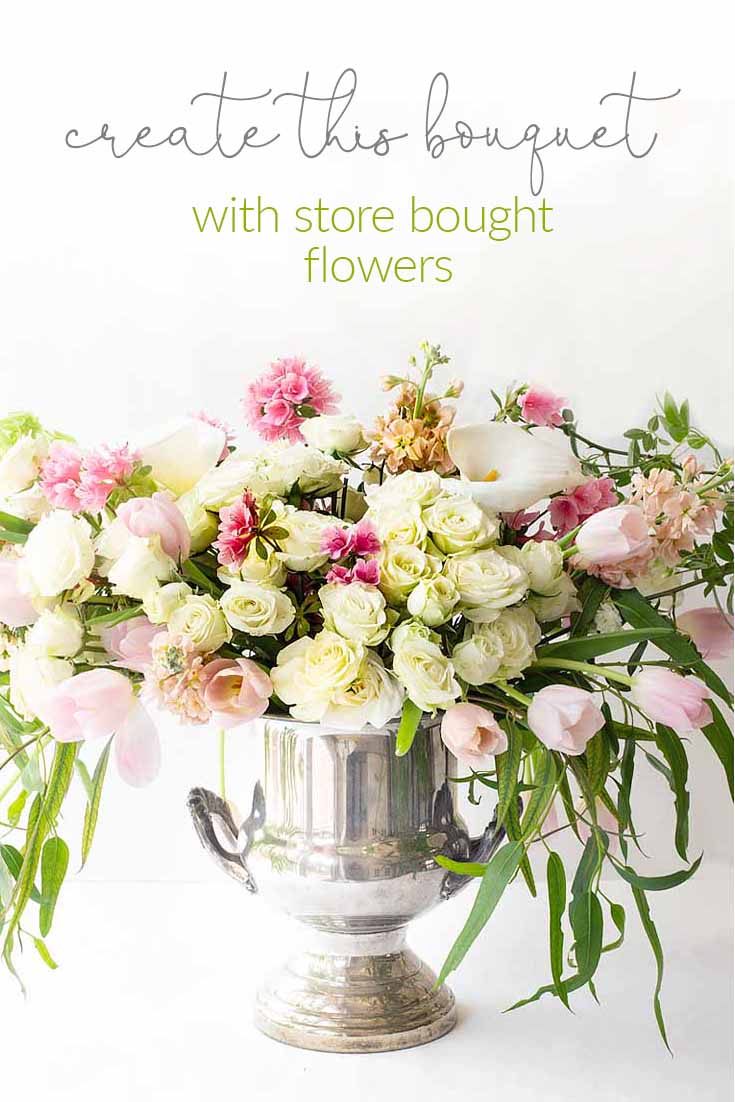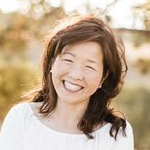 Latest posts by Janine Waite
(see all)