I'm thrilled to share Where to Buy Unique Farmhouse Decor for my Boutique of the Week feature. This lovely Etsy shop carries a wide variety of home decor.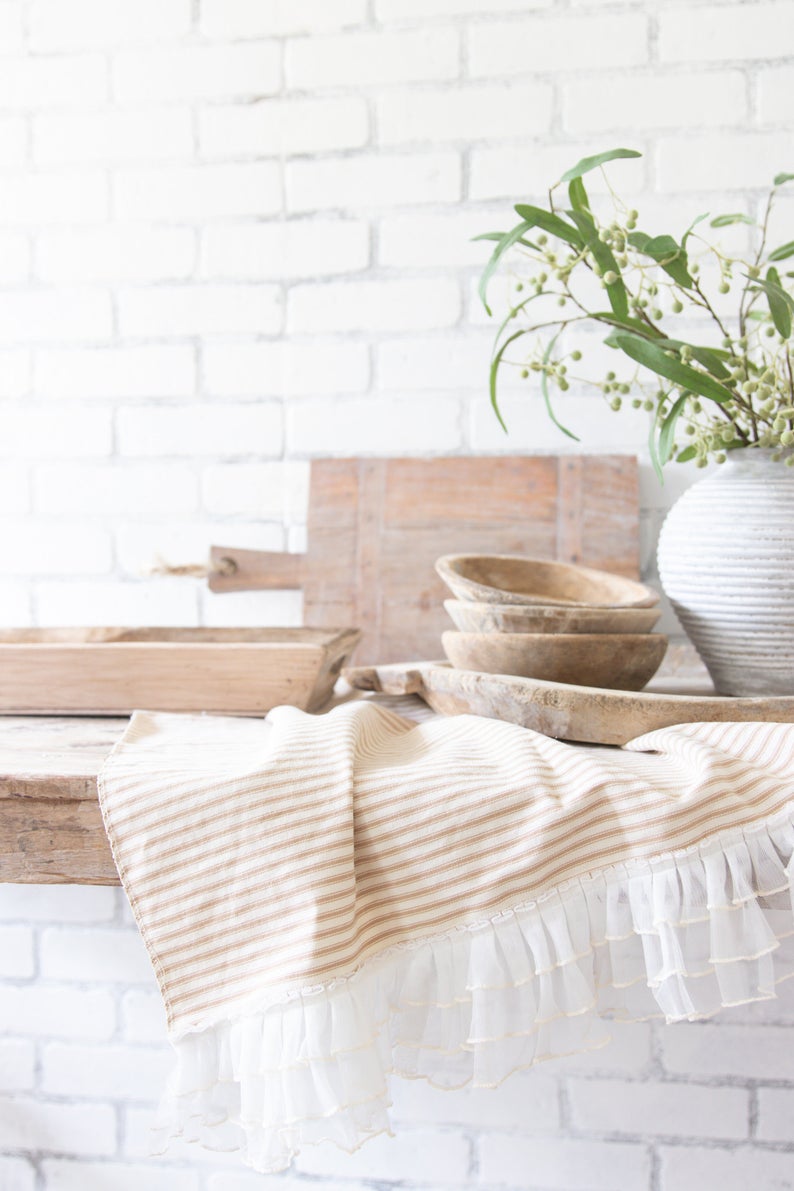 Rhonda, the shop owner, is a great friend of mine, and I'm so delighted to share her and her products with you. I own some of her luxurious linens, and they are the perfect addition to our comfy cozy bed.
*The following post contains affiliate links.
Where to Buy Unique Farmhouse Decor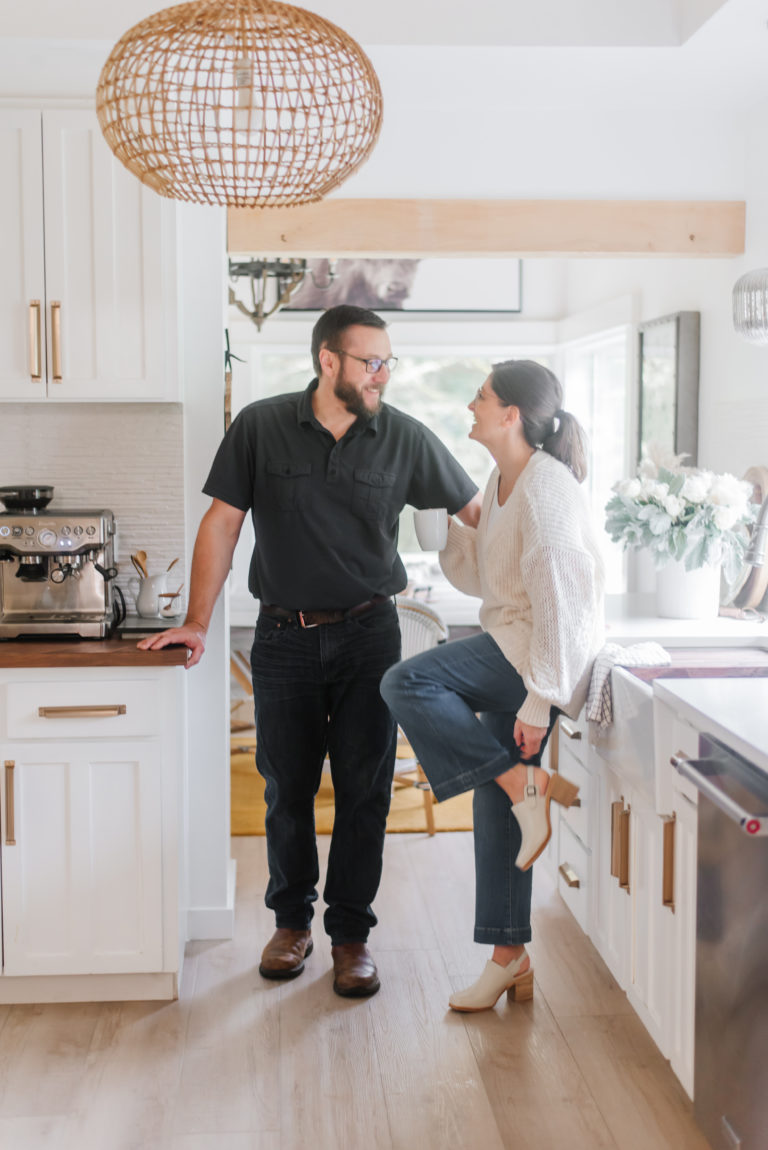 Where do I even begin when it comes to Rhonda and her shop, Farmhouse Fare.
Rhonda lives in the state of Washington and owns a beautiful old farmhouse. She has a menagerie of pets and a big family of seven children. I admire all that she does!
Rhonda is a bundle of artistic energy, and she'll get an idea in her head, and by the end of the day, she will have made like a ton of them to sell. So, it makes complete sense that she has many creative outlets, her blog, her shop, Hallstrom Home, and her Etsy shop, Farmhouse Fare.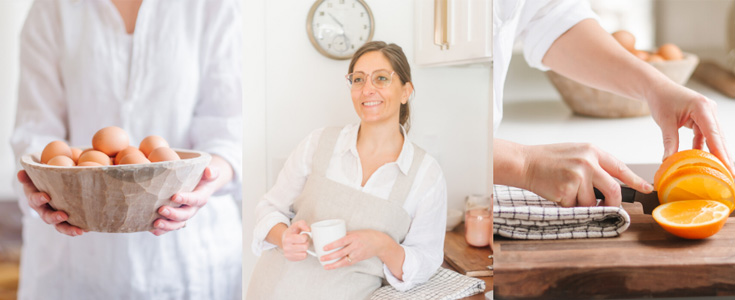 Let's take a look at her company,
FarmHouseFare has a unique collection of beautifully painted mirrors, furniture, home decor and wedding accessories. I understand how important it is when creating and designing our living spaces to have truly special pieces that will bring beauty to a room for years to come. With the current home decorating and wedding trends, we find more people adding a mixture of styles from Shabby Chic to Modern farmhouse style for that truly unique and personal ambiance.
Well, let's get this boutique show on the road. I'm sure you are anxious to view some of Rhonda's pretty unique farmhouse decor.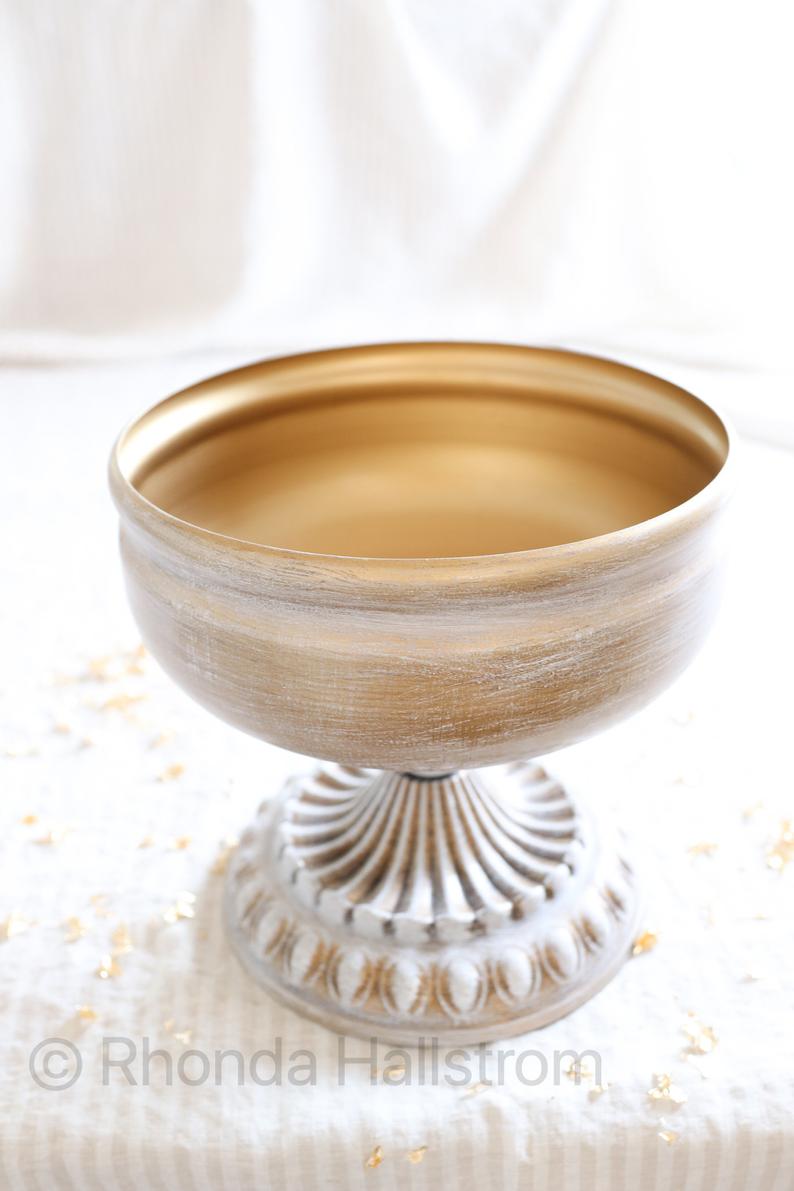 I love this French metal urn. The gold accent is the perfect combination for this container. Place flowers and other home decors in it.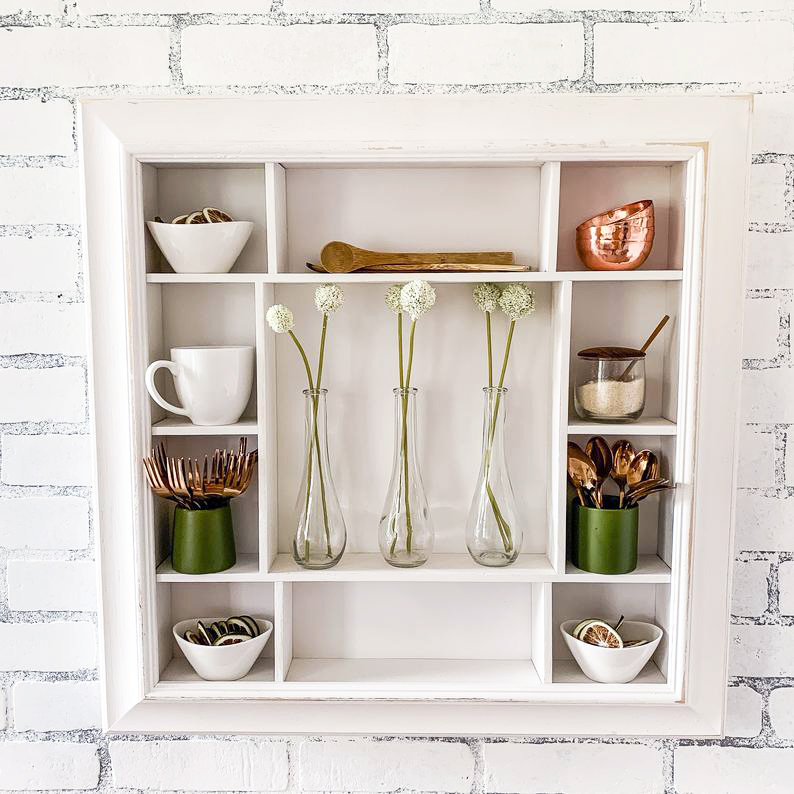 Farmhouse Kitchen Organizer is so cute! It makes such a perfect display and, at the same time, a great organizer.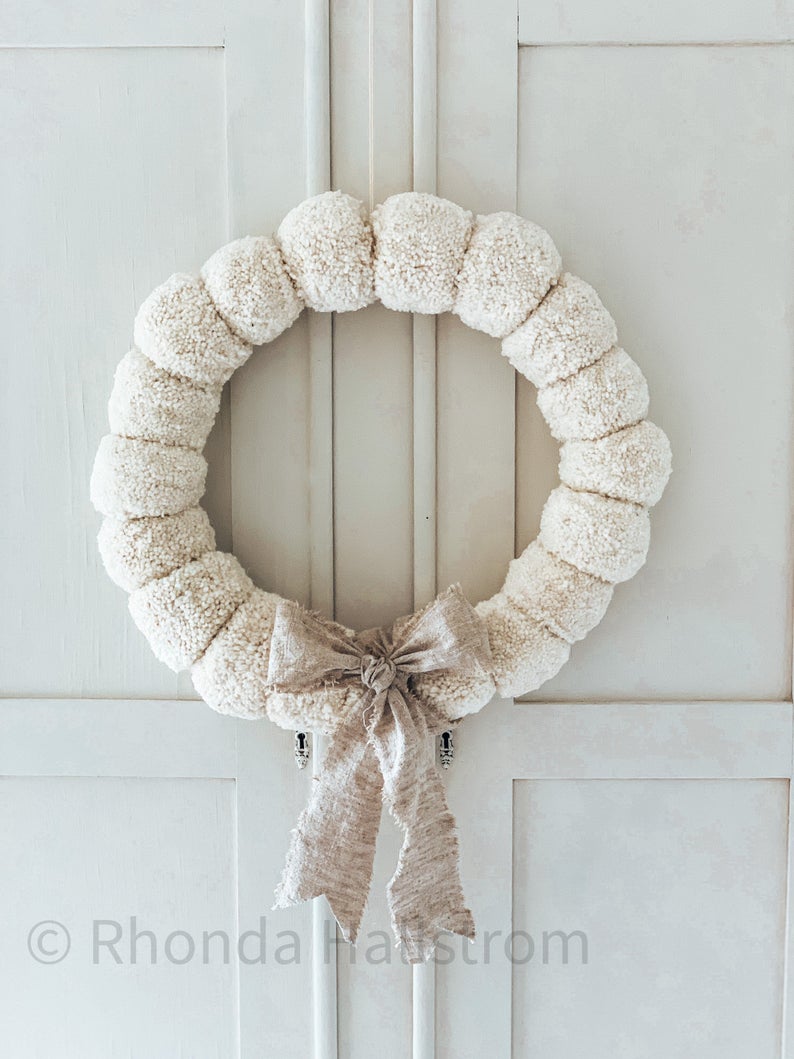 I'm drooling over here. This pom-pom wreath is so gorgeous and I haven't seen one like it.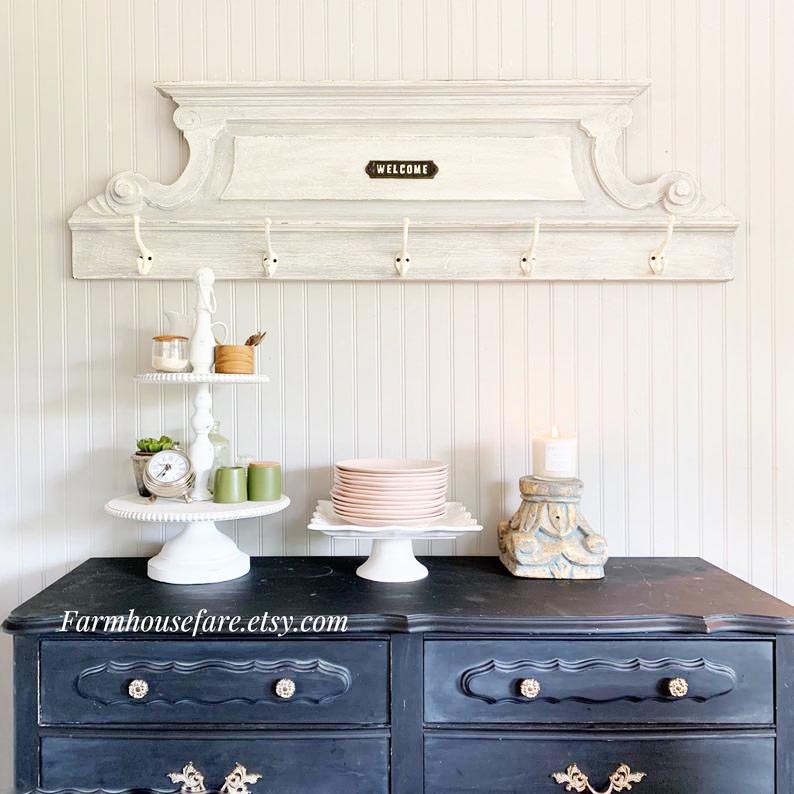 I love this Farmhouse Shelf Coat Rack. You can also hang not only coats, but tea towels are just about anything.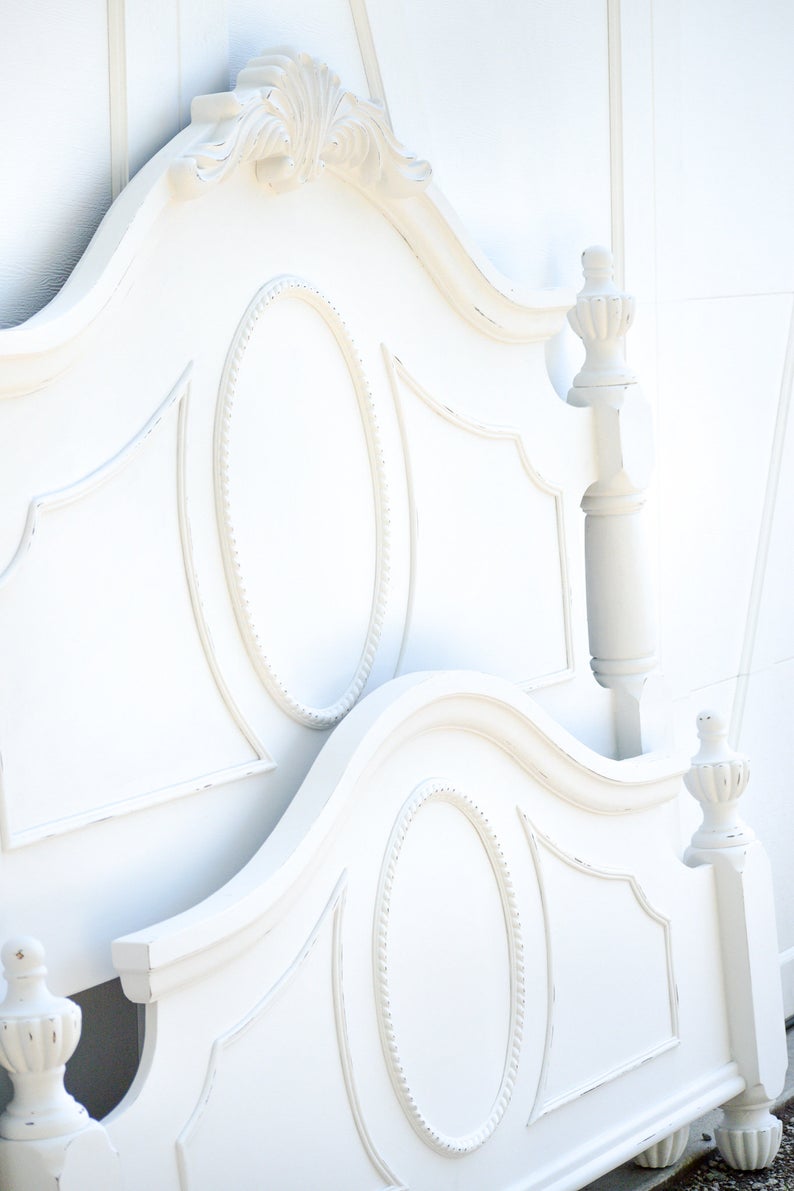 This Vintage Venetian Wooden Bedframe is elegant. The lines make it a beautiful, unique farmhouse decor that makes quite a lovely statement.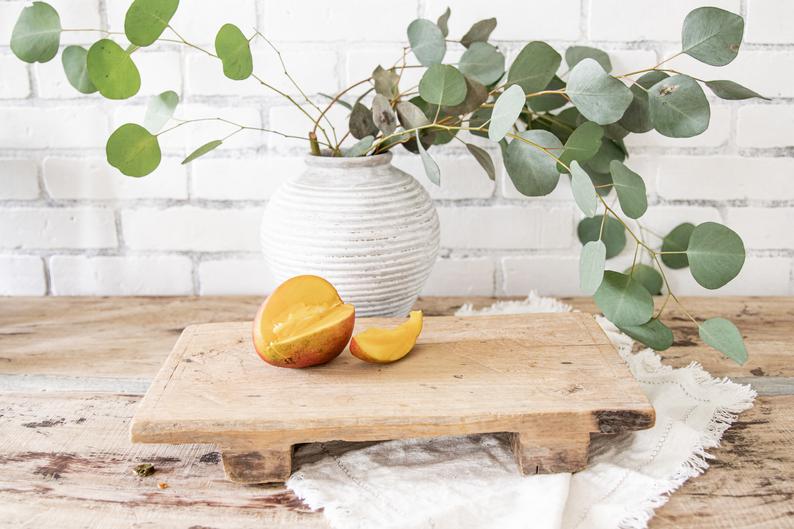 French Breadboard Wood Riser is so rustic and beautiful. Are you looking for the perfect gift? Vintage wood cuttings boards are such an excellent addition to one's kitchen. This has a sealant on it to preserve and make it food grade.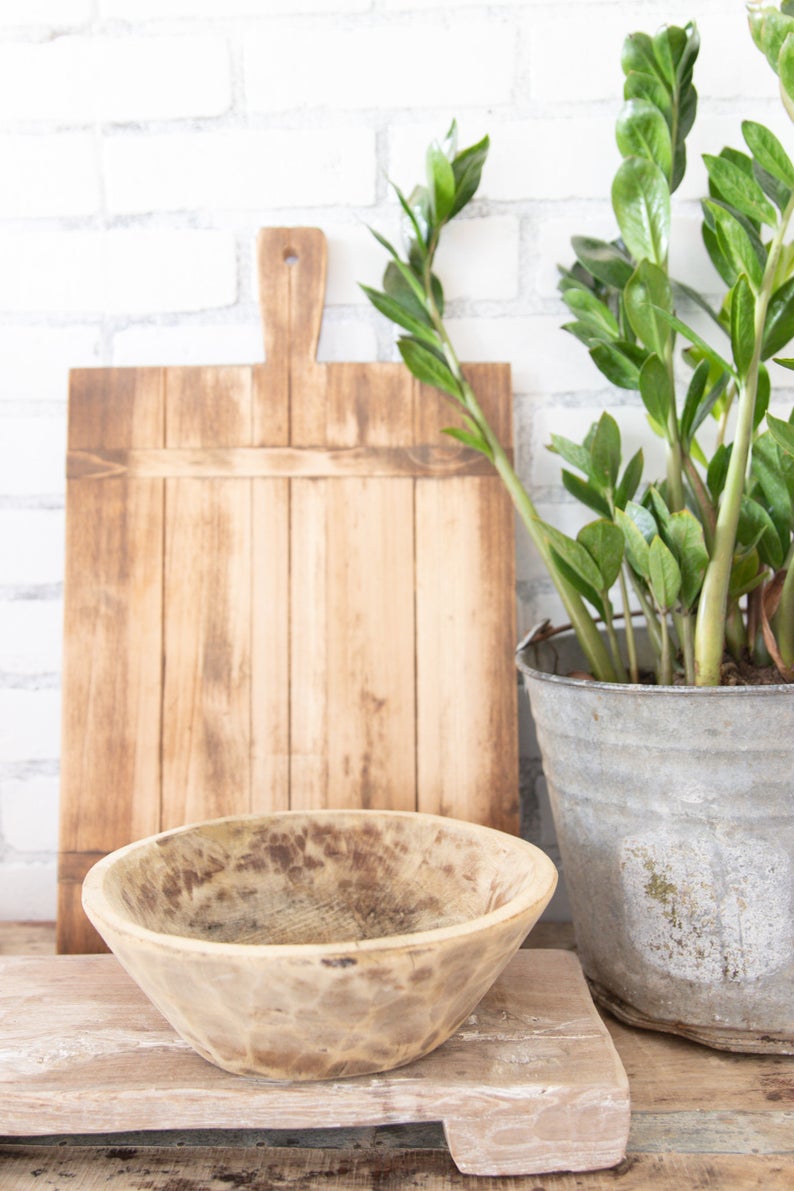 Rhonda has the best Antique Wooden Bowls. Add some fresh summer fruit in them, and you not only have a bowl but a beautiful work of art.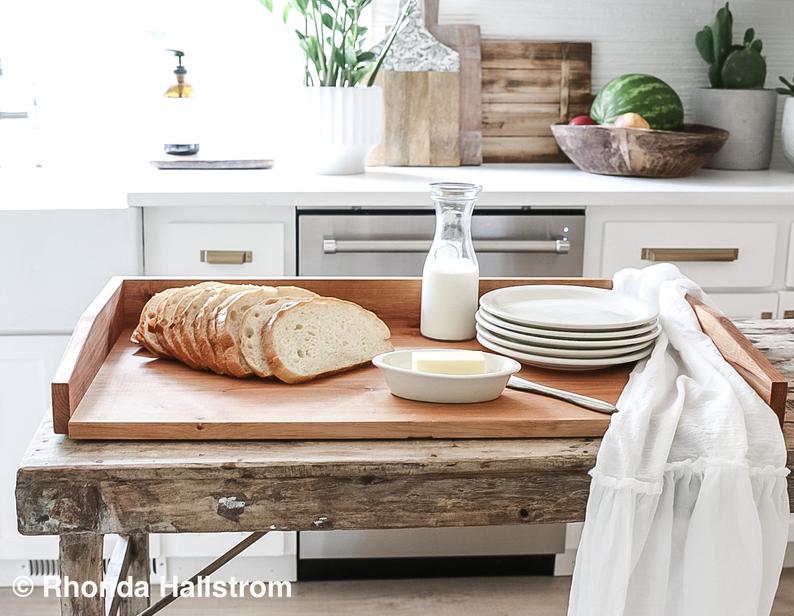 Handmade French Antique Style Cutting Boards With Sides made from exquisite knotty alder and sealed with American made Howard brand mineral oil.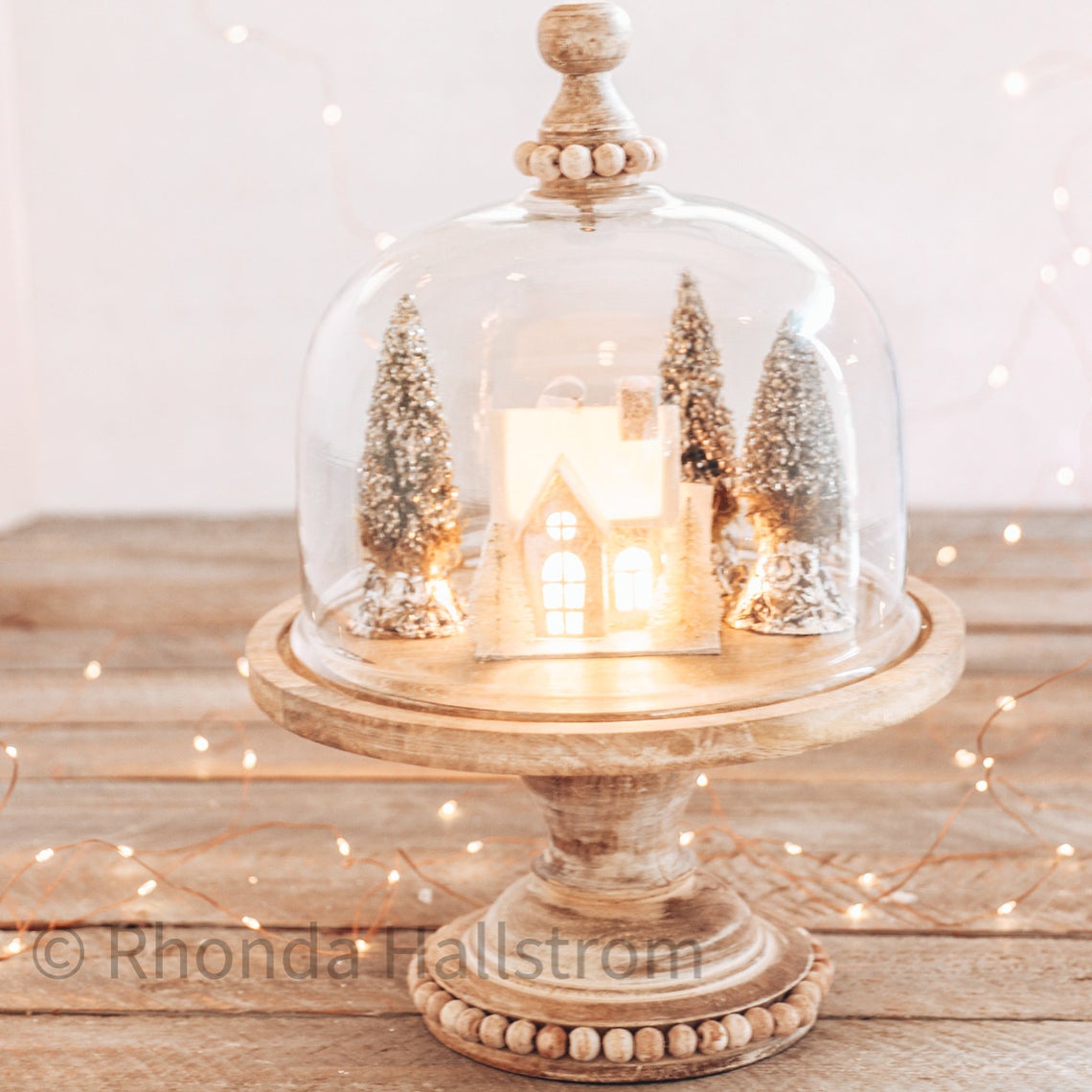 A lovely cake stand that is perfect for displays or desserts. The glass dome is perfect for storing a cake or other desserts.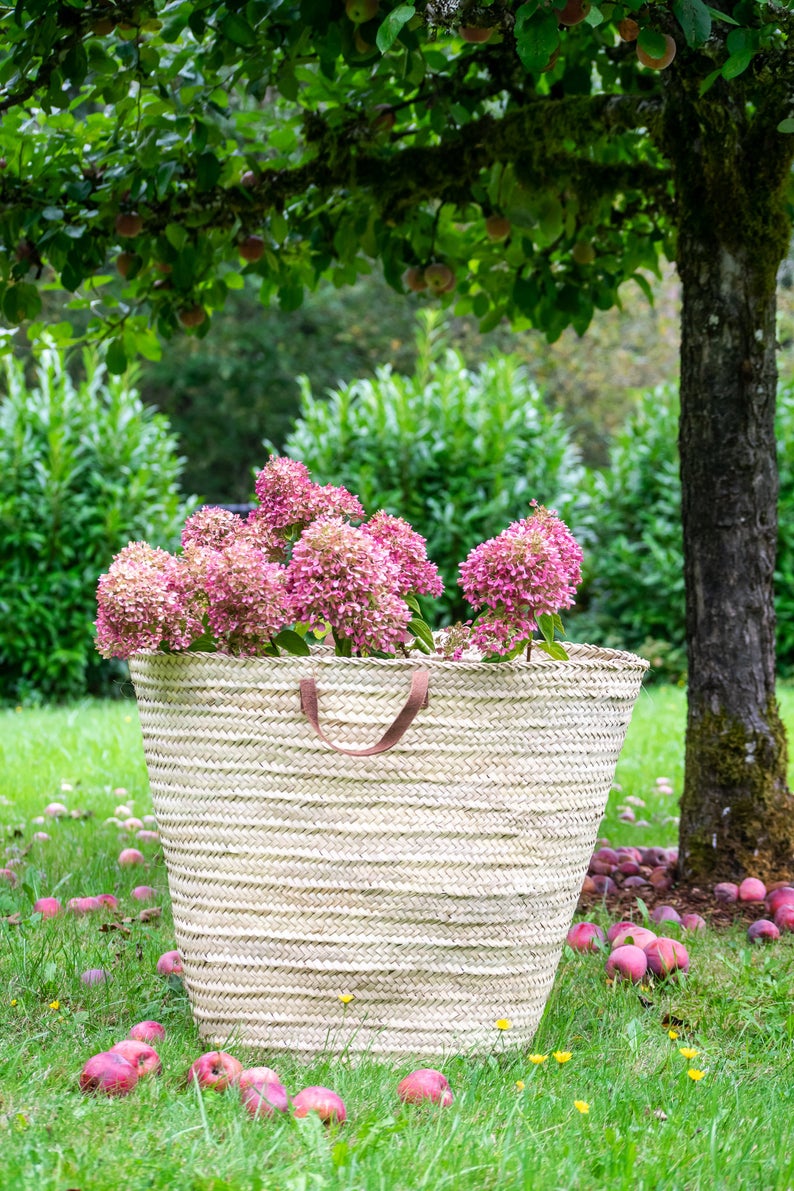 This Hand-Woven Market Basket creates a unique farmhouse decor. A rare find that will last a lifetime as a special keepsake. Use it as a beach tote, farmer's market basket, or a flower basket.
The Lily-Pink Messenger Bag. Perfect for life on the go with your laptop, phone, doggies, and more! This is soft, lightweight leather. It has one cell phone pocket on the outside for those large phones, small ones, and maybe your keys too.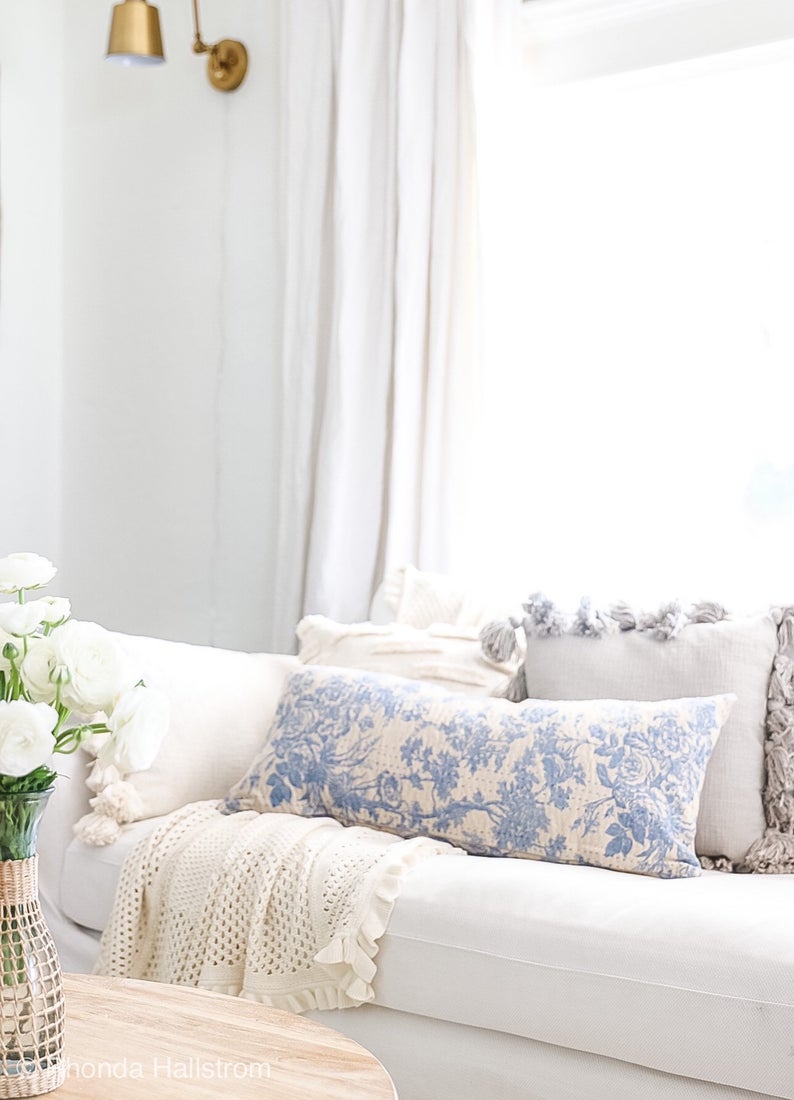 Oh my, this gorgeous French Farmhouse pillow is divine. The soft, faded fabric is beautiful. Since Rhonda's team hand makes everything her products qualify as unique farmhouse decor. You will not find anything like her decor in the big brand shops, which I think is a bonus!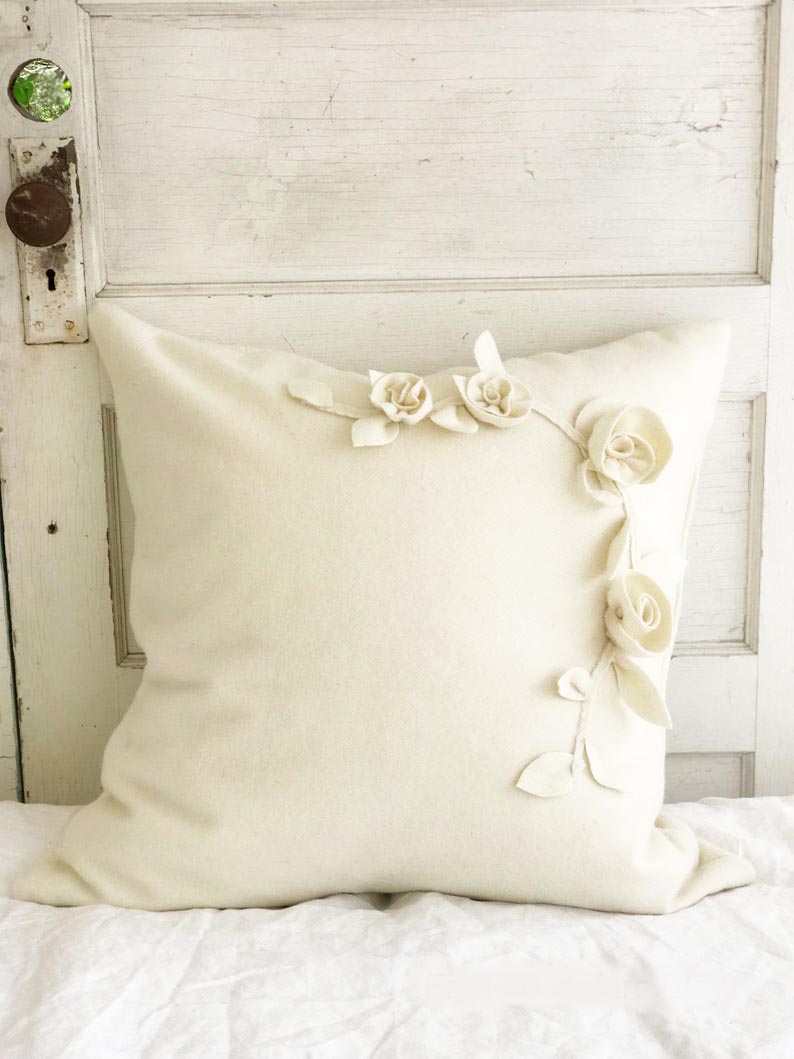 Oh my, this wool Euro pillow is so beautiful. The wool flowers are combination and accent to this cream pillow.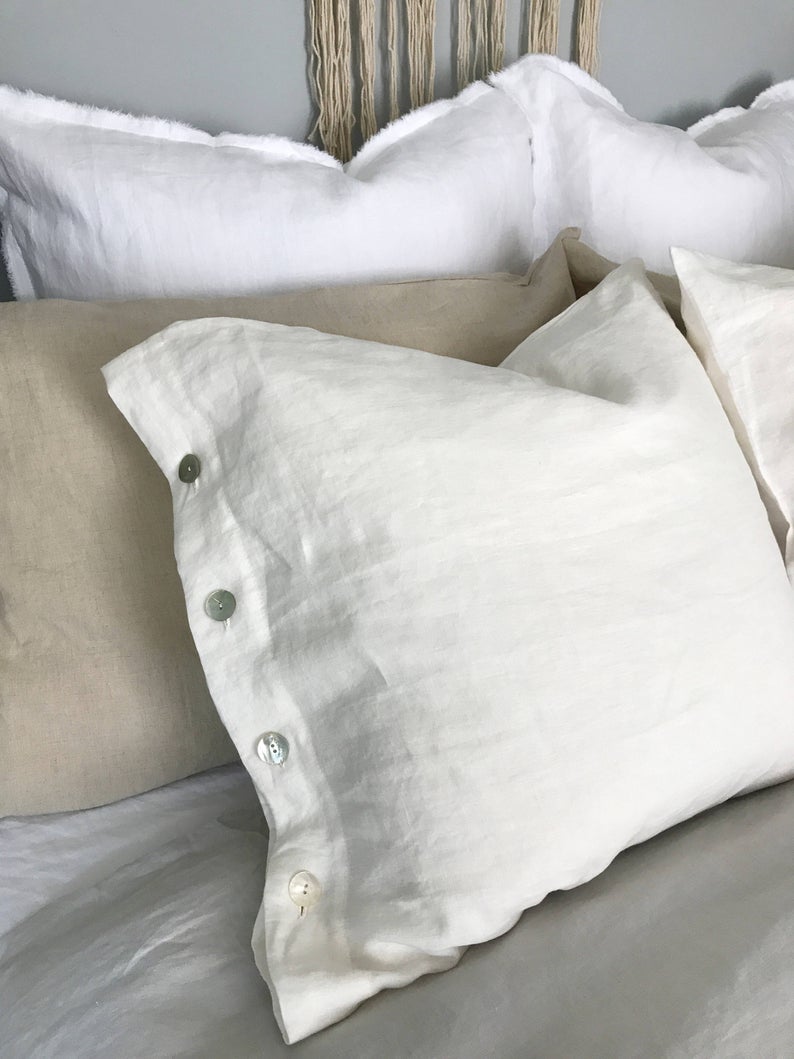 I own these linen shams, and they are so pretty and luxurious. Linen has a texture and style that is hard to beat for bedding. Rhonda's linens just elevate a bed to a whole new level of elegance!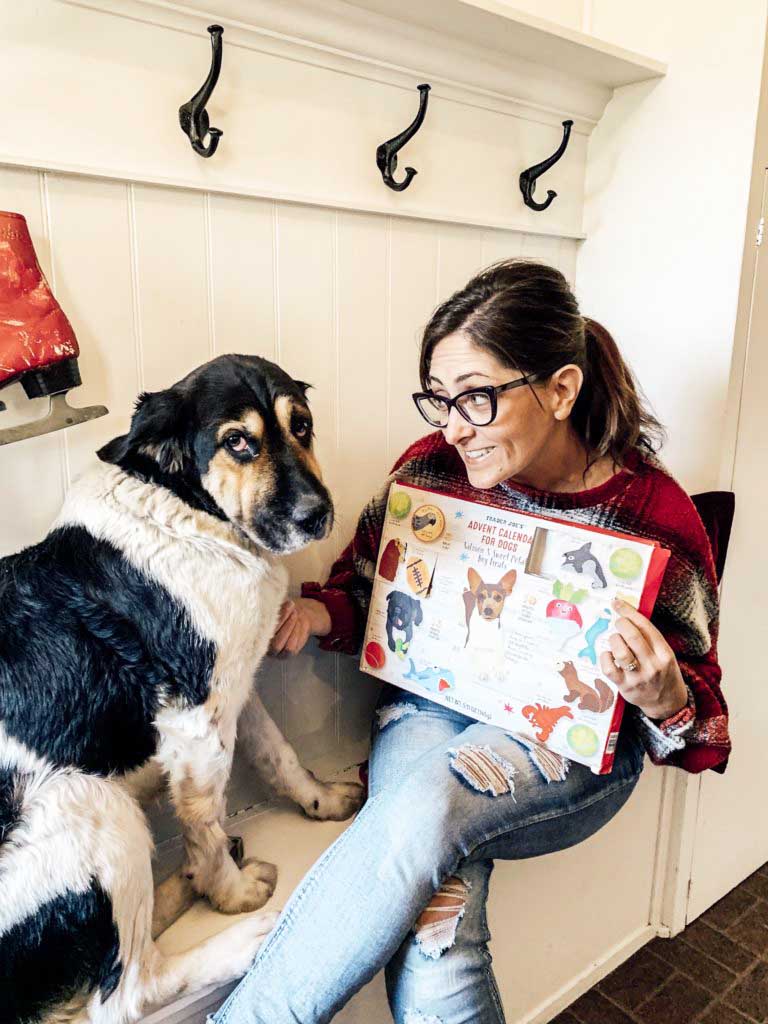 Thanks so much for stopping by this post on where to buy unique farmhouse decor. I love viewing fun, home decor, and Rhonda has quite a few great products. I'm only highlighting just a sampling from her shop, so make sure to hop on over and peruse her Etsy shop.
If you want to read more about Hallstrom Home, read this fun interview with Rhonda. And by the way, this post is one of my most popular posts.
Well, until next Wednesday, have a great day!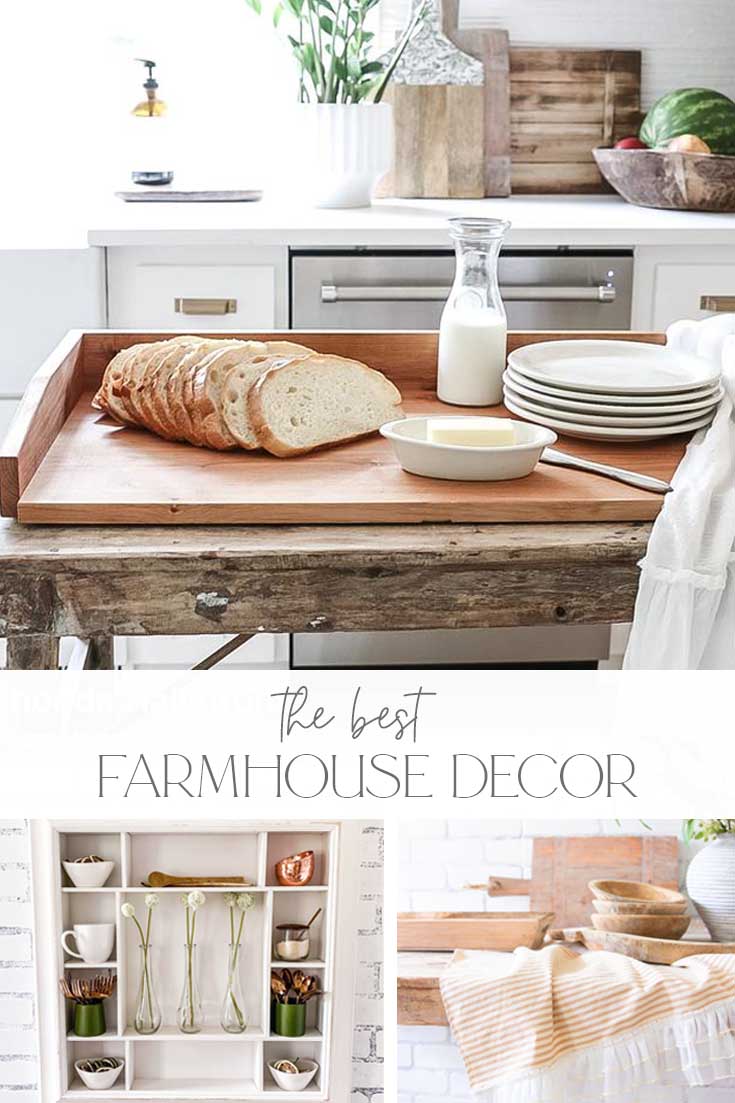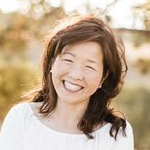 Latest posts by Janine Waite
(see all)