This is seriously The Best Chocolate Cake! I know many people claim to have the best cake, but you have to believe me that this is a super moist cake. Also, it has another name, Chocolate Beet Cake. It has a whole can of cooked beets in this dessert. Yup, you heard correctly, there are red beets in this delicious cake.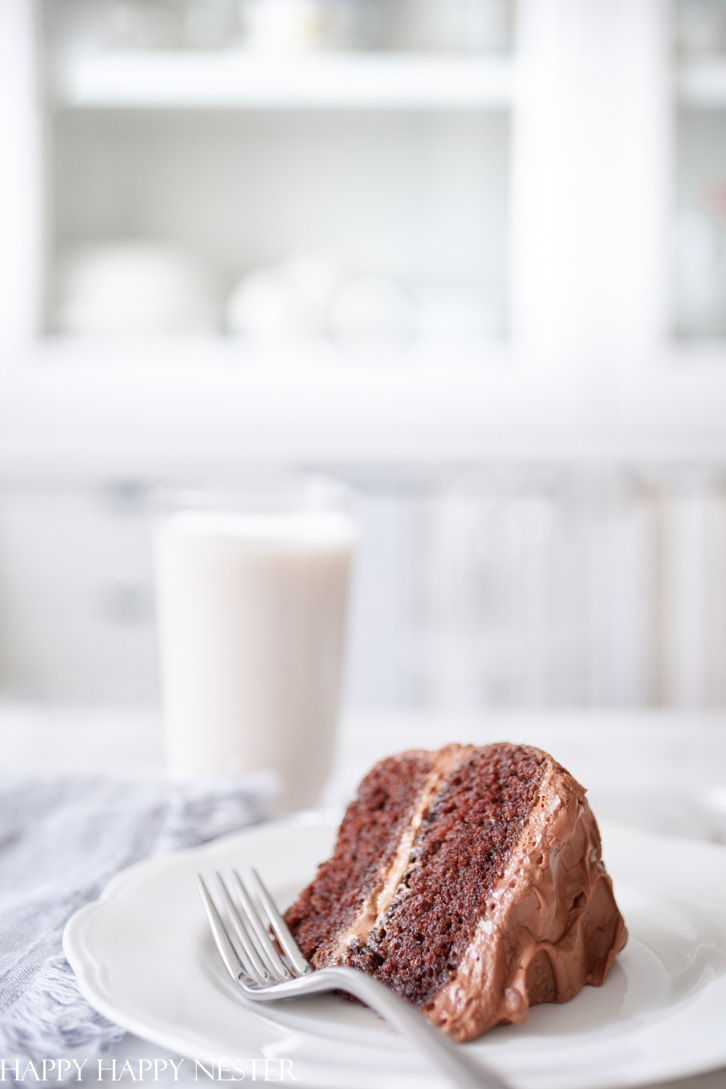 I found this recipe during my college days. I had dinner over at their house one evening, and my friend's mom served this wonderfully moist cake. It was love at first bite. I asked for the recipe, and the rest is history.
As you probably figured out, this recipe is different than most. If you were to eat it without the frosting, you might say, there is a hint of chocolate. It is super moist and tastes rich but not overly chocolatey or sickeningly sweet. Once you top it with my mom's Chocolate Fortune Frosting, it is the perfect pairing.
Beets Make This Cake Moist
The beets add moisture to this cake, and they aren't overwhelming. The richness that it adds is not heavy or dense but an exquisite blend for a cake.
Also, the nutritional value is incredible, even though you are devouring a dessert. According to Healthline.com,
Beets contain, fiber, folate (vitamin B9), manganese, potassium, iron, and vitamin C. Beetroots and beetroot juice have been associated with numerous health benefits, including improved blood flow, lower blood pressure, and increased exercise performance.
Can You Taste the Beets in This Chocolate Cake?
There is no hint of the beet taste in this cake. The beets add a rich, moist flavor without adding a vegetable taste to the cake.
A Little History About Cakes
As I tried to find the original reason someone would add cooked beets to a dessert, my search led me down a rabbit hole. I found quite a few interesting facts about beets and baking.
Bear with me as I talk about some fascinating cake history.
According to Wikipedia, the Red Velvet cake is a red chrisom cake that originated in Maryland in the early 20th century. It is a softer and more velvety crumb cake that they served as a fancy dessert. And the Red Velvet cake initially used non-dutched cocoa that is red in coloring. During World War II and food rations, bakers used beetroot juices for the red colors and to add moisture.
It makes sense that if they added beetroot juices, then why not add whole beets. With this recipe, you can cook your beets, but I like the ease of using canned beets. I pulverize them in my blender and then added them to the cake batter.
This Chocolate Cake is My Family's Favorite Dessert
When our kids were little, they requested this cake for their birthdays. And one year, we made it for my daughter's birthday party, and I noticed that a little girl couldn't get enough of this cake. But, once my daughter told her that it had beets in it, she quickly stopped eating it and had a terrified look on her face.
Yes, this cake has healthy beets hidden in the recipe.
My kiddos have grown up with eating vegetables, so they, of course, loved that this cake has beets in it!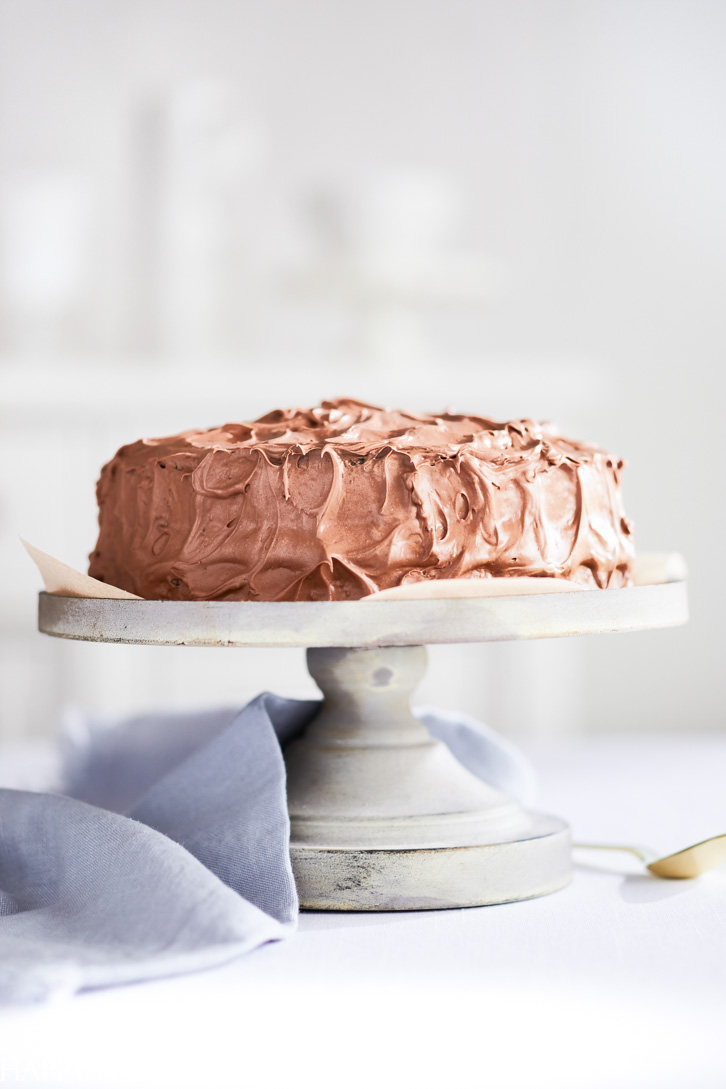 Fortune Chocolate Frosting is Scrumptious
I'm not sure why the frosting has the word fortune in it, and if you know, please leave a comment below. I've had this old-time frosting since I was a little girl. I remember sitting in the kitchen and patiently waiting for my mom to finish making it so I could lick the frosting off the beaters.
The ingredients start with melted chocolate with some confectionary sugar, and like magic, it plumps up to this wonder fluffy frosting. The buttercream frosting is a bit tricky to make. Leave it to me to make an intermediate baking recipe.
Which leads me to the next section.
How to Make Fortune Frosting
1. Place the unsweetened chocolate in a double broiler. Add about two inches of water to the bottom pan.
2. Add the chocolate to the top saucepan and melt the chocolate over a medium flame. The melted chocolate will have a shiny consistency.
3. Once you melt the chocolate, add the confectioner's sugar and hot water. Add the beaten eggs slowly to the mixture. Make sure to mix thoroughly after each addition. You are cooking the eggs, but you don't want to scramble them. Finally, add the vanilla extract.
4. Then take the frosting off the double boiler and mix in the room temperature butter. Mix thoroughly.
5. Place the pan on top of another bowl that contains ice.
6. Whip the frosting while it is chilling over the ice. Now the magic begins. The frosting will thicken and lighten in color. Once it thickens and almost doubles in size, it is ready to add to the Chocolate Beet Cake.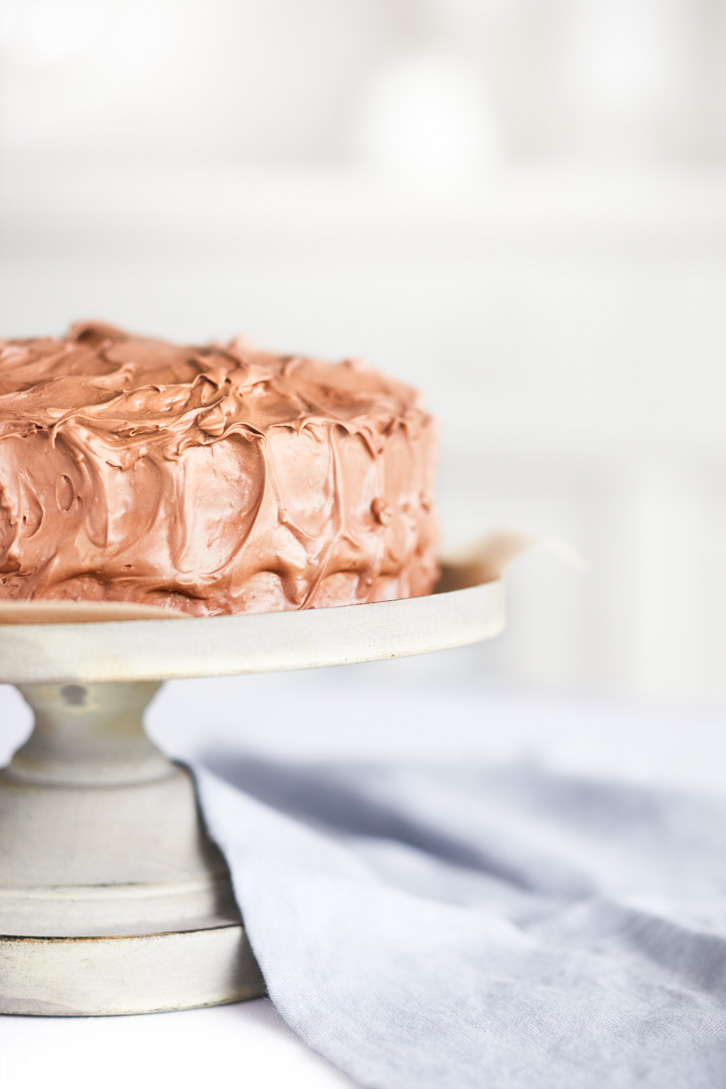 The Best Chocolate Cake Recipe
This chocolate cake recipe is unbelievably moist and rich. This cake has a decadent old-time chocolate fortune frosting that pairs well with the cake. Its secret ingredient is cooked beets.
Ingredients
Cake
1

cup

cooking oil

1½

cups

sugar

3

eggs

1

16 oz can

beets

drained and puree in a blender

2

ounces

unsweetened chocolate

½

tsp

salt

½

tsp

vanilla extract

1¾

cup

flour

sift before measuring

1½

tsp

baking soda
Chocolate Fortune Frosting
5

ounces

unsweetened chocolate

4

cups

powdered sugar

sift before measuring

4

tbs

hot water

2

egg

⅔

cup

butter

room temperature

2

tsp

vanilla extract
Instructions
Cake
Cut and line two 9" cake pan bottoms with parchment paper.

Drain beets and puree in a blender.

Melt chocolate over the stove or in a microwave.

Mix flour, baking soda, and salt in a bowl.

In another bowl, cream sugar and oil until well mixed.

Add eggs, beets, and vanilla.

Next, mix in melted chocolate and blend well.

Slowly add the dry ingredients.

Place in two prepared cake pans.

Bake cakes at 350° for 25-35 minutes.

Cool cakes on racks and let cool for 10 minutes before removing from pans
Chocolate Fortune Frosting
Add about two inches of water to a double boiler pot.

Place chocolate in a heat-proof mixing bowl or saucepan.

Place the saucepan with chocolate over the pot of hot water and melt the chocolate.

With a handheld electric mixer, blend chocolate, sugar, and water.

Beat in vanilla. Slowly add the egg and mix well after each installment.

Next, take off the stove and beat in room temperature butter.

Place the hot pan or bowl over another bowl that is half full of ice.

At high speed, beat frosting until it is light and fluffy.

Frost the top of the first layer of cake. Add the second cake and frost the top and sides.
Nutrition
Serving:
16
servings
|
Calories:
503
kcal
|
Carbohydrates:
63
g
|
Protein:
4
g
|
Fat:
29
g
|
Saturated Fat:
10
g
|
Cholesterol:
41
mg
|
Sodium:
270
mg
|
Potassium:
127
mg
|
Fiber:
2
g
|
Sugar:
48
g
|
Vitamin A:
266
IU
|
Calcium:
20
mg
|
Iron:
3
mg
If you like desserts, then check out these recipes:
Thanks so much for your visit. I hope you have a chance to make the best chocolate cake recipe.
Take care and happy baking!
Cheers,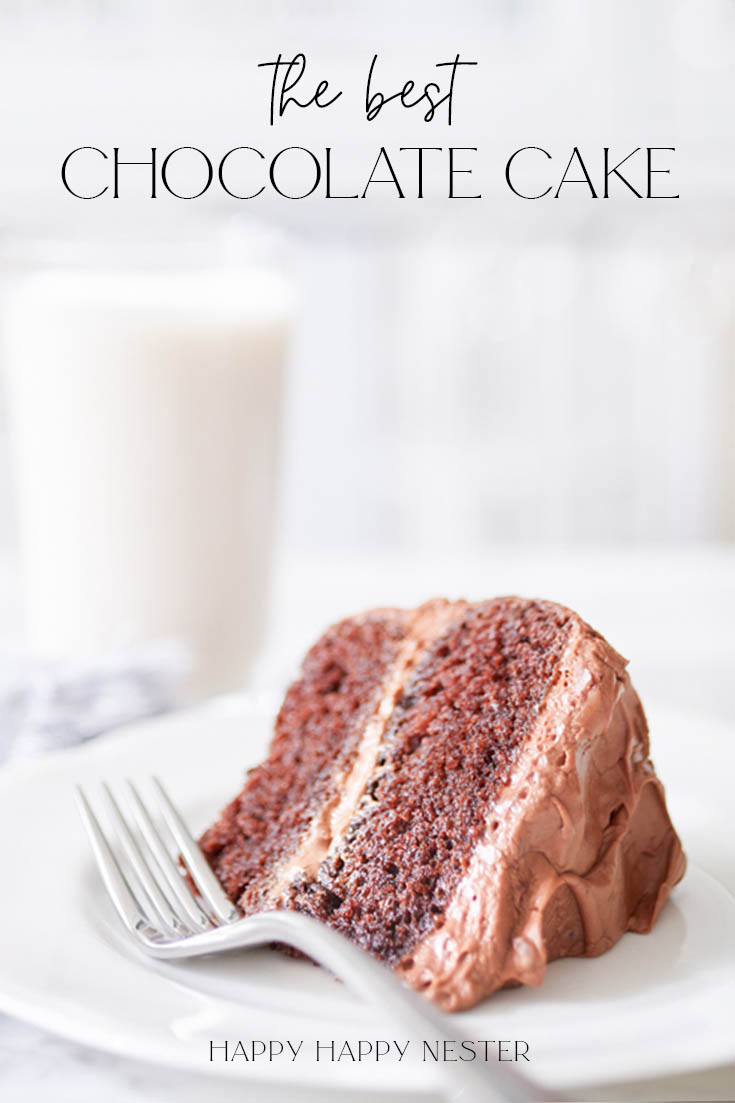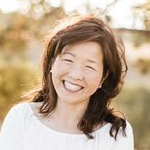 Latest posts by Janine Waite
(see all)