A Fresh Berry Chantilly Cake is a white cake filled with delicious lemon curd, and to top it off with a covering of whip cream frosting and raspberries.
This cake is utter perfection. One bite leaves you feeling refreshed and makes you want another slice (or two, but who's counting).
We decided to bake this recipe because we honestly love cake, and it's always nice to discover new recipes for the family. I mean, who doesn't love a delightful dessert with a nice cup of tea on the side?
But in all seriousness, I love baking, and I love creating recipes, whether it's main courses, snacks, or desserts like the Berry Chantilly Cake.
I have created multiple delicious and simple recipes on the blog. Check them out! They are perfect desserts to share with family and friends or just yourself!
Here is a family favorite of ours, Carrot Cake. This recipe is unique because cream cheese is in the frosting and in the cake, which creates a moist, rich and delightful dessert.
The next popular dessert recipe is the one and only Chocolate Cake. This dessert goes perfectly with events such as graduation parties, birthdays, and welcome home events.
This Chocolate Cake Recipe is moist but not too moist to the where it's soggy because no one likes a soggy cake. Not only is it moist, but it's rich with chocolate flavor.
This cake is different from any other Chocolate Cake recipe I have seen, and that's because of my secret ingredient. The secret is I use beets, yep, the vegetable. But I promise you won't be able to taste a hint of beet in the final product.
As some of you may know, Whole Foods has a popular Chantilly cake. So, let's chat about it!
The Whole Foods Market Berry Chantilly Cake is grandmother-approved, meaning it will become a family favorite for many years.
So instead of paying for an expensive cake, you can make a homemade version that is just as tasty! Not only is it cheaper to create at home, but you can customize the cake with your choice of fruit.
I'm pretty confident that our recipe tastes better than the Whole Foods cake, and besides, wouldn't you agree that everything tastes better homemade?
Have questions about Chantilly Cake? Well, I am here to answer some of them for you below!
Questions:
What is a Chantilly Cake?
Chantilly Cake is a dessert that originated in Hawaii and is a chocolate cake with a chantilly frosting, mainly coconut frosting. But in the southern United States, the Chantilly Cake became a frosted sponge cake layered with creme Chantilly, whipped cream, and topped with berries of your choice.
What is a Chantilly Cake Made of?
Chantilly Cake is made from white cakes layered with whipped cream frosting and fresh fruit in the South, usually berries. The Chantilly Cake is usually made of white cake, vanilla cake, or sponge cake.
What is a Chantilly Cake from Whole Foods Market?
The Berry Chantilly Cake from Whole Foods Market comprises layers of delicate vanilla cake, fluffy Chantilly cream frosting, and fresh berries within the layers of the cake and used as a topping.
Why is it called a Chantilly Cake?
The Chantilly Cake is called "Chantilly Cake" because it has a whipped cream frosting that is usually called "Chantilly,"
What is a Chantilly Flavor?
Originally, Chantilly cakes were chocolate cakes with a chantilly frosting, which was essentially the coconut frosting from a German chocolate cake without the coconut, and this originated in Hawaii. Though today in most Southern states, the typical usage of creme Chantilly refers to sweetened whipped cream.
Berry Chantilly Cake Recipe
I hope you enjoy this moist and light cake. I love the added taste of lemon curd in between the layers. You can find my lemon curd recipe and make it the day before. Or if you are cramped for time, I hear the lemon curd at Trader's oe/s is delicious!
Berry Chantilly Cream Cake
This light and delicious cake with a light whip cream frosting.
Ingredients
Chantilly Cake
1½

cups

cake flour

1½

cups

granulated sugar

¼

tsp

baking soda

3

tsp

baking powder

½

tsp

salt

1¼

cups

milk

room temperature

1

cup

butter

room temperature

3

oz

vegetable oil

3

tsp

vanilla bean paste

can substitute vanilla extract for paste

3

eggs

room temperature and whisked

1½

cups

fresh strawberries
Chantillly Cream
2

cups

heavy whipping cream

⅛

cup

powdered sugar

1

tsp

vanilla bean paste
Lemon Curd
2

cups

lemon curd

Refer to my Lemon Curd Recipe or buy a jar
Instructions
Cake
Prep 3 – 8" round pans. Grease and line bottom with parchment. Grease the top of the parchment and flour the pans.

Place dry ingredients, flour, sugar, baking powder, baking soda, and salt in bowl.

Slowly mix in cubes of room temperature butter into dry ingredients. Mix at a low speed.

Add a third of the milk and a third of the oil to the dry ingredients.

Increase speed to medium and mix thoroughly.

Reduce speed to low and add the rest of the milk, oil, and whisked eggs to the batter. Once the milk, oil, and eggs are incorporated, increase the mixer speed and mix thoroughly.

Add vanilla paste and combine thoroughly.

Evenly fill three 8" round cake pans.

Bake for 25 minutes. A toothpick should come out clean when cooked.

Cool on racks. Once cakes are cool, remove them from the pan. And remove parchment paper.
Chantilly Cream Frosting
Place heavy cream in a mixing bowl. Next, add vanilla bean paste and powdered sugar to the bowl.

Place the whisk attachment to the mixer and whip for about one minute.

Frost each layer of cake with one layer of lemon curd, Chantilly cream, and raspberries. Repeat with each layer of cake. The final cake layer top with frosting. Next frost the sides. Smooth out with a metal spatula. Top with fresh raspberries and lemon slices if desired.
Nutrition
Serving:
1
serving
|
Calories:
492
kcal
|
Carbohydrates:
48
g
|
Protein:
5
g
|
Fat:
32
g
|
Saturated Fat:
21
g
|
Trans Fat:
1
g
|
Cholesterol:
104
mg
|
Sodium:
308
mg
|
Potassium:
150
mg
|
Fiber:
1
g
|
Sugar:
38
g
|
Vitamin A:
868
IU
|
Vitamin C:
1
mg
|
Calcium:
83
mg
|
Iron:
1
mg
How to Put Together The Chantilly Cake
Step 1 – Place the Cake on the Turntable
Place your cake stand on a cake turntable. Place the cake on the cake stand.
Step 2 – Add Lemon Curd
Cover your lemon curd on first layer and smooth it out.
Step 3 – Add Chantilly Cream
Add a layer of Chantilly cream on top of the lemon curd.
Step 4 – Place Raspberries
Cut fresh raspberries in half and place on top of the cream.
Step 5 – Repeat Step 1 – 4
Just repeat the steps 1 – 4 twice and add the other two cake layers.
Step 6 – Frost Cake
Frost the top and sides of the cake with the Chantilly cream.
Step 7 – Top with Fresh Fruit
Top the cake with fresh fruit.
---
Hey you! Yes you! Thanks for sticking around and baking with me! Hopefully I inspired you to share the Berry Chantilly Cake Recipe with friends and family! See you next time over on the blog!
Cheers,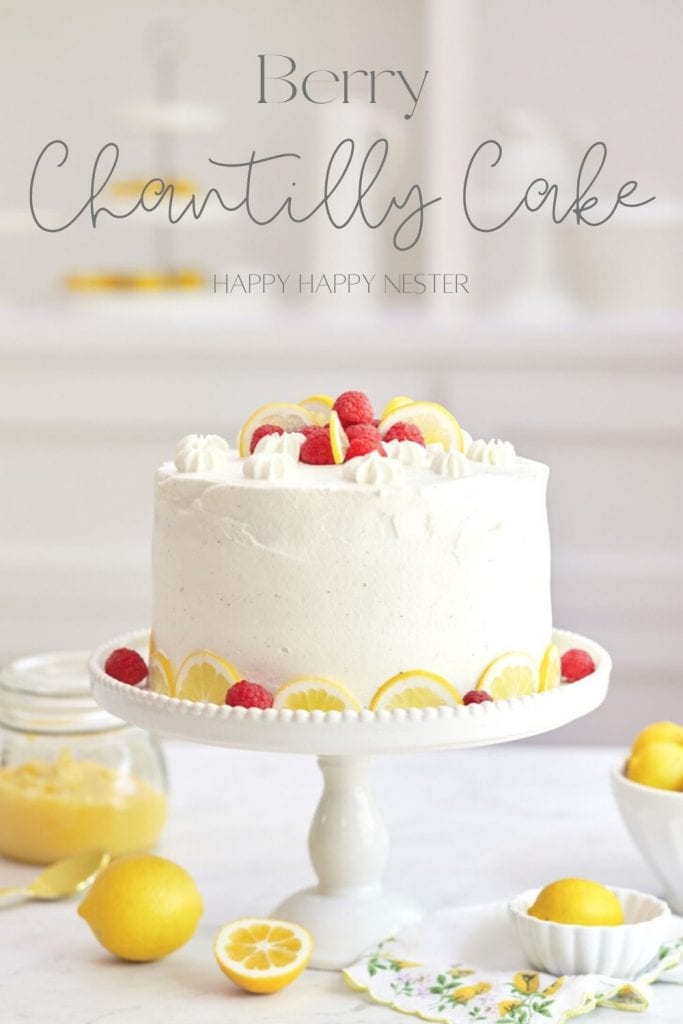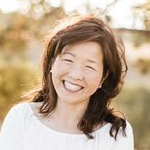 Latest posts by Janine Waite
(see all)