If you love the flavor of lemons, then you'll love this collection of Lemon Dessert Recipes. This roundup includes everything from a sour cream pie, curd, a refreshing drink, and more.
Over the years, I've created and shared some delicious lemon dessert recipes. And I never tire of lemons and their beautiful combination of citrus and the sweetness of sugar.
Spring is in the air, and what better way to celebrate than with my favorite lemon recipes.
Our lemon and lime trees are teeming with fruit this time of year, so I'm looking for ways to use them in my baking and cooking adventures.
I have a new recipe that I'll place here at the end of the week, so come back later for this fantastic gluten-free lemon cake.
Lemon Dessert Recipes
Here are a few of my lemon recipes and a few extras from my friends!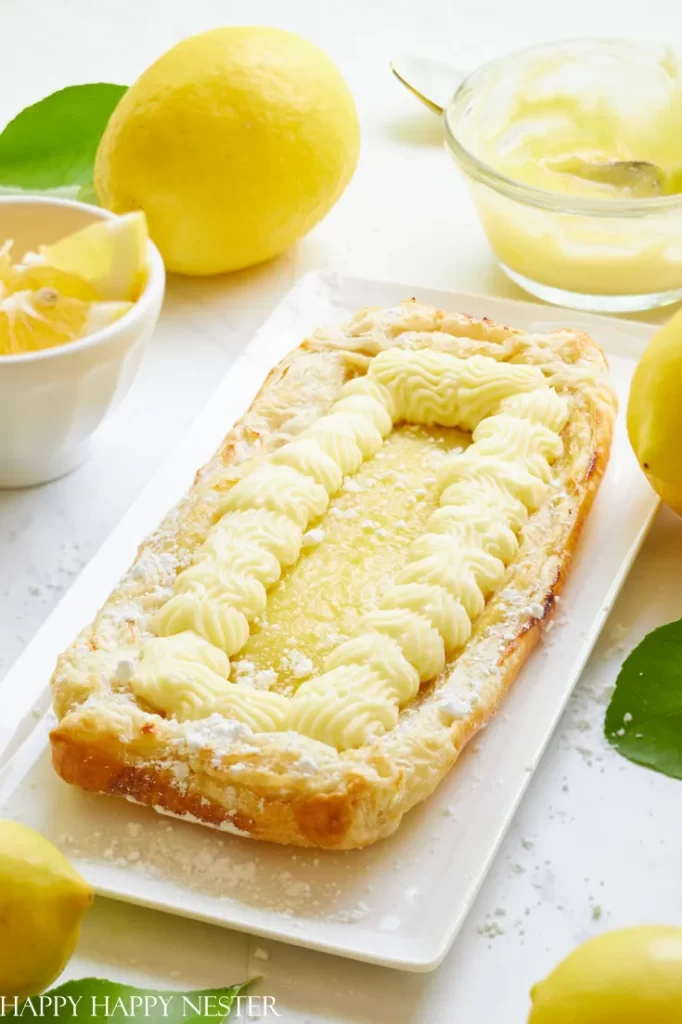 This Lemon Tart Puff Pastry is so easy to make. I love how this dessert tastes as if it comes from a fancy bakery. The key is to use fresh homemade lemon curd.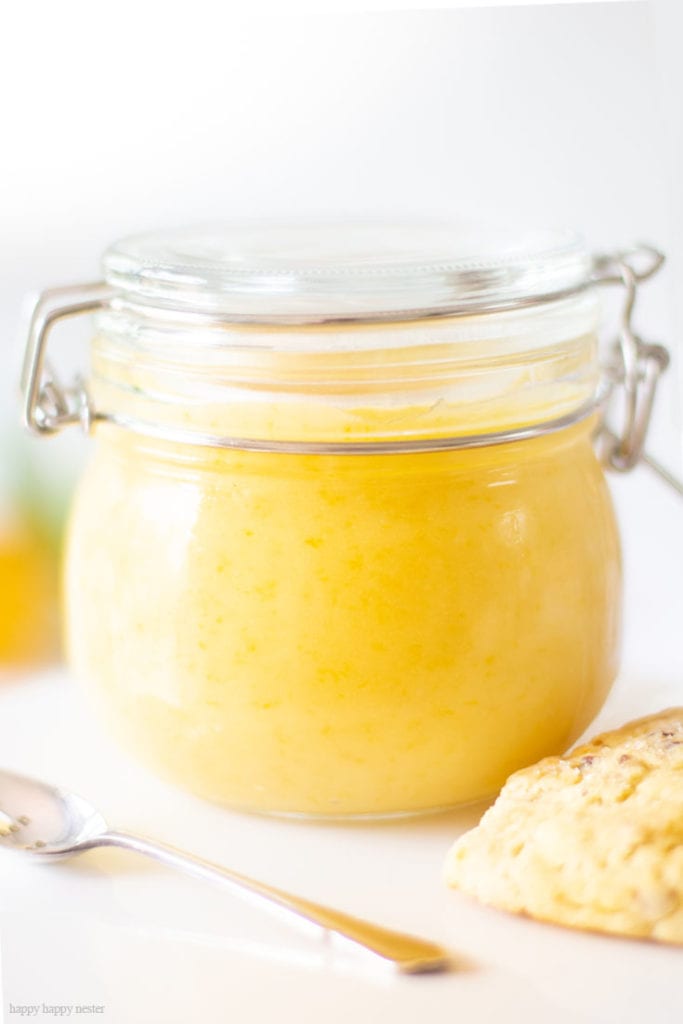 I love this recipe. My good friend Mindy gave me this recipe, and she found it in an English cookbook that her mom gave her years ago. This authentic and wonderful cookbook was published in the mid-'60s. The recipe is easy, and you only need five ingredients, making it one of my favorites.
I created some mini nests for Easter and topped them with my homemade English Lemon Curd and cute Cadbury chocolate eggs. The results are adorable, easy to make, and perfect for holidays.
A Fresh Berry Chantilly Cake is a white cake filled with delicious lemon curd, and to top it off with a covering of whip cream frosting and raspberries.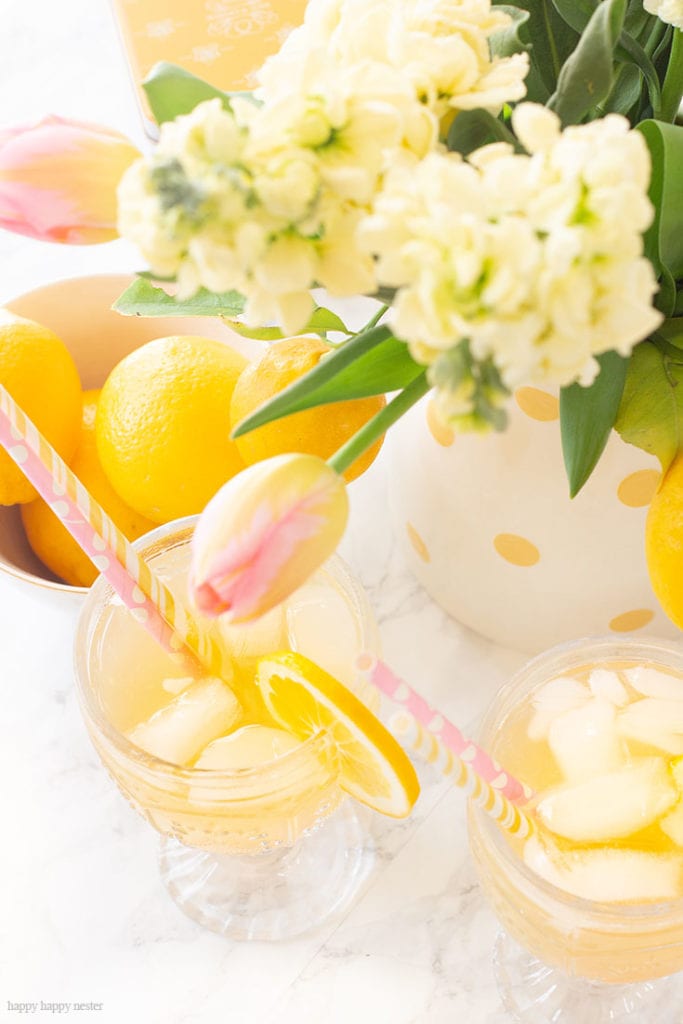 Carbonated Lemon Iced Tea Drink
So, when your garden is full of Meyer lemons, it only made sense to develop a Carbonated Lemon Iced Tea Recipe. Our local grocery store sells the yummiest sparkling lemon white tea that is fresh and sweet. So, I got busy and picked a few of our lemons and came up with this great recipe.
This lemon pie has a rich, smooth lemon flavor similar to my favorite English Lemon Curd recipe. Of course, this homemade pie has sour cream, which mellows the sweetness and creates a luscious taste.
---
Here Are Some More Lemon Recipes From My Friends!
Half Baked Harvest | Swirled Blueberry Lemon Thyme Cake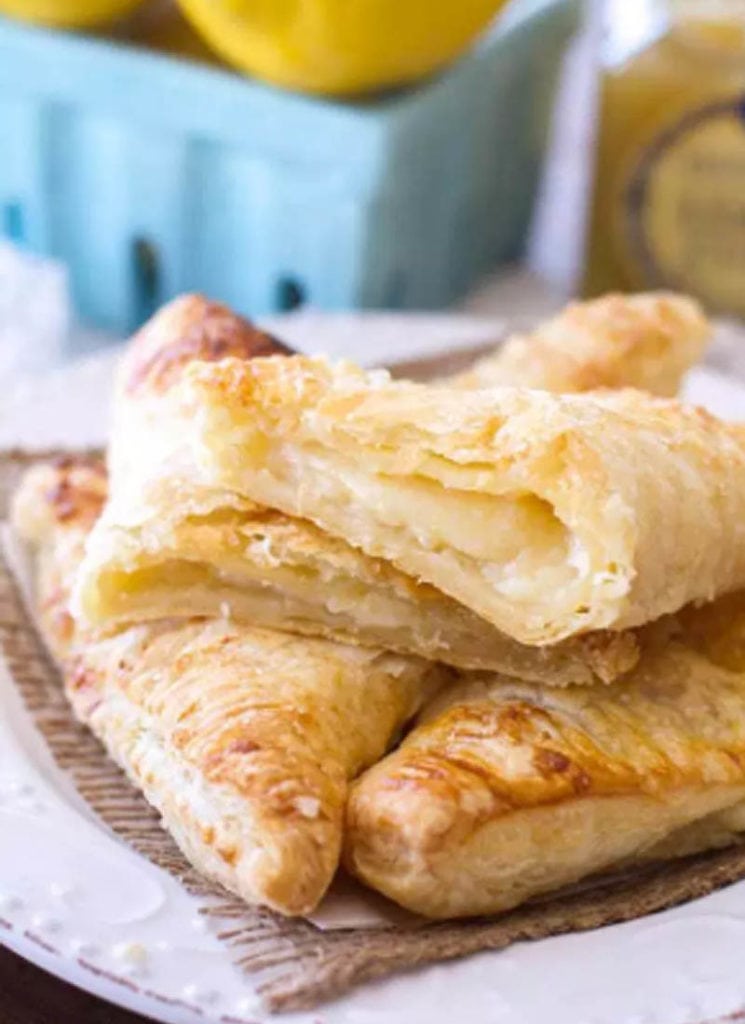 Julie's Eats and Treats | Lemon Cream Turnovers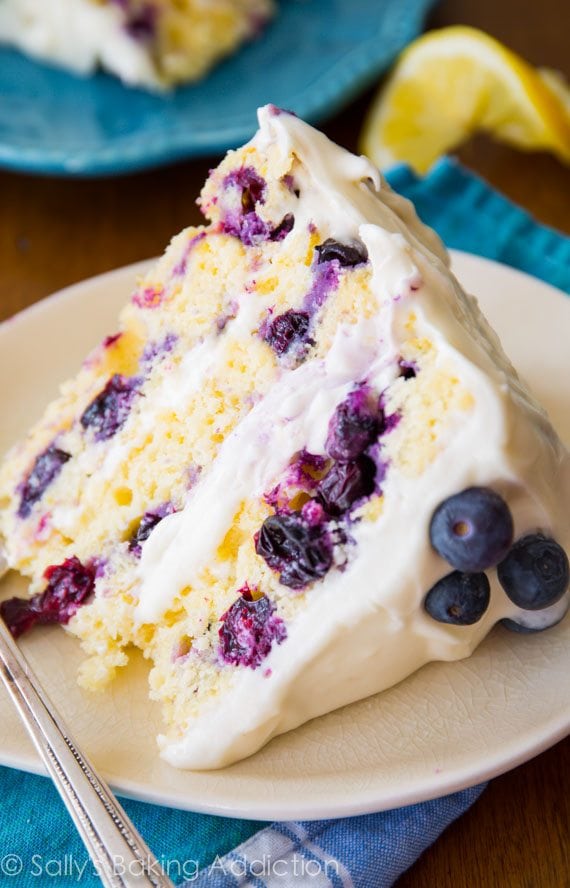 Sally's Baking Addiction | Lemon Blueberry Cake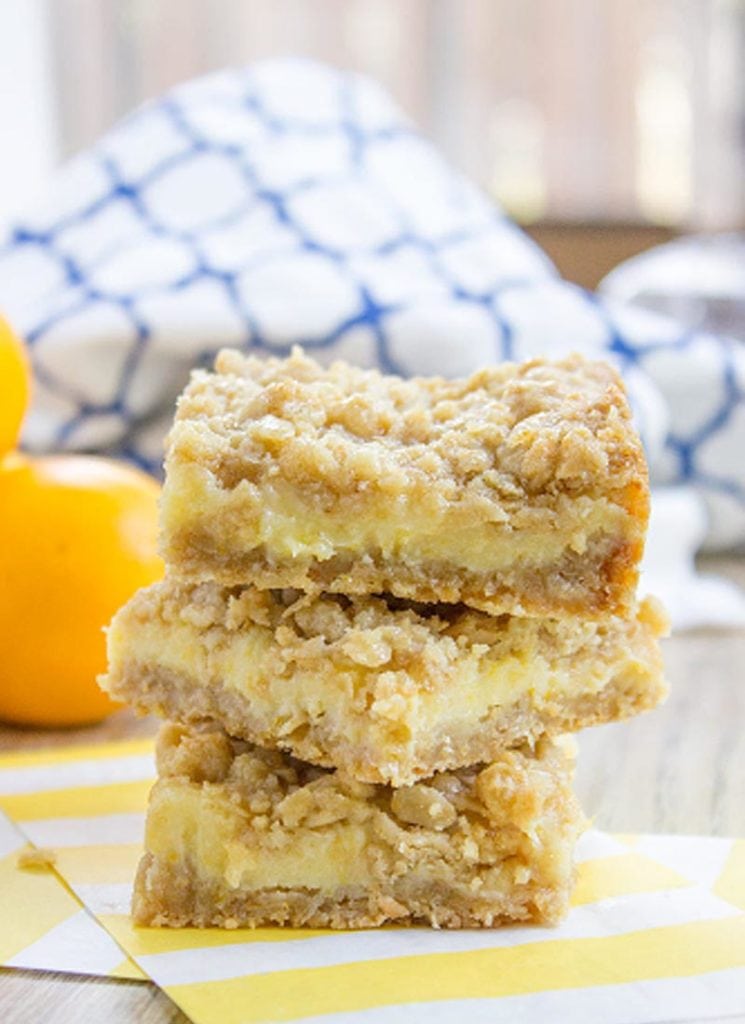 Dinner Then Dessert | Creamy Lemon Crumb Bars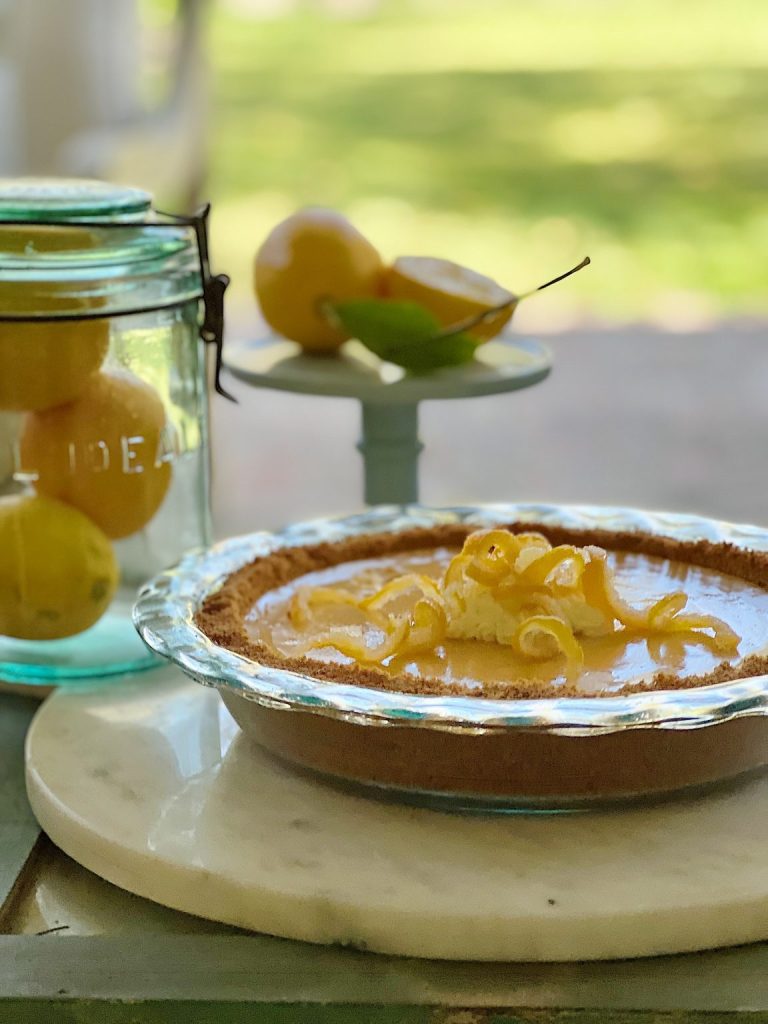 My 100 Year Old Home | Meyer Lemon Cream Pie With A Twist
---
A Few Tips About Lemons
How to Freeze Them
Wash and dry a whole lemon and plop them in your freezer. You can place them in a plastic container or bag, but you can drop them straight into the freezer if you're lazy like me.
To thaw them, place them in a microwaveable glass and zap them for about 15-30 seconds until soft. The lemon will be a bit mushy, but you'll still be able to extract the lemon juice from the fruit.
Zesting Lemons
If your lemons are frozen, zest them right out of the freezer.
I also love my little Microplane for zesting. Also, if you want a more intense lemon flavor to a recipe, finely zest the lemon and then mince it more with a knife.
Thanks for your visit and I hope that I've inspired you to bake a few lemon dessert recipes.
Happy Baking!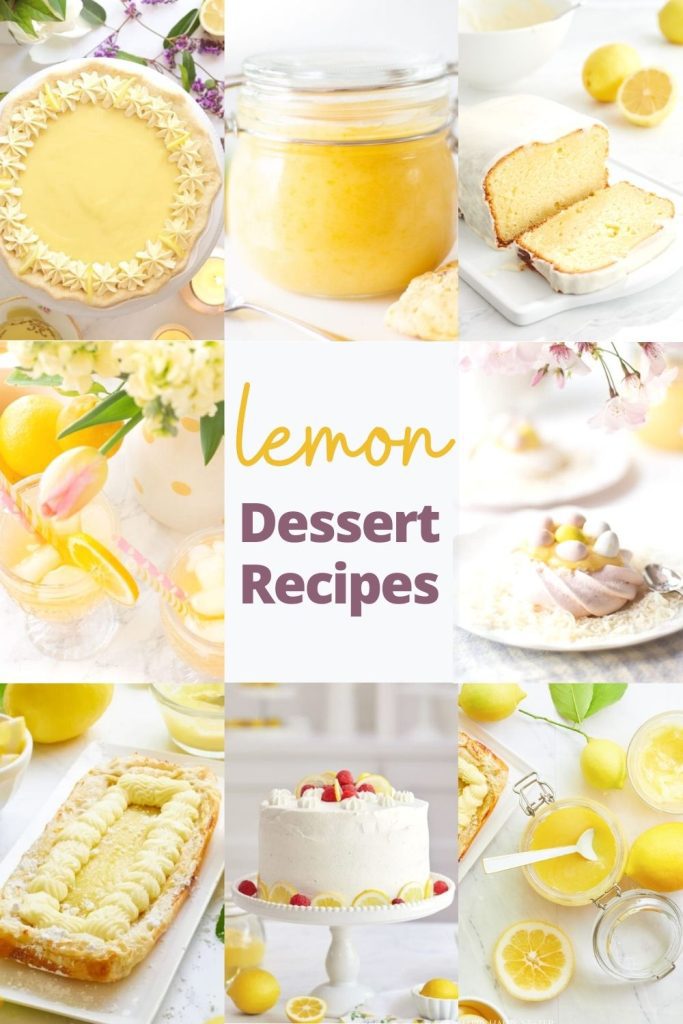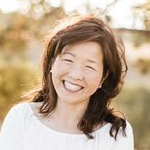 Latest posts by Janine Waite
(see all)