Today, I'm sharing the Best Lemon Sour Cream Pie recipe. This lemon pie has a rich, smooth lemon flavor similar to my favorite English Lemon Curd recipe. Of course, this homemade pie has sour cream, which mellows the sweetness and creates a luscious taste.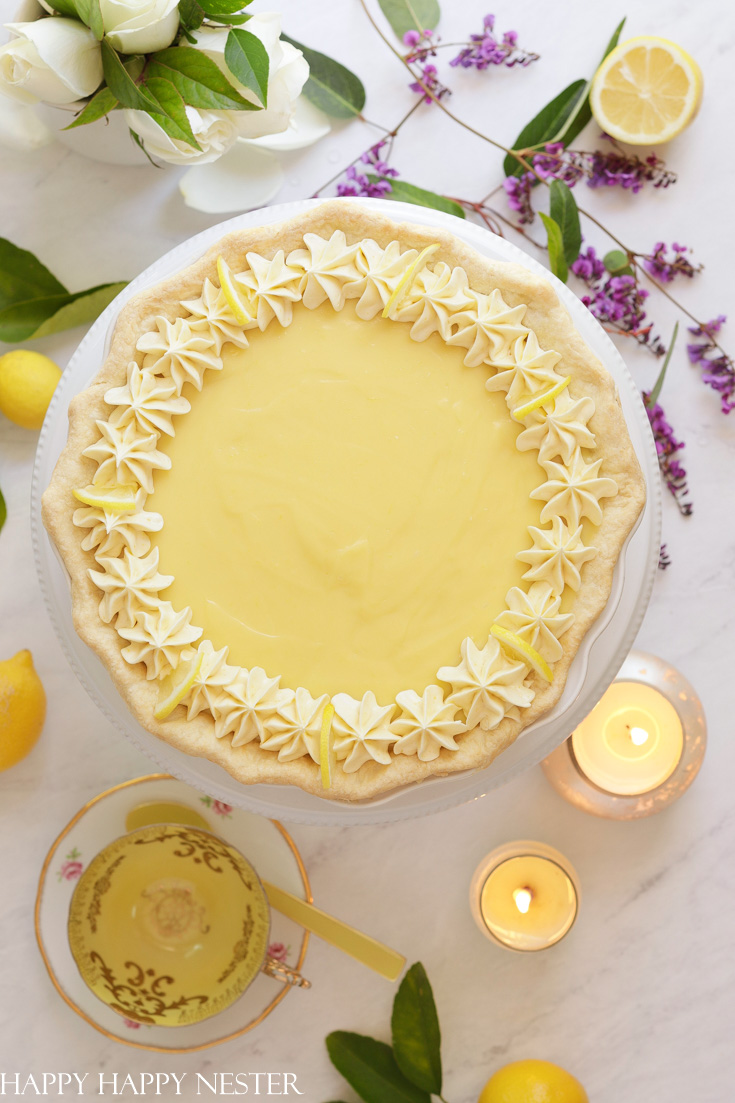 This lemon pie will quickly become a family favorite. It is a pretty simple pie to make, but it tastes very gourmet!
This wonderful recipe comes from my mom, Amy. She was an avid baker and was always in the kitchen creating such lovely desserts and jams. Now that she has passed away, all her recipes mean so much more to me. I have a few of her recipes on the blog:
I remember her making this pie growing up, and I loved how creamy it was compared to the normal lemon pies. The sour cream adds such a smooth flavor. My mom spoiled us with all her yummy homemade desserts.
But before we dive into the recipe, I thought it might be nice to answer a few frequently asked questions.
Here are Few Tips About This Lemon Sour Cream Pie
*The following post contains affiliate links
Can I use a pre-made pie crust?
Yes, by all means, use a pre-made pie crust. Also, a graham cracker crust would work too!
Can I freeze a lemon sour cream pie?
I recently froze my pie, and it handles it fine. You might get a few cracks on the top, but you can remedy this by adding a layer of yummy whip cream!
Can I substitute yogurt for sour cream?
My husband is allergic to sour cream, so I did a little experiment and replaced it with yogurt. There is a tiny difference in flavor, but it's not very noticeable. The texture and the thickness of his pie are the same as the one with sour cream.
Can you double a lemon pie filling for a 9-inch pie?
So, my mom's recipe was half my new version. I doubled her recipe, and it came out perfect!
I made it both ways, and I love the 9-inch pie to have a thick and tall filling. So if you make the recipe as is, your filling will be about 1 1/2 – 1 3/4 inches in thickness. I love piling up the filling in the middle of the pie. But you can totally cut the recipe in half if you wish. Her version (half my recipe) had a pretty small layer of lemon pie filling. She did add a layer of whipping cream to her pie. I used a buttercream topping for photography purposes. Whip cream melts too quickly.
Also, not all pie pans are equal in depth. I used my Emile Henry ceramic pie pan, and it is super deep, so this recipe is perfect for the deeper pie pans. If you have extra filling, place it in a bowl for a skinnier version. This serving will be minus the crust, so it will be less caloric.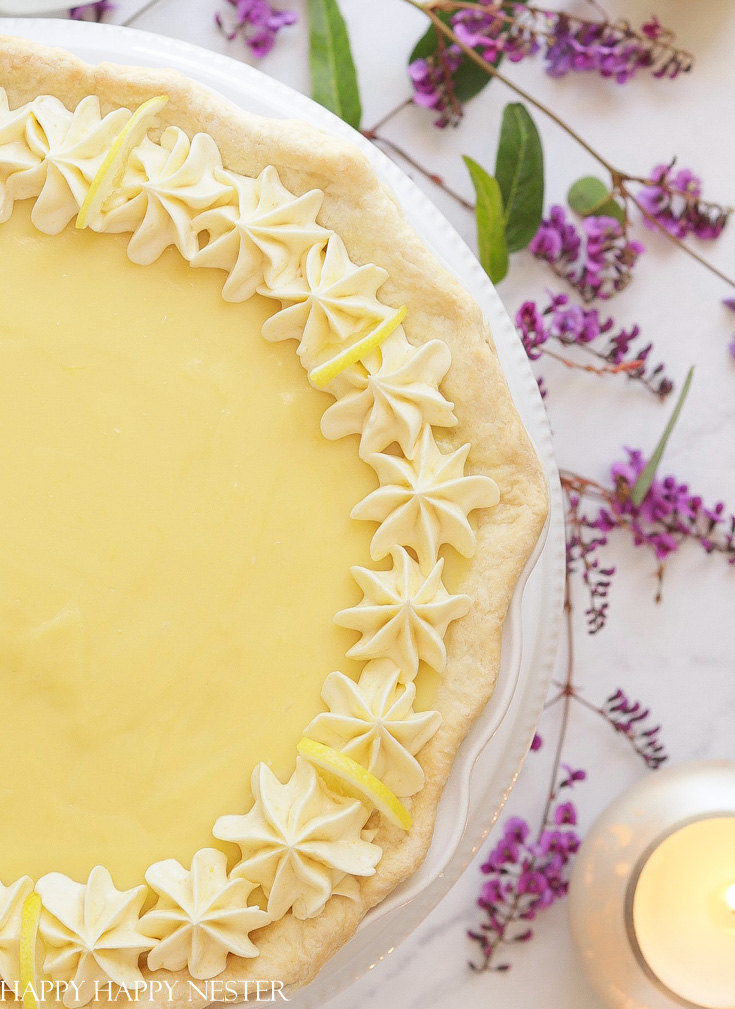 The Best Lemon Sour Cream Pie Recipe
This lemon pie flavor is smooth and similar to English lemon curd. It is an easy pie to make, and the filling is firm and delicious. Also, this lemon sour cream pie freezes well.
Ingredients
1

Pie Crust

2

cups

granulated sugar

8

tbsp

cornstarch

½

cup

melted butter

cool to room temperature

2

tbsp

lemon zest

½

cup

lemon juice

6

egg yolks

2

cups

milk

2

cups

sour cream

can substitute with nonfat plain Greek yogurt

whipping cream

optional
Instructions
Make a 9-inch pie crust in advance.

Combine sugar and cornstarch in a medium-size saucepan.

Add melted butter, lemon zest, lemon juice, and egg yolks to the sugar mixture.

Cook over medium heat, constantly stirring until thick. It takes about 10 minutes to thicken. The mixture will be somewhat thick and gooey.

Take off the stovetop and fold sour cream into the lemon mixture until well blended and smooth.

Spoon into a pre-made pie shell.

Chill for at least 2 hours before serving.

Top with whip cream if desired.
Nutrition
Serving:
1
g
|
Calories:
619
kcal
|
Carbohydrates:
74
g
|
Protein:
7
g
|
Fat:
34
g
|
Saturated Fat:
13
g
|
Cholesterol:
182
mg
|
Sodium:
301
mg
|
Potassium:
222
mg
|
Fiber:
1
g
|
Sugar:
55
g
|
Vitamin A:
1161
IU
|
Vitamin C:
8
mg
|
Calcium:
161
mg
|
Iron:
1
mg
I recently made this recipe and found that my mom's recipe was a bit runny. I may have copied it wrong since I remember her pie being perfect. So, on my first attempt, I made a video. If you watch the video, just be aware that the stovetop lemon mixture will be a lot thicker. But don't panic since the added sour cream makes the thickness perfect!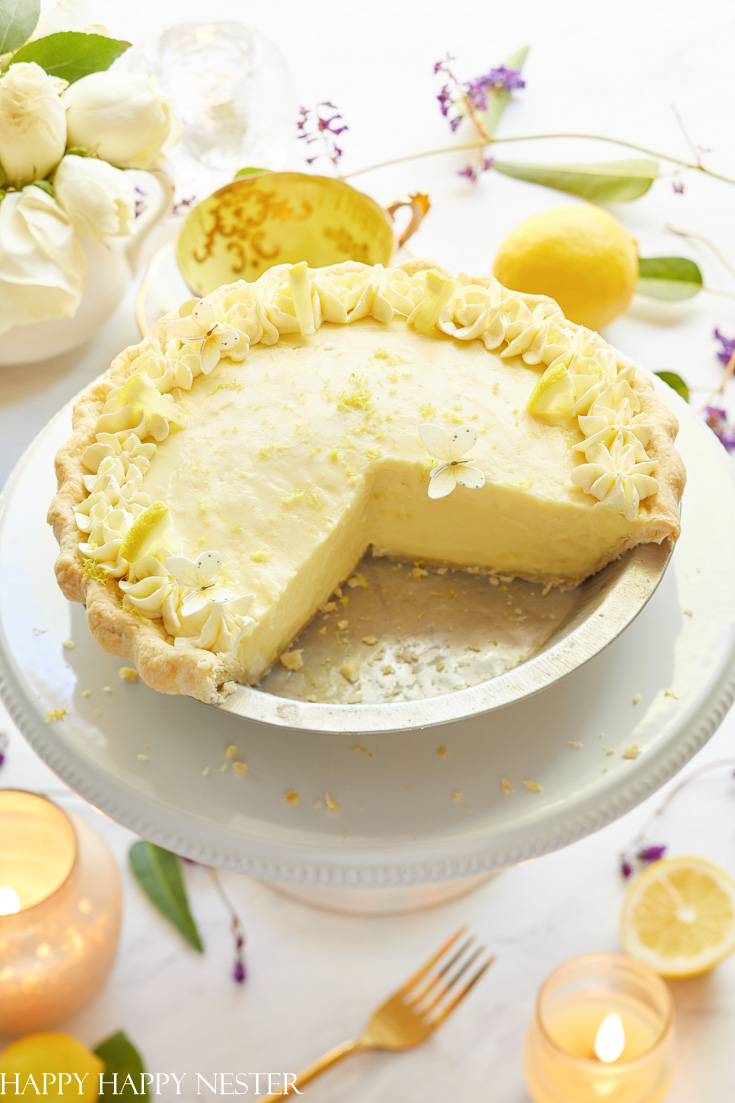 My daughter announced to the family the other night that she doesn't like pies, but she loves grandma's lemon sour cream pie! She is enjoying a piece every day since I recently made two pies.
Can you tell that during Covid-19 I love to bake. What else am I to do while staying home 24/7. 🙂
As I mentioned earlier, I have an
English Lemon Curd Recipe
that you might like. It goes so nicely with a homemade scone or toast.
Well, happy baking to you! And enjoy your piece of lemon pie!
Cheers,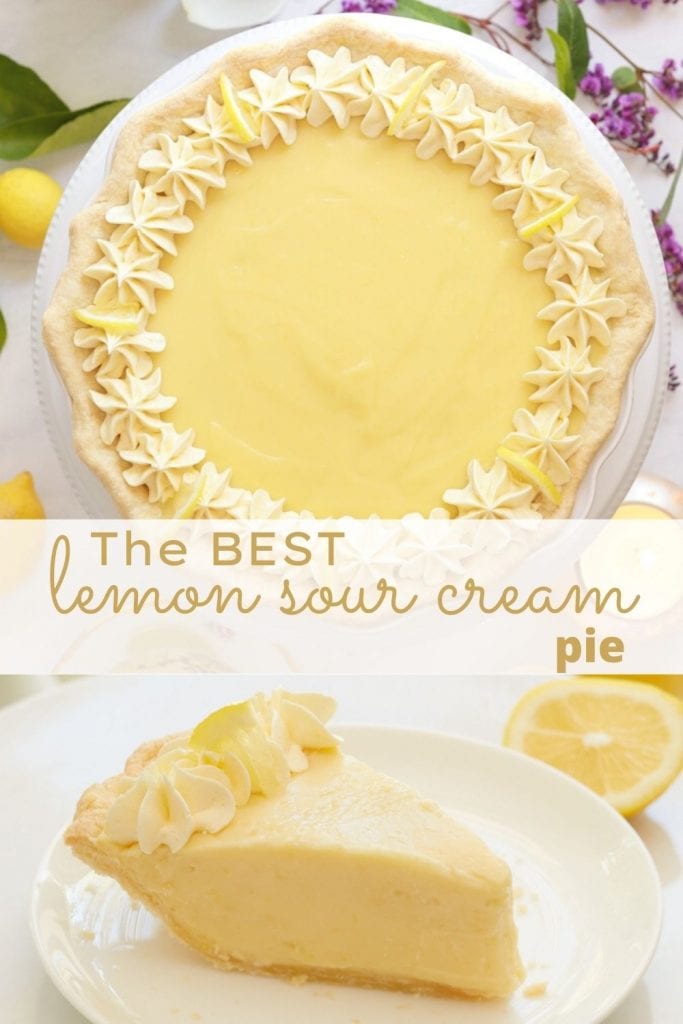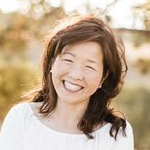 Latest posts by Janine Waite
(see all)