I have made this Mochi Recipe with Mochiko Flour all my life. I've always made it with my mom, and now that she has passed away, my brother and I decided to make it together. It is a simple recipe, and now with the Instant Pot, the red beans are super easy to make.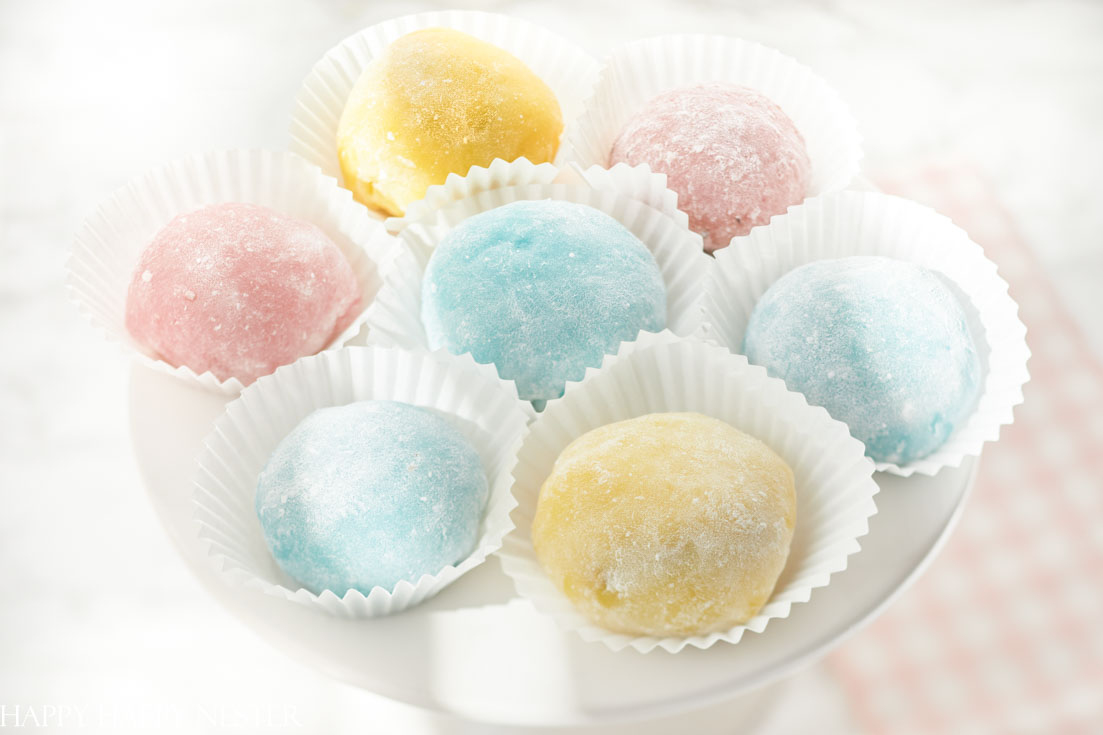 Most of you probably are familiar with Mochi Ice Cream that they sell in the grocery stores. Well, this has a similar dough, but the inside is not ice cream but a sweet red bean paste called Anko.
Mochi Recipe Notes
I'm sure some of you are wondering quizzically
What is Mochi?
It is pronounced moh-chee.
Here is a definition of mochi according to Wikipedia,
Mochi is Japanese rice cake made of mochigome, a short-grain japonica glutinous rice, and sometimes other ingredients such as water, sugar, and cornstarch. The rice is pounded into paste and molded into the desired shape. In Japan it is traditionally made in a ceremony called mochitsuki. While also eaten year-round, mochi is a traditional food for the Japanese New Year and is commonly sold and eaten during that time.
My first memory of making mochi was when I was a girl growing up in Southern California. One day, I joined my cousin and all her relatives for a mochi making get together at her grandma's home. Her grandma had a new-fangled machine that pounded the rice, and out came a hot gooey sticky rice dough. The more authentic way to pound mochi is with a wooden bowl and wooden mallets. We saw this at the Mochi Festive on Bainbridge Island in Washington. Here is a link to a great video that shows how to make mochi. I had to smile when I watched this fun and entertaining video.
For this recipe, it uses sweet rice flour, so don't worry, you don't have to pound it as they showed in the video. Also, that mochi will get hard after a couple of minutes. This mochi recipe is the soft mochi, and it stays fresh for a couple of days.
Where Did Mochi Originate?
The pounding of rice originated in China. Mochi started in the Japanese Heian period, 794–1192.
Is Mochi Eaten Cold or Hot?
This mochi recipe is served at room temperature.
Is Mochi Dangerous to Eat?
When I was a little girl, I would try and swallow a big bite of sticky mochi, and of course, I choked. So, make sure to take small bites since it can be a little bit sticky going down your throat. I guess every year, Japan has emergency cases of choking on mochi.
Why is Mochi So Popular in Japan?
It is popular at New Year's because it represents good fortune. Also, if you stack a bunch of mochis in your home, it will bring good luck.
Mochi also represents good health. So for the big New Year's Day feast, it is usually served in a savory dish, which is similar to soup, called Ozoni. You are supposed to eat it so that you have a healthy and great year.
How Do You Store Mochi?
I found I can leave it out in a Tupperware container for about two days, but then it needs to be wrapped in plastic and placed in the refrigerator. It is a dessert that you'll want to eat in the first couple of days. So, the fresher mochi, the better it tastes. After a couple of days in the refrigerator, the mochi will get hard. So, my brothers will pop them in the microwave for a couple of seconds to soften the mochi.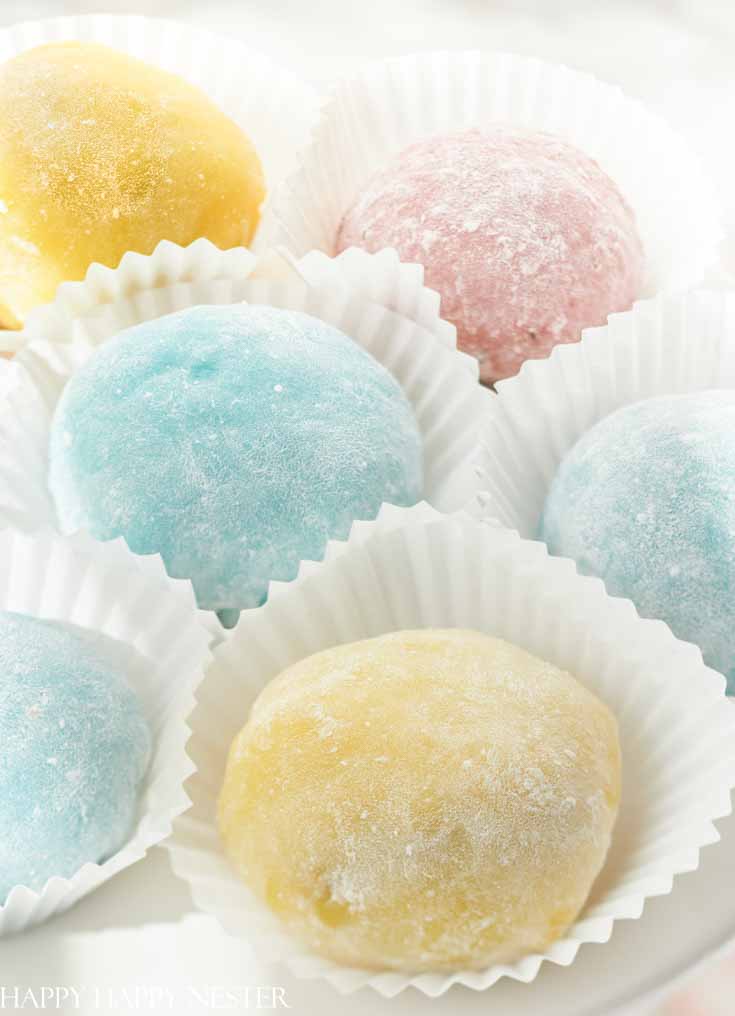 Some Important Notes About Making Mochi
Powdered Sugar
I noticed on a few websites people used powdered sugar instead of cornstarch to keep their mochi from sticking. Well, the thing about any sugars, are they break down and melt. So if you add it to your mochi, you now are left with wet mochi! So, please use cornstarch, mochiko, or even potato flour to keep your mochi from sticking.
Allow Enough Time
This is a pretty labor-intensive recipe. So, make sure you allow enough time for mochi making. It might be best to make the azuki bean middle the day before and have them ready for the mochi.
Microwaving the Mochi
Now that I'm making my mochi in the microwave, it is a ton easier to handle and form the balls. But, make sure to watch the dough while cooking since each microwave settings can vary.
Sugar Amount
You might think there is a lot of sugar in the mochi. But, I believe you need it to form the dough. We have always made it where the sugar is almost equal to the amount of sweet rice flour.
And finally, also, note you'll have more azuki beans balls since the amount of mochi dough only makes 15. Sorry, I can't tweak the recipe.
Mochi Recipe with Red Beans
This Mochi Recipe with Mochiko Flour is my mom's recipe. I love that now we make the Azuki beans in the Instant Pot which is quicker than the stove version.
Ingredients
Red Beans (Azuki Beans)
1

cup

Azuki Beans

4

cups

Water

1

pinch

salt

½

cup

sugar
Mochi
1½

cups

Mochiko flour

I use the brand of Koda Farms Mochiko flour

1

cup

sugar

1½

cup

water

2

drops

distilled white vinegar

food coloring

add drops to match what you want for color

1

cup

cornstarch of Mochiko flour

this is for forming the mochi
Instructions
Azuki Beans
Place Azuki beans in a strainer and rinse. Pick any debris out of the beans.

Put Azuki beans with water in the Instant Pot. Place lid on top of the pot and lock it into place.

Make sure the vent is closed and sealed.

Turn the Instant Pot on and press the Bean/Chilli button.

The default setting is 35 minutes, so decrease the cooking time to 25 minutes.

Once it is done cooking the panel will say, Keep Warm. BUT, it isn't ready to open at this point.

Let it release the pressure naturally, which may take about 15 minutes.

The venting floating valve button will drop, which indicates the pressure is released.

Before opening just double check that the valve has dropped.

Drain the beans in a strainer.

Place the pot back into the Instant Pot and press the saute button.

Add sugar and stir until dissolved. Turn off Instant Pot.

Let beans cool for a couple of hours. If you want to speed up the cooling process, place it in the refrigerator.

Once the beans have thickened, roll into small balls about the size of ½ inch in diameter.

Place balls on parchment paper.
Mochi
In a medium-size bowl, mix with a whisk, the mochiko flour, and sugar. I use a glass bowl that I can place in the microwave.

In another bowl, add water and the two drops of vinegar, and mix.

Now, add the water to the flour and sugar, until well blend. I use a whisk and sometimes use my hands to get rid of the clumps.

Add food coloring once the mixture is smooth.

Cover bowl with plastic wrap or a microwaveable plate.

Place mochi mixture in the microwave and cook on a high setting for a minute. Not all microwaves have the same strength, so your cook time might be less or more. Please adjust accordingly. I have a powerful microwave.

Take out of the oven and stir. Cover again with plastic and cook another minute.

Repeat this until you cooked it for about 4 minutes.

You'll notice that the mochi will start to bake on the sides of the bowl. As you continue, the whole mixture will bake. If after 4 minutes everything is cooked except the middle, that's ok, it's done.

Take the plastic out of the bowl and now thoroughly mix the mochi with a big spoon. The sweet rice dough is now ready to add the azuki beans.
Forming the Mochi
Clean your counter and sprinkle it with Mochiko flour or cornstarch. I placed parchment paper down and then covered it with cornstarch.

Also, sprinkle a container or plate with Mochiko flour or cornstarch.

Scoop out your hot mochi onto your prepared surface. Cover the top of the dough with cornstarch or Mochiko flour.

Pat the mochi into a flat surface, adding cornstarch, so it doesn't stick. I usually flattened the dough to about a ¼ inch thickness. The mochi might be a bit hot, so you can let it cool a tiny bit before flattening.

Form dough into a small pancake about 3 ½ - 4 inches wide in diameter.

Place one azuki bean ball in the middle of your round pancake and bring up sides of mochi and pinch in the middle. Make sure that all edges get pinched together so there are no holes.

Roll mochi in a ball in your hand. Place seams side down on a plate that is sprinkled with Mochiko flour or cornstarch.

Repeat this process until all ingredients are gone.

If the mochi dough gets dry and won't come together, add a tiny bit of powdered sugar or water, and it will revive the dough, and it becomes sticky and pliable again.

To store, place plastic wrap around mochi and put in an airtight container.
Nutrition
Serving:
24
servings
|
Calories:
171
kcal
|
Carbohydrates:
41
g
|
Protein:
2
g
|
Fat:
1
g
|
Saturated Fat:
1
g
|
Sodium:
5
mg
|
Potassium:
65
mg
|
Fiber:
1
g
|
Sugar:
23
g
|
Calcium:
6
mg
|
Iron:
1
mg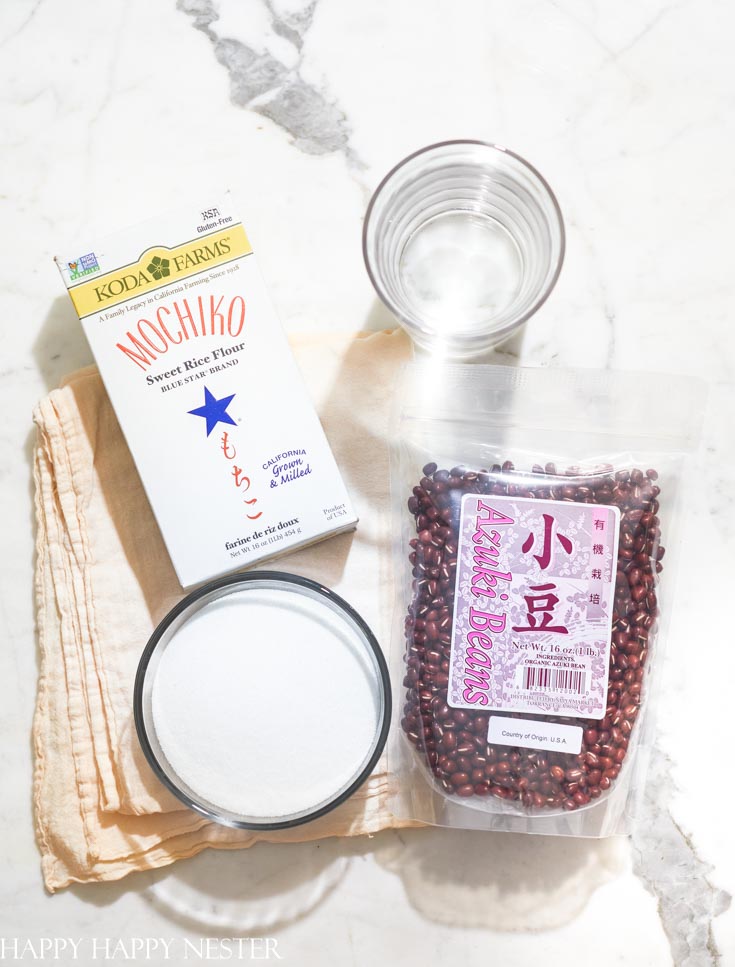 Here are all the ingredients you need for this mochi recipe. Well, this photo is missing the food coloring, but it gives you an idea of the ingredients you'll need.
Ok, let's take a look at how to make the Azuki beans and mochi.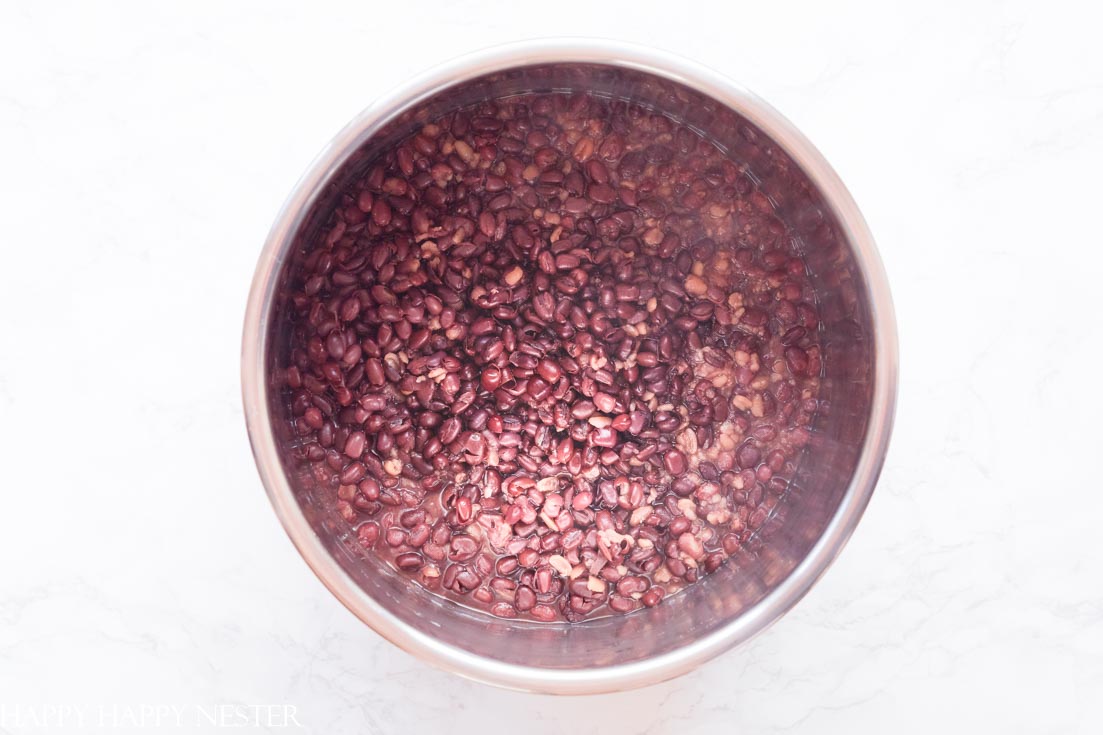 Here are the cooked beans. Drain and place back into the Instant Pot with sugar and cook until it is dissolved.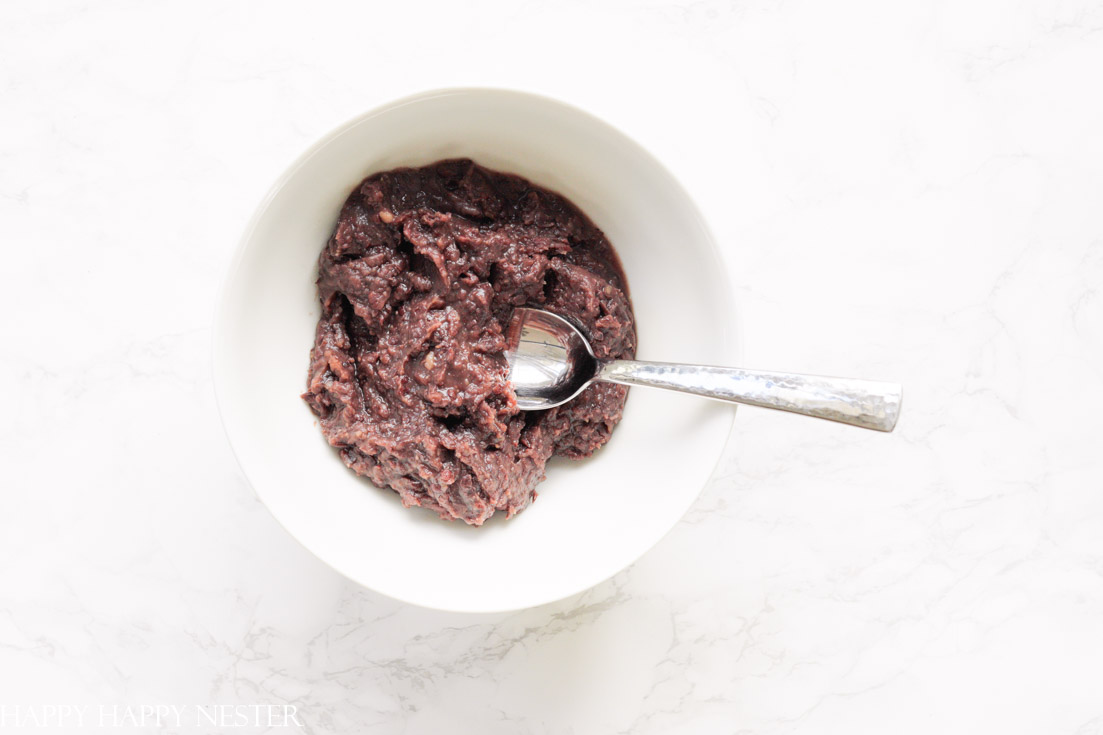 Place bean mixture in the fridge or let sit out on the counter until it thickens.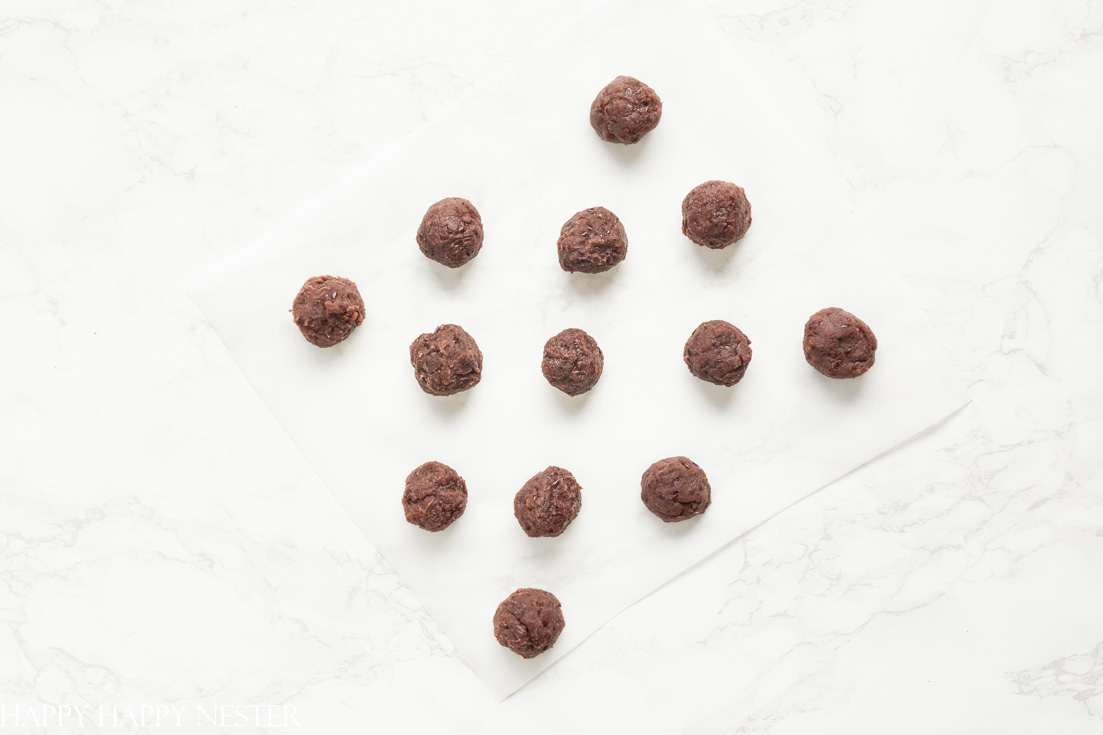 Shape beans into balls and place on parchment paper. Ok, I recently changed how to make the mochi so, you'll have a few extra beans leftover. You can place them in a plastic freezer bag and freeze them for later.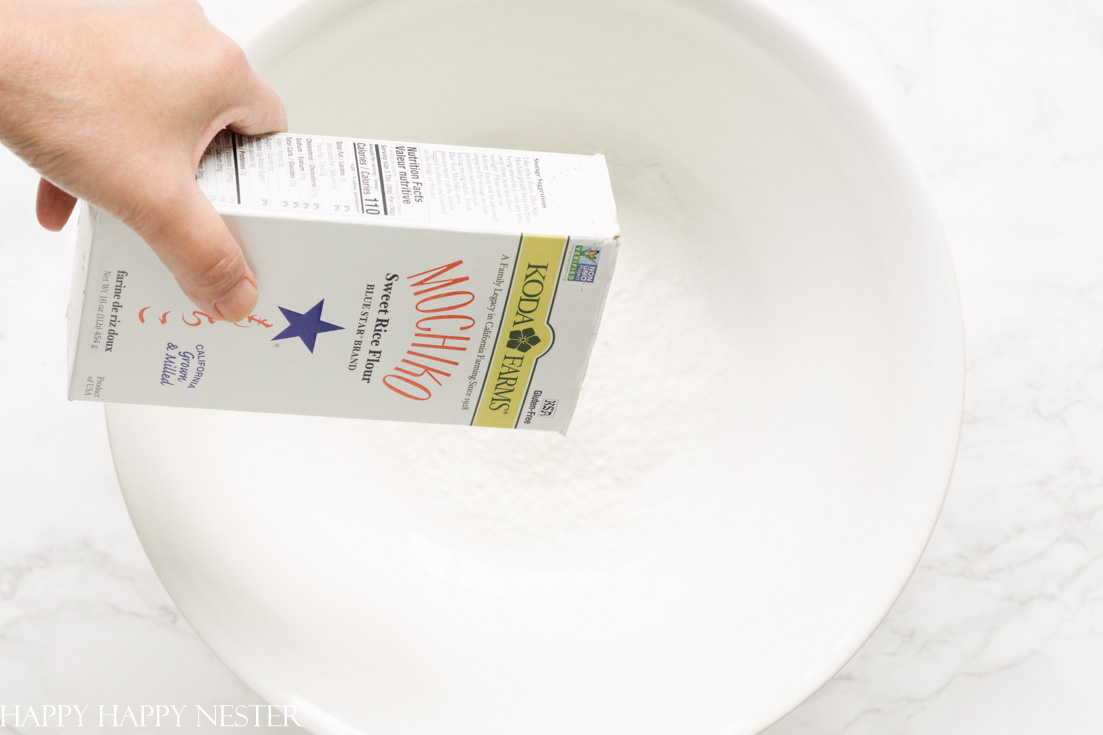 Photo: Mark Yamamoto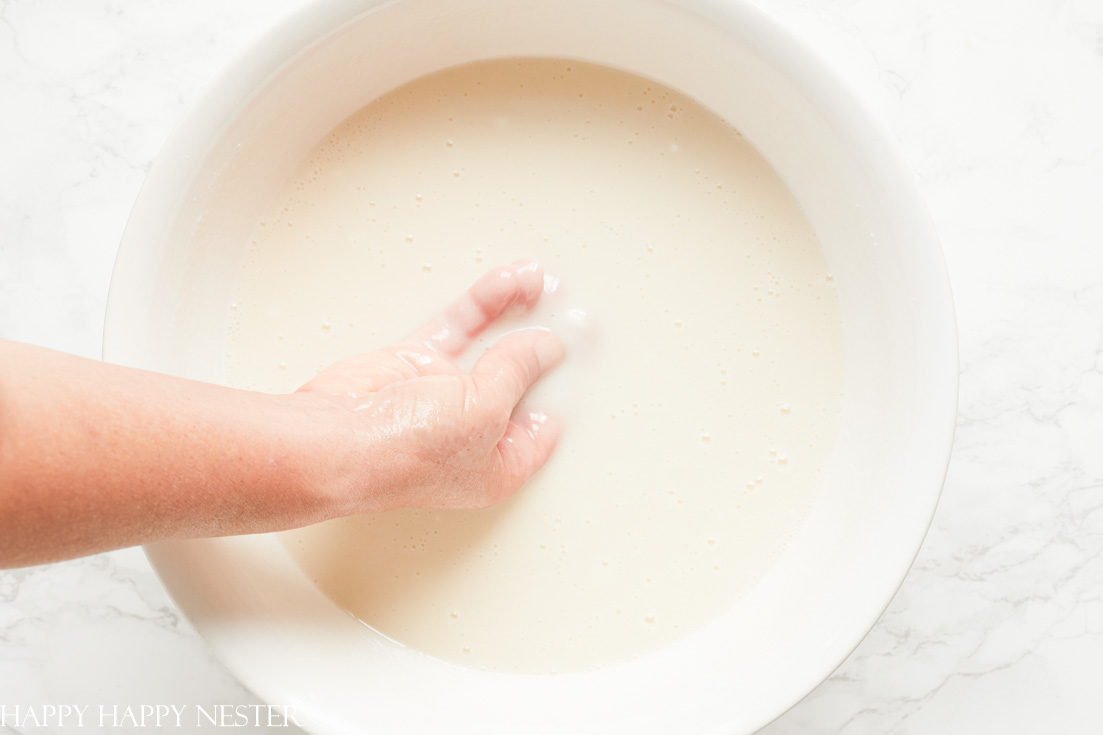 Mixing with your hands is the best way to get a smooth dough without any lumps.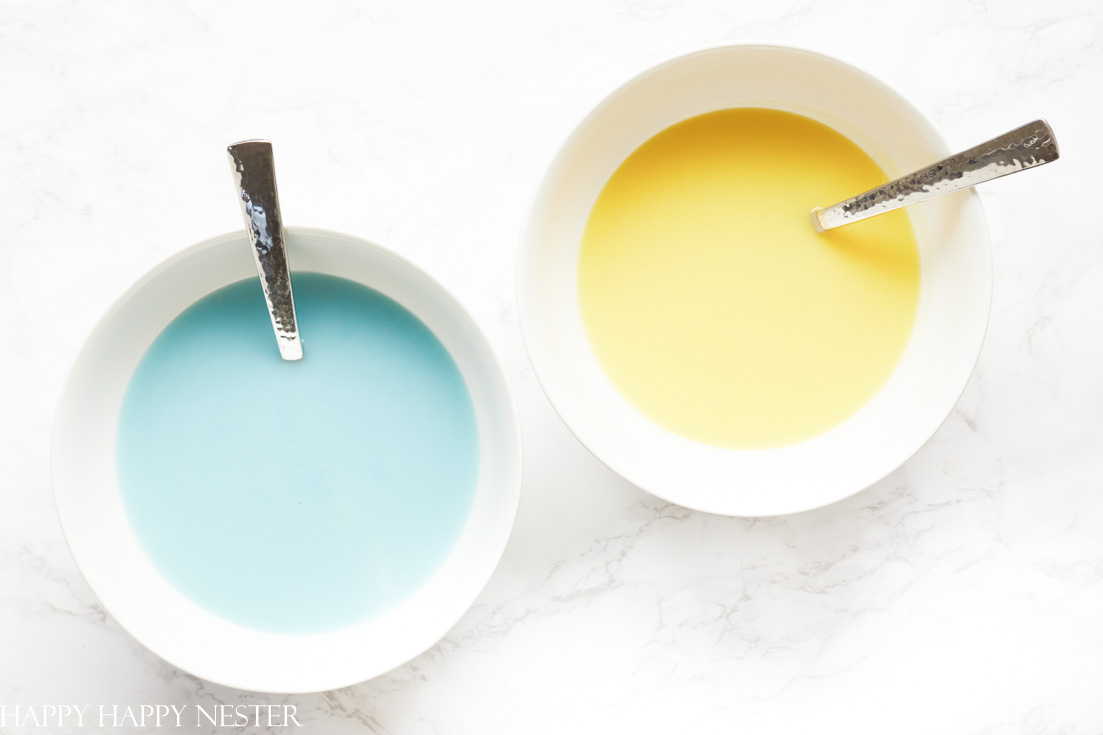 Most mochi recipes use red food coloring, but we decided to make a few new colors.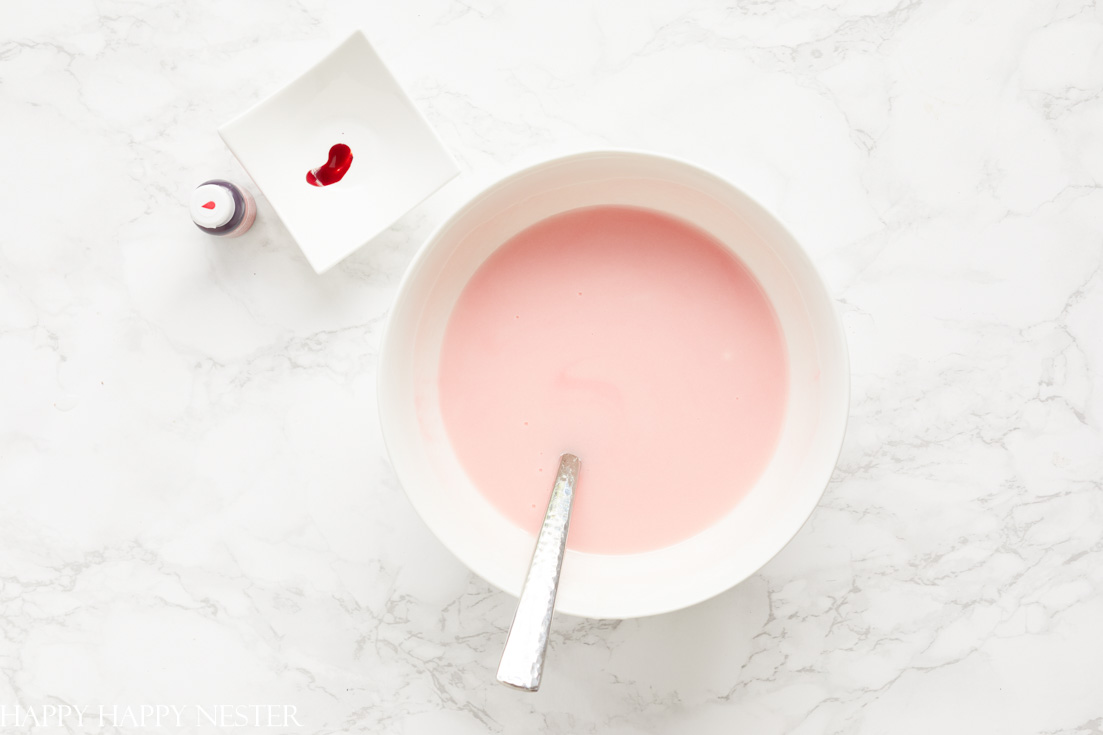 Placing the red food coloring in a small bowl and just adding a little at a time prevents a dark red mochi dough. So, now that I make my mochi in the microwave, I will add more photos. So stay tuned.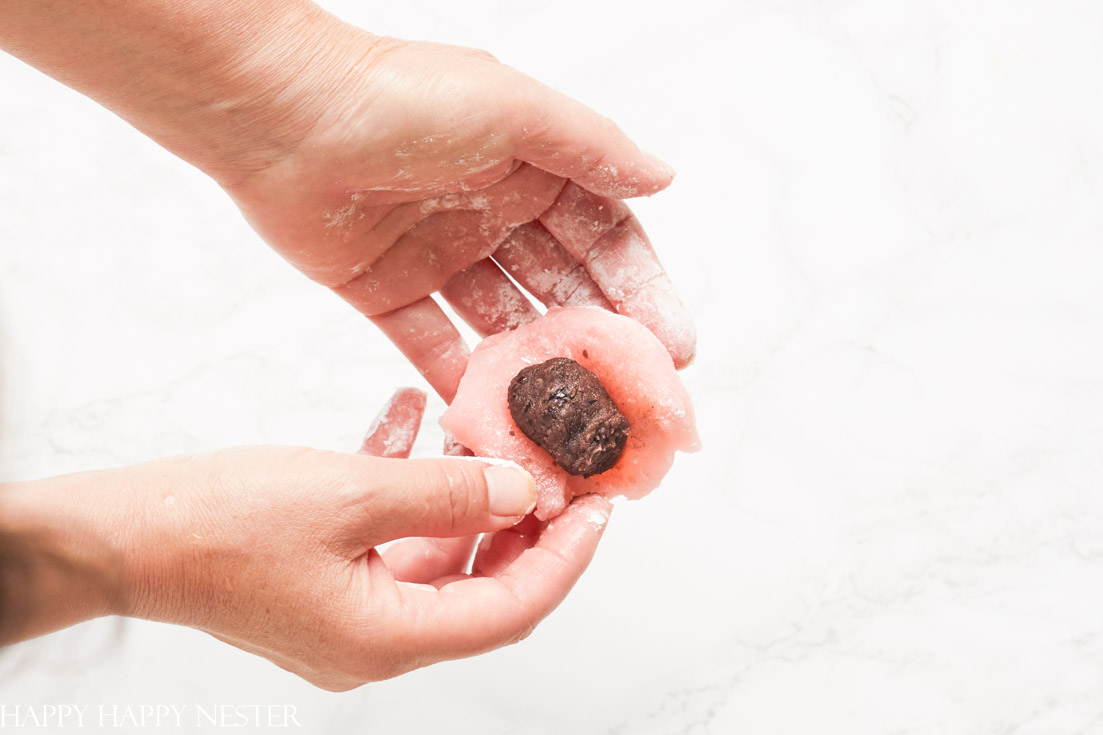 So with your portion of freshly cooked mochi, pat it down like a flat pancake. Make sure not to make the dough too thin or else the red bean paste (center) will poke through. Pull the edges up and over the Anko and pinch the ends all in the center. Once it is sealed together by pinching at the center, roll the mochi in your hands to form a ball. Place it on a plate dusted with mochiko flour. Keep making the mochi until all the dough and centers are used.
If you like Japanese Cuisine, check out my other recipes:
I didn't want to title this, Easy Mochi Recipe, because it is a kind of labor-intensive dessert. To spread the labor, I make the beans the day before, and then the next day I will complete the job. I'm always breaking up projects into much easier steps. If you don't have the time to make mochi and you live in the San Francisco Bay Area, make a trip to the Shuei-Doh Manju Shop in San Jose. Oh my, they carry so many flavors. They even make a peanut butter mochi!
Happy Baking, my friends!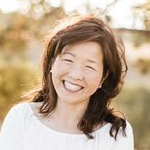 Latest posts by Janine Waite
(see all)