This easy Butter Mochi Recipe is made of Mochiko flour. It's a tasty Hawaiian cake with hints of coconut, custard, and butter. It's a wonderfully chewy, dense dessert that is unique and delicious.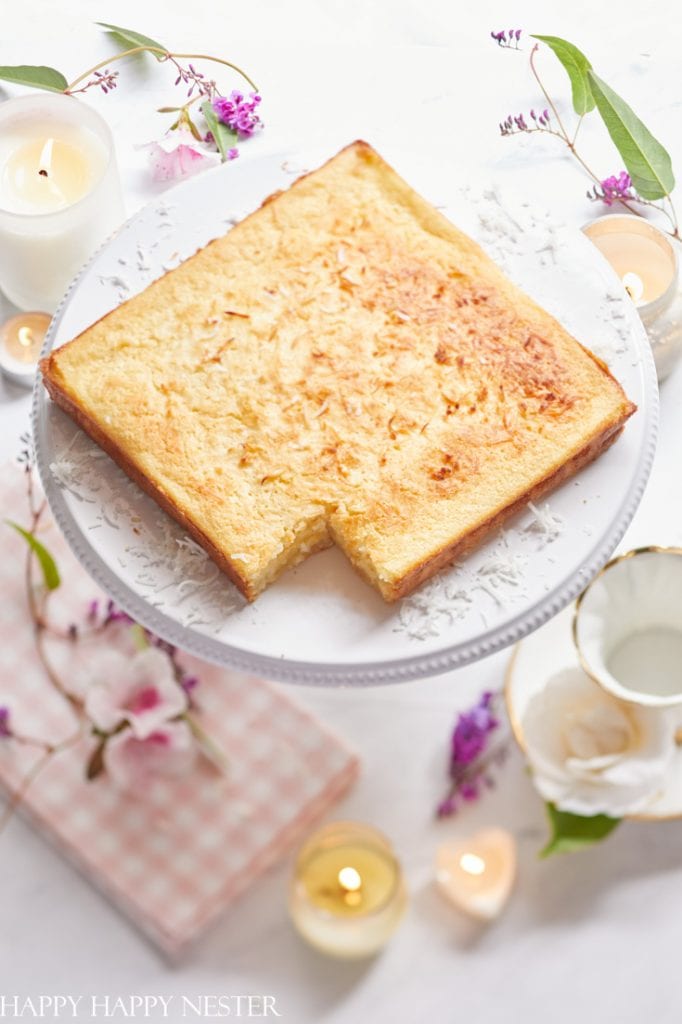 If you like bread pudding and custard then this dessert is inline with your taste buds.
Like my mom, Amy would say, this cake is a hit with my family. Speaking of my mom, she is the inspiration behind today's recipe.
But, before I share about her, I need to mention that today, my friends and I are sharing our family's favorite recipes. You can view their favorite recipes down in this post.
Also, here are more of our family's favorite recipes: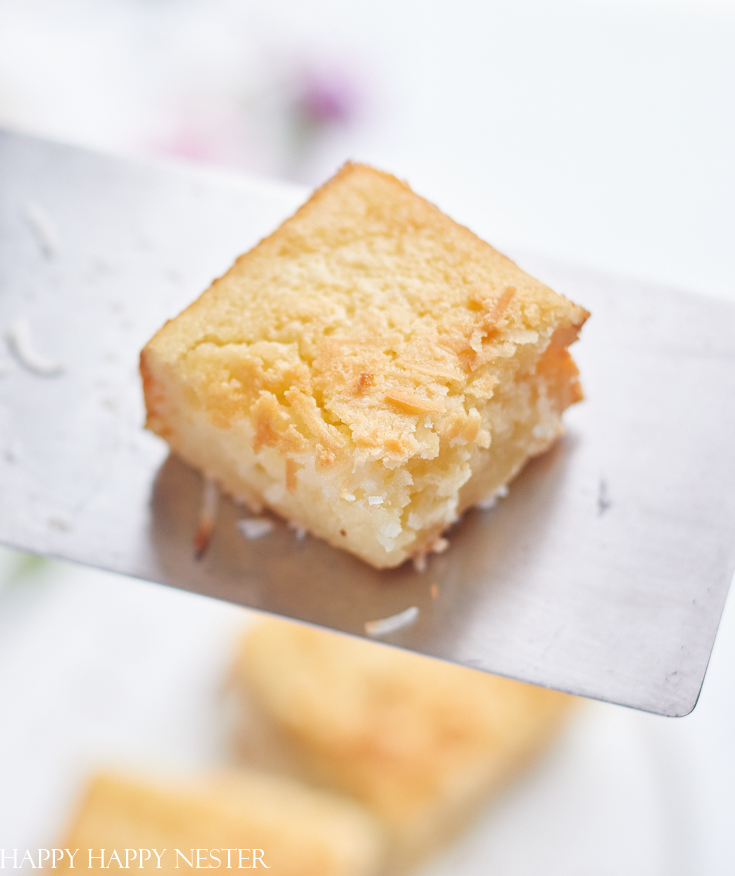 Butter Mochi Recipe
My recipe has roots in our family's love of the Japanese confection, mochi. I can remember my mom making it for our big holiday get-togethers. My aunties would bring their beautiful Japanese plates full of yummy sushi, and my mom would bring her flat round Tupperware container full of delicious pink and white mochis.
So growing up I really didn't learn how to make sushi all that much but rather my mom taught me how to make mochi or daifuku. It is so funny, now that my mom passed away, I'm trying to learn all the terminology of the foods we ate growing up.
Ok, at this point some of you probably have questions?
What are the Ingredients to Make Butter Mochi
*The following post contains affiliate links
Sugar
Baking Powder
Milk
Butter
Eggs
Vanilla Extract
Shredded Sweetened Coconut
Where Can I Find Mochiko Flour
Most Asian grocery stores carry Mochiko flour. But if you live in an area that doesn't have a specialty store, then I buy mine from Amazon. Here is the link to the sweet rice flour.
The Difference Between Butter Mochi and Japanese Mochi
Butter Mochi is a classic Hawaiian treat with coconut milk and sweet rice flour. It is baked like a cake and its texture is a bit like mochi, sticky and dense.
Mochi is a Japanese dessert that is made from either pounded Japanese short-grain rice called Mochigome. If you combine Mochiko flour with other ingredients, it is called Dango. I have not heard of the word Dango until recently. If you take mochi and add a middle ingredient like a sweet red bean paste, it is called Daifuku.
But as a kid, we lumped all of these types of Japanese desserts as Mochi. You may be familiar with Mochi Ice Cream.
What Flour to Use for Butter Mochi
This recipe calls for Sweet Rice Flour. Koda Farms is the main brand that makes this kind of flour. Mochiko is basically derived from short-grained rice. It is made by dehydrating the rice, and then it is ground into a powder. It is different than rice flour, and I address that difference below.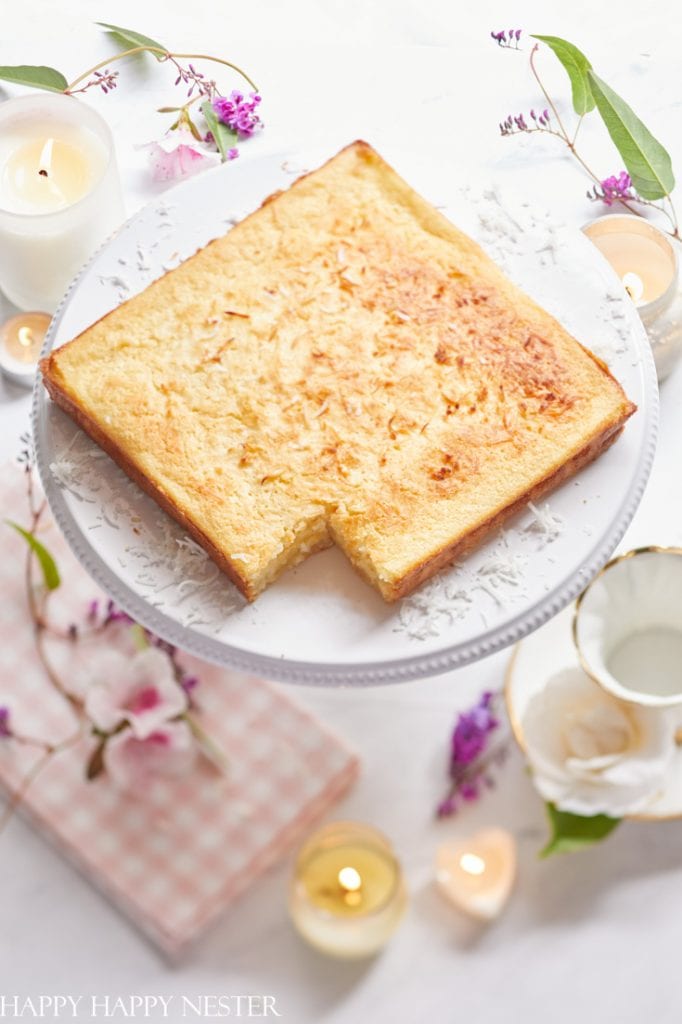 What is the Difference Between Sweet Mochiko Rice Flour and Rice Flour?
There are whole post devoted to this question! I will try and summarize it here in this paragraph.
Rice flour is obtained from medium to long-grained rice. This rice is what you probably use when making dinners.
Sweet Rice Flour or Mochiko is ground short-grained rice or otherwise known as Japanese sticky rice. It is starchy rice flour, and even though they call it glutenous, it doesn't contain gluten. It is also commonly called Sweet Rice Flour, but there is no added sugar, and the taste is not sweet.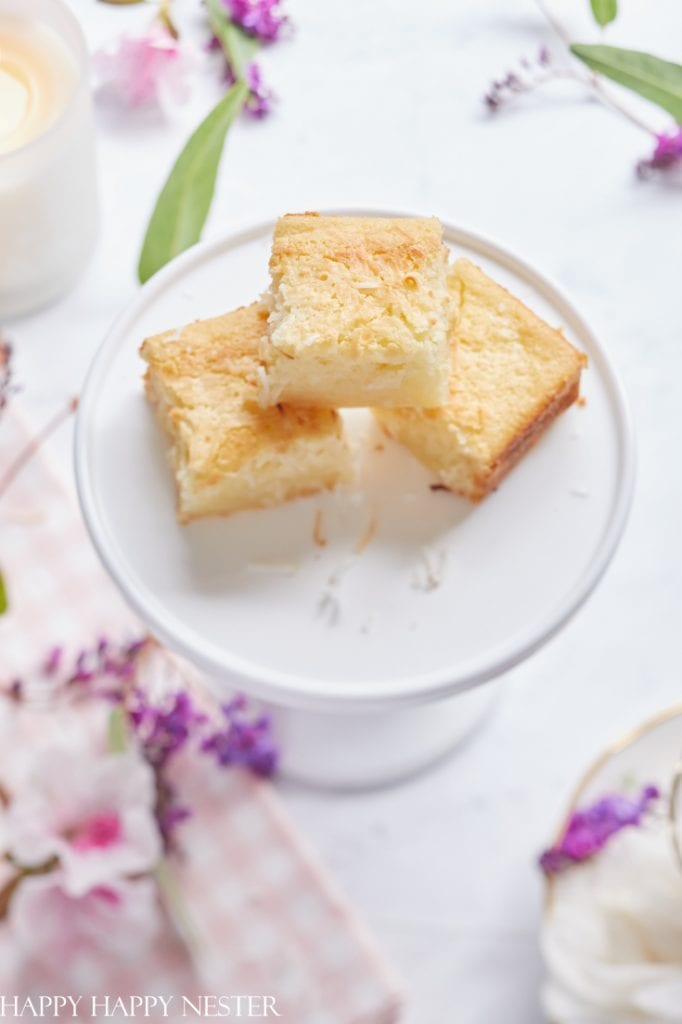 Where Did Butter Mochi Originate?
So there are many versions of this dessert. It looks like maybe it originated in India and then migrated to Portuguese colonies. Hawaii wasn't a Portuguese colony, but many Portuguese people immigrated alongside the Chinese, Japanese, and Filipino.
Is Butter Mochi Gluten Free?
Yes, there is no wheat gluten in Mochiko flour, so this Butter Mochi Recipe is a gluten-free dessert.
Hawaiian Butter Mochi Recipe
Make this easy Butter Mochi Recipe using Mochiko flour. This delicious Hawaiian cake has hints of coconut, custard, and butter. It is a chewy, dense dessert that you probably have never tasted. It is the best recipe!
Ingredients
2⅓

cup

Mochiko Flour

1½

cups

granulated sugar

2

tsp

baking powder

1

cup

milk

¼

cup

melted butter

2

large

eggs

beaten

½

tsp

vanilla extract

½

tsp

coconut extract

7

ounces

coconut milk

canned

½

cup

shredded sweetened coconut
Instructions
Prep your pan with Crisco. We will use an 8" x 8" square pan.

Parchment paper will line the bottom and the sides of your pan. So, cut out two equal pieces of parchment the size of the pan. Line the pan with one piece of parchment. Smooth out parchment so that there are no air bubbles. Grease the parchment paper on the bottom of the pan. Place your second piece of parchment on top of the first. You'll now cover the other two sides of the pan so that this paper will go perpendicular to the other paper. This will cover the whole pan.

In a large mixing bowl, combine Mochiko flour, sugar, baking powder, and shredded coconut. Mix thoroughly.

In a medium-size bowl, add and mix beaten eggs, milk, vanilla extract, coconut extract, and coconut milk. Slowly add melted butter to the mixture.

Now add the milk mixture to the Mochiko flour mixture. Using a whisk, mix until the lumps are incorporated. You may need to mix with your hands.

Pour batter into the prepared pan.

Bake for 40-45 minutes or until a toothpick inserted in the center comes out clean. Cool and cut into squares. Use a plastic knife to cut the squares, so the dough doesn't stick to the knife.
Nutrition
Serving:
1
g
|
Calories:
334
kcal
|
Carbohydrates:
53
g
|
Protein:
4
g
|
Fat:
12
g
|
Saturated Fat:
7
g
|
Trans Fat:
1
g
|
Cholesterol:
33
mg
|
Sodium:
70
mg
|
Potassium:
197
mg
|
Fiber:
2
g
|
Sugar:
27
g
|
Vitamin A:
247
IU
|
Vitamin C:
1
mg
|
Calcium:
65
mg
|
Iron:
1
mg
Here's What You Do If You Double This Recipe
Traditionally this Hawaiian coconut mochi recipe is made in a 13″ x 9″ pan, but I cut the recipe in half since an 8″ x 8″ square pan makes plenty for our family. If you double the recipe, you'll use a whole can of coconut milk and 5 eggs. And you'll bake it for an hour.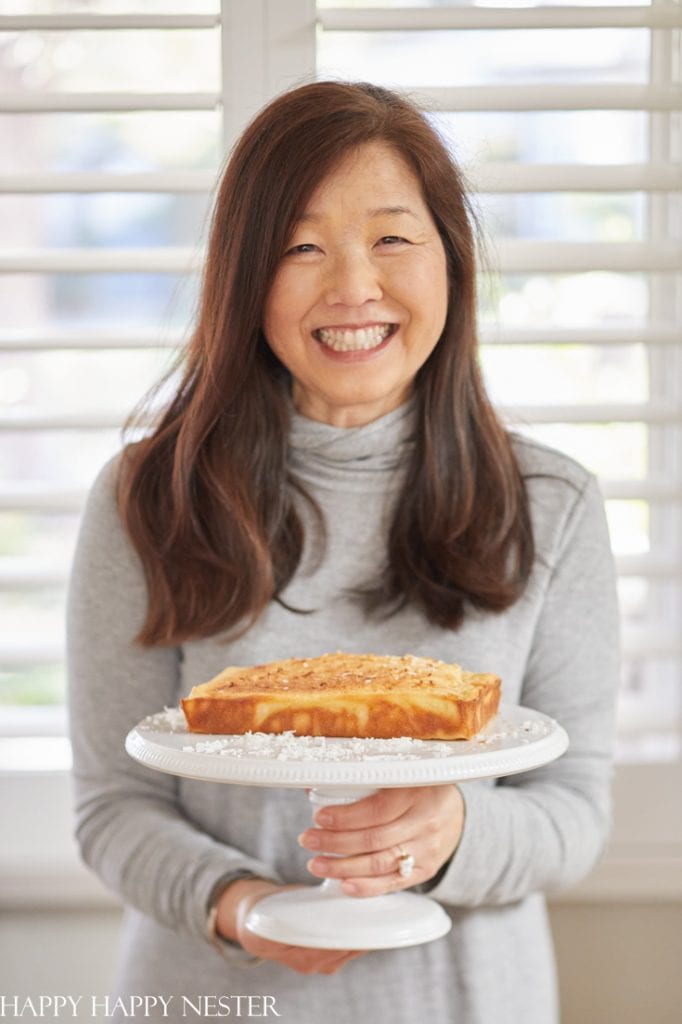 My four older brothers and their kids are obsessed with mochi. My niece, when she was little, would take stock of the mochi and count each one. If her inventory number was off, she would go around the family and asked how many each of us had eaten.
I stumbled upon Butter Mochi when my brother, Brian, raved about this Hawaiian dessert. So, he sent me the Butter Mochi and a Peanut Butter Mochi recipe, and I was hooked. What happened next is I combined a bunch of recipes to create this final version.
What I loved about one recipe was the crunchy sugary top. Some blogger said that the crunchy topping is the butter caramelizing. Oh yum!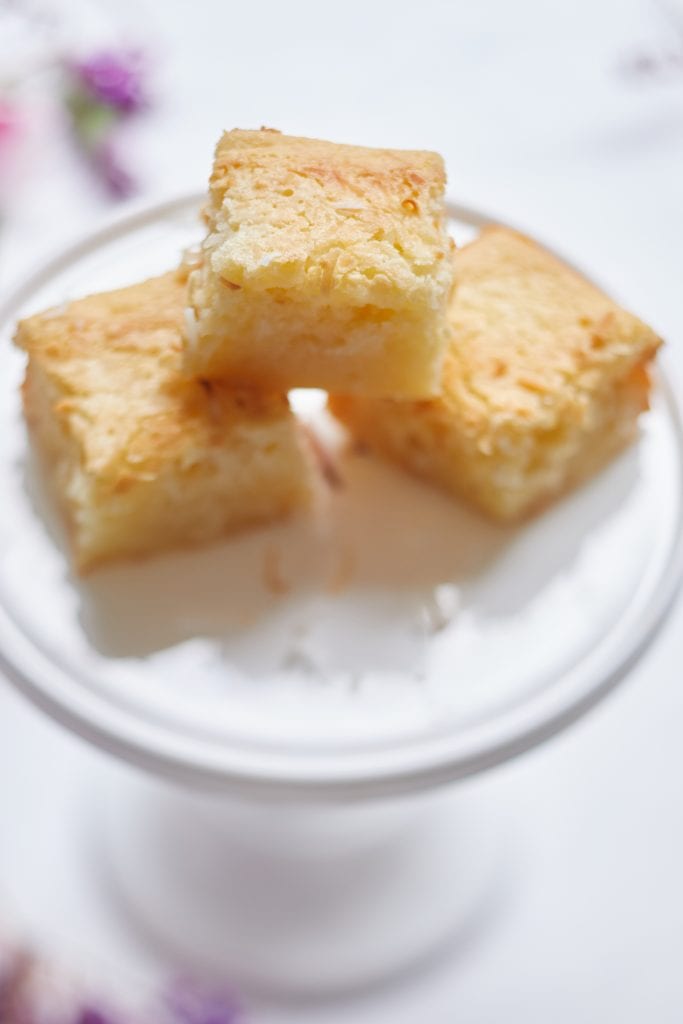 The last couple of weeks, I've been a crazy lady, and I'm making so many mochi desserts. Our kitchen counter is full of tantalizing treats. I've sent a ton home with my brother, and he is enjoying them too.
I did recently update my mochi recipe, and now I use the microwave to make it. Also, when the mochi is baked in the microwave, the dough is pretty pliable for a long time. It is softer, which is helpful in my opinion.
And oh yeah, don't forget to check out my friend's family recipes.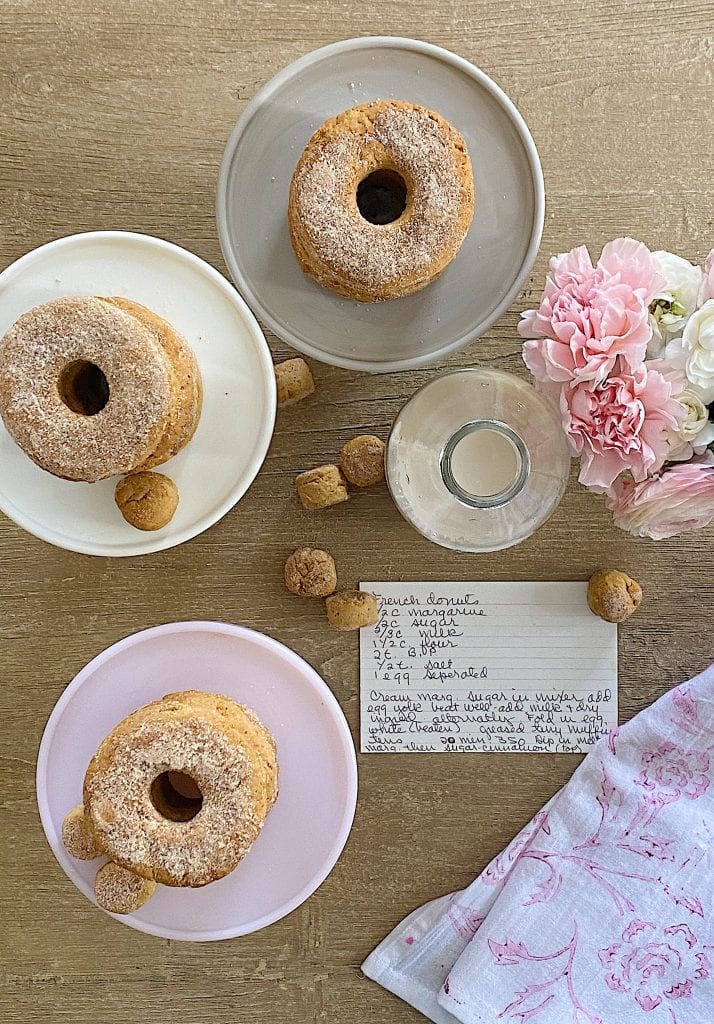 My 100 Year Old Home | Easy Air Fryer Donut Recipe
Today I modified my Mom's French Donut recipe into an Easy Air Fryer Donut recipe. This no yeast recipe is made from scratch, gluten-free, and cooked in my Ninja Food air fryer. These sugar cinnamon donuts (and donut holes) are delicious.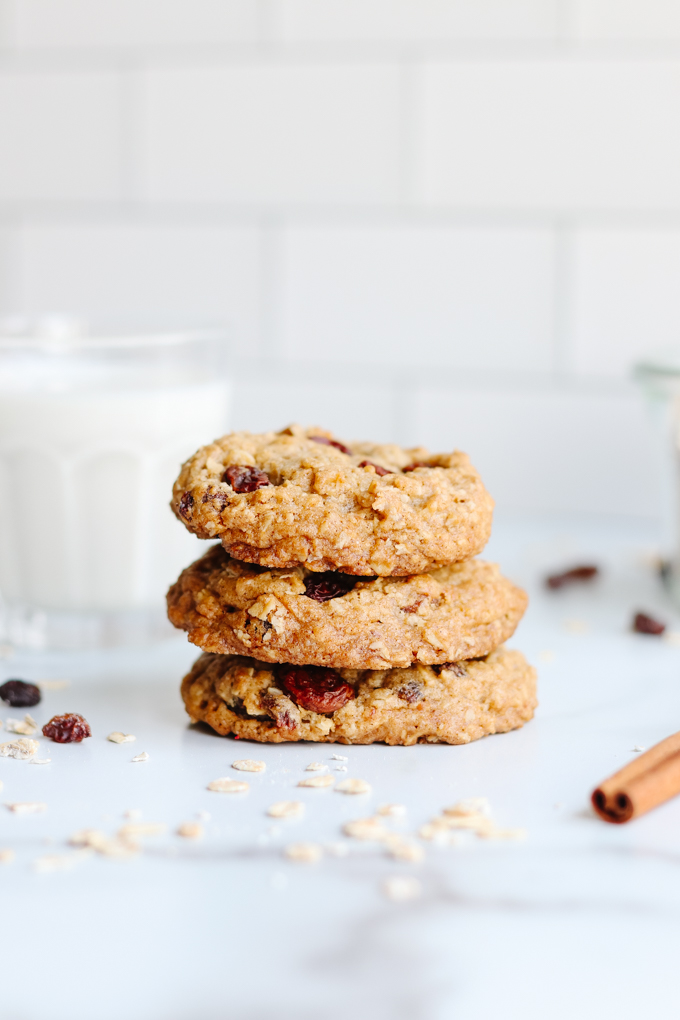 Modern Glam | Bakery Style Oatmeal Raisin Cookies
This bakery style Oatmeal Raisin Cookie Recipe is inspired by my mom. Chewy, buttery cookies filled with spices and delicious flavor. Grab the easy recipe!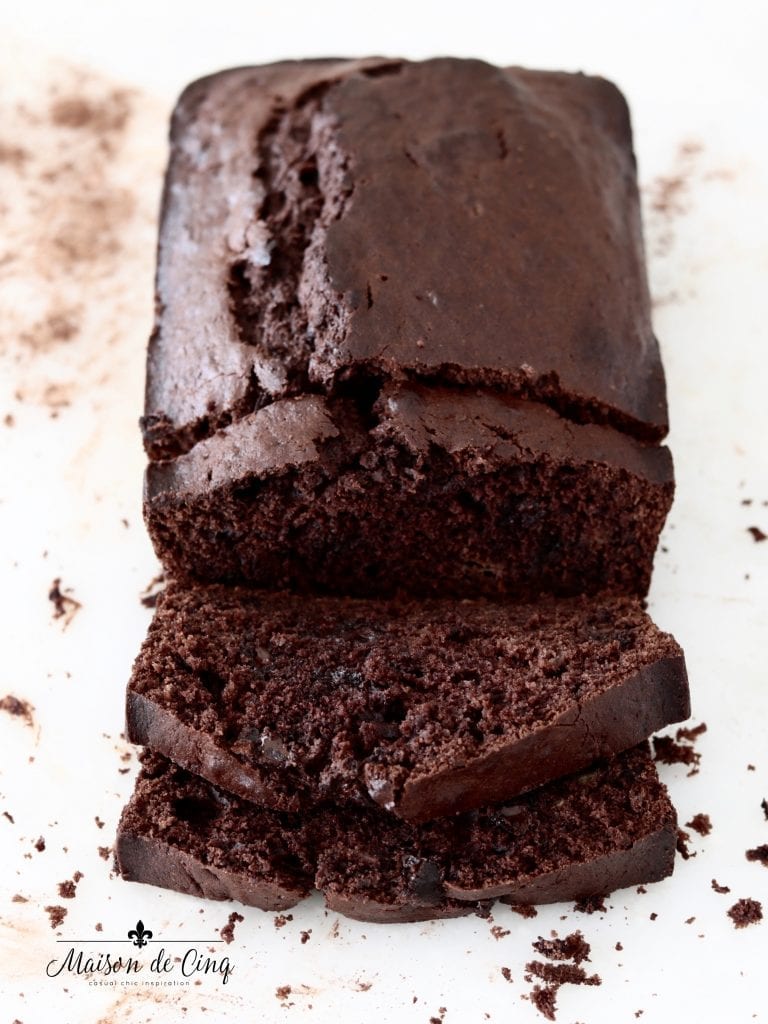 Maison de Cinq | Chocolatiest Chocolate Banana Bread
Using both cocoa powder and chocolate chips really takes this banana bread over the top!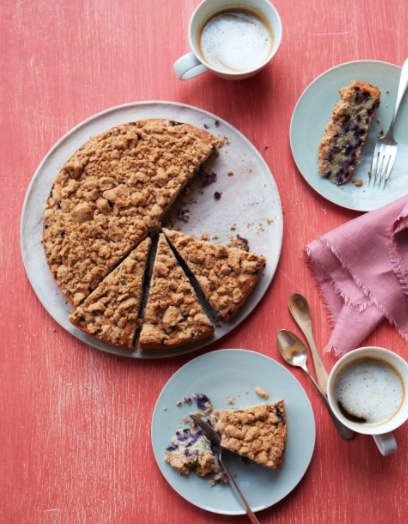 Martha Stewart | Martha's Mom's Blue Berry Buckle
This streusel-topped, fruit-filled dessert is a crowd-pleaser, perfect for a family celebration.
Thanks so much for stopping by to this yummy Butter Mochi recipe post.
Happy Baking,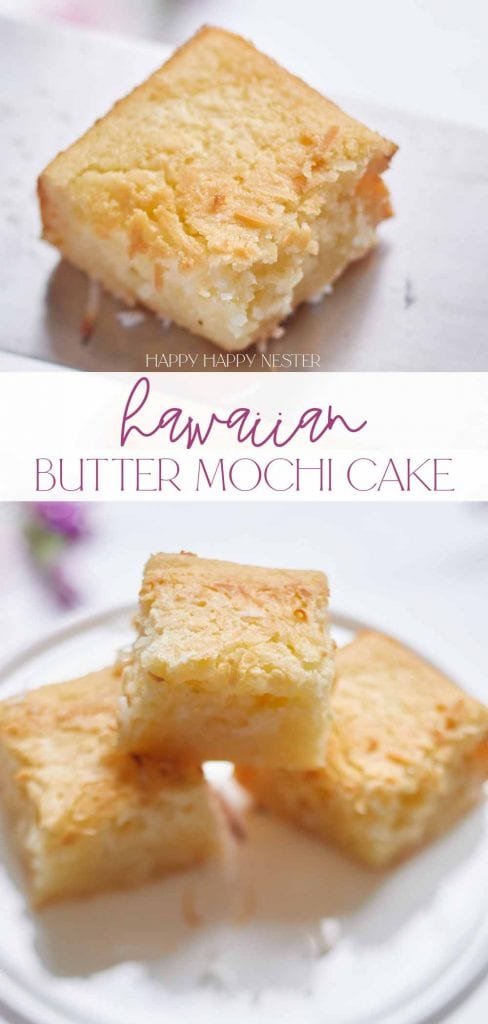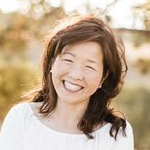 Latest posts by Janine Waite
(see all)