Hawaiian Chicken Recipe is a recipe that my family got from a friend who grew up in Hawaii. The chicken is coated with sweet rice flour (Mochiko) and fried and drizzled with shoyu or soy sauce.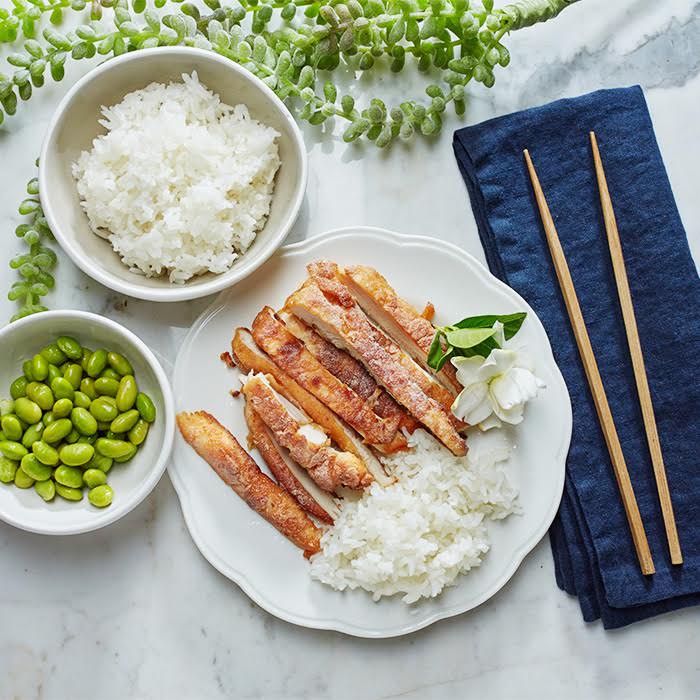 This chicken has a crispy delicious outside with moist meat on the inside. Another name for this dish could be Mochiko Chicken or Fried Hawaiian Chicken. This simple recipe is an all-time family favorite of ours.
A Family Recipe
I have wonderful memories of my mom preparing this tasty chicken and bringing it along to my brother's football games. We happily ate this dinner while we sat in the bleachers and cheered his team on.
Also, I have very vivid memories of our family road trips and this Hawaiian chicken recipe. My mother would line a gift box with tin foil and neatly place each slice of Hawaiian chicken in the box. She would also pack, perfectly round balls of rice that went great with the chicken.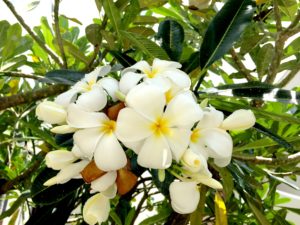 When I was a kid growing up in California, my mom was always sharing recipes with our neighbors. One friend who grew up in Hawaii had a family recipe for Hawaiian Chicken.
Well, this recipe became one of my mom's go-to dishes. So, it only makes sense that it has quickly become my family's favorite new comfort food as well, especially since it is light and healthy. Comfort food for us is a warm, delicious meal that has a few basic ingredients.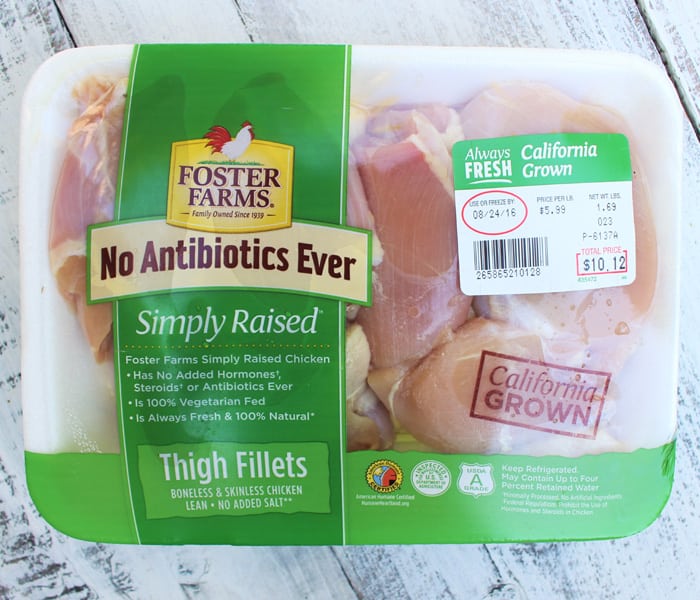 Hawaiian Chicken Recipe Ingredients
Chicken Thighs – You can use breast if you prefer)
Rice Flour – I use Koda Farms Mochiko Rice Flour
Sweet Rice Wine – I use Mirin which is a sweet rice wine
Soy Sauce
Garlic Salt
Cooking Oil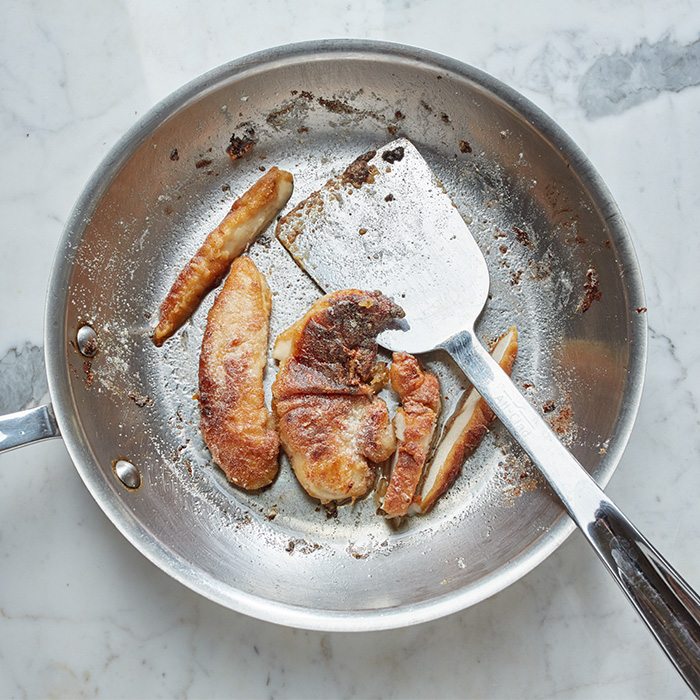 Here are some side dishes to add to this Hawaiian Chicken recipe.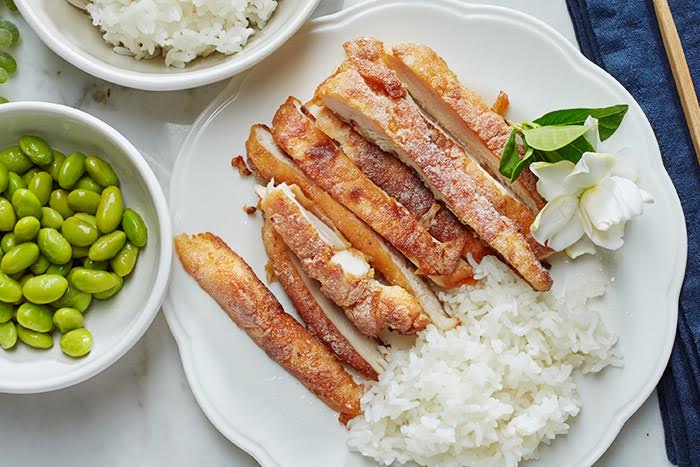 Photo: Mark Yamamoto
Make this yummy chicken recipe and add a side of Japanese sticky rice, corn on the cob, and edamame.
It's the perfect simple meal that my family loves. Also this recipe can be served warm and cold which makes it an easy and versatile dinner.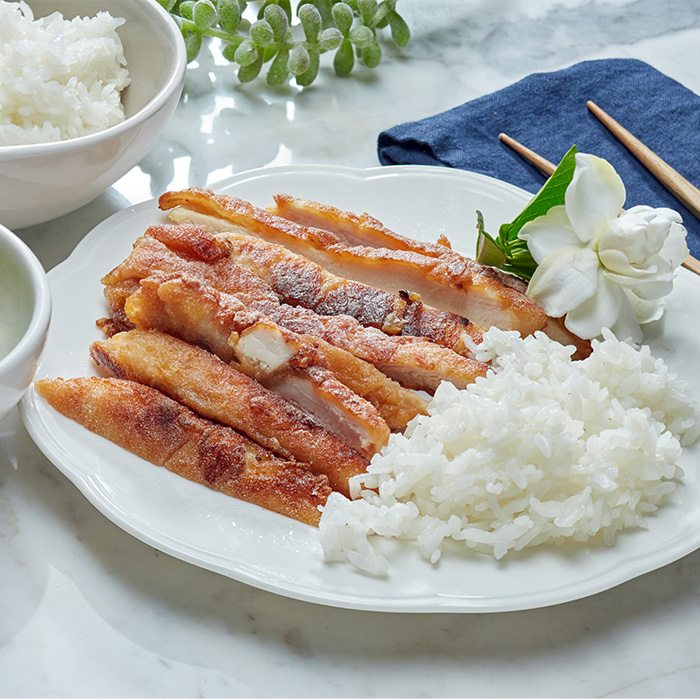 Millie's Hawaiian Chicken Recipe
This easy Hawaiian Chicken recipe is crispy, delicious, and easy to make. Also, it's gluten-free and has only seven ingredients.
Ingredients
8

chicken thighs

boneless and skinless

¾

cup

cooking oil
Chicken Marinade
1

cup

mirin

sweet rice wine

1

tsp

garlic salt
Chicken Coating
1

box

Mochiko Rice Flour

You won't use this whole 16 oz box
Sauce
2

tbsp

Mirin

2

tbsp

soy sauce
Instructions
Add garlic salt and Mirin in a bowl and place chicken in the marinade. Make sure that the sauce is covering the chicken thighs. Cover the bowl and marinate the night before.

The next day, take thighs out of the marinade and dip in Mochiko flour. Cover a skillet with oil and fry the chicken pieces thoroughly.

Place cooked pieces in a 9"x 13" glass baking pan.

Mix 2 tbs of soy sauce and 2 tbs of Mirin.

Sprinkle soy sauce mixture over cooked chicken,

Bake at 350 degrees for 20-25 minutes.

Remove from oven and slice and serve.
Nutrition
Serving:
1
g
|
Calories:
650
kcal
|
Carbohydrates:
29
g
|
Protein:
38
g
|
Fat:
80
g
|
Saturated Fat:
13
g
|
Polyunsaturated Fat:
20
g
|
Monounsaturated Fat:
42
g
|
Trans Fat:
1
g
|
Cholesterol:
221
mg
|
Sodium:
1775
mg
|
Potassium:
483
mg
|
Fiber:
1
g
|
Sugar:
16
g
|
Vitamin A:
176
IU
|
Calcium:
20
mg
|
Iron:
2
mg
I have altered my mom's recipe a bit to create a new version of comfort food for my family. I coat the chicken twice which creates an even crispier outer layer. To do this, after coating with the rice flour, dredge it through the bowl of mirin and then coat again with mochiko. This super crispy chicken makes for a happy family. Also, since most of us are so busy these days, you can omit the 24 hours of soaking and instead soak the chicken for 30 minutes.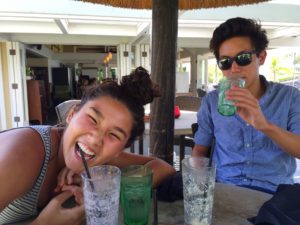 I had to include this fun photo I took on our summer trip to Hawaii. Don't be deceived by my skinny kiddos, they can put away food like nobody's business. Ah, teenagers, you gotta love them.
By the way, my super talented brother took the chicken photos and he now has a website! Take a look at his new gallery: My Photography
Cheers,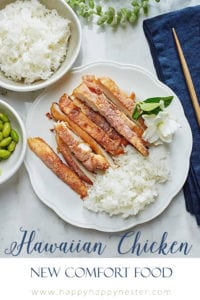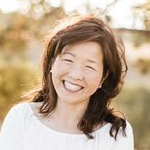 Latest posts by Janine Waite
(see all)