Sweet Pickled Daikon Takuan is the best combination of sweet, salty, and tangy! The pickled daikon can be eaten alone or as a side dish. Mostly in our home, we pile it on a bowl of rice. It is a great crunchy pairing with rice.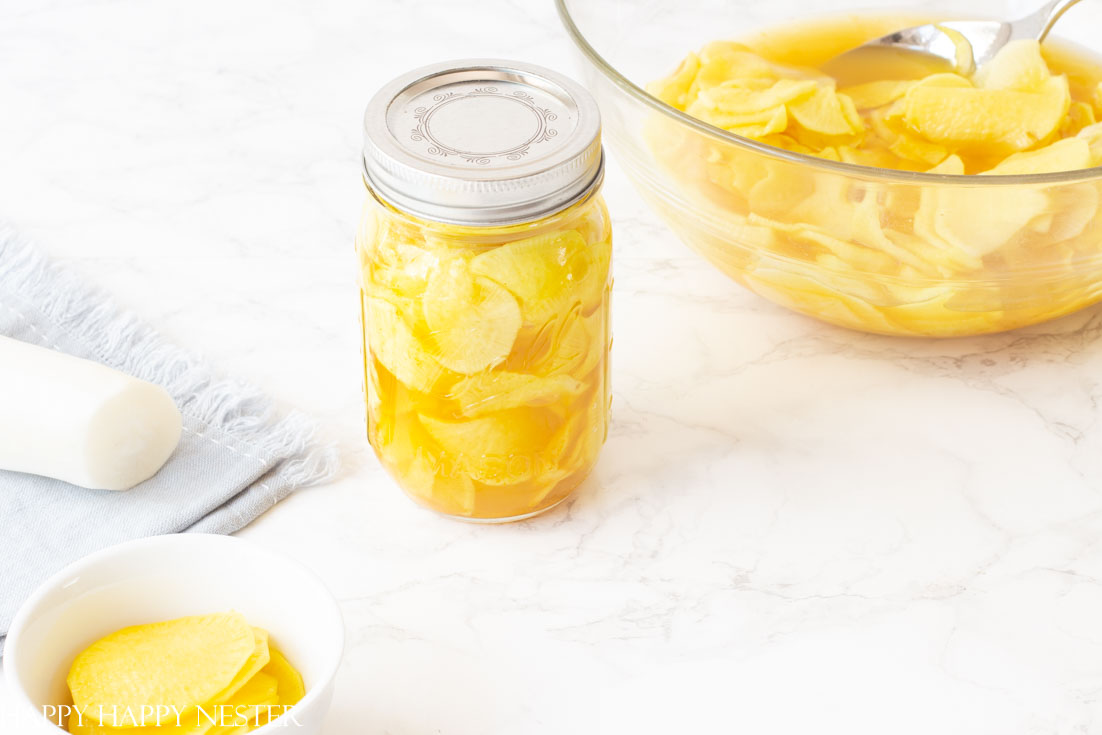 *The following post contains affiliate links
This recipe combines many healthy ingredients. From the fat-burning qualities of Daikon to the anti-cancer qualities of Turmeric, this is a great little recipe.
I'm happy to say that I had this pickled dish most of my life. You see, my auntie made it and happily shared a jar with our family. She was like our grocery store for certain things. But, once my parents moved away, and we didn't see my auntie as often, she kindly shared the recipe with my mom. So, this recipe comes from my Auntie. I find it a bit bittersweet since she passed away a couple of years ago, and I wish she could've seen this post. So, I'm dedicating this post to my Auntie Emy as a thank you for the many jars of Takuan and her great recipe.
Sweet Pickled Daikon
Let's take a look at the ingredients more closely.
Daikon Radish
It is technically a radish. It is an East-Asian variety of radish. It is mild in taste, and the root is somewhat long and thick. It is also known as Icicle Radish because of its shape.
Turmeric
Turmeric is a spice that comes from the Turmeric plant. And I didn't know that it is the main spice in curry and is used to color cheese, mustard, and butter.
Vinegar
It is a mild acid that comes from fruits, grains, alcoholic beverages. It undergoes a slow fermentation process.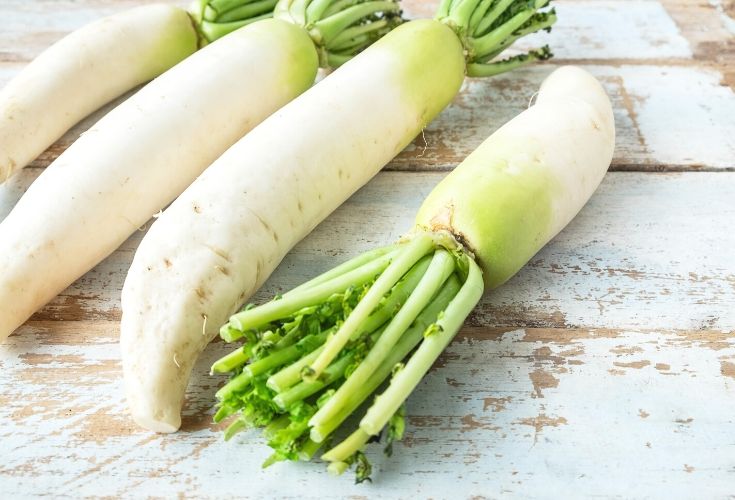 What is Takuan and Tsukemono?
Tsukemono
Ok, we are going deep into the weeds on this topic. Growing up, my parents call this sweet pickled daikon as Tsukemono. Well, as a child, I incorrectly called skih-MO-no. But, anyway, Tsukemono, according to Wikipedia, is pickled anything and mostly vegetables. They are served with rice or as a side dish.
Takuan
Takuan is pickled daikon radish. Its roots are Korean, but it is popular in Japanese cuisine.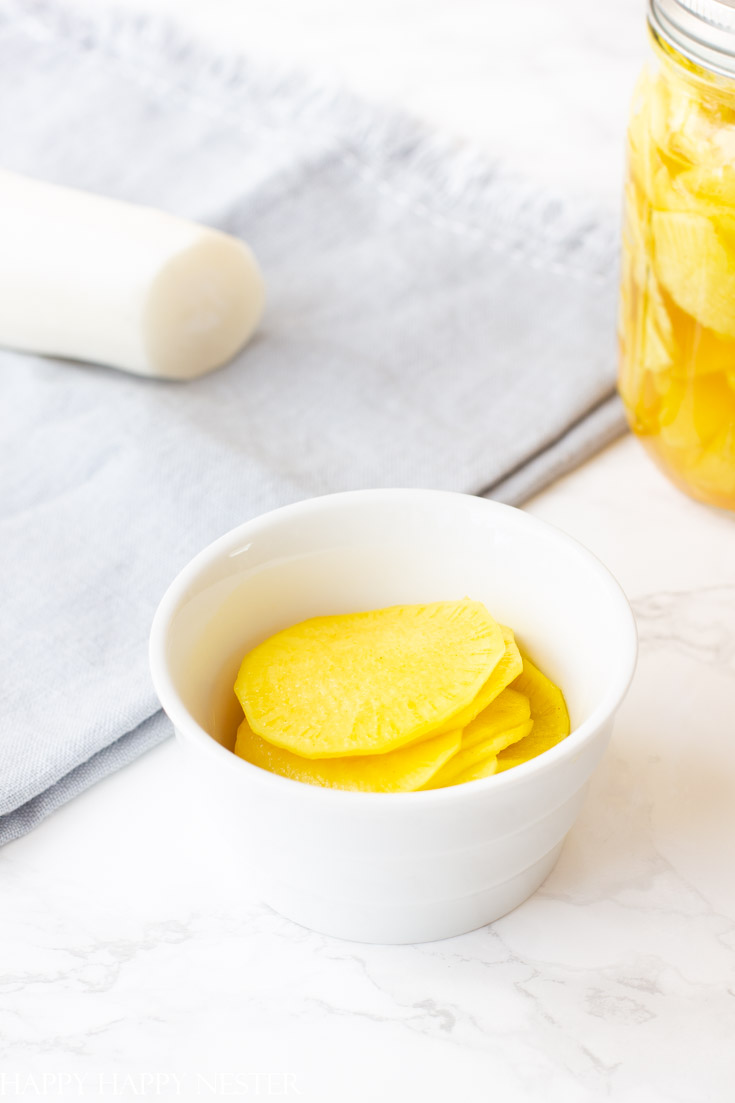 Added Health Benefits of Pickled Daikon
Oh my goodness there are so many great things about some of these ingredients, where do I even begin? I'll give a general idea of some great benefits.
Anti-Inflammatory
Turmeric, Daikon, and Vinegar
Weight Loss
Daikon, Turmeric, and Vinegar
Heart Health
Vinegar, Turmeric, and Daikon
Prevents Some Types of Cancer
Turmeric and Daikon
How Do You Eat Sweet Pickled Daikon?
We mostly top our bowl of rice with Takuan. I load it up since the crunch goes so nicely with the sticky rice. Also, it can be a side dish to say Salmon Teriyaki! Ok, now I'm getting super hungry. If you are like me, I begin snacking on it once it is ready, and I eat it straight out of the bowl.
How Do You Know it is Ready to Eat?
It soaks up the juice, and it turns a little translucent yellow. The white radish will turn a pale yellow when it is ready.
Sweet Pickled Daikon Takuan
Sweet Pickled Daikon Takuan is a combination of sweet, salty, and tangy. These pickles are crunchy, delicious, and make a perfect rice topping or side dish.
Ingredients
3 ½

pounds

Icicle Radish (Daikon)

3

cups

sugar

⅓

cup

salt

½

cup

vinegar

1

tsp

turmeric
Instructions
Peel daikon. Thinly slice the daikon with a mandoline. Place slices in a big bowl.

Mix sugar, salt, vinegar and turmeric and add to the daikon.

Cover daikon with sugar mixture and let sit for a couple of hours.

Place the Takuan in clean two 8 ounce mason jars and refrigerate.
Nutrition
Serving:
0.25
cup
|
Calories:
22
kcal
|
Carbohydrates:
16
g
|
Protein:
2
g
|
Fat:
1
g
|
Saturated Fat:
1
g
|
Sodium:
7612
mg
|
Potassium:
731
mg
|
Fiber:
5
g
|
Sugar:
10
g
|
Vitamin C:
70
mg
|
Calcium:
90
mg
|
Iron:
2
mg
Some More Japanese Dishes: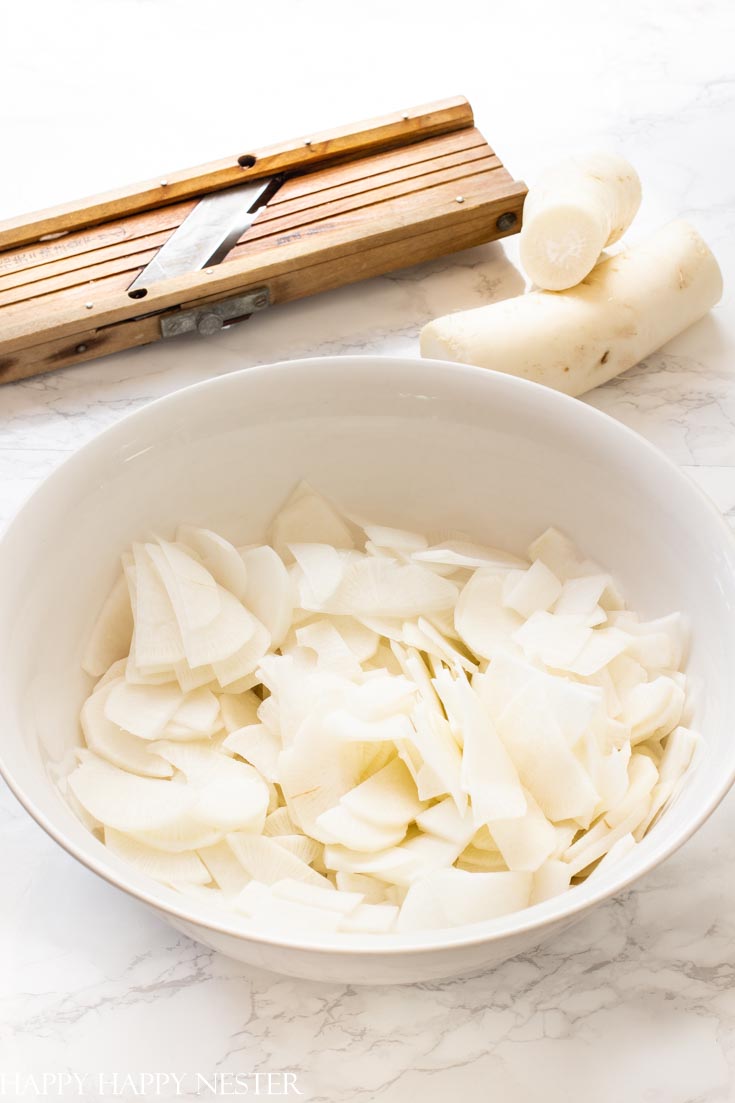 How to Slice the Daikon
I have my grandmother's Asian mandoline. It works great but every time I use it I cringe since it is so dangerous to use. I suggest that you should invest in a nice one that is safe and modern. Here are a few if you are interested, Mandolines.
How Long will Pickled Takuan Last?
I noticed that after about 3-4 weeks, the Takuan begins to look old and darker. But it technically should last a long time in the fridge since it is pickled.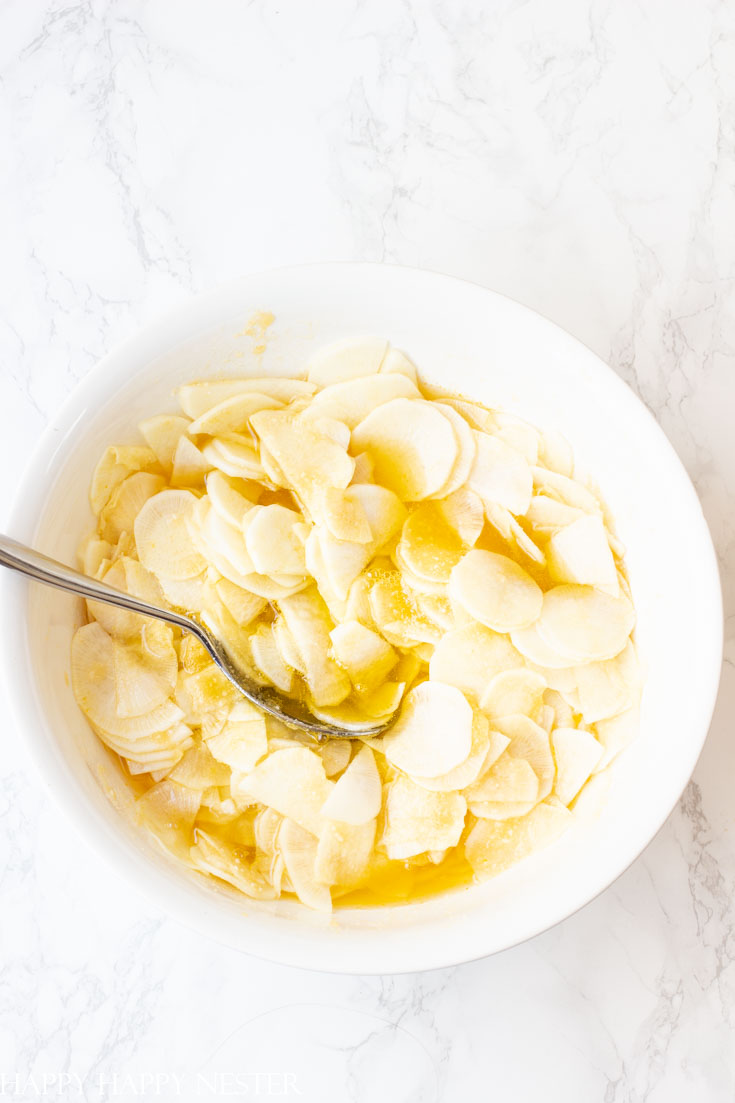 I Hope You Like Our Family Recipe!
I wasn't going to post this sweet pickled daikon recipe since it is pretty unique and obscure. But, when I shared it in my Instagram stories, I found a lot of people loved talking about it and even asked for the recipe. So, I promised them I would post it on the blog. I also love that when my brothers ask for our family recipes, I can point them to my blog. It is so convenient to have all my recipes over here, and we now have a family cookbook that will never go away.
Have a lovely weekend, and thanks so much for stopping by!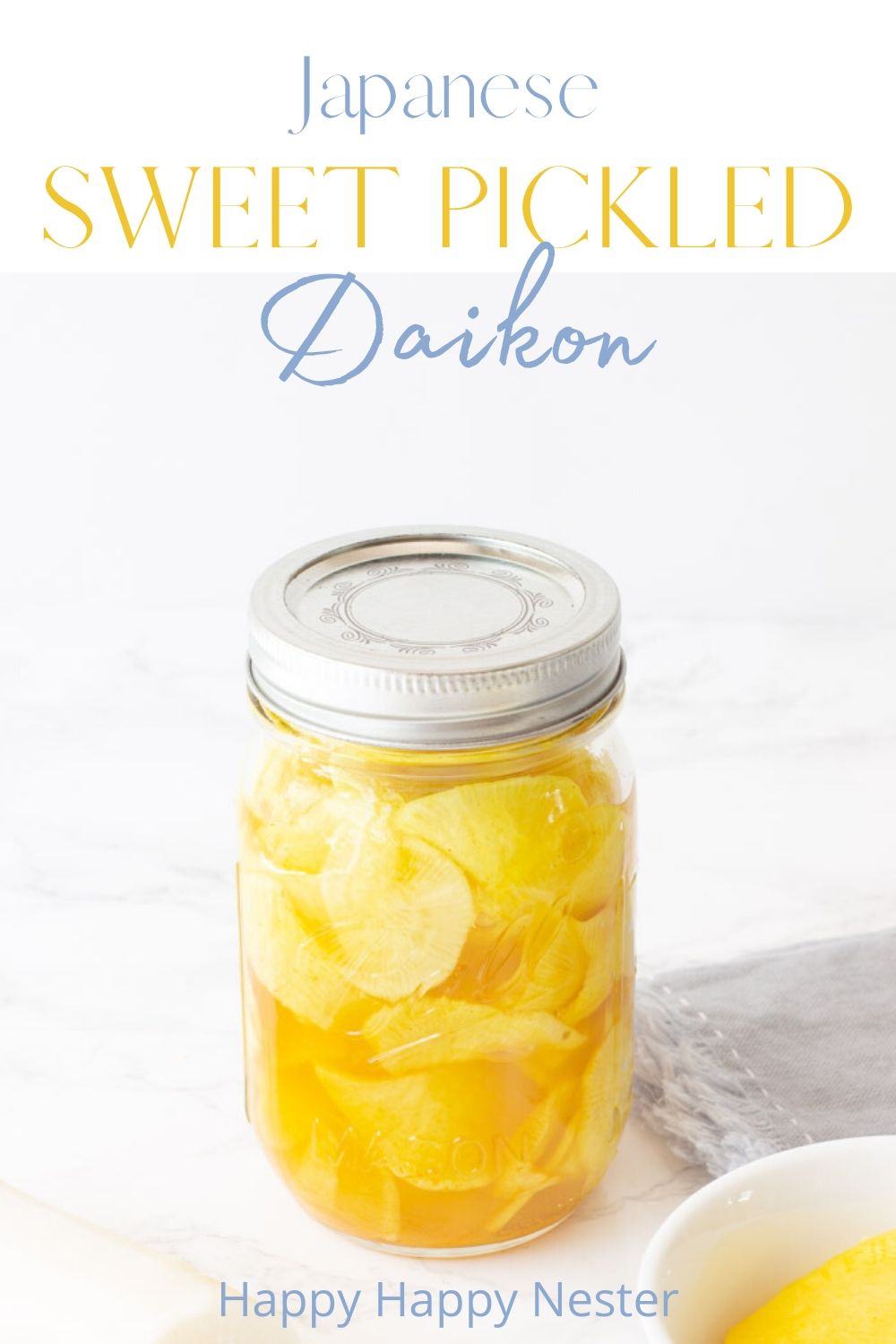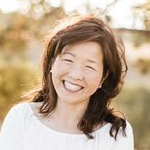 Latest posts by Janine Waite
(see all)