My mother would've loved this Mochi Donut Recipe if she was still around. Our family loved anything to do with mochi! So, it made sense that I share this wonderful Japanese-inspired dessert with you. The ingredients contain flour and a few others like sweet rice, tapioca flour, potato starch, and xanthan gum.
But rest assured, it is an easy recipe, and these donuts are so tasty.
I'm always on a mission to find unique and exciting desserts and dinners. My daughter's friend found a little shop that makes these tasty donuts, and she introduced them to us. The minute we ate one, we were hooked. And the rest was history.
As I said, my family loves everything mochi, so I have several recipes over here on the blog!
You may be wondering what mochi is? And how is it pronounced?
It is pronounced moh-chee.
Here is a definition of mochi according to Wikipedia,
Mochi is Japanese rice cake made of mochigome, a short-grain japonica glutinous rice, and sometimes other ingredients such as water, sugar, and cornstarch. The rice is pounded into paste and molded into the desired shape. In Japan it is traditionally made in a ceremony called mochitsuki. While also eaten year-round, mochi is a traditional food for the Japanese New Year and is commonly sold and eaten during that time.
But for this mochi donut recipe, we will be using the sweet rice flour called Mochiko. I wish I could say that these donuts don't have gluten, but alas, I did put a cup of wheat flour. When I made a gluten-free batch, the taste was a bit chalky. So, I went with half gluten-free flour with half regular wheat flour.
Why You'll Love This Donut
Doesn't Have Yeast in the Dough
Layer of Sugary Sweetness
Here are the Ingredients You'll Need for this Mochi Donut Recipe
How to Make Mochi Donuts:
It takes a bit of time to shape the donuts, but that's what makes them so cute. If you want to make doughnut holes, shape the dough into a 1″- 1 1/2″ ball.
Also, if you want to glaze the donuts, skip rolling them in sugar and cinnamon.
Step 1 – Mix Dough
In a stand mixer, add dry ingredients together, and next, add the buttermilk, butter, and eggs together.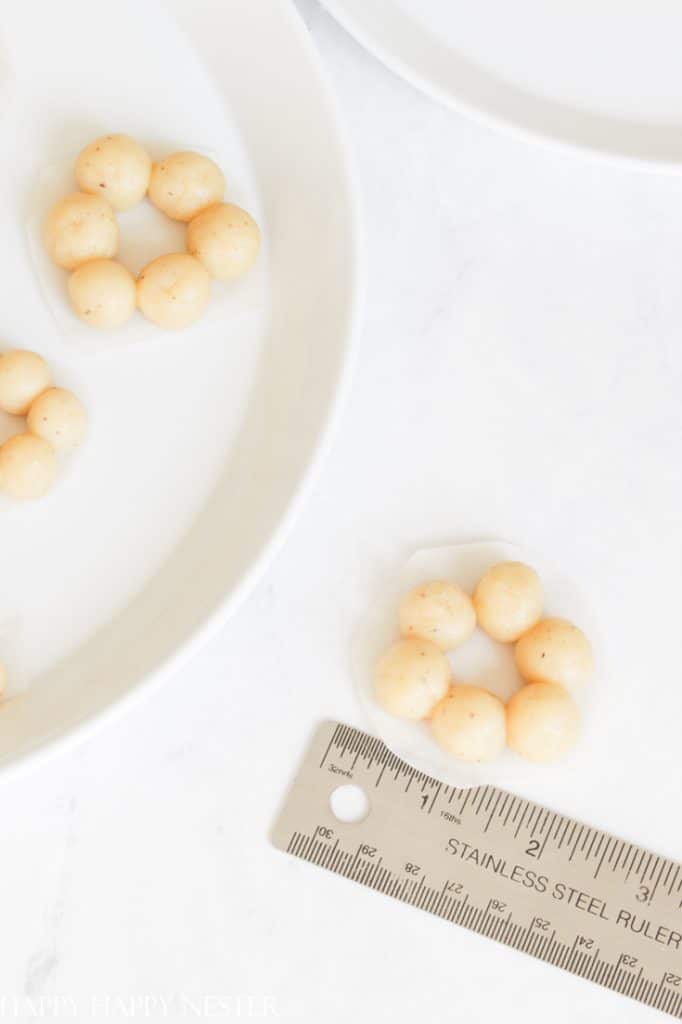 Step 2 – Shape Donuts
Use about a teaspoon of dough and shape it into a small round ball. Place on a small sheet of parchment paper. Create a circle of six balls and connect them all. The donut will be about 1 1/2″ – 2″ inches in diameter.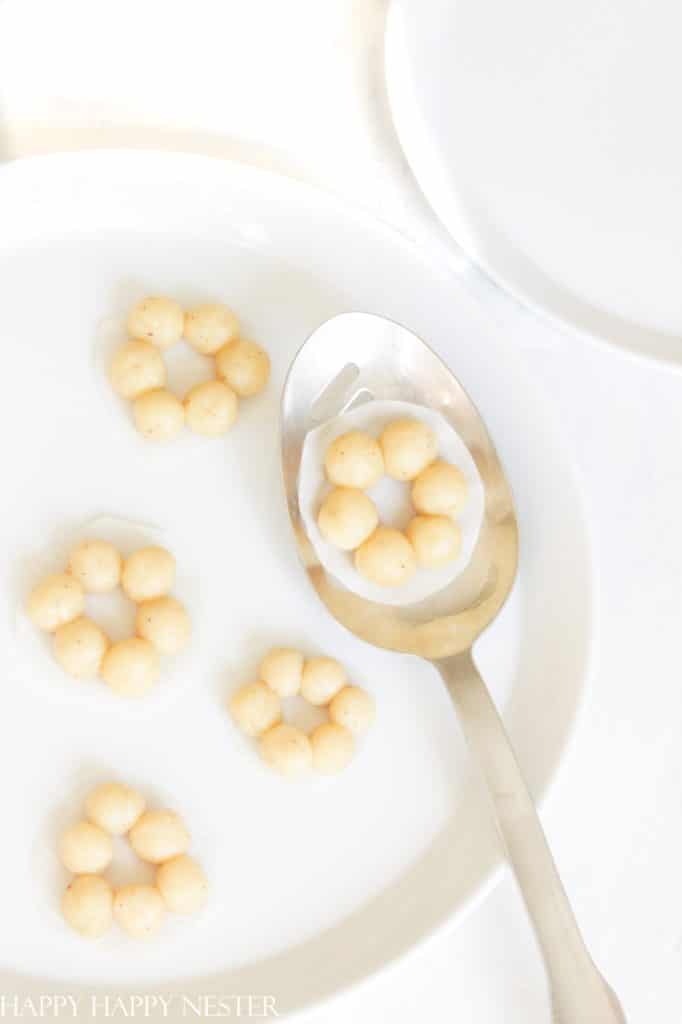 Step 3 – Fry Donuts
Place about five cups of Criso in a pot and heat on the stove. When the oil is hot enough, place the donut onto a slotted spoon. Place the whole thing in the hot oil. Cook until the donut is golden and flip it to cook the other side. Remove parchment paper from the oil with cooking tongs.
Step 4 – Roll Donuts in Sugar
Roll the donuts in a sugar and cinnamon mixture if you like the sugary exterior.
Mochi Donut Recipe
Mochi Donuts are crispy and sugary on the outside with a tender cake-like middle.
Ingredients
Donut Dough
½

cup

sweet rice flour

I like the Koda Farms Mochiko flour

⅛

cup

potato starch

⅛

cup

tapioca flour

⅜

tsp

xanthum gum

1

cup

flour

½

cup

sugar

¼

tsp

baking soda

1

tsp

baking powder

½

tsp

salt

½

tsp

nutmeg

¼

cup

buttermilk

plus 2 tbsp

2

tbsp

butter

melted and cooled

1

egg

plus 1½ tsp yolk

5

cups

Crisco
Sugar Mixture
½

cup

granulated sugar

½

tsp

cinnamon
Instructions
Sugar and Cinnamon Mixture
Place the sugar and cinnamon on a plate and set them aside.
Make the Dough
Melt butter and allow to cool.

Using a stand mixer with the paddle attachment, mix rice flour, potato starch, tapioca flour, xanthan gum, flour, sugar, baking soda, baking powder, salt, and nutmeg.

Mix buttermilk, cooled melted butter, and egg plus yolk.

Slowly add milk mixture to flour mixture.

Mix on medium speed until all ingredients are thoroughly mixed.

The dough is on the sticky side, but that is good.
Shaping Donuts
Cut small squares of parchment paper for the donuts.

Take about 1 teaspoon of dough and shape it into a small ball. Next, make five more balls, and attach them into a circle. You'll want to make sure they stick together.

Trim the parchment paper.
Cooking OIl
Place Crisco in a medium size pan. Turn the stove on to a low heat setting.

When oil is melted and looking hot, place a tiny bit of dough in the oil to test the temperature.

If the dough turns golden quickly, the temperature is too hot. Turn down the heat and wait to add donuts. If it barely cooks the test dough, turn up the heat.
Cooking Donuts
Once the oil is at the right temperature, place the donut and parchment paper on a slotted spoon. Slip the donut into the hot oil.

Once the donut is golden in color, flip it over and cook the other side.

If the oil is too hot, the donuts will brown too quickly. Turn down the heat if you have this happen.
Coat Donuts
Remove the donut and place it on the sugar and cinnamon mixture. Coat all sides of the donut.
Nutrition
Serving:
1
donut
|
Calories:
217
kcal
|
Carbohydrates:
15
g
|
Protein:
1
g
|
Fat:
53
g
|
Saturated Fat:
14
g
|
Polyunsaturated Fat:
15
g
|
Monounsaturated Fat:
22
g
|
Trans Fat:
7
g
|
Cholesterol:
12
mg
|
Sodium:
91
mg
|
Potassium:
48
mg
|
Fiber:
1
g
|
Sugar:
5
g
|
Vitamin A:
52
IU
|
Vitamin C:
1
mg
|
Calcium:
17
mg
|
Iron:
1
mg
How to Store the Mochi Donuts
I placed mine on a plate and covered them with plastic wrap. The donuts keep for a couple of days, and no need to refrigerate them.
Make Sure to Reheat Donuts!
After the first day, I found popping them into our little toaster oven for a minute or so makes them crispy and fresh. If you reheat them, definitely place them in an oven for a few minutes. The microwave will harden them too much.
Make Sure to Use Crisco for Frying the Donuts
I know you'll probably don't want to use Crisco, but it's the best way to fry donuts. Cook's Illustrated did a test and found that Crisco is the best oil for frying donuts. I know my mother-in-law says the same thing.
And if you want the crispy donuts, this is the best oil!
Well, I'm super happy to share this recipe with you today. These donuts are so cute and crispy, and I hope you like them as much as I do!
Happy Baking, my friends!
Cheers,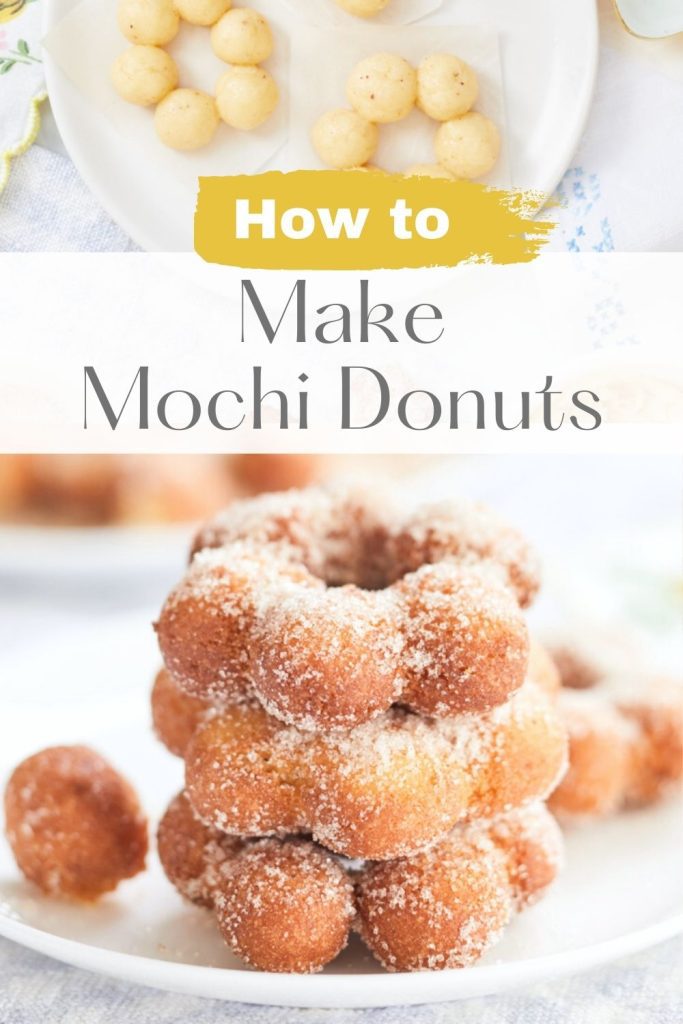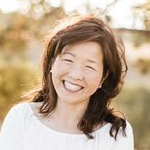 Latest posts by Janine Waite
(see all)